This Southern-style Sweet Potato Biscuits recipe is so quick and easy to make, you won't believe it! Mashed sweet potatoes, brown sugar, and warm spices infuse comforting flavor into these flaky biscuits, with just a hint of sweetness to make them irresistible. You'll definitely want these on your Thanksgiving table!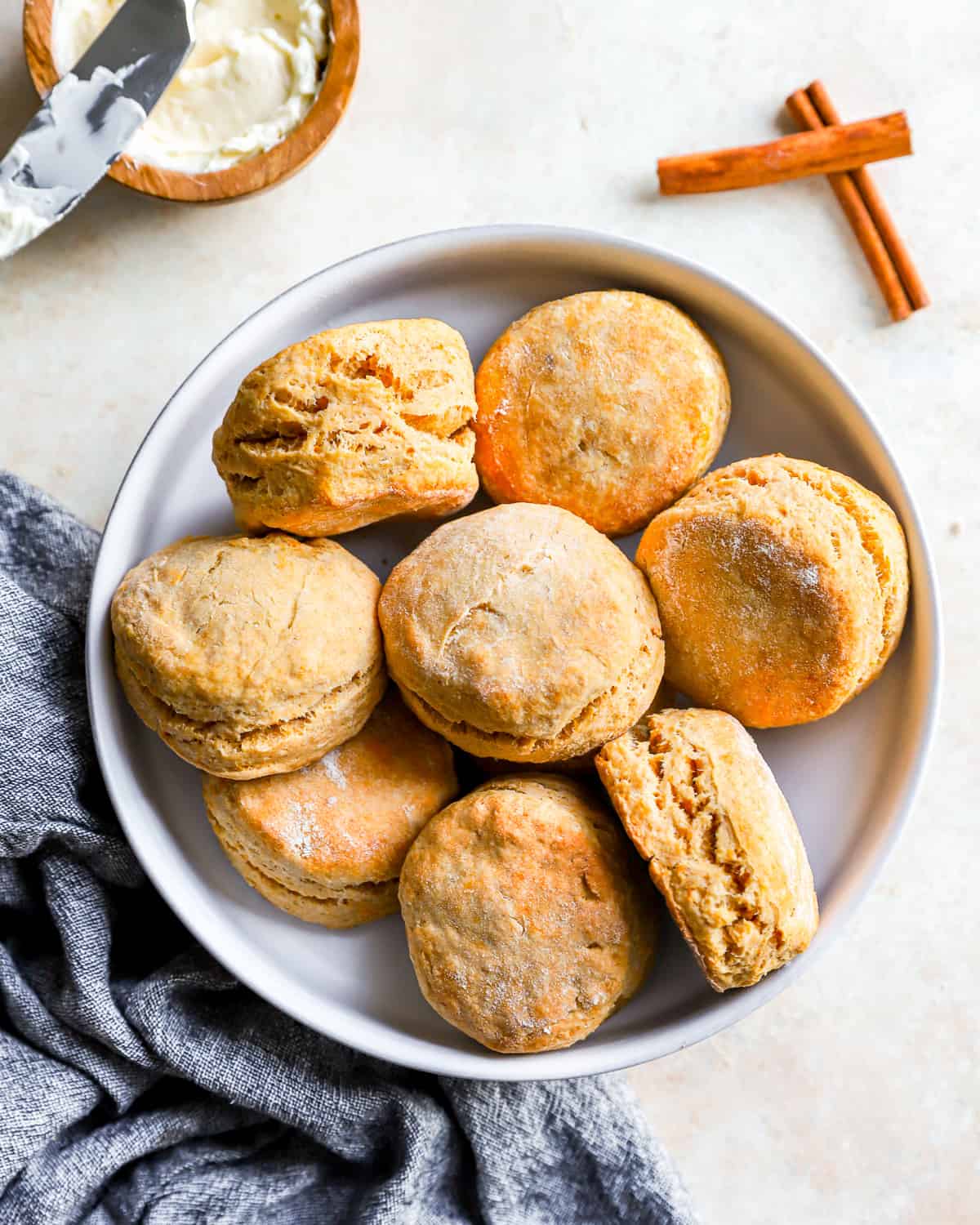 Why We Love This Sweet Potato Biscuits Recipe
Sweet potato biscuits are a colorful and flavorful twist on traditional biscuits. They have a tender, flaky texture and a subtle hint of sweetness that pairs perfectly with both sweet and savory dishes.
Variations on Old Fashioned Sweet Potato Biscuits
These sweet potato biscuits are a great base for both sweet and savory applications. For savory biscuits, try folding in some shredded cheddar or Parmesan cheese and fresh or dried herbs. For sweet biscuits, fold in some chopped candied pecans and brush the baked biscuits with maple syrup and butter.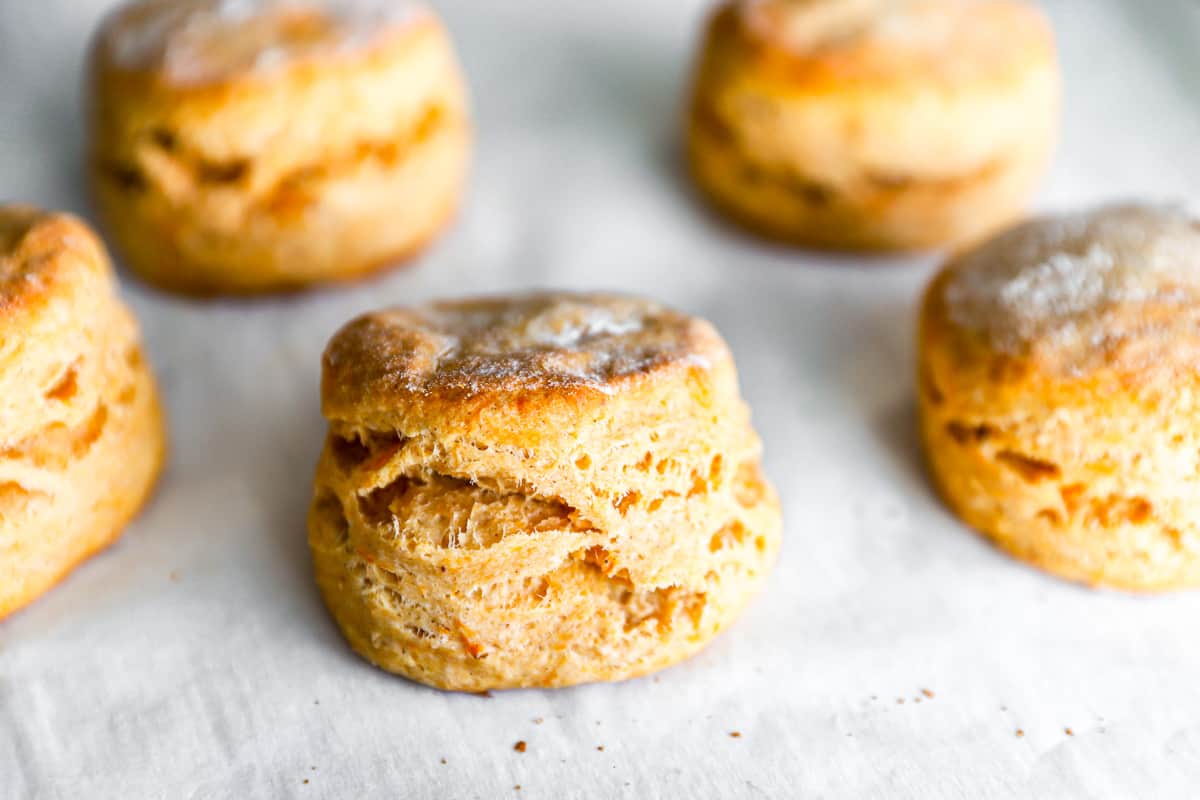 How to Store and Reheat
Store leftover sweet potato biscuits in an airtight container at room temperature for up to 3 days. Enjoy at room temperature or gently reheated in the microwave.
How to Freeze
Freeze sweet potato biscuits in a single layer on a lined baking sheet until solid, about 1-2 hours. Transfer to an airtight container or Ziplock bag to store for up to 3 months. Let thaw overnight in the refrigerator before enjoying.
Serving Suggestions
Serve these old fashioned sweet potato biscuits with your next holiday meal. Slather them with some honey butter, or use them to soak up leftover turkey gravy from your Thanksgiving turkey. They're even delicious with a bit of cranberry orange sauce!
Are biscuits better made with butter or Crisco?
I personally prefer my biscuits made with butter because they have a richer flavor and a flakier texture.
Do I need to chill these biscuits before baking?
Nope, there's no need to chill these biscuits before baking as long as you use cold ingredients and work relatively quickly. If you notice the butter starting to soften too much or even melt, pop the biscuits in the refrigerator for a few minutes before baking.
What are the health benefits of sweet potato biscuits?
Sweet potatoes are rich in fiber, vitamins, minerals, and antioxidants. They're especially high in vitamin A, which helps to keep your eyes healthy. Plus, they've been shown to help stabilize blood sugar!
How many carbs are in sweet potato biscuits?
Each biscuit contains 30 grams of carbohydrates.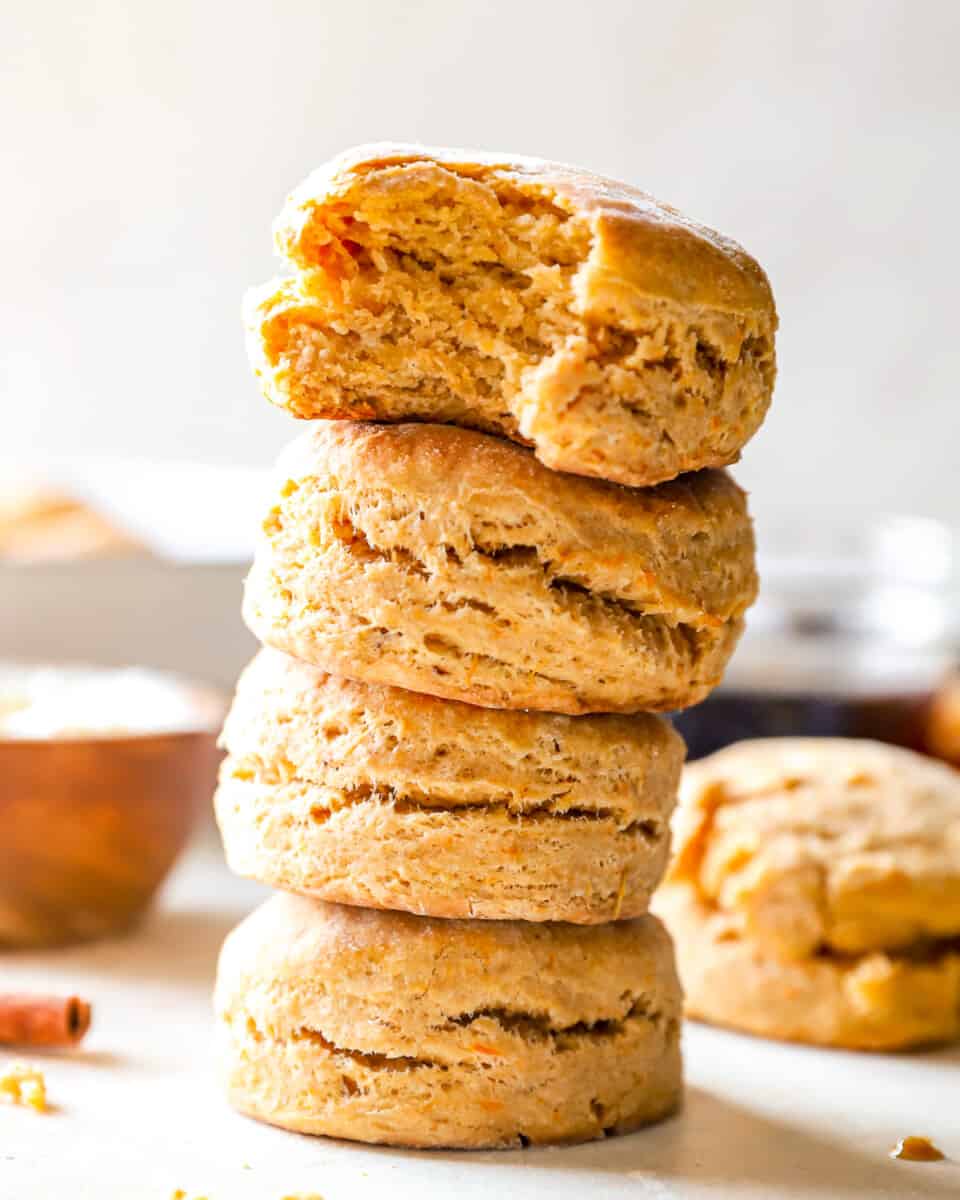 More Biscuit Recipes To Try
How to Make Sweet Potato Biscuits Step by Step
Whisk the Dry: Preheat the oven to 400°F. Mix 2 cups of all-purpose flour, ¼ cup of brown sugar, 2 teaspoons of baking powder, ½ teaspoon of ground cinnamon, ¼ teaspoon of ground nutmeg, and ½ teaspoon of kosher salt together.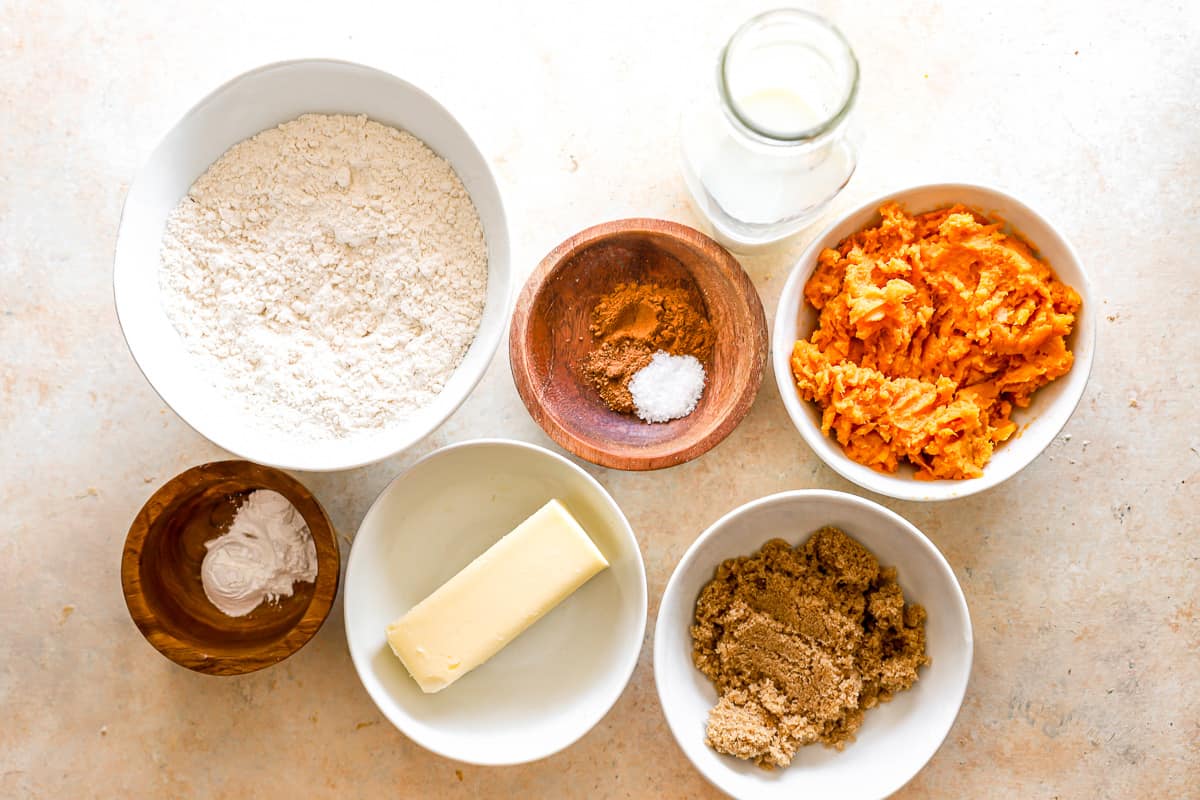 Grate the Butter: Use the large holes on a cheese grater to grate 6 tablespoons of unsalted butter and work it into the dry mix with your hands.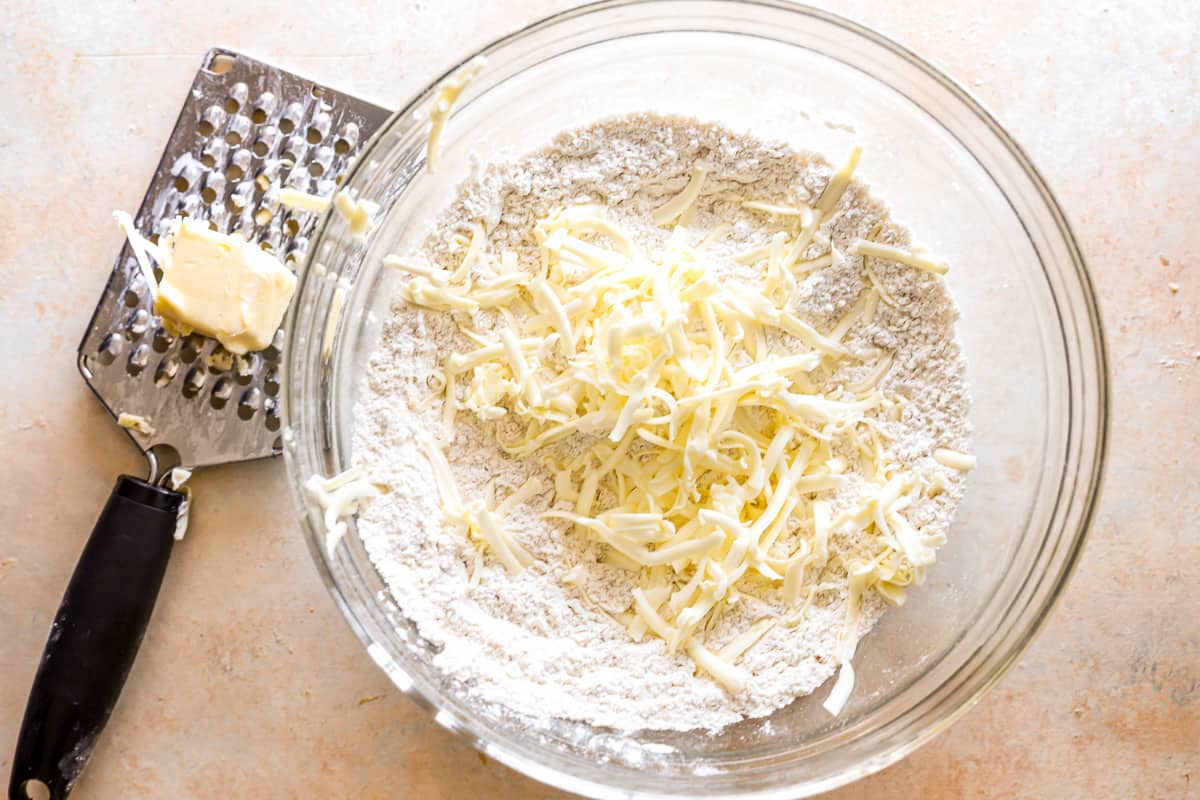 Add the Wet: Whisk together ⅔ cup of whole milk and ¾ cup of mashed sweet potato and add to the flour mixture.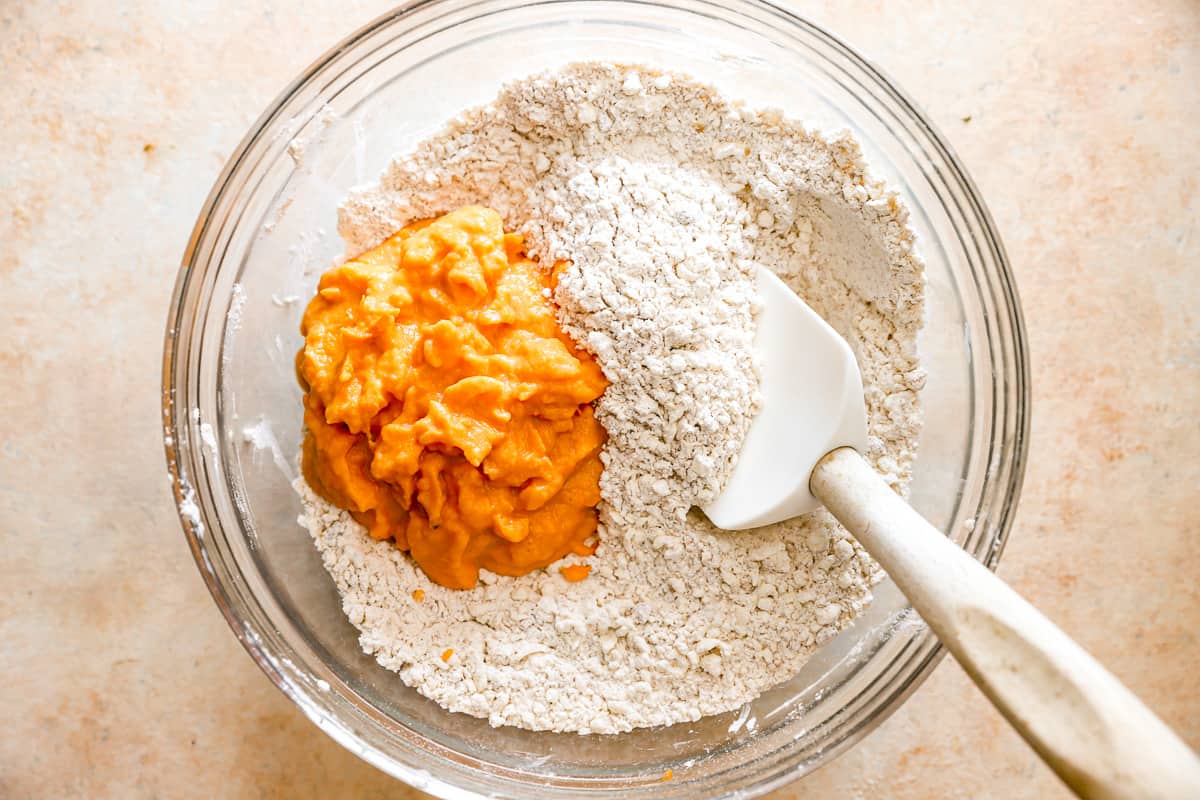 Shape the Dough: Turn the dough out onto a floured surface. Then, fold it in half 3-4 times, pressing down to flatten after each time. Using a rolling pin, roll out the dough to 1- to 2-inch thickness. Use a round cookie cutter or the opening of a glass to cut out 10 rounds.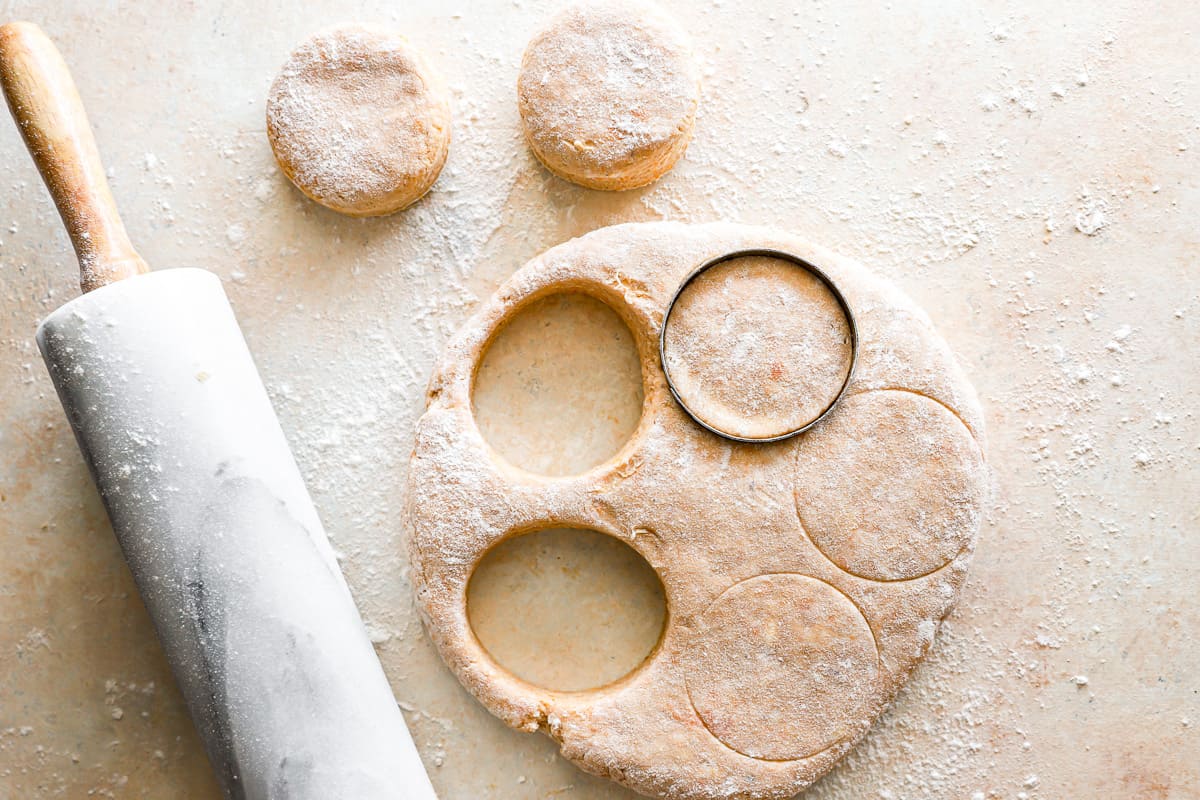 Bake the Biscuits: Bake for 17-18 minutes, or until the biscuits are golden brown.