Turkey gravy is a must for any holiday dinner. Making gravy from turkey drippings is so easy, and it makes the juiciest, most flavorful addition to the meal. Pour it over your turkey, potatoes, and everything else on your plate!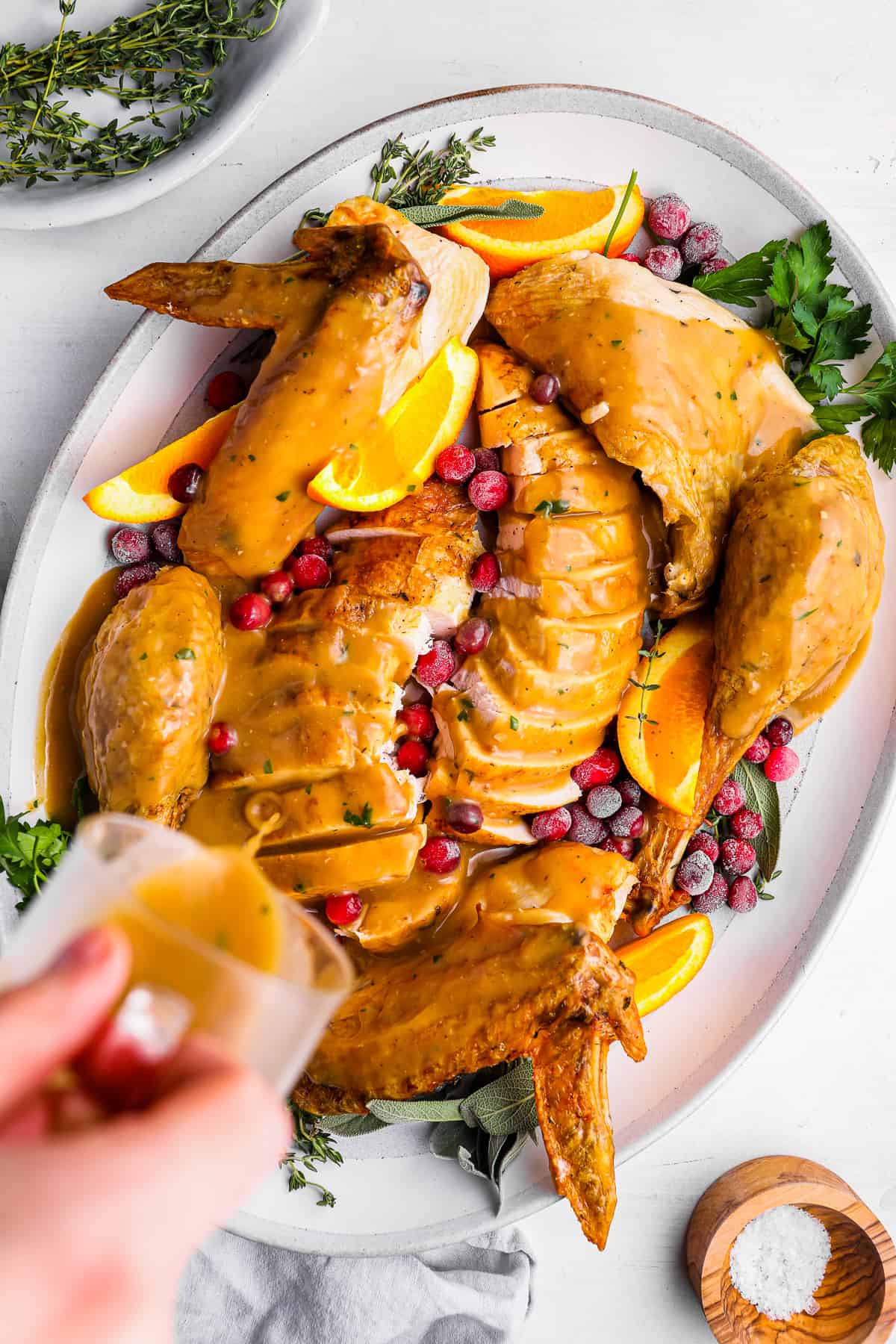 Turkey Gravy from Drippings
Anytime you make a turkey, you have to make this amazing turkey gravy recipe to go with it! It's so easy to make and it's so flavorful.
There's no frills here, just a couple of basic ingredients and a few minutes on the stovetop. The turkey drippings and butter create a perfectly rich taste that can't be beat, and a bit of flour thickens it up to a creamy texture.
No Thanksgiving plate is complete without a nice dose of this stuff, so don't be shy. Pour it over your mashed potatoes, veggies, and everything else.
Why You'll Love this Turkey Gravy Recipe:
Homemade: Making gravy from scratch with turkey drippings will improve your meal tenfold. So much better than anything you can buy at the store!
Foolproof: You only need a handful of ingredients and about 15 minutes to make the perfect gravy to serve with dinner!
Flavorful: The flavor here is simple. Let the taste of turkey shine through!
If you don't want to use turkey drippings, you can still make this gravy. Just use broth instead and you'll still end up with a juicy, delicious result.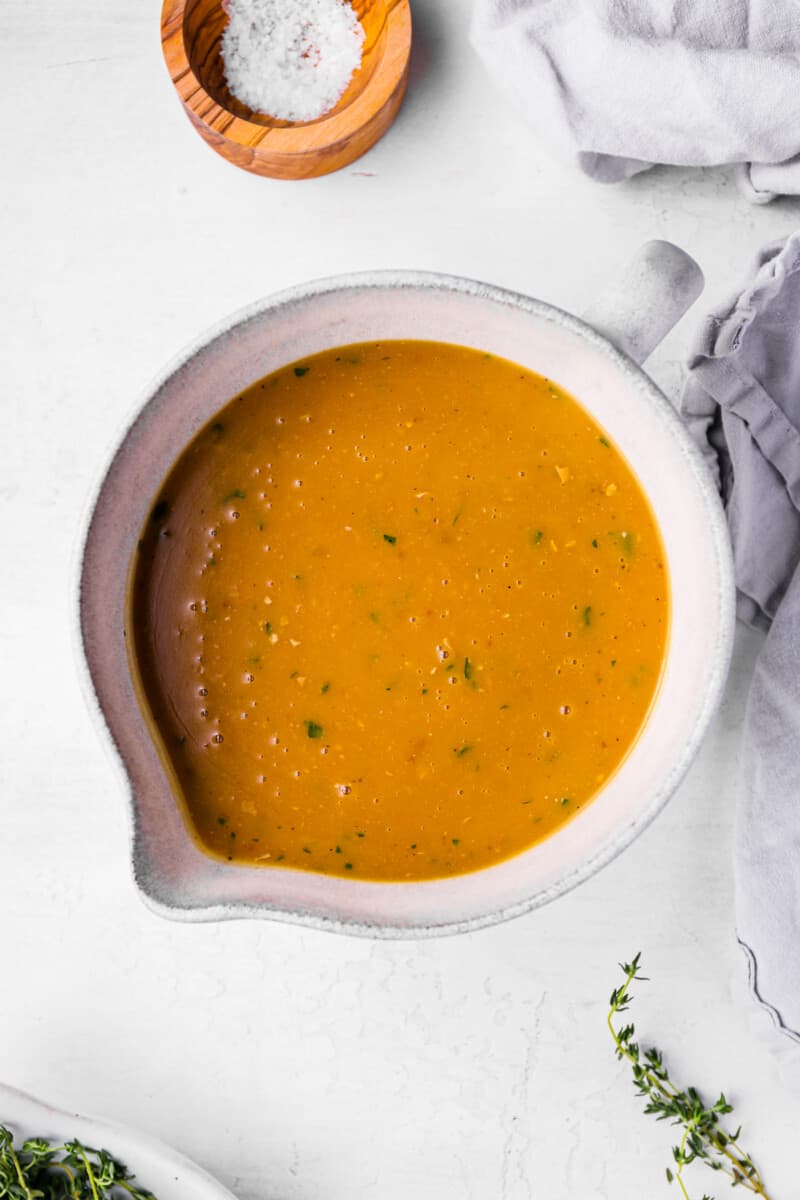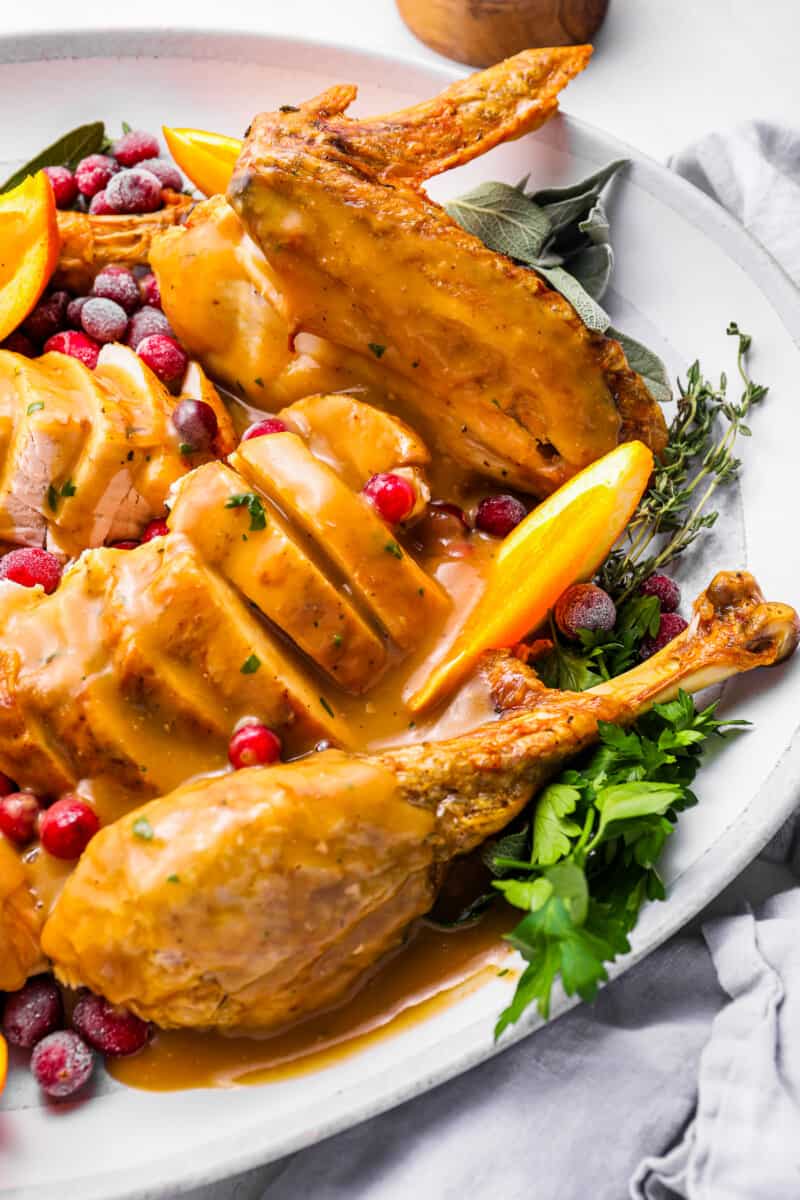 How to Make Turkey Gravy
You can jump to the recipe card for full ingredients & instructions!
Skim the fat off your turkey drippings, and mix in some broth if you need to.
Whisk flour and melted butter together in a saucepan to create a roux.
Slowly whisk the drippings into the roux, then simmer until it thickens.
Season with a bit of salt and pepper, and serve!
Recipe Notes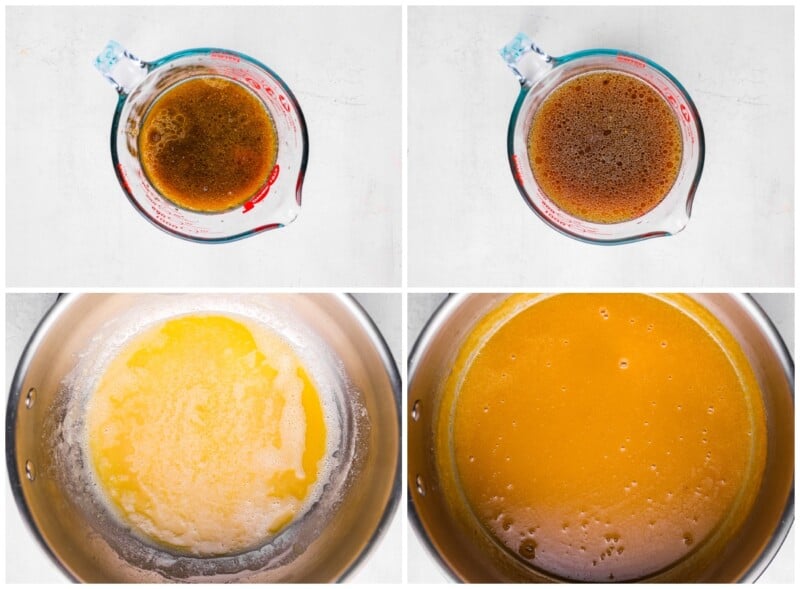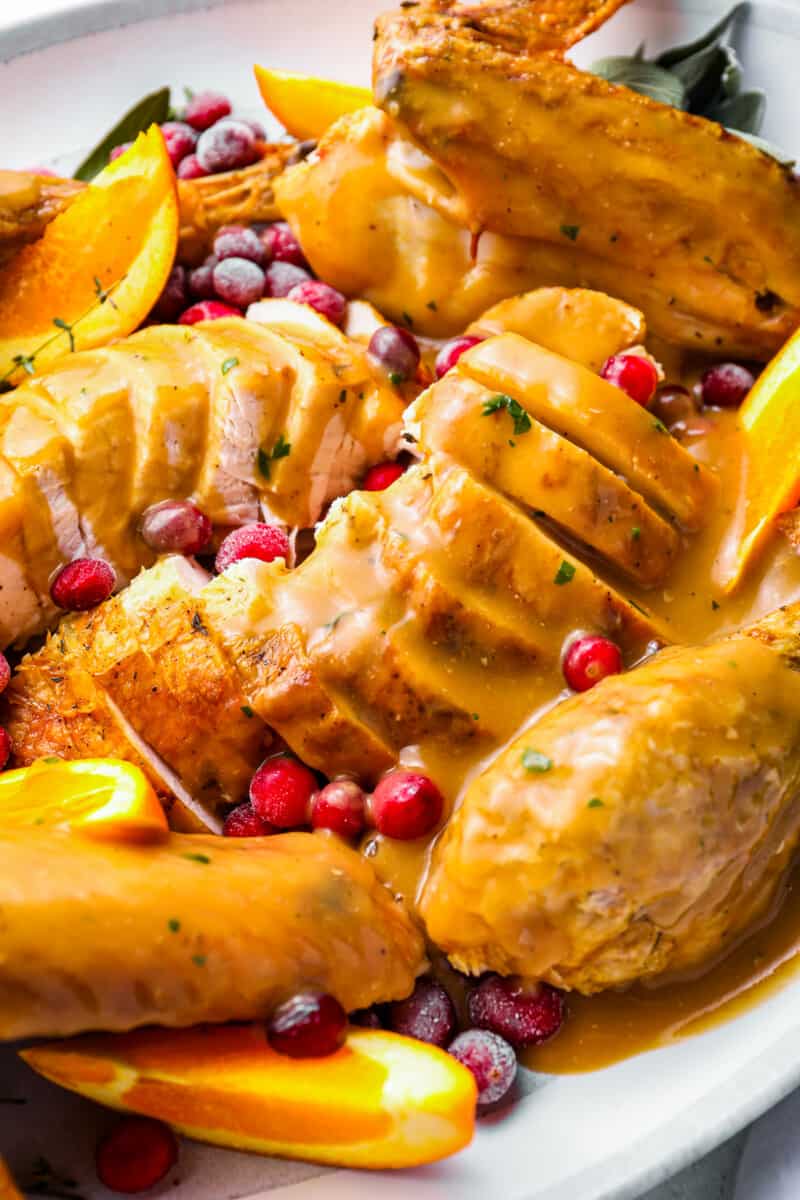 What are turkey drippings?
Drippings are what's left in the bottom of the roasting pan after cooking the turkey. They include fat, juices, and any bits of meat that may have fallen off.
Can I make turkey gravy without drippings?
Absolutely! You can use turkey broth (or chicken broth) in place of the drippings. This will create a lighter, less fatty gravy.
What is a roux?
A roux is a mixture of flour and fat that thickens sauces and gravies. Ours is made from flour and butter.
Is turkey gravy gluten-free?
Unfortunately, this turkey gravy is not naturally gluten-free. To make it gluten-free, use 2 tablespoons of cornstarch in place of the flour in the roux.
Can I make turkey gravy with a different kind of meat?
Sure! You can use chicken, pork, or beef drippings!
Why does my turkey gravy taste floury?
Undercooked roux can cause your gravy to taste floury. It's important to let the roux cook until it no longer smells like raw flour. Continue to simmer the gravy until the floury taste disappears, adding stock as needed.
Serving Suggestions
Pour this easy turkey gravy over everything! Serve it up for any holiday, or anytime you cook a turkey, and be sure to get plenty on those potatoes and veggies.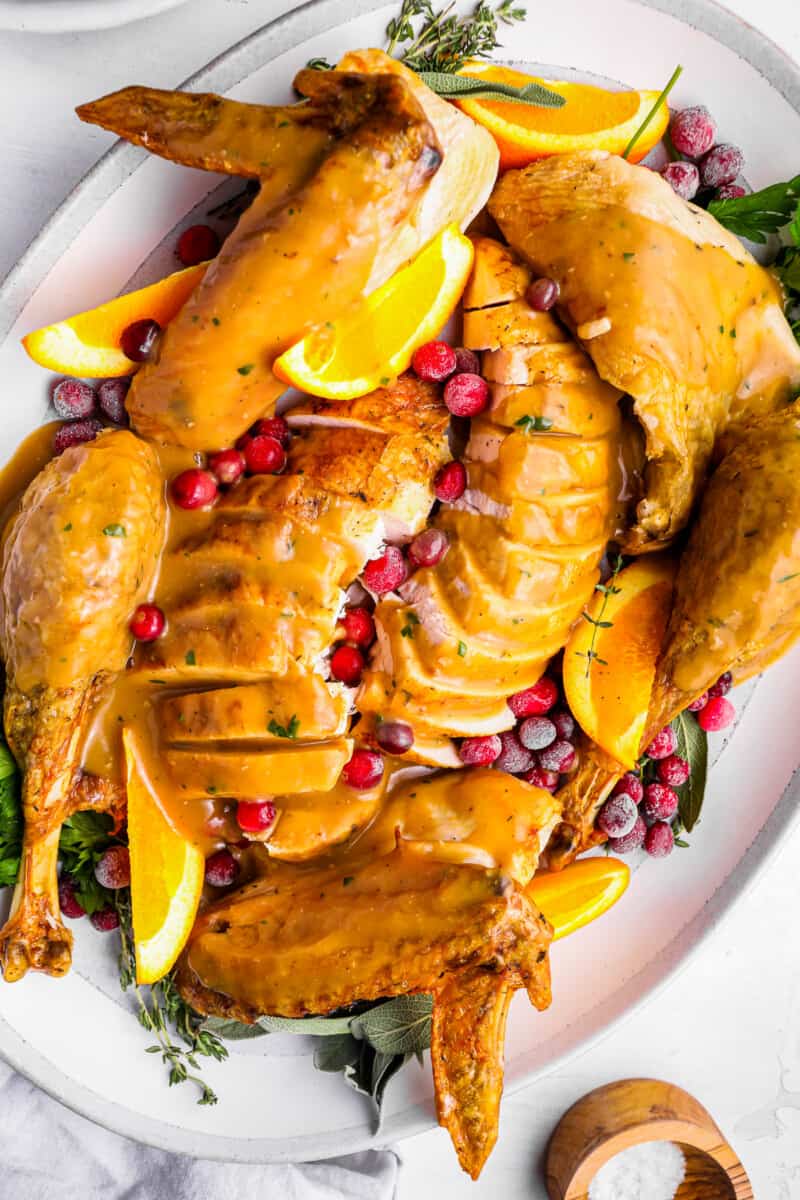 You can make this and save it for later with ease. Store it in the fridge for days, or in the freezer for months. Never let a drop go to waste!
Make Ahead Instructions
You can make turkey gravy up to 2 days in advance of when you plan to serve it. Let the gravy cool completely, and store it in an airtight container in the refrigerator until ready to serve.
Storage Instructions
Store leftover turkey gravy in an airtight container in the refrigerator for up to 3 days. Reheat on the stovetop over medium-low heat, adding water or turkey/chicken broth to thin to the desired consistency.
Freezing Instructions
Freeze turkey gravy in an airtight container for up to 6 months. Let thaw overnight in the refrigerator before reheating.
Substitutions
If you don't have enough pan drippings to measure 2½ cups, use turkey or chicken broth to make up the difference.
If you don't have any drippings, you can make this gravy with turkey or chicken broth.
You can use white wine in place of some of the broth in the gravy, if you prefer.
For gluten-free gravy, use 2 tablespoons of cornstarch in place of the flour in the roux.
To add other herbs like thyme, sage, or garlic, add 1-2 teaspoons when melting the butter.
If you have giblets, cook and finely mince them, then add them to the gravy.
Tips for the Best Turkey Gravy
If your gravy seems too thick, add broth or water a tablespoon at a time until it reaches the desired consistency.
If your gravy seems too thin, mix 1 tablespoon of melted butter with 1 tablespoon of flour and whisk it into the gravy to thicken.
If your gravy is lumpy, pour it through a fine-mesh sieve to remove lumps.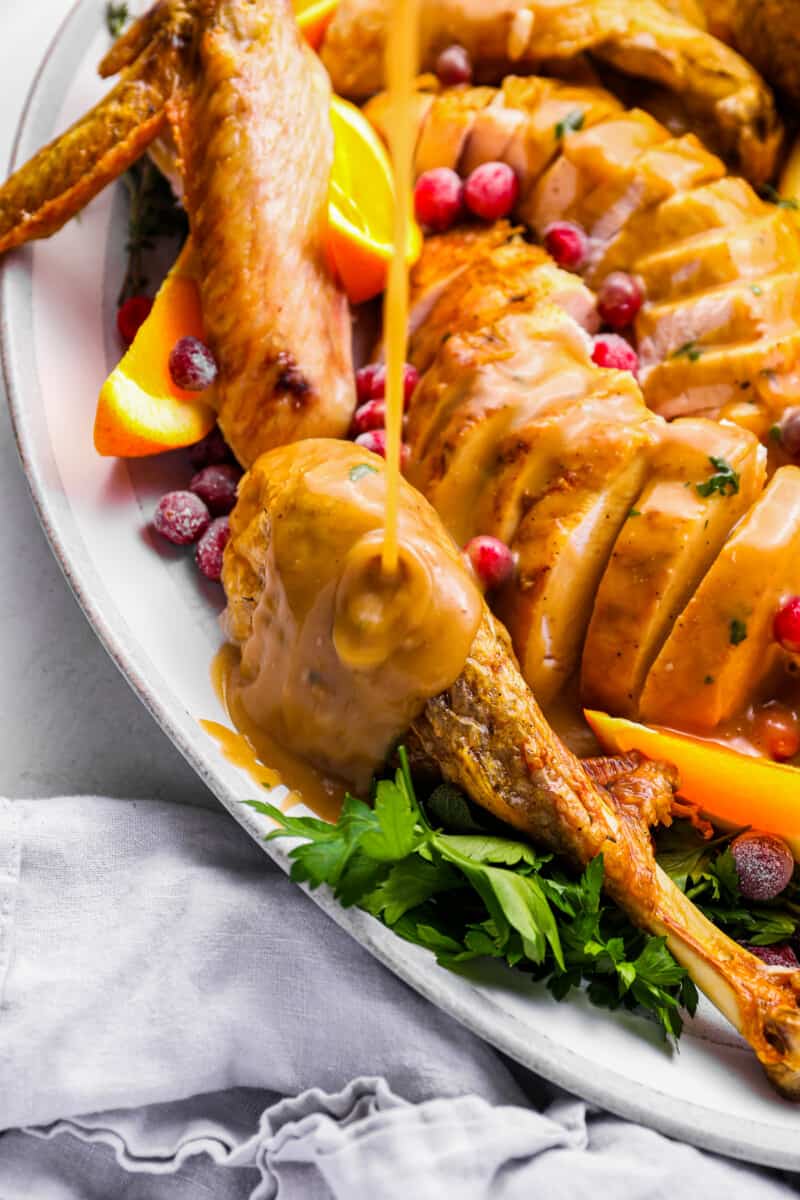 This homemade turkey gravy will be the MVP at your next holiday dinner. Whip it up in a flash, serve it along with your favorite turkey recipes, and all of the best Thanksgiving sides.
If you make this recipe be sure to upload a photo in the comment section below or leave a rating. Enjoy! You can also jump to recipe.