Thai Coconut Chicken Soup is healthy, easy, and so delicious! This creamy Thai chicken soup recipe is made with coconut milk, cilantro, mushrooms, chicken, tomato, and chiles. So much flavor in such an easy soup recipe!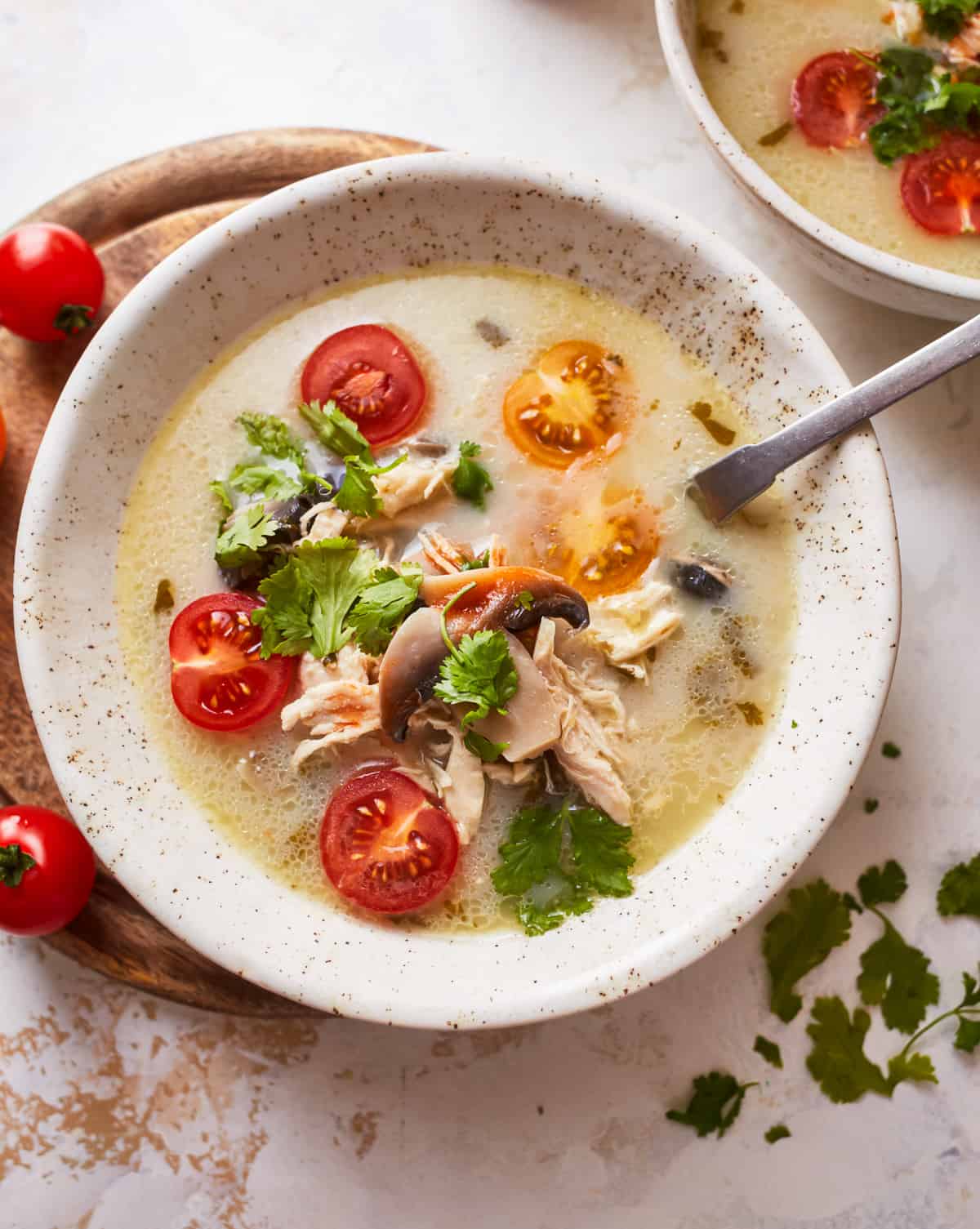 What's in this Tom Kha Gai Recipe?
This creamy coconut chicken soup is great for a change on sick days, but it's just as good when you're not sick. If you're a fan of Thai food, you'll just love the flavors here. Plus it only takes 30 minutes to make! Easy dinner alert!
Chicken Stock: I highly recommend using stock, but in a pinch, chicken broth will do.
Coconut Milk: Whole-fat coconut milk will make it extra creamy, or use a lite version.
Lemongrass Paste: Lemongrass is great for your immune system and can aid in lowering cholesterol.
Ginger Paste: Traditional tom kha gai is made with galangal, but that can be hard to find, so we're using ginger paste instead. Ginger is anti-inflammatory and can help with cardiovascular and digestive health. It's also a great thing to use to fight the common cold.
Cilantro: This gets mixed into the soup and used as a garnish (I love cilantro!).
Lime Juice: This bit of acidic citrus flavor brightens the whole soup.
Serrano Chilis: If you can find Thai chilis, those work even better! Remove the seeds and chop finely. This adds that bit of spice!
White Button Mushrooms: Filled with antioxidants!
Shredded Chicken: Cook before adding to the soup (I just used rotisserie chicken for ease).
Brown Sugar: Adds the perfect level of sweetness.
Pro Tip: Garnish this soup with halved cherry tomatoes, fresh cilantro, and a few shakes of hot sauce!
Variations on Coconut Chicken Soup
For a vegetarian or vegan version of this Thai coconut soup, swap out the chicken stock for vegetable stock and leave out the shredded chicken. You can add more mushrooms or other veggies to beef up the soup a bit more.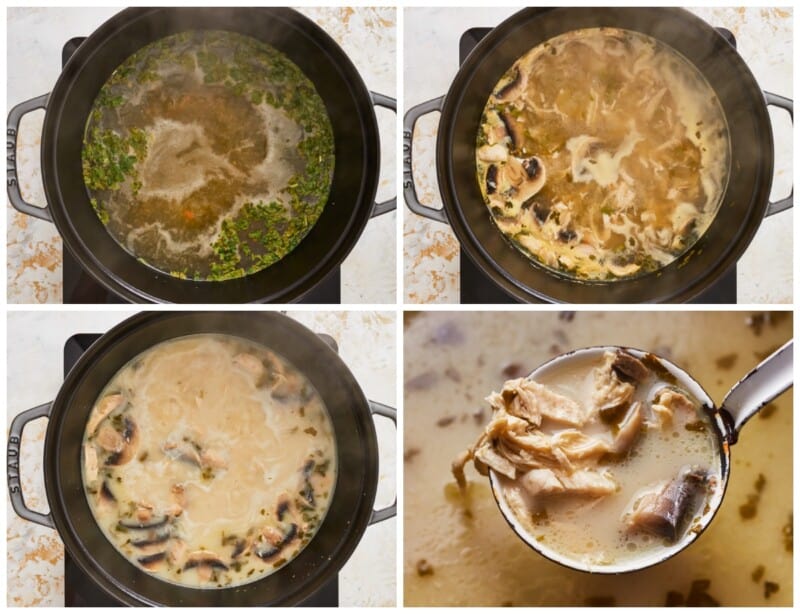 What is the difference between tom kha and tom yum soup?
Tom kha gai is made with coconut milk and chicken, whereas tom yum is made with a seasoned, spicy broth and shrimp.
Is tom kha good for you?
Yes! This soup is packed with healthy fats, vitamins, minerals, and protein!
Is tom kha soup anti-inflammatory?
It sure is! Ginger, lemongrass, and cilantro have particularly high anti-inflammatory effects.
Where can I find lemongrass paste?
Lemongrass paste is a specialty food item, but you may find it in your local grocery store in the produce aisle near the clamshells of herbs. It usually comes in a tube. I used Gourmet Garden brand, which I have seen at Walmart and Target.
Why does it look like my soup curdled after I added the coconut milk?
Coconut milk reacts to heat and forms little curds. To help prevent this, you can temper the mixture by adding a ladleful of the hot soup to the coconut milk, stirring well, then adding that mixture back into the hot soup. You can also take the soup off of the heat and let it cool for a few minutes before adding the coconut milk.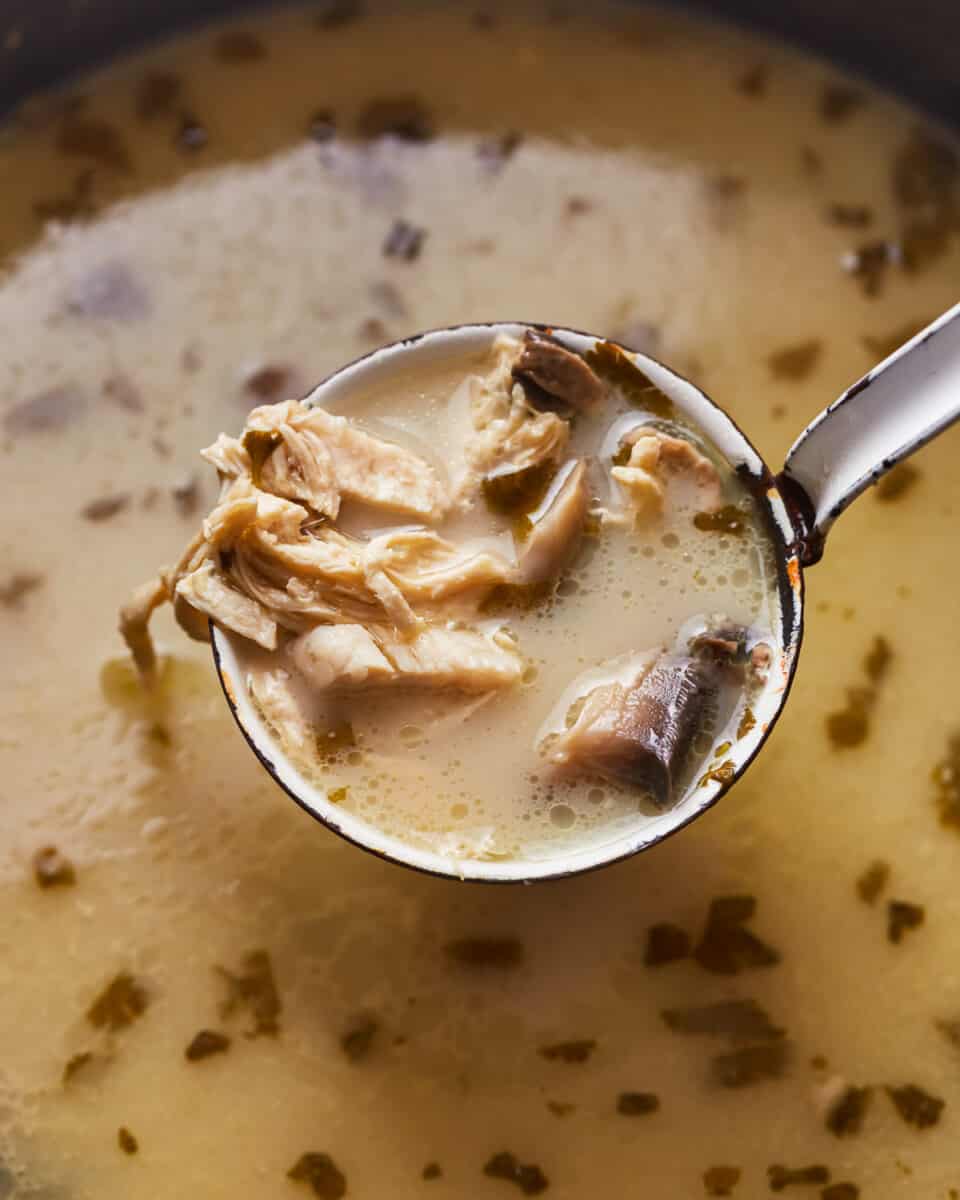 How to Store and Reheat
Store leftover Thai coconut chicken soup in an airtight container in the refrigerator for up to 3 days. Reheat in a pot set over medium-low heat or in the microwave in 30-second bursts until warmed through.
How to Freeze
Freezing any soup with milk/cream in it can be iffy, even coconut milk Will it ruin it? Maybe not completely. But will it be quite the same? No.
My recommendation is to make the soup as instructed, but leave out the coconut milk. Freeze the soup in an airtight container for up to 3 months, let thaw overnight in the refrigerator, then stir in the coconut milk while it simmers on the stove.
Serving Suggestions
This soup is so light and nourishing. It's great served with jasmine rice or an Asian cucumber salad. I enjoy dipping naan bread or dinner rolls into mine to soak up all that delicious broth.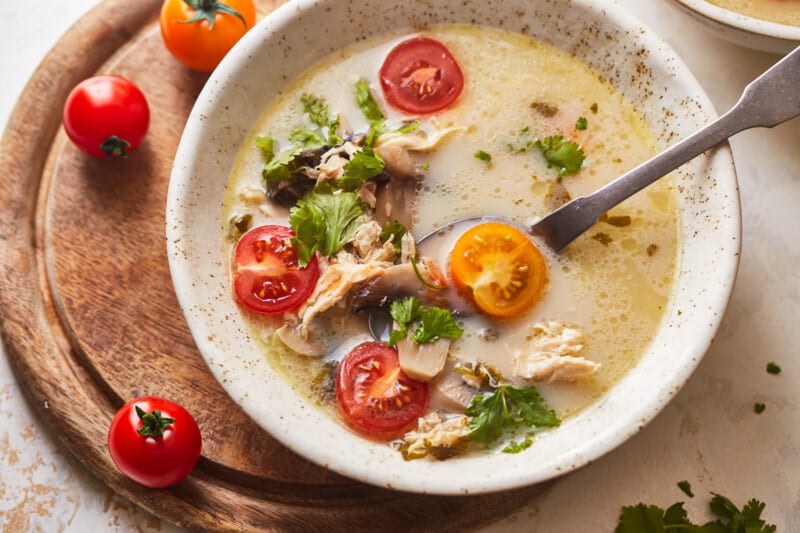 More Chicken Soup Recipes We Love