Thai Chicken Soup is HEALTHY, EASY, and SO DELICIOUS! This creamy Thai Coconut Chicken Soup recipe is made with coconut milk, cilantro, mushrooms, chicken, tomato, and chiles. So much flavor in such an easy soup recipe!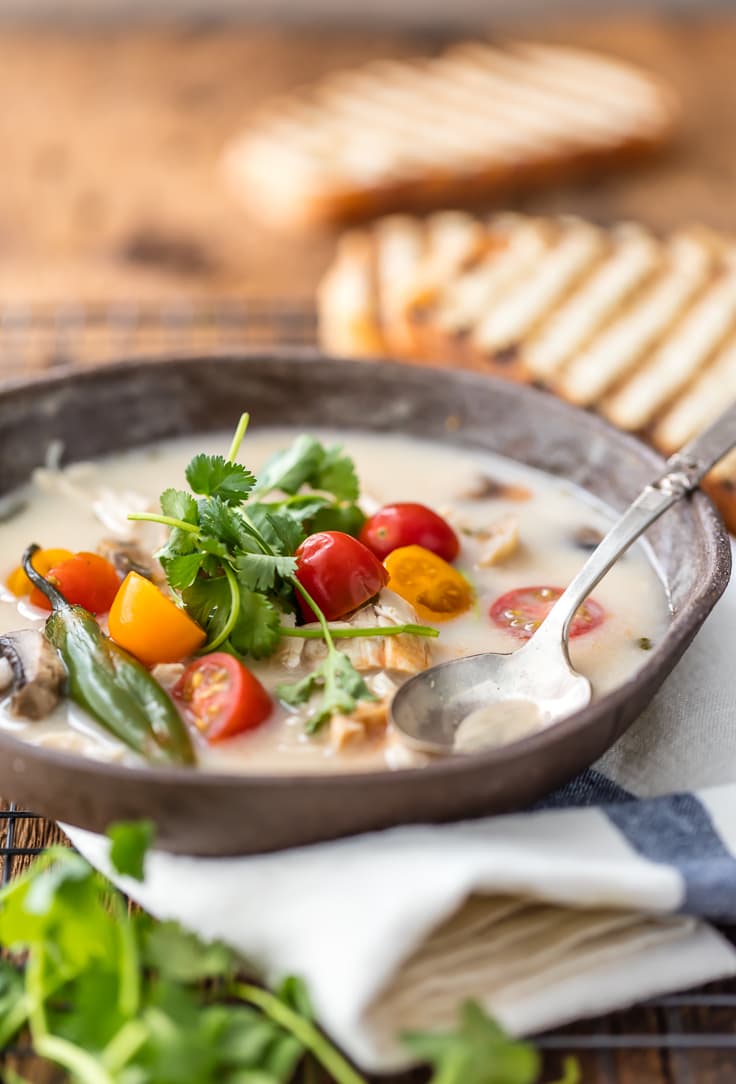 Thai Chicken Soup
This Thai Chicken Soup with coconut milk is so creamy and so flavorful. It's the perfect soup for any time of year!
This Thai Coconut Chicken Soup is incredibly easy and made in under 30 minutes. Plus it's healthy, creamy, and super comforting!
Recipes like this remind me that cooking doesn't have to be difficult to be a labor of love. Sometimes the way the flavors come together, or the feeling it will give the person who eats it, is enough to make the love shine right on through.
Not to get too mushy, but sometimes I'm just reminded of how good it feels to be able to feed good food to the ones you love, how it can bring people together, and how it can be such a great way to care for others. Soups are especially magical like that.
This coconut chicken soup is perfect for soothing a cold OR for warming up any winter night.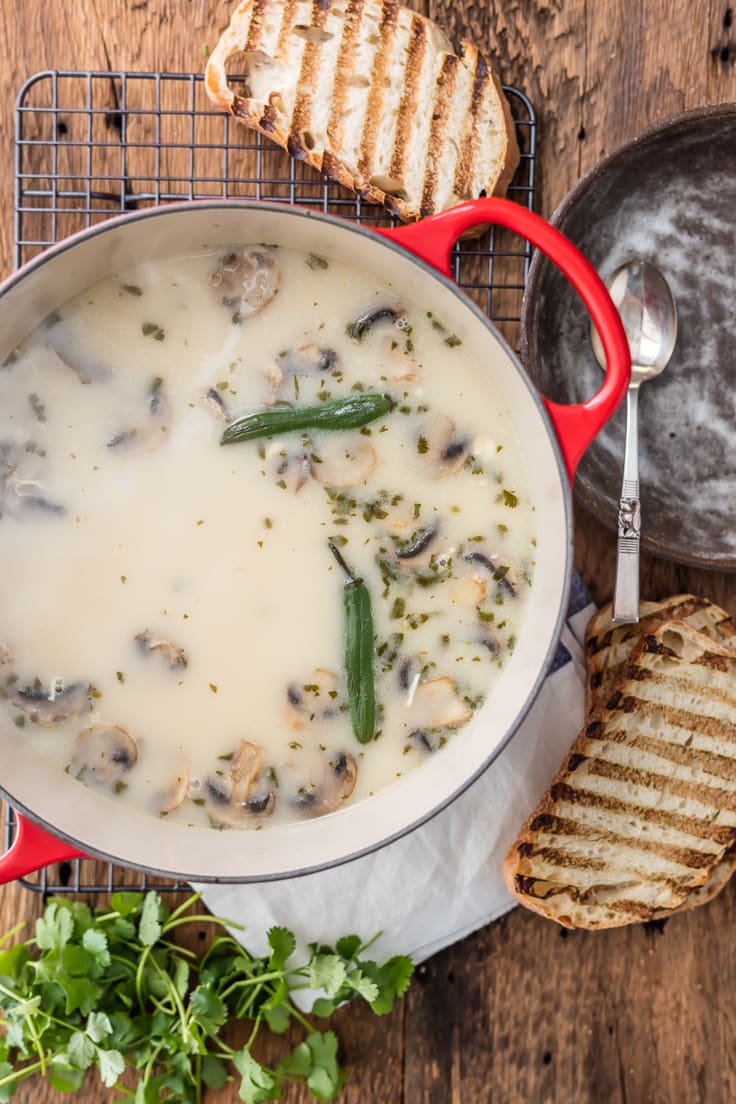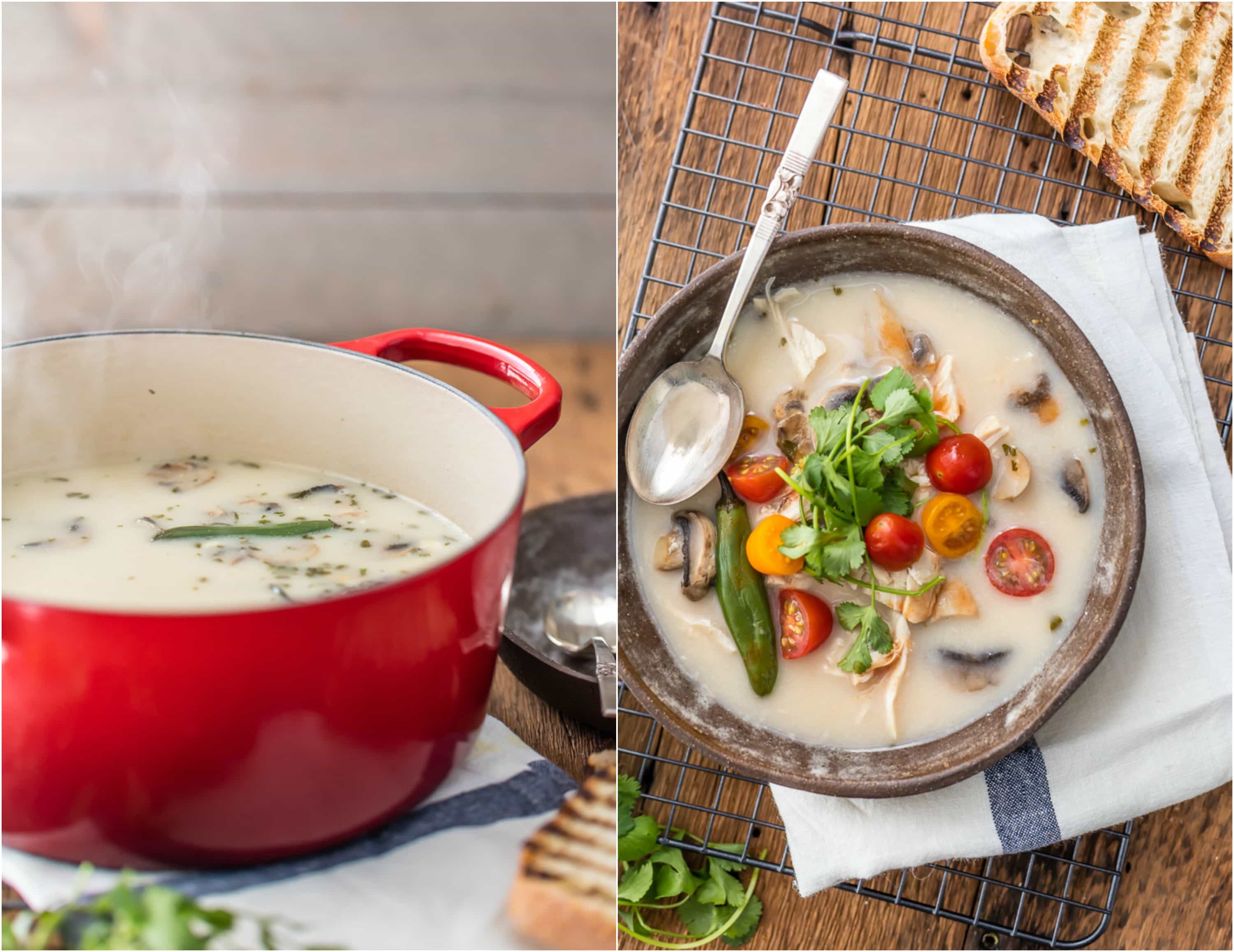 Healthy Soup Recipe
Pat has been sick this week, so I have had healthy soup recipes on the mind. I didn't want to make him just any ole soup (although you can't go wrong with Chicken Noodle Soup when you're under the weather). This Thai Chicken Soup seemed like a good mix of healthy, delicious, and comforting.
As I was stirring and simmering, I was so excited for him to try this. The fragrance, the flavors, the spice (he loves spice); it was all a way to show my love. That's what cooking should really be about, after all.
Thai Coconut Chicken Soup Ingredients:
Chicken Stock – I highly recommend using STOCK and not BROTH, but in a pinch, a chicken broth will do.
Coconut Milk – Whole fat coconut milk will make it extra creamy, or use a lite version.
Lemongrass Paste – Lemongrass is great for your immune system and can aid in lowering cholesterol.
Ginger Paste – Ginger is anti-inflammatory and can help with cardiovascular and digestive health. It's also a great thing to use to fight the common cold.
Cilantro – This gets mixed into the soup AND used as garnish (I love cilantro!).
Lime Juice – This bit of acidic citrus flavor brightens the whole soup.
Serrano Chilis – Remove the seeds and chop finely. This adds that bit of spice!
White Button Mushrooms – Filled with antioxidants!
Shredded Chicken – Cook before adding to the soup (I just used rotisserie chicken for ease).
Brown Sugar – Adds the perfect level of sweetness.
Cherry Tomatoes – Halve and use them (uncooked) as garnish.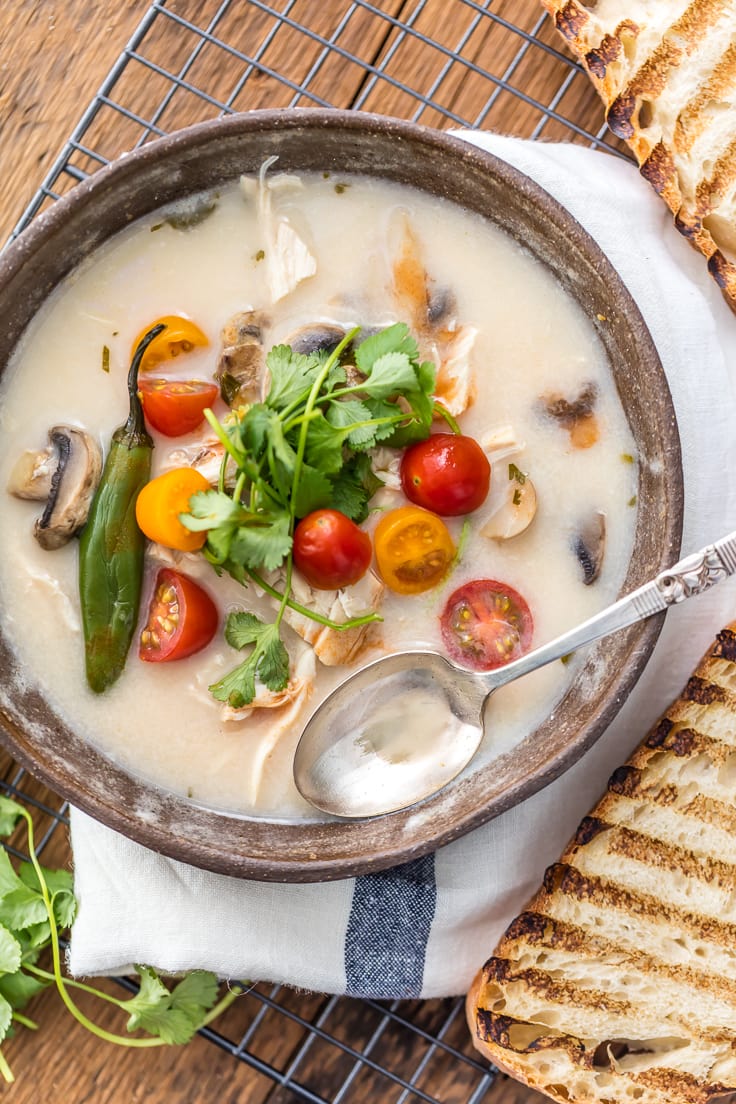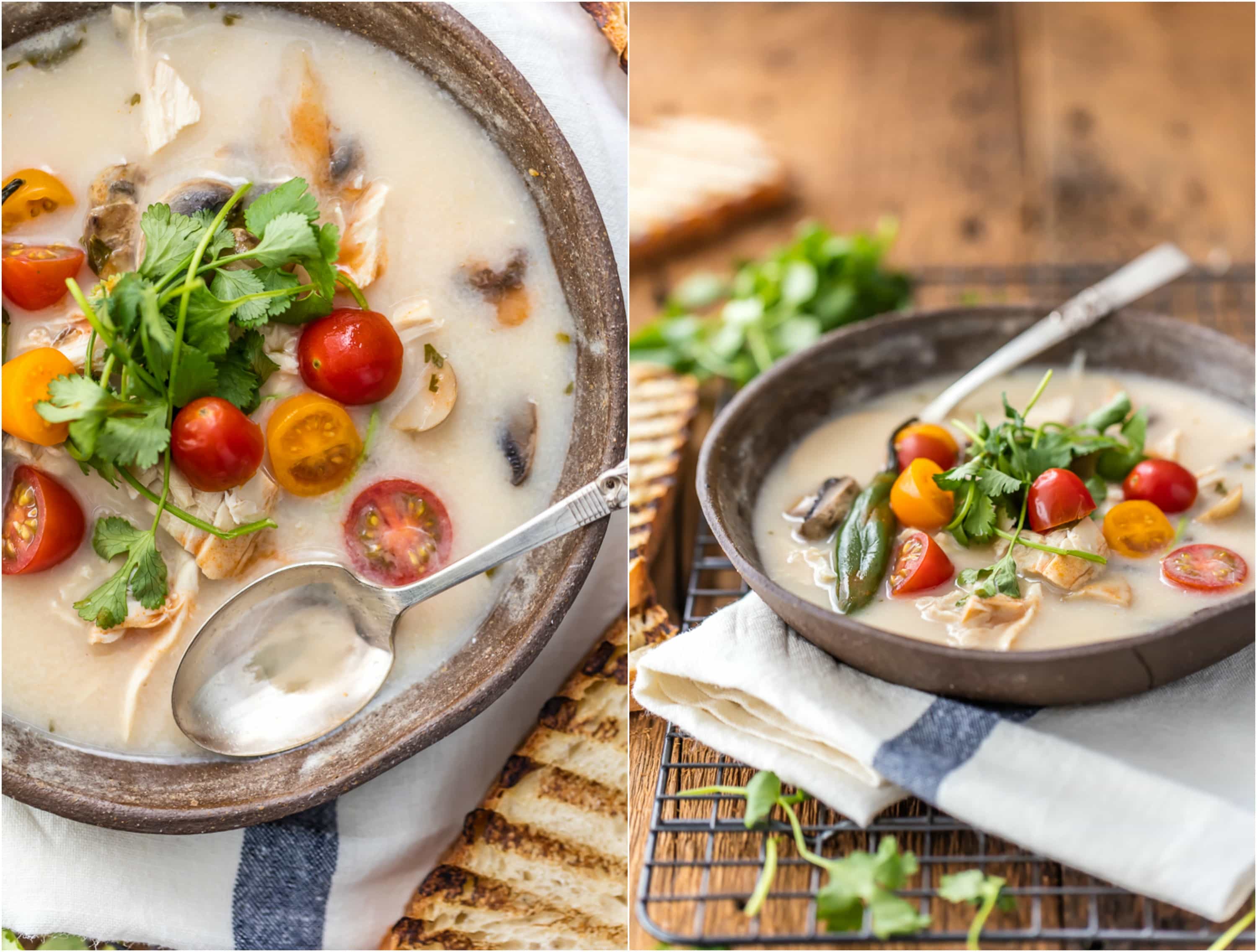 How to Make Thai Chicken Soup
This creamy coconut chicken soup is great for a change on sick days, but it's just as good when you're NOT sick. If you're a fan of Thai food, you'll just love the flavors here. Plus it only takes 30 minutes to make! Easy dinner alert!
Combine chicken stock, cilantro, lemongrass, ginger, lime juice, salt, and chilis in a large pot or dutch oven.
Bring to a boil, then reduce heat and simmer for 15 minutes.
Stir in the mushrooms and chicken (cook before adding to the soup!), and simmer another 5 minutes.
Then stir in the coconut milk and brown sugar until everything is smooth and fully combined.
Continue simmering to warm, until ready to serve.
I like to top off each bowl with extra cilantro, some cherry tomatoes, and a bit of hot sauce for a little more heat!
Be sure to watch the video to see the step by step recipe!
Freezing Soup with Coconut Milk
Freezing any soup with milk/cream in it can be iffy. Will it ruin in? Maybe not completely. But will it be quite the same? No.
You will certainly have more luck freezing a soup with coconut milk (like this recipe), than a soup with dairy milk. And if you use lite coconut milk, the texture shouldn't be too different after thawing and reheating.
But here's my recommendation for freezing this recipe:
Make the soup as detailed in the ingredients…But leave out the coconut milk.
Since it's added in at the very end anyways, it's just as easy to add it in when you reheat the soup.
So you can have a full batch of soup frozen and ready to go, let it thaw, then stir in coconut milk while it simmers on the stove.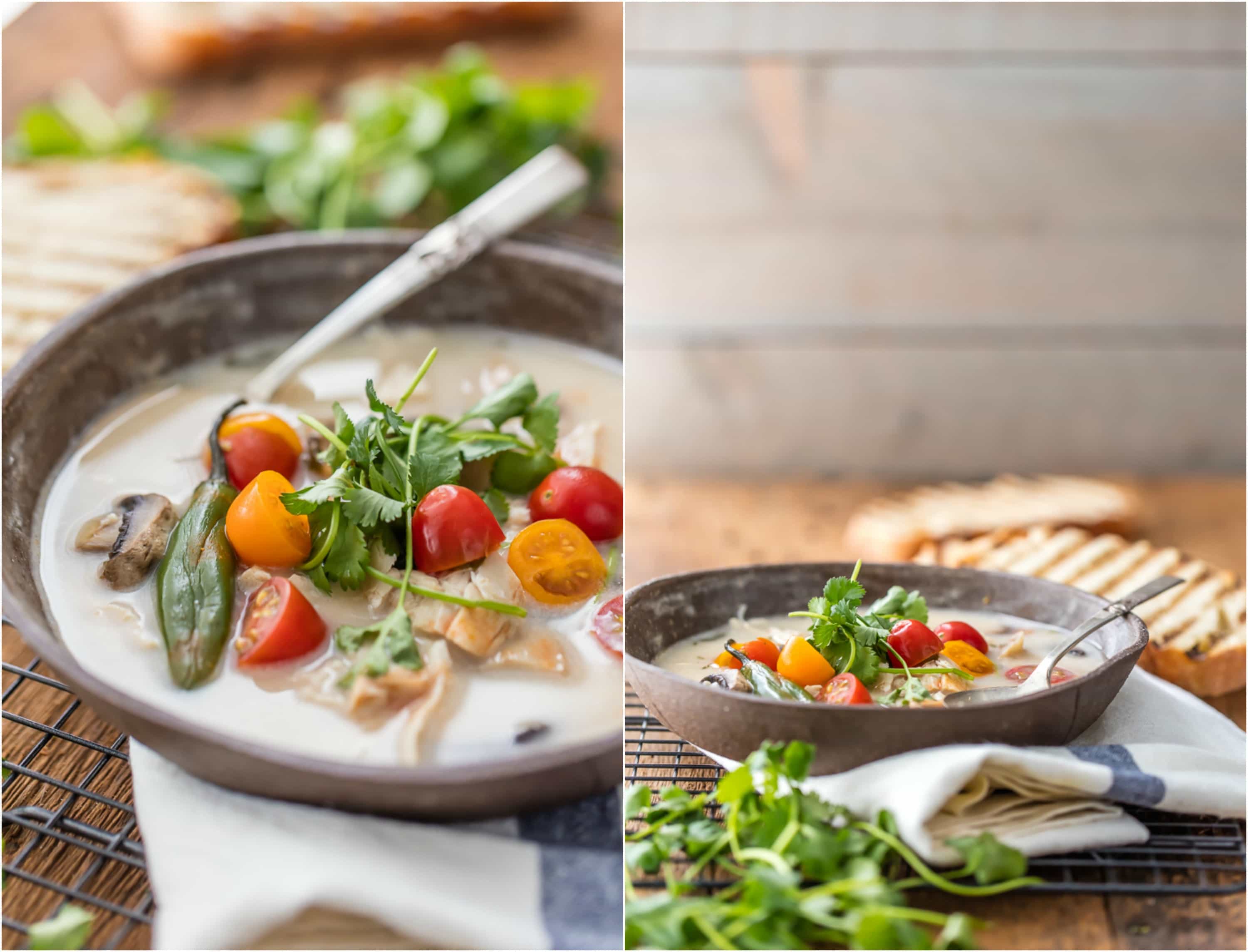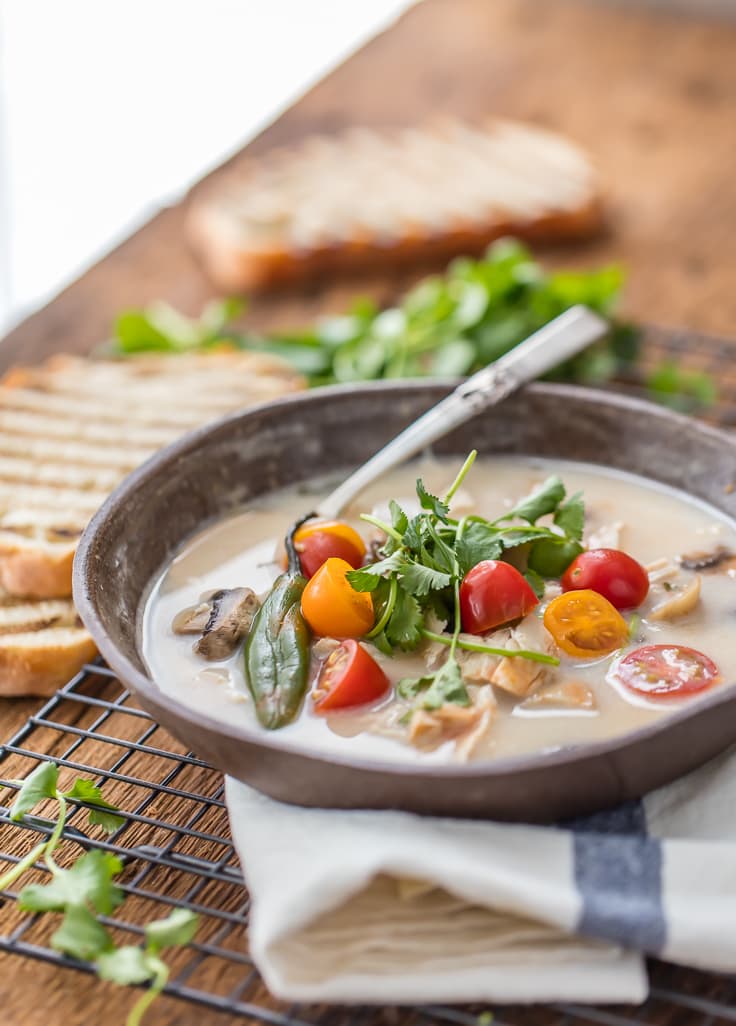 Comforting Soup Recipes
Whether someone is sick in bed, or you're just trying to beat the cold winter nights, nothing is as comforting as a bowl of soup! This Thai Chicken Soup is so warming and delicious, but we've got plenty more soup recipes for you to try this upcoming soup season (yes, it IS a season).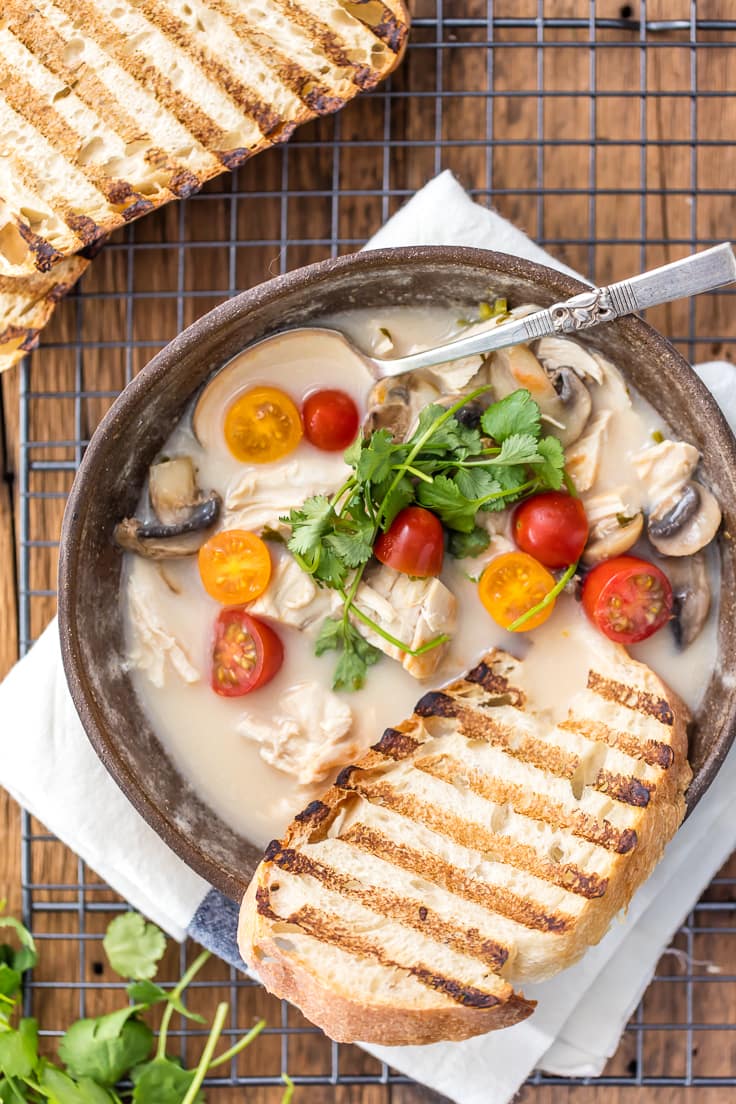 I hope you love this creamy Thai Chicken Soup recipe, packed with all the best and most comforting flavors. It's so easy to throw together, and I KNOW your favorite people will feel super loved while eating it!
Watch the video and check the recipe card for details on how to make Thai Coconut Chicken Soup. Enjoy!
More Soup Recipes We Love