This CHICKEN POT PIE SOUP with PIE CRUST CRACKERS is hearty, delicious, creative, and easy; a favorite family recipe transformed into an unexpected soup! It's one of our favorite comfort food soups for Winter.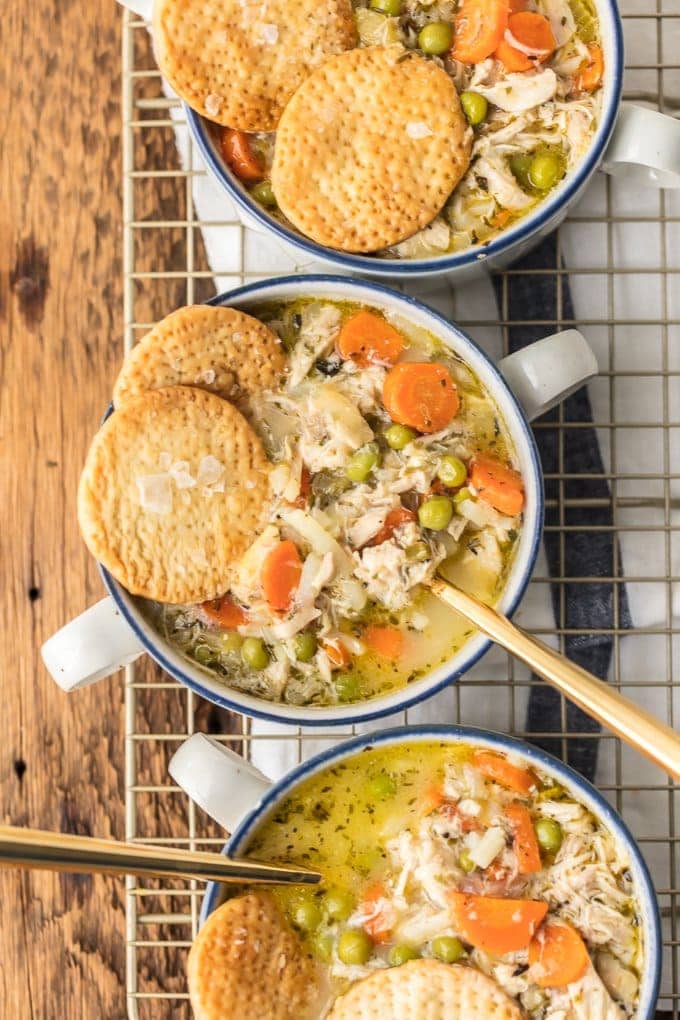 THIS SOUP! I have a couple top soups on the site but I try to not play favorites. Okay fine, I'll tell you. Mom's Creamy Chicken Soup has always been my #1 and so far I haven't found anything to top it. It's SO delicious, but not the healthiest. This New Chicken Pot Pie Soup is coming in at an incredibly close second.
It has the same flavor profile that I love about the Creamy Chicken Soup but with more vegetables and less cream! It's just as hearty with chicken, veggies, and more, and just feels so comforting. The cute addition of the pie crust crackers is completing me, making this such a fun and unique soup to make for your family. You're gonna love this soup!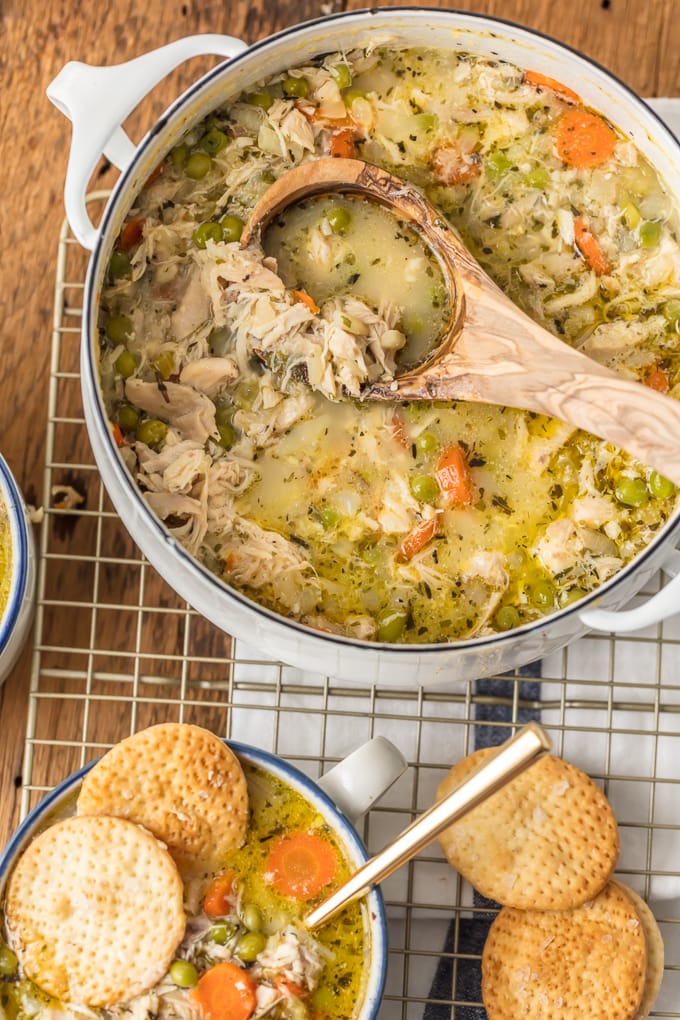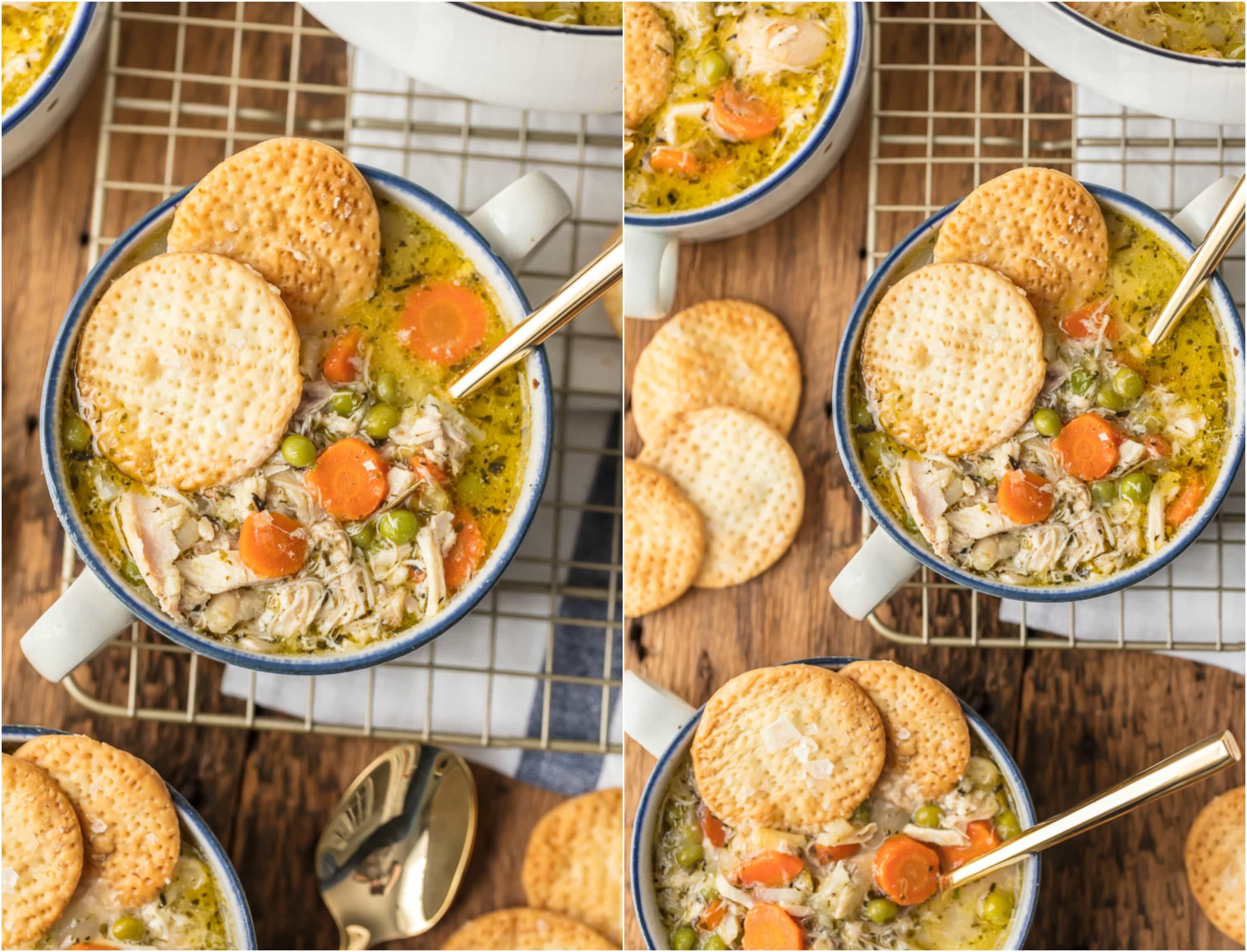 To make the pie crust crackers (SO CUTE!!!) we used store bought pie crust, a circular cookie cutter (found HERE), and the spiky end of a meat tenderizer (the one we used can be found HERE). So simple to create the illusion of a cracker. They tasted AMAZING in the chicken pot pie soup, just like the flakey crust you would typically find on a chicken pot pie. A little bit of charm to top this delicious lunch or dinner recipe.
The pie crust crackers are sure to impress your guests if making for a crowd. The little bit of extra work goes a long way!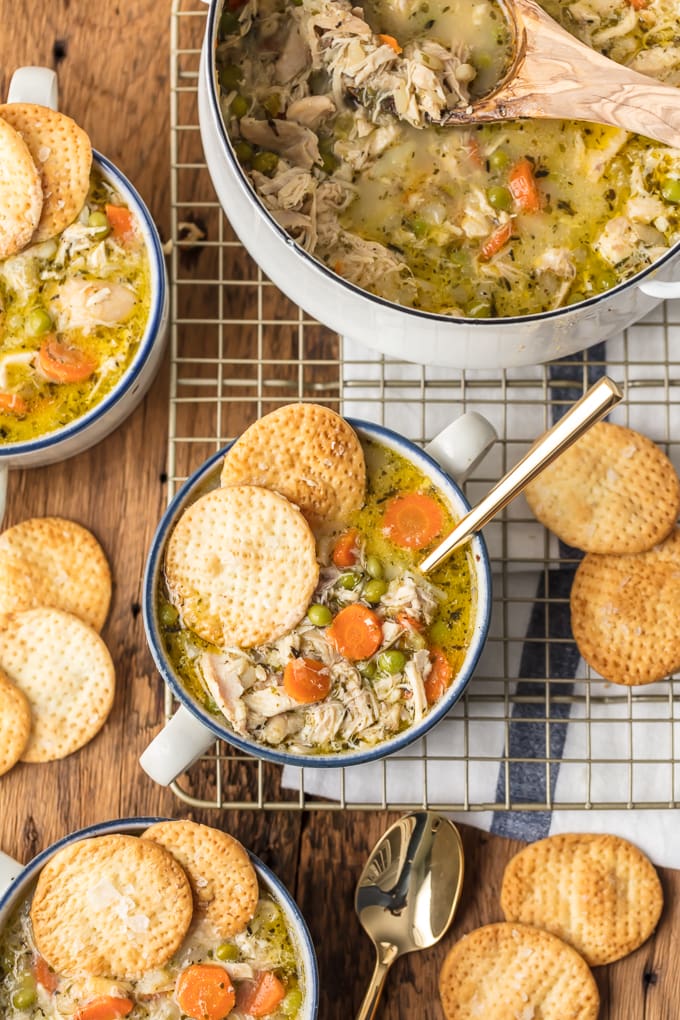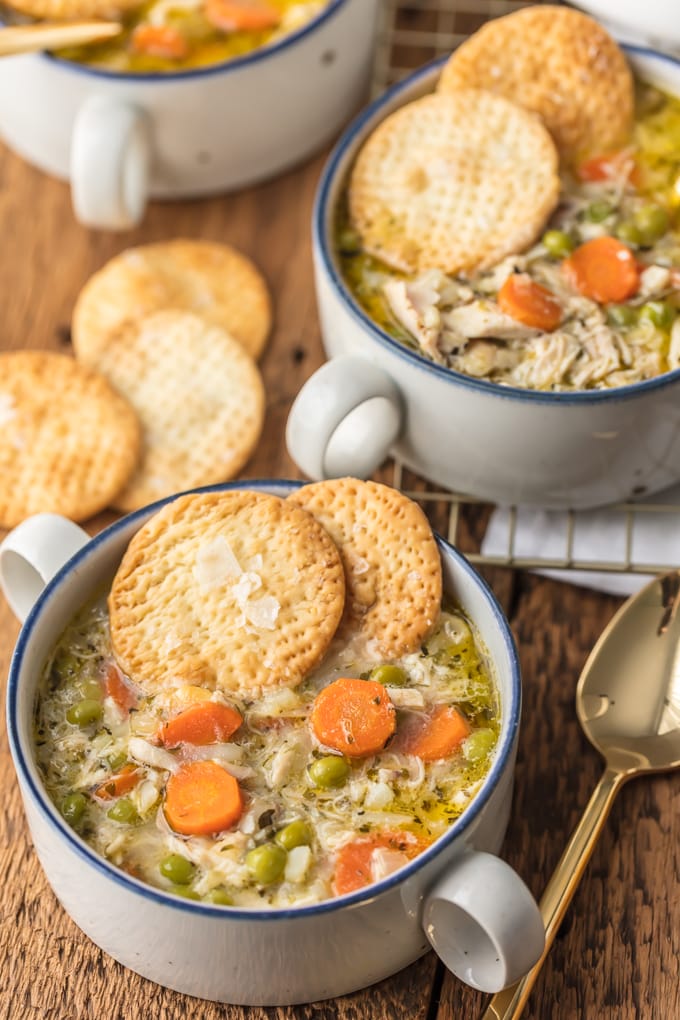 If you're a soup lover, and a comfort food lover, than you MUST try this Chicken Pot Pie Soup. Creamy Chicken Soup may still be my #1, but this is right on up there. I'm in LOVE. I hope you and your family love it as much as we do.
Enjoy!
Chicken Pot Pie Soup with Pie Crust Crackers
This CHICKEN POT PIE SOUP with PIE CRUST CRACKERS is hearty, delicious, creative, and easy; a favorite family recipe transformed into an unexpected soup! It's one of our favorite comfort food soups for Winter. 
15 minPrep Time
30 minCook Time
45 minTotal Time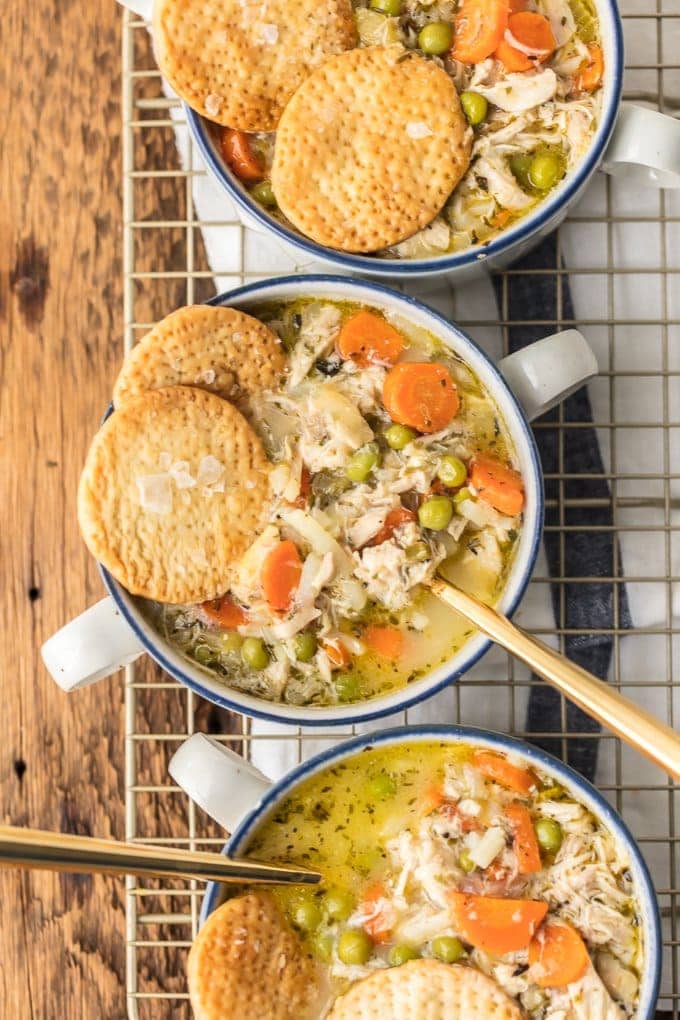 Ingredients
For Pie Crust Crackers:

1 recipe single pie crust or storebought pie crust
2 tablespoons butter, melted
Maldon sea salt flakes or coarse kosher salt

For the Chicken Pot Pie Soup:

2 tablespoons unsalted butter
2 tablespoons olive oil
3 medium carrots, peeled and diced
2 celery ribs, diced
1 sweet yellow onion, peeled and minced
2 cloves garlic, minced
4 cups chicken stock or broth, low sodium or unsalted
¼ cup white wine, semi-dry or dry
1 cup frozen petite or baby peas, thawed
2 cups frozen, shredded hash browns, thawed
3 cups rotisserie chicken meat, cubed
¼ cup heavy cream or half 'n half
½-1 teaspoon kosher salt, or to taste
1 teaspoon freshly ground black pepper
2 bay leaves
1 teaspoon Herbs de Provence
½ teaspoon dried basil or 1 tablespoon minced fresh basil
½ teaspoon dried thyme or 1 tablespoon minced fresh thyme
Instructions
For the Pie Crust Crackers:

Preheat oven to 400°F.
Allow piecrust to warm to room temperature, 15-20 minutes.
Unroll crust and use the spiked surface of a meat tenderizer (or something comparable) to lightly press a dotted design into the dough. Small cookie stamps would work well, too.
Cut the dough into 2-inch discs and place on a rimmed baking sheet. Brush the topside of each disc with butter and sprinkle lightly with flake or coarse salt. Bake the crackers on the middle rack of a 400°F oven until golden brown & crispy, 6-8 minutes. Set aside until ready to serve.

For the Pot Pie Soup:

Heat butter and oil, in a Dutch oven, over MEDIUM-HIGH heat until it shimmers but before the butter browns.
Add diced carrots and celery and cook for 3 minutes.
Add minced onions and cook until onion is translucent.
Add minced garlic and cook 30 seconds.
Stir in chicken stock and scrape the bottom of the pan to deglaze the pan.
Stir in the white wine, peas and hash browns and bring the mixture to a boil.
Reduce heat to MEDIUM and cook the soup 10 minutes.
Reduce heat to LOW and add chicken and cream. Stir.
Season with salt, and add the pepper, bay leaves, Herbs de Provence, basil and thyme. Stir well and cover.
Simmer the soup, over LOW heat, 30 minutes. *See NOTE.
Discard the bay leaves.
Serve with the Pie Crust Crackers, and
Enjoy!
*NOTE: If the soup is too thin, combine 2 tablespoons cornstarch with 2 tablespoons cold milk or water and stir to combine. Bring soup to a low boil, stirring occasionally, and cook a few minutes or just until soup thickens.
7.6.7
2536
https://www.thecookierookie.com/chicken-pot-pie-soup/