This Chicken Pot Pie Soup with pot pie crust crackers is hearty, delicious, creative, and super easy! It's a favorite family recipe transformed into an unexpected soup! It's one of our favorite comfort food soups for Winter.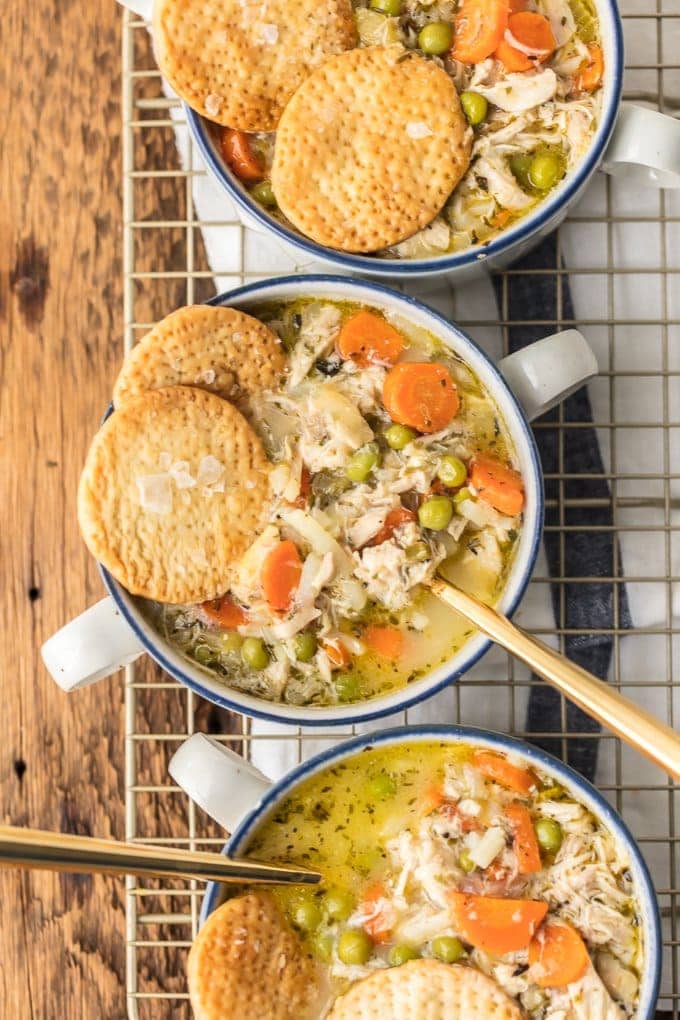 Easy Chicken Pot Pie Soup
THIS SOUP! I have a couple top soups on the site but I try to not play favorites. Okay fine, I'll tell you. Mom's Creamy Chicken Soup has always been my number one and so far I haven't found any soup to top it. It's SO delicious, but not exactly the healthiest. But this new Chicken Pot Pie Soup is coming in at an incredibly close second.
It has the same flavor profile that I love about the Creamy Chicken Soup but with more vegetables and less cream! It's just as hearty with chicken, veggies, and more, and just feels so comforting. The cute addition of the pot pie crust crackers is completing me, making this such a fun and unique soup to make for your family. You're gonna love this soup!
Make this hearty Chicken Pot Pie Soup with Pie Crust Crackers for a warming winter meal!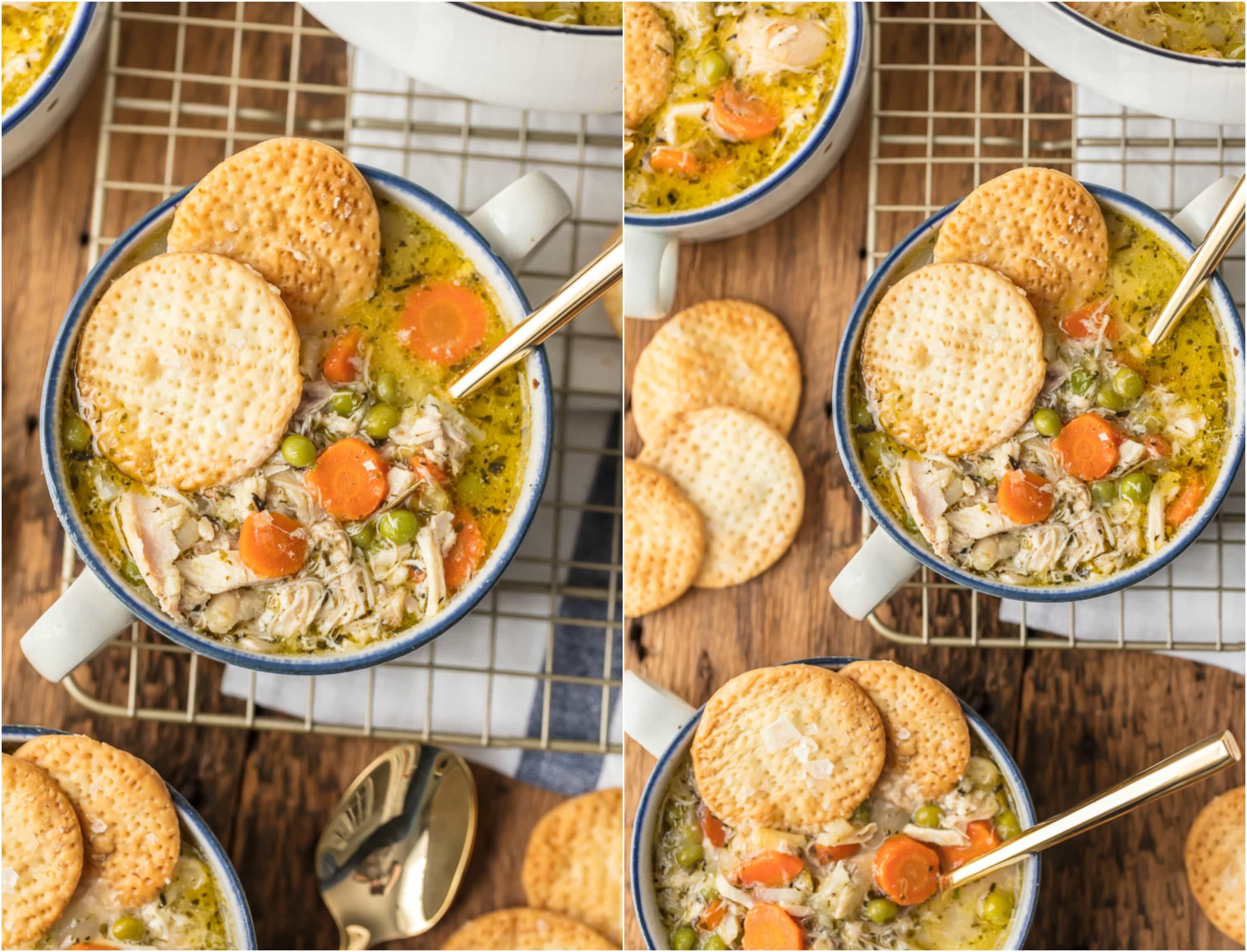 How to Make Pot Pie Crust Crackers
To make the pie crust crackers (SO CUTE!!!) we used store bought pie crust, a circular cookie cutter, and the spiky end of a meat tenderizer. So simple to create the illusion of a cracker. They tasted AMAZING in the chicken pot pie soup, just like the flakey crust you would typically find on a chicken pot pie. The pie crust crackers add just a little bit of charm to this delicious lunch or dinner recipe.
The pie crust crackers are sure to impress your guests if making for a crowd. The little bit of extra work goes a long way!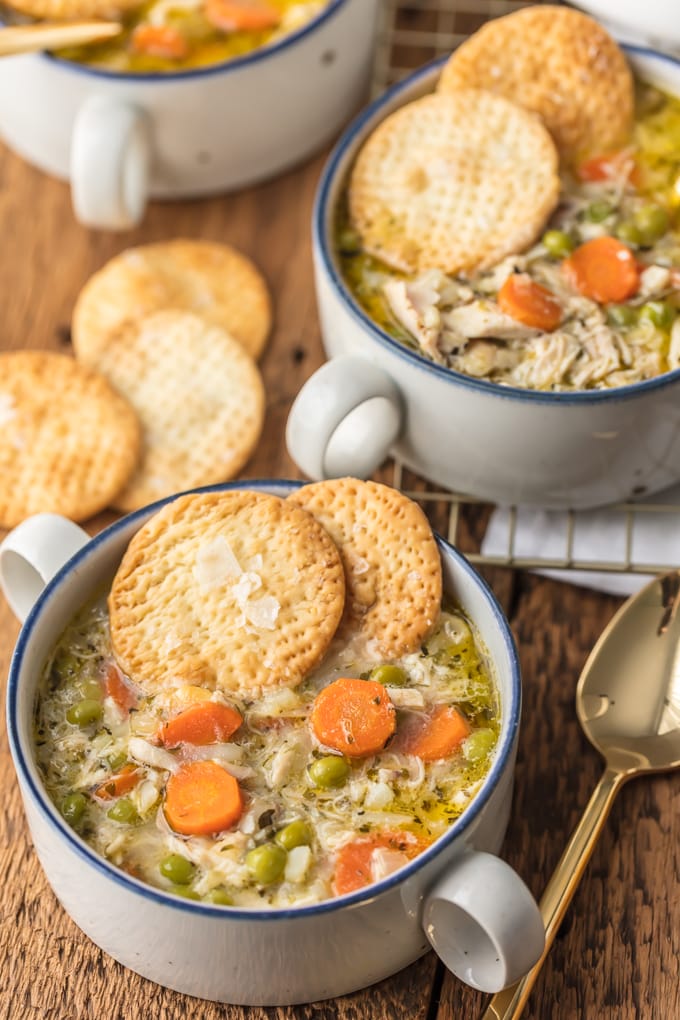 If you're a soup lover, and a comfort food lover, than you MUST try this Chicken Pot Pie Soup. Creamy Chicken Soup may still be my #1, but this is right on up there. I'm in LOVE. I hope you and your family love it as much as we do.
Don't forget to check out the Chicken Pot Pie Casserole for another hearty winter meal!
More Soup Recipes We Love