Simple, easy and delicious – this Tricolor Pasta Salad is perfect for BBQ's, parties or as a vibrant side! Bursting with veggies, cheese and colorful noodles this is as yummy as it is gorgeous!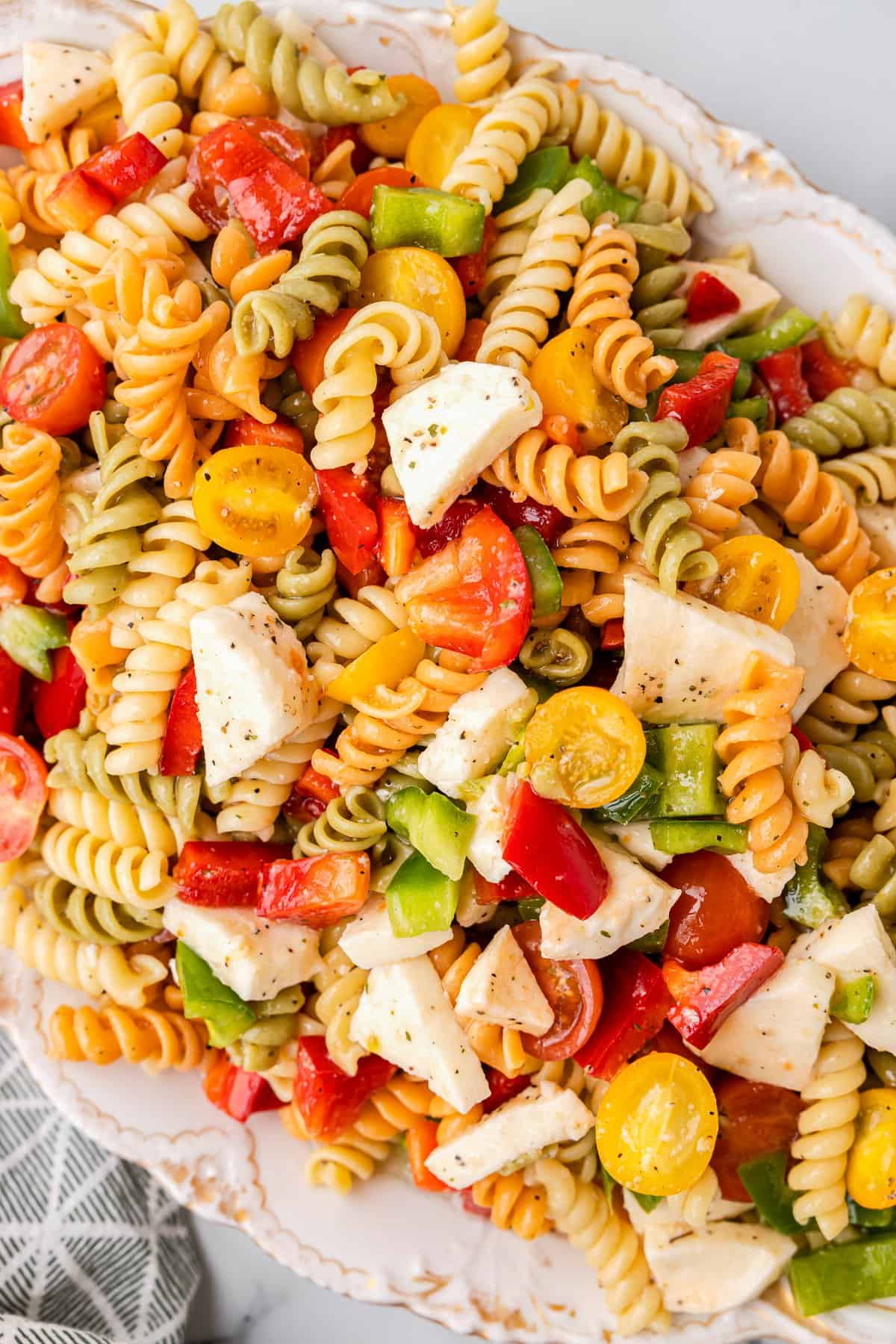 Pasta Salad with Italian Dressing
Pasta noodles, bejewelled with tomatoes and bell peppers, then loaded with diced mozzarella – so good! Use your fave Italian dressing to bring this all together for a super easy side dish, appetizer or even a main. Great for game day, BBQ's and much more!
Looking for more pasta recipes? Why not also try my Italian Stuffed Shells with Meat and Cheese and my Creamy White Chicken Lasagna.
Why You'll Love This Easy Pasta Salad Recipe:
COLORFUL: This pasta salad really pops! With it's colorful veggies and noodles, it'll be a crowd pleaser.
EASY: Only six main ingredients, this comes together so easily and is super satisfying!
SIMPLY DELICIOUS: You'll be amazed at how a handful of simple ingredients create something so yummy.
Colorful and fresh veggies, tossed with pasta, cheese and Italian dressing – this delicious dish packs a nutritious punch.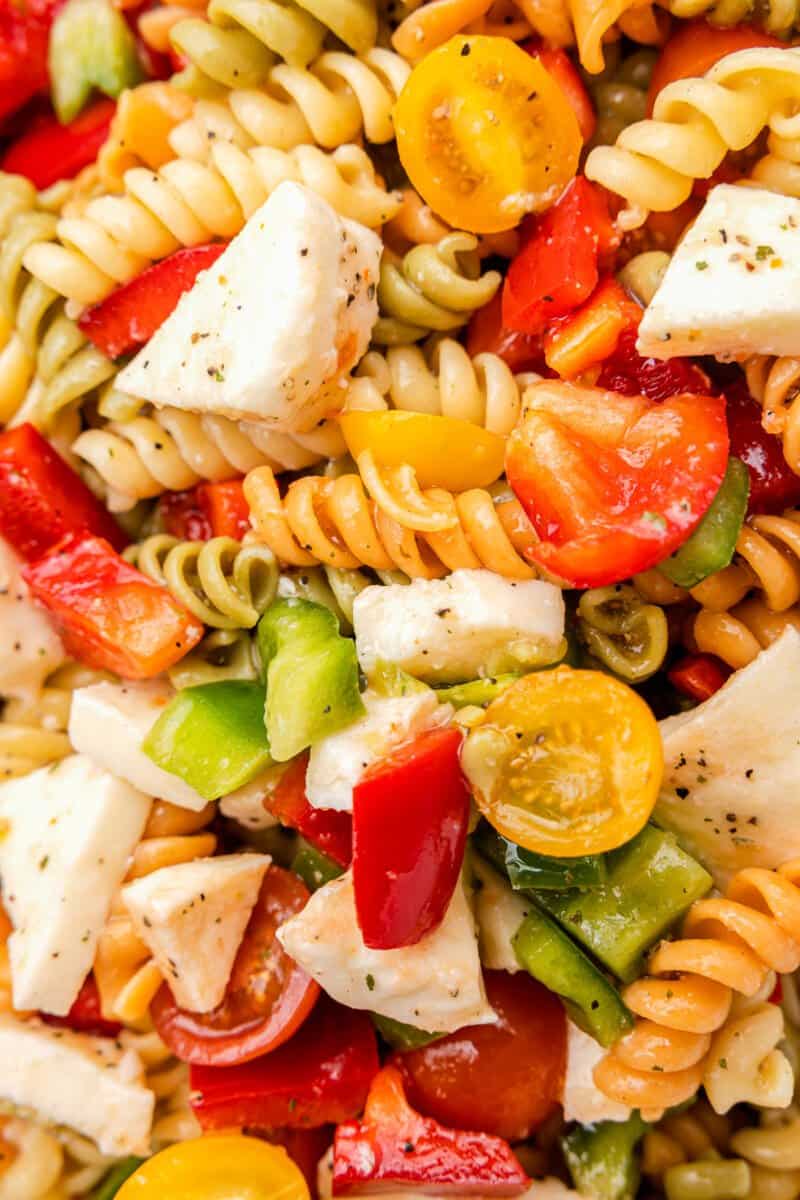 How to Make Tricolor Pasta Salad
You can jump to the recipe card for full ingredients & instructions!
Toss your cooked pasta and all other ingredients in a bowl.
Refrigerate for at least an hour.
Serve and enjoy!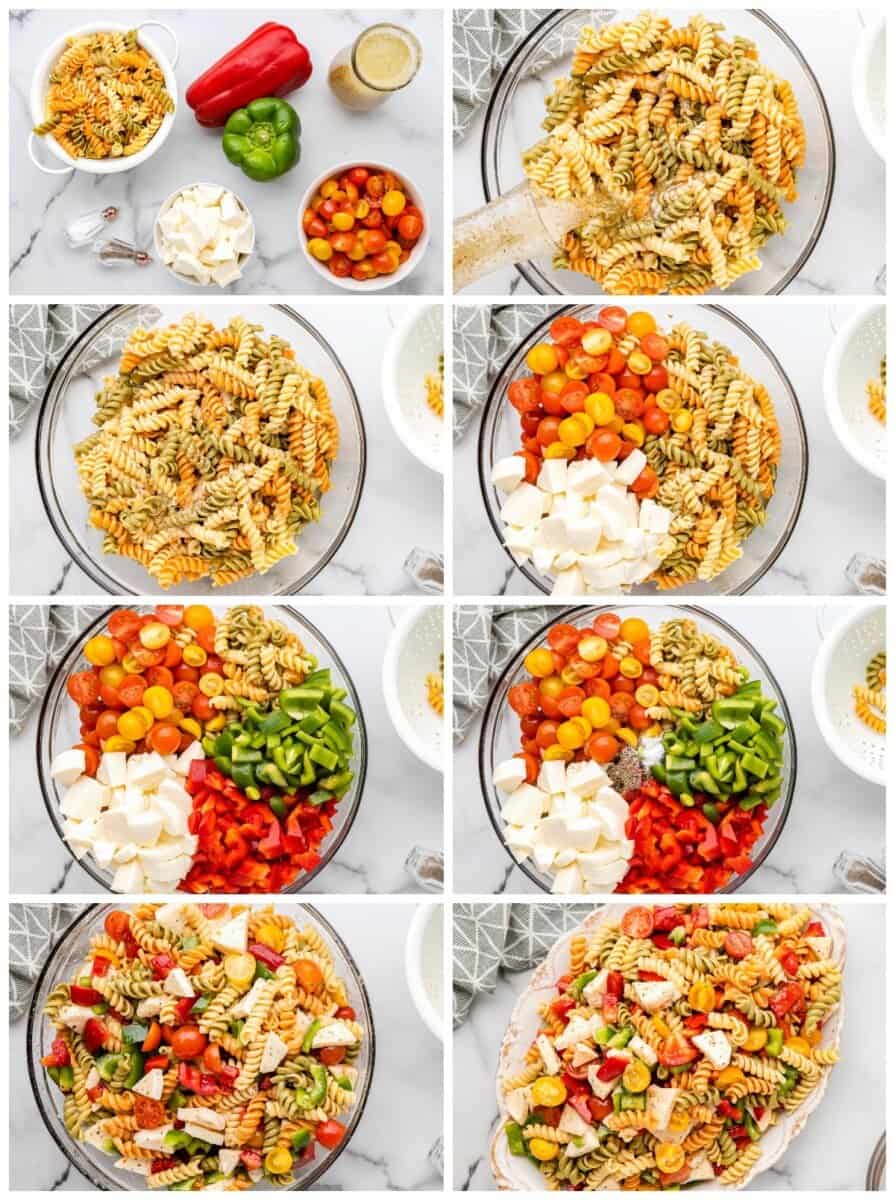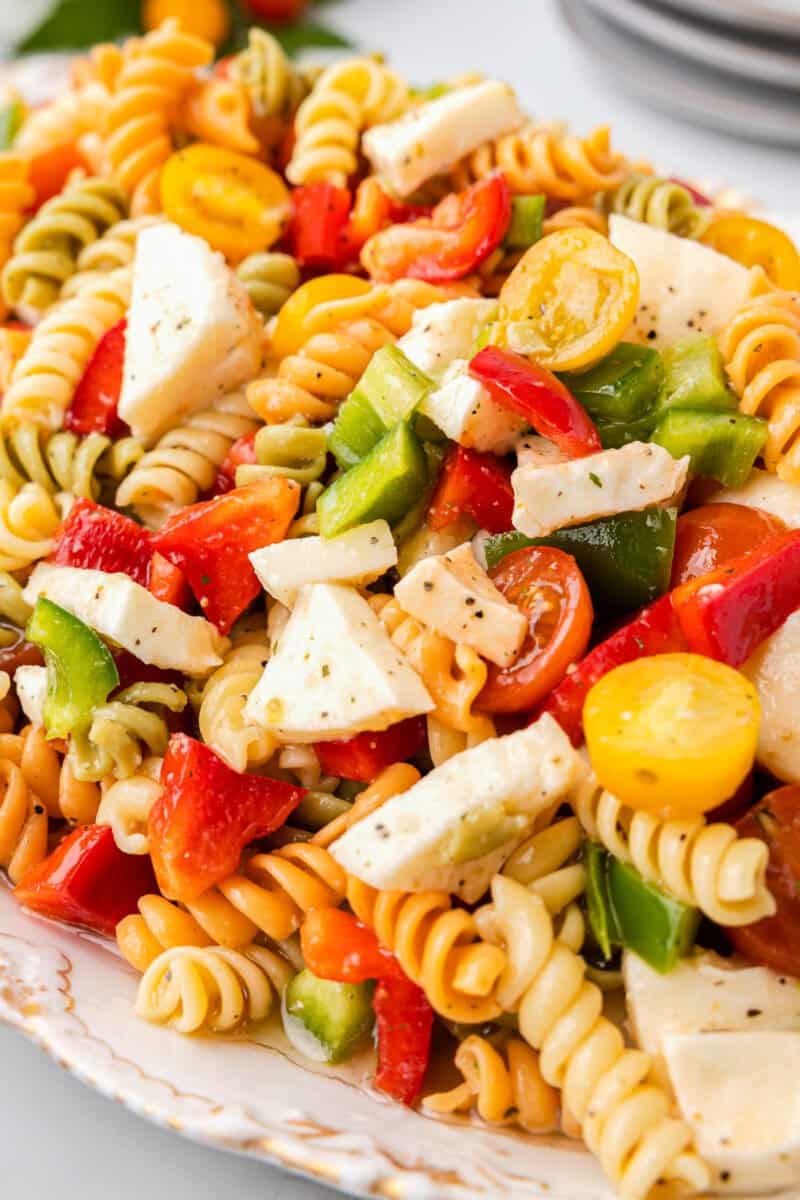 Does tricolor pasta taste different than regular pasta?
Despite its fun colors, tricolor pasta is not flavored any differently than regular pasta. Real food ingredients such as tomato and spinach give this pasta its bright color, but there is not enough of them to significantly impact the taste.
Can I make Italian pasta salad with any kind of noodle?
Definitely! Colorful noodles are so fun, but you can use 16 ounces of any short pasta shape to make this pasta salad. Some of my favorites are penne, farfalle, and cavatappi.
Does tricolor pasta contain food dye?
Tricolor pasta is made with vegetable coloring from dried spinach and dried tomato. There are no artificial dyes in this pasta.
What kind of dressing should I use for tricolor pasta salad?
Use 16 ounces of your favorite store-bought or homemade Italian dressing. I love this recipe for homemade Italian dressing!
Can I use fresh mozzarella instead of diced in Italian pasta salad?
Absolutely. Use 16 ounces of your favorite kind of fresh mozzarella cheese – cubed, diced, pearls, balls, etc.
Serving Suggestions
This hearty pasta salad makes for a great side or even main dish. Here are some favorite mains you can serve it with:
Never fret about an easy side dish again! Fresh, hearty and so tasty – it's one of the easiest pasta salads you can make!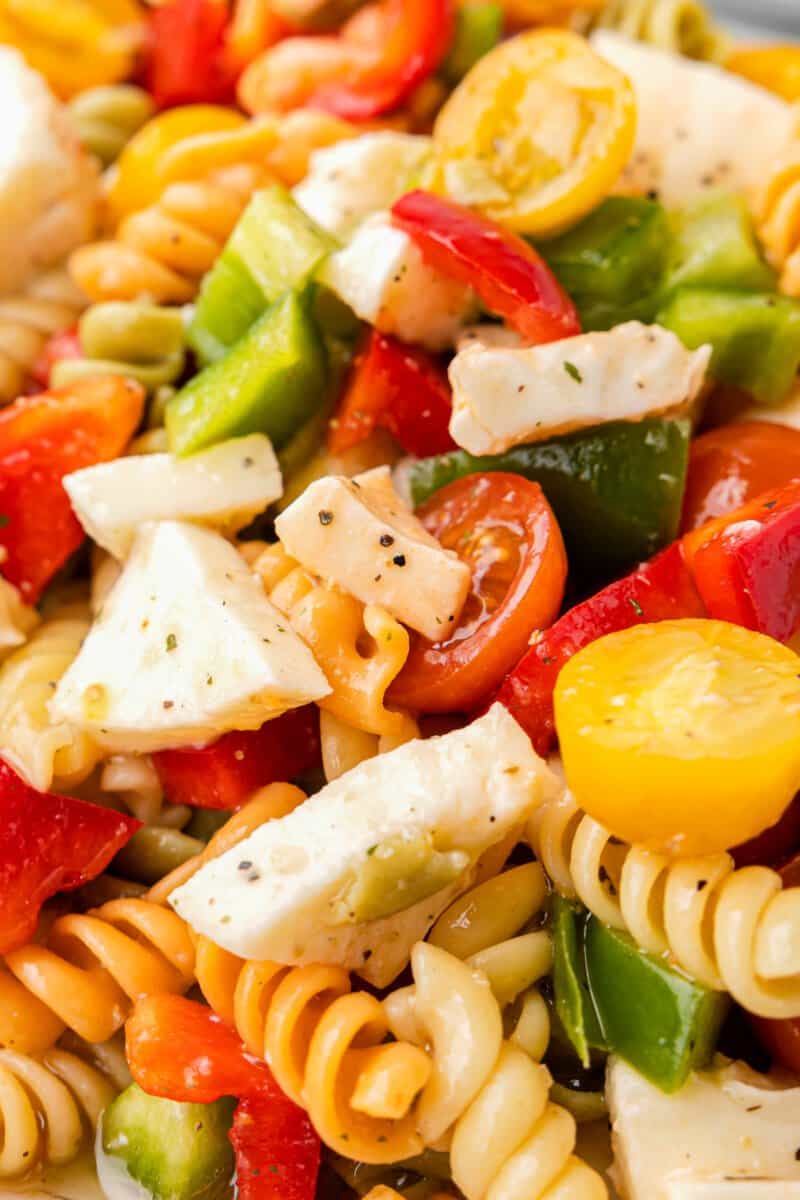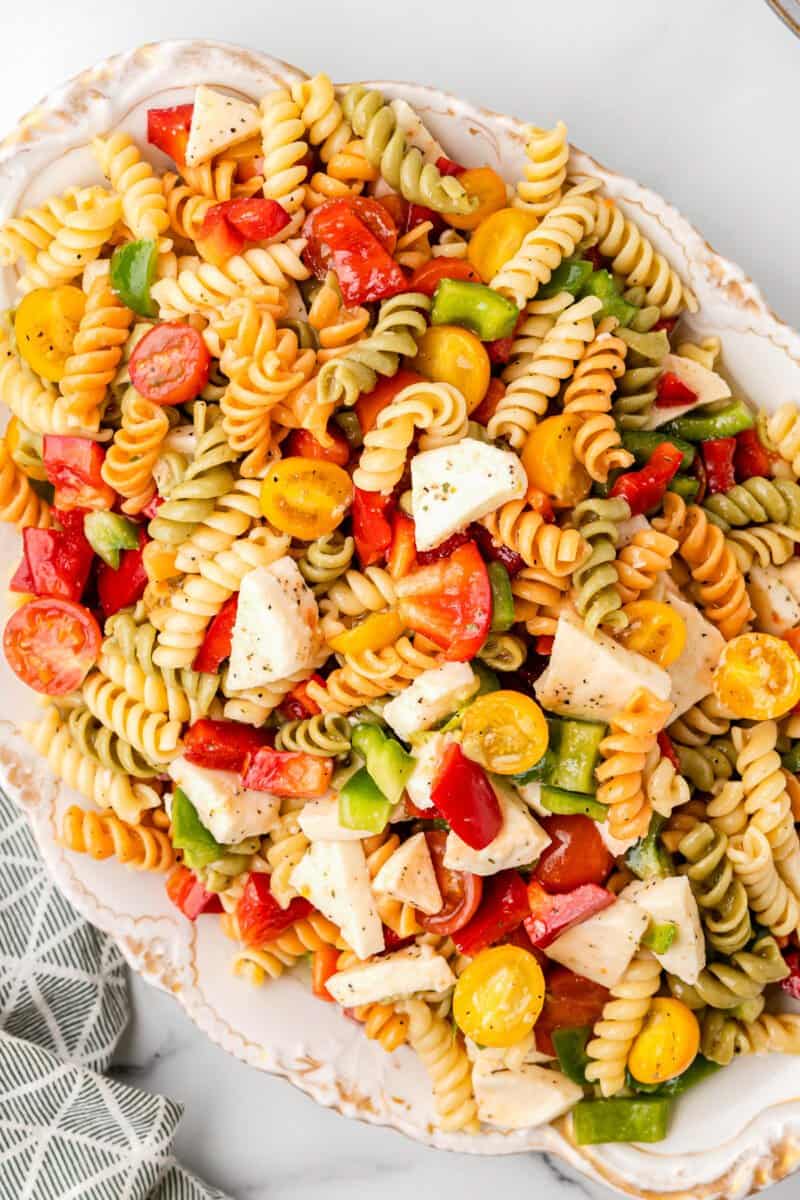 Storage Instructions
Store leftover pasta salad in an airtight container in the refrigerator for up to 5 days.
Make Ahead Instructions
This is a wonderful pasta salad to make ahead of time! I actually prefer it the next day when the salad dressing has had time to mingle with the other ingredients. If you're worried about the salad becoming dry, reserve a little of the dressing to toss with it the next day just before serving.
Troubleshooting
Is your pasta salad…
Dry? Pasta is starchy and easily absorbs liquids. While it's beneficial for the flavor to toss the pasta in the dressing while it's still warm, using ⅔ of the dressing for this is best, as if too much is absorbed, the pasta will end up dry. Toss the cooled pasta salad with the remaining ⅓ of the dressing just before serving.
Mushy? While it's important to cook the pasta a bit longer in order to keep it soft, cooking pasta for too long will lead to mushy pasta that falls apart when tossed with the dressing. Be sure to cook the pasta salad only 1 minute longer than the directions on the box.
Tasteless? Start seasoning early and often. Boil the pasta in generously salted water and taste as you go to make sure the pasta isn't being over or under seasoned.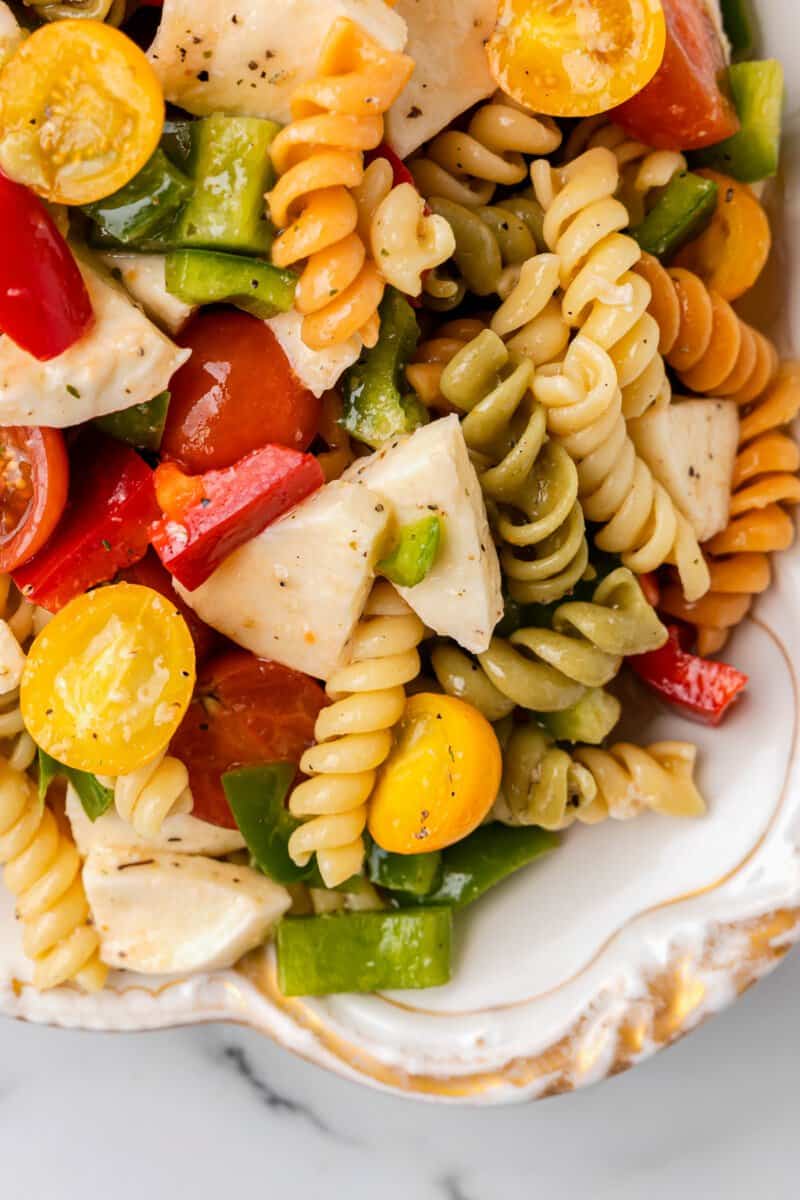 This Tri Color Pasta Salad is my go to for BBQ's, game days, family gatherings and pretty much any time I need to quickly whip up something satisfying and delicious! Fresh veggies, cheese, and noodles – anointed with your favorite zesty Italian dressing – it'll please vegetarians and omnivores – so good!
If you make this recipe be sure to upload a photo in the comment section below or leave a rating. Enjoy! You can also jump to recipe.