Turkey Wild Rice Soup is an easy, creamy, cozy soup recipe for autumn and winter. This turkey soup is a great way to use up any leftover turkey after Thanksgiving or Christmas. So much flavor!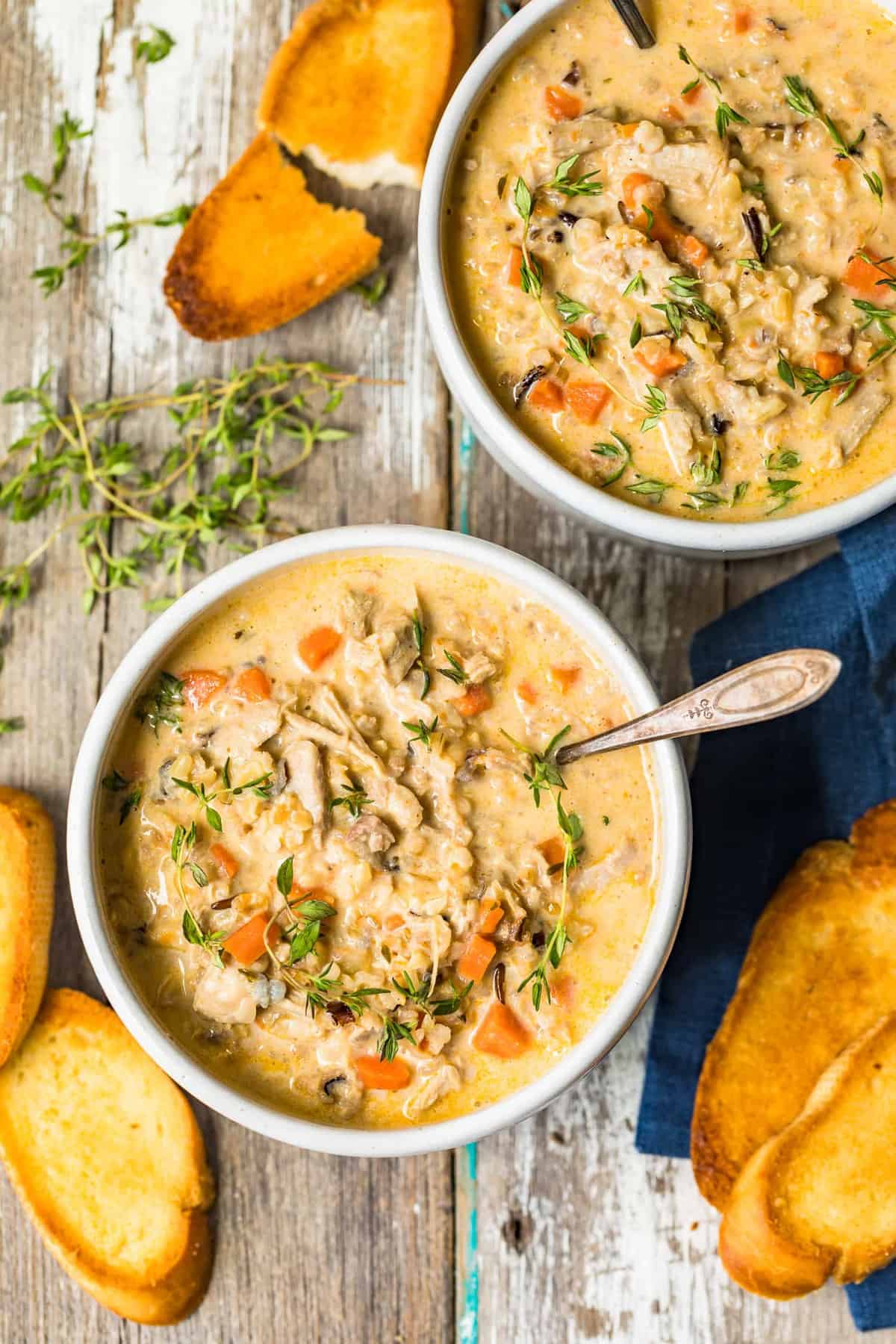 What's in this Turkey Wild Rice Soup Recipe?
If you're like me, you probably cooked way too much turkey for Thanksgiving, and now you're looking for some ways to use it up. You can always default to a sandwich, but this leftover turkey soup is so much better!
Butter + Olive Oil: Help the veggies cook without burning.
Wild Rice: Start with uncooked wild rice or a wild rice blend. Other types of rice will work as a substitute, but it might affect cooking times.
Baking Soda: Adding baking soda to the soup breaks down the tough rice fibers and reduces cooking time, so don't skip it!
Fresh Thyme: Adds a fresh, herbaceous flavor.
Dry White Wine: Adds a balancing acidity to the soup. Choose a wine you'd like to drink, such as Chardonnay or Riesling.
Broth: Use a low-sodium chicken broth or turkey broth.
Salt + Pepper: Enhance the overall flavor of the soup.
Heavy Cream: Makes this soup creamy.
Cooked Turkey: You can use any leftover turkey in this recipe. Shredded leftovers from your Thanksgiving turkey work well, or simply dice up a turkey breast.
Pro Tip: If you don't have leftover turkey, don't worry. You can make some for this recipe any way you like, just make sure it's fully cooked before adding it to the soup.
Variations on Turkey and Wild Rice Soup
This soup is super versatile! You can use different vegetables, like broccoli, peas, or green beans; different rice, like brown or white; and different meat, like shredded chicken. Feel free to get creative!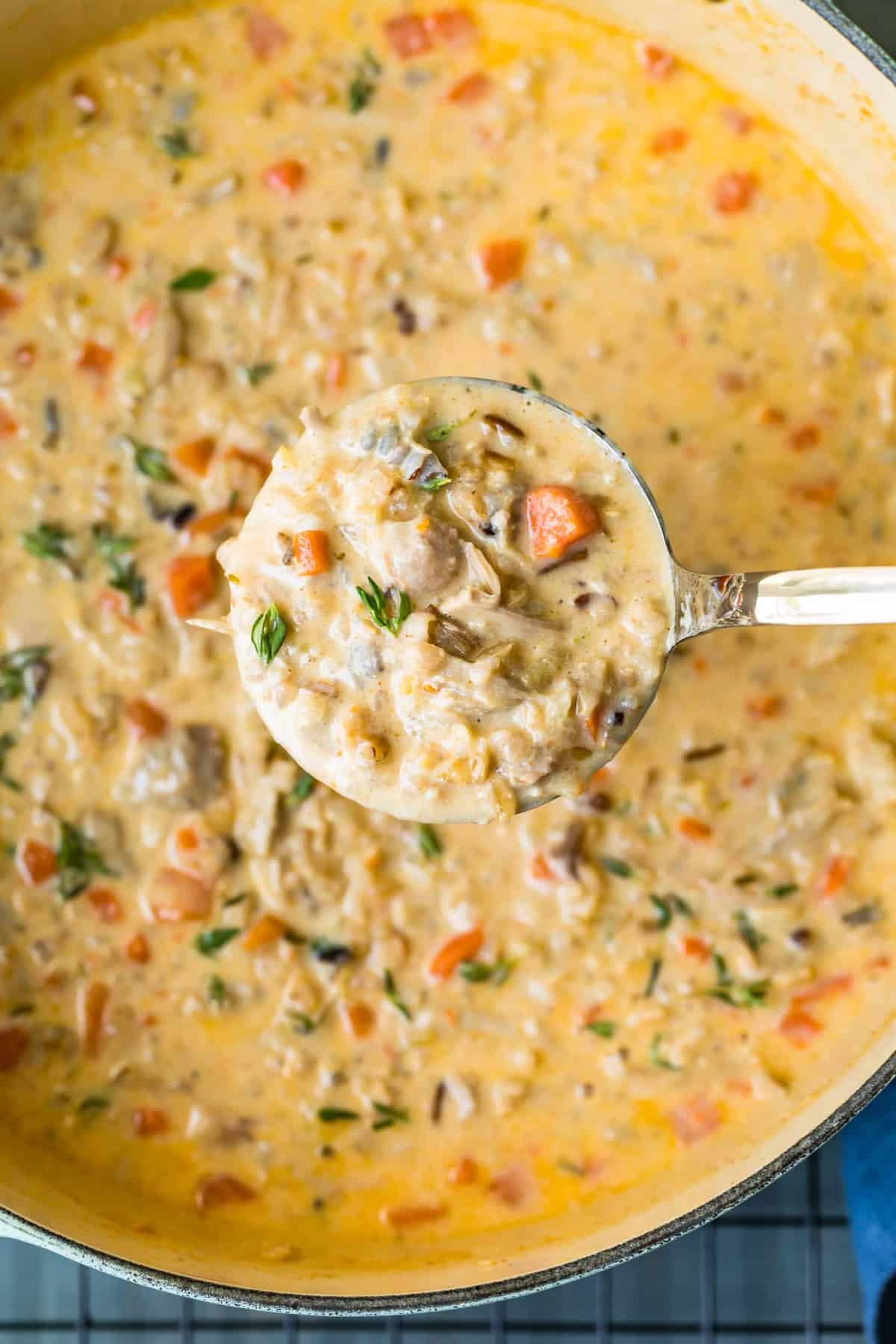 How long does leftover turkey last in the fridge?
You can keep cooked turkey in the refrigerator up to 3-4 days. That's why I like to use it up in recipes like this, so it doesn't go to waste!
Do you cook rice before adding it to soup?
Cooking the wild rice is part of the process in this one-pot recipe. So the rice will get some cooking time before the rest of the ingredients are added in to make the soup.
Why do you add baking soda to this soup?
The baking soda helps to break down tough fibers in the rice, which means the soup will cook a little bit faster.
How do you keep rice from getting soggy in soup?
First, make sure you are using regular/dry rice and not par-boiled rice (like instant rice). If the rice still comes out soggy, it probably soaked up too much liquid by cooking in the soup for too long.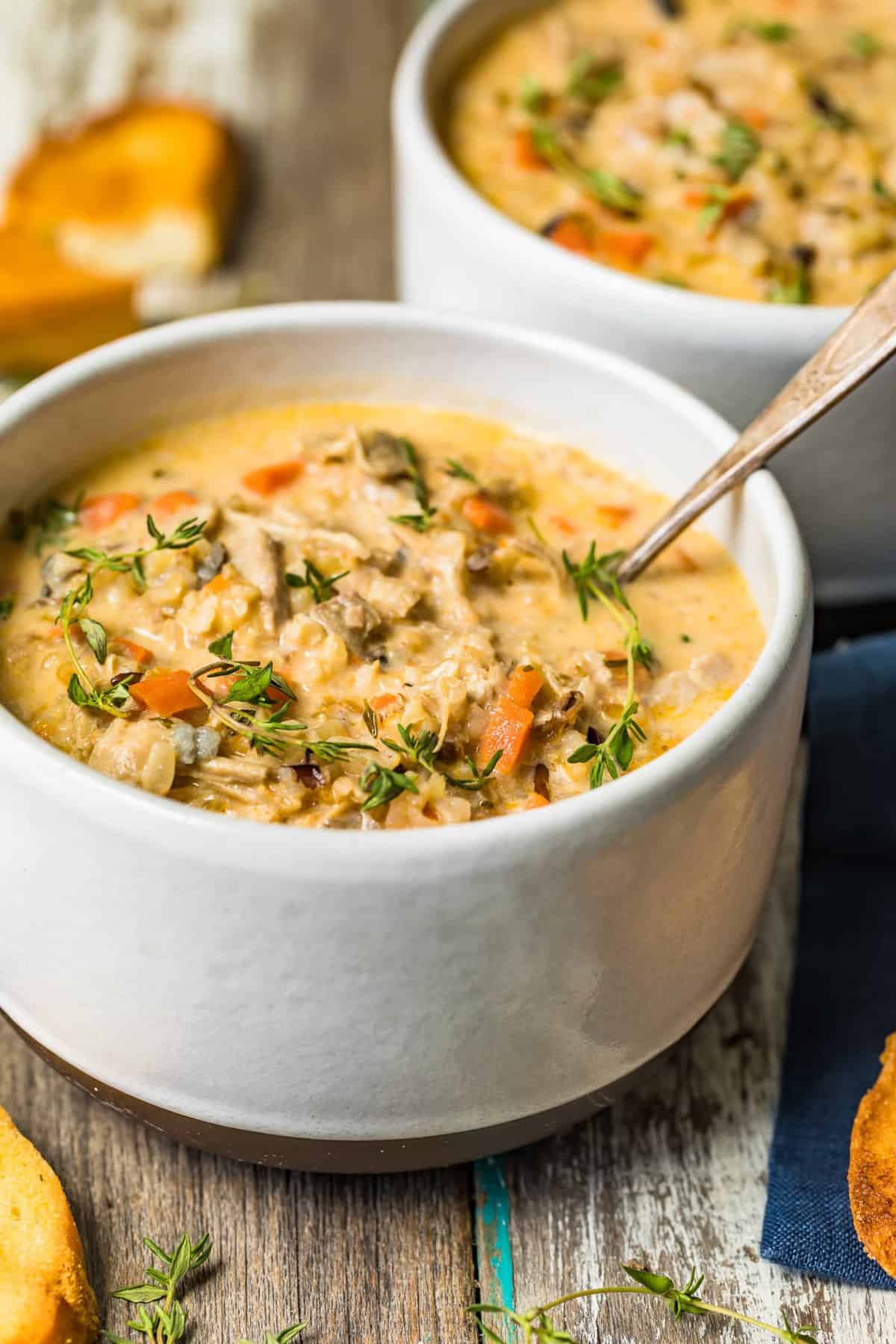 How to Store and Reheat
Store leftover turkey wild rice soup in an airtight container in the refrigerator for up to 2 days. Reheat in a saucepan set over medium-low heat or in the microwave in 30-second increments until warmed through.
I do not recommend freezing this soup, as it will take on a grainy texture as it thaws.
Serving Suggestions
Serve this hearty leftover turkey soup with some skillet bread for dipping and a kale Caesar salad to make you feel extra healthy after the holiday.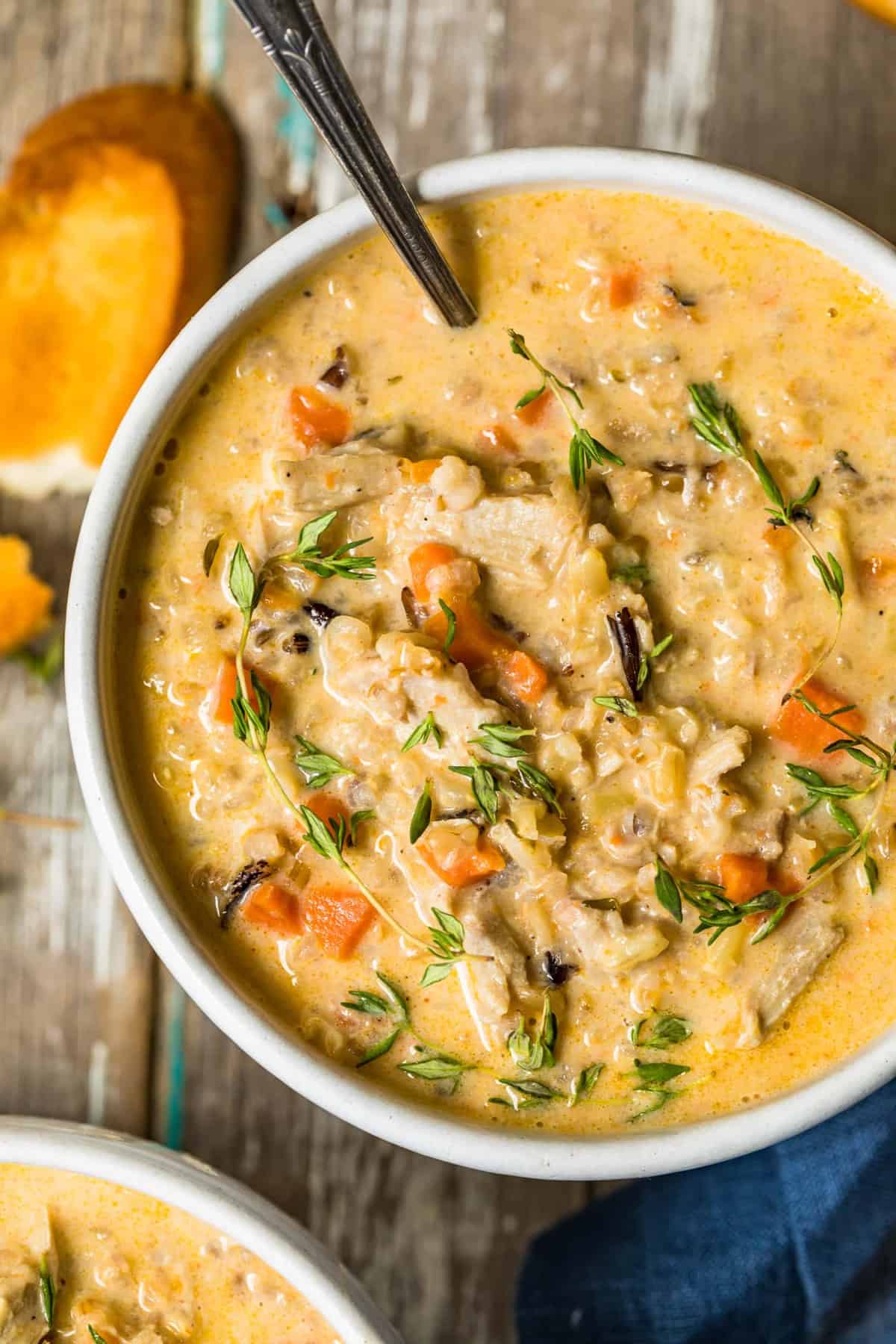 5-Star Review
"This was so good! Perfect for holiday leftovers or just a cold day comfort food! Saving recipe to make many more times!" – Lisa Marie
More Leftover Turkey Recipes We Love