Vegetable Lo Mein features tender lo mein noodles tossed together with a medley of fresh veggies in the very best homemade sauce! The homemade sauce features bold ingredients like soy sauce, mirin, ginger and more. Top it off with the protein of your choice or leave it as is for meatless Monday!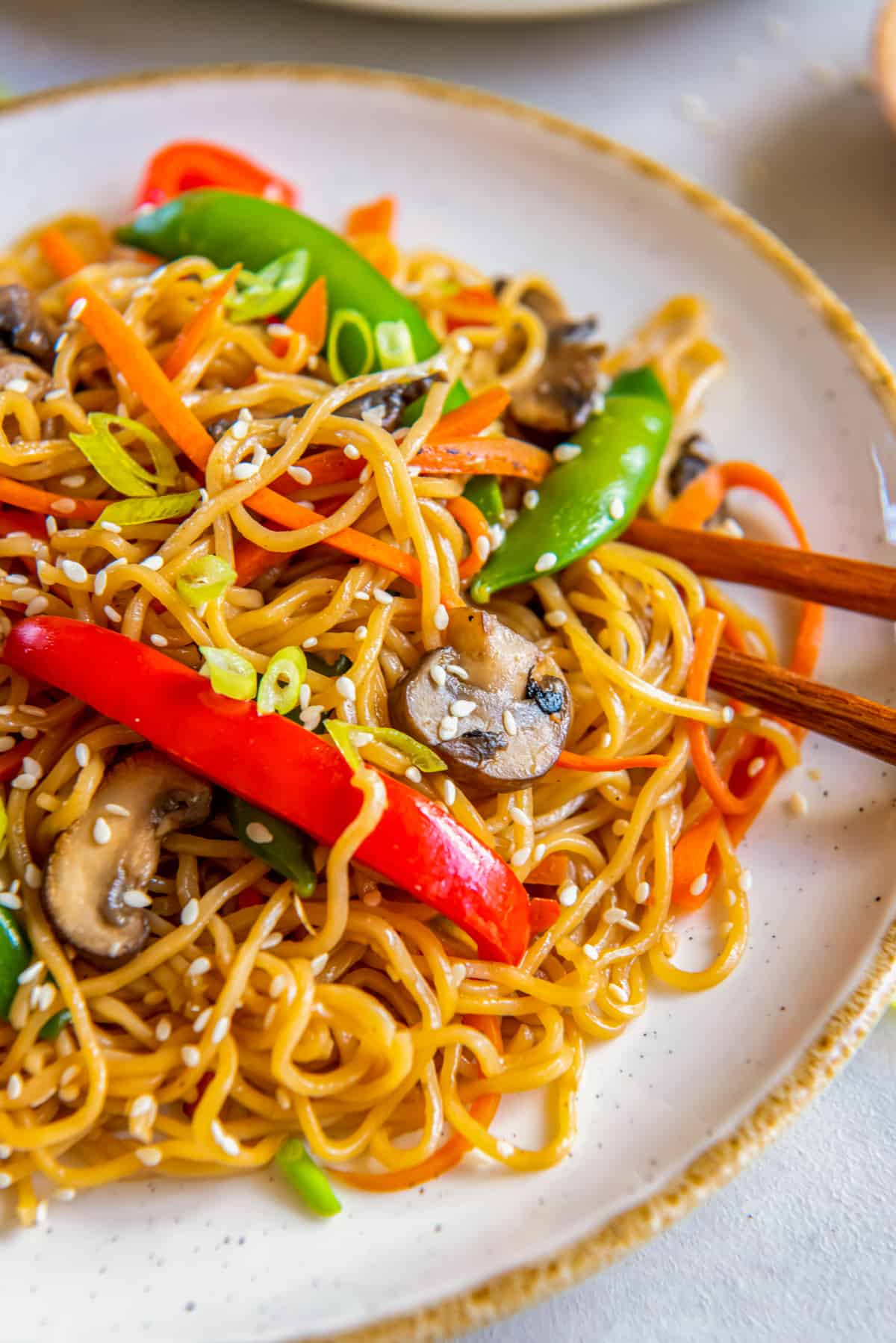 What's in Veggie Lo Mein
This easy vegetable lo mein recipe comes together quickly with simple ingredients you can find anywhere.
Sesame Oil: I like to use plain sesame oil to sauté my veggies and toasted sesame oil in my lo mein sauce.
Green Onions: Half of these are sautéed and the other half are used as a fresh garnish.
Garlic: For the best flavor, use fresh garlic, not pre-minced.
Cremini Mushrooms: You can swap these with shiitake mushrooms or any other mushrooms of your choice. Just make sure they're chopped into bite sized pieces.
Snap Peas: These are one of my favorite veggies in the mix! Try not to overcook them so they still have that desired light crunch to them.
Red Bell Pepper: Feel free to swap this with another color of bell pepper if you'd like.
Carrot: I like to julienne my carrots so they cook quicker and fit on the fork with other ingredients very well.
Dry Lo Mein Egg Noodles: If you can't find lo mein noodles, opt for egg noodles; udon, ramen, or soba noodles; or even Italian spaghetti.
Sesame Seeds: This is an optional garnish that I highly recommend!
Soy Sauce: You can use coconut aminos, tamari, or gluten-free soy sauce if desired.
Mirin: If you can't find mirin, you can use rice vinegar, white wine vinegar, dry sherry, or a sweet marsala wine instead.
Brown Sugar: You can add more or less of this to control the level of sweetness in your sauce.
Ground Ginger: This adds the BEST pop of fresh flavor to the sauce.
Crushed Red Pepper Flakes: Add more or less red pepper flakes to adjust the spice level.
PRO TIP: Feel free to add in any combination of vegetables you like, such as broccoli, edamame green beans, zucchini, baby bok choy, or water chestnuts.
Can I add some protein?
Yes! For a boost of protein, add a few scrambled eggs, diced chicken, tofu, shrimp, or beef flank steak.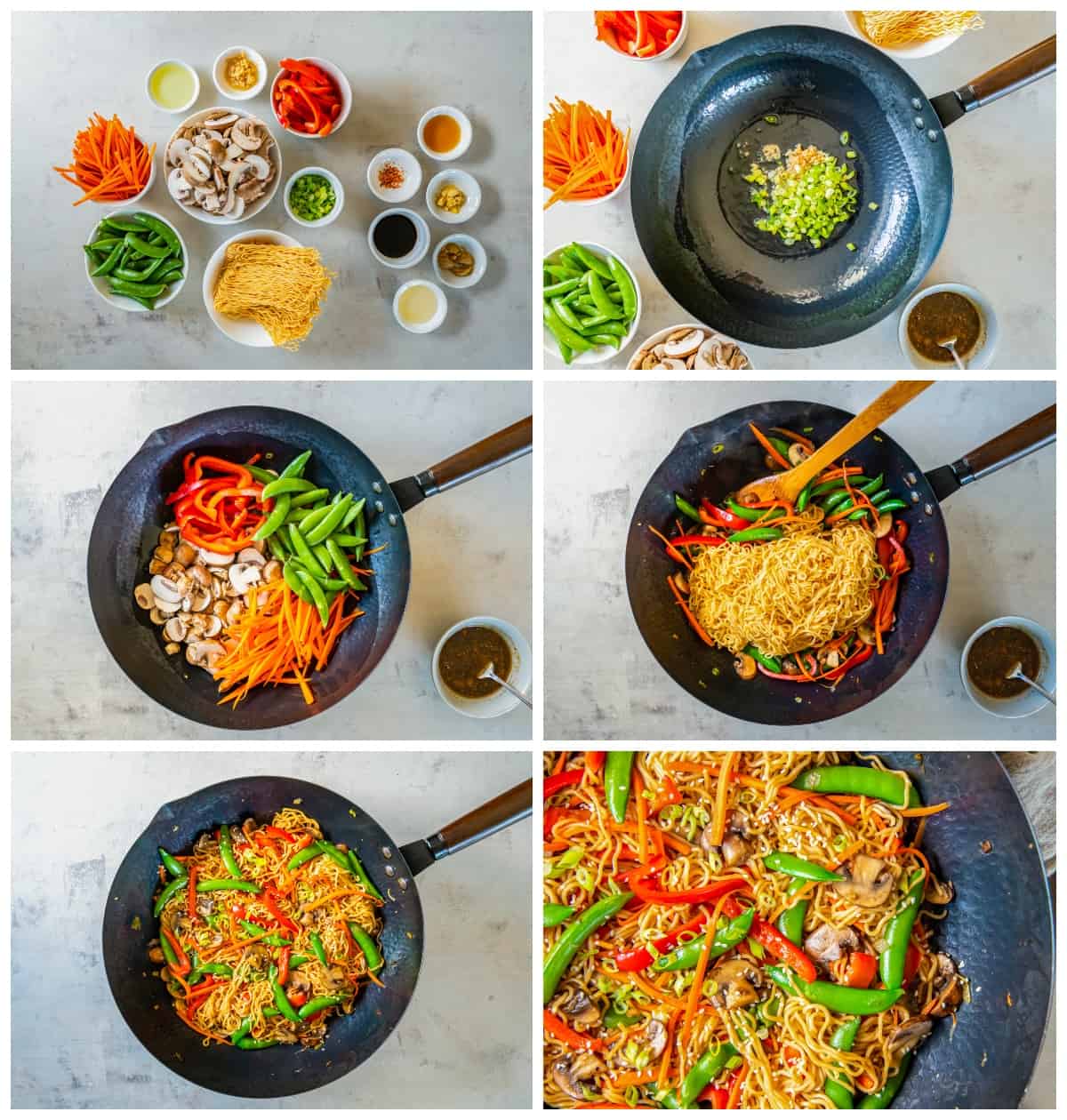 What is lo mein?
Lo mein is a Chinese-American noodle dish made with a soy-based sauce and a combination of vegetables, meat, and/or seafood.
Is vegetable lo mein vegan?
Vegetable lo mein is vegetarian, but it is NOT vegan due to the use of egg noodles. To make this dish vegan, use regular, egg-free noodles and make sure to use certified vegan soy sauce and brown sugar.
What's the difference between lo mein and chow mein?
It's easy to get the two confused, but the main difference is the preparation. Both dishes use egg noodles, but lo mein noodles are fully cooked separately before being added to the stir-fry, while chow mein noodles are par-cooked directly in the pan, and then the vegetables and meat are added to the noodles. Chow mein is also typically less saucy than lo mein.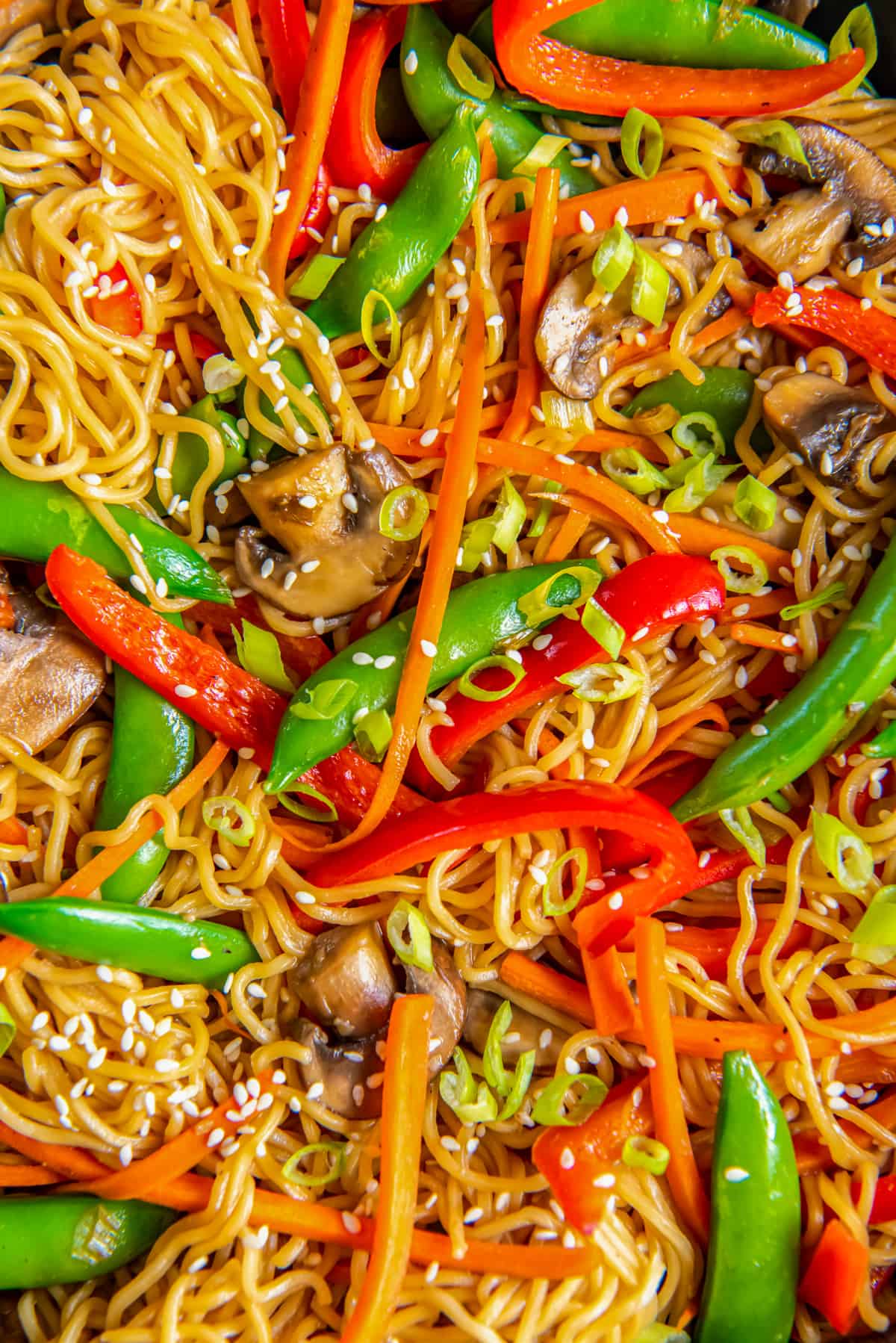 How to Store/Reheat
Store leftover vegetable lo mein in an airtight container in the refrigerator for up to 5 days. Reheat gently in the microwave or in a large skillet set over medium-low heat until warmed through.
How to Freeze
Freeze lo mein in an airtight container for up to 3 months. Let thaw in the refrigerator overnight before reheating.
Serving Suggestions
Make it feel just like takeout night, but better! Serve up your veggie lo mein with your other favorites, all made right at home.
5-Star Review
"This lo mein is soooooo good!" – Connie
More Vegetarian Dinner Recipes We Love