A traditional Chinese noodle dish, chicken lo mein is full of flavor and so easy to make at home! Ready to serve in just 15 minutes, this recipe is quicker than ordering takeout, and better for you too!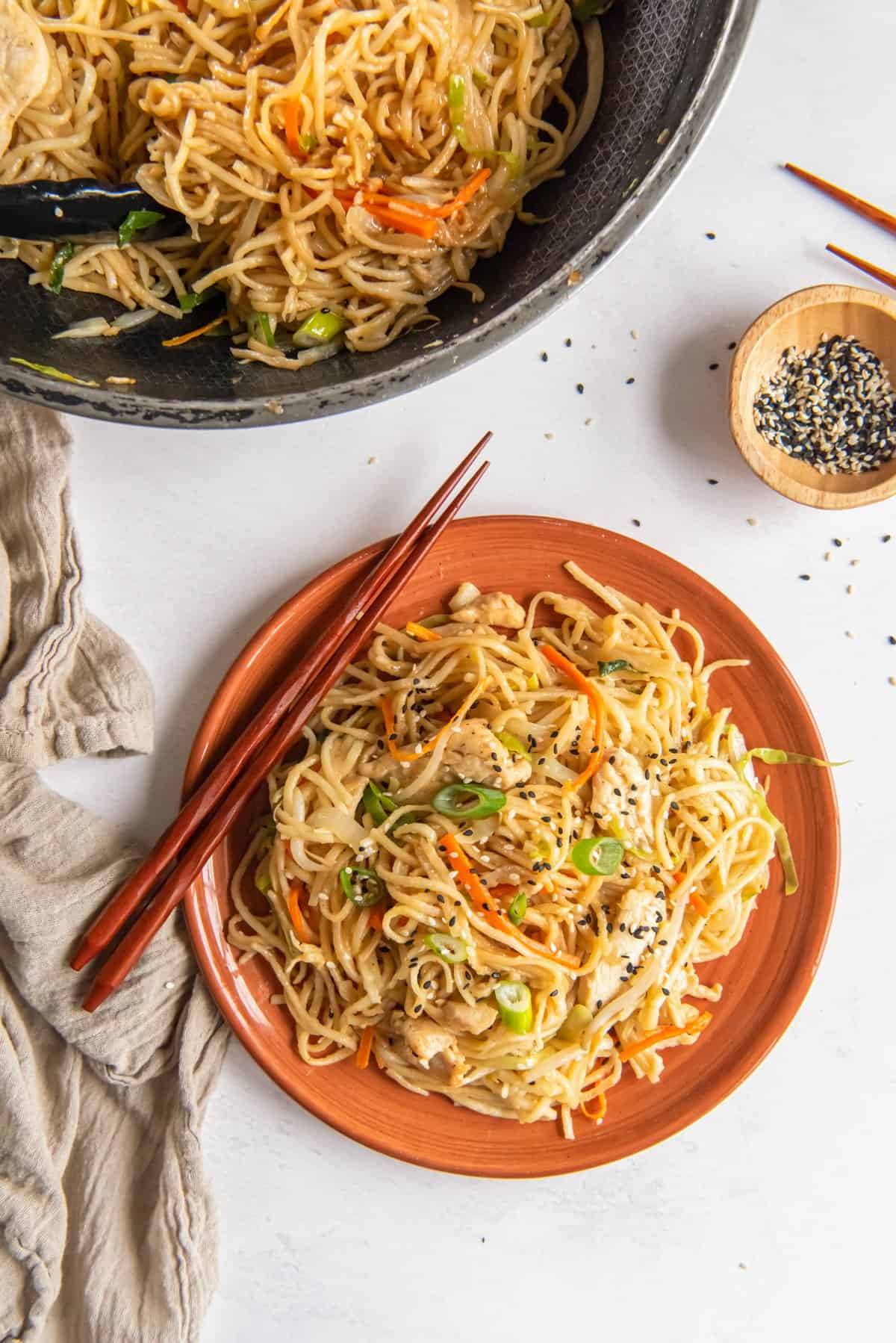 Easy Chicken Lo Mein
When it comes to Chinese takeaways, chicken lo mein is always top of my list. Now that I've discovered how easy it is to make myself, I can skip the delivery!
Slightly sweet and savory with flavors of garlic, sesame, ginger, and soy, lo mein egg noodles are tossed with sliced chicken thighs for one hearty and seriously tasty dinner.
It takes just minutes to make this dish, it's so perfect for a Friday family night in!
Be sure to try my Beef Lo Mein and Sweet and Sour Pork too!
Why You'll Love this Lo Mein Recipe:
Kid-friendly: This dish is flavorful, but not spicy, so it's one that the whole family will love.
Quick and Easy: So simple to make and ready to serve in just 15 minutes, this is one easy dinner!
Tasty Leftovers: Everyone knows that leftover Chinese food is pure joy, and this homemade recipe is no different. It's freezer friendly too!
If you've got a craving for takeout, you have got to give this recipe a spin! So easy and so tasty, it's healthier and cheaper than the alternative!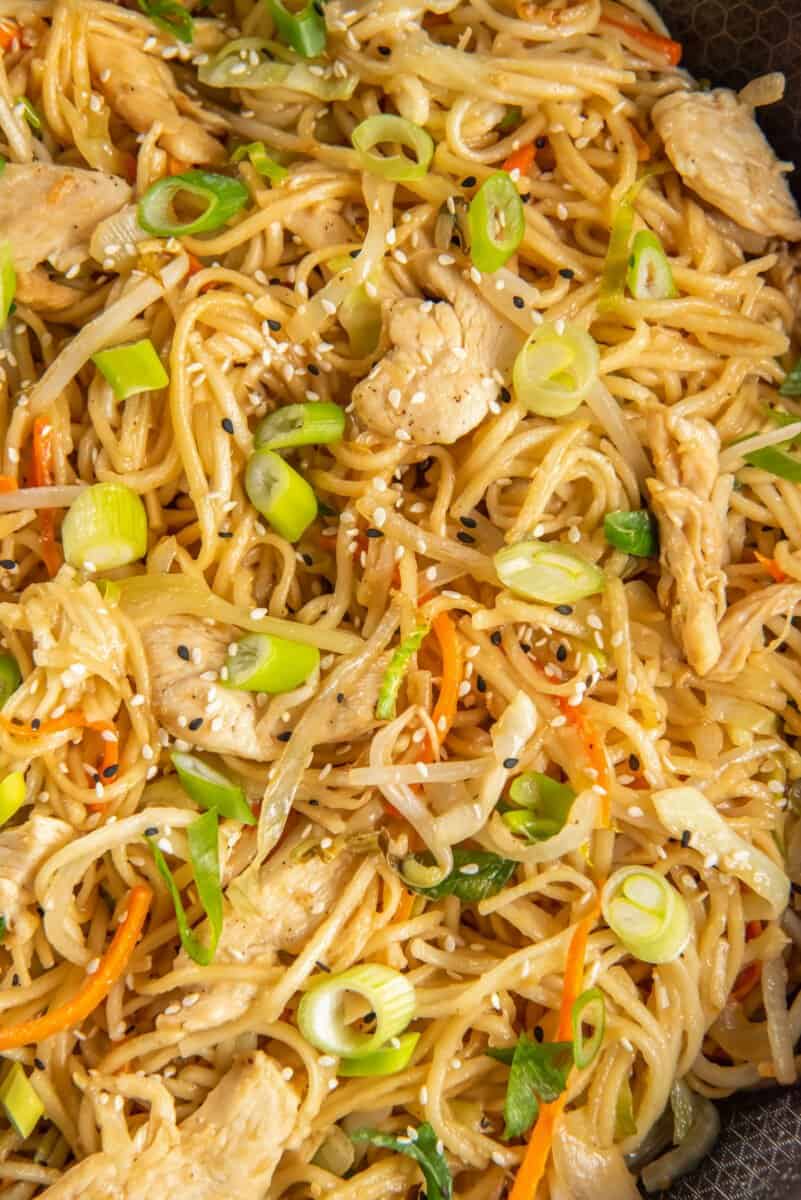 How to Make Chicken Lo Mein
You can jump to the recipe card for full ingredients & instructions!
Season the chicken with salt and pepper.
Make the cornstarch slurry.
Sear the chicken in hot oil and set aside.
Cook the ginger and garlic and stir-fry the vegetables.
Drizzle in the dry sherry.
Stir in the cooked noodles, chicken, and broth.
Stir in the soy sauce, sesame oil, salt, and sugar.
Add in the bean sprouts and green onion.
Serve!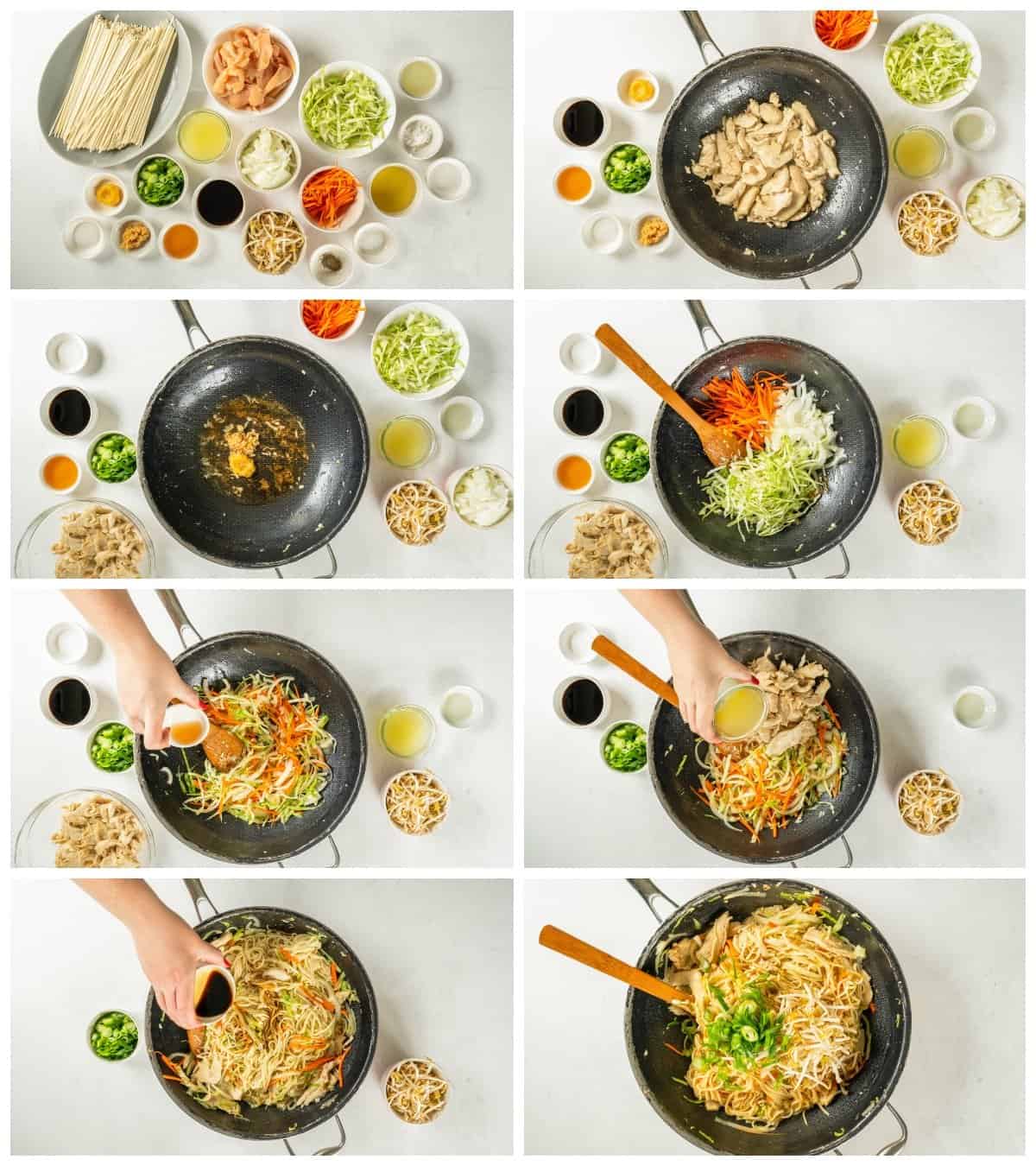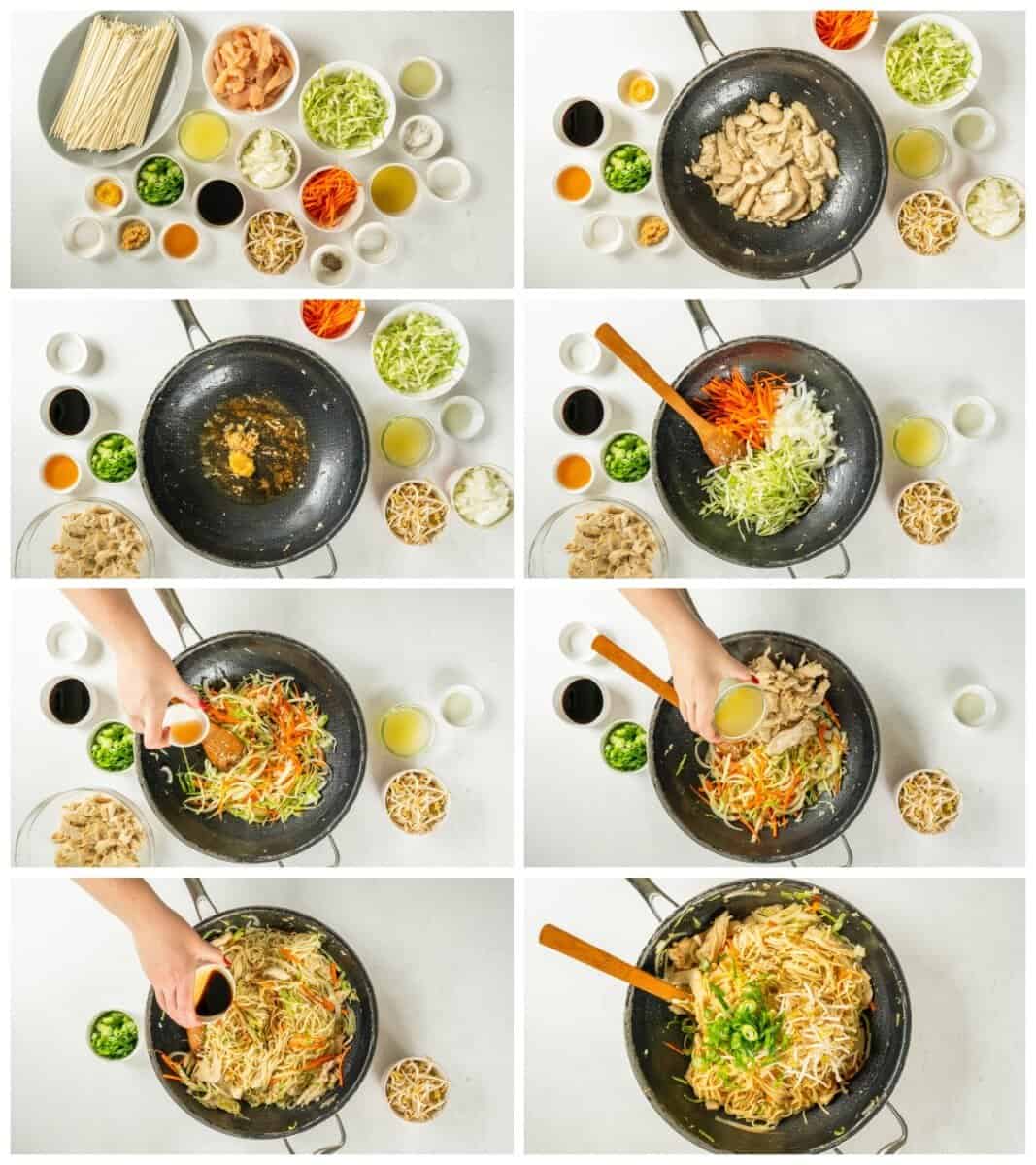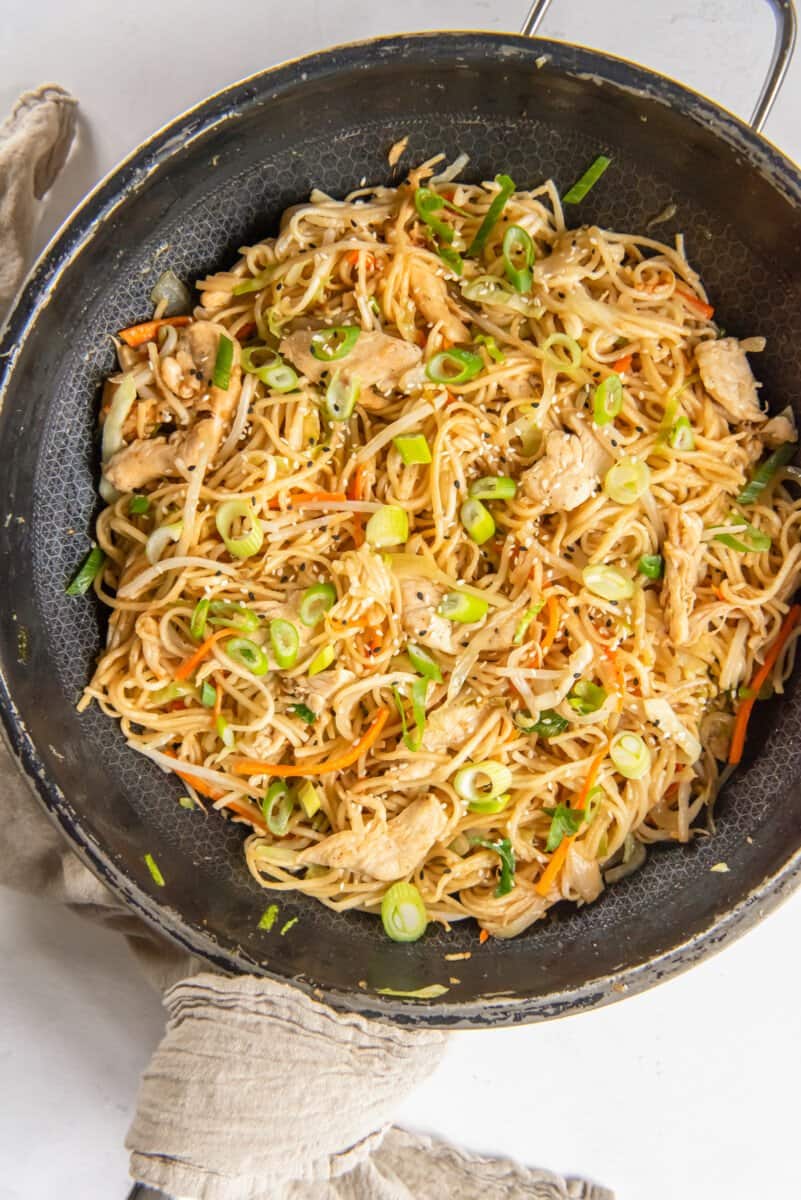 What is lo mein?
Lo mein is a Chinese-American noodle dish made with a soy-based sauce and a combination of vegetables, meat, and/or seafood.
What's the difference between lo mein and chow mein?
It's easy to get the two confused, but the main difference is the preparation. Both dishes use egg noodles, but lo mein noodles are fully cooked separately before being added to the stir-fry, while chow mein noodles are par-cooked directly in the pan, and then the vegetables and meat are added to the noodles. Chow mein is also typically less saucy than lo mein.
Can I make chicken lo mein with chicken breasts?
Absolutely! While I like the richer, fattier flavor of thighs in this dish, you can also use breasts. Just be careful not to overcook them!
What can I use instead of lo mein noodles to make chicken lo mein?
Lo mein is a dish that can really be made with any type of noodles, including Italian pastas. If you cannot find lo mein noodles, the best substitute is another type of egg noodle, followed by udon, ramen, or soba noodles. I would recommend using an Italian spaghetti or linguini only in the case that you cannot find a better substitute.
Serving Suggestions
This chicken lo mein recipe is a filling meal by itself, but you can serve it with sides like:
However you decide to enjoy it, you'll be so happy you made this instead of ordering takeout! So flavorful but so simple!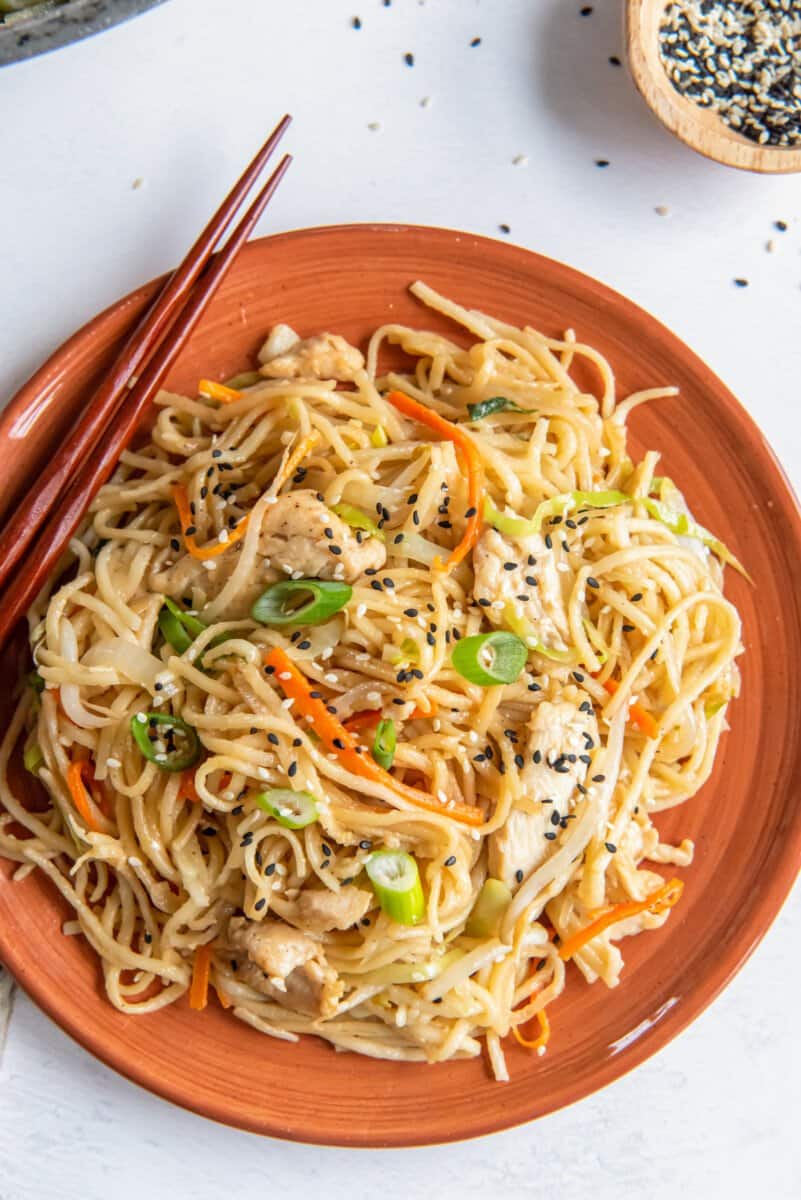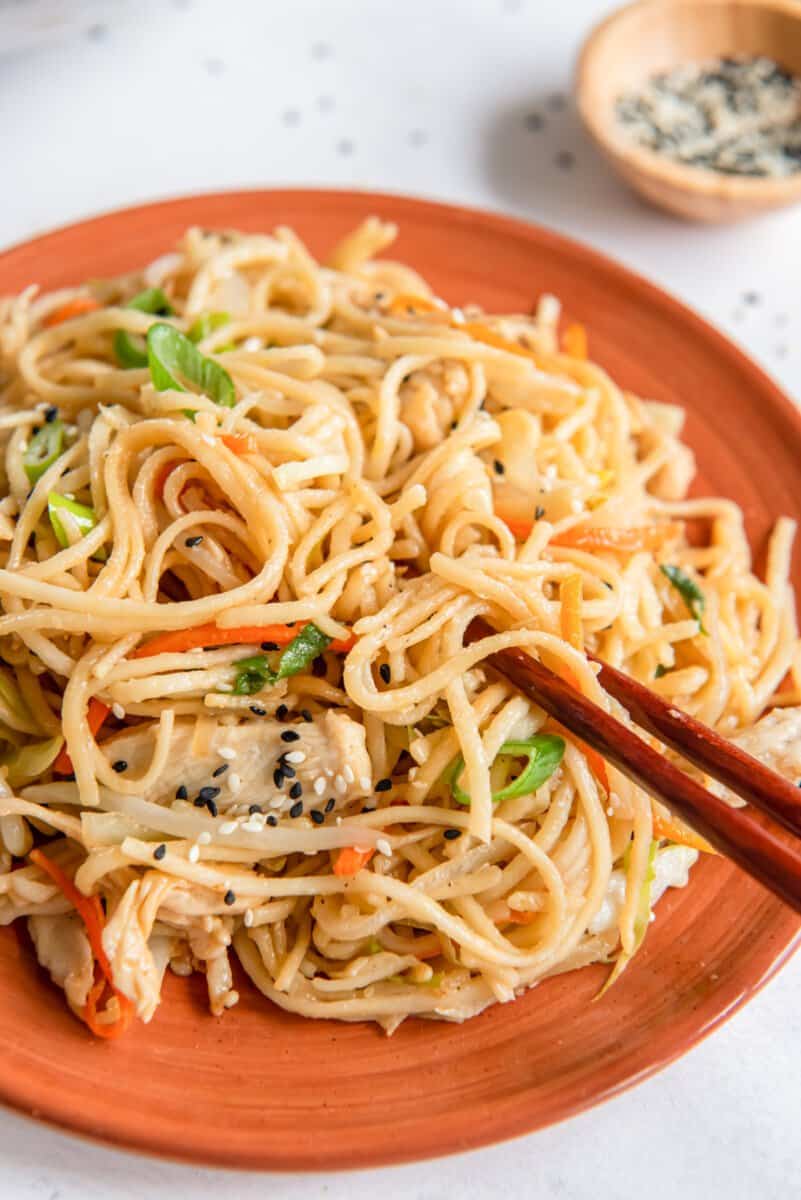 Storage Instructions
Store leftover chicken lo mein in an airtight container in the refrigerator for up to 3 days.
Freezing Instructions
Freeze chicken lo mein in an airtight container for up to 3 months. Let thaw in the refrigerator overnight before reheating.
Lo Mein Variations
Meat: Use shrimp, beef flank steak, or a mix of your favorite vegetables in place of the chicken.
Veggies: Feel free to add in any combination of vegetables you like, such as broccoli, bell peppers, snow peas, mushrooms, green onions, zucchini, baby bok choy, or water chestnuts.
Wine: Use white vermouth, white cooking wine, or a dry white wine (such as

Sauvignon Blanc, Chardonnay, Riesling, or Pinot Grigio) in place of the sherry.

Noodles: If you can't find lo mein noodles, opt for egg noodles; udon, ramen, or soba noodles; or even Italian spaghetti.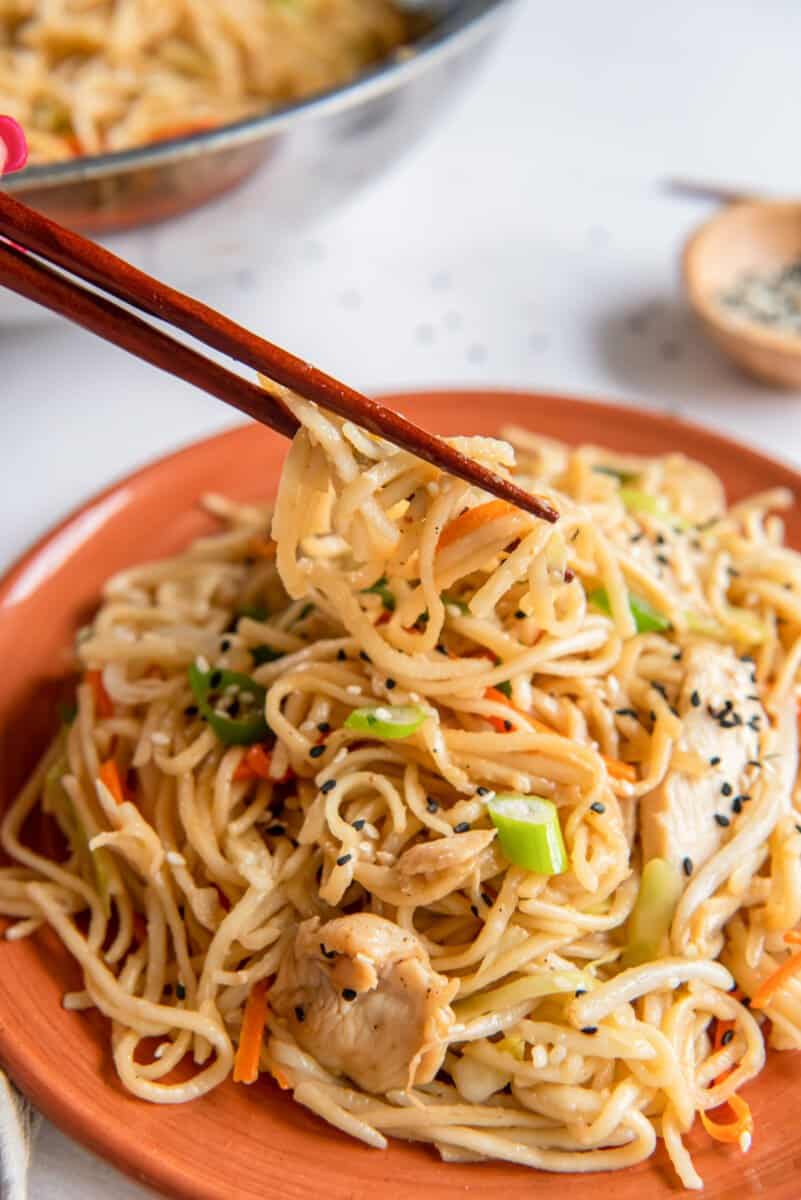 Filling and flavorful, this chicken lo mein recipe is a no-brainer! It comes together so quickly and easily and is so satisfying! Loaded with fresh veggies and chicken, it's a tasty way to quit the takeout!
If you make this recipe be sure to upload a photo in the comment section below or leave a rating. Enjoy! You can also jump to recipe.