These White Beans in Tomato Sauce are so simple, yet so delicious! Cannellini beans cooked with tomatoes, garlic, and chicken broth make for one tasty side dish. It's perfect for holidays or easy weeknight meals!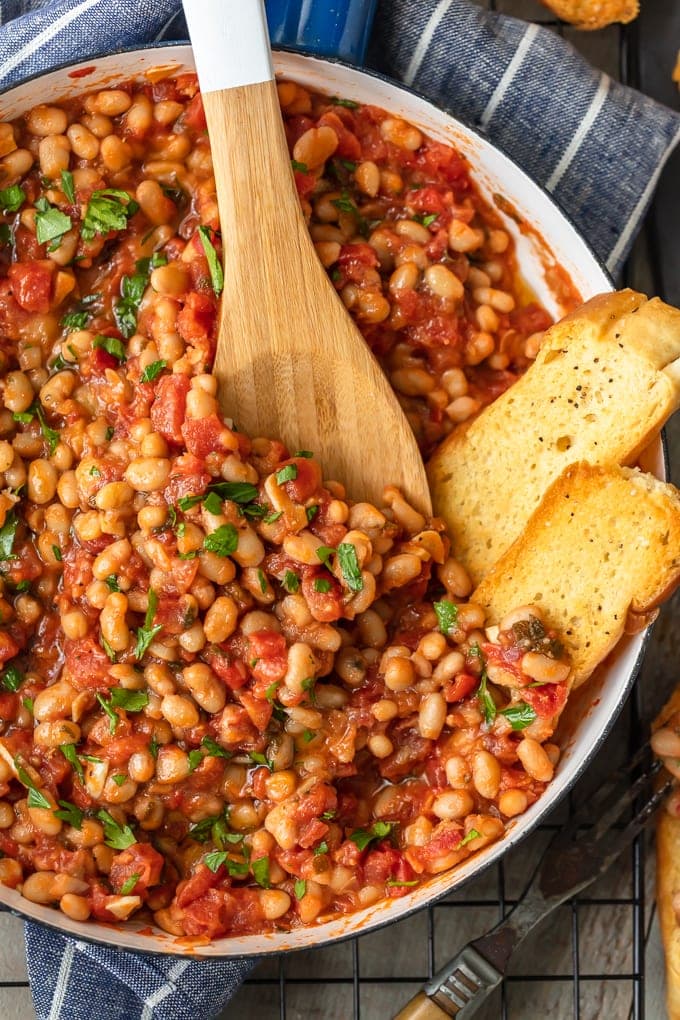 What's in Cannellini Beans in Tomato Sauce?
I could always use more easy side dishes to add to the rotation, especially around the holidays. Something simple, but incredibly delicious. This white bean recipe is exactly that! It only takes about 20-30 minutes to make, but it's filled with flavor. The mix of beans, tomatoes, garlic, and more just tastes so good!
Olive Oil: Helps the aromatics cook without burning.
Fresh Sage: Has a distinct woodsy flavor that pairs perfectly with white beans.
Garlic: Adds an earthy flavor and a pungent aroma.
Diced Tomatoes: Form the base of our tomato sauce.
Salt + Pepper: Enhance the natural flavor of the beans and sauce.
Granulated Sugar: Balances the acidity of the tomatoes.
Chicken Broth: Helps add moisture and flavor to the sauce.
Cannellini Beans: These nutty, mildly flavored beans take on the flavor of the sauce and have a beautiful creamy texture.
Fresh Parsley: Adds a pop of freshness to the dish.
Pro Tip: Garnish with crumbled bacon for a hit of umami flavor!
Variations on Beans in Tomato Sauce
These white beans in tomato sauce are so simple and delicious! For a smoother sauce, try using crushed tomatoes instead of diced. You can also season your sauce with a variety of herbs and spices, like rosemary or thyme. Just about any aromatic herb pairs great with white beans. Stir in a little bit of warmed heavy cream or half-and-half for a creamy version!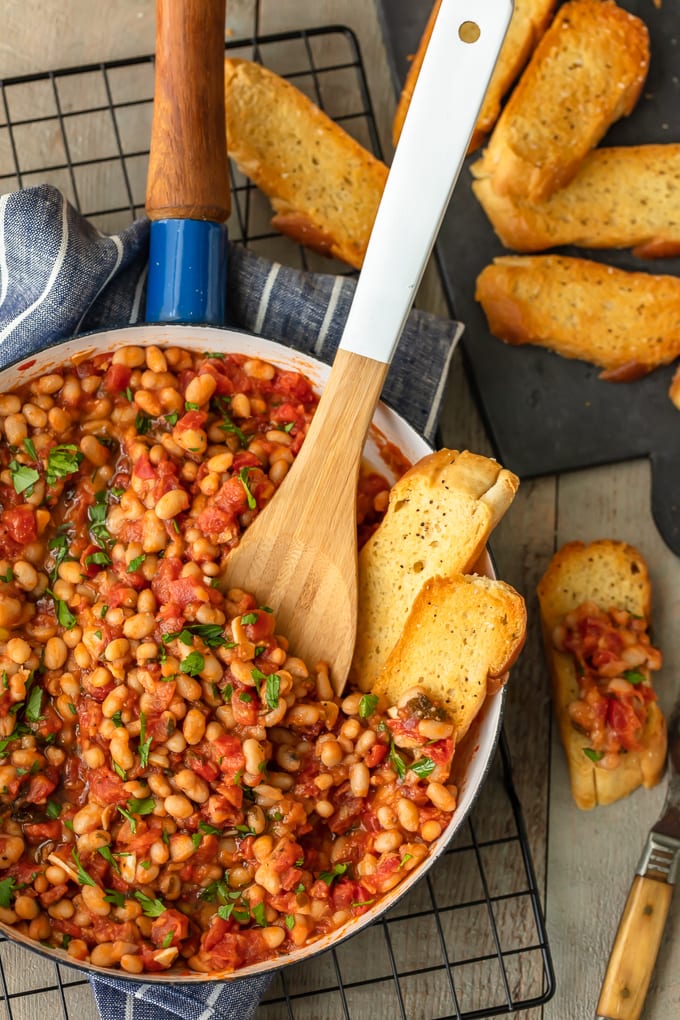 What is the difference between white beans and cannellini beans?
Cannellini beans are a type of white bean. Navy Beans and Great Northern Beans are also included in the white bean category.
Should you drain canned white beans?
Yes, you should drain off the excess preserving liquid in the canned beans to keep the sauce from turning out gummy and unpleasant tasting.
Why do you rinse canned white beans?
Rinsing the beans reduces their sodium content by about 40%, which helps us to balance the saltiness of the dish more precisely.
Are white beans in tomato sauce healthy?
Yes, this dish is a great source of fiber and iron, as well as a good source of protein!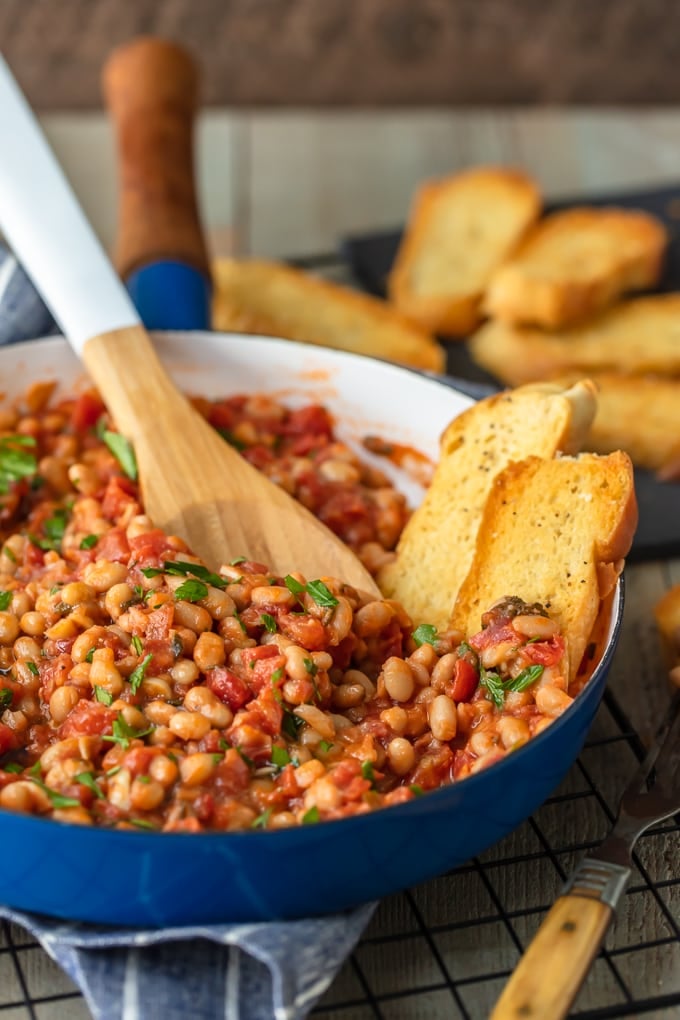 How to Store and Reheat
Store leftover white beans in tomato sauce in an airtight container in the refrigerator for up to 4 days. Reheat in a saucepan set over medium-low heat until warmed through.
How to Freeze
Freeze white beans in tomato sauce in an airtight container or Ziplock bag for up to 3 months. Let thaw overnight in the refrigerator before reheating.
Serving Suggestions
Serve these white beans hot topped with bacon bits if you want, and drizzle some more olive oil over the top. Throw in some nice crusty rosemary bread for dipping and you've really got it made.
5-Star Review
"Even my mother in law loved this!" – Linda
More Bean Recipes We Love