Ready in just 20 minutes, these Air Fryer Pork Chops are perfect for busy weeknights! These easy to make pork chops are air fried to perfection with a medley of seasonings and a wonderfully crisp parmesan coating.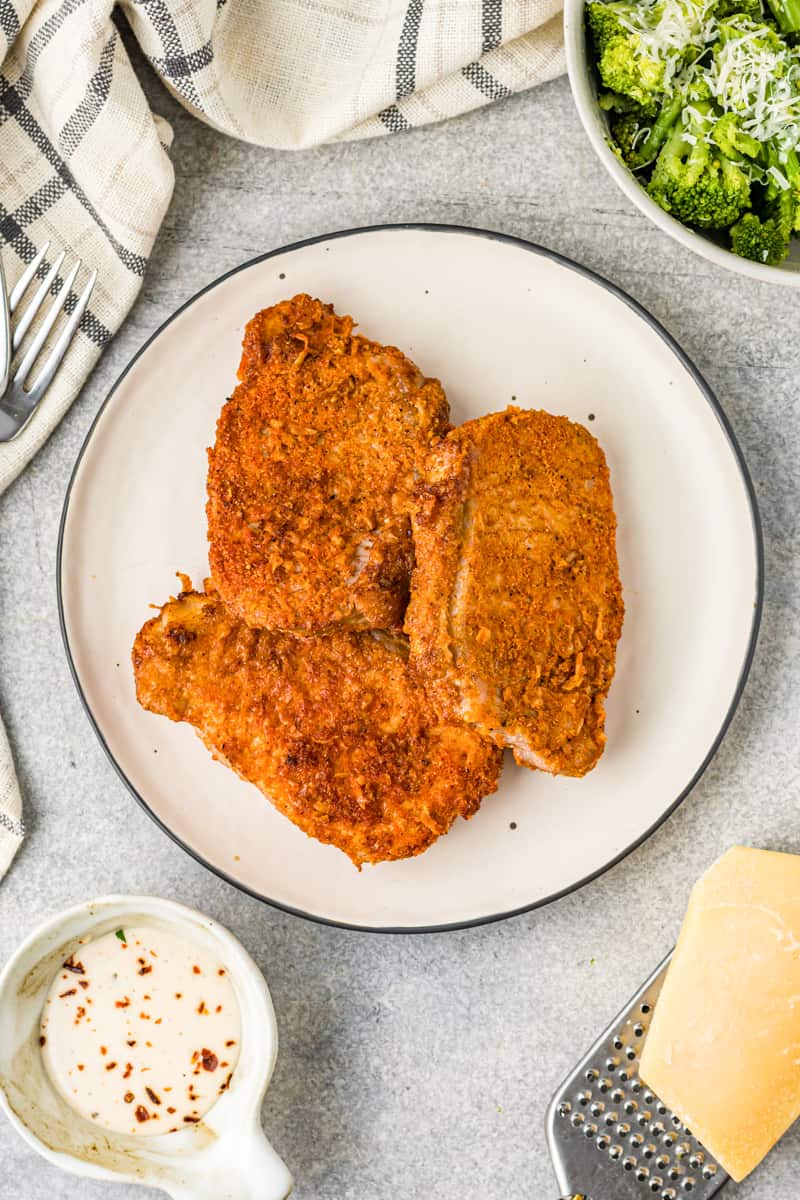 20 Minute Pork Chops
A from-scratch dinner on the table in 20 minutes? Yes, please! These air fried pork chops couldn't be easier to make and totally hit the spot. Each pork chop is seasoned to perfection and coated with shredded parmesan cheese for a totally mouthwatering bite.
As the pork chops cook in the air fryer, the outside gets crispy while the inside stays tender and juicy, no bread crumbs required. If you follow a low carb diet, this will quickly become a favorite recipe!
Why You'll Love this Pork Chops Recipe:
QUICK: These pork chops only take 10 minutes to cook.
SEASONED: Each pork chop is coated in a mixture of salt, pepper, onion and garlic powder, paprika, and ground mustard. So much flavor to love!
KID FRIENDLY: It's not always easy to find a recipe the whole family will love. Keep this one in your back pocket!
Who knew pork chops could be so easy to make?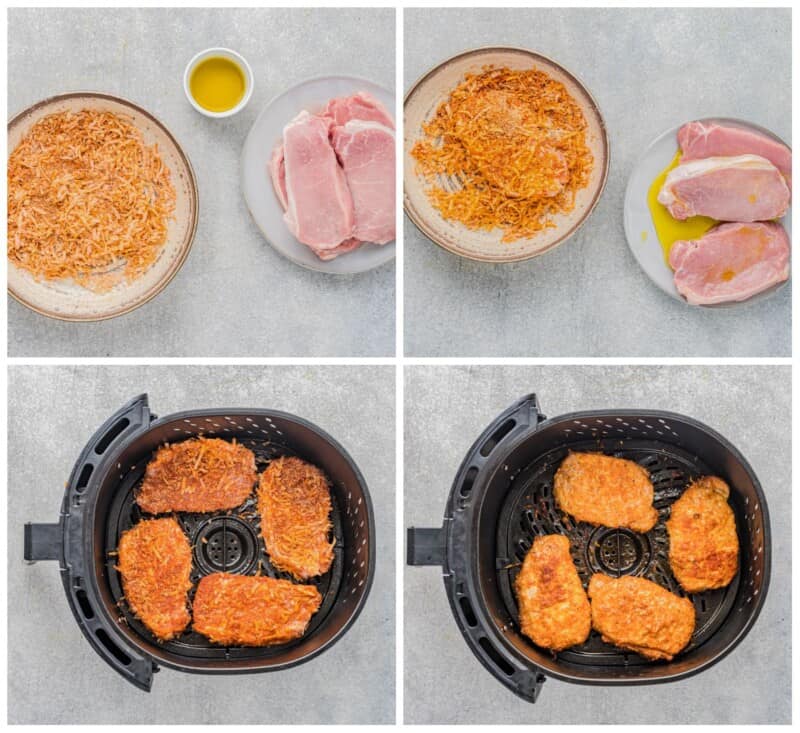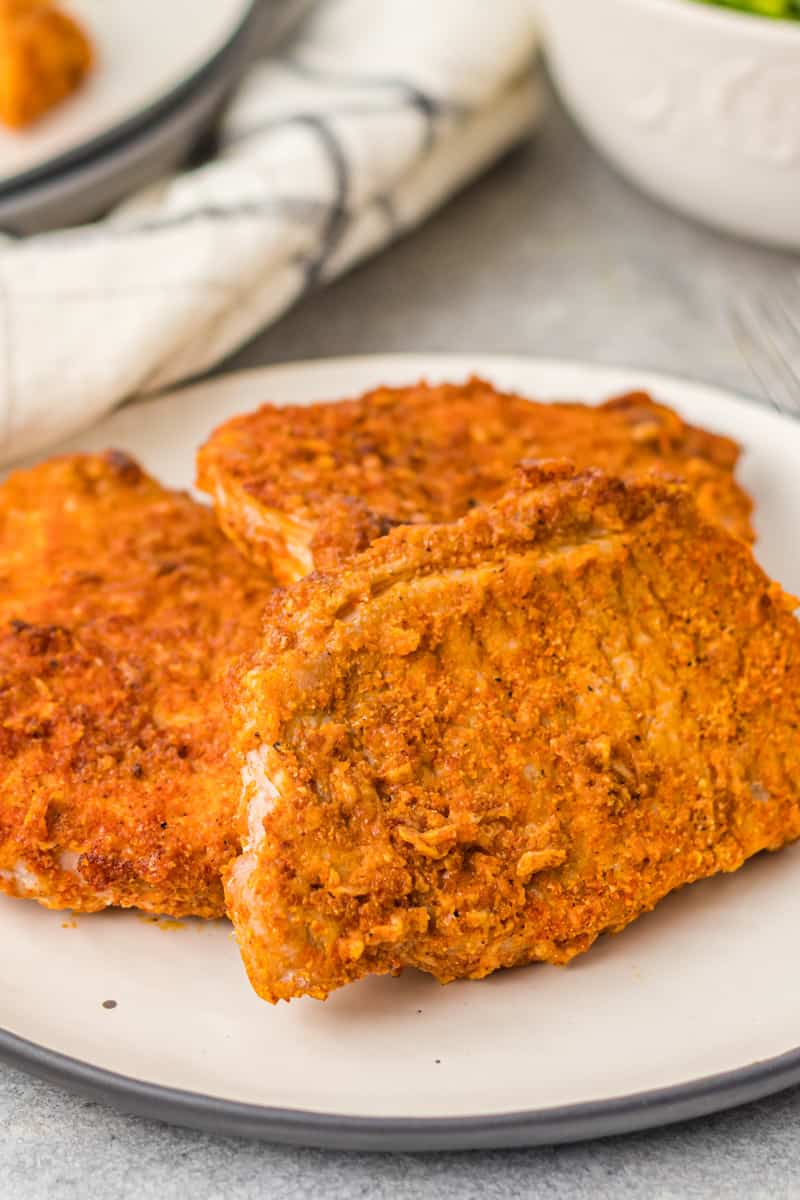 How to Make Air Fryer Pork Chops
You can jump to the recipe card for full ingredients & instructions!
Brush the pork chops with olive oil.
Combine the spices and shredded cheese.
Press both sides of each pork chop into the spice mixture.
Place the pork chops in a preheated air fryer and cook.
Remove from the air fryer and serve.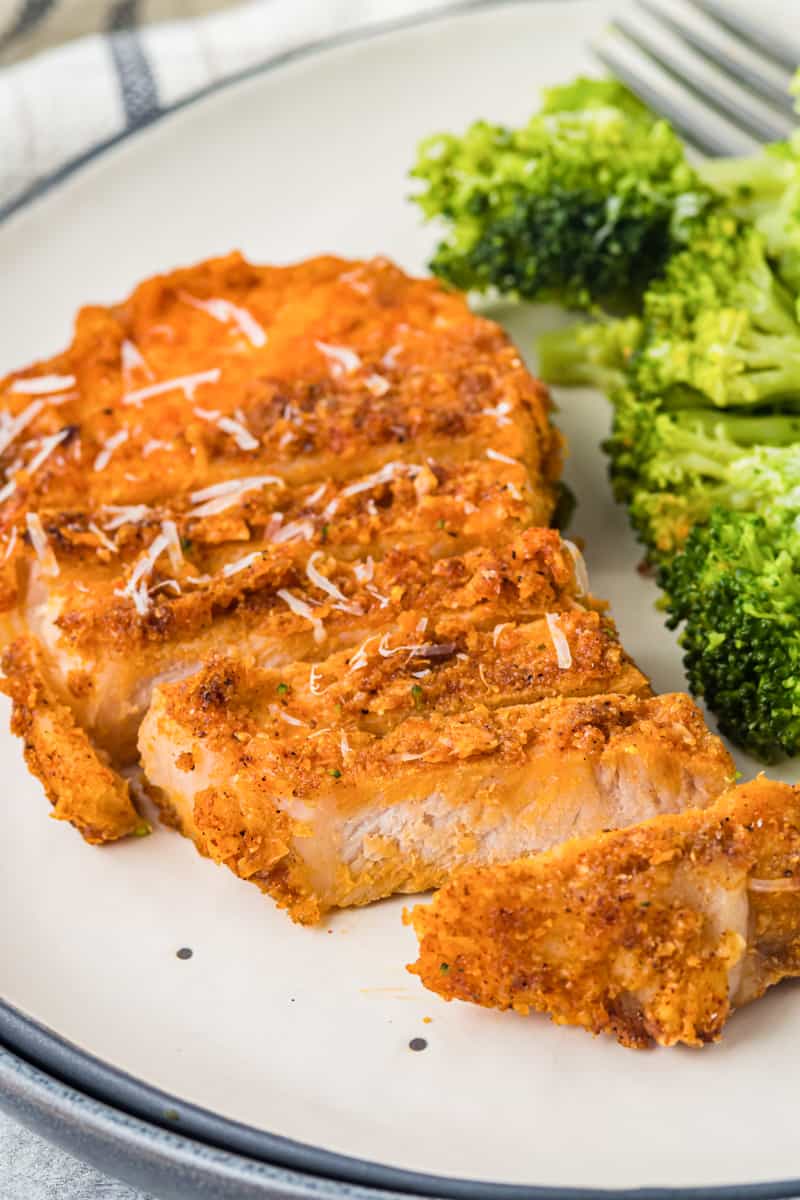 What air fryer should I use?
Any air fryer works great!
Can I use bone-in pork chops instead of boneless pork chops?
You can, but they'll take longer to cook. These pork chops are done when the thickest part of the meat reaches 145°F. Bone-in pork chops usually have a little more fat and connective tissue than boneless ones, so they benefit from a longer cooking time to tenderize and develop their flavor. You can add 2-3 minutes to the cooking time for bone-in pork chops.
Can I make this recipe with frozen pork chops?
Yes. If using frozen pork chops, let them thaw in the refrigerator first.
Is this recipe gluten free?
Yes, this is a naturally gluten free recipe!
What is the ideal thickness of the pork chops?
The ideal thickness of boneless pork chops for this recipe can range from 3/4 inch to 1 inch. Pork chops that are too thin may overcook quickly and become dry, while those that are too thick may not cook evenly in the air fryer.
Can I cook multiple pork chops at once in the air fryer?
You can cook multiple pork chops at once in the air fryer, but you may need to adjust the cooking time and temperature depending on the size and thickness of the pork chops and the capacity of your air fryer. Make sure not to overcrowd the basket and keep an eye on their internal temperature with a meat thermometer to ensure they are cooked through.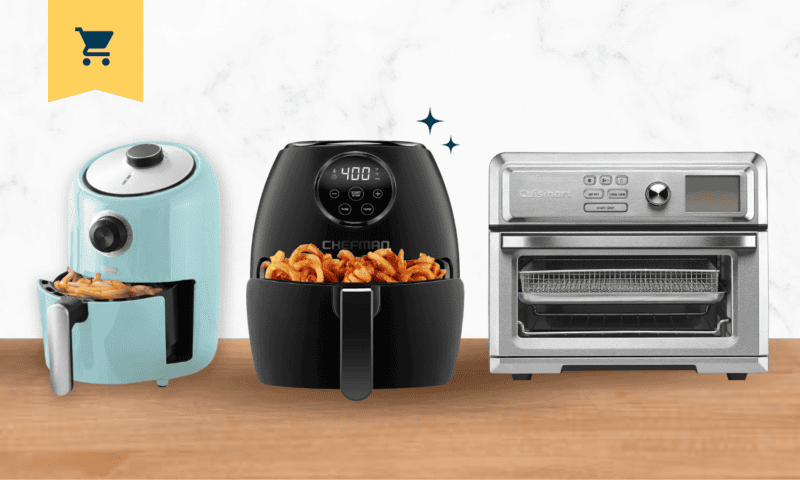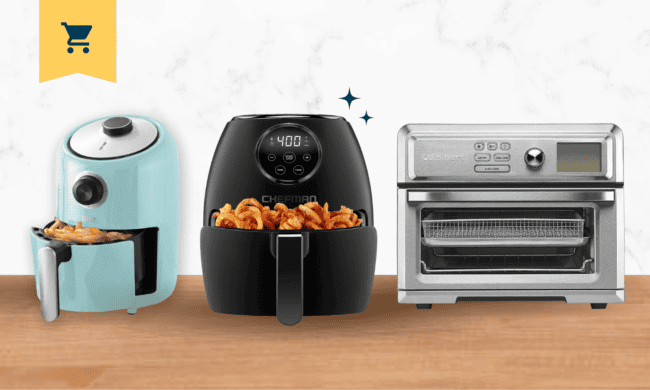 Best Small Air Fryers
We have reviewed our top 6 Small Air Fryers! Get reviews, pros, cons, and prices!
Top Small Air Fryers
Serving Suggestions
When selecting sides to serve with pork chops, consider the flavor profile of the pork chops and aim for complementary flavors and textures. Due to the high fat content in pork and parmesan, I recommend to balance them out with some lighter and greener options. Roasted or steamed vegetables such as asparagus, green beans, broccoli and Brussels sprouts all go well with pork chops. I love serving pork chops with classic sides like:
No matter what you serve them with, they're sure to be a hit.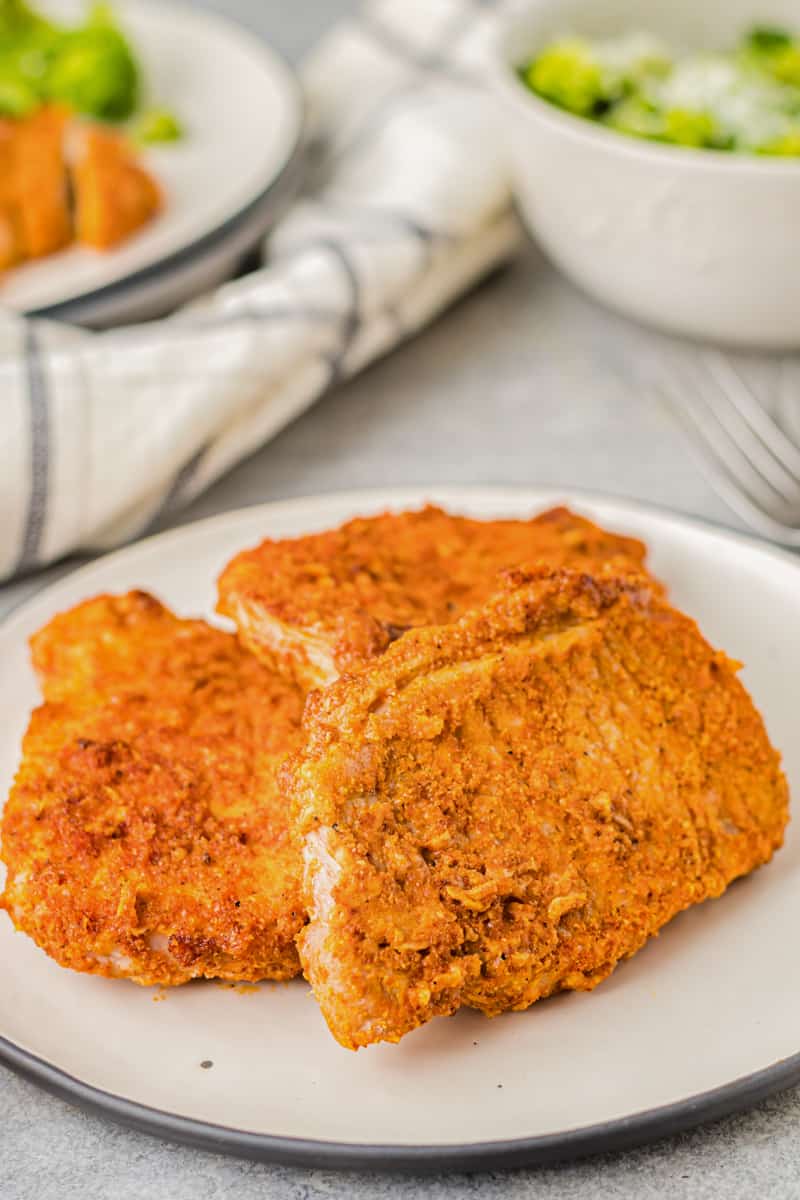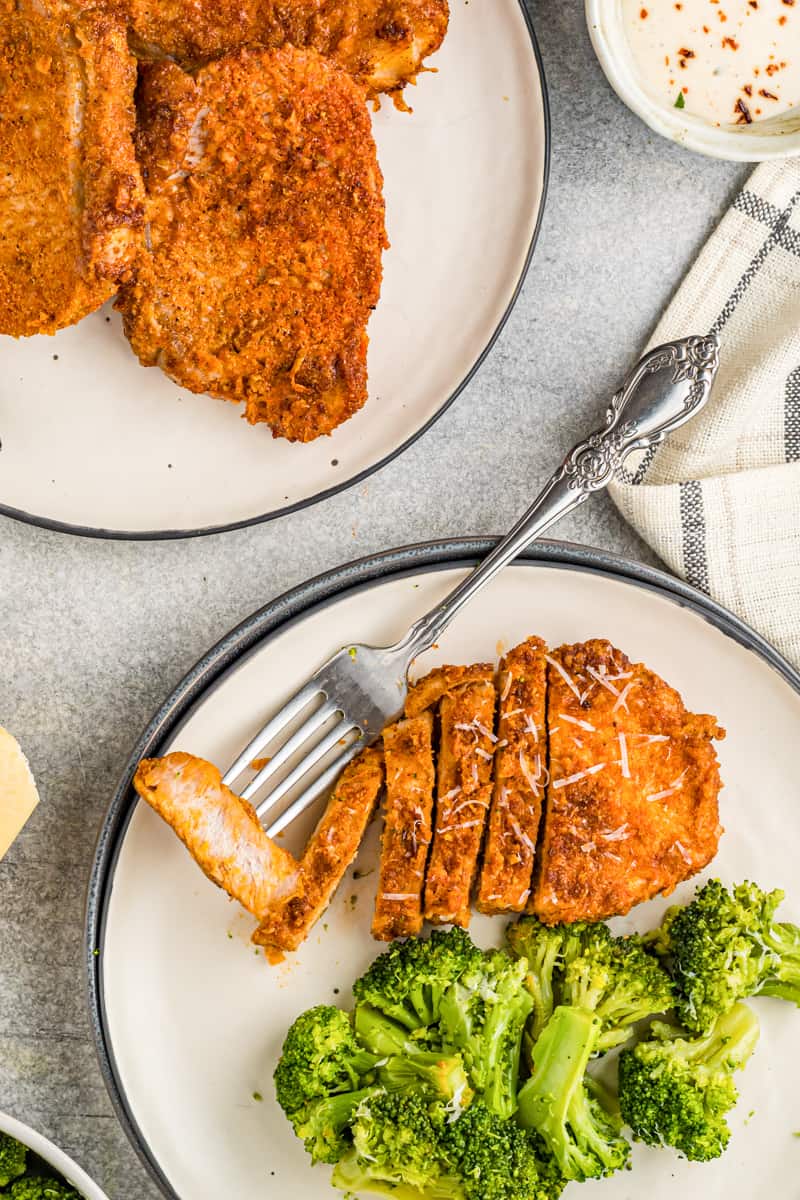 Tips!
Because they can dry out pretty quickly, try not to overcook the pork chops.
For easy cleanup, line the air fryer basket with aluminum foil before adding the pork chops.
Flip the pork chops halfway through cooking to ensure they cook evenly.
This easy pork chops recipe will quickly become part of your weeknight dinner rotation!
Can I make these pork chops ahead of time?
These pork chops are best served immediately after cooking.
How can I prevent pork chops from drying out?
To prevent pork chops from drying out, try not to overcook them. For juicy, tender pork chops, cook them until the internal temperature reaches 145°F.
How can I check if the pork chops are fully cooked and safe to eat?
You can use a meat thermometer to check the internal temperature of the meat. The USDA recommends cooking pork chops to an internal temperature of 145°F (63°C) followed by a three-minute rest time.
To check the temperature, insert the meat thermometer into the thickest part of the pork chop, making sure not to touch the bone. The juices should be clear, not pink, and the meat should be white or light pink throughout. More details can be found on our meat temperature guide.
Do I need to flip the pork chops during the cooking process?
I recommended to flip the pork chops halfway through the cooking process when making them in an air fryer. This will help ensure that the pork chops cook evenly on both sides and develop a crispy, golden-brown exterior.
More Quick Dinner Recipes We Love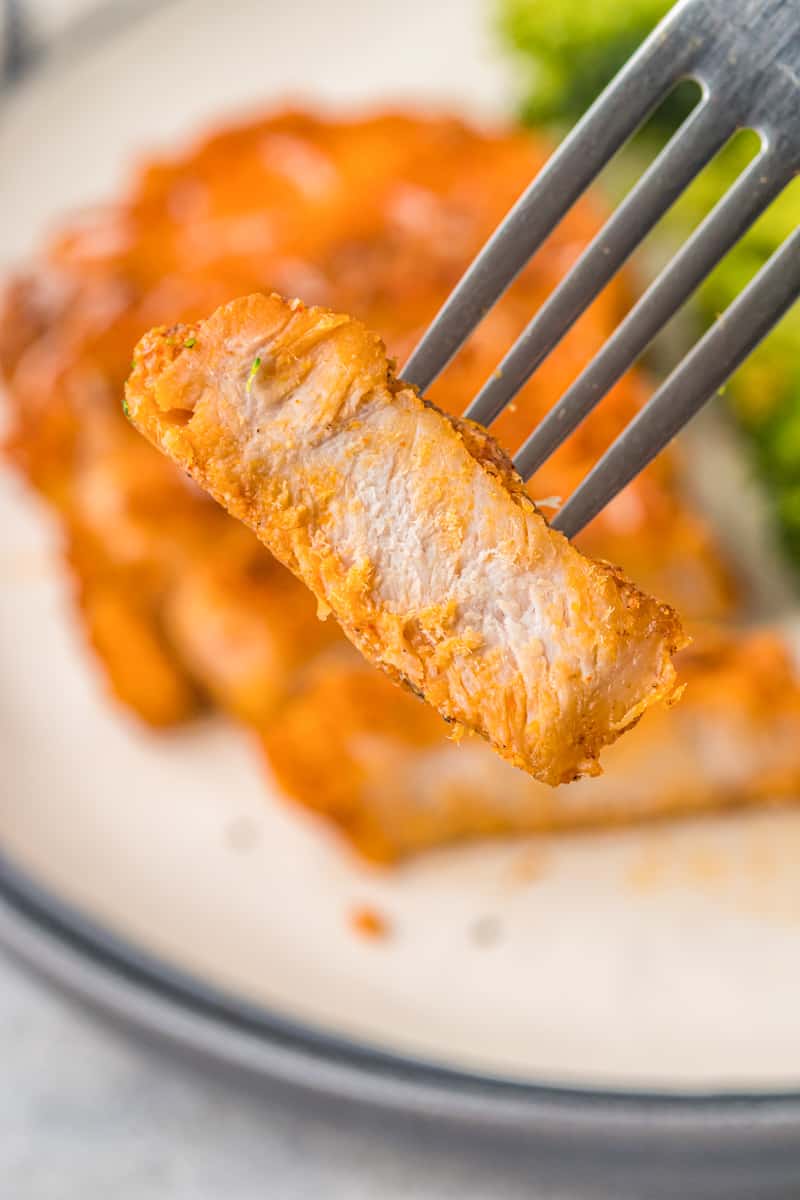 Flavorful, juicy, tender pork chops are air fried to perfection and ready in a matter of minutes. This is an easy dinner you just can NOT miss out on!
More Easy Pork Recipes to Try:
If you make this recipe be sure to upload a photo in the comment section below or leave a rating. Enjoy! You can also jump to recipe.