This Cozy Bacon Cheeseburger Pot Pie is the very definition of comfort food! This is an easy, kid-approved dinner, ideal for those nights where you just need to make something quick and delicious. This cheeseburger pot pie recipe fits the bill and it's so so yummy! And I'm not kidding when I say it tastes exactly like a cheeseburger.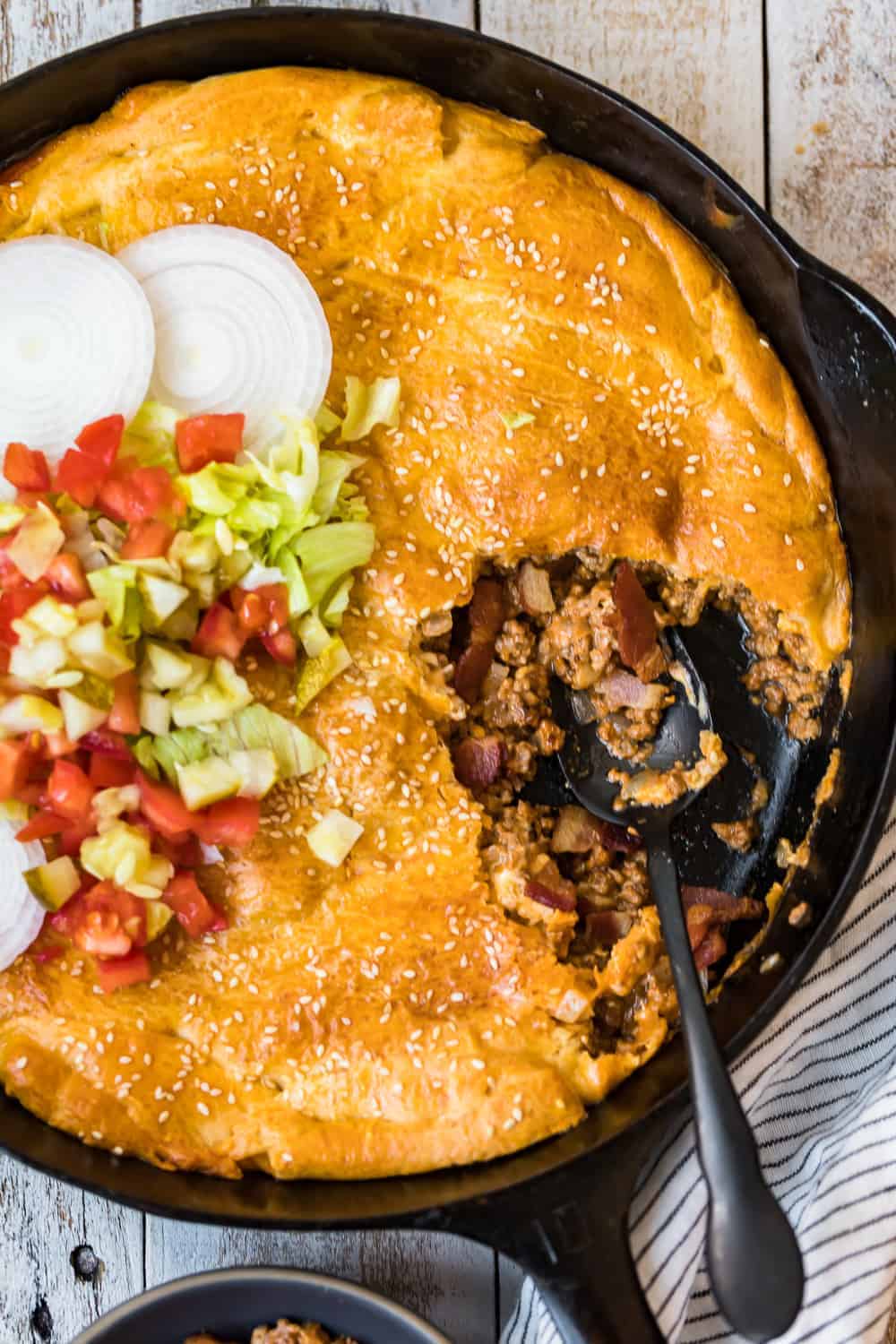 This Bacon Cheeseburger Pot Pie recipe is hearty and oh so yummy! This pot pie also tastes exactly like a bacon cheeseburger, it'll be a hit!
The golden flaky pie crust takes the place of the bun and fries, making this pie a meal all on its own but feel free to add some sides for a super filling meal!
How To Make This Bacon Cheeseburger Pot Pie
Brown the ground chuck in a large cast iron skillet and set aside. In the same skillet, crisp the bacon and transfer it to the cooked beef. Add the onion to the skillet and cook until softened.
Return the beef and bacon to the skillet, add water, ketchup, mustard, mayonnaise, seasoned salt, kosher salt, and black pepper. Top the beef mixture with the cheese slices.
Place the dough on top of the cheese and spread it to the inside edges of the skillet. Brush the top with the beaten egg and sprinkle the dough with sesame seeds. Bake at 375°F for 25-35 until the top is deep golden brown and the burger mixture is bubbly.
To serve, place a spoonful of the pot pie onto each plate and serve with the desired hamburger toppings on the side (if toppings are placed on top of the casserole, the crust will gets soggy).
Enjoy!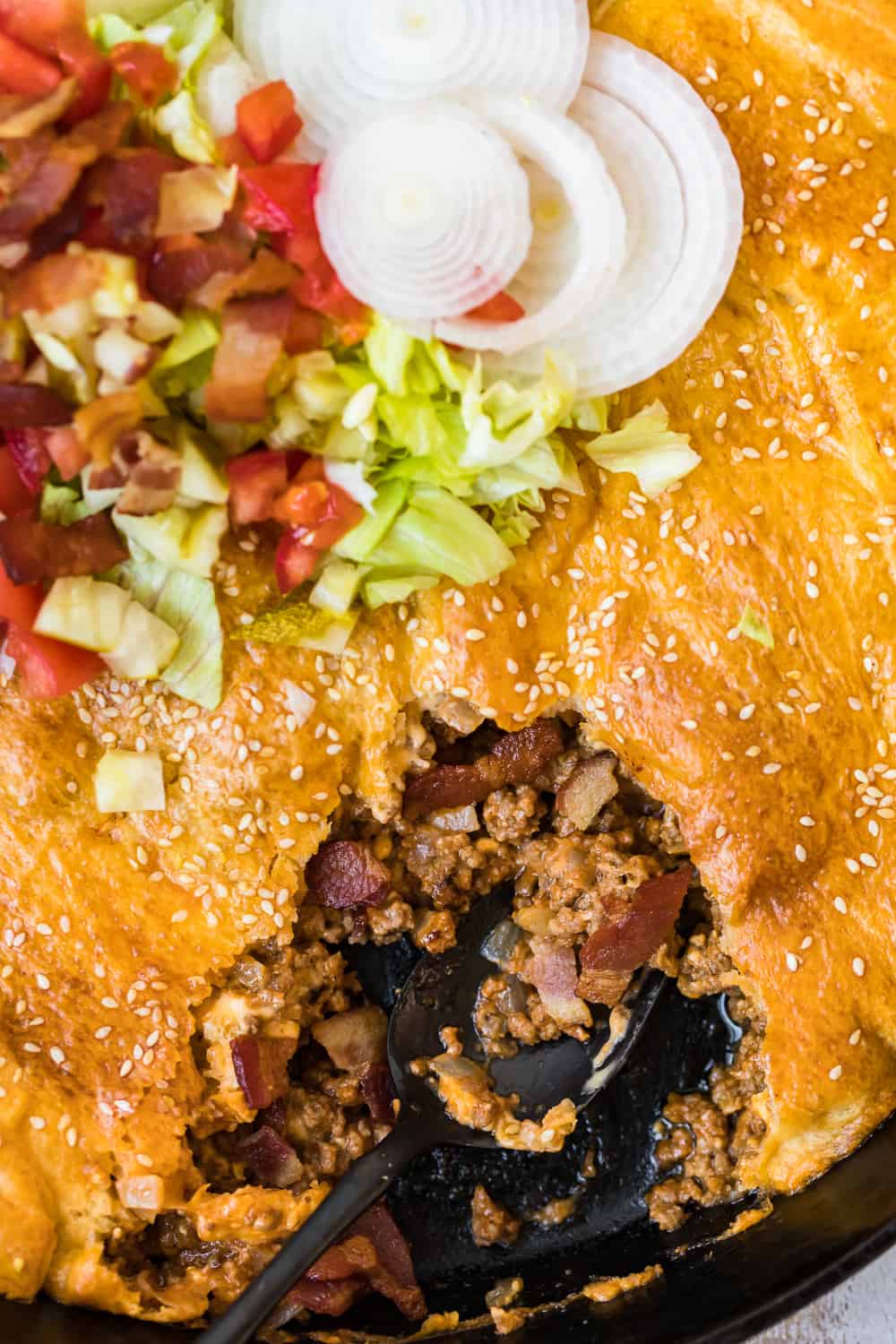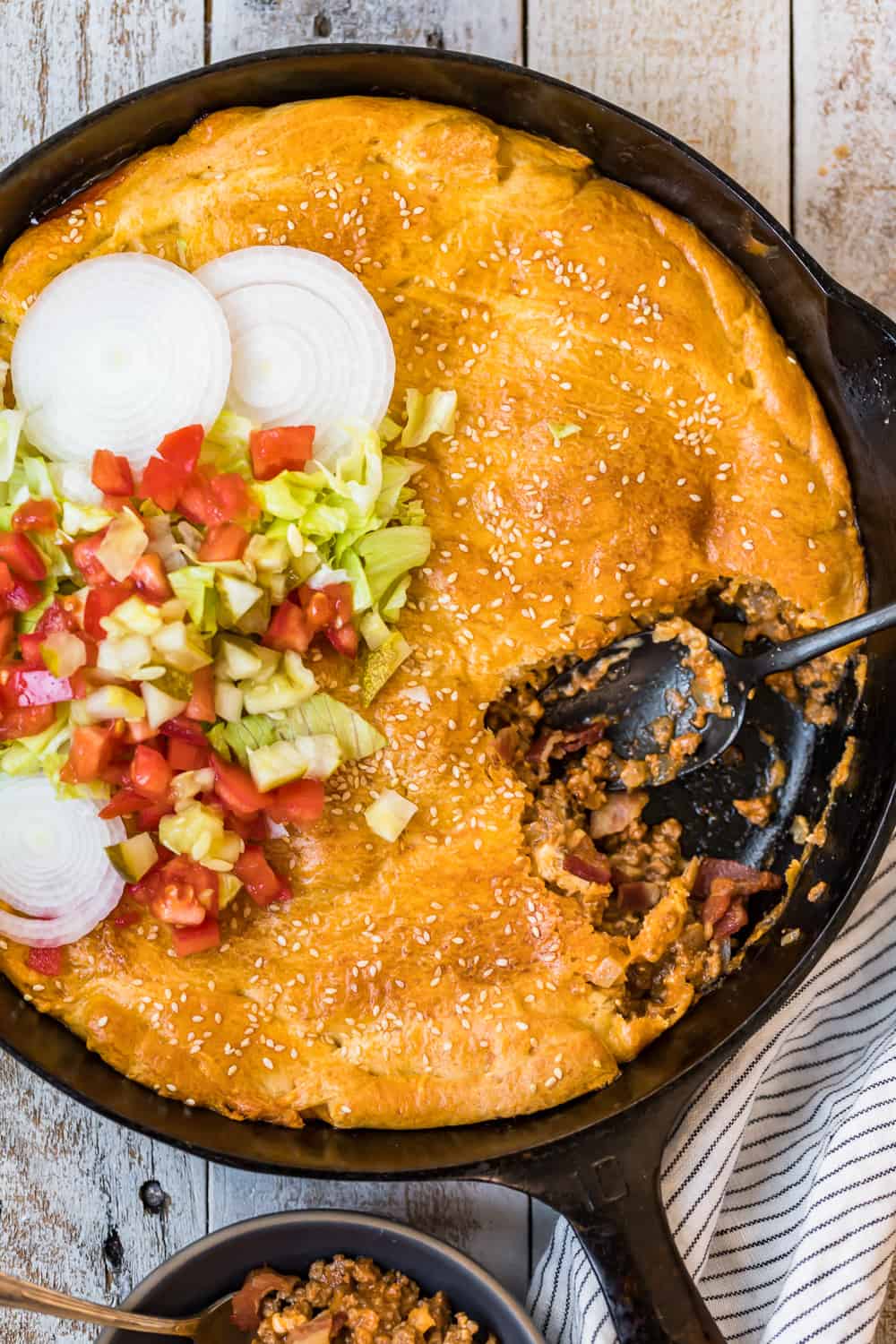 Can You Make This Cheeseburger Pot Pie Ahead Of Time?
Yes, You can assemble your pie up to 8 hour before you plan to bake it. Store the pie covered in the refrigerator until you're ready to put it in the oven. You may need to increase the cooking time to compensate for starting with a cold pie.
What To Serve With This Pie
This Bacon Cheeseburger Pot Pie is hearty on its own but can also team up with a number of sides, here are a few ideas: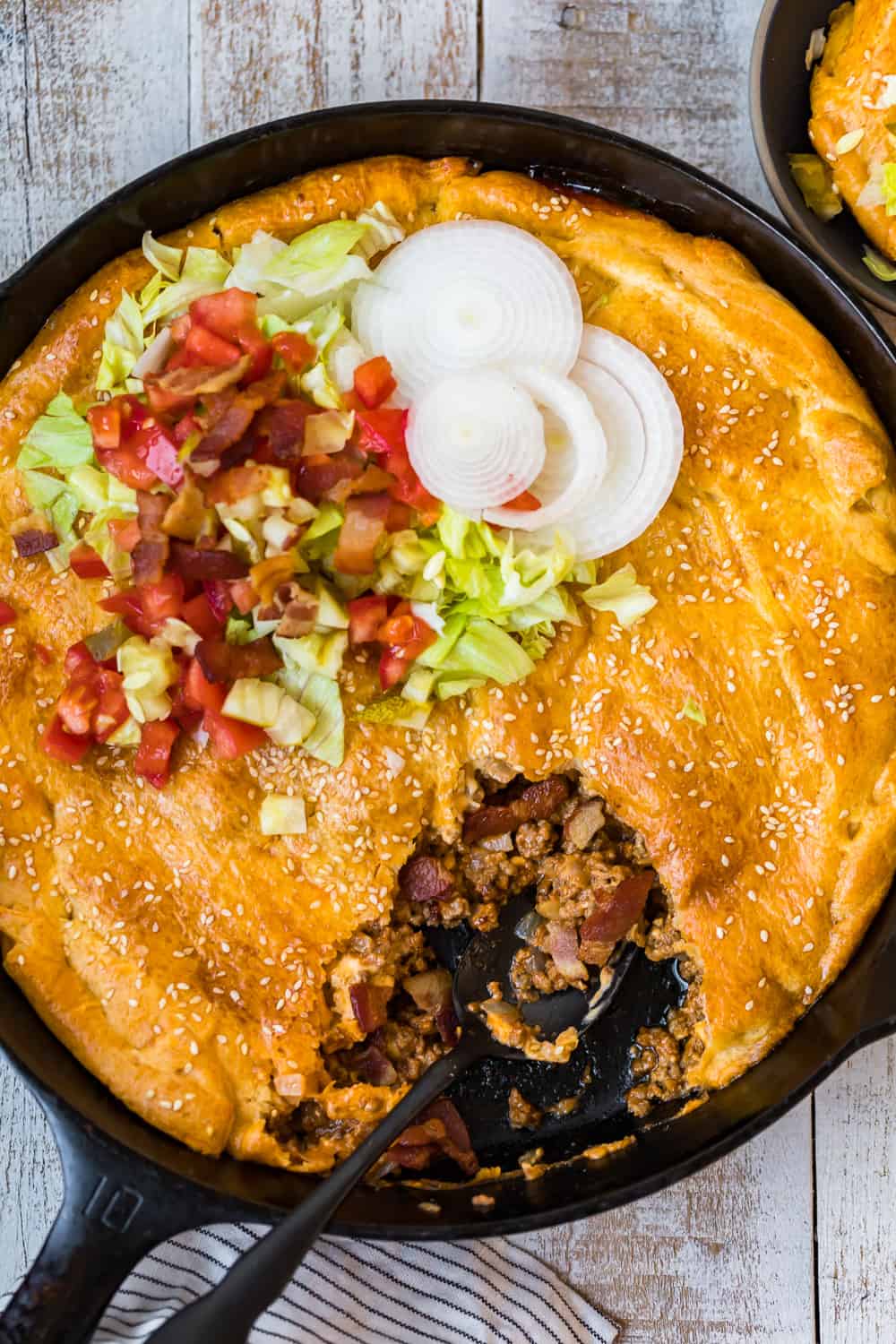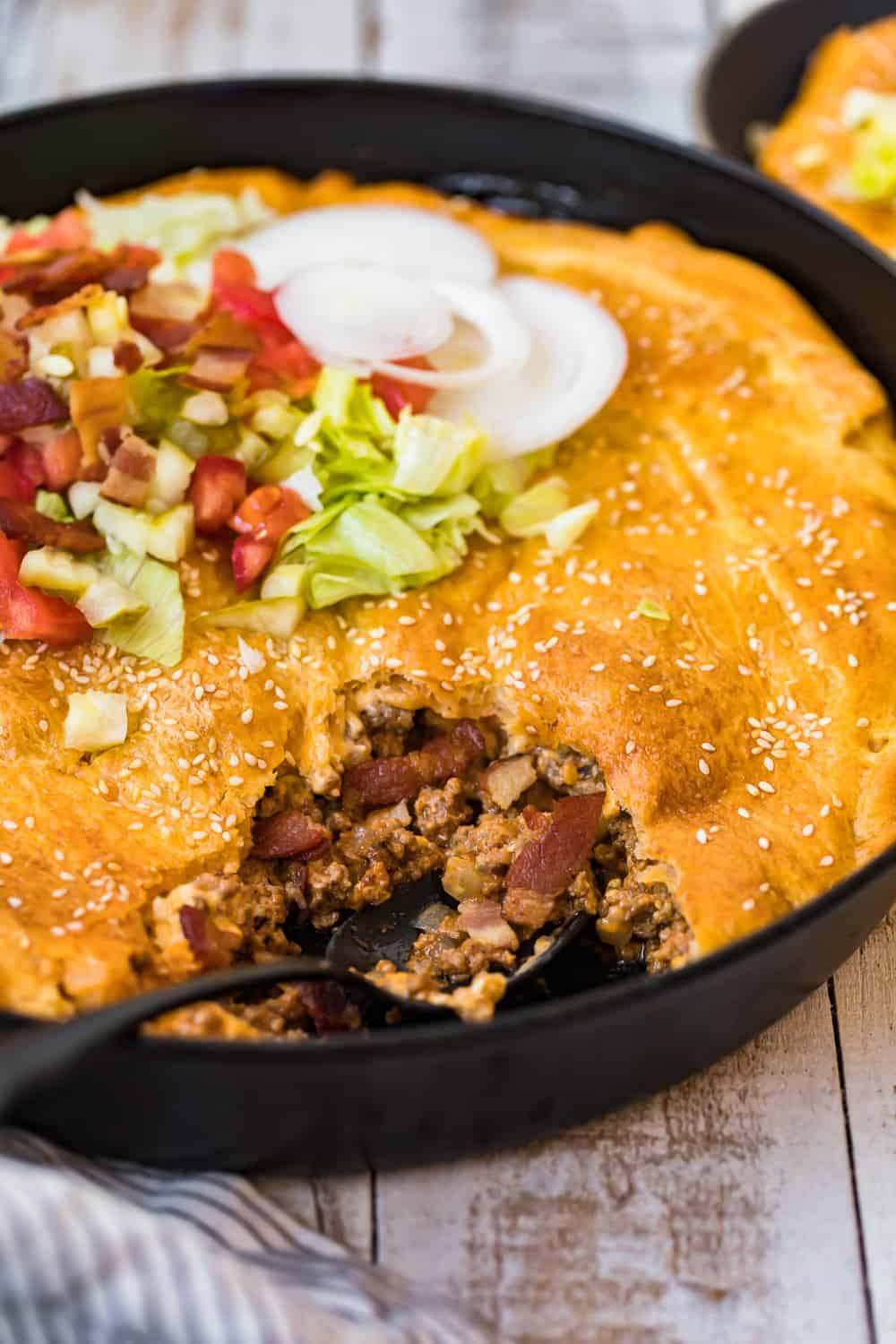 What Sort Of Beef Should I Use For Pot Pie?
If you choose to use a meat with higher fat content, be sure to drain off any excess grease before proceeding with the recipe. You can 90% lean ground beef for this recipe – it has plenty of flavor but isn't overly greasy.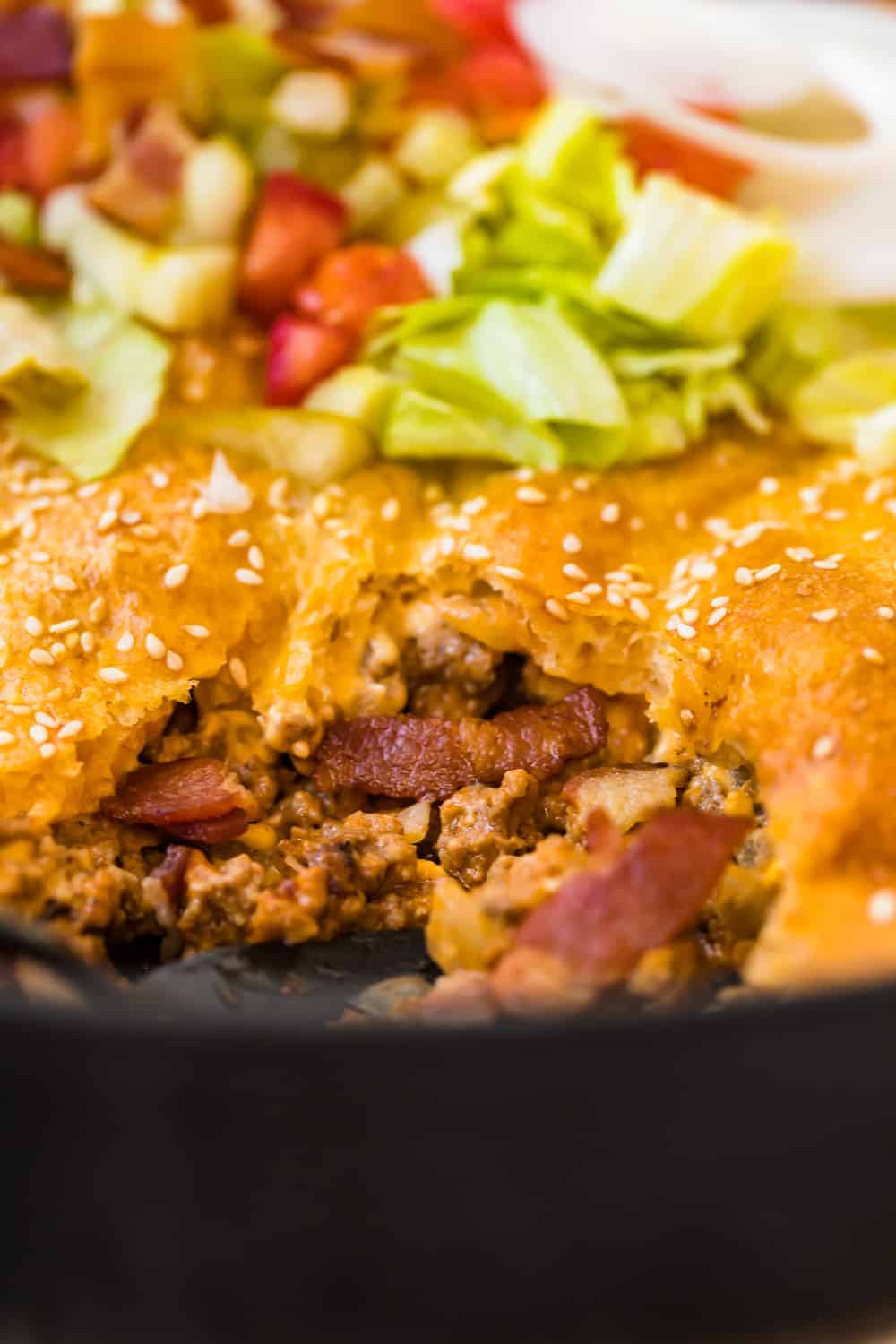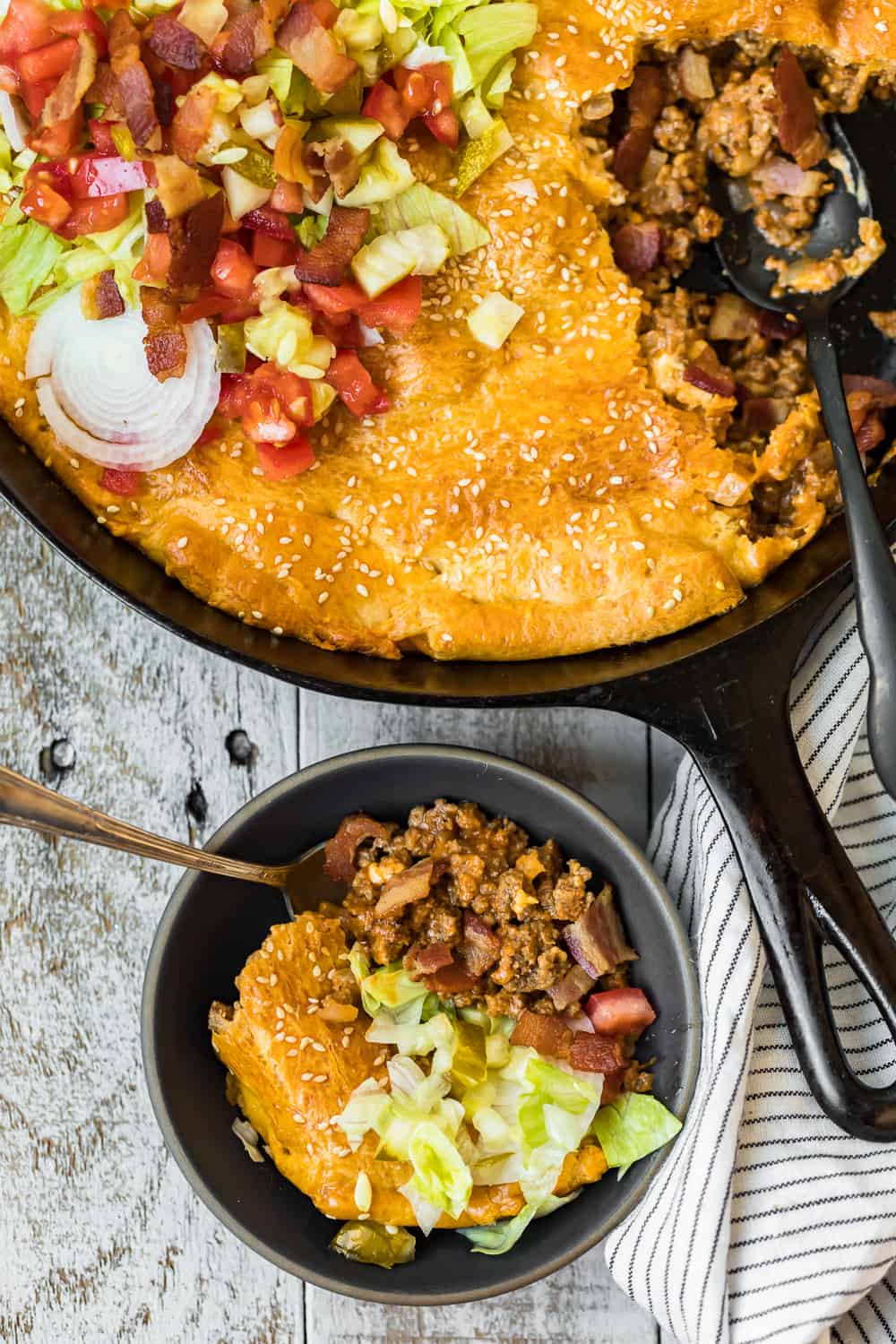 Top Tips For This Bacon Cheeseburger Pot Pie
This recipe can work in a deep dish 9 inch pie pan or a regular 10 inch pie pan.
If cooking it in a 9×13-inch casserole dish instead of the cast iron, cook the bacon, onion and ground chuck in a large skillet, then pour the mixture into a sprayed casserole dish and top with the crescent dough. Finish cooking in the oven.
Top your pie with your favorite burger fixings such as shredded lettuce, tomato, pickles, bacon, red onion and avocado.
This pie is hearty enough to stand alone as a full meal. I often serve it with a green salad or vegetables.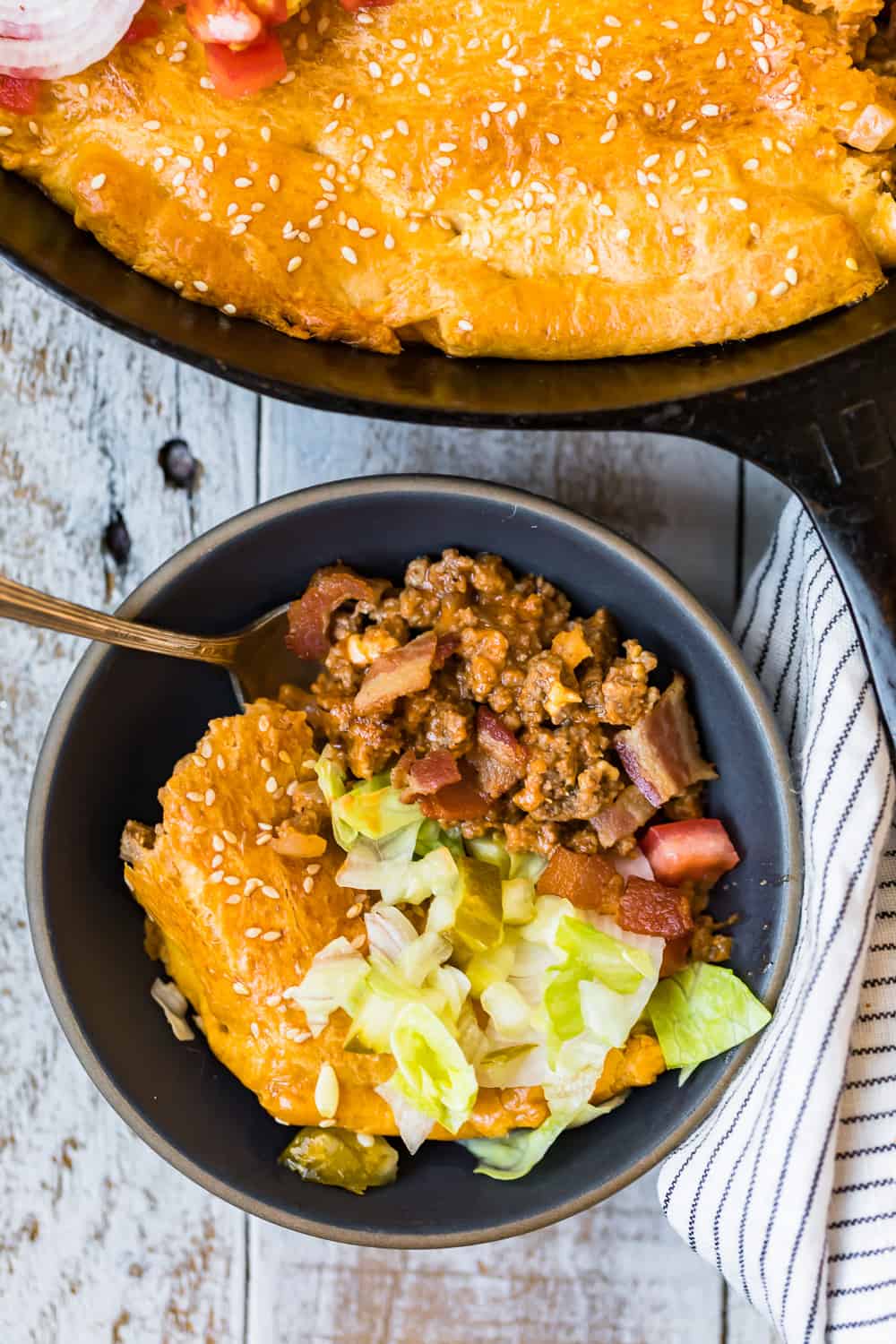 Check Out These Other Delicious Casserole Recipes