There's nothing better than a big batch of sauce-y, flavor-packed Baked Beans! Dress up a few cans of pork and beans with thick slices of bacon, brown sugar, sweet onion, molasses, and some extra seasonings for the best baked beans recipe ever. It's the perfect side dish for barbecues, cookouts, or any time you have a crowd to feed.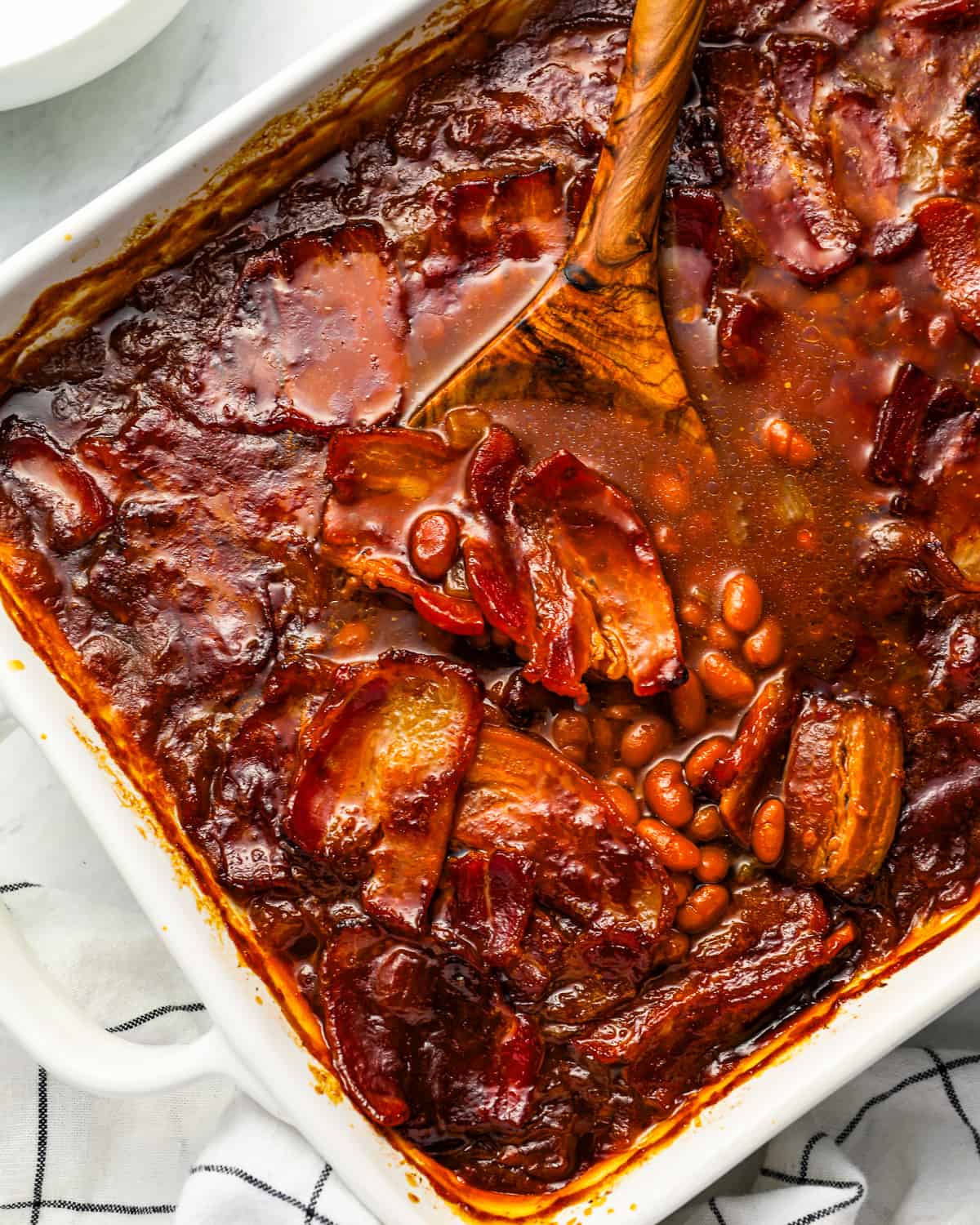 What's in this Baked Beans Recipe?
This easy Boston-style baked beans recipe only requires a few simple ingredients. There's nothing quite like sweet and savory beans to round out breakfast or dinner!
Bacon: Adds a savory and smoky flavor to the beans.
Sweet Onion: Adds sweetness and a slight bite.
Pork and Beans: Using canned pork and beans in tomato sauce makes this recipe super easy to throw together.
Worcestershire Sauce: Adds depth to the sauce.
Brown Sugar: Sweetens the sauce.
Dry Mustard Powder: Adds a bit of tang to the sauce.
Unsulphured Molasses: Adds sweetness and a rich, warm flavor.
Pro Tip: If you're not a fan of molasses, try honey or maple syrup instead!
Variations on Homemade Baked Beans
I love the balance of sweet and savory in this baked bean recipe. You can adjust the level of sweetness by using more or less brown sugar and molasses. Sauté some garlic, bell peppers, and celery with the onions to add even more depth of flavor. Or make them a little spicy with a dash of hot sauce, chili powder, or red pepper flakes.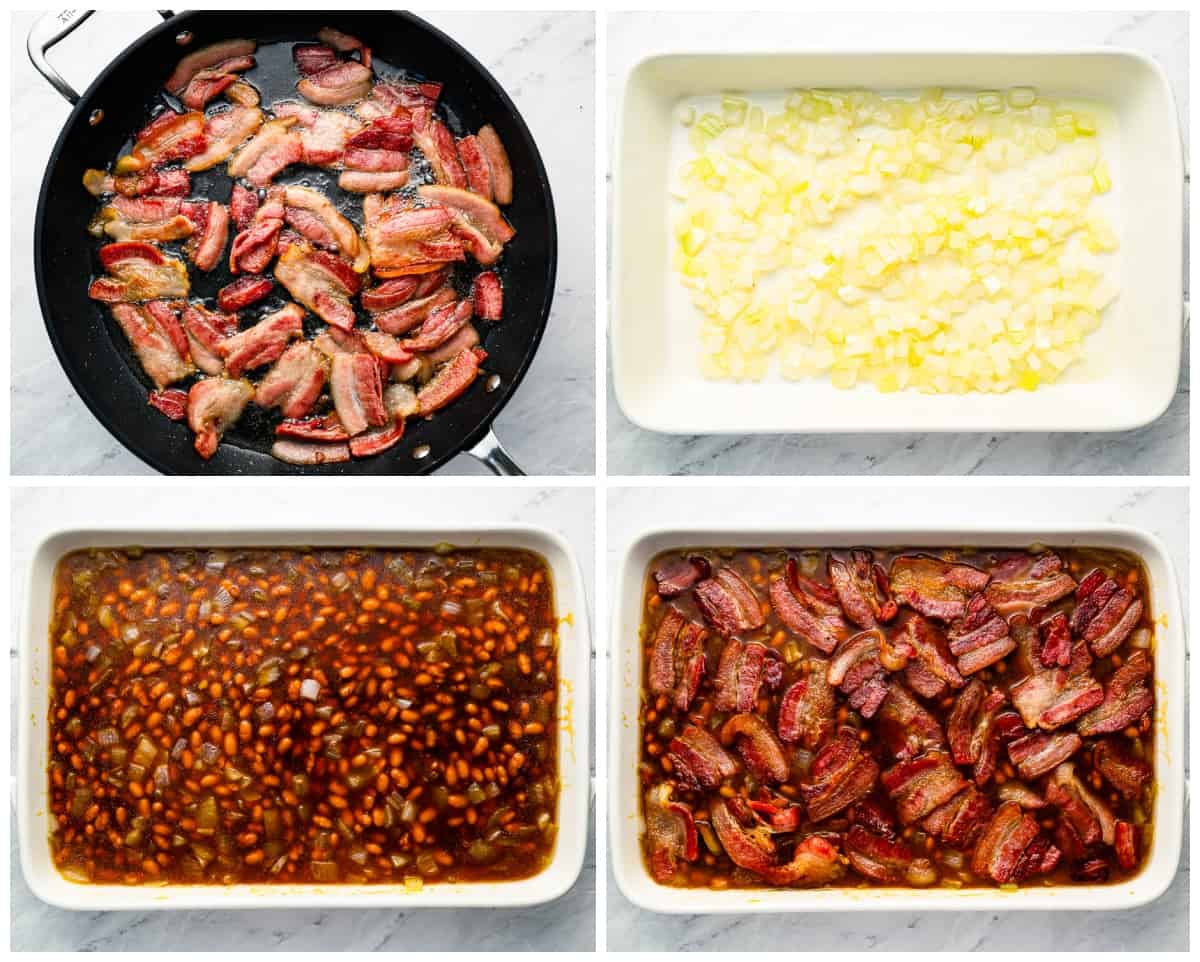 What kind of beans are baked beans?
Baked beans are most often made with Navy beans. However, Cannellini or Great Northern beans also work well!
Are baked beans good for you?
These beans are high in protein, fiber, potassium, and iron; however, they also contain quite a lot of sugar and fat, so enjoy them in moderation!
Are baked beans gluten free?
Unfortunately, this recipe is not gluten-free. Some brands of beans contain gluten, and Worcestershire sauce is not a gluten-free ingredient. To make this recipe gluten-free, use a certified gluten-free brand of beans and Worcestershire sauce.
Why are my baked beans bland?
If your beans are tasting a bit bland, they may be overcooked. The longer beans cook, the more they will start to lose their flavor. Consider baking them for a bit less time.
Can you freeze baked beans?
Yes, you can freeze these beans for up to 6 months!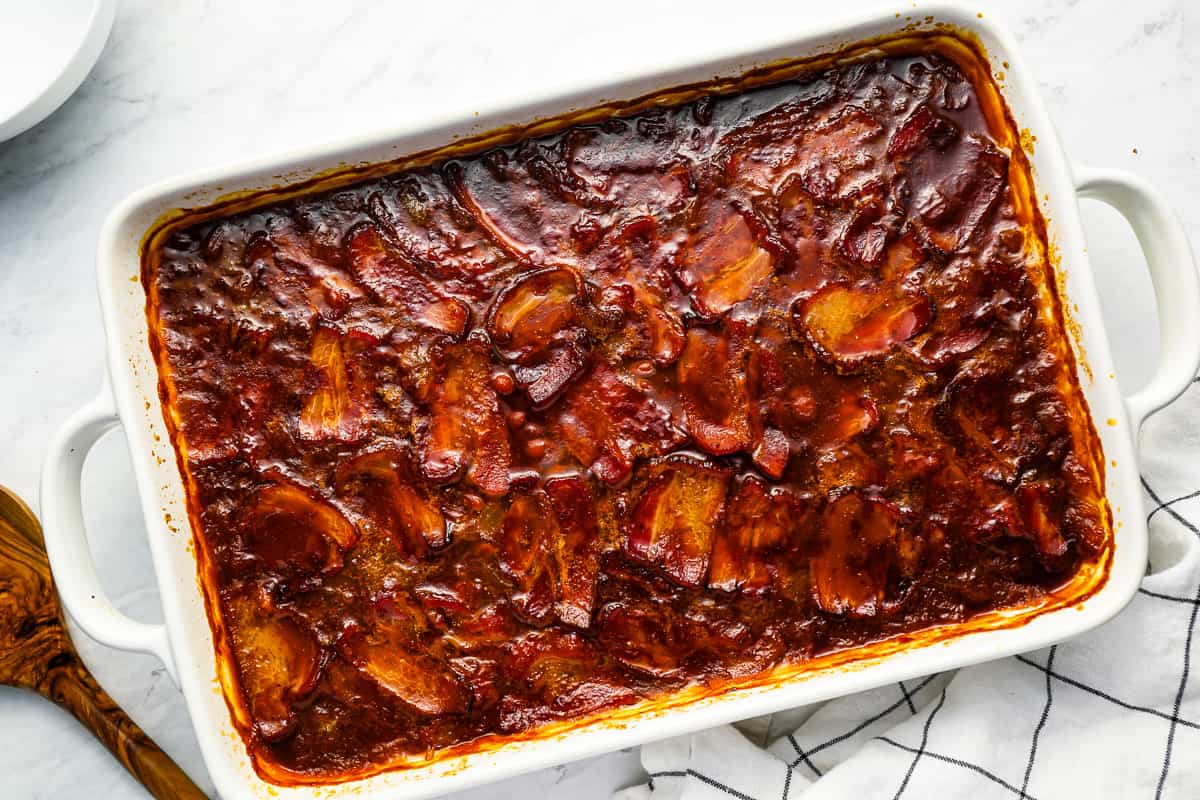 How to Store and Reheat
Store leftover baked beans in an airtight container in the refrigerator for up to 4 days. Reheat in a saucepan set over low heat or in the microwave in 30-second increments until warmed through.
How to Freeze
Freeze homemade baked beans in an airtight container or Ziplock bag for up to 6 months. Let thaw overnight in the refrigerator before reheating.
Serving Suggestions
Serve these baked beans with classic BBQ dishes, like smoked ribs, grilled chicken breast, hot dogs, or grilled pork chops. Add some other BBQ sides, like coleslaw, mac and cheese casserole, or corn on the cob for a complete meal.
These beans also make a great side to your favorite breakfast foods, like scrambled eggs, savory bacon pancakes, breakfast hash, pimento cheese grits, or corned beef hash.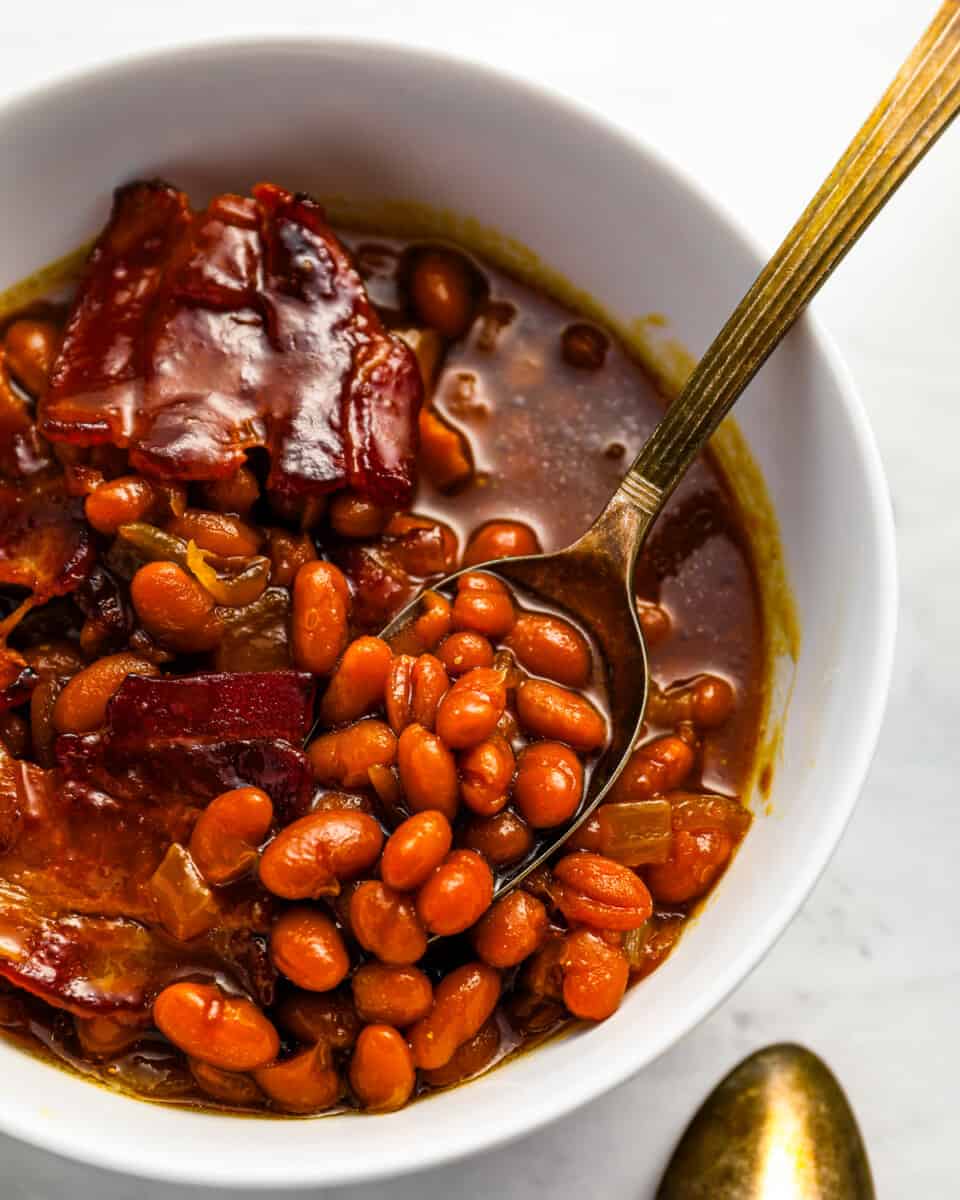 More Bean Recipes We Love