Hot Chicken Salad Pie is my absolute favorite comfort food recipe. Baked Chicken Salad in a flakey pie crust and covered with cheese…what could be better? Our family LOVES this recipe!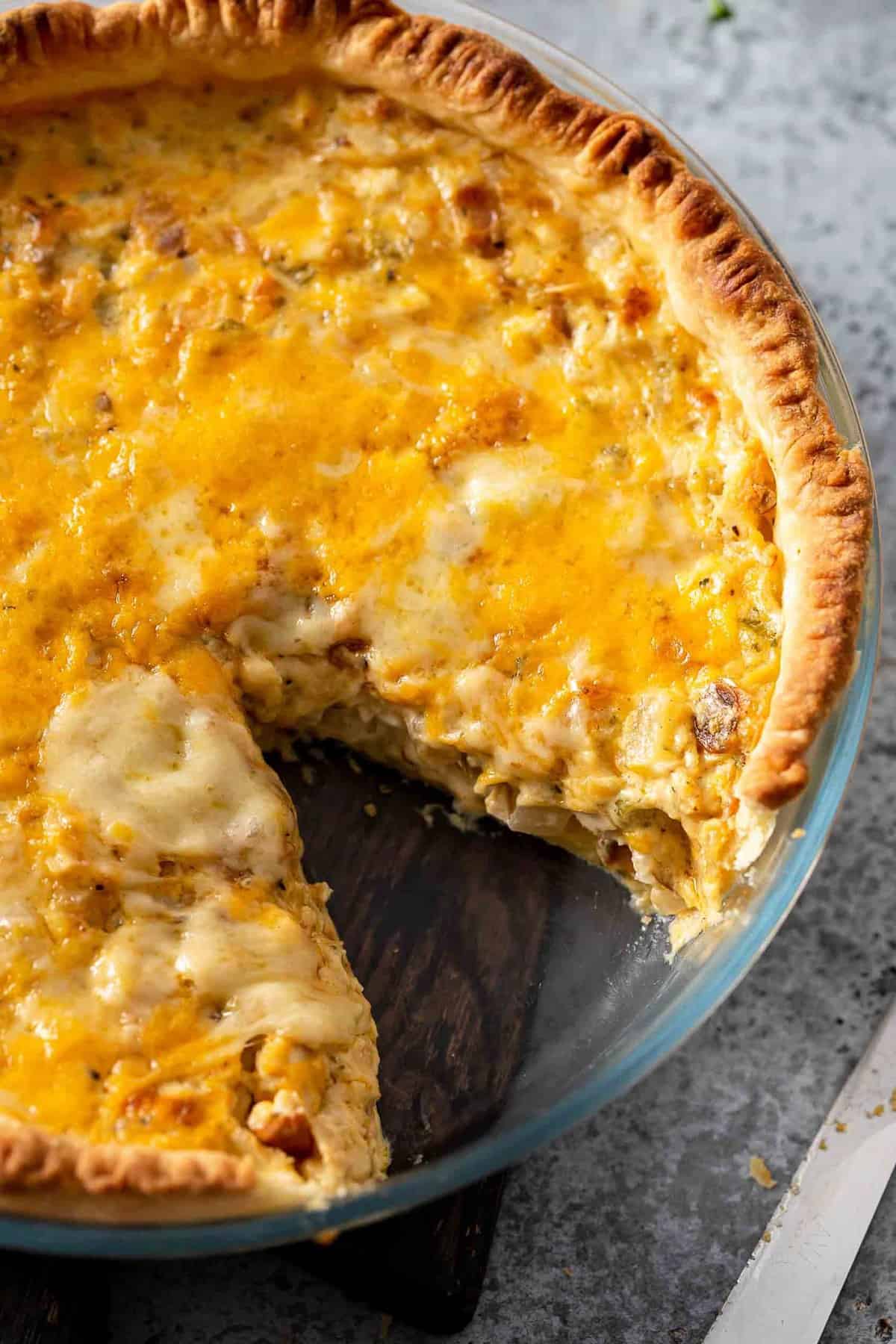 Hot Chicken Salad Pie
This hot chicken salad fills a pie crust for the perfect cheesy comfort food. It makes a great lunch on weekends, or any time you're craving some baked chicken salad!
I love everything my mom cooks, but I have a couple favorites. Some that never ever disappoint are her Creamy Chicken Soup, classic Spaghetti and Meatballs, and Sherry Chicken. I literally crave them all the time.
And then there is her Baked Chicken Salad Pie. A fun take on a classic recipe, it's the ULTIMATE comfort food. You have to try it to know how great it is, and I hope you do IMMEDIATELY! Hot chicken salad is baked into a pie crust and topped with lots of cheese for something absolutely amazing. Think of it like an easy chicken salad casserole. Yum!
This dish never lasts long when we make it, and it's one of the recipes that's made my Mom famous among my friends. I love serving it for lunch with friends, and the filling makes an incredible chicken salad dip for parties!
Find out how to make Baked Chicken Salad Pie for the cheesiest, most delicious lunch ever!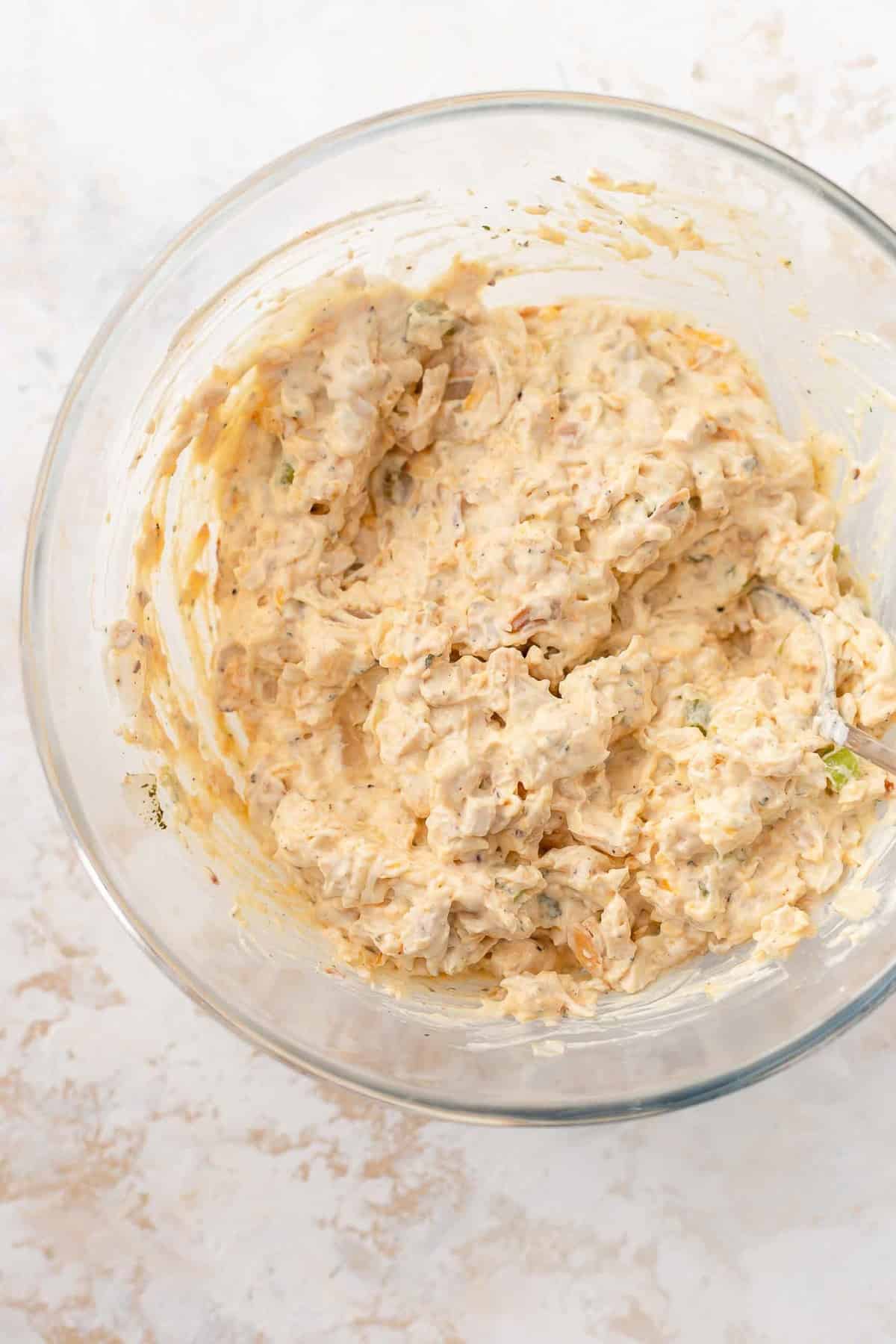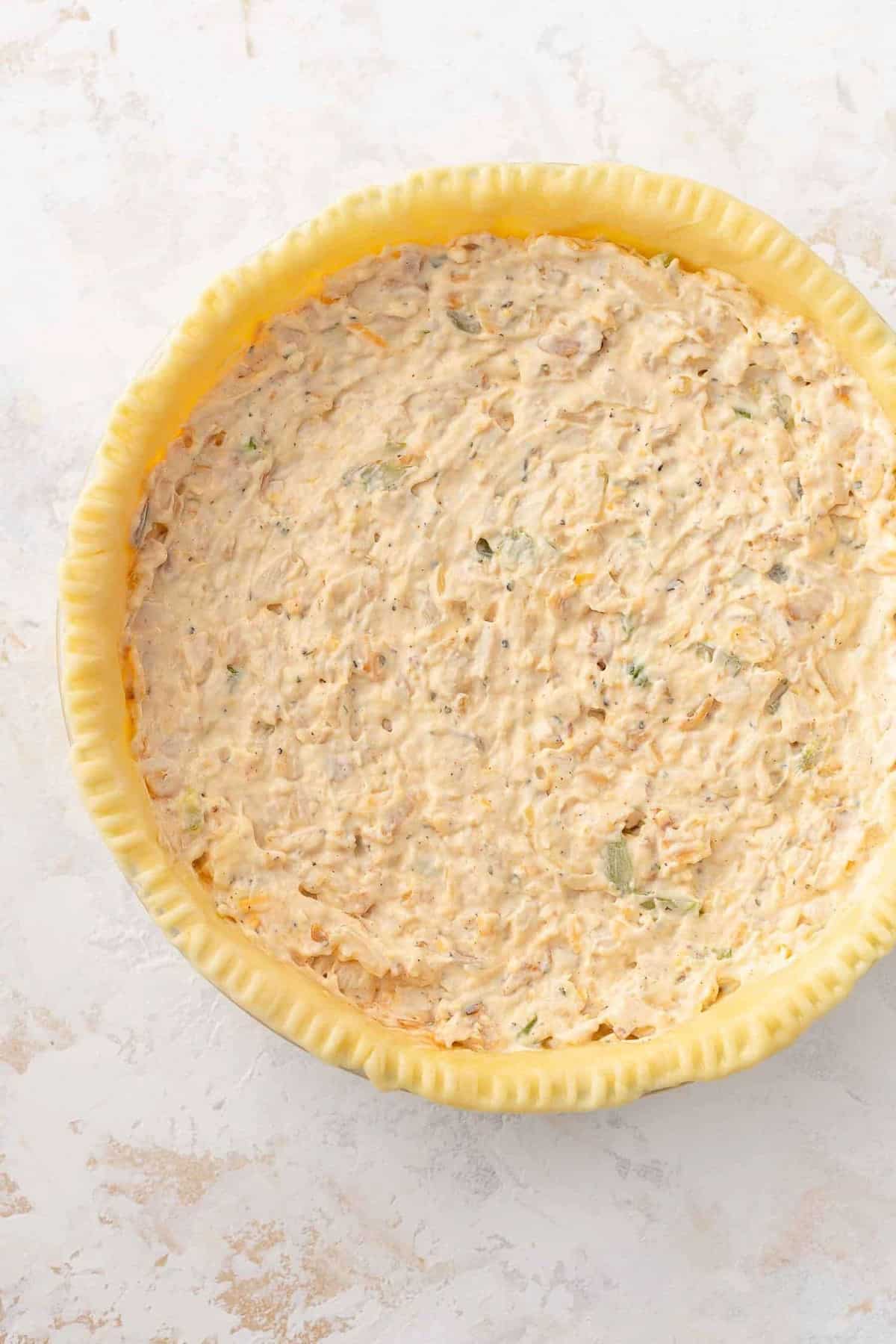 How to Make Chicken Salad Pie
Mom adapted this recipe from The Blue Owl Restaurant & Bakery in Kimmswick, MO, and it is one of my all-time favorite meals. Its cozy, hearty, and just feels like home. I have always loved chicken salad, and it's even better served hot and baked into a creamy, delicious pie. Flaky pie crust, delicious chicken salad, cheese…so many of my favorites!
How to Make Baked Chicken Salad Pie:
Preheat oven to 375°F.

Place the pie dough in a 10″ pie plate.

In a large bowl, combine all ingredients with 3/4 c cheese. Mix well.

Pour into the pie crust.

Bake uncovered at 375°F for 30 minutes.

After 30 minutes, sprinkle the last 3/4 c cheese over the pie.

Bake 10-15 minutes more. The pie should be set in the middle and crust golden brown.

Take out of the oven and let the pie rest/cool for 10-15 minutes before cutting.
Be sure to watch the video to see the step by step recipe!
Hot Chicken Salad Ingredients:
Almonds
Yellow Onion
Celery
Lemon Juice
Sour Cream
Cream of Chicken Soup
Water Chestnuts
Parisien Herbs
Black Pepper
Smoked Paprika
Cheese (I recommend cheddar and gruyere)
What pie crust should I use?
We love to use Trader Joe's pie crust for this baked chicken salad pie. It's super flaky and it tastes just like a homemade one. If you do want to make your own, check out our delicious homemade pie crust recipe. When I have time, that's what I prefer to make, but in a pinch, pre-made pie crust is such a good option!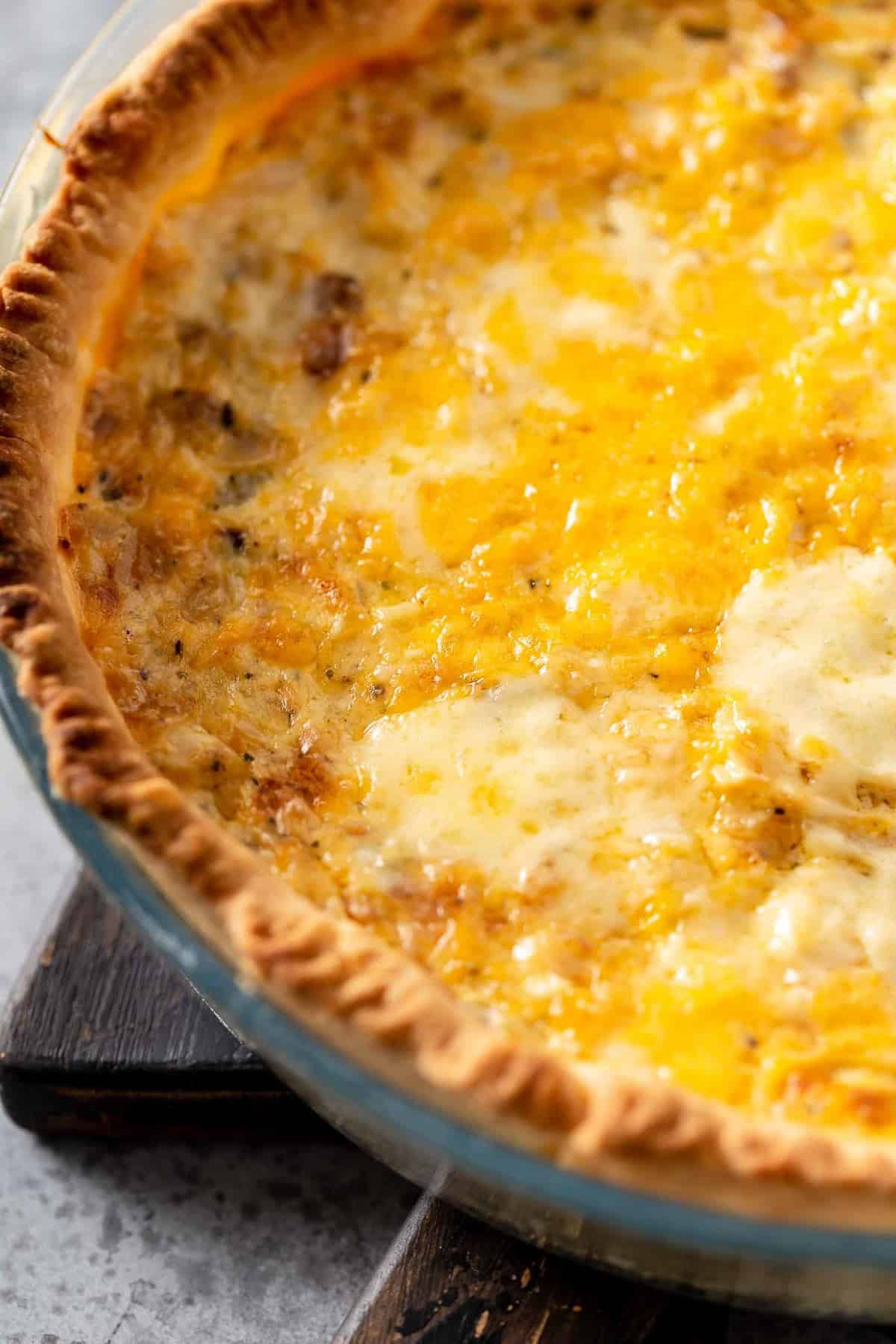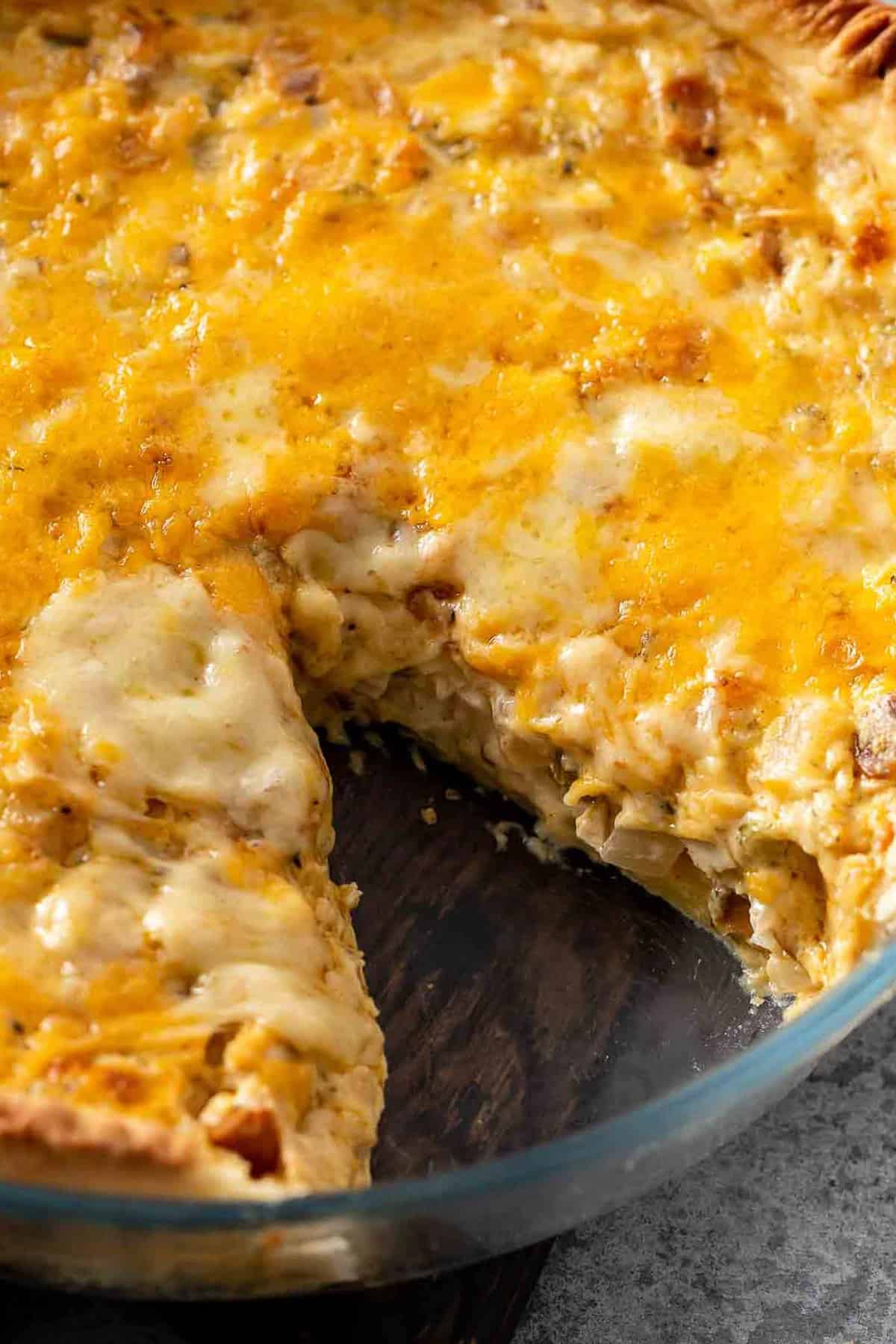 Baked Chicken Salad Dip
The hot chicken salad filling also makes a killer dip all on its own. Just leave out the crust, bake the rest according to the recipe card, and serve with fresh veggies, pita chips, or bread. YUM! It's a real hit at parties.
I like to double the recipe and make both. One pie and one dip. You won't regret it!
How to make Baked Chicken Salad Dip:
Mix all ingredients together and pour into a casserole dish.
Bake at 375°F for 30-40 minutes.
Serve hot with chips or crackers!
The dip can also easily be cooked in a slow cooker.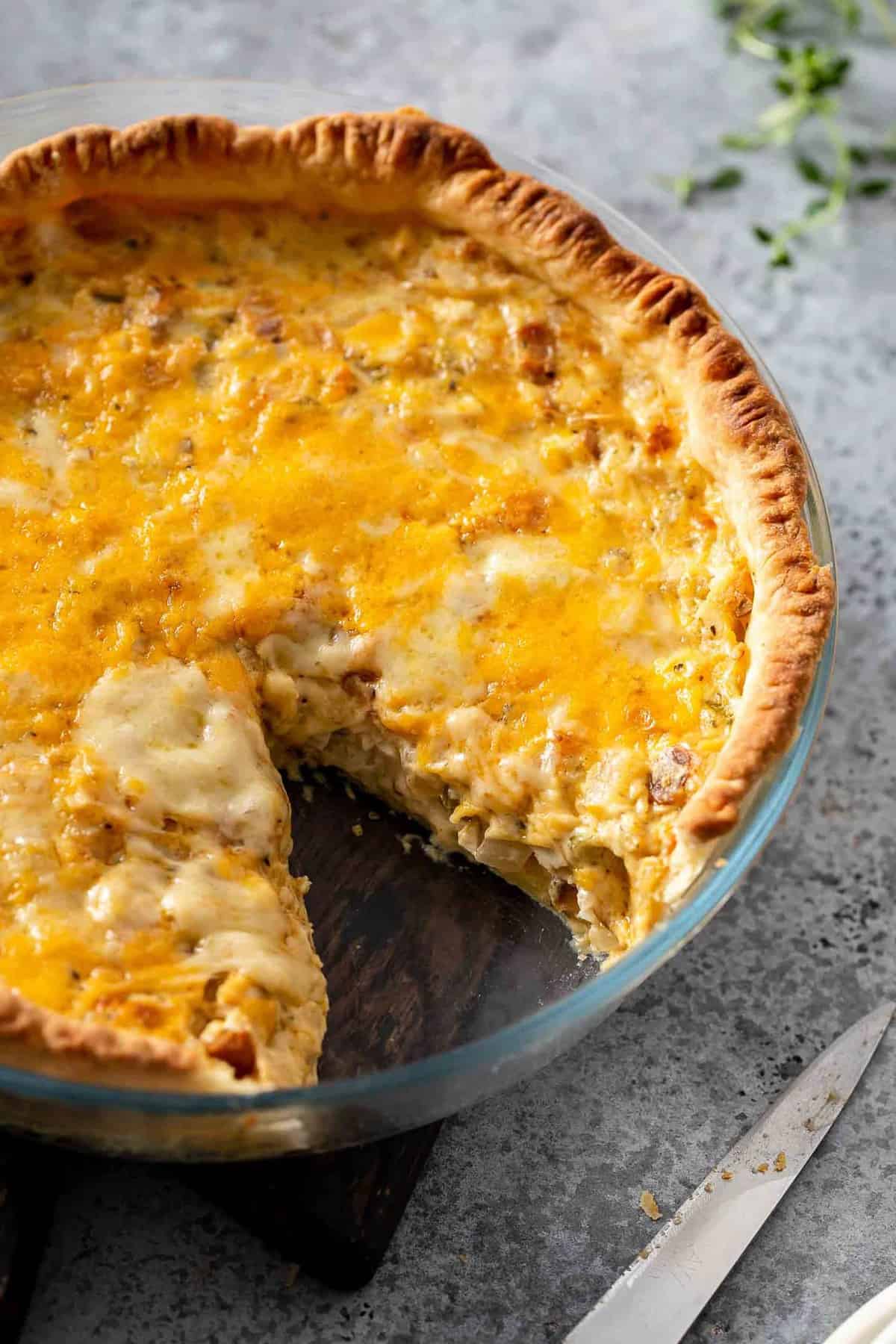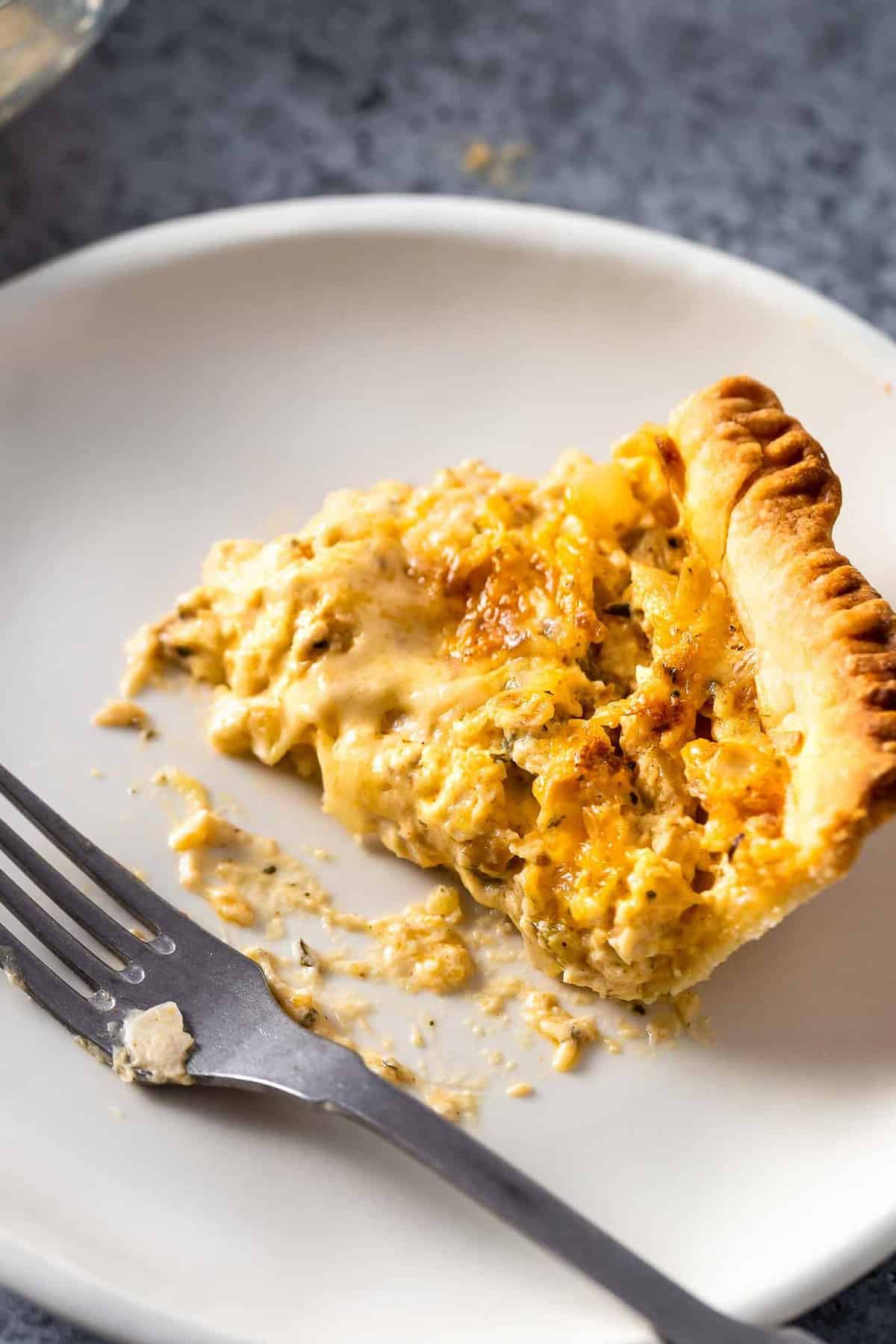 This is my absolute favorite meal to eat on a chilly day, curled up under a blanket, watching reality TV! Pat hates my reality TV habit, but he indulges me if it means he can eat this Hot Chicken Salad Pie. Everyone loves it!
Watch the video and see the recipe card for details on how to make Chicken Salad Pie. Enjoy!
Be sure to try these other chicken salad recipes and some other cheesy chicken dips: