HEALTHY CHICKEN SALAD SLIDERS are just what Summer ordered. They are so fun for showers, parties, or any get together. The best part is you can eat more than one because the base is greek yogurt…guilt free AND delicious. You'll love this healthy chicken salad sandwich recipe!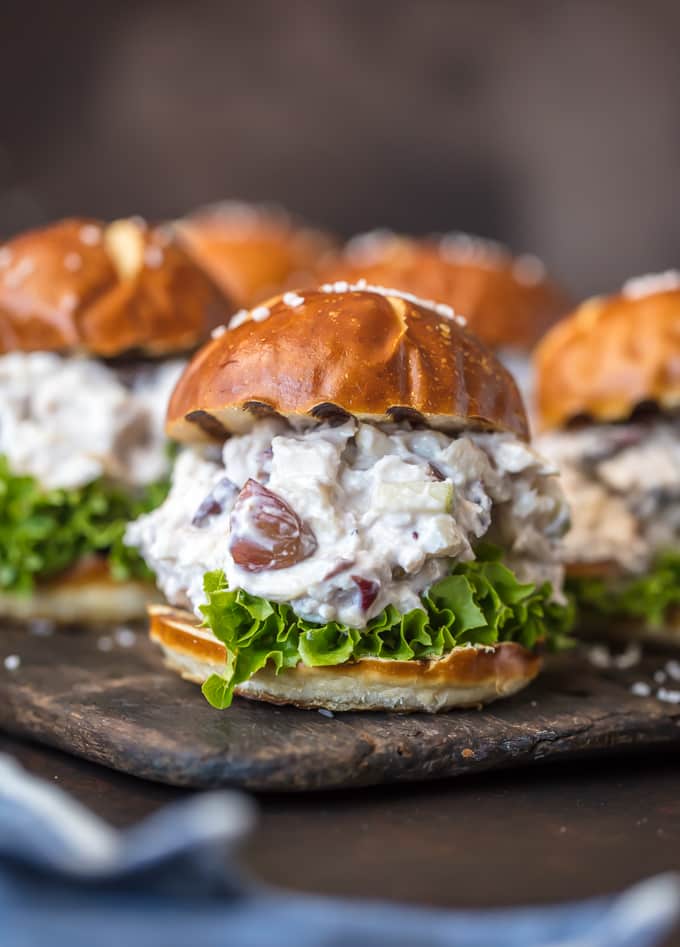 Healthy Chicken Salad Sandwich Recipe
Healthy Chicken Salad Sliders are a healthier version of your typical chicken salad sandwich. Bring these to work for lunch or make them for a party!
This healthy chicken salad sandwich recipe is a life-saver! Easy lunches are something in demand year round, and all too often EASY equates to FAST, which can also equate to UNHEALTHY. It's way too easy to hit the drive-thru or throw a Lunchable (no? just Pat?) in your bag to take to work. Why would you prepare a healthy meal when you're short on time?
But these Healthy Chicken Salad Sliders change all that, and I couldn't love this recipe more. They are so tasty, so easy to make, so flavorful, and best of all HEALTHY! This "skinny recipe" is made with greek yogurt to save some calories, You can prep the chicken salad the night before and make your sandwiches just before running out the door. Win win!
Make this easy and HEALTHY Chicken Salad Sandwich recipe for lunch. It doesn't take long to make and actually good for you!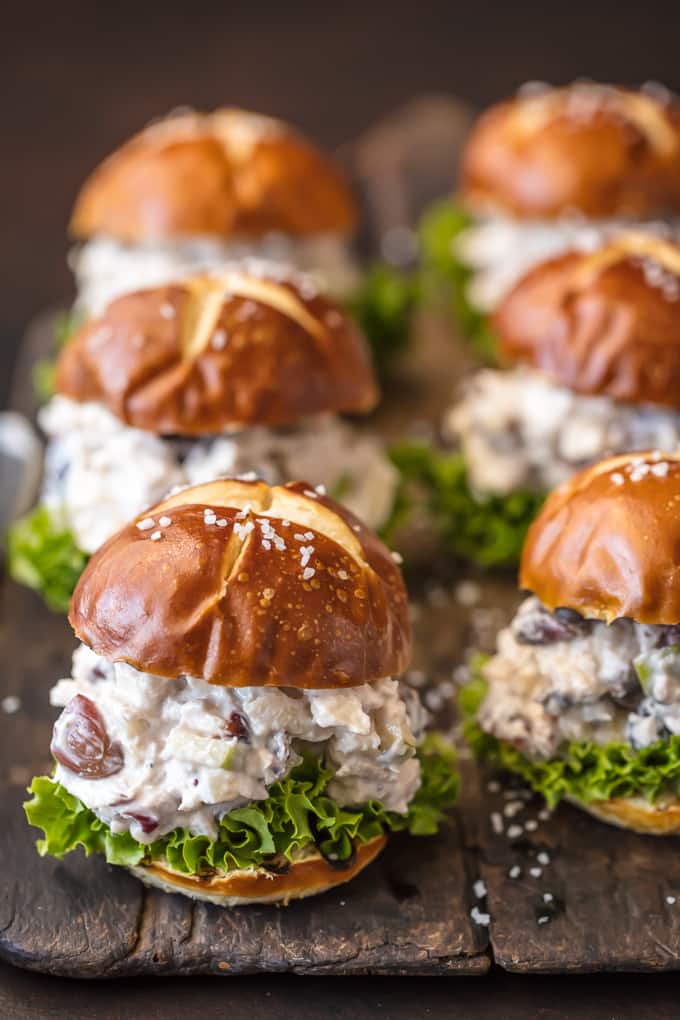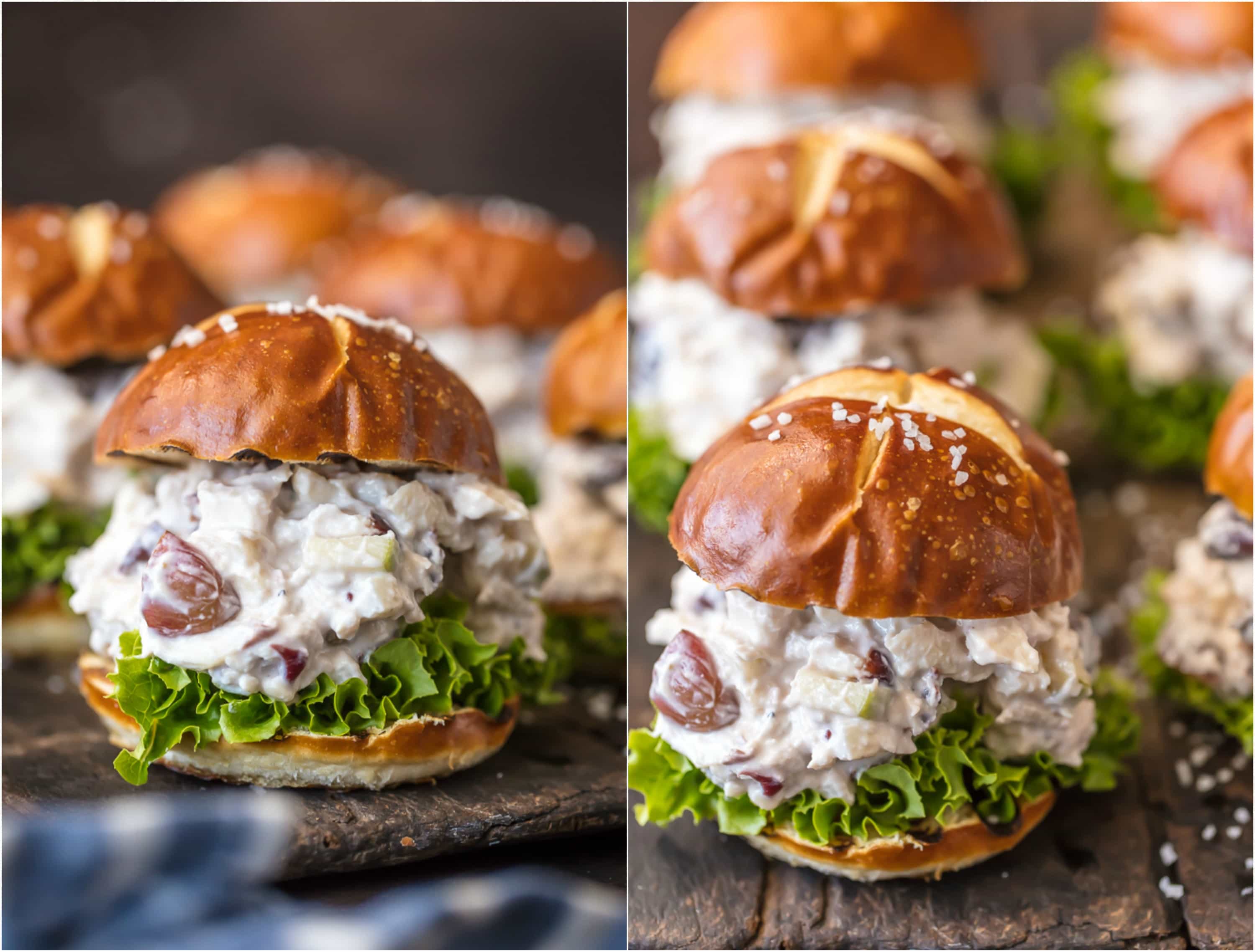 Healthy Chicken Salad Recipe
I LOVE chicken salad. When I still worked outside of the house, my favorite place to go for lunch was this little bakery that makes the BEST chicken salad. I always felt guilty eating it though, because I guesstimate that it was probably about 8000 calories per pound (give or take)! And they served it on grilled beer bread…Man it tasted so good, but it definitely wasn't the healthiest thing to eat every day. Luckily, this healthy chicken salad sandwich recipe is JUST AS GOOD but it's much better for you.
It starts with a delicious and HEALTHY chicken salad sandwich recipe. It's great on these little sliders, but you can also make it as a regular side dish and eat it without the sandwich part. I used Greek yogurt instead of mayonnaise, and that makes ALL the difference in calories. Plus the grapes, almonds, apples, and cranberries add some extra nutrition to this light and fresh recipe.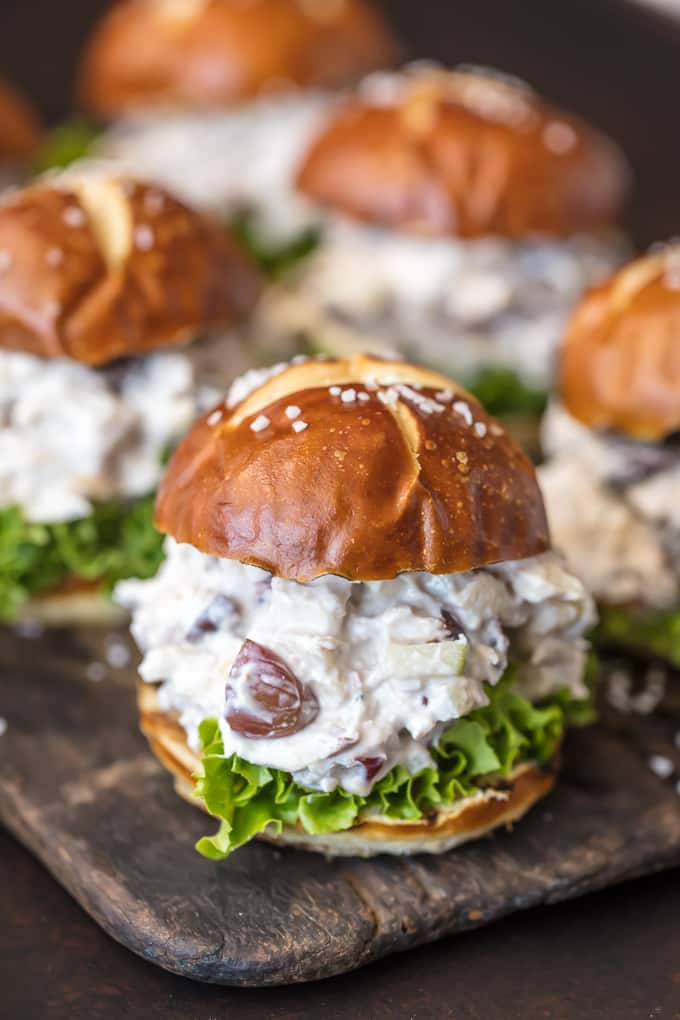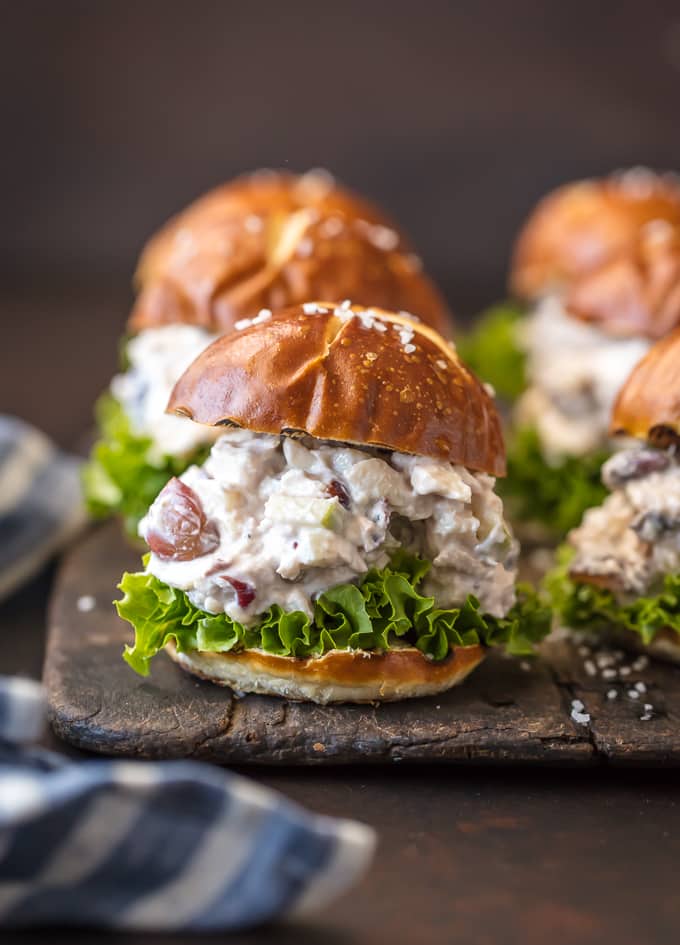 Easy Chicken Salad Sliders
One of my favorite things about this recipe is how easy it is to make. These sandwiches are whipped up in a flash and are easy to transport for a day at the beach or the pool. They're perfect for a brunch with the ladies, or to pack in a quick lunch for work.
The secret ingredient to these healthy chicken salad sliders (and my year round obsession) is Greek Yogurt. You cannot go wrong when substituting it for mayo or sour cream in just about any classic recipe. You can even dab some on your quesadillas and you will never know the difference! Its light, delicious, and SO much better for you!
I made mine full of all sorts of add-ons, like grapes, slivered almonds, apple, and craisins, but you can customize this any way you like! You can add your favorites into the mix. I think it would be delicious with celery, pineapple, pecans…the list goes on and on.
Is a chicken salad sandwich good for you?
Usually the answer would be no. But luckily the answer for this recipe is yes! This healthy chicken salad sandwich recipe is a lighter, better for you version of the classic sandwich we all love. Replace the mayonnaise with Greek yogurt to get the same creamy texture without all those calories. And the other ingredients in this chicken salad recipe (grapes, almonds, chicken) are good for you too!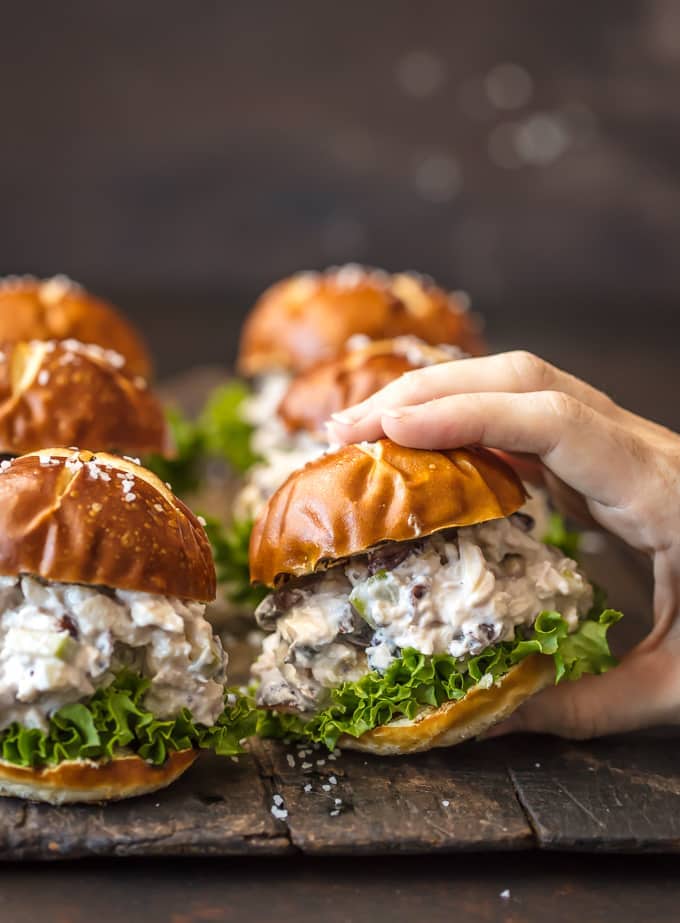 I can't wait for you to try this delicious, easy, flavor-packed, HEALTHY chicken salad sandwich recipe. You'll be amazed by how good it is, and even more amazed by the fact that you can eat it guilt-free. Make one for lunch or make a bunch to bring to a party.
Serve them up with a side of sweet potato chips, fresh fruit, or with a bowl of tomato soup.
See the recipe card for full details on how to make Healthy Chicken Salad Sliders. Enjoy!
If you like this healthy chicken salad sandwich recipe, try these other sandwich recipes: