These pepper jelly chicken wings are perfect for game day entertaining! Perfectly spicy, these oven baked wings are perfect for a crowd and easy to make. Made with just a few ingredients they make for a really flavorful appetizer.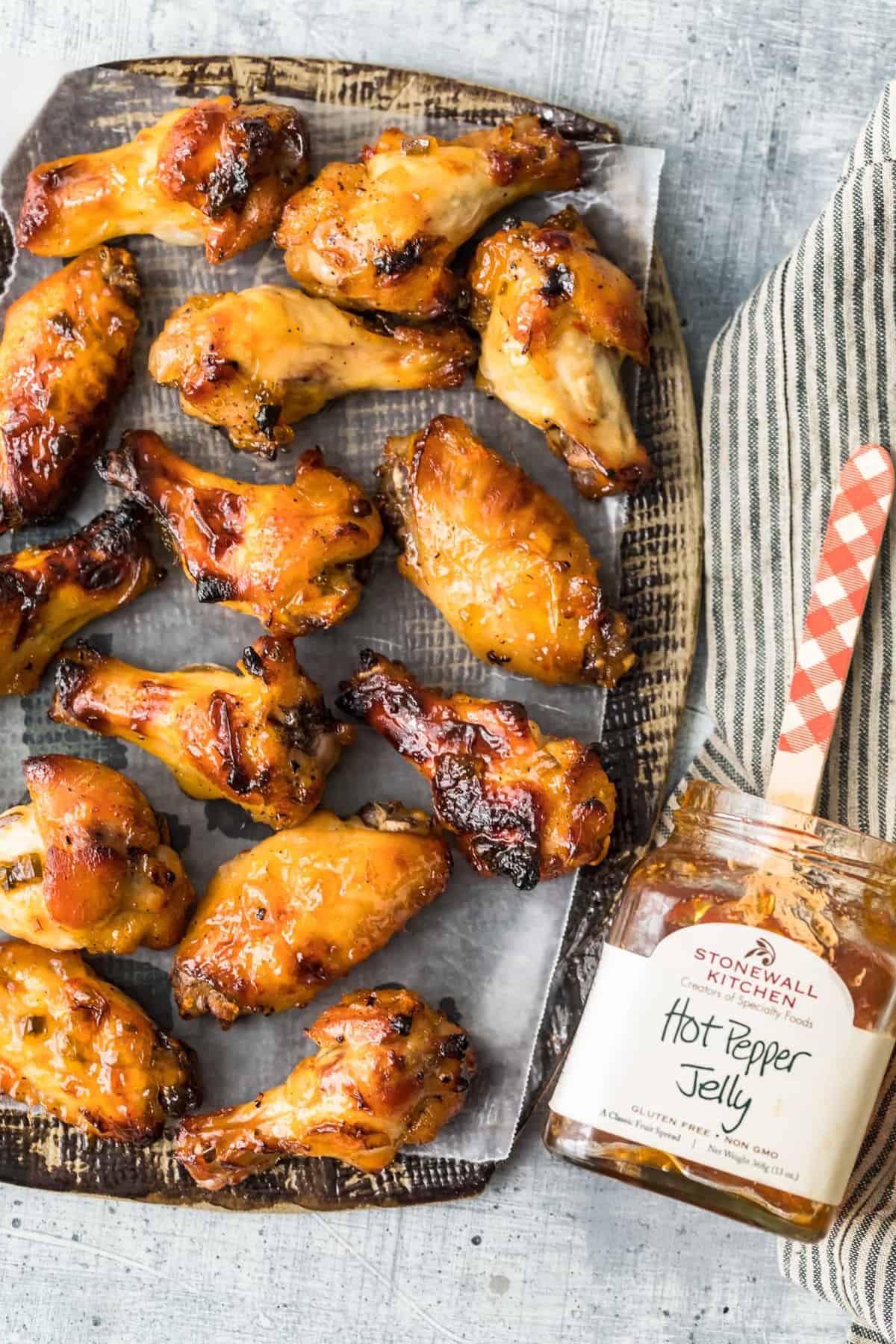 When it comes to game day entertaining, you really can't beat chicken wings and these one sure pack a punch! They are oven baked for ease and are sure to be a hit at your next gathering!
To make a real show stopping chicken wing platter, check out my recipes for Cranberry Chicken Wings, Garlic Parmesan Chicken Wings, Honey Glazed Chicken Wings and Crispy Baked Buffalo.
How to Make Pepper Jelly Chicken Wings
Whisk together pepper jelly and canola oil. Transfer ½ of the mixture to a lidded container and refrigerate for later.
Liberally salt and pepper the chicken, and place it in a zipper-style plastic bag. Pour the remaining half of the pepper jelly mixture on top, and knead the chicken and jelly together to evenly coat each piece of chicken. Place the chicken in the fridge 1-24 hours.
Remove the chicken and the dish of reserved sauce from the fridge 15 minutes before cooking.
Heat oven to 425°F and adjust oven rack to middle position. Line a large, rimmed baking sheet with foil and spray a metal baking rack with nonstick spray. Set the rack in/over the baking sheet.
Use tongs to transfer the chicken pieces to the prepared rack/baking sheet (shaking off excess sauce as you work). Leave space between chicken pieces to facilitate even baking.
Bake at 425°F for 30 minutes then remove the chicken from the oven. Divide the reserved Hot Pepper Jelly Sauce into two bowls. One half will be used for brush onto the chicken and the other half will be used to serve with the cooked chicken.
Brush each chicken piece (all sides) with ½ of the reserved hot jelly sauce and flip each piece over.
Reduce heat to 400°F and bake an additional 20-25 minutes or until chicken is cooked through and sauce is caramelized.
About 5 minutes before chicken is done cooking, heat the unused, reserved sauce in a small saucepan until hot.
Garnish with chopped, fresh cilantro, and serve with heated Pepper Jelly Sauce.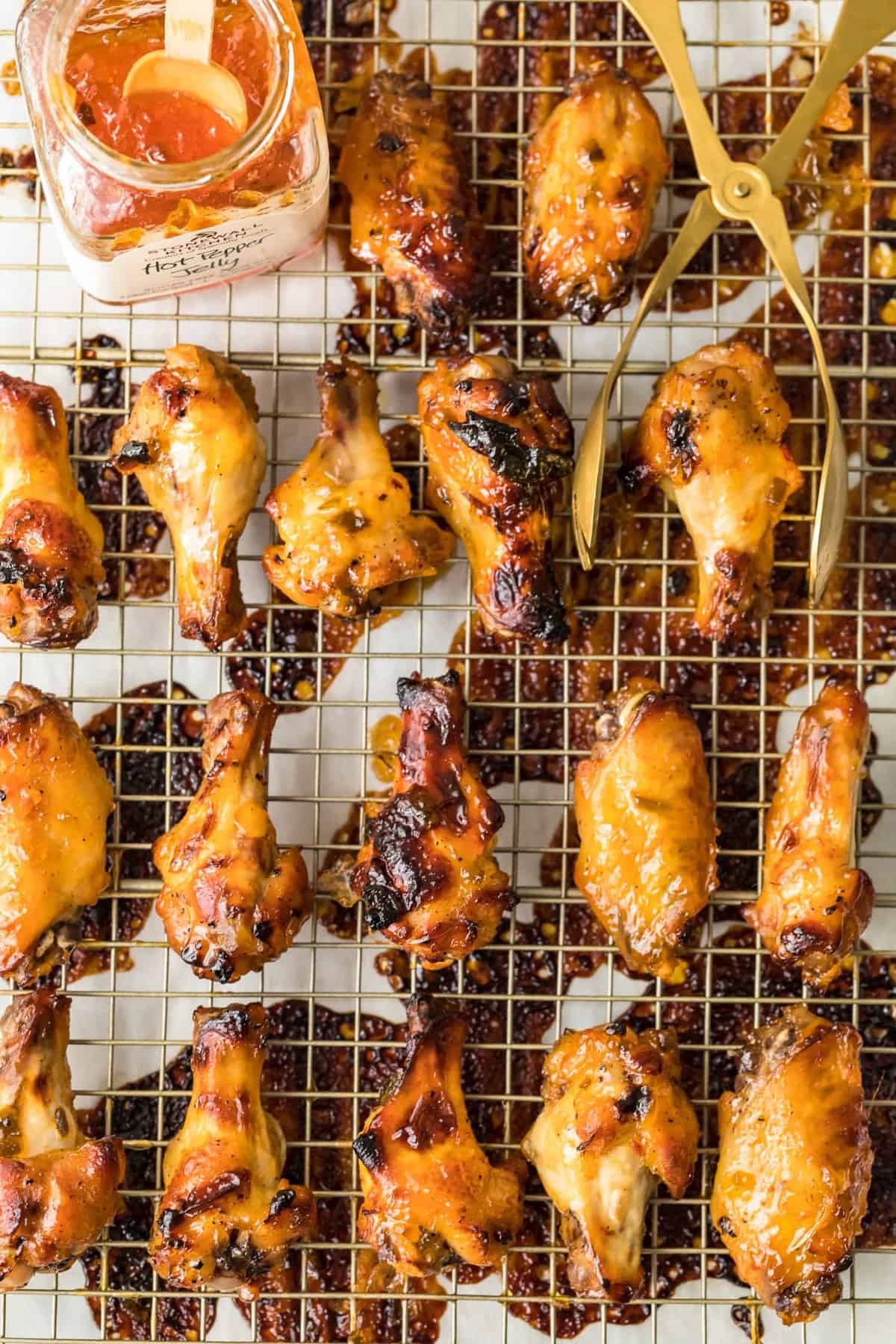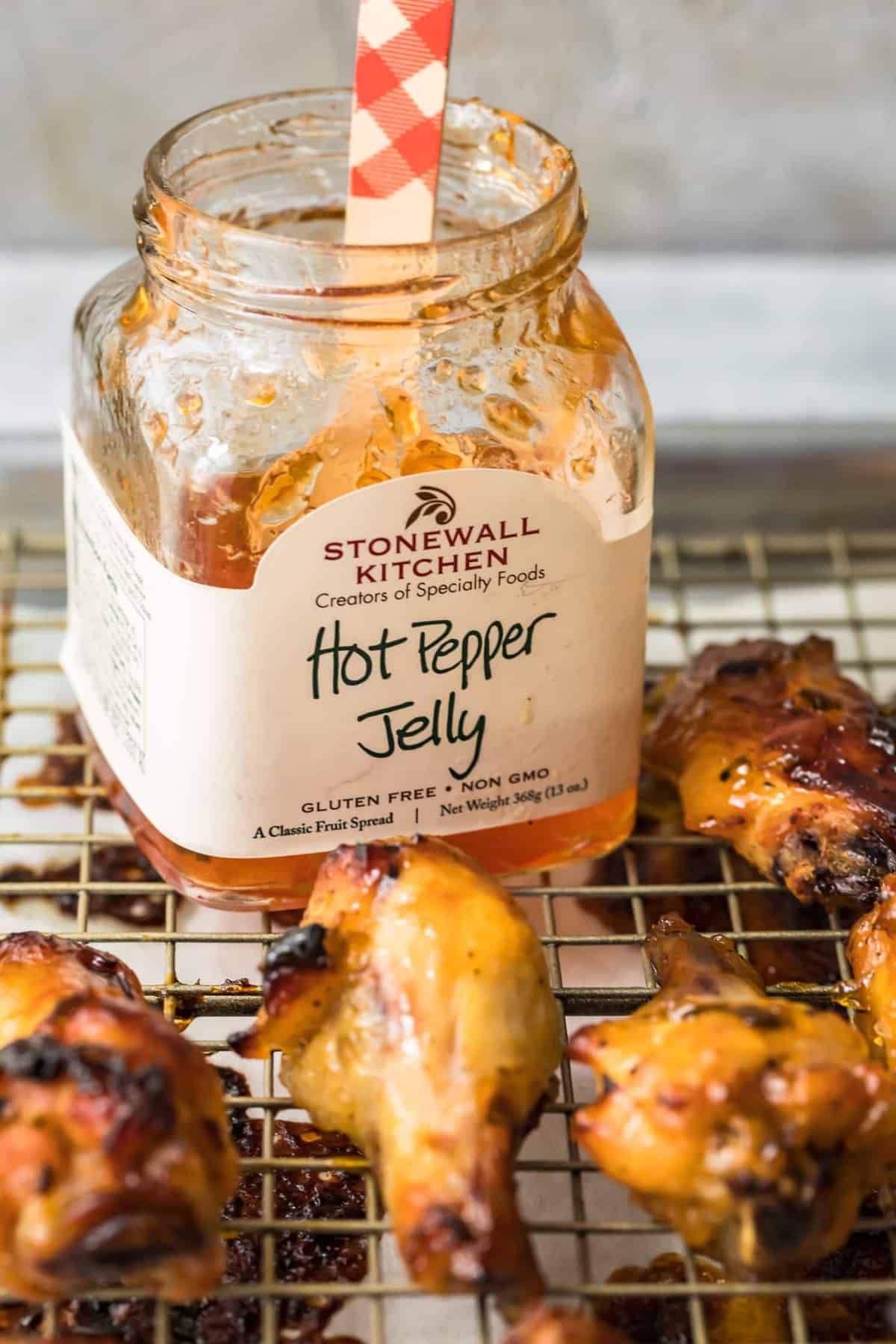 What is pepper jelly?
These tasty chicken wings are smothered and baked in pepper jelly. Pepper jelly is a preserve made with red peppers and sugar in a vinegar base.
It's sweet, spicy and tangy and is the perfect accompaniment for these baked wings. It's great on these wings, but it also works really well as a glaze for salmon and ham or on a cheese board.
Sweet and Sticky Hot Wings Recipe
These wings are just that perfect balance of sweet and hot and be sure to serve them with plenty of napkins!
The sugar in the pepper jelly caramelizes as the wings bake so they have a nice crispiness to them. Before serving I like to garnish them with a little cilantro for a bit of freshness.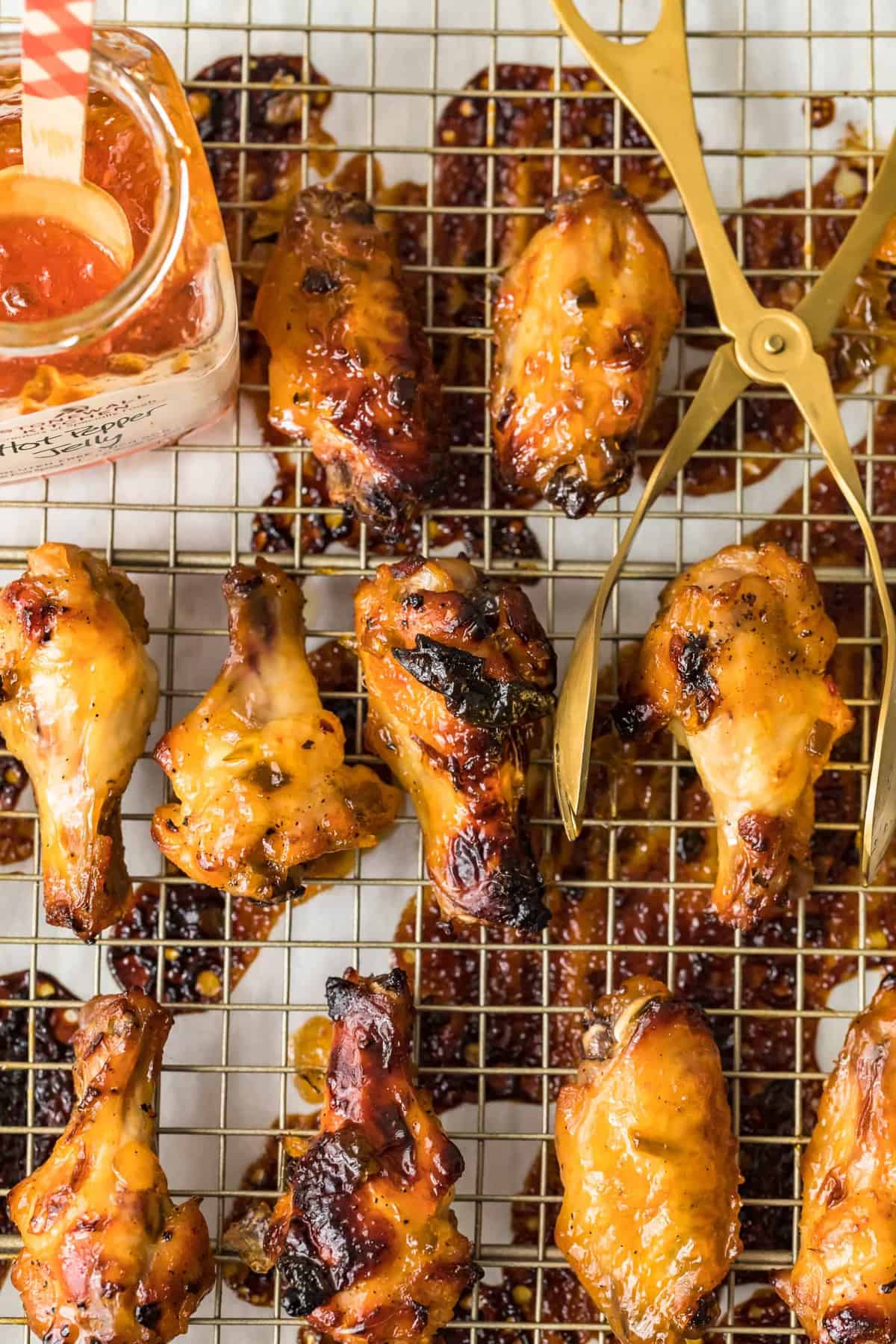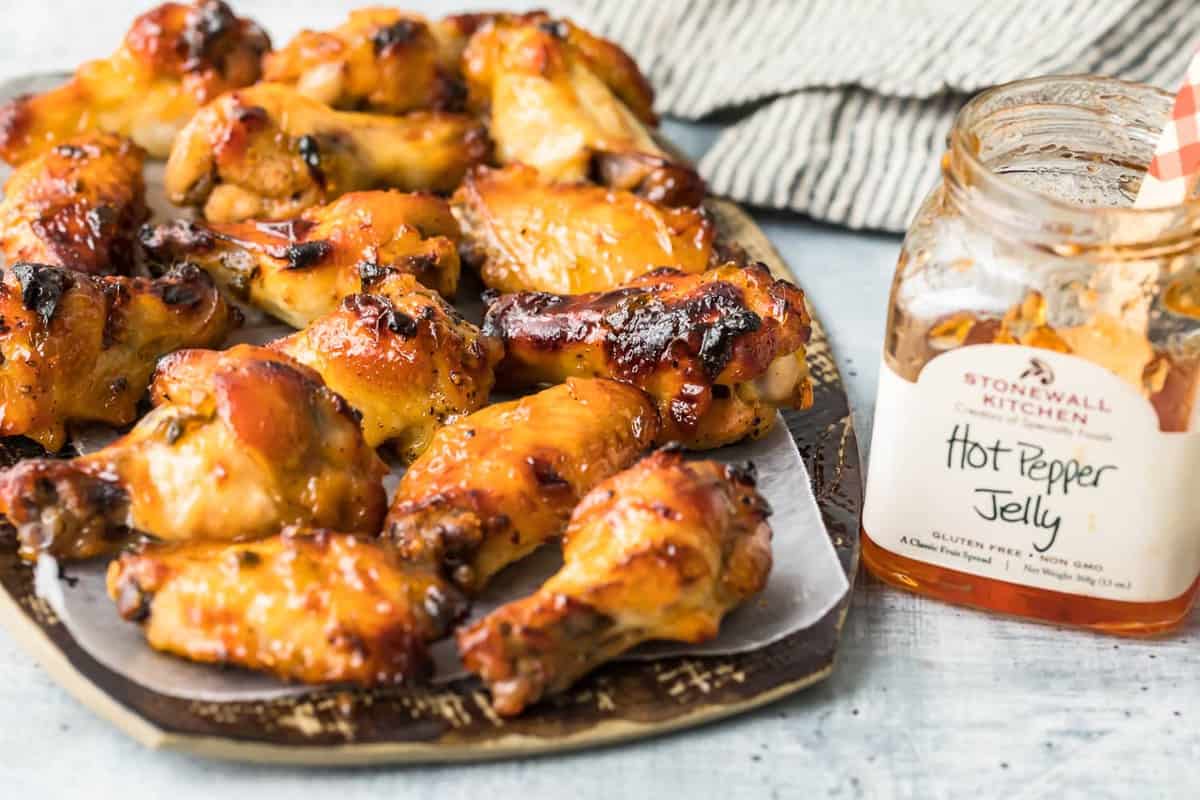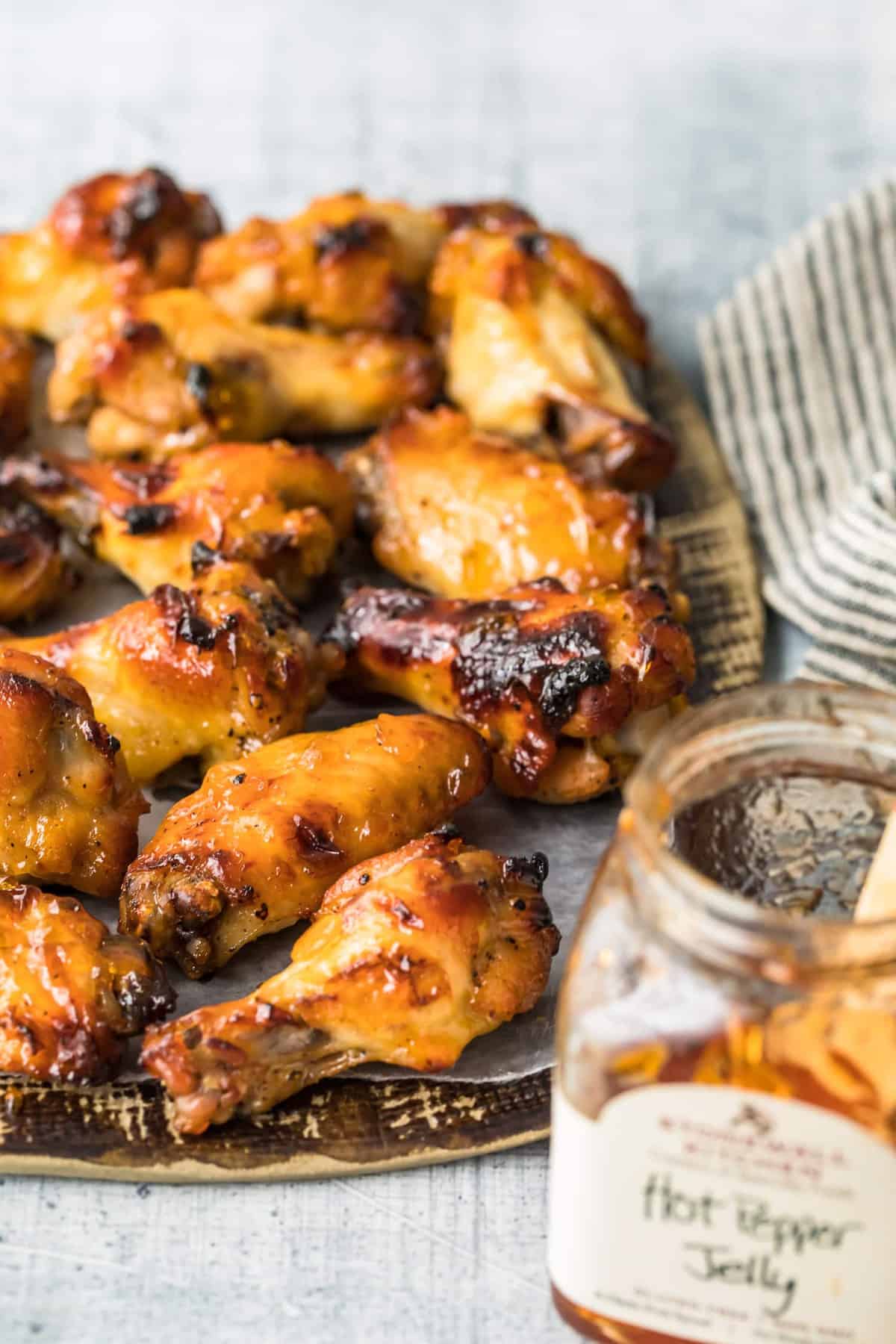 The perfect oven baked wings recipe
When making wings at home, I much prefer baking them over frying, it's more hands off and if you follow this recipe, you can still have juicy wings every time.
Be sure to marinade the wings as long as possible as this helps to add moisture to the chicken and helps to break it down before cooking so each wing is perfectly tender.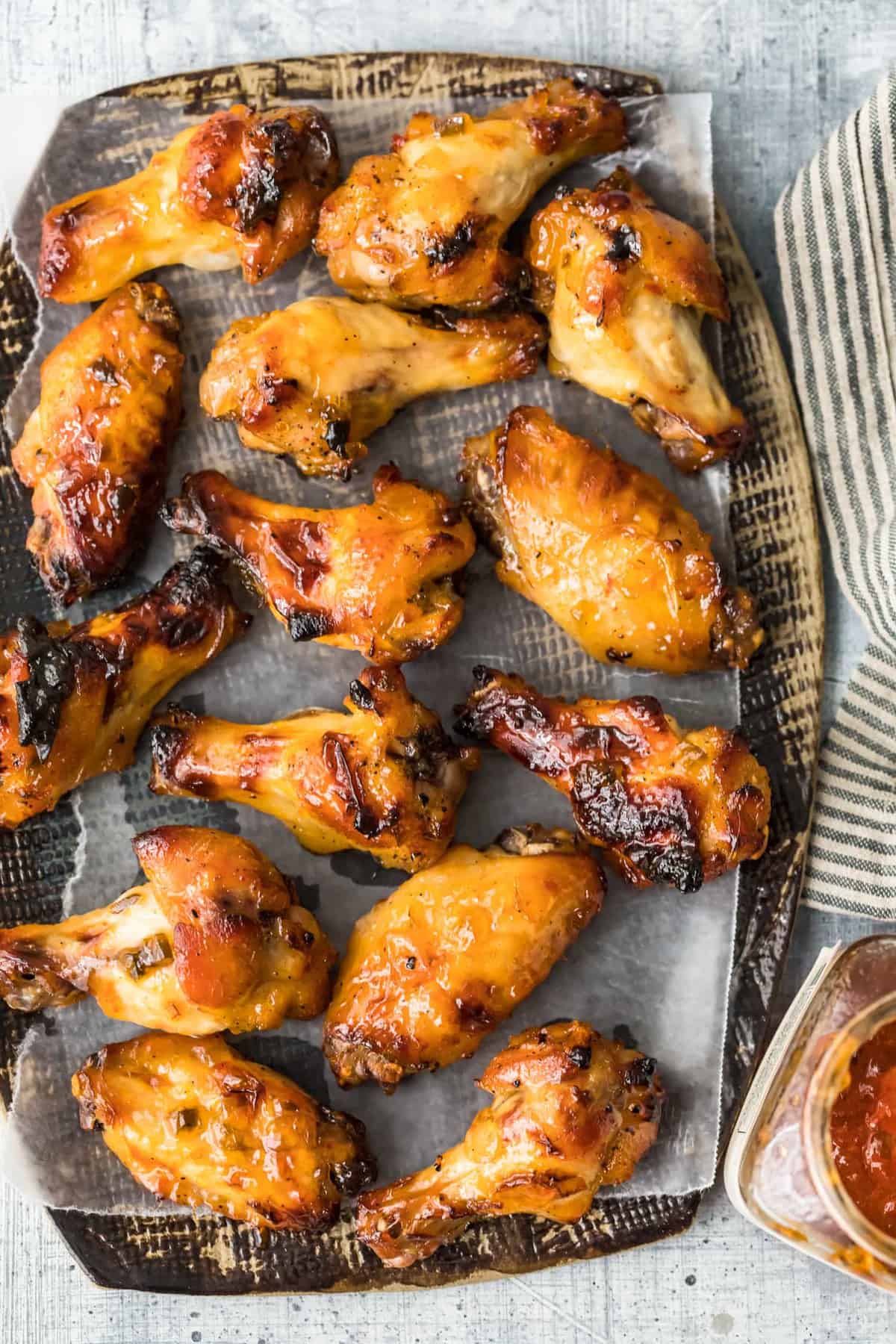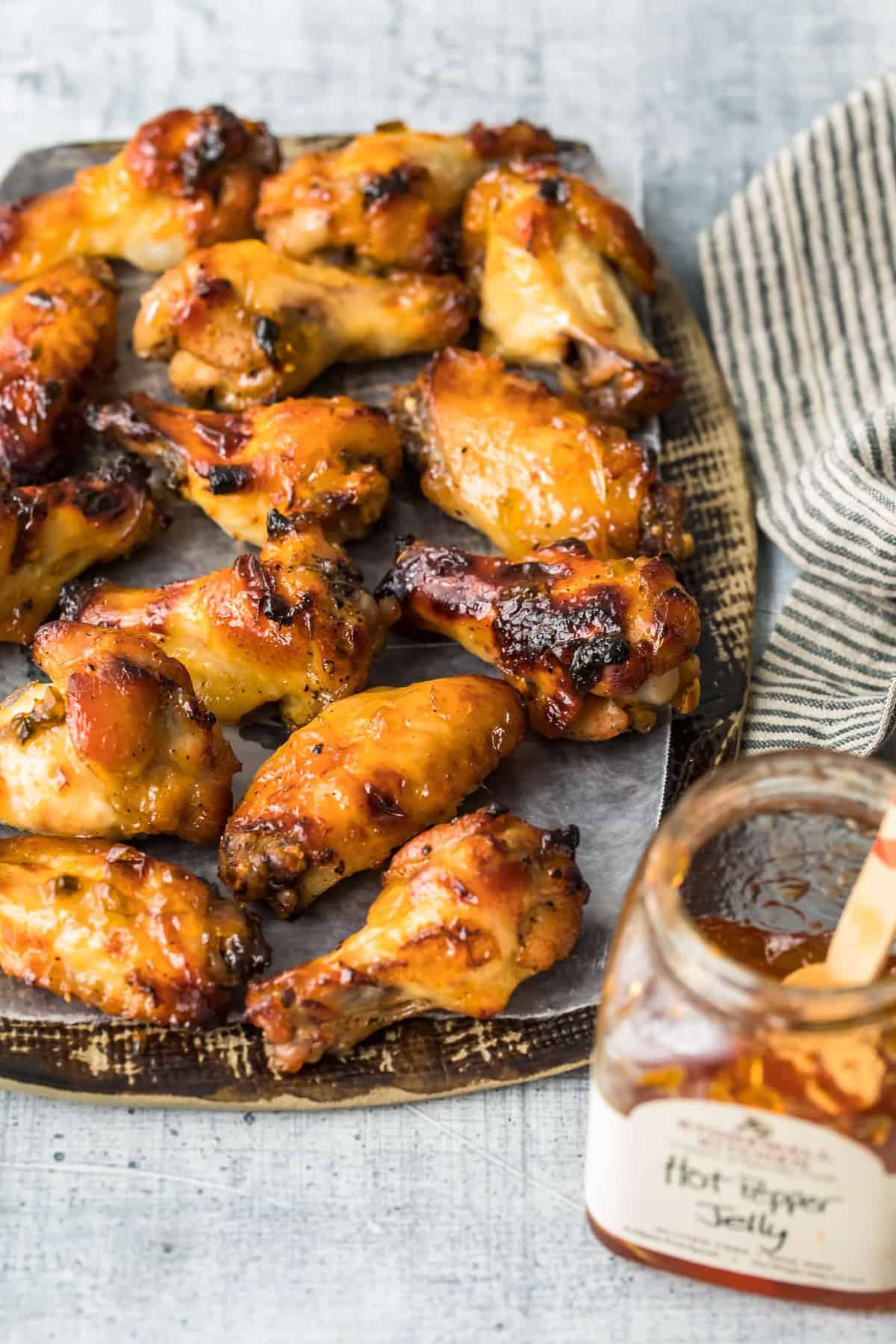 You need to be making these pepper jelly chicken wings!
I'm so excited for you guys to make these wings! They are so deliciously juicy and full of flavor and you'll get sticky fingers eating them – perfect! All the prep can be done ay before time so you just have to pop them in the oven before you are ready to serve them.
Top Tips To Make Pepper Jelly Chicken Wings
Marinate the chicken for at least one hour and up to twenty four.
Spray your cooling rack with cooking spray so that the chicken doesn't stick and place a tray underneath to catch the sauce and juices while cooking.
Leave space between the chicken pieces on the rack so that they cook evenly.
Serve immediately!
Add these and your other favorite chicken wing recipes to create the perfect game day platter!
More game day appetizer recipes: