These baked honey glazed chicken wings are the perfect blend of sweet and savory. Packed full of vibrant Asian flavors, these chicken wings are finger licking good! Coated in a honey and soy glaze, you're going to love these tangy wings!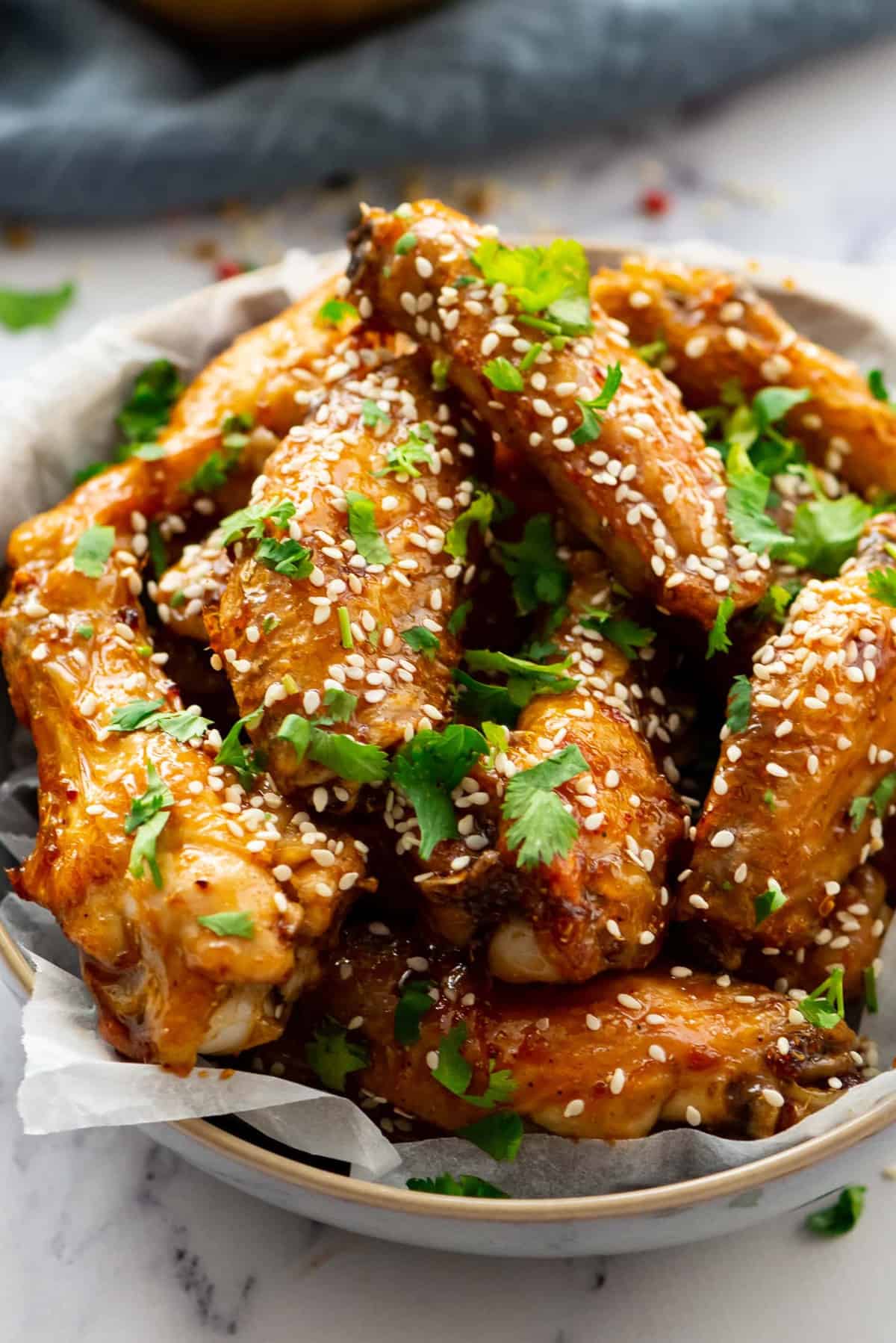 I love wings, and I love Asian cuisine, so I thought it was about time that I merge to of my favorite things! These wings are so good, I can't even tell you! They were a huge hit during our game day Sunday!
How to Make This Honey Glazed Chicken Wings Recipe
Preheat oven at 400F

Wash chicken wings, then pat dry with kitchen paper

In a bowl, whisk the egg whites with the salt, black pepper and paprika until frothy

Line a baking sheet with aluminum foil or baking paper. Place an oven safe cooling rack on top and spray it with non-stick cooking spray

Add chicken wings on the cooling rack

Brush egg white mixture on chicken wings on both sides

Bake for 35-40 minutes. Remember to flip them half-way through so they bake evenly

While they're baking, prep the glaze

In a saucepan add the honey, soy sauce, Worcestershire sauce, ginger, juice of lime, ground coriander, red pepper flakes and sesame oil

Bring to boil, then simmer until sauce is reduced and becomes sticky.

Once chicken wings are cooked let them cool for 5 minutes. Add them in a bowl, then coat with the glaze

Sprinkle some sesame seeds, fresh cilantro and enjoy!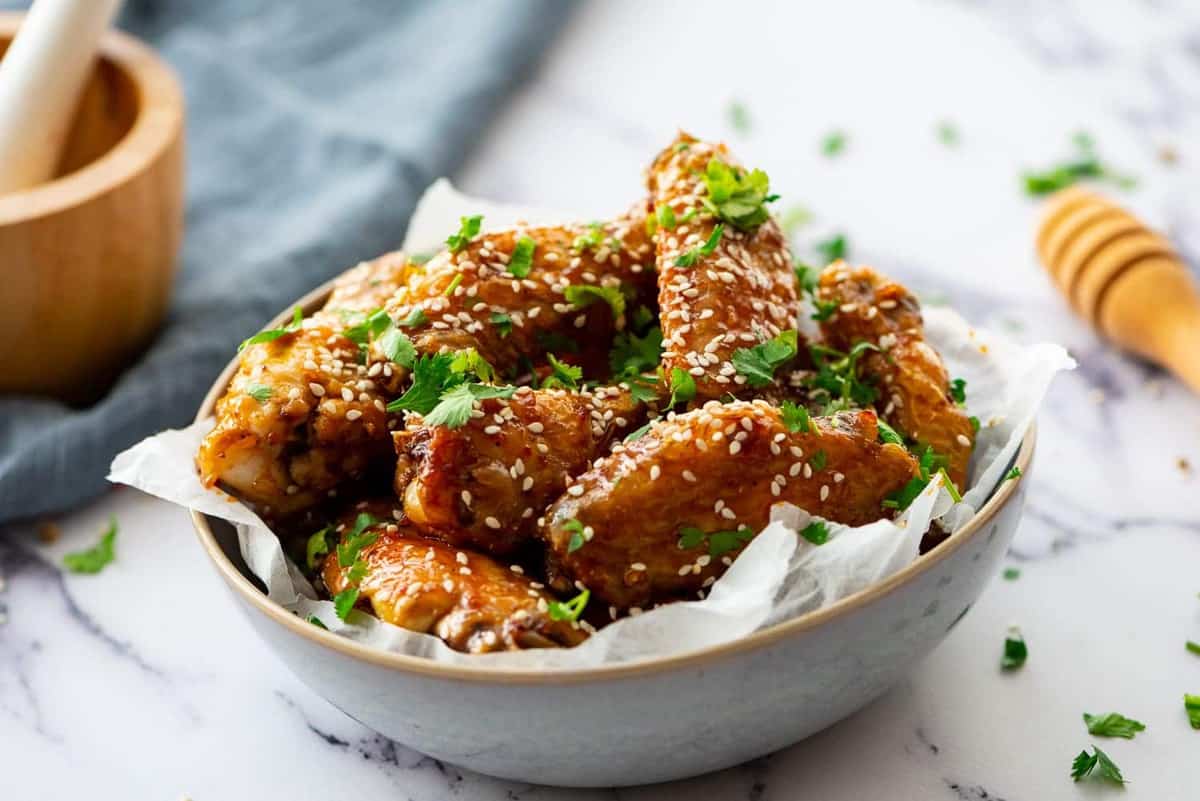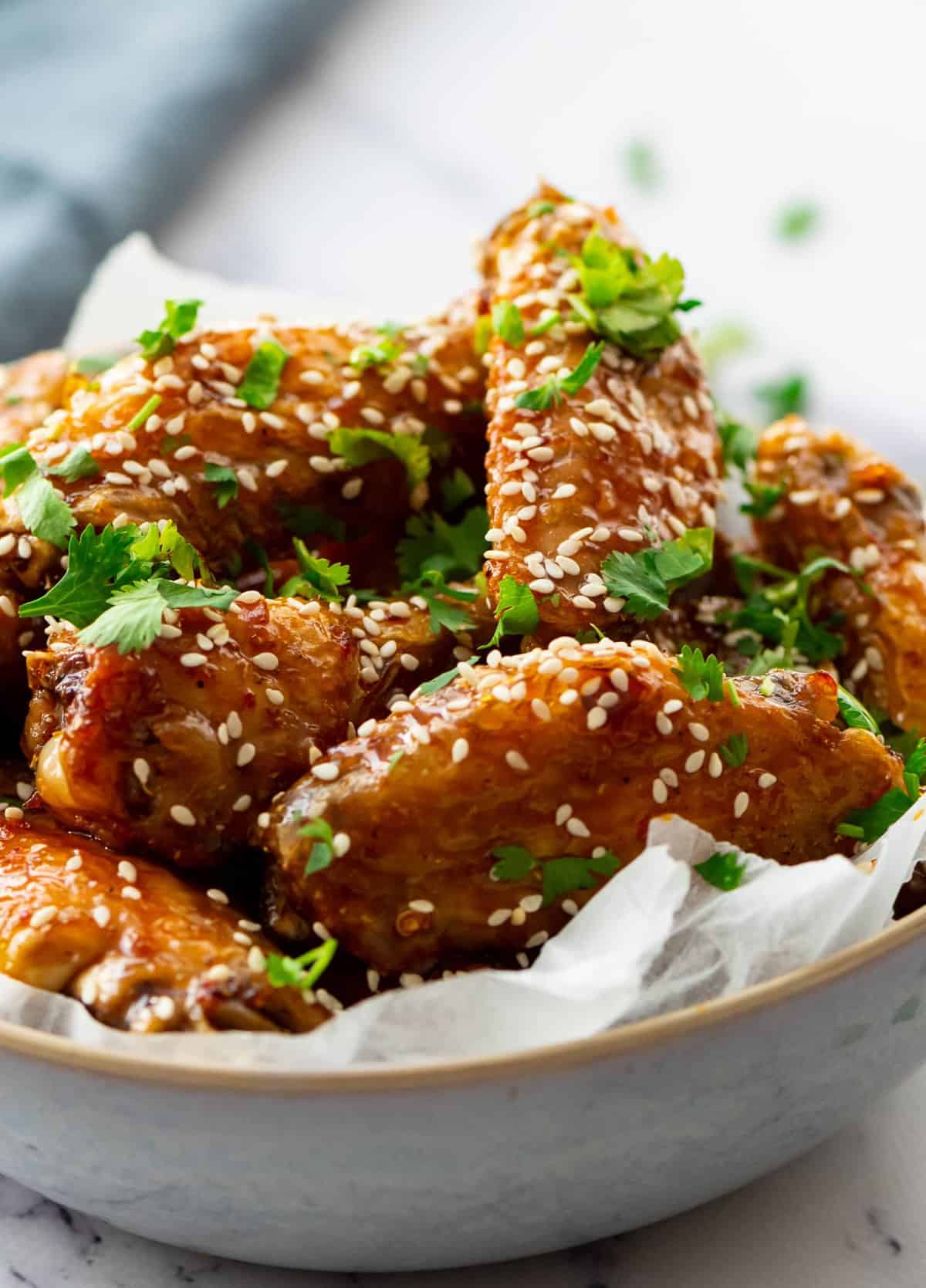 What is in the honey glaze?
The honey glaze that coats the baked chicken wings is easy to make and is packed full of Asian flavors:
honey
soy sauce
ginger
red pepper flakes
line
coriander
sesame seeds and oil
This combination of ingredients results in a sweet and spicy glaze that is just so so good! Finish off with a sprinkle of fresh cilantro leaves and you are set!
What sides go with these Asian chicken wings?
So I wouldn't recommend pairing these with the usual ranch dip, though of course you can if you wish! I like to serve mine with a simple soy sauce dip like this and then serve alongside other Asian appetizers and salad sides. Check out these recipes for inspiration:
You could also serve this with a larger salad to make a full meal.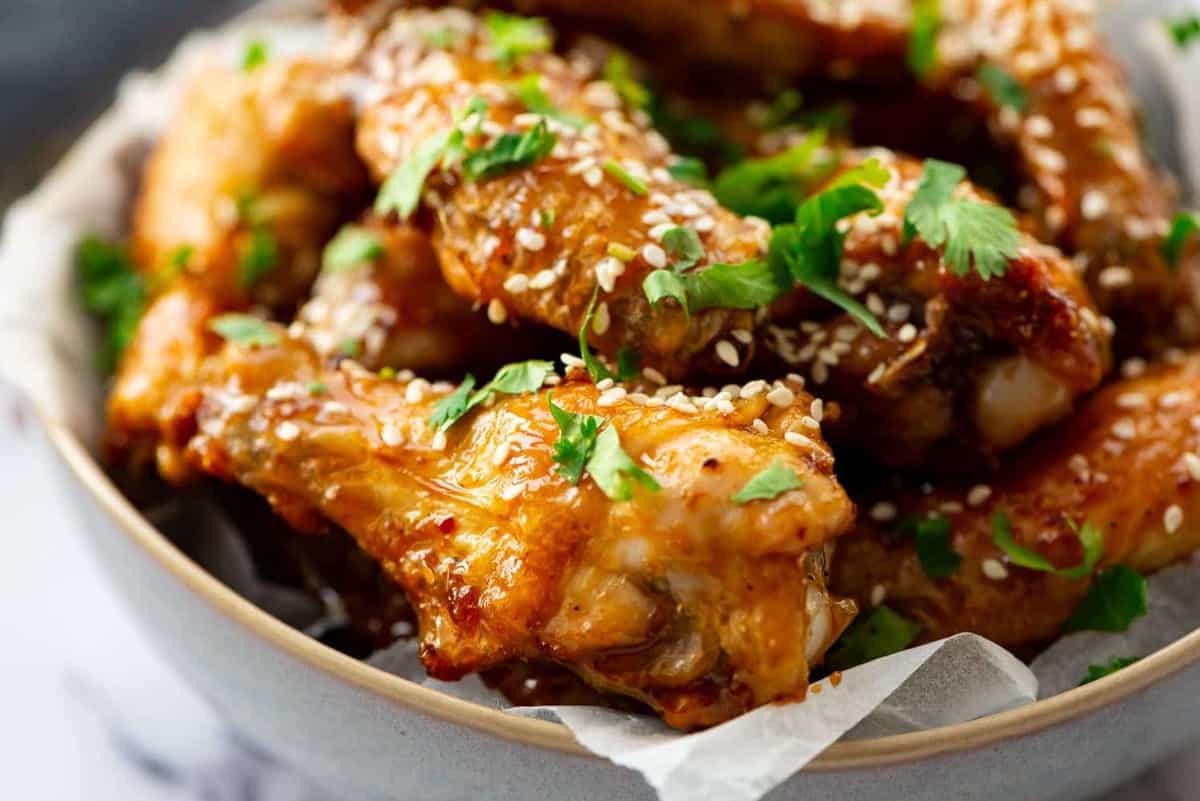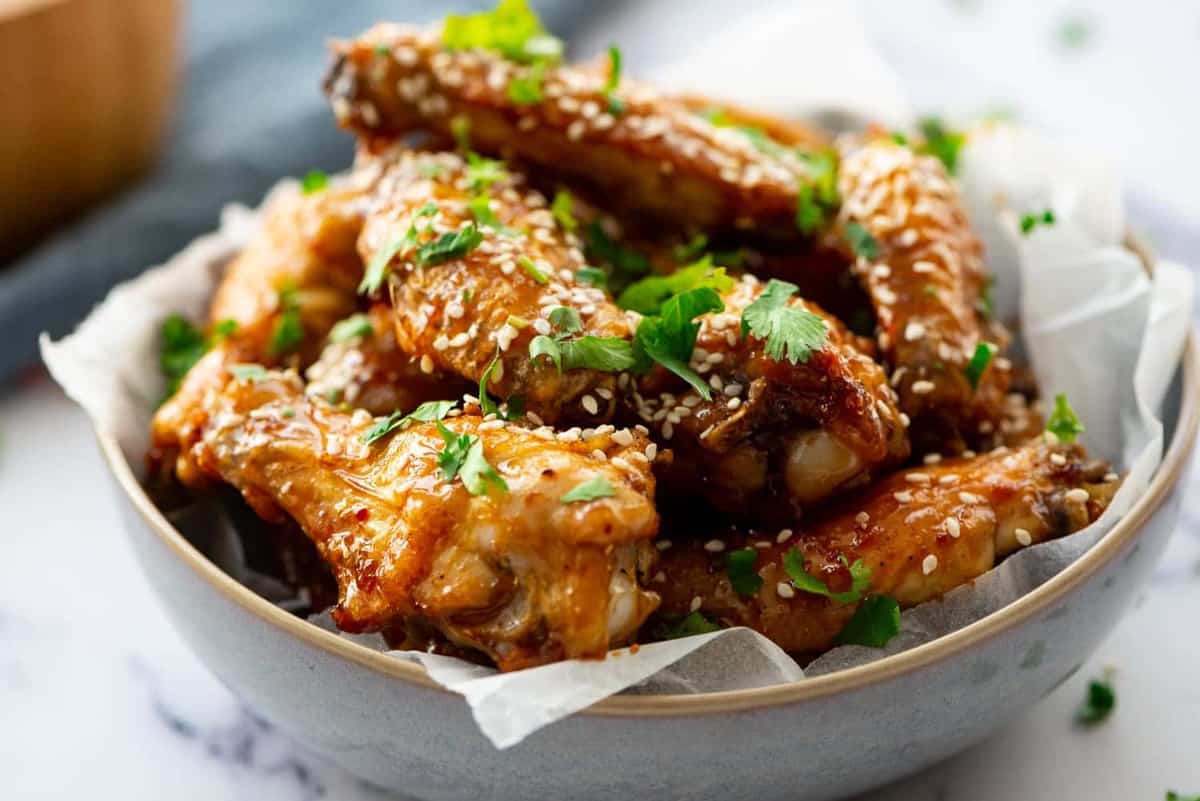 Why bake chicken wings instead of frying them?
I much prefer to bake wings when I make them. I find that frying them can turn into a bit of a hassle and I like the hands off approach with baking. Obviously it is also way healthier to bake your chicken wings rather than fry them. And honestly, these wings are just as crispy and succulent!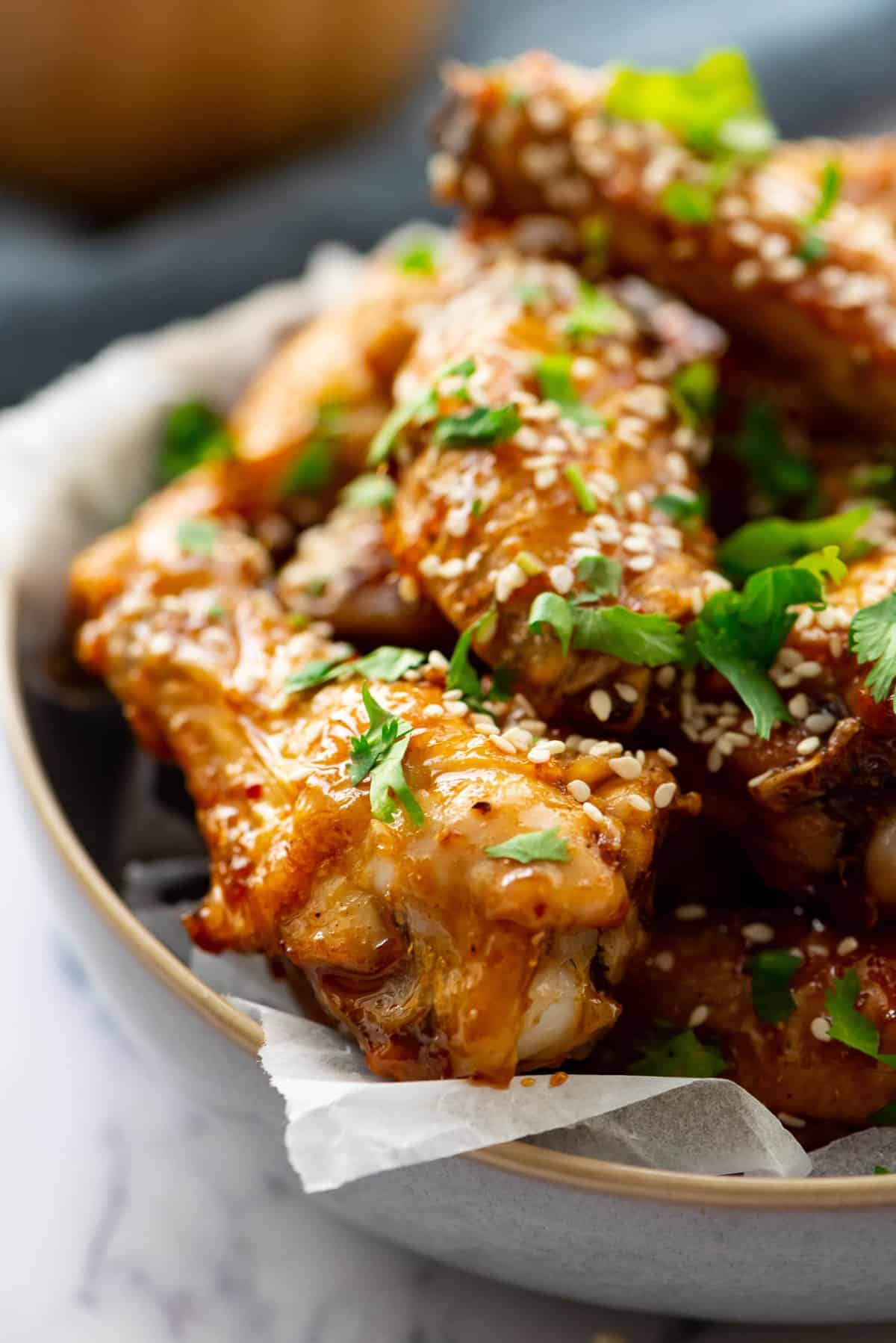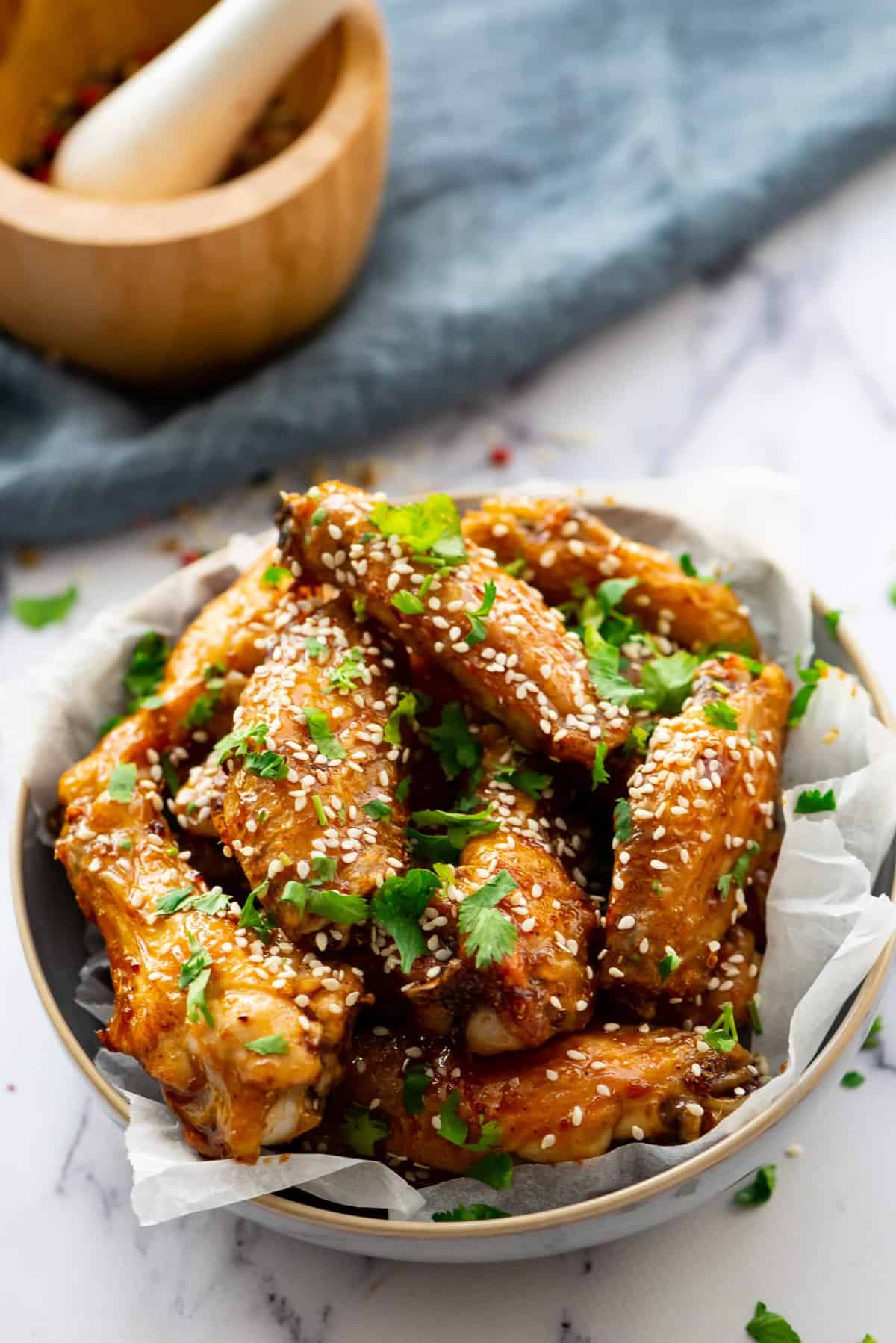 Top Tips to Make This Honey Glazed Chicken Wings Recipe
Pat the wings dry before brushing them, this will help them to get nice and crispy.
Flip the wings halfway through baking.
Let the wings cool slightly before glazing them.
Finish the wings with sesame seeds and fresh cilantro and serve immediately.