This traditional 7 Layer Salad recipe is a tasty dish with true Southern charm! Seven delicious layers of lettuce, bacon, peas, cheese, onions, tomatoes, and boiled eggs make up this hearty salad, all combined with a creamy mayo dressing. It's the perfect dish for potlucks, barbecues, and simple lunches!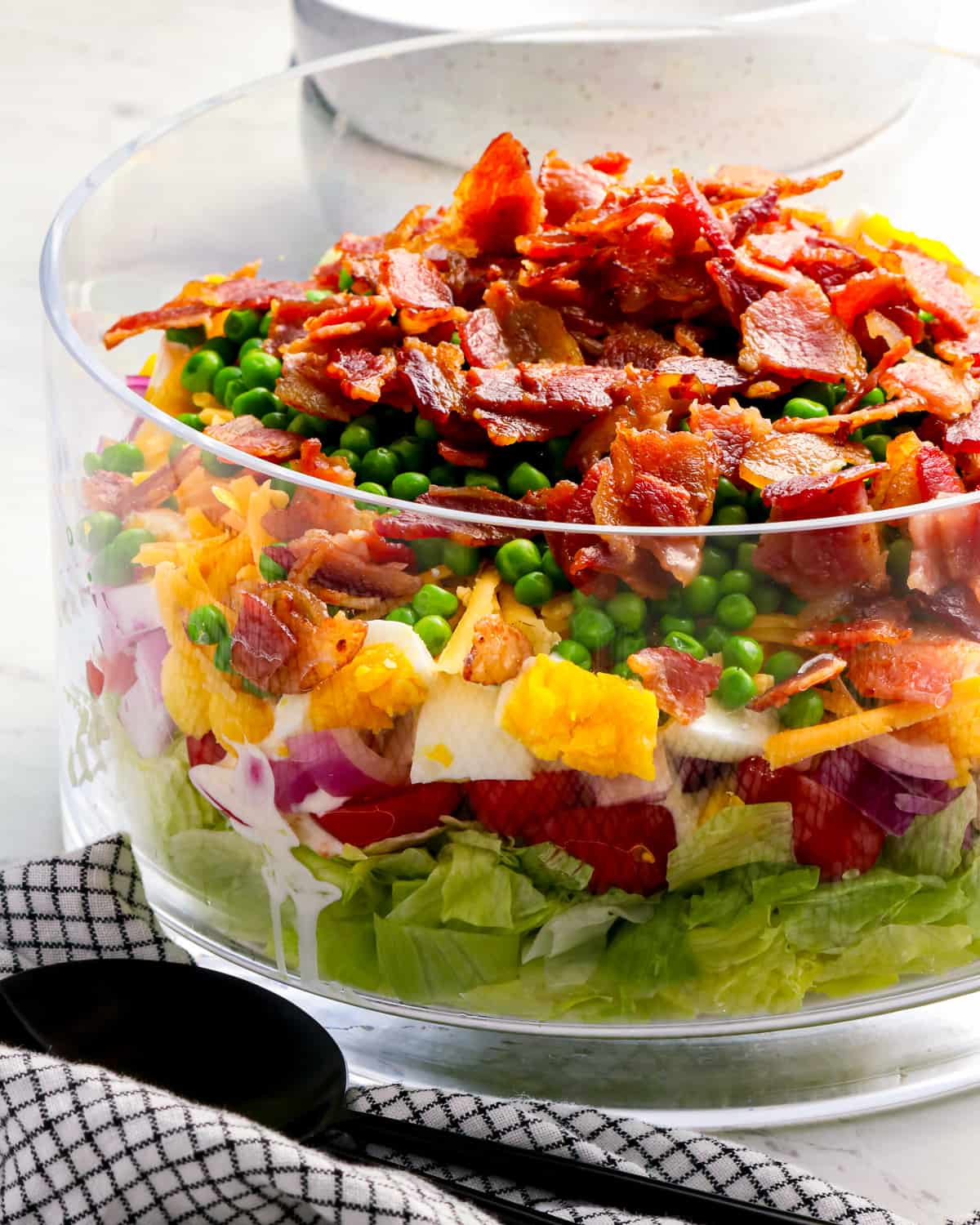 What's in this 7 Layer Salad Recipe?
This classic show-stopper salad is savory, sweet, and full of flavor. It really is seven whole layers of delicious ingredients!
Bacon: Crumbled cooked bacon adds a salty and umami element to the salad.
Eggs: Hard-boiled eggs add a rich and savory element to the salad.
Lettuce: Iceberg lettuce gives this salad its signature crunch!
Tomatoes: Grape or cherry tomatoes add a burst of sweet and acidic flavor.
Red Onion: Adds a touch of sweetness and bite to the salad.
Cheddar Cheese: Adds a mild, buttery, and salty flavor.
Frozen Peas: Add a pop of sweetness to the salad.
Mayonnaise: Forms the creamy base of the dressing.
Honey: Adds a touch of floral sweetness to the dressing.
Apple Cider Vinegar: Adds a bit of tang to the dressing.
Parmesan Cheese: Adds a salty, umami flavor to the dressing.
Salt + Pepper: Enhance the natural flavor of the dressing.
Pro Tip: If your onions are too strong, soak them in ice water for 10 minutes to remove some of their bite.
Variations on the Original Seven Layer Salad
This is the kind of salad you can really get creative with to make it your own. Start with a base of your favorite lettuce (go for something hearty like iceberg or romaine) and build up from there. Add chopped tomatoes or pico de gallo; white onion or shallots; avocado, guacamole, or firm tofu; your favorite kind of cheese; edamame, broccoli, or green beans; and top with chopped nuts, dried fruit, crushed tortilla chips, or croutons! The possibilities are endless with this 7 layer salad recipe.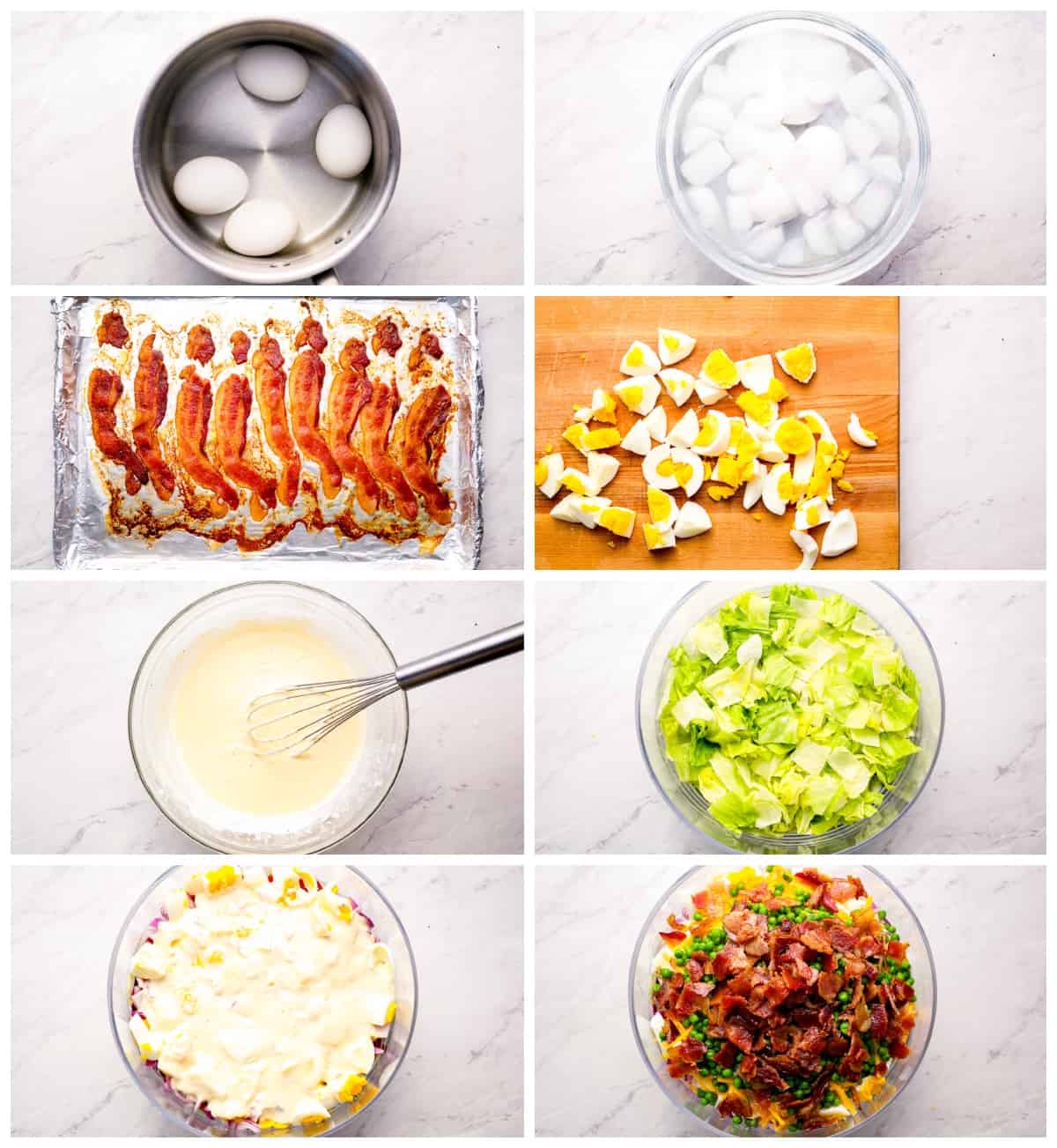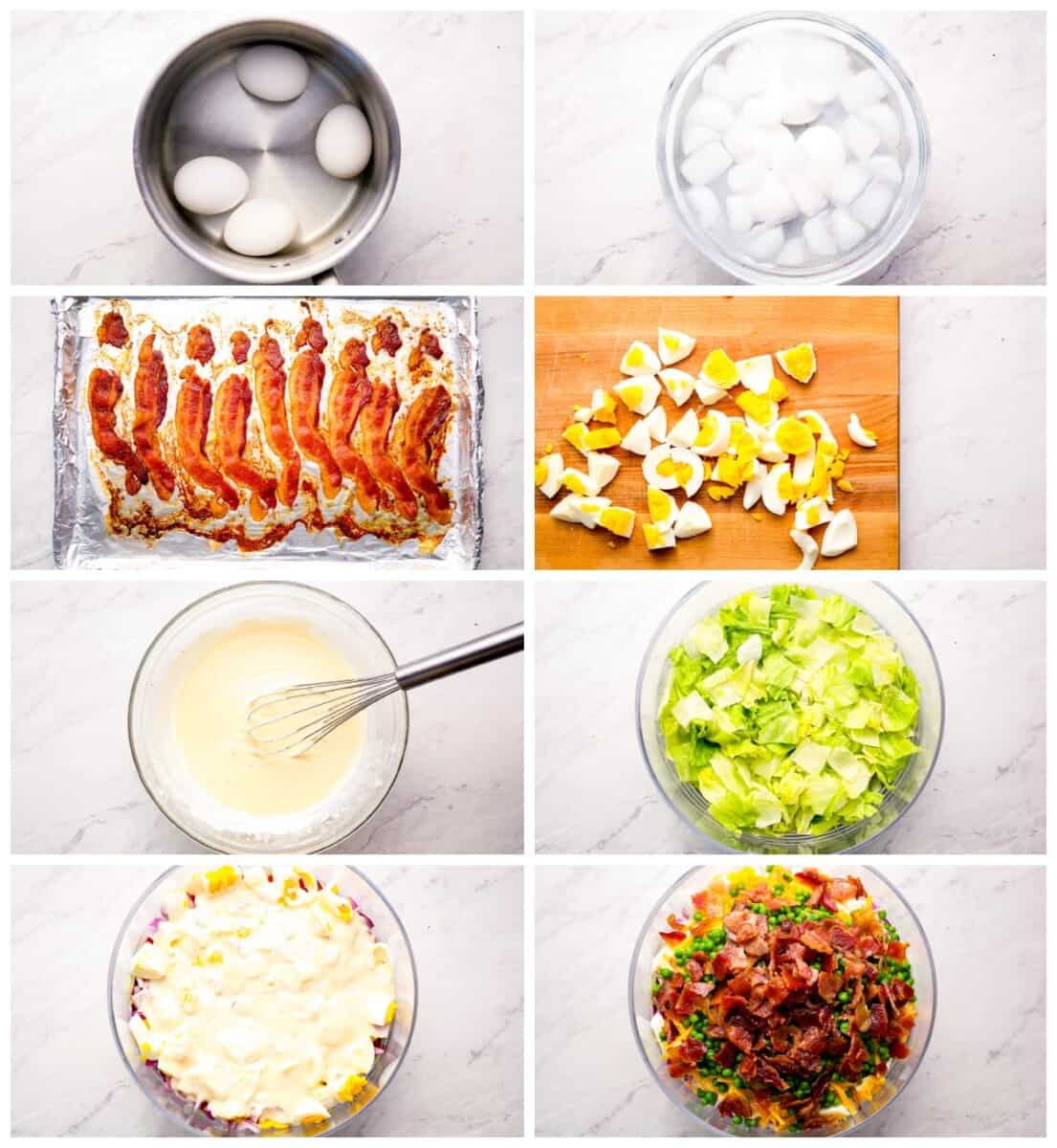 What is 7 layer salad made of?
This salad is made of 7 distinct layers, starting with iceberg lettuce at the bottom, followed by grape tomatoes, red onion, hard-boiled eggs, cheddar cheese, peas, and a top layer of crumbled bacon.
What is the history of the 7 layer salad?
This classic salad originated in the 1950's in the South, where it was called 7 layer pea salad.
Should I mix up a 7 layer salad?
The distinct layers are mainly for a "wow" presentation. Once you serve this salad, scoop deep to get a bit of each layer, then feel free to mix it up on your plate.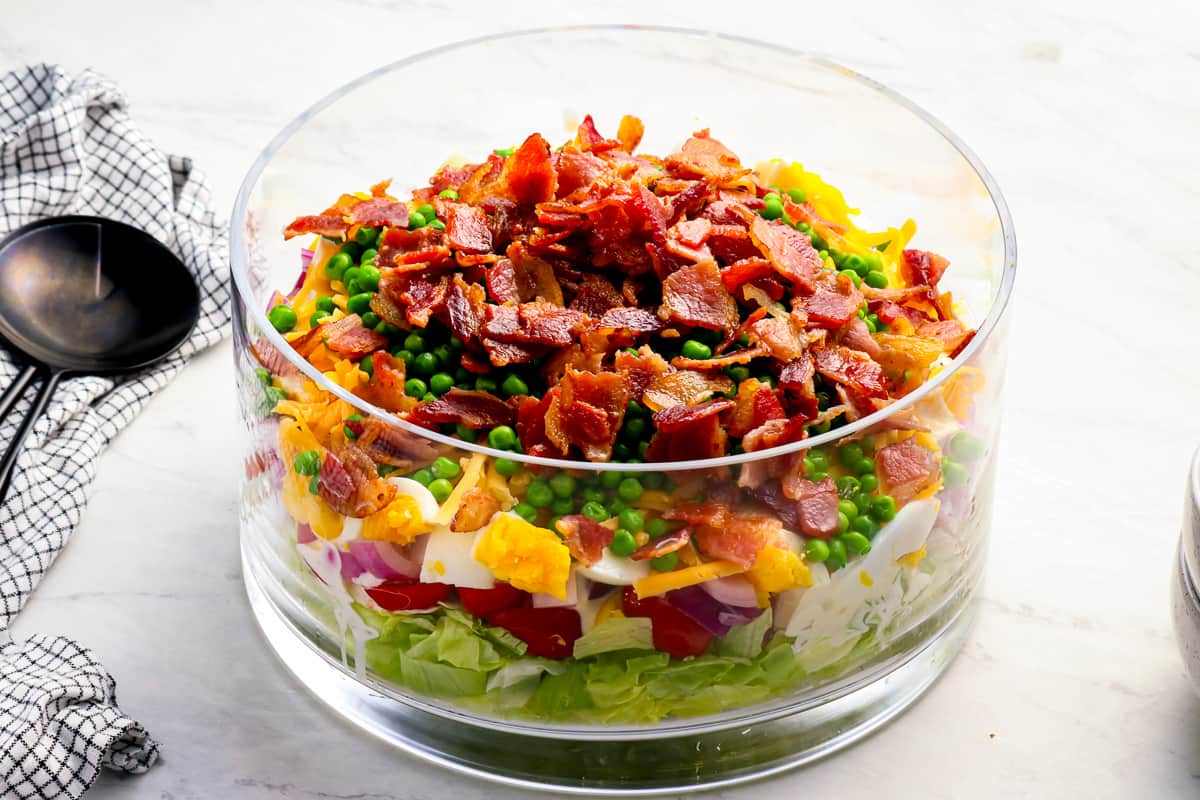 How to Store
Store leftover 7 layer salad in an airtight container in the refrigerator for up to 5 days. Enjoy chilled. I do not recommend freezing this salad.
Serving Suggestions
Serve this seven layer salad with grilled chicken breast, pan seared ribeye, breaded pork chops, garlic butter salmon, or spicy Mexican shrimp to make it a meal. Or serve it as a side along with smash burgers, baked turkey sliders, or hamburger helper.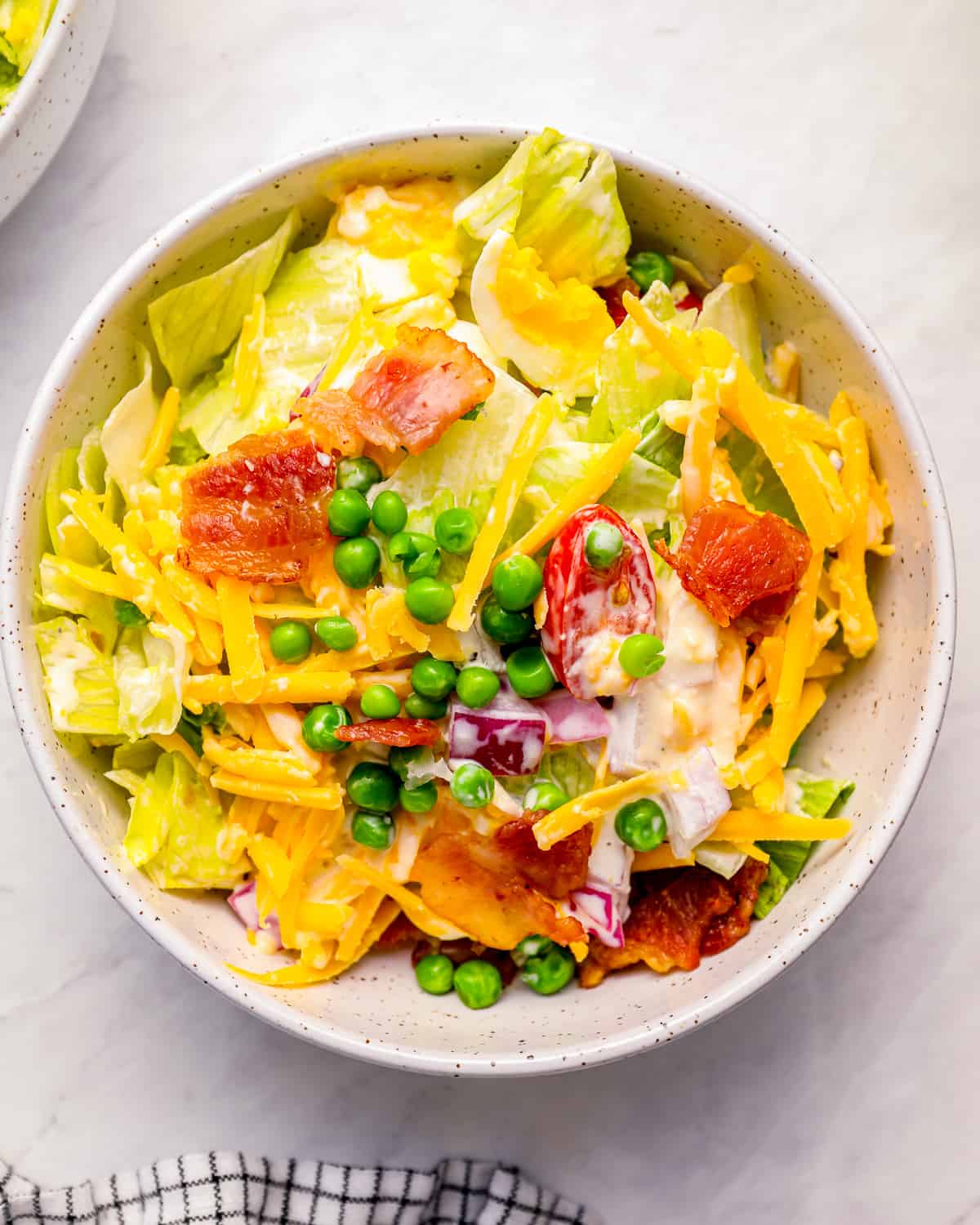 More Nostalgic Salad Recipes We Love