Banana Pudding Poke Cake is an easy to make summer dessert that always disappears first at parties and potlucks. This recipe features a box of cake mix that's dressed up deliciously with creamy vanilla pudding, fluffy whipped cream, sweet vanilla wafer cookies and plenty of fresh bananas!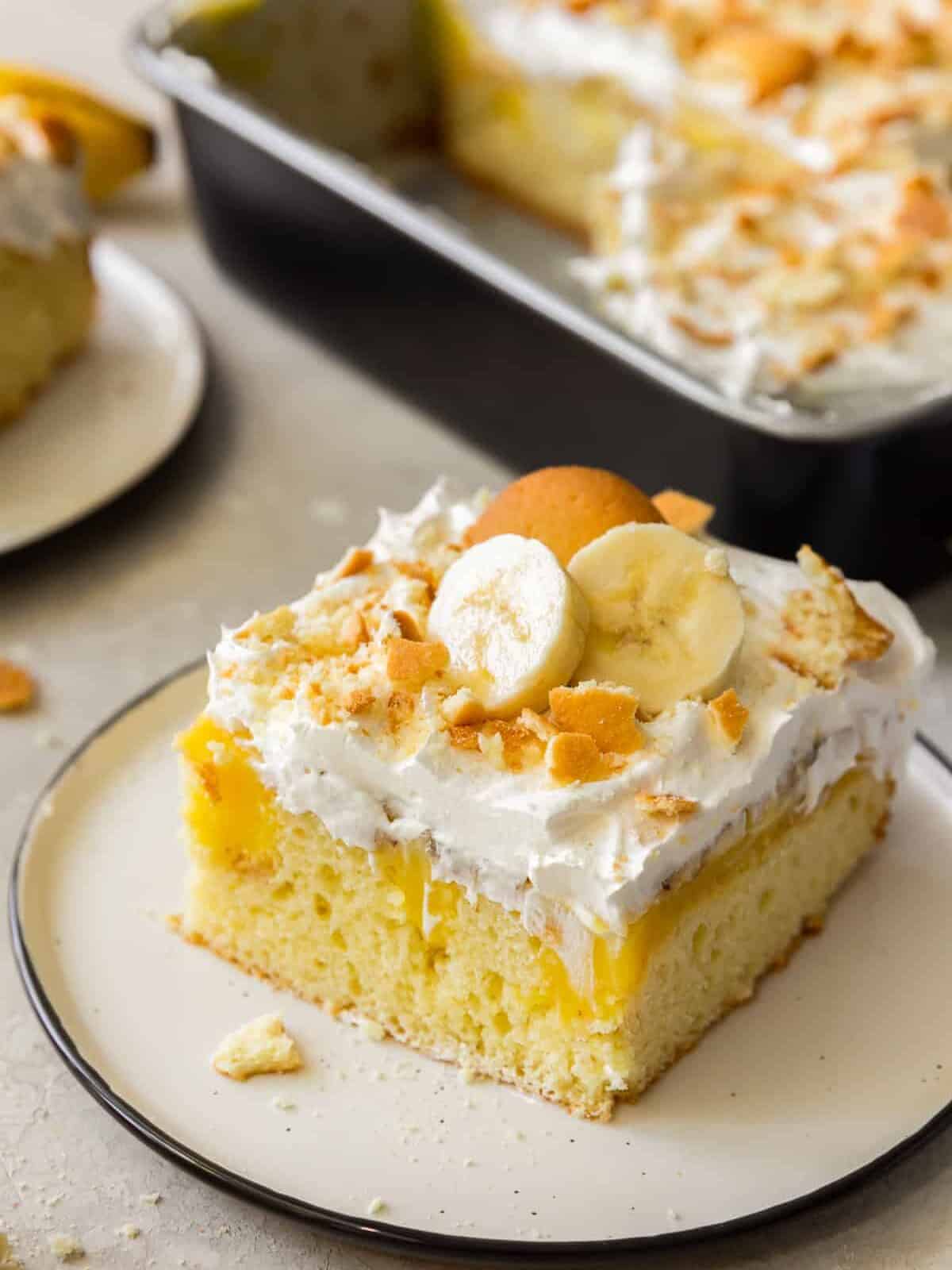 What's in Banana Poke Cake with Pudding
You only need 6 ingredients to make this banana cake recipe!
Yellow Cake Mix: Grab your favorite brand for this easy cake mix recipe! Betty Crocker is usually my go-to, but any other box will also work.
Water
Vegetable Oil: This is what gives the cake its moisture.
Eggs: I prefer to use free-range organic eggs when I can.
Instant Vanilla Pudding Mix: Any brand will do the trick.
Milk: Whole milk always yields the best consistency for instant pudding.
Bananas: Add more or less depending on how much banana flavor you're craving!
Cool Whip: Make sure it's fully thawed from frozen prior to using.
Vanilla Wafer Cookies: Nilla Wafers is the most classic cookie to use here, but you can feel free to grab another brand if you'd prefer.
PRO TIP: Make sure the cake is fully cooled before adding the pudding and cream topping.
Can I add more banana flavor?
Sure thing! An easy way to create even more banana flavor in this easy poke cake recipe is to use banana pudding instead of vanilla. You should be able to find a box of it at the grocery store. If you'd like to make your own banana pudding from scratch, I've got a great recipe HERE!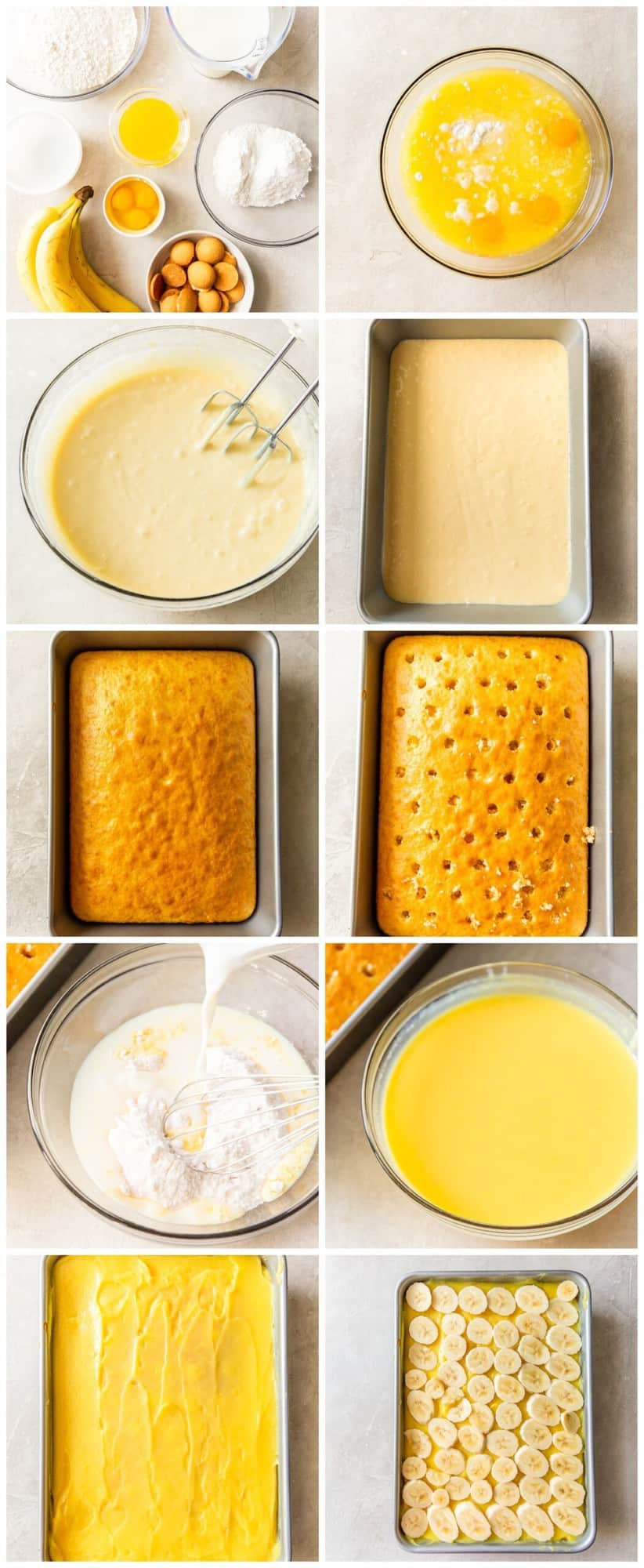 How do you make holes in poke cake?
The cake should be cooled slightly when you make the holes, but it can still be warm. Use a wooden spoon with a thin, rounded handle to poke holes all over the top of the cake. I make the holes about 3/4 of the way through the cake, not all the way to the bottom.
How do you prevent the bananas from browning on top?
If you want to make this banana pudding poke cake recipe several days ahead, go for it! To prevent the bananas from browning too quickly, you can toss them in some lemon or lime juice to slow the process. Use slightly under ripe bananas that won't brown as quickly.
Why did my pudding and Cool Whip melt?
The cake was too hot! Avoid a melted mess by waiting for your poke cake to fully cool to room temperature prior to adding the vanilla pudding and whipped topping.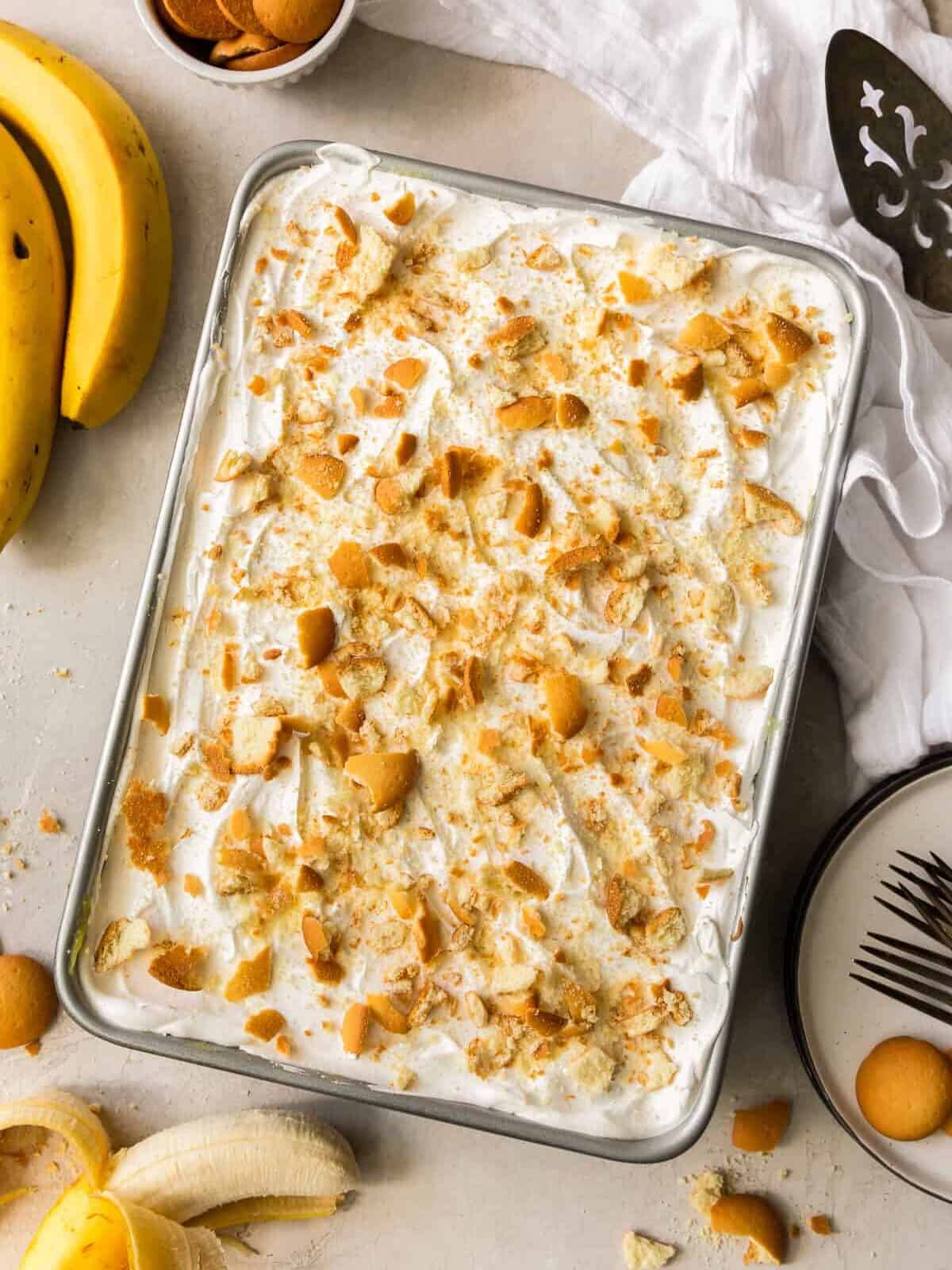 How to Store
This banana pudding poke cake should be kept refrigerated and covered tightly with plastic wrap. It's best enjoyed within 2 days – after that the bananas will start to brown. I don't recommend freezing poke cake.
Serving Suggestions
This cake can be made ahead of time so it's a great potluck dessert, summer dessert, or for any other summer soiree you have planned!