This Texas-style Smoked Brisket recipe will be the star of the the barbecue! With just a few simple seasonings, you can infuse the most delicious sweet and smokey flavor into this tender beef. Follow this easy recipe and learn how to smoke a brisket for game day tailgating, summer BBQs, and more!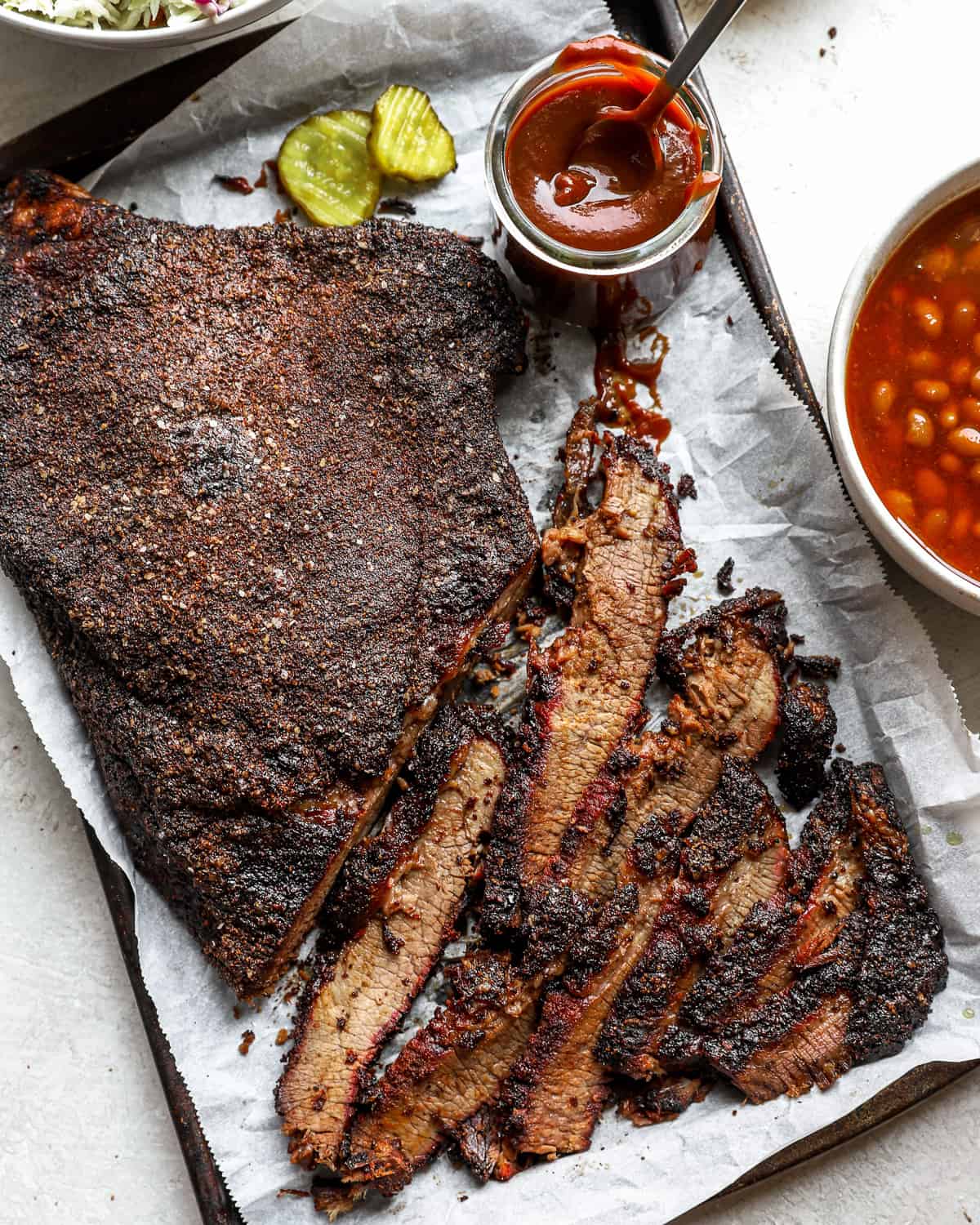 What's in this Smoked Brisket Recipe?
This simple recipe is a great introduction to smoking. With just a handful of ingredients and a little bit of time, you'll be on your way to the perfect smoked brisket!
Spices: Kosher salt, brown sugar, smoked paprika, onion powder, chili powder, garlic powder, and ground black pepper form a sweet and savory dry rub that infuses the brisket with so much flavor.
Brisket: I recommend a brisket flat, which is a lean, boneless cut.
Pro Tip: Choose a piece of brisket with a decent fat cap to help seal in moisture and protect the meat from excess heat while in the smoker.
Variations on Smoked Beef Brisket
You can change up the flavor of this brisket by choosing a different spice blend, such as five spice, blackened seasoning, taco seasoning, chili seasoning, Creole seasoning, or adobo.
How long does it take to smoke a brisket?
That totally depends on the size of the brisket. In general, it takes about 1½ hours per pound of meat at 225°F or 30-40 minutes per pound at 250°F.
What are the best wood chips for brisket?
I recommend hickory, mesquite, oak, maple, or cherry. All impart flavors that enhance the flavor of the brisket. You could even blend a few different types!
What is the 3-2-1 rule for brisket?
This is a popular smoking method that requires you to smoke the brisket at 225°F for 3 hours, wrap it in foil and continue cooking for 2 hours, then unwrap it and cook it uncovered for 1 hour before serving.
What is the 4-2-10 method brisket?
This is a variation on the 3-2-1 method where you smoke the brisket at 225°F for 4 hours, wrap it in foil and continue cooking for 2 hours, then reduce the heat to 200°F and let it cook for an additional 10 hours before serving.
Should I wrap my brisket in foil?
I prefer to do away with all of the complicated rules and fuss and just check on my brisket periodically. However, you can wrap it if you'd like! There's certainly no harm in trying it other than the potential for the bark to be less crispy. Just be sure not to wrap the brisket too early or the bark can adhere to the foil and come off once it's fully cooked.
Do I cook brisket fat side up or down?
I personally like to place my brisket fat side down to protect the meat from drying out closest to the heat source.
Do you flip a brisket while smoking?
Ideally, I would recommend flipping your brisket at least once to even out the airflow around it. However, it is not absolutely necessary, so do whatever works for you!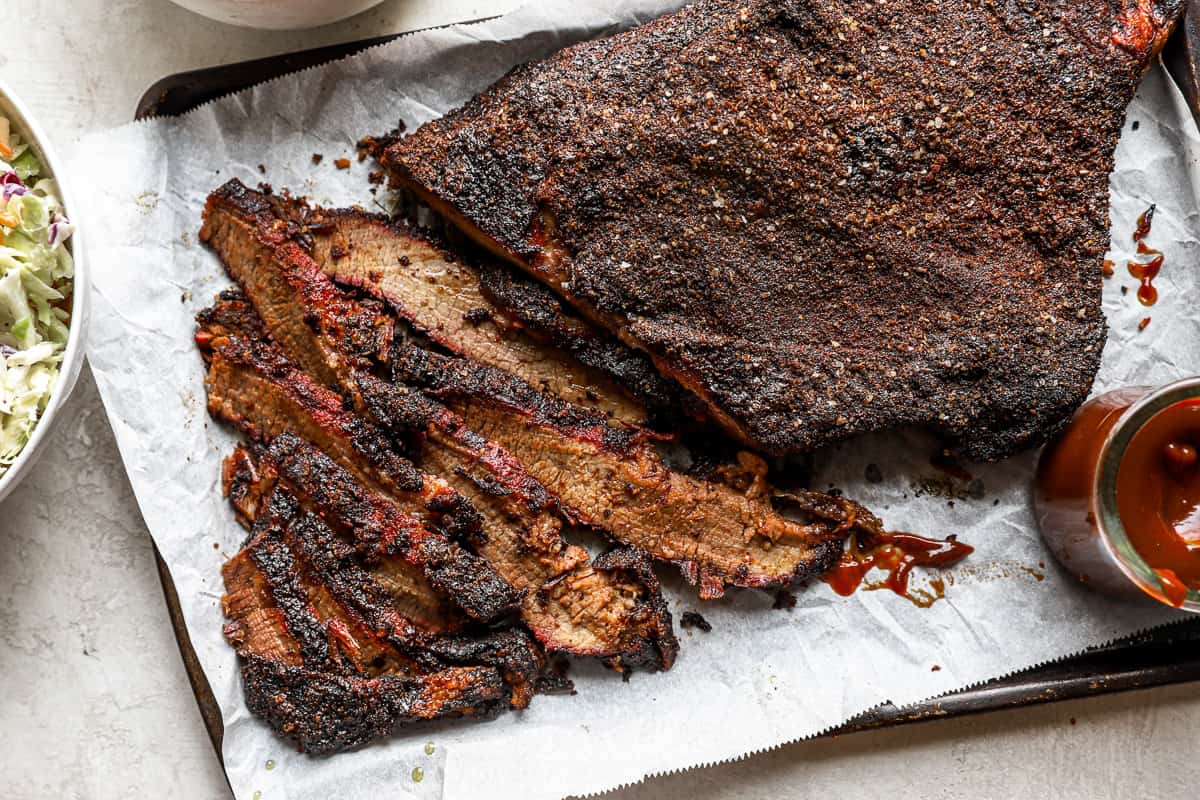 How to Store and Reheat
Store leftover smoked brisket in an airtight container in the refrigerator for up to 4 days. Reheat in a 300°F oven in a foil-covered roasting pan covered with beef broth or BBQ sauce until it's fully heated through (it should take about 20-30 minutes).
How to Freeze
Freeze beef brisket in an airtight container or Ziplock bag for up to 3 months. Let thaw overnight in the refrigerator before reheating.
Serving Suggestions
Serve this smoked brisket flat with BBQ sauce, Boston baked beans, creamy coleslaw, grilled corn on the cob, macaroni salad, and other barbecue side dishes.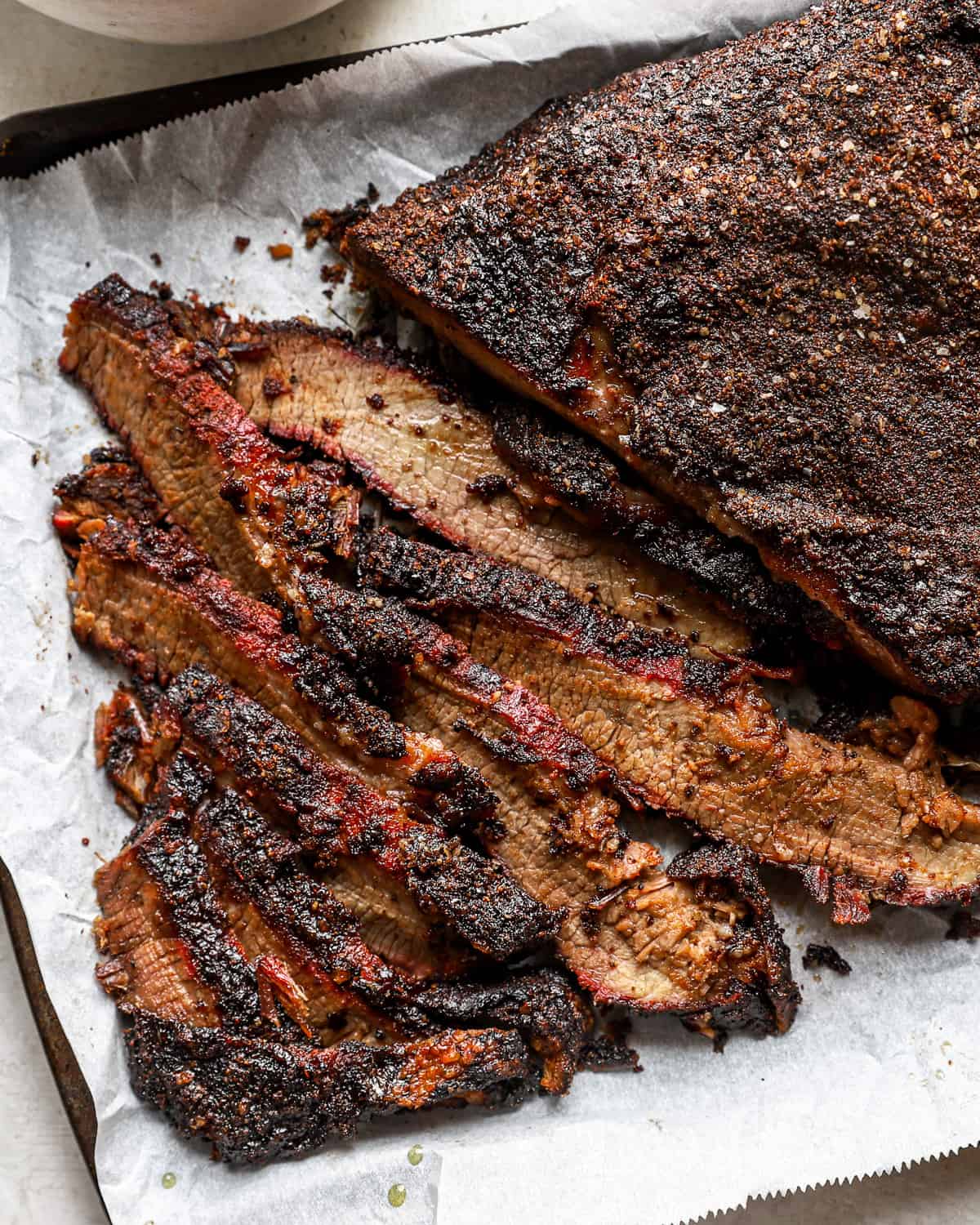 More Brisket Recipes We Love