Beef Burgundy is a delicious beef stew that's perfect for winter meals. Also known as beef bourguignon or boeuf bourguignon, this dish is hearty and filling. This beef bourguignon recipe is made with beef, red wine, beef broth, and lots of vegetables. Serve this beef burgundy stew with mashed potatoes, egg noodles, rice, or all on its own. It's delicious no matter what!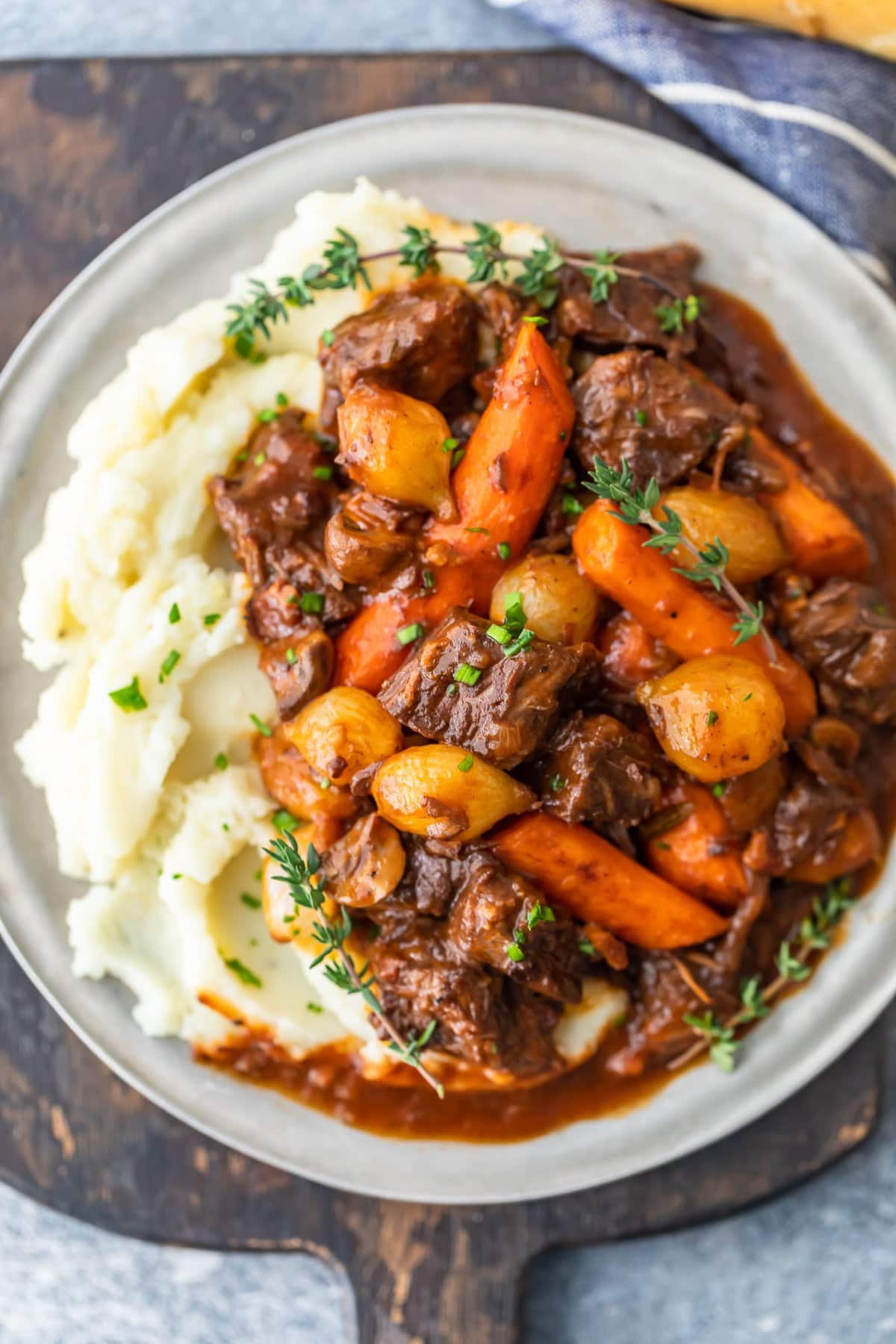 Beef Burgundy Recipe
This beef bourguignon recipe is a hearty, savory stew that everyone is sure to love. Beef Burgundy is absolutely delicious, and perfect for warm winter meals!
Nothing is quite as comforting as a nice savory stew. Beef Bourguignon is a great traditional meal to serve throughout the winter months, when you just want to curl up with a warm dinner and a glass of wine.
This beef burgundy recipe is made with red wine after all, so it wouldn't be complete without a glass of it to go with dinner.
This beef bourguignon recipe is filled with beef, carrots, onions, mushrooms, red wine, cognac, beef broth, and endless amounts of flavor! I love preparing a big batch of this and then saving it for later.
It's the perfect make ahead meal since it's easy to reheat on the stove top, and it freezes beautifully too.
I recommend serving this beef burgundy stew with mashed potatoes or egg noodles. It will fill you right up! One of the best winter recipes for sure.
This classic Beef Burgundy recipe makes a tasty winter meal. The perfect stew for cold nights!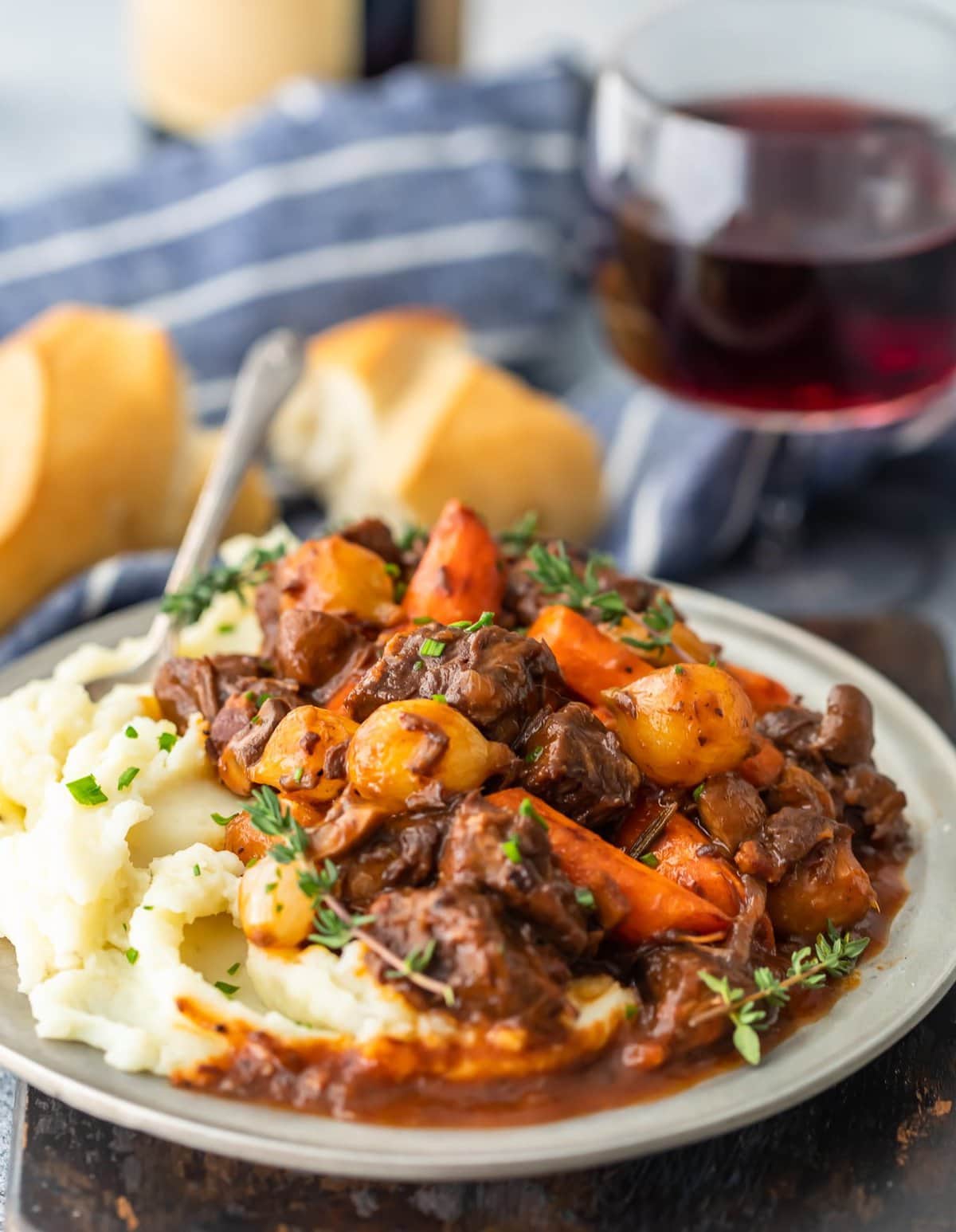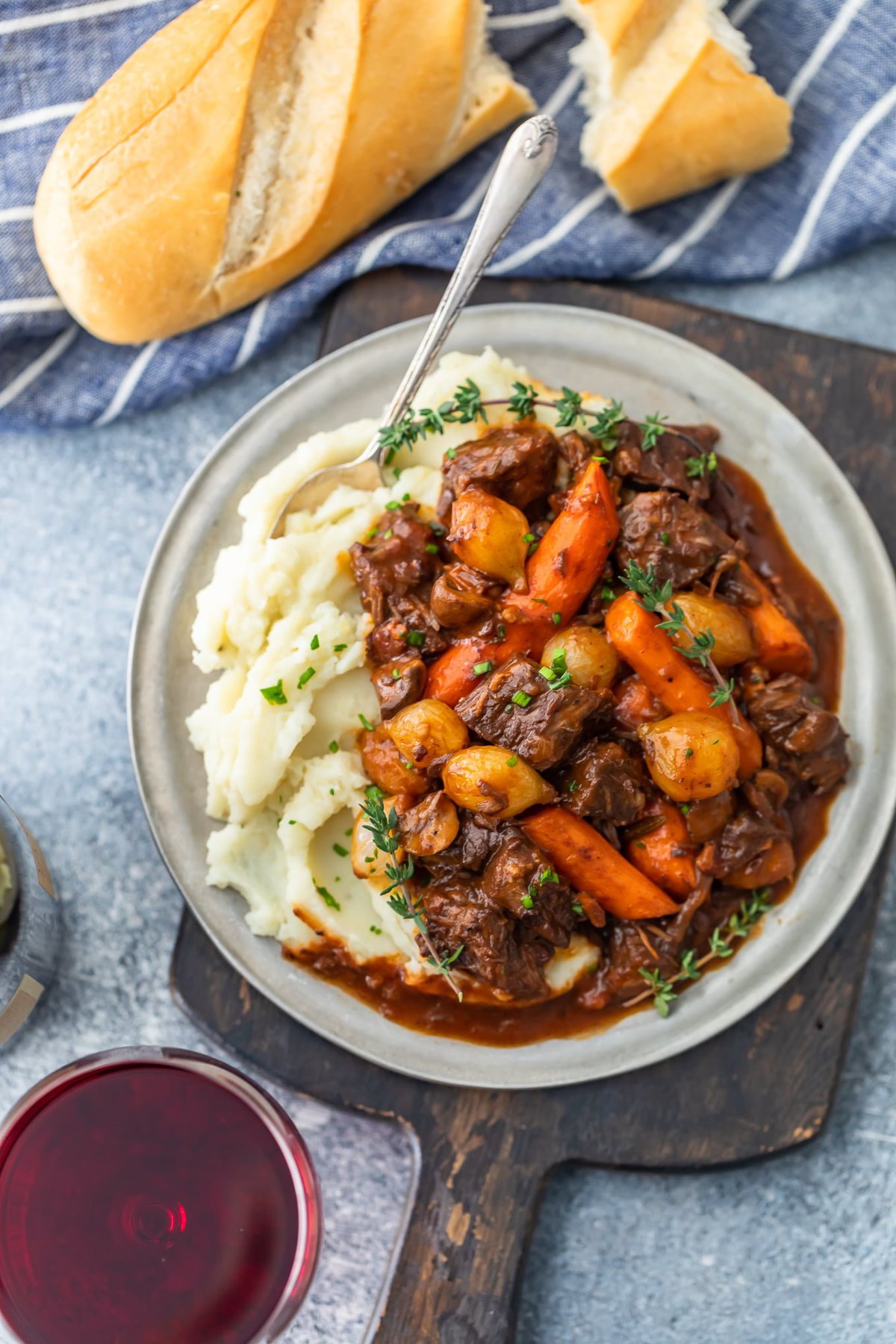 Beef Burgundy Stew
This beef burgundy recipe is super savory and hearty. If you need a meal that will fill you up and keep you warm, then this is the recipe for you!
The beef and vegetables are all cooked together with the most amazing ingredients to create unbelievable flavor. Sometimes you just need a hearty stew in the midst of winter, and a classic like this is perfect.
It's easy to make ahead of time, save, and reheat whenever you need it!
Beef Burgundy Ingredients:
Beef Cubes
Bacon
Carrots
Onions
Red Wine
Garlic
Beef Broth
Cognac
Tomato Paste
Mushrooms
You can jump to the recipe card for full ingredients & instructions!
Which red wine is best for beef bourguignon?
The best wine to use when making boeuf bourguignon is a dry red wine. A Pinot Noir or Cote du Rhone works best.
What do you serve with beef burgundy?
This beef stew makes a great meal all on its own, but you can add to it to make a fuller meal. Traditionally, beef bourguignon is often served with rice or potatoes.
I recommend serving it with mashed potatoes for something extra delicious! Or egg noodles make another tasty option.
This makes a romantic Valentine's Day dinner recipe! Pair it with some amazing wine and crusty bread and you're in business!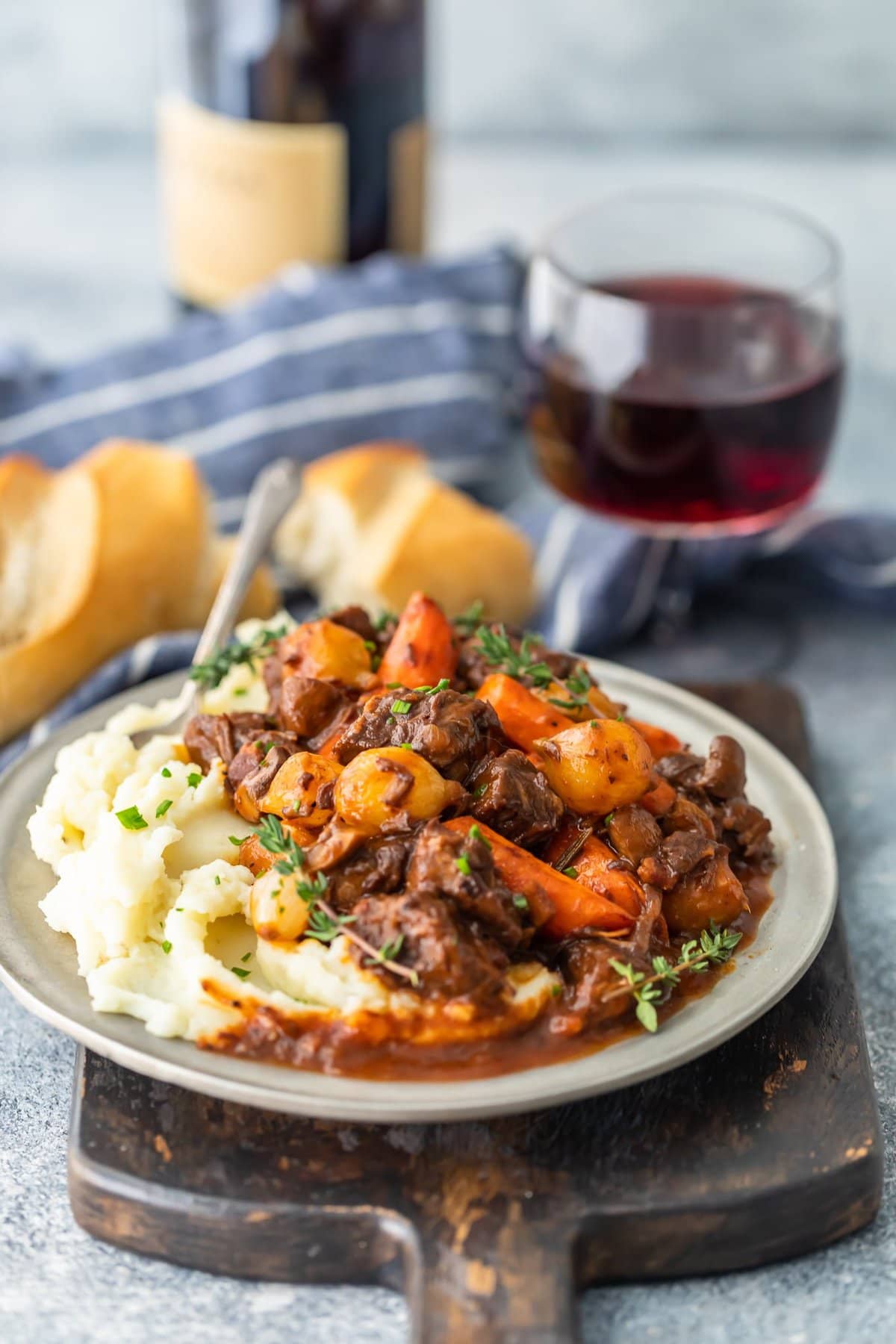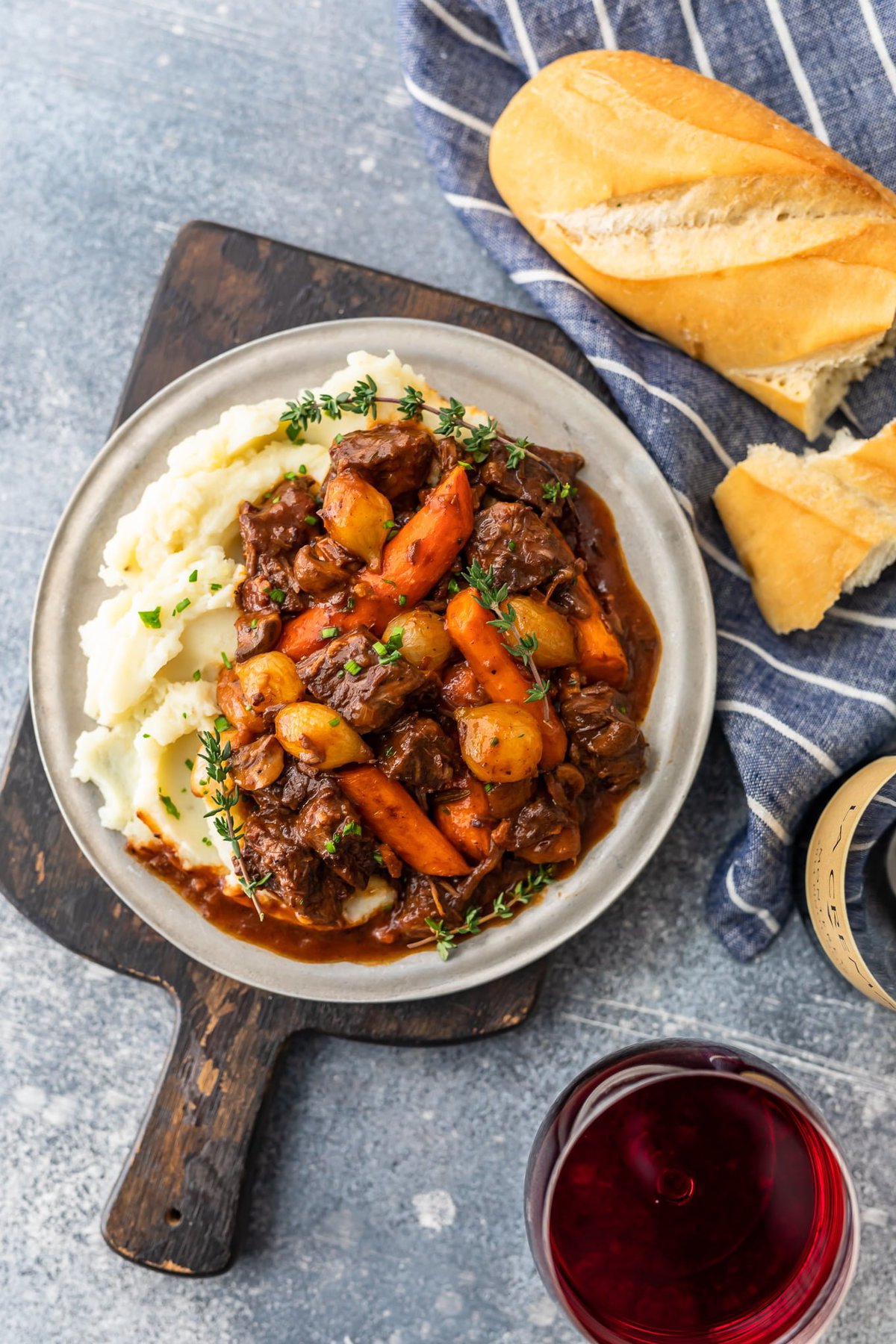 How to Make Beef Bourguignon
This Beef Bourguignon recipe takes some time to prepare, as does any stew. But I love making traditional recipes like this in the winter, because nothing warms you up like cooking a big meal for the family.
Beef Burgundy is a great thing to prepare over the weekend, so it's ready to heat up and serve for weeknight dinners!
How to make beef burgundy:
You can jump to the recipe card for full ingredients & instructions!
Prepare the beef by removing the fat and cutting it into 1 1/2 inch cubes. Dry it off with paper towels and season it with salt & pepper.
Cook bacon in a dutch oven on the stove top. Then set it aside on a paper towel.
Heat oil in the dutch oven, then sear 1/3 of the beef cubes at a time. Set them aside with the bacon.
Cook carrots and onions in the dutch oven about 8-12 minutes, until browned. Then add in the garlic.
Add beef and bacon back into the pot, and sprinkle with the flour/salt/pepper mix. Cook about 5 minutes, stirring often.
Slowly add in the red wine, cognac, and beef broth. Then add the tomato paste, thyme leaves, and bay leaf, and bring stew to a simmer.
Cover the pot with a lid and move it to the oven. Cook the beef bourguignon for about 2-3 hours at 325°F.
While that cooks; heat butter in a saucepan on the stove top, and cook pearl onions for 8-10 minutes. Then add in the mushrooms and remaining garlic, and cook another 6-8 minutes.
Once the beef is finished in the oven, transfer it back to the stove top. Add in the onion & mushrooms, then bring stew to a boil.
Reduce heat and let it simmer for 15 minutes, then let the stew rest for 15 minutes before serving.
Can I freeze beef burgundy?
Yes! This is a really great recipe to make ahead of time because it freezes nicely and reheats beautifully. You can keep it in the refrigerator for up to a couple of days after making, but if you want to keep it longer, go ahead and freeze it.
Let it cool before storing, place it in a freezer safe container, and then freeze up to 3 months. This is one of those meals you can make at the beginning of winter and eat throughout the season.
When you're ready to serve it, let it thaw in the fridge overnight. Then you can either reheat it on the stove top, or let it simmer in a slow cooker.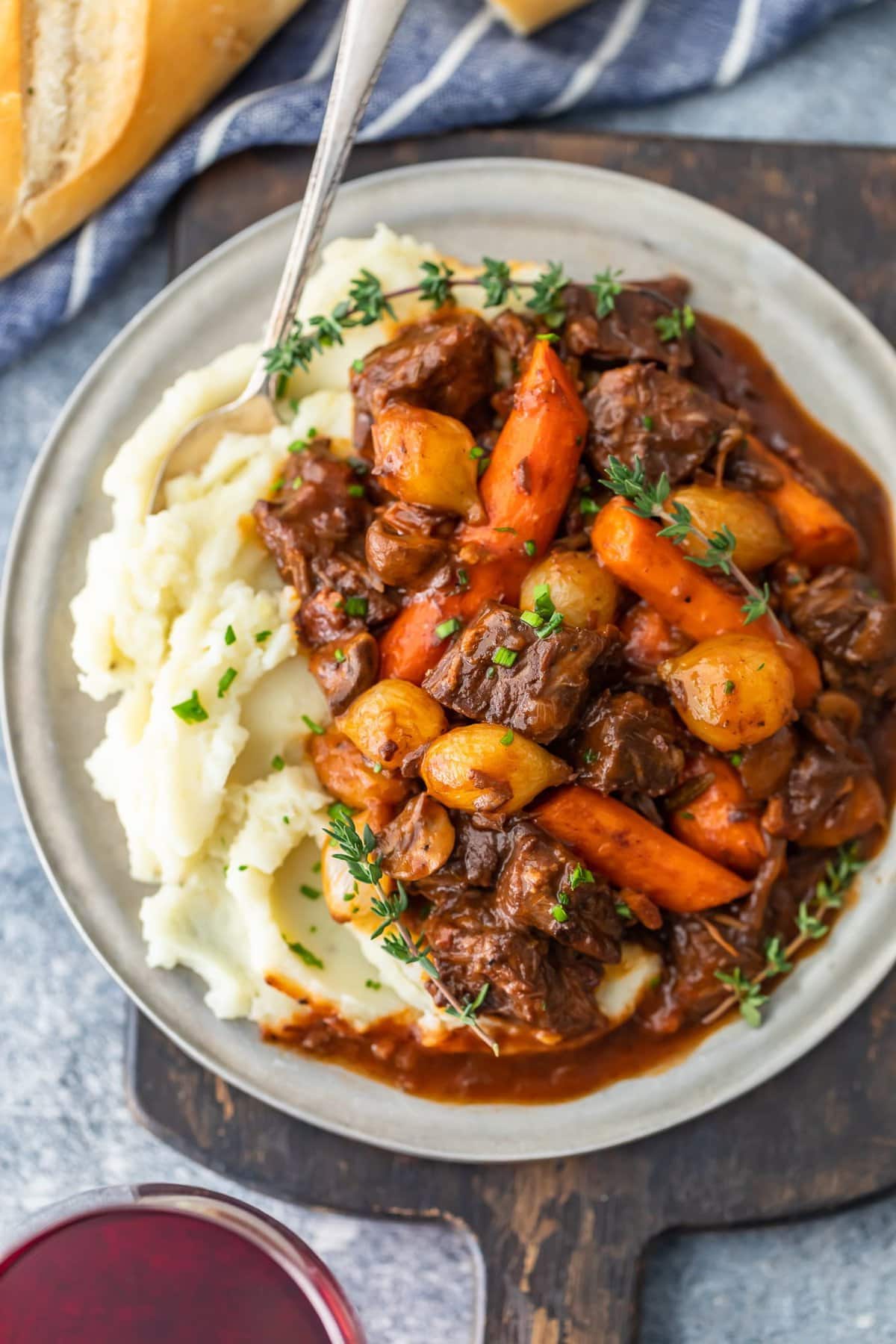 This classic Beef Bourguignon recipe is the hearty stew you need this winter. Make this delicious beef burgundy stew and you won't be disappointed!
More Beef Recipes
This Beef Burgundy is just one of our favorite beef recipes. Make them all!
See All Beef
If you make this Beef Burgundy Recipe, please let us know by uploading a photo in the comments section or leaving a rating. Enjoy!