Crockpot chili is packed with all the good stuff: beef, beans, tomatoes, and so much more! This slow cooker chili recipe is truly SO easy. Set up your crock pot and come home to a warm, comforting, and delicious chili. It's a family favorite, and perfect for game day or parties too!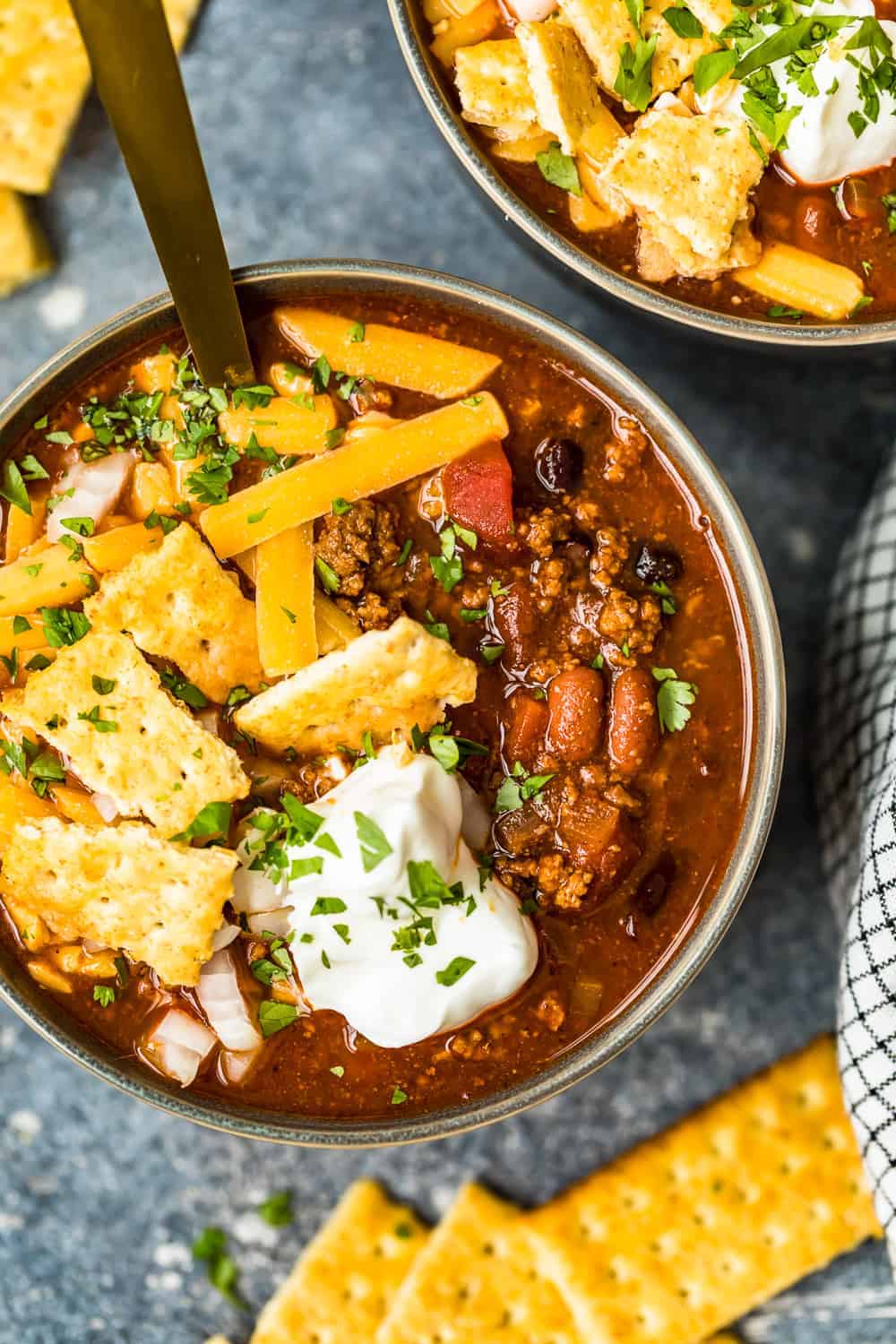 Easy Crockpot Chili
This crockpot chili recipe pulls off the trifecta of pleasure: rich, comforting, and delicious!
Making chili in a slow cooker allows all the different flavors to meld together. The beef gets so tender, and everything just tastes amazing. Everyone will love this hearty beef chili. It's a real crowd pleaser!
Serve it up with a side of fresh cornbread, add your favorite toppings, and you're good to go. Yum!
Why You'll Love this Slow Cooker Chili Recipe:
EASY TO MAKE: I love using my crockpot to make chili because I can basically just set it and forget it! Prep ingredients, throw them in, and let it cook.
COMFORT FOOD: There's nothing quite as comforting as a big, warm bowl of beef chili. It's hearty, filling, and just tastes amazing on a cold night.
FEED A CROWD: This recipe serves 12 people, so you can feed the whole family and then some! It's perfect for game day, when you have lots of hungry people to feed.
This crockpot beef chili is one of my favorite recipes to make for game day. It's super easy to make (you can even make it ahead of time), it feeds a lot of people, and it tastes amazing with all kinds of foods. It makes a great main to serve with appetizers and snacks!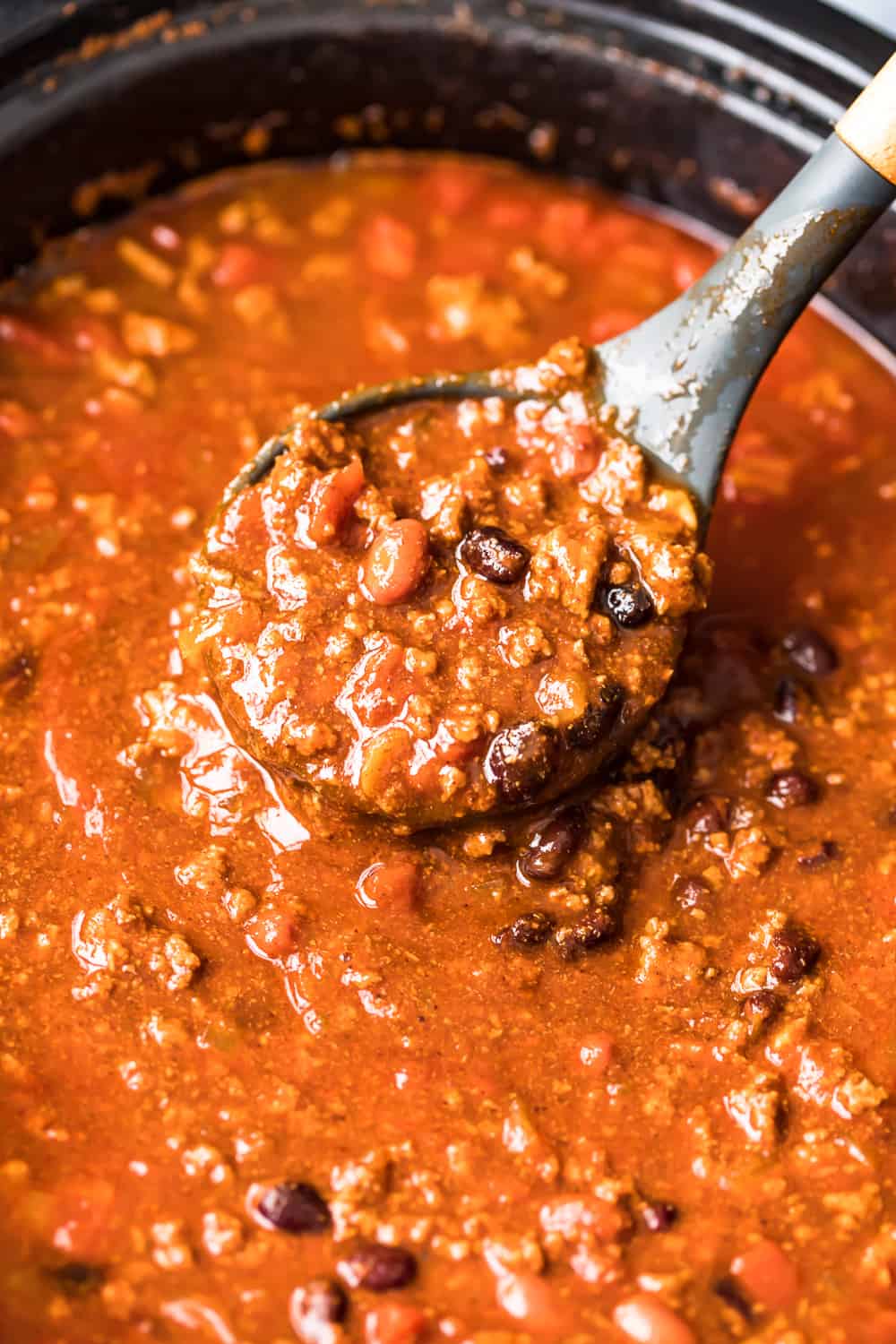 Ingredients
Beef: Use ground chuck, and be sure to brown it before adding it into the chili.
Beans: We're using a mix of black beans and red beans. Drain & rinse first.
Tomatoes: Use tomato puree and diced tomatoes. This makes for a great texture!
Onion: I recommend using yellow onions for this recipe.
Chili Seasoning: Make your own chili seasoning, or use your favorite blend!
There's plenty more in this slow cooker chili recipe to create the perfect flavor (like garlic, ketchup, and Worcestershire)! Be sure to check the recipe card for the full list.
How To Make Chili in a Crockpot (Step By Step)
You can jump to the recipe card for full ingredients & instructions!
Spray slow cooker with non-stick spray, set it to HIGH, and add the water.
Brown beef in a skillet, then drain it and add it to the slow cooker.
Saute the onions and garlic in the skillet, then add those into the cooker.
Add the rest of the chili ingredients and season.
Cover and cook on HIGH for 2 hours.
Thicken or thin it out as you desire (details in the recipe card).
Serve with your favorite toppings and enjoy!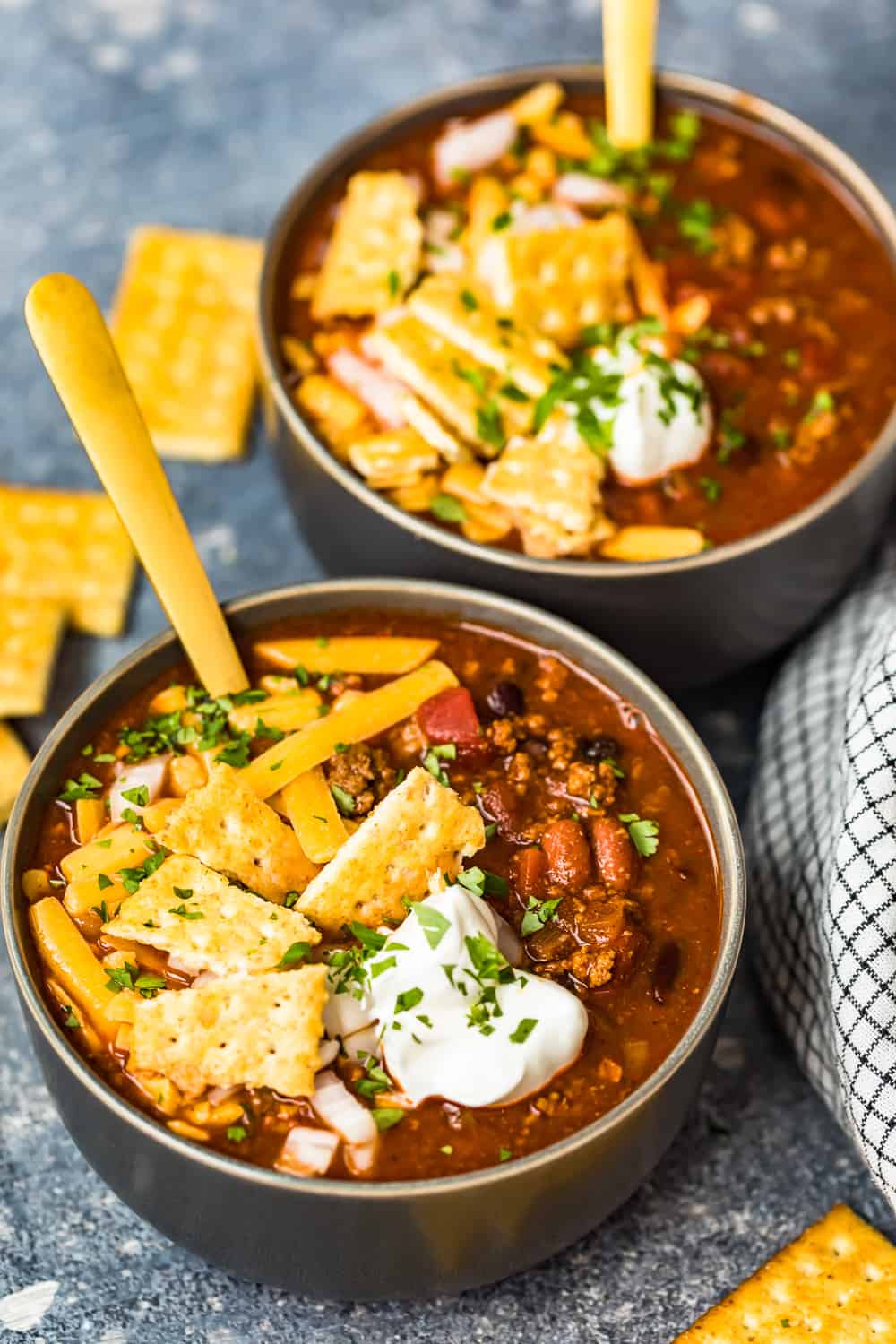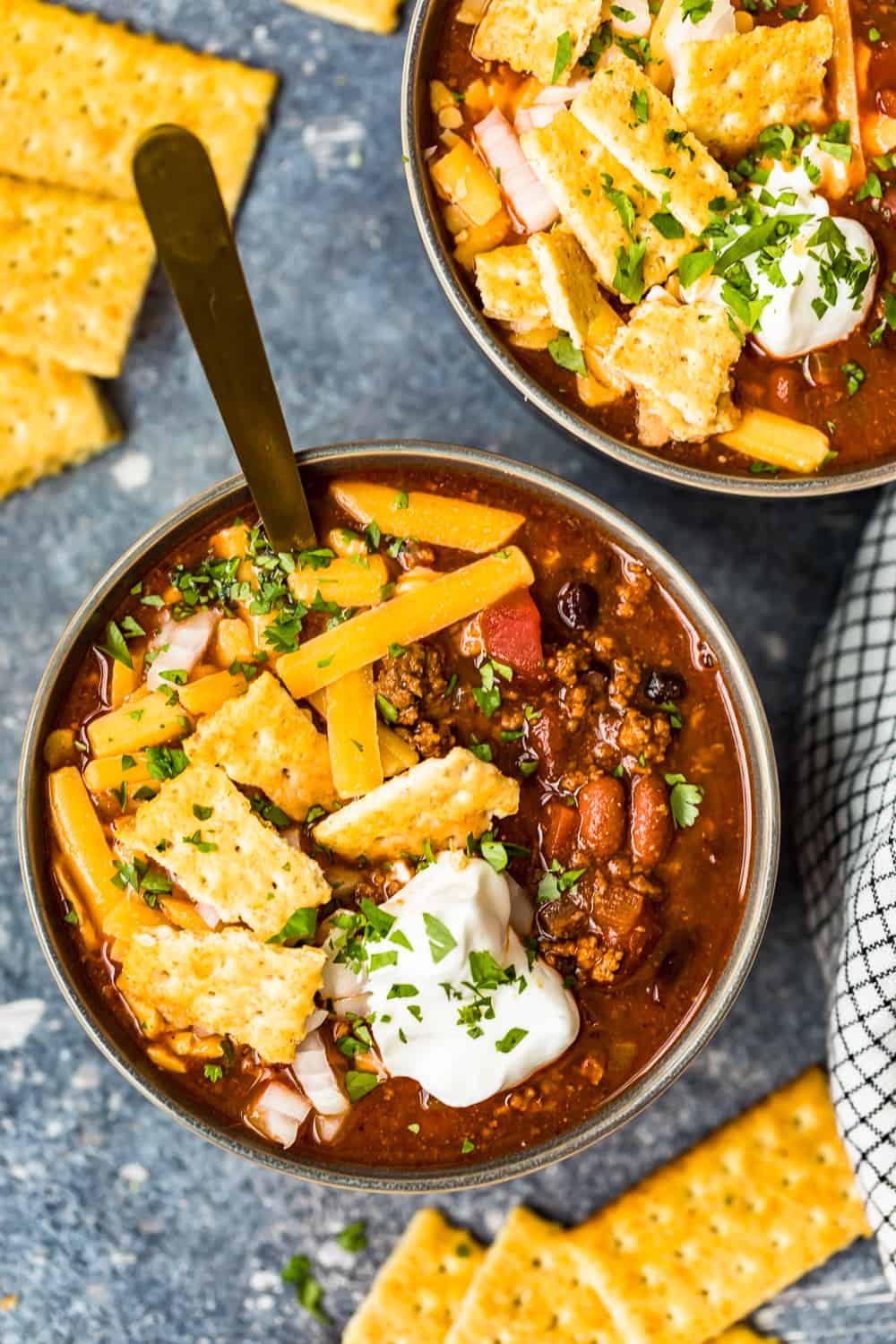 Can I make this slow cooker chili ahead of time?
Yes, you can make this a couple days ahead of time. Just cook as instructed, refrigerate, then you can warm it up in the slow cooker to serve. I think it tastes even better after some time in the fridge!
How do you keep it warm to serve?
Set you crockpot to the WARM setting, and let it do all the work. You can serve straight out of the cooker and it'll stay nice and warm.
How long does it take to cook chili in a crockpot?
It only takes about 2 hours to cook this chili on the HIGH setting. Slow cooking, but still still quite quick!
Is chili better the longer it cooks?
Generally, chili gets better the longer it cooks or simmers. It just gives the ingredients more time to meld together!
Do you drain beef for chili?
Yes, make sure you drain the beef after browning it. Otherwise you'll be left with a lot of extra grease in the chili.
How do you thicken chili in a crockpot?
If it's too thin, remove the lid and let it cook until it reaches your desired consistency.
Serving Suggestions
This slow cooker beef chili is so hearty and filling, but I always serve it along with some sort of bread or side dish to finish off the meal. Here are my favorites!
Crockpot Chili Toppings
Every good bowl of chili needs some toppings for extra texture and flavor. Don't get me wrong, it tastes amazing as it is. But I love to add cheese, crackers, and other things to switch things up.
Cheese: Sprinkle some shredded cheese on top and watch it melt!
Sour Cream
Onions: Add an extra dose of diced onions, or try caramelized onions.
Sliced Jalapenos
Crackers: Crumble up some crackers to add on top, or add those little oyster crackers.
Fritos: I love adding Frito's, or tortilla chip strips, on top for some crunch.
Chopped Avocado: This adds a creamy, fresh flavor.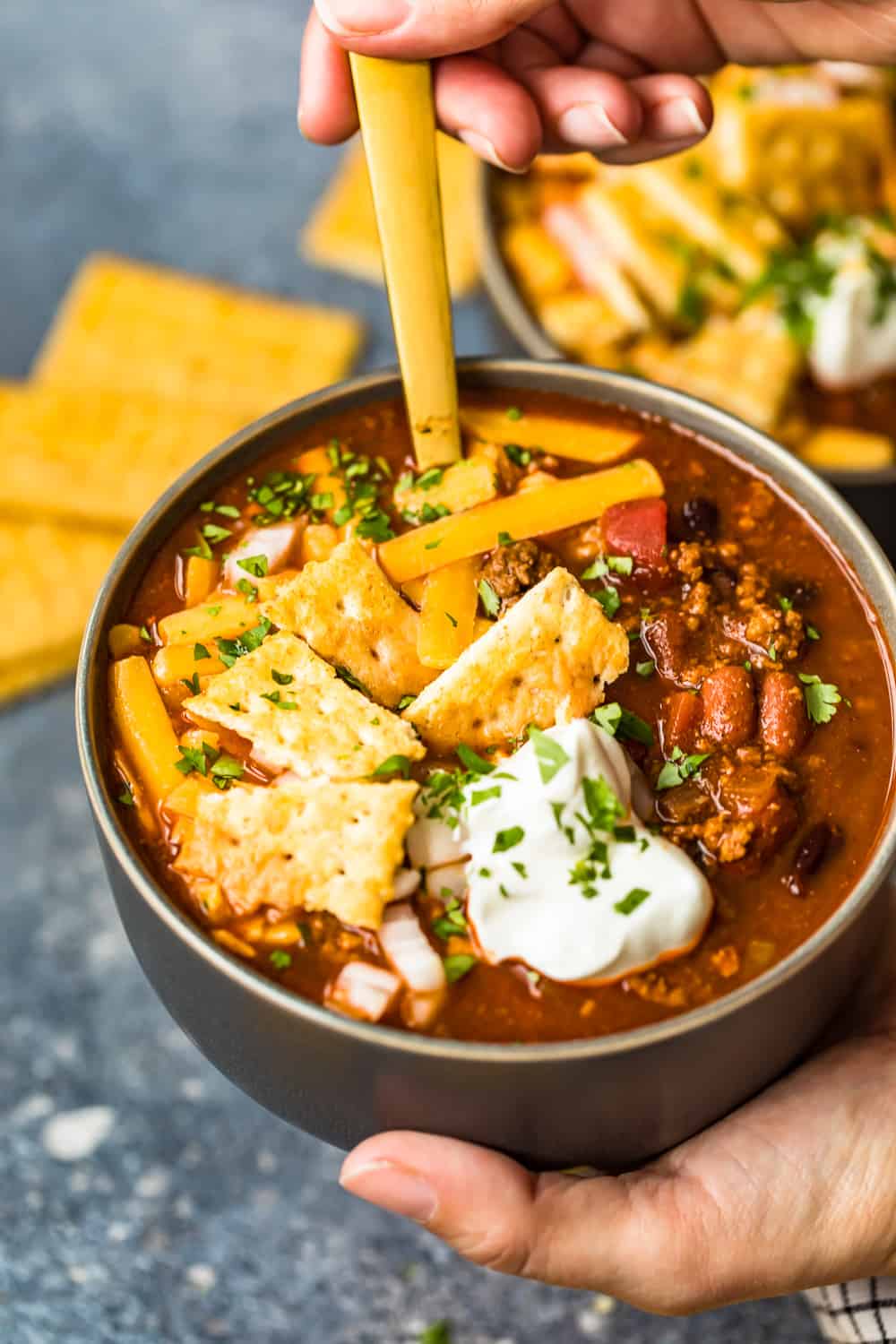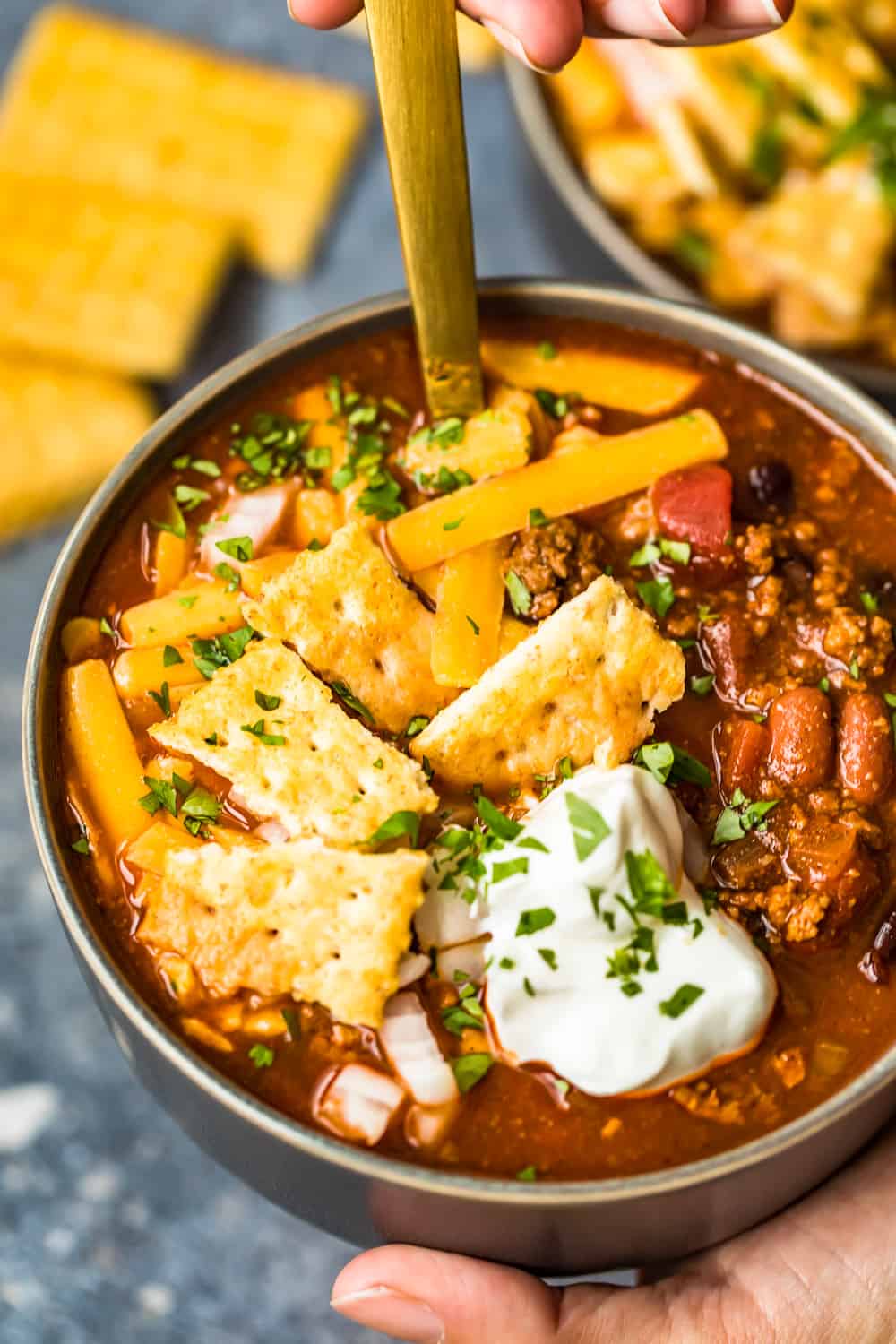 Tips!
Make sure to spray the inside of the low cooker with non stick cooking spray.
Serve with crushed corn chips (like Fritos), crushed tortilla chips, saltine crackers, or oyster crackers.
Store leftovers in the fridge for up to 5 days, or in the freezer for 2-4 months.
Can You Freeze Crockpot Chili?
This slow cooker beef chili is also a super freezer-friendly recipe that you can make and save for months!
To freeze leftovers: let it cool, then scoop into small portion freezer containers (resealable bags work great) to freeze.
To reheat: Thaw in the fridge overnight, then cook in the slow crockpot on LOW until warmed through.
It's best to eat it within two months so it still contains the same fresh flavor and thick texture. The longer it's kept frozen, the more the flavor and texture changes.
Can you put raw meat in slow cooker for chili?
Technically, if the meat gets to a high enough temperature fast enough (140 degrees F in less than 2 hours), it is food safe, but to make 100% certain you're being food safe, it is not recommended.
Beyond the safety considerations, you'll also be missing out on major flavor development that browning the beef provides!
By browning the meat before adding it in, you're developing deeper and richer flavors. So when we're talking chili in a crockpot, it's best to brown the meat first!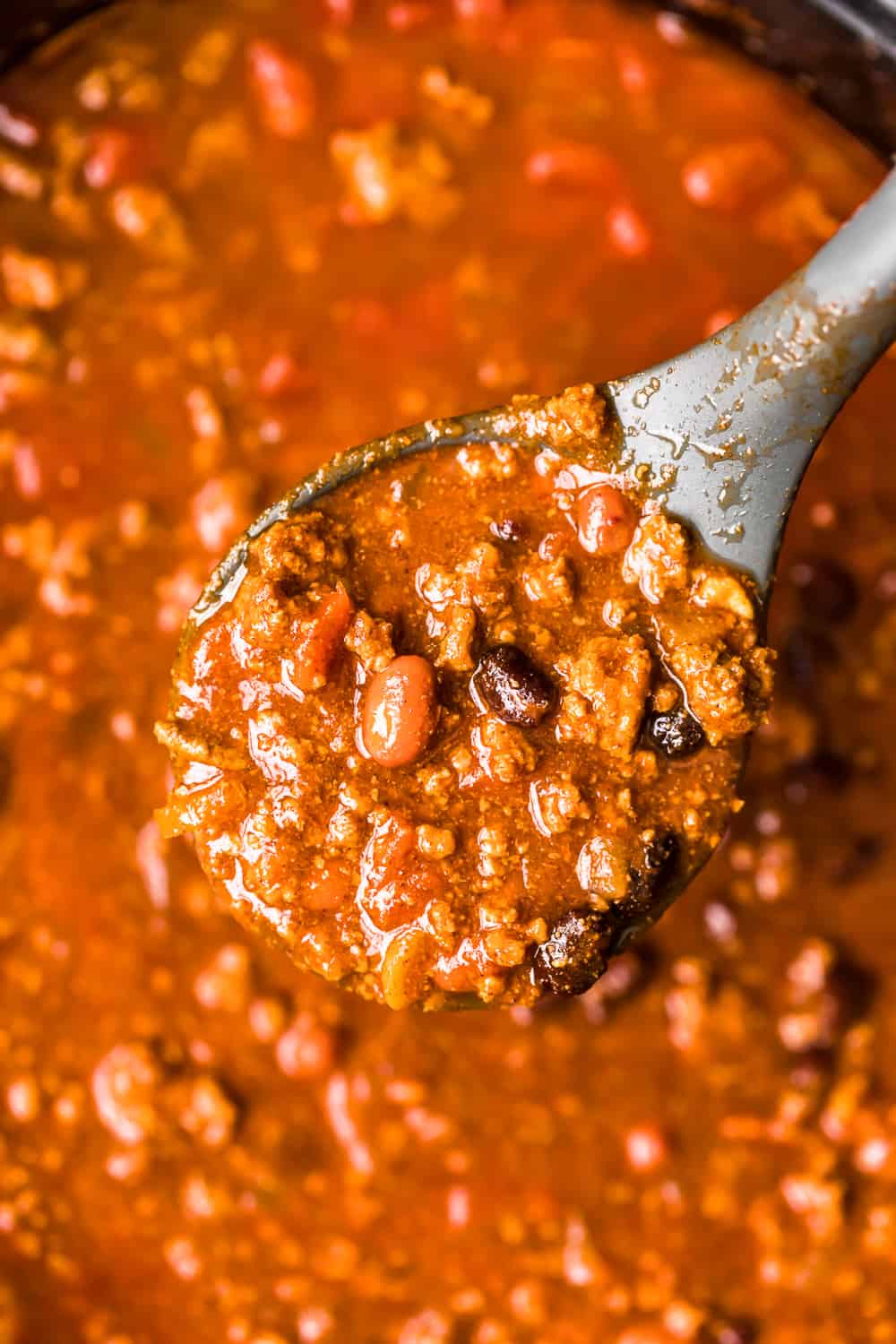 This crockpot chili recipe will be your new go-to! It's easy, delicious, comforting, and definitely a family favorite. Make some to keep in the fridge or freezer for easy weeknight dinners, or cook up a batch for guests!
If you make this recipe be sure to upload a photo in the comment section below or leave a rating. Enjoy!