Crockpot chili recipe is packed with all the good stuff: ground chuck, homemade chili seasoning, red beans, and more, then topped with crunchy crackers. Set up your slow cooker and come home to a warm, rich, comforting and delicious chili, or use this recipe to make it ahead of time for an easy dinner!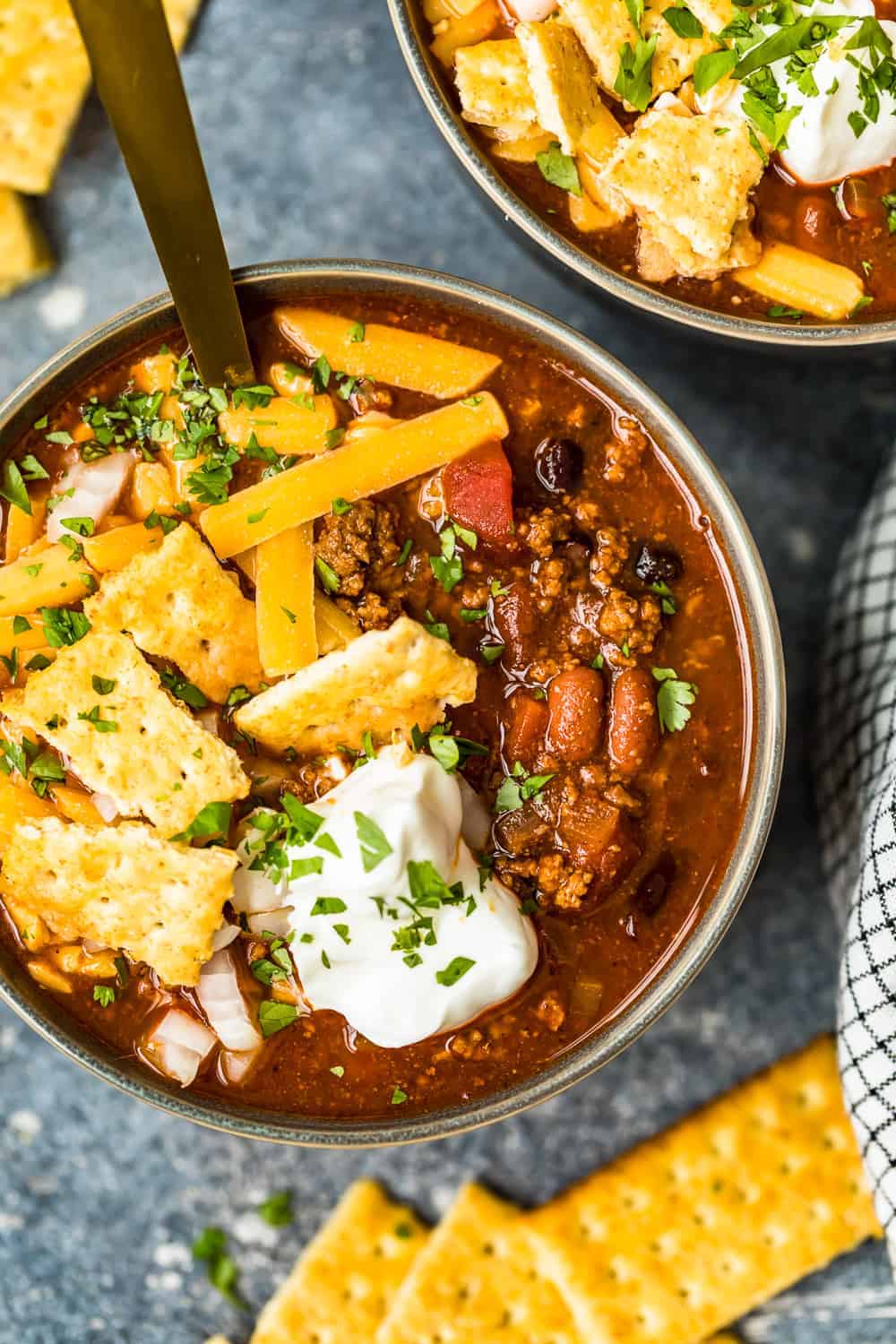 Easy Crockpot Chili
This crockpot chili recipe pulls off the trifecta of pleasure: rich, comforting, and delicious! Slow cooking this chili allows all the different flavors to meld together, the meat to get ultra tender, the beans to get delicate, and the veggies to get soft. Serve it up with a side of fresh cornbread and you're good to go. Yum!
How To Make Chili in a Crockpot (Step By Step)
Be sure to see the recipe card below for full ingredients & instructions!
Set the slow-cooker to HIGH and add 4 cups water, then brown the beef in a large skillet set over medium heat and add the beef to the slow-cooker.
Return the skillet to medium heat and add the oil and diced onions.
Add the onion/garlic mixture to the slow-cooker and stir, along with all the other chili ingredients.
Replace the lid, and cook on HIGH for 2 hours.
The chili is ready at this point, but if it is thicker than what you love, add another cup or 2 of water and stir. Cook another 30 minutes for the flavors to meld.
If the chili is too thin, remove the lid and cook 30-60 minutes or until it has reduced to the thickness you desire.
Serve with your favorite condiments and toppings and crackers.
Enjoy!
And try making our Homemade Chili Seasoning for this recipe.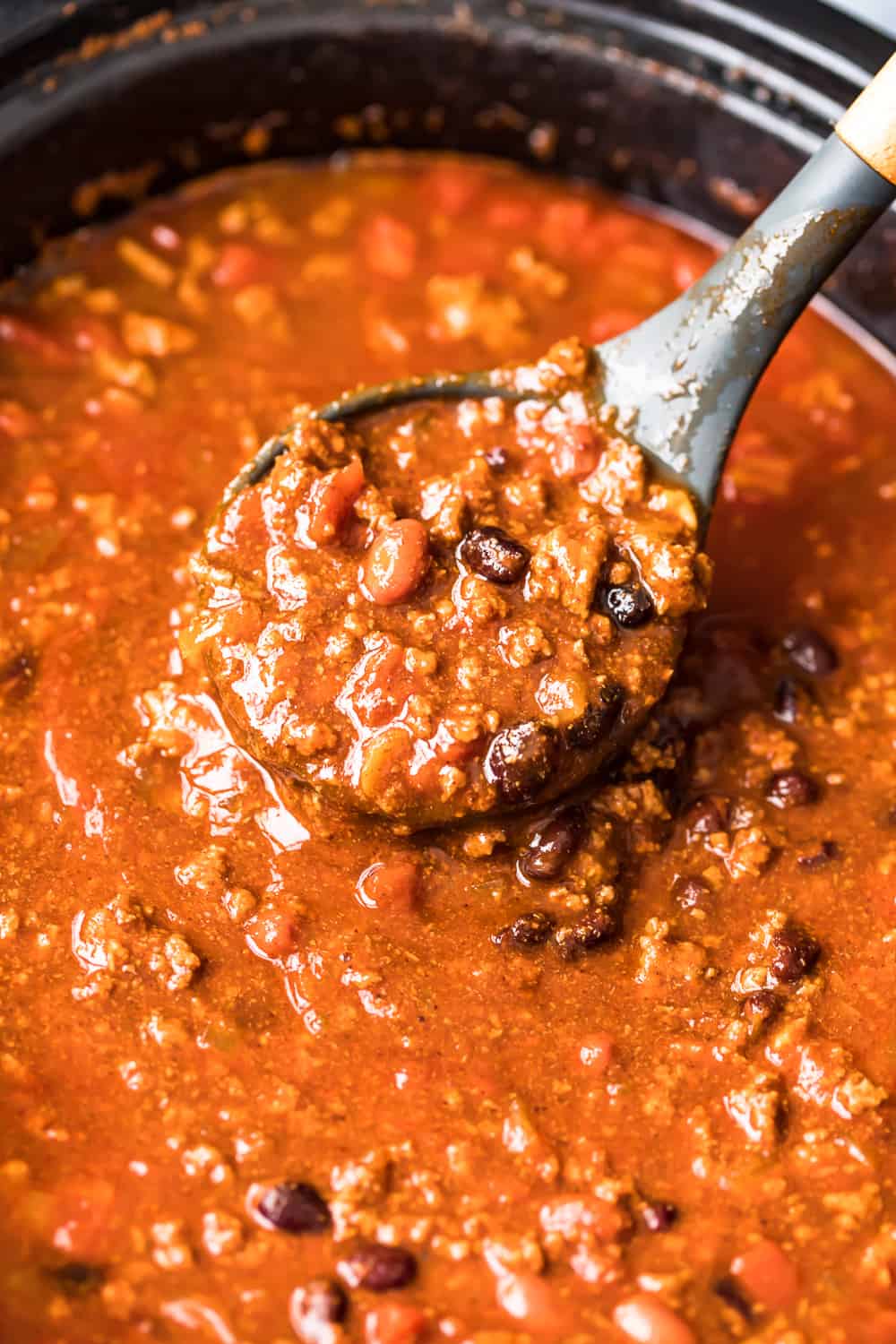 Easy Make Ahead Chili
Slow cook your chili the day before, put it in the fridge overnight, and warm it up in the slow cooker to serve the next day.
While you don't have to refrigerate your chili, the flavors meld even more, it gets super thick, and the meat is extremely tender.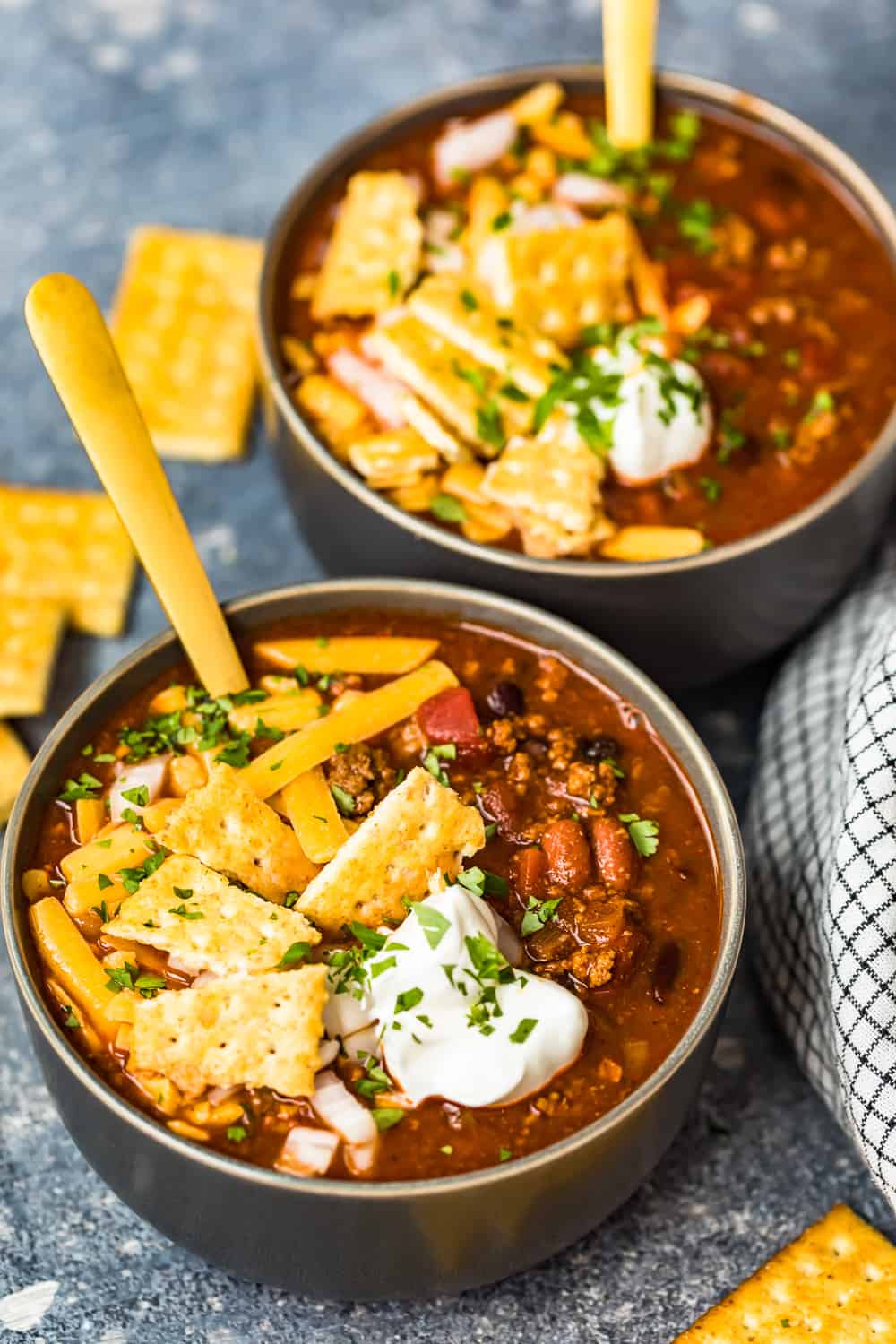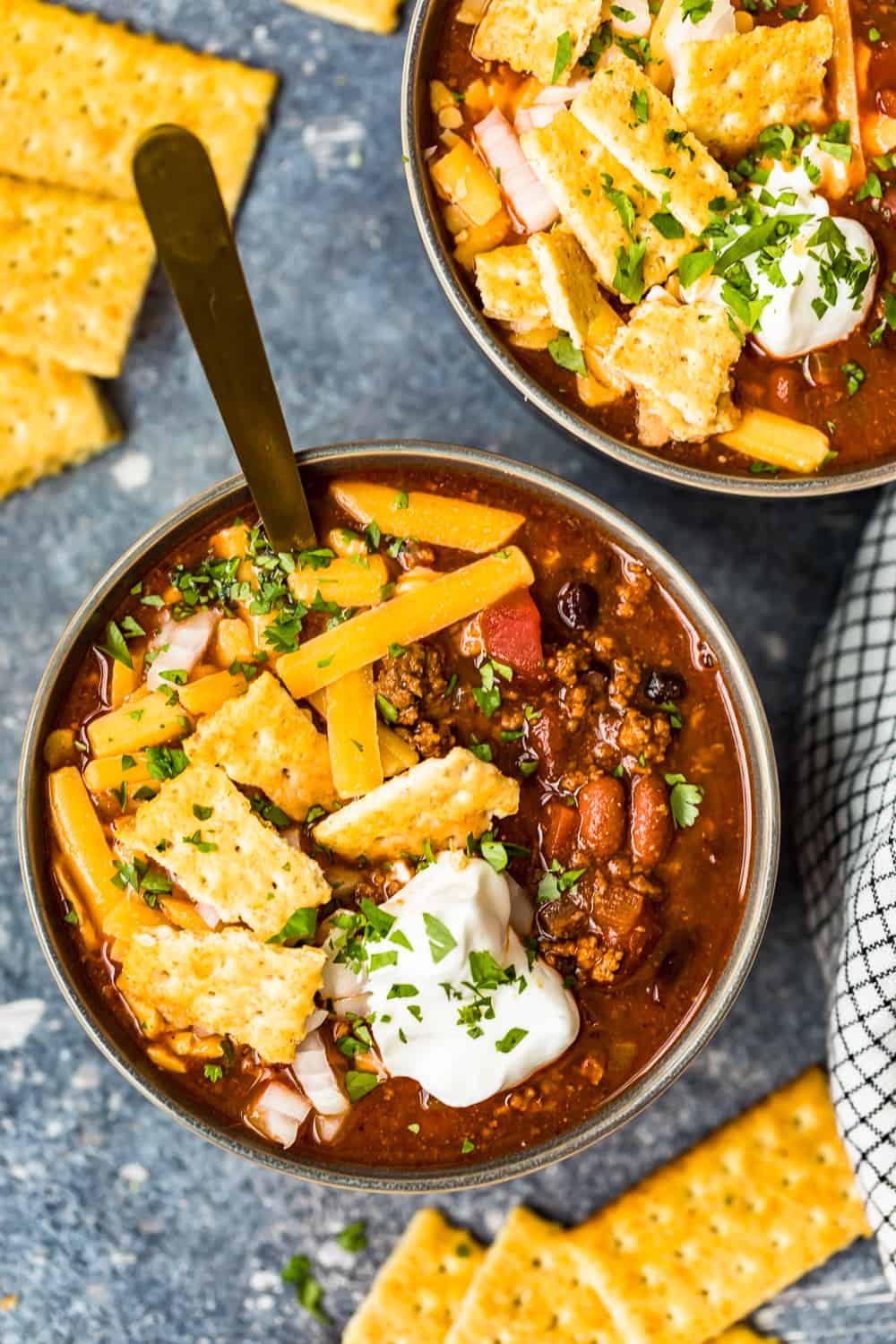 Can You Freeze Slow Cooker Chili?
This chili is also a super freezer-friendly recipe that you can make and save for months.
You can safely freeze leftover chili by scooping it into small portion freezer containers and placing them immediately into the freezer afterward.
Anytime you freeze chili, it is best to eat it up within the first two months so it still contains the same fresh flavor and thick texture. The longer chili is kept frozen the more the flavor and texture changes.
More Chili Recipes
I have recipes for chili of every variety: from the super easy recipe with few ingredients, to the absolute BEST EVERY recipe my whole family raves about. So if you don't own a slow cooker, no worries! There's still a tasty recipe here for you.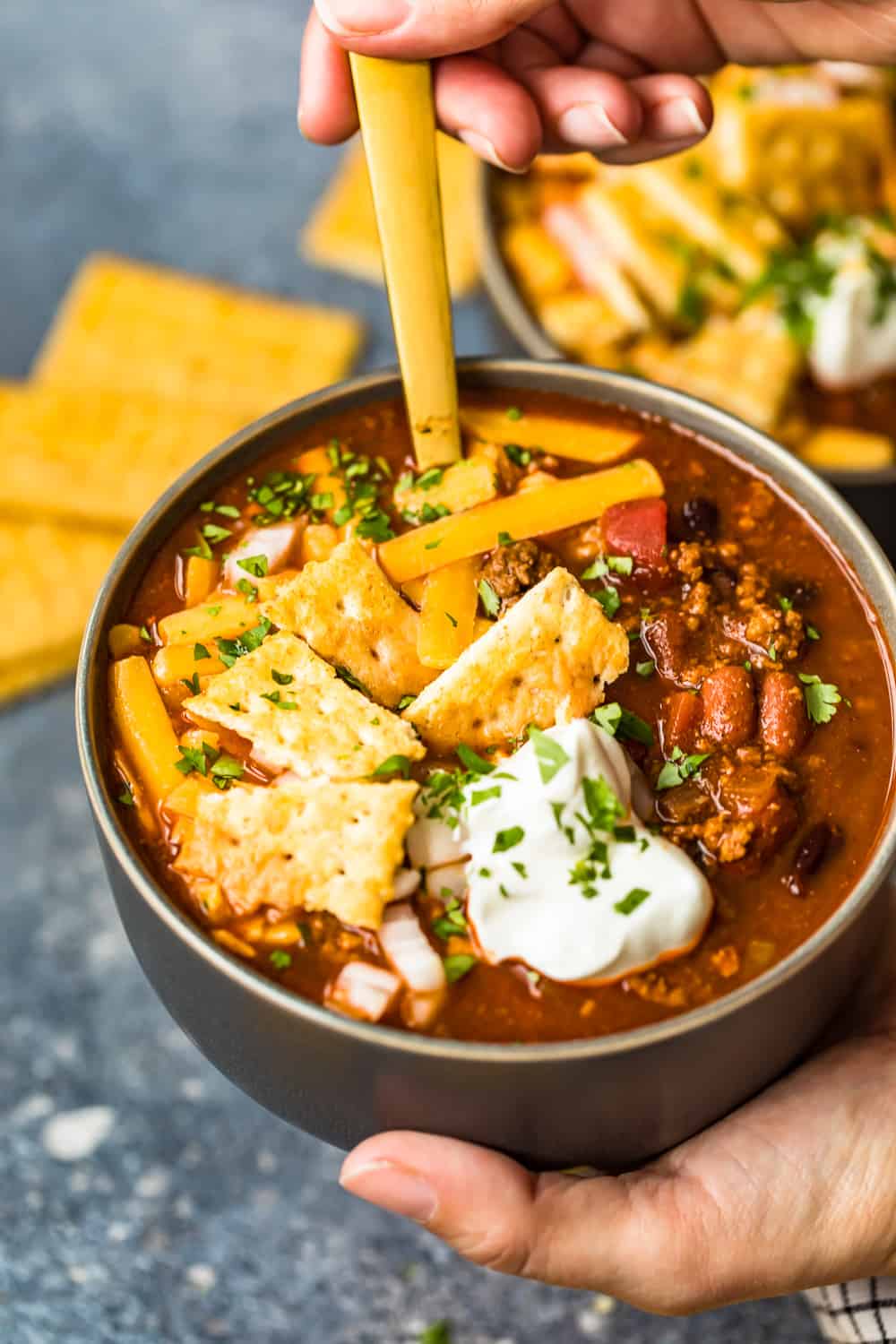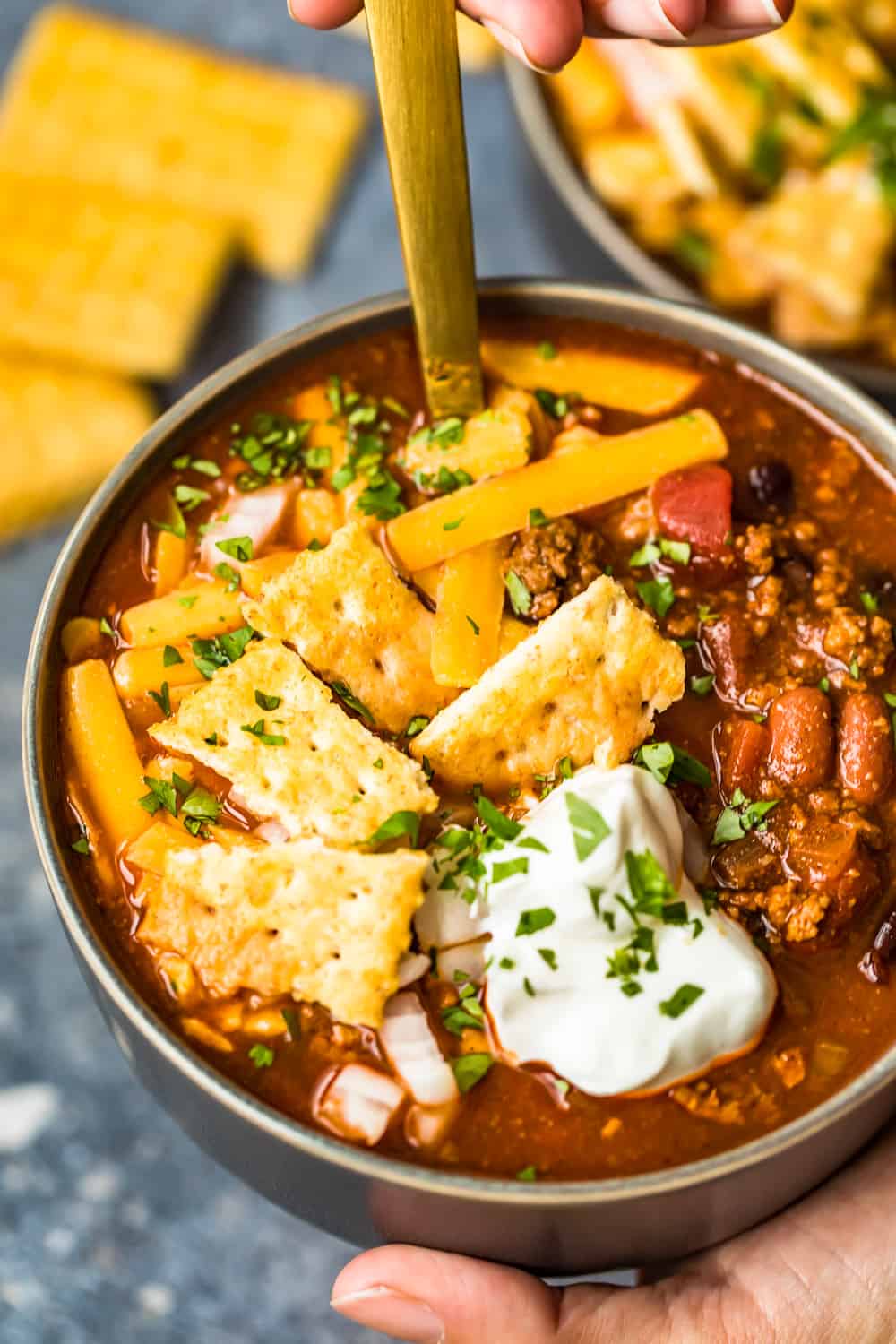 Can You Put Raw Meat In Slow Cooker For Chili?
Technically, if the meat gets to a high enough temperature fast enough (140 degrees F in less than 2 hours), it is food safe, but to make 100% certain you're being food safe, it is not recommended.
Beyond the safety considerations, you'll also be missing out on major flavor development that browning the meat provides.
By browning the meat before braising (slow cooking), you're developing deeper and richer flavors (known as the maillard reaction). So when we're talking chili in a crockpot, it's best to brown the meat first!
Tips!
Make sure to spray the inside of the low cooker with non stick cooking spray.
Serve with crushed corn chips (like Fritos), crushed tortilla chips, saltine crackers, or oyster crackers.
To freeze as a freezer meal, mix all ingredients and place in (a few) freezer safe zip-lock bags. Freeze. When ready to cook, thaw in the fridge overnight and then cook on low in the crockpot.
Serving Suggestions
This chili is so hearty and filling, but I always serve it along with some sort of bread or side dish. Here are my favorites!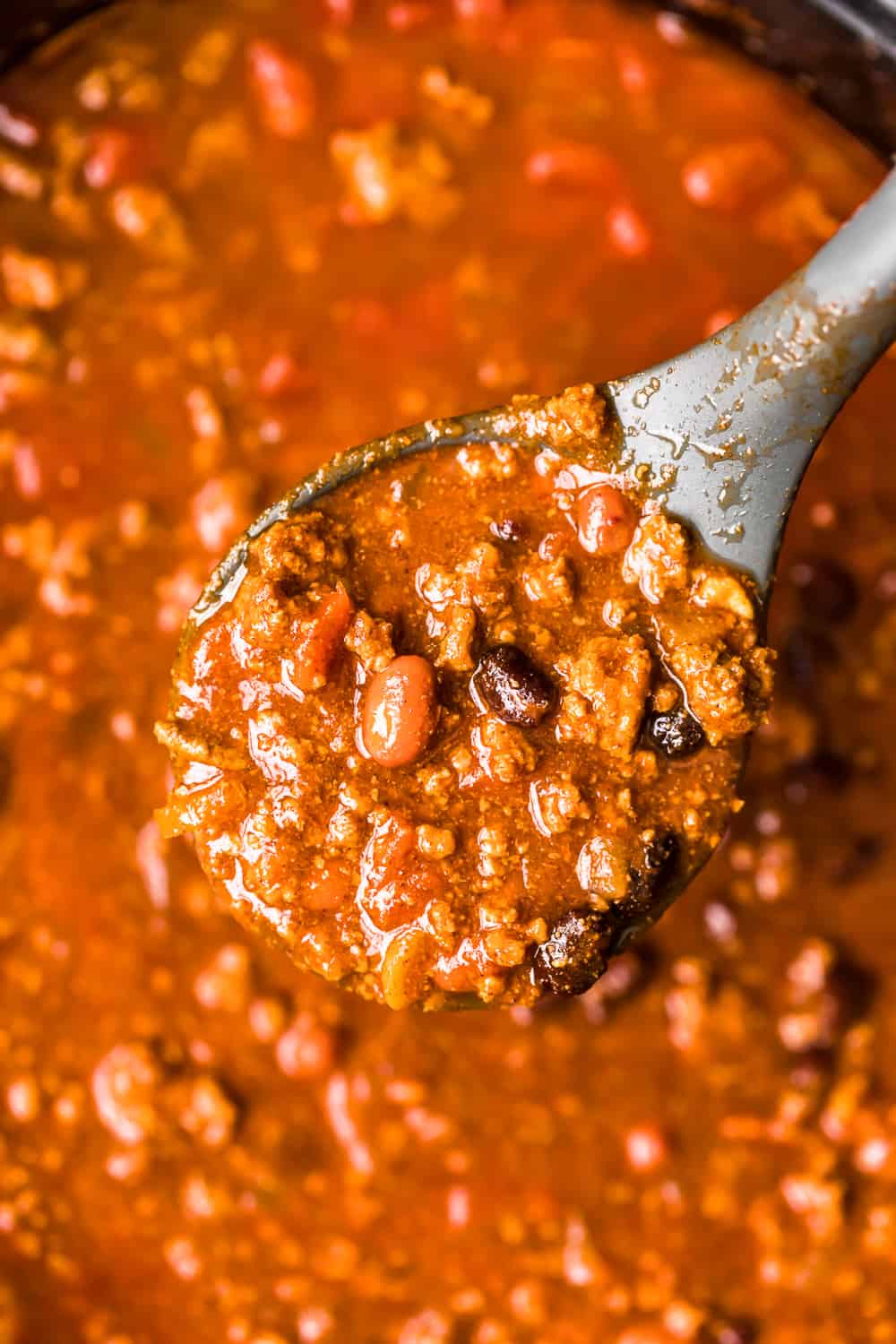 Have you tried this Crockpot Chili recipe? I'd love to hear from you in the comments below if you make it!