This Restaurant Steak recipe with Cilantro Steak Butter is SO delicious. Now you can cook steak just like they do at a steakhouse for a fancy night in. This filet mignon makes the perfect steak dinner for Valentine's Day or any other special night!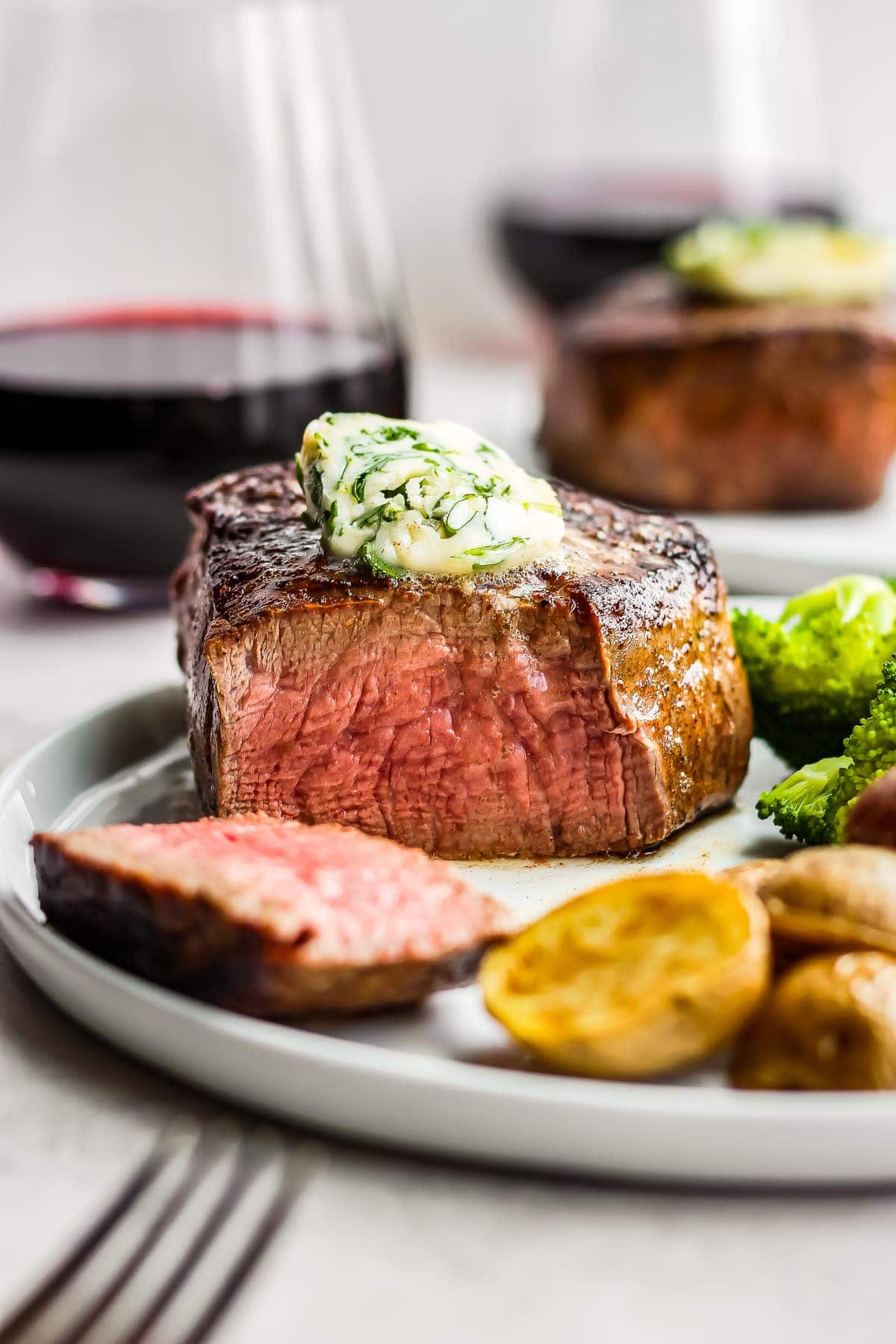 Restaurant Steak Recipe
I LOVE restaurant steak, like what they make at all the best steakhouses. It's one of my favorite things for celebratory dinners and special occasions, but as most of you probably know, it can be EXPENSIVE.
A night out for two at a nice restaurant, ordering full steak dinners…definitely not my definition of affordable!
I especially love filet mignon, and I especially love eating it on Valentine's Day. We used to always go out for V-Day for the best steaks, but not anymore!
I've learned how to cook steak in the easiest and tastiest way, to get it just like they make at restaurants, and boy is it good. Plus I'm adding cilantro steak butter for the ultimate finishing touch, Yum!
Restaurant Style Steak at home is not only possible, but it is much easier than I thought! It takes less than 30 minutes and it's much cheaper, win!
You'll definitely want to make this easy steak recipe for date night, anniversaries, Valentine's Day dinner, or any special occasion. Don't waste your money on that restaurant steak dinner when you could make it at home instead!
Find out how to cook steak just like they do at restaurants, and have the BEST steak dinner ever!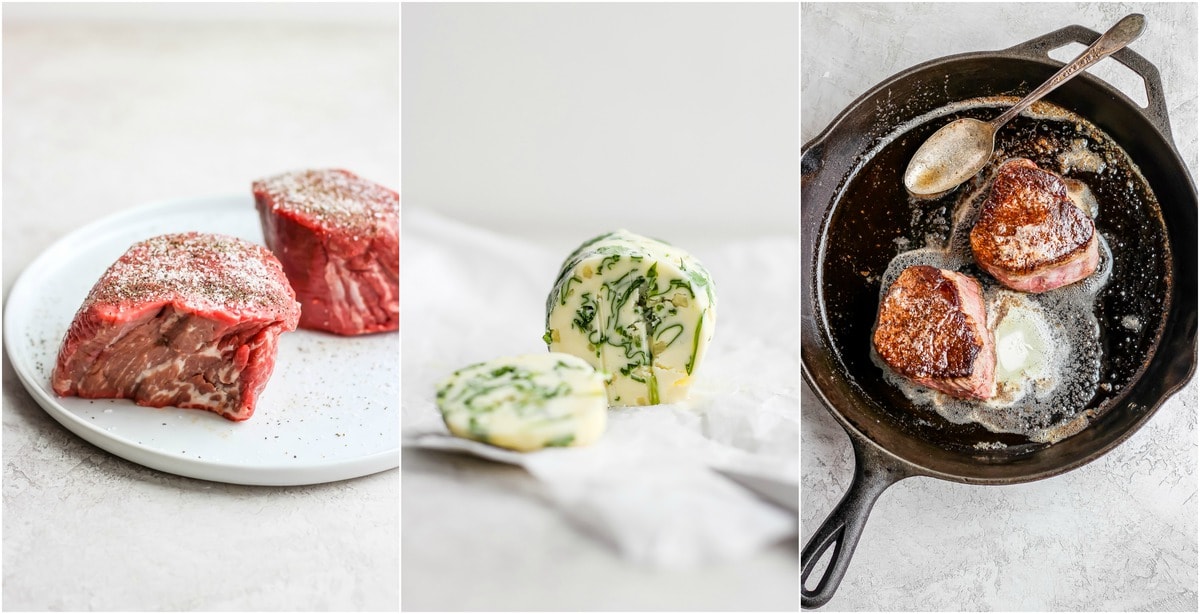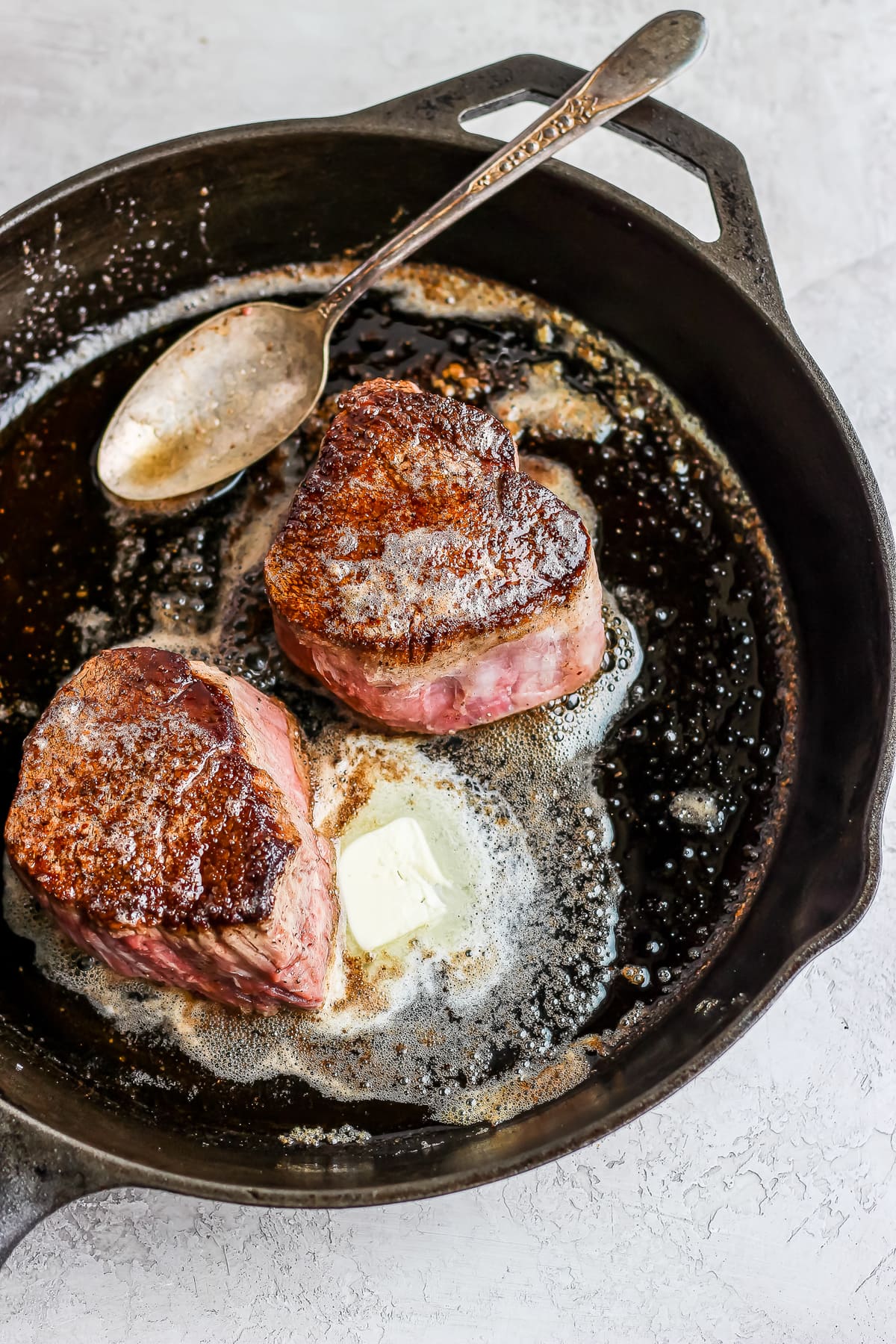 Easy Filet Mignon
Let's talk steak. Filet Mignon, to be exact. It's definitely my FAVORITE type of steak, and a nice steak dinner is one of my favorite meals ever.
I've never made filet mignon at home before, but now I've figured it out! This restaurant steak recipe is SO much cheaper than Ruth's Chris (and all the other steakhouses), but it's just as delicious. Seriously!
If you don't know how to cook steak, it probably seems intimidating, but this recipe will change your mind. I urge you to try it out so you can start making the best steak dinners at home, instead of splurging on restaurant dinners.
Cilantro Garlic Steak Butter
A well-cooked steak is just delicious on its own…but this cilantro garlic steak butter has changed the game for me! It's easy to make this yourself (not from scratch, we're not churning butter here).
Just add a nice heaping slice of it on top of the steak to serve. The garlic cilantro flavor really finishes it off perfectly!
To make the cilantro garlic butter for steak:
Chop up 2 tablespoons of fresh cilantro
Mince 2 cloves of garlic
Mix 1/2 a stick of softened butter with the garlic and cilantro
Then roll the mixture into a log shape and wrap it in plastic wrap
Refrigerate it until you need while cooking the steak
You can make this garlic steak butter ahead of time, so it's ready for cooking.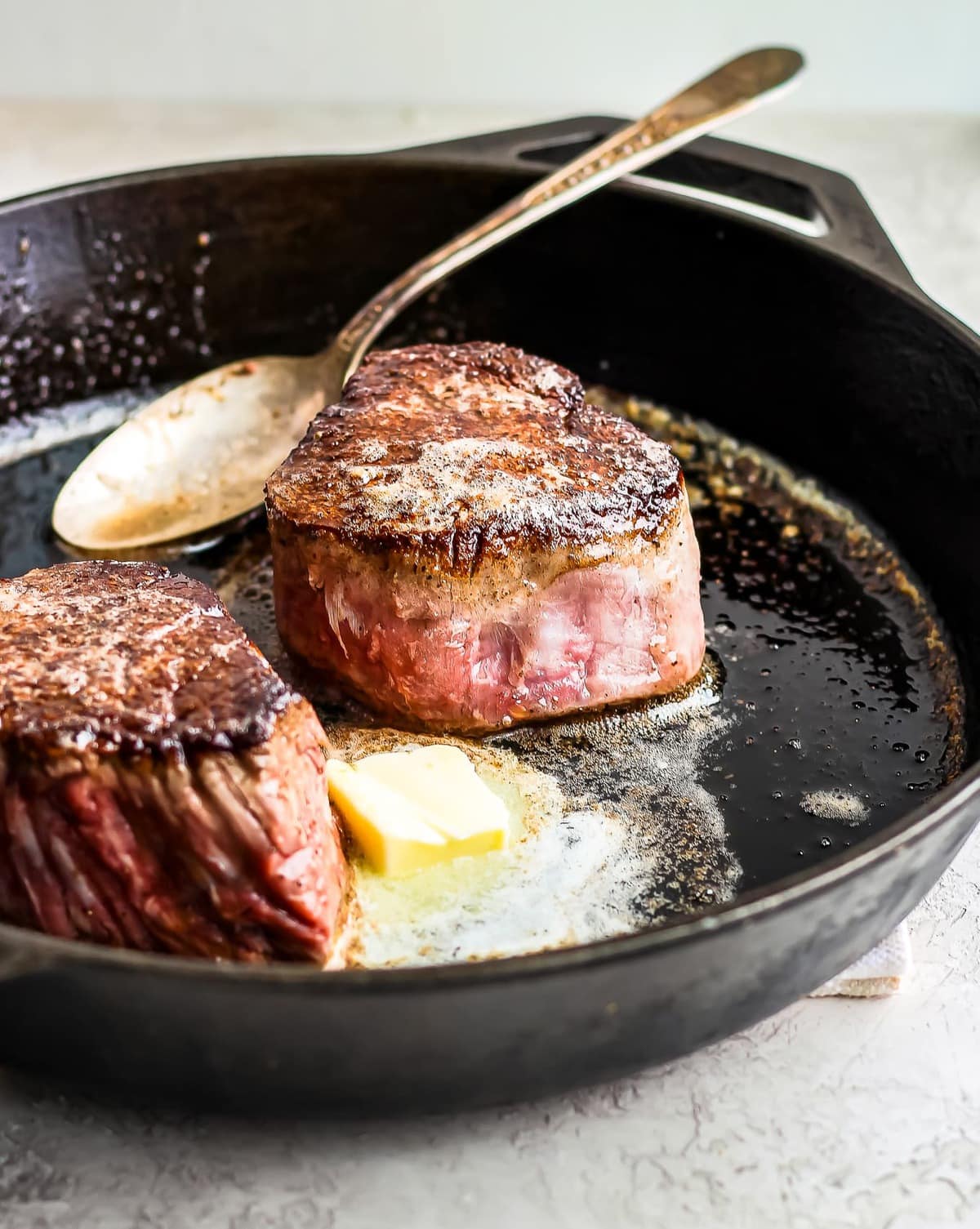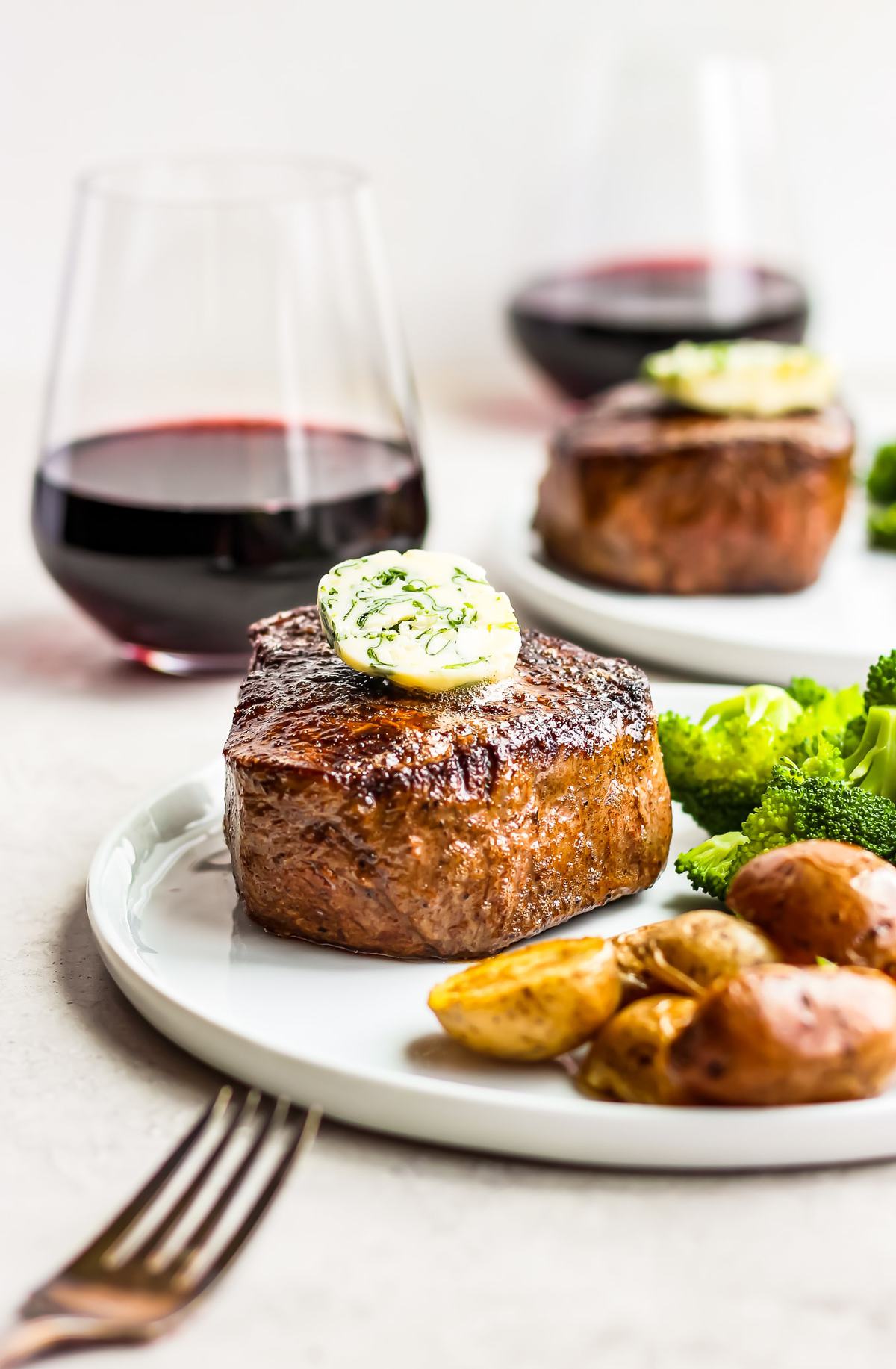 How to Cook Steak Like a Steakhouse
You want a restaurant steak at home, and I'm here to show you how to do that. Trust me, this easy steak recipe is really simple and straightforward. It doesn't take long to make either, so it's all around just perfect!
How to cook steak at home:
Preheat your oven to 400°F and make sure you have that cilantro steak butter in the refrigerator.
Season the steaks with salt and pepper. You want about 1 tablespoon on each side for the best flavor!
Next, heat the other 1/2 of that stick of butter in a skillet with olive oil. You want it to be really hot, before searing.
Now sear the steaks in the skillet for about 2-3 minutes on each side. Spoon the butter and olive oil over as they cook so that it covers the whole filet.
Transfer them to a baking sheet, and cook steaks in the oven for 6-8 minutes at 400°F. It should come out medium rare (best way to eat it, in my opinion). Read below for more info about internal steak temperatures.
When they're done, place a slice of that cilantro garlic butter on the steaks to serve.
I just love this recipe so much. The steak comes out perfectly, and it really feels like you're eating at a steakhouse!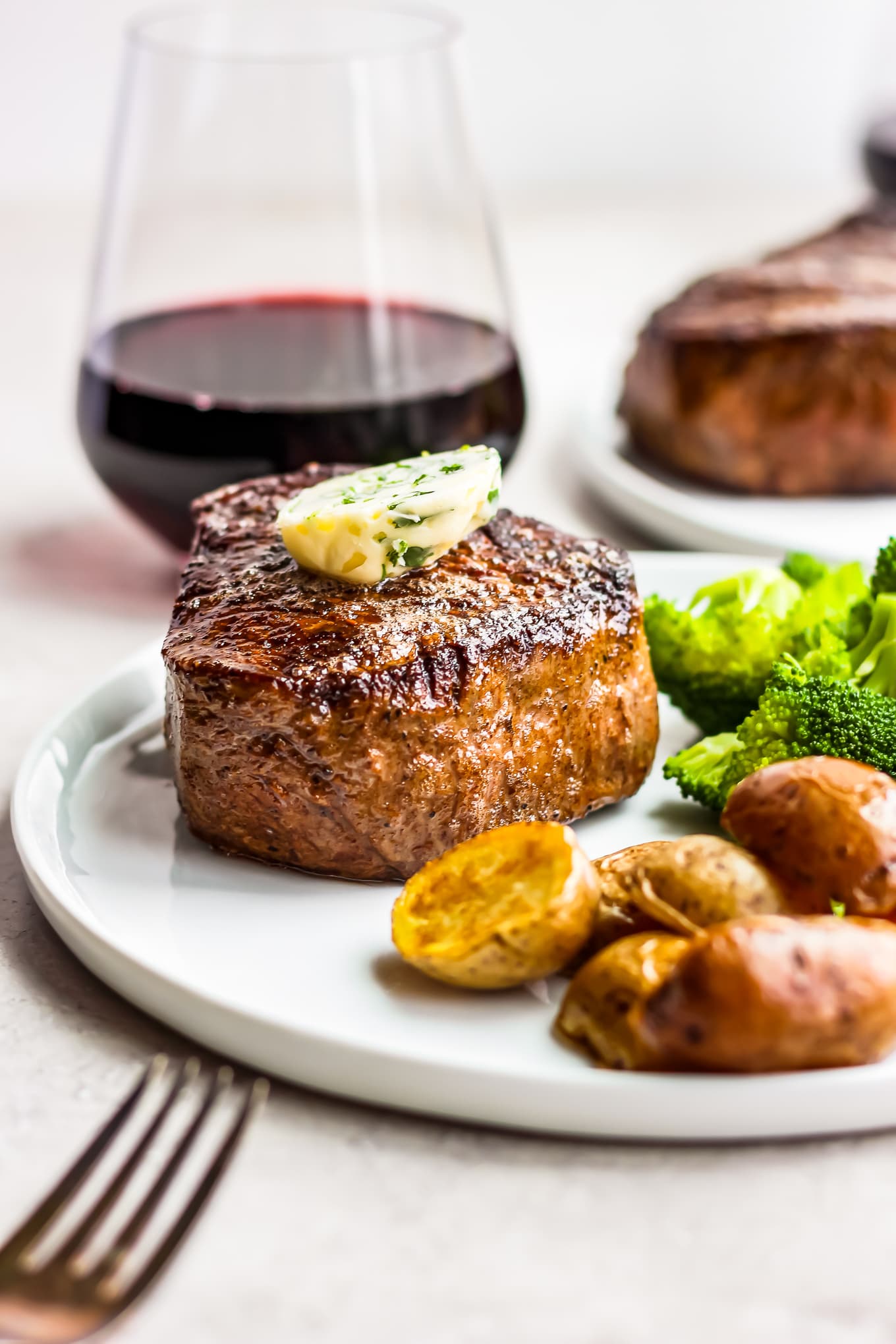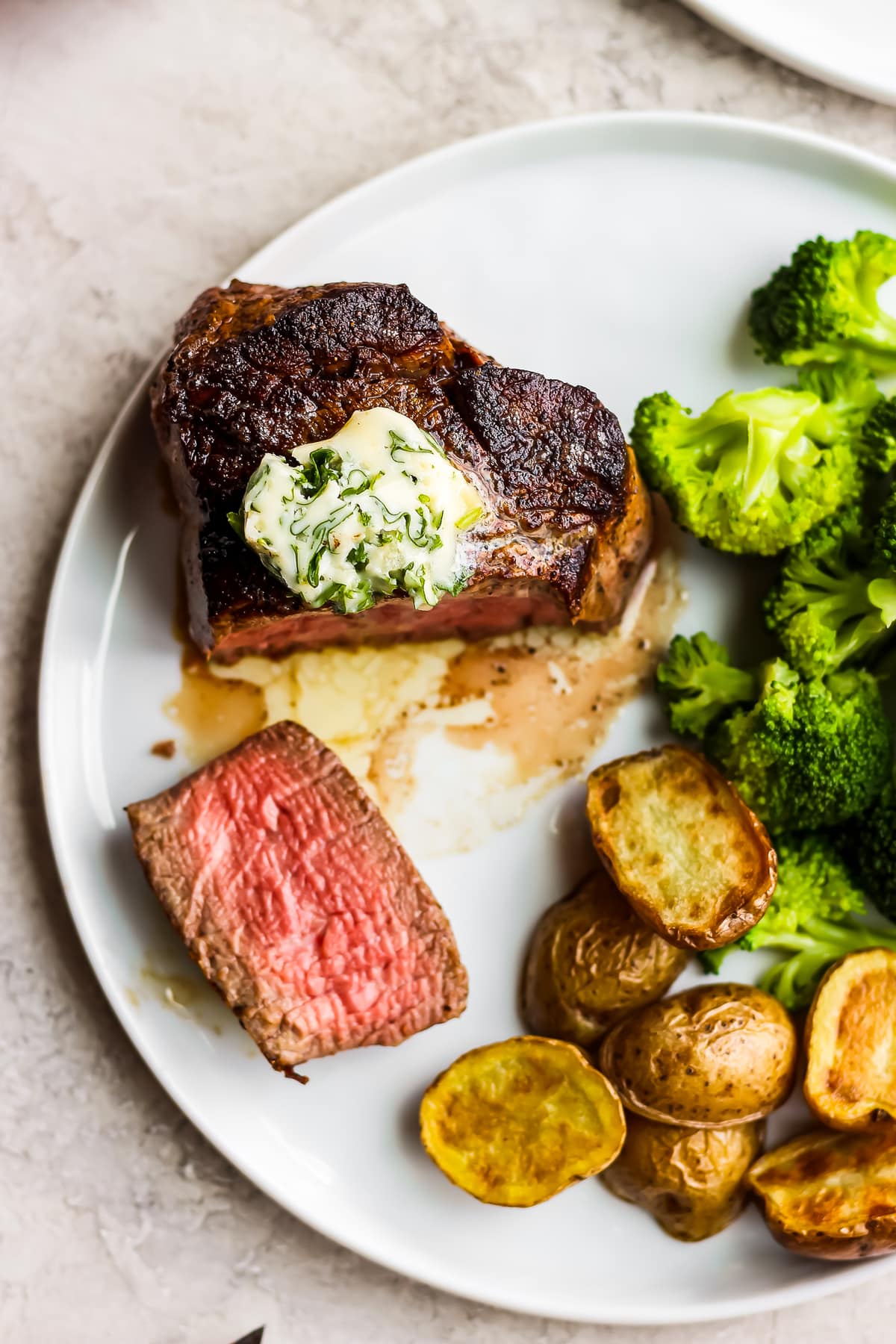 What should the steak temperature be?
For this filet mignon recipe, I prefer to cook it to medium-rare. That means the internal temperature should be about 135°F. Use a meat thermometer to check the steak internal temperature as you cook.
If you prefer to cook your steak to more of a medium or even well-done temp, leave it in the oven a few more minutes.
Here's a quick guide to steak temps:
Rare 130-135°F
Medium-Rare 135-140°F
Medium 150-155°F
Well-Done 165°F
For more information on internal meat temperatures, and to get a free printable chart, CLICK HERE.
Serving Suggestions
A steak dinner isn't complete without the sides! You can go with healthy veggies, potatoes, roasted garlic, salads, anything really.
There are so many options, but here are some of my favorite side dishes for steak:
Best Steak Recipes
This restaurant style steak is just one of many of the best steak recipes. Like I said, I LOVE steak, so I really like having all of these recipes ready for nice homemade steak dinners!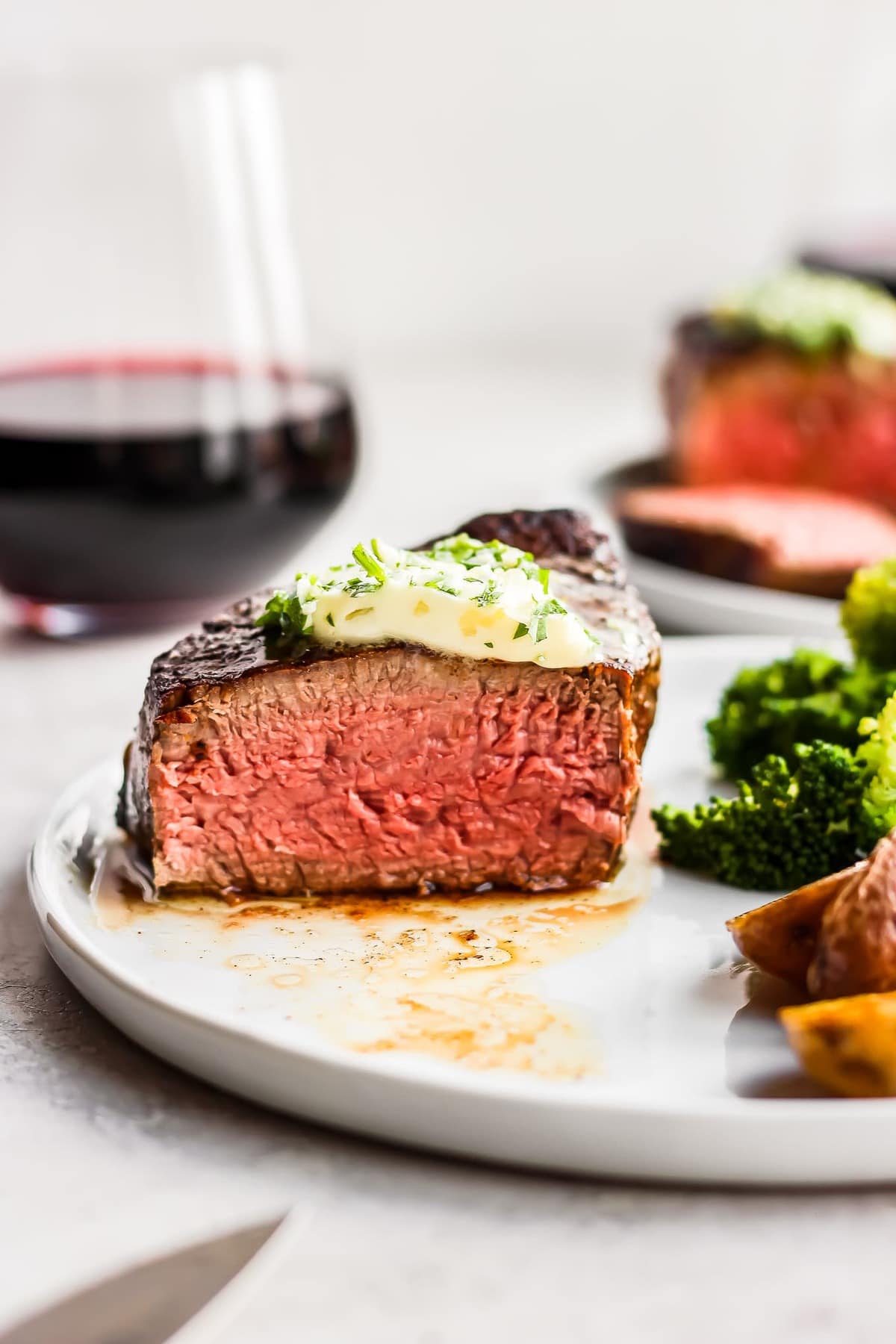 More Steak Recipes
We LOVE steak, can you tell? Here are some favorite easy steak recipes.
See All Beef
I can't wait for you to try this delicious restaurant steak recipe to make at home! Easy, tasty, and way cheaper than a steakhouse.
Looking for more delicious entrees for dinner?
If you make this recipe be sure to upload a photo in the comment section below or leave a rating. Enjoy! You can also jump to recipe.