This Restaurant Style Steak with Roasted Garlic and Cilantro Butter is so easy to make at home and is SO delicious. Valentine's Day isn't complete without restaurant style steak! You can do this!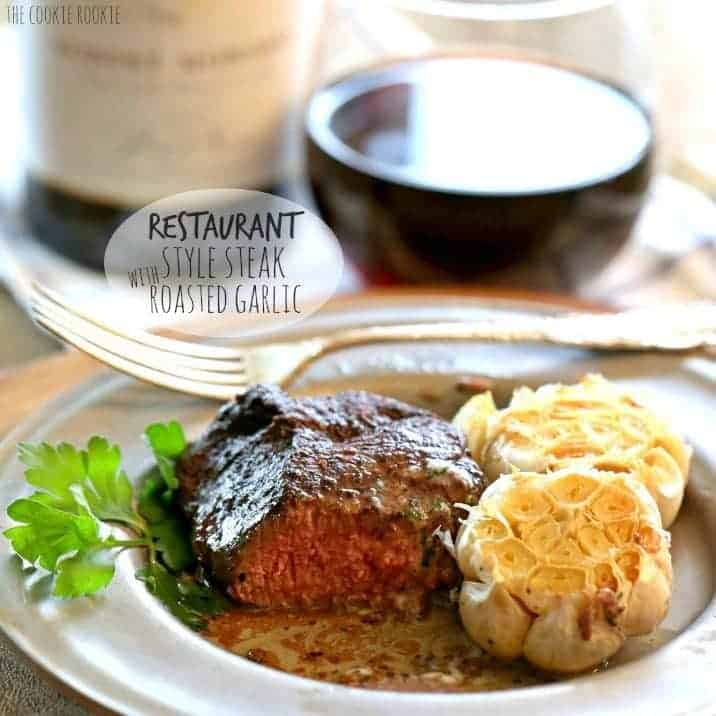 It isn't Valentine's Day to me without a delicious steak.  In the past, we would try out a new restaurant every year and spend WAY too much money.  This year, I'm trying to recreate my favorite meal at home.  I've found the trick, and I can't wait to share it with you!
Restaurant Style Steak with Roasted Garlic and Cilantro Butter at home is not only possible, but is much easier than I thought!
And cheaper.  Much cheaper.  Happy Valentine's Day!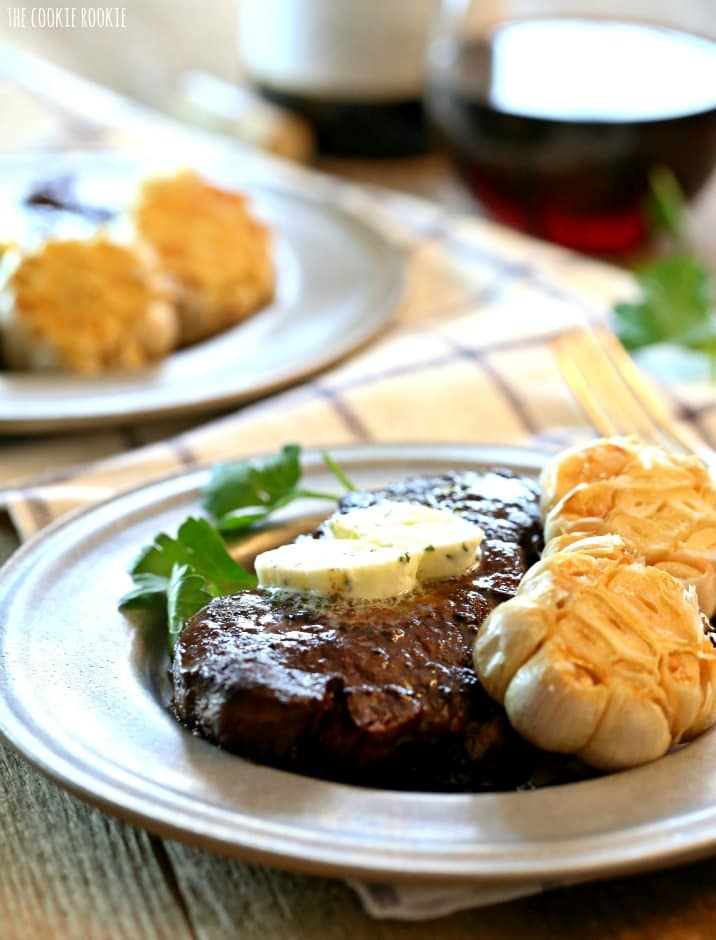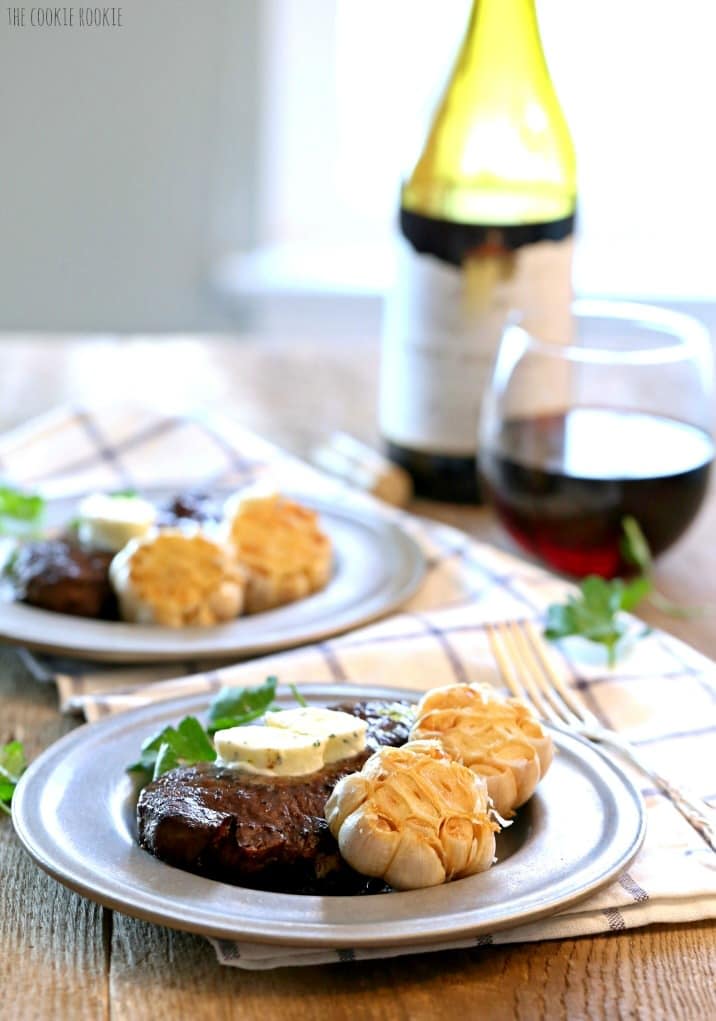 Yesterday I posted about how to roast garlic to make the perfect side dish.  It's a must for any restaurant steak at home.  Be sure to check out that recipe HERE. But enough of the side dishes.  Let's talk steak.  Filet Mignon.  My favorite.  I've never made it at home until now, and it was so worth it.  So much cheaper than Ruth's Chris, but just as delicious.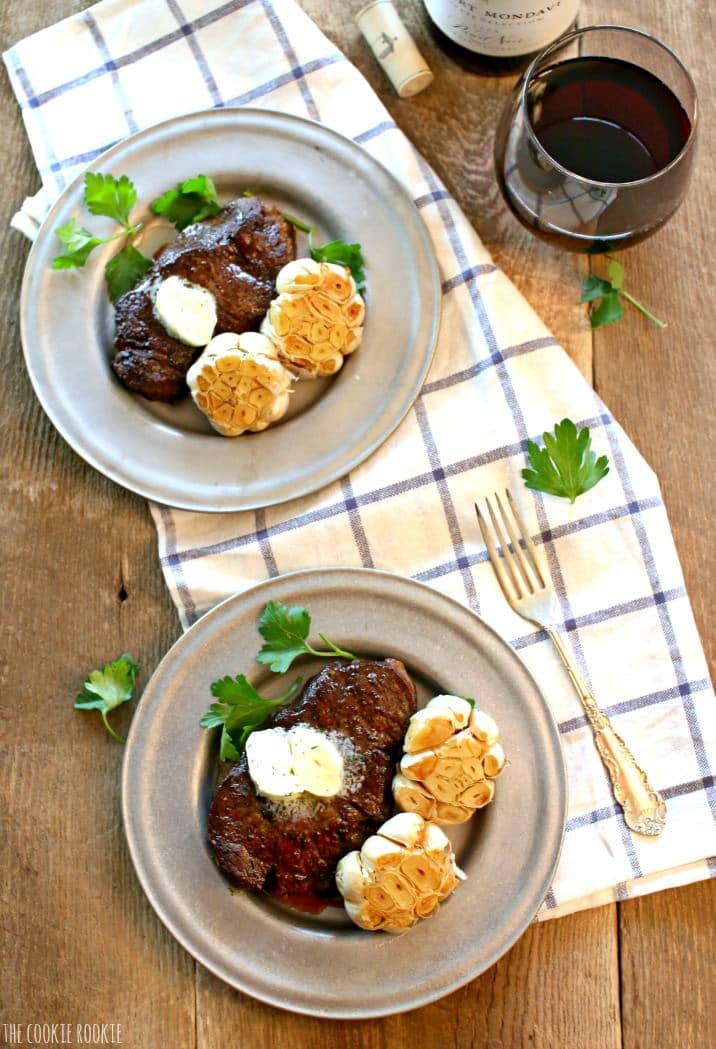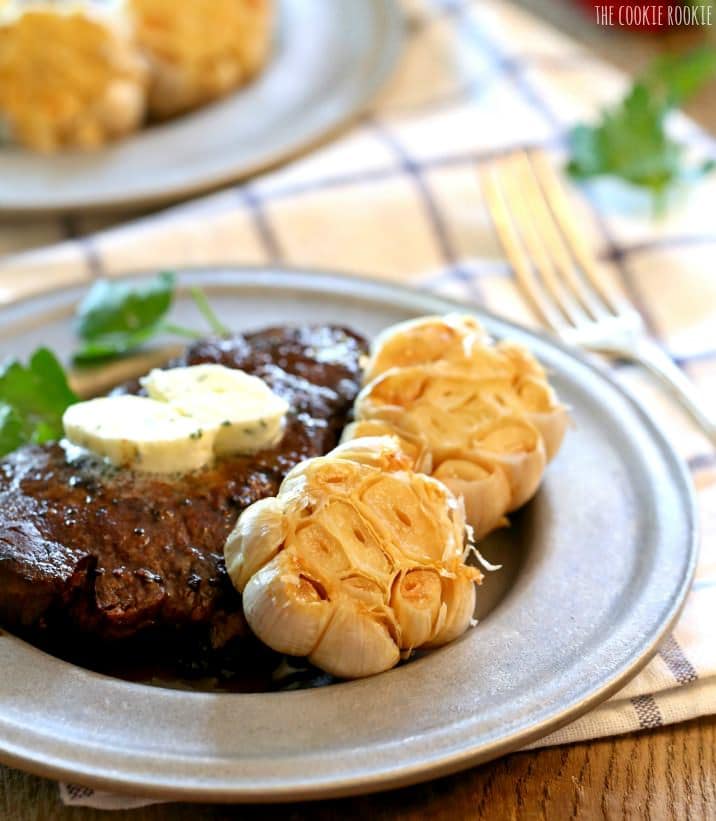 I adapted this amazing recipe from a great blog, Whit's Amuse Bouche.  She has a great post with easy to understand instructions.  I made a few changes (CILANTRO BUTTER!!!), but mostly stuck to her steps.  This type of meal was new to me and I wanted to get it right.  Her recipe is perfection!  Click HERE to see her post.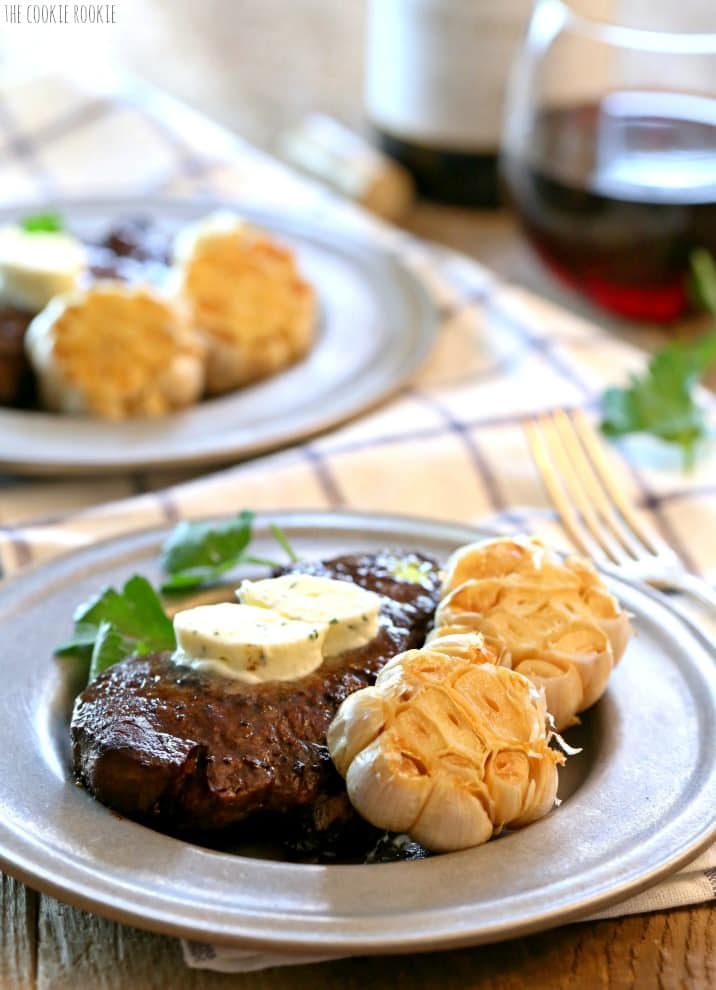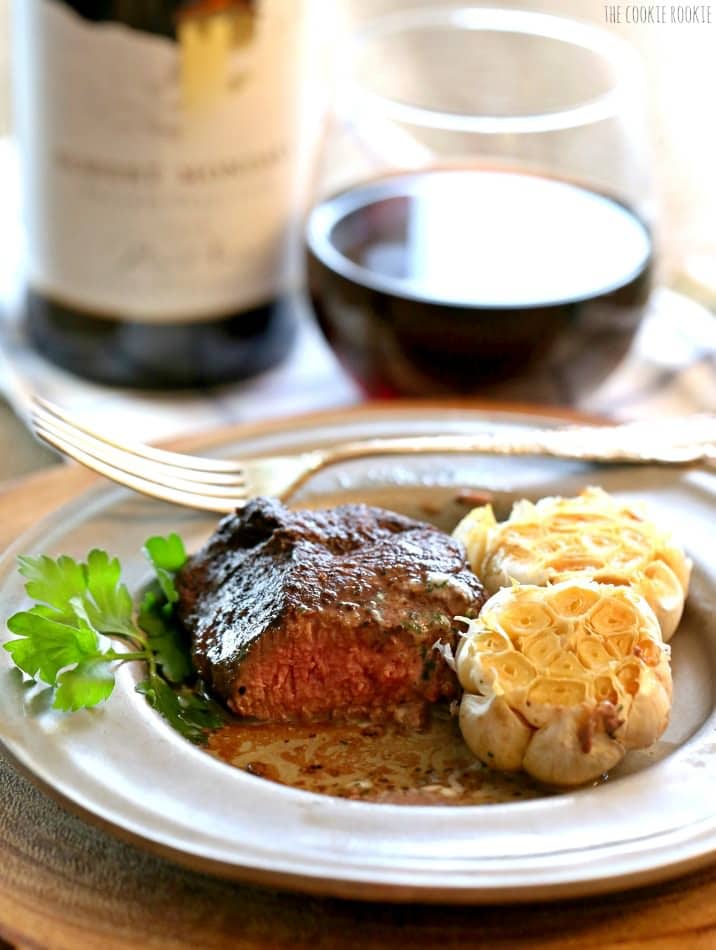 Happy Valentine's Day Loves!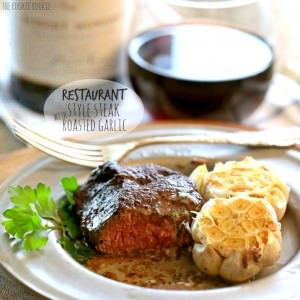 Restaurant Style Steak with Roasted Garlic and Cilantro Butter
Ingredients
2 8

ounce

filet mignons

worth the splurge!

4

teaspoons

salt

4

teaspoons

pepper

1

stick unsalted butter

2

cloves

minced garlic

prepared

1

tablespoon

olive oil

2

tablespoons

fresh cilantro

chopped
Instructions
Mix 1/2 stick softened butter with the garlic and cilantro. Roll into a log on plastic wrap and refrigerate.

Preheat your oven to 400F.

Season each filet on both sides with salt and pepper. You want about 1 teaspoon of seasoning per side. It may seem like a lot, but just trust me :)

Heat the remaining 1/2 stick of butter and the olive oil in a skillet (cast iron works best but isn't required) to a screaming hot temperature. Sear the filets in a screaming hot pan for about 2-3 minutes per side, or until a nice brown crust has formed.

While the steak is searing, spoon the butter and oil over each filet to give it a butter bath as it cooks. (yum)

Once both sides are seared, transfer the steaks to a baking sheet and cook for 6-8 minutes in the center of your oven.

Your steak will be medium rare when it is approximately 135 degrees in the center, or when you push lightly on the top center of the steak and it gently and slowly bounces back. I think this is the BEST way to eat your steak. You get the most flavor if it isn't over cooked. If you prefer a more well-done steak, you can cook a few minutes longer.

Place a slice of cilantro butter on top of your steak prior to serving, while it's still hot. The butter will melt and make the steak extra delicious!

Enjoy!