Beef Stroganoff Casserole is such an easy weeknight meal, sure to please both kids and adults alike! This is an easy way to make a classic recipe and it's so yummy.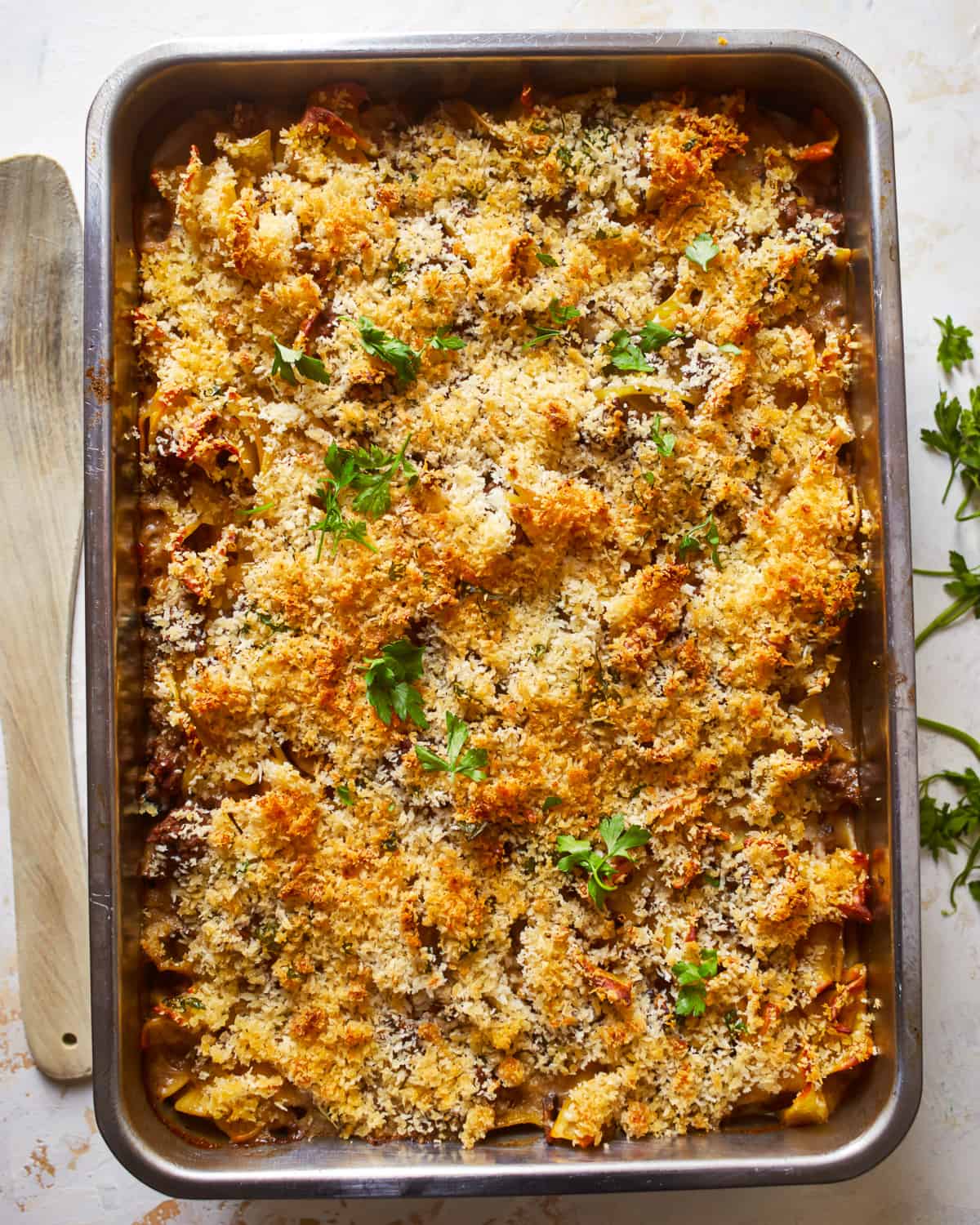 What's in Ground Beef Stroganoff Casserole?
This beef stroganoff casserole is especially awesome because it feels like a meal and a side dish in one. Meat, pasta, veggies, all cooked together in one dish! It feels like home and it's oh-so simple. There's so much to love about this recipe.
Ground Chuck: A fattier, juicier version of regular ground beef. I prefer it for its richer flavor.
Yellow Onion: Adds an earthy sweetness to the dish.
Cremini Mushrooms: Add a delicious umami flavor to the dish.
Garlic: Adds an earthy flavor and a pungent aroma.
All-Purpose Flour: Helps thicken up the sauce.
Broth: Chicken broth and beef broth make up the base of the sauce. I like the combination of both flavors, but you can use one or the other if you prefer.
Sour Cream: Makes this dish creamy and tangy.
Ranch Dressing: Adds a tangy, zesty flavor to the dish and additional creaminess.
Salt + Pepper: Enhance the natural flavors of the dish.
Cooked Egg Noodles: Soak up all that delicious sauce to create a rich, filling casserole.
Panko Breadcrumbs: Create a crispy, crunchy topping.
Unsalted Butter: Helps bind the topping together and allows it to brown nicely.
Parsley: Adds a pop of freshness and color.
Pro Tip: You can assemble the casserole a day in advance and add the topping just before baking!
Variations on Baked Beef Stroganoff
It's easy to adapt this recipe to suit your personal tastes. For a vegetarian version, you can use all mushrooms and vegetable broth. You can also swap out the beef for ground chicken, pork, or turkey. You can also add a variety of chopped veggies, like bell peppers, peas, carrots, or zucchini.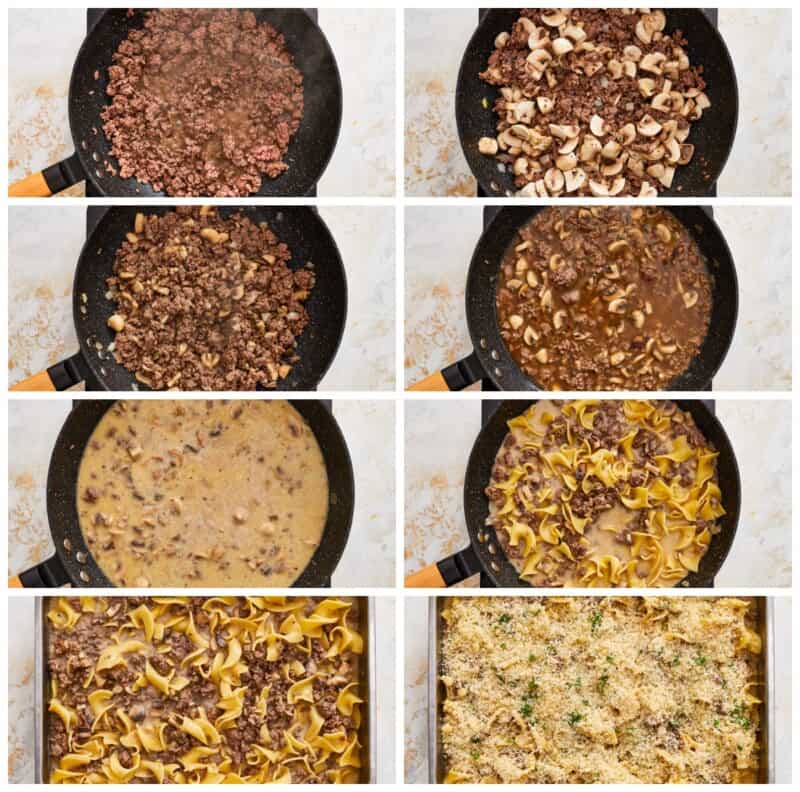 What cut of meat is best for beef stroganoff?
For this recipe, I chose to use ground meat for a more uniform casserole. I like ground chuck, but regular ground beef also works.
Is Hamburger Helper beef stroganoff?
It's definitely similar. Hamburger Helper is a ground beef and pasta casserole, but it is flavored differently and also includes cheese!
What is beef stroganoff sauce made of?
This creamy sauce is made from onions, broth, sour cream, and ranch dressing.
What can I use to thicken beef stroganoff?
All-purpose flour is a great thickener for stroganoff. Simply use it in the recipe as directed.
How do you keep sour cream from curdling in beef stroganoff?
To keep the sour cream from curdling, make sure it is at room temperature, and first add a bit of the hot mixture to the sour cream and stir. Then, stir the now-warm sour cream mixture back into the casserole. This will temper the mixture and prevent curdling.
Why does my stroganoff taste sour?
The sour flavor is likely from the sour cream. If you're not a fan of that, you may want to use heavy cream or cream cheese instead!
Why is my beef stroganoff runny?
If your stroganoff casserole is runny, it's likely that either too much liquid was added or not enough flour was used to thicken it up. Make sure to measure accurately for the best results.
How to Store and Reheat
Store leftover beef stroganoff casserole tightly covered with aluminum foil in the refrigerator for up to 4 days. Reheat in a 350°F oven for 20-30 minutes, or until warmed through.
How to Freeze
Freeze beef stroganoff casserole tightly covered in 2 layers of plastic wrap and 1 layer of aluminum foil for up to 3 months. Remove plastic wrap and bake directly from frozen for 1 hour, or until warmed through.
Serving Suggestions
Serve this tasty casserole with a fresh chopped salad and some Dutch oven bread. Some roasted Brussels sprouts or crockpot glazed carrots on the side would be delish!
5-Star Review
"This is our fourth recipe from this site, we have enjoyed each one!!! Thank you for sharing." – Heather Bartley
More Beef Stroganoff Recipes We Love