This delicious Beef Stroganoff is one tasty comfort food recipe. Made with sliced ribeye steak, the creamy mushroom and onion sauce is perfectly rich. Best served over egg noodles.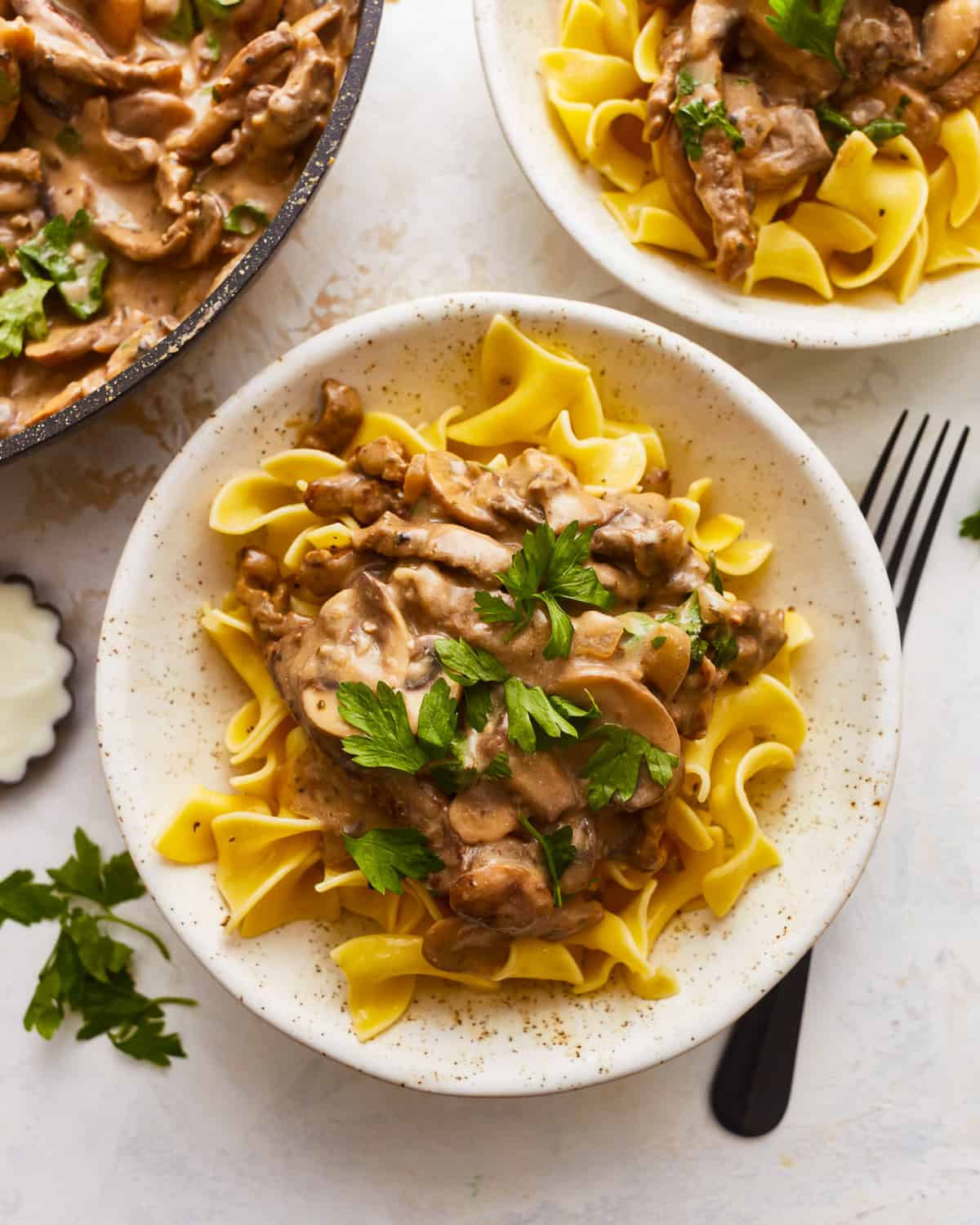 What's in this Beef Stroganoff Recipe?
Steak strips are cooked in a sour cream sauce that's seasoned with mushrooms and white wine, and it's perfectly tangy thanks to Dijon mustard and Worcestershire sauce.
Ribeye: A flavorful cut of beef that's typically used in beef stroganoff. It becomes tender and absorbs the flavors of the sauce during cooking.
Salt + Pepper: Enhance the natural flavor of the beef.
Olive Oil: Helps the beef sear, creating a brown crisp crust.
Unsalted Butter: Adds richness and flavor.
Cremini Mushrooms: Provide umami flavor and a meaty texture to the dish.
Yellow Onion: Add a touch of earthy sweetness to the sauce.
Garlic: Adds an earthy flavor and a pungent aroma.
Dry White Wine: Deglazes the pan and adds acidity to balance the sauce.
All-Purpose Flour: Thickens the sauce to create a velvety texture.
Sour Cream: Adds creaminess and tangy flavor to the sauce.
Dijon Mustard: Adds a hint of tanginess and depth to the sauce.
Worcestershire Sauce: Adds a sweet and tangy umami flavor to the sauce.
Italian Seasoning: A blend of herbs that adds depth to the dish.
Beef Broth: Creates a savory base for the sauce.
Egg Noodles: A hearty companion to this rich beef dish.
Pro Tip: To make the steak easier to slice, you can place it in the freezer for 30 minutes to chill it.
Variations on Easy Beef Stroganoff
This homemade beef stroganoff is easy to adapt! For a vegetarian version, replace the beef with an assortment of mushrooms and swap out the beef broth for vegetable broth. You can also swap out the beef for a different protein, like chicken breasts, pork tenderloin, turkey breast, or even seafood (shrimp or scallops are delish!).
Add a little heat to the dish with chili flakes, or enhance the richness by adding in some caramelized onions or red wine.
What is the difference between beef stew and beef stroganoff?
A stew is more liquid and often contains more vegetables. It's cooked in a large pot until the beef is tender. Stroganoff is creamy and the sauce is thicker. We use strips of steak that cook more quickly.
What is beef stroganoff sauce made of?
The rich sauce is made from onions, mushrooms, garlic, white wine, beef stock, flour, sour cream, Dijon mustard, Worcestershire sauce, Italian seasoning, and beef broth.
What cut of meat is best for beef stroganoff?
I like to use ribeye steak for this recipe, it's sliced thinly so that it cooks quickly. Other thick steaks like sirloin will work well.
Can I use ground beef instead?
This recipe will work well with ground beef. Brown it in the skillet first, like the steak, and then add it back to the sauce at the end of cooking.
Will sour cream thicken my beef stroganoff?
Sour cream does not act as a thickening agent in this recipe, although it will thicken up the sauce a little bit. The main thickening agent here is all-purpose flour!
How do you keep sour cream from curdling in beef stroganoff?
It's important to add the sour cream late in making the sauce, but I also recommend taking the sauce off the heat and stirring constantly as you add the sour cream to help prevent curdling. You can also stir a little bit of the warm sauce into the sour cream, then pour the whole thing back into the sauce to help temper the mixture.
Why does my stroganoff taste sour?
The sourness comes from acidic ingredients like wine and sour cream. If you find that your sauce is too acidic, you can temper it by adding some heavy cream, sugar, or caramelized onions.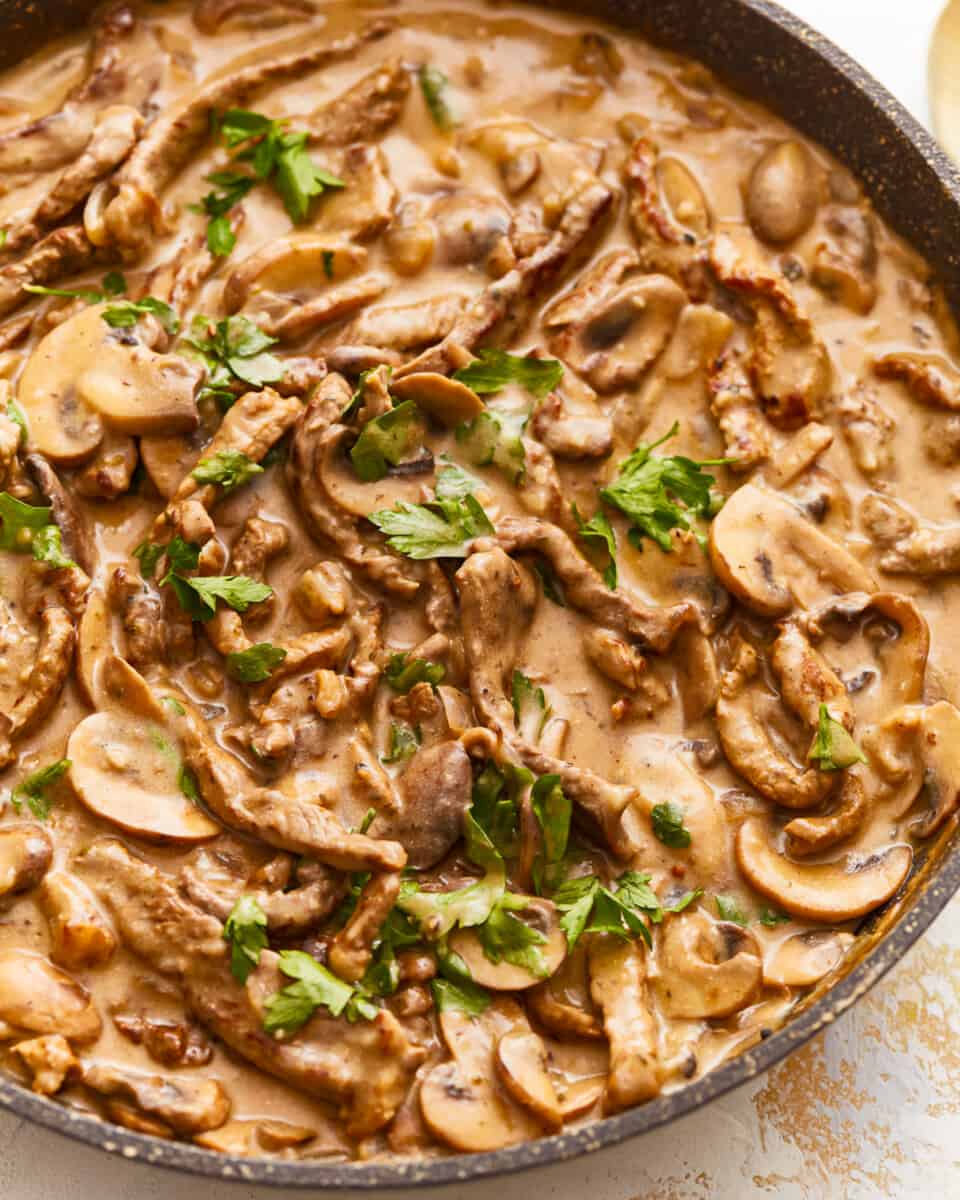 How to Store and Reheat
Store leftover beef stroganoff in an airtight container in the refrigerator for up to 4 days. Reheat in a saucepan set over medium-low heat or in the microwave in 30-second increments until warmed through.
How to Freeze
Beef stroganoff makes for a great freezer meal. Let it cool fully before storing it in an airtight container or freezer bag. It will keep well for 3 months. Thaw in the fridge overnight before reheating.
Serving Suggestions
Spoon your beef stroganoff on a bed of egg noodles for a traditional take. You can also serve it with white rice or mashed potatoes and a simple vegetable side like Baked Green Beans, Roasted Broccoli, Red Wine Glazed Carrots, or Roasted Vegetables.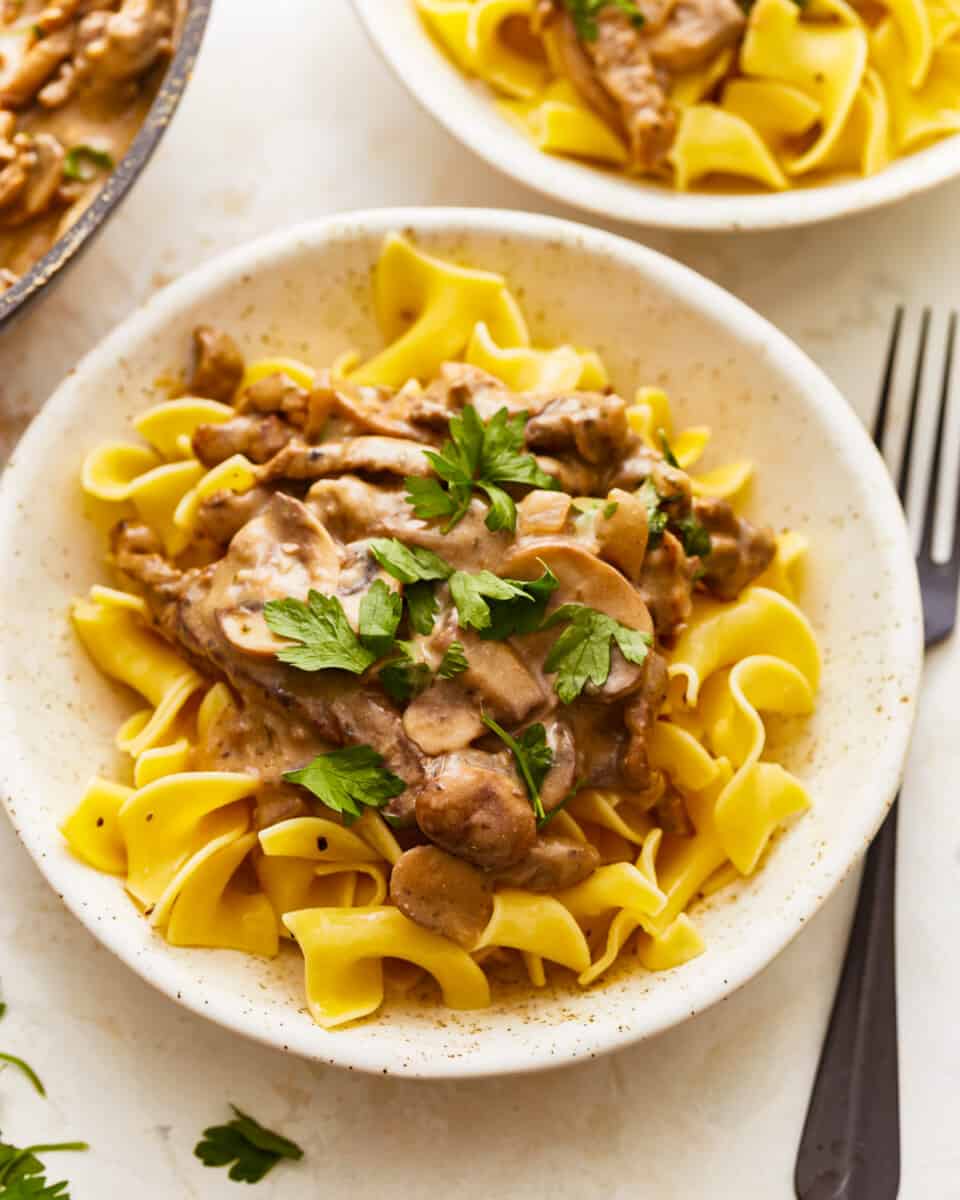 5-Star Review
"Delicious! Made this recipe with braised cabbage & garlic bread. The flavors of the beef stroganoff are so rich and it has the perfect creamy texture. I will be putting this on our dinner rotation for sure!" – Naomi Howard
More Beef Stroganoff Recipes We Love