We just love this Mexican Chicken Skillet meal. This one-pan enchilada stuffed chicken breast is a family favorite! Chicken stuffed with rice, enchilada sauce, cream cheese, tomatoes, and more cheese. You've never had a meal this good!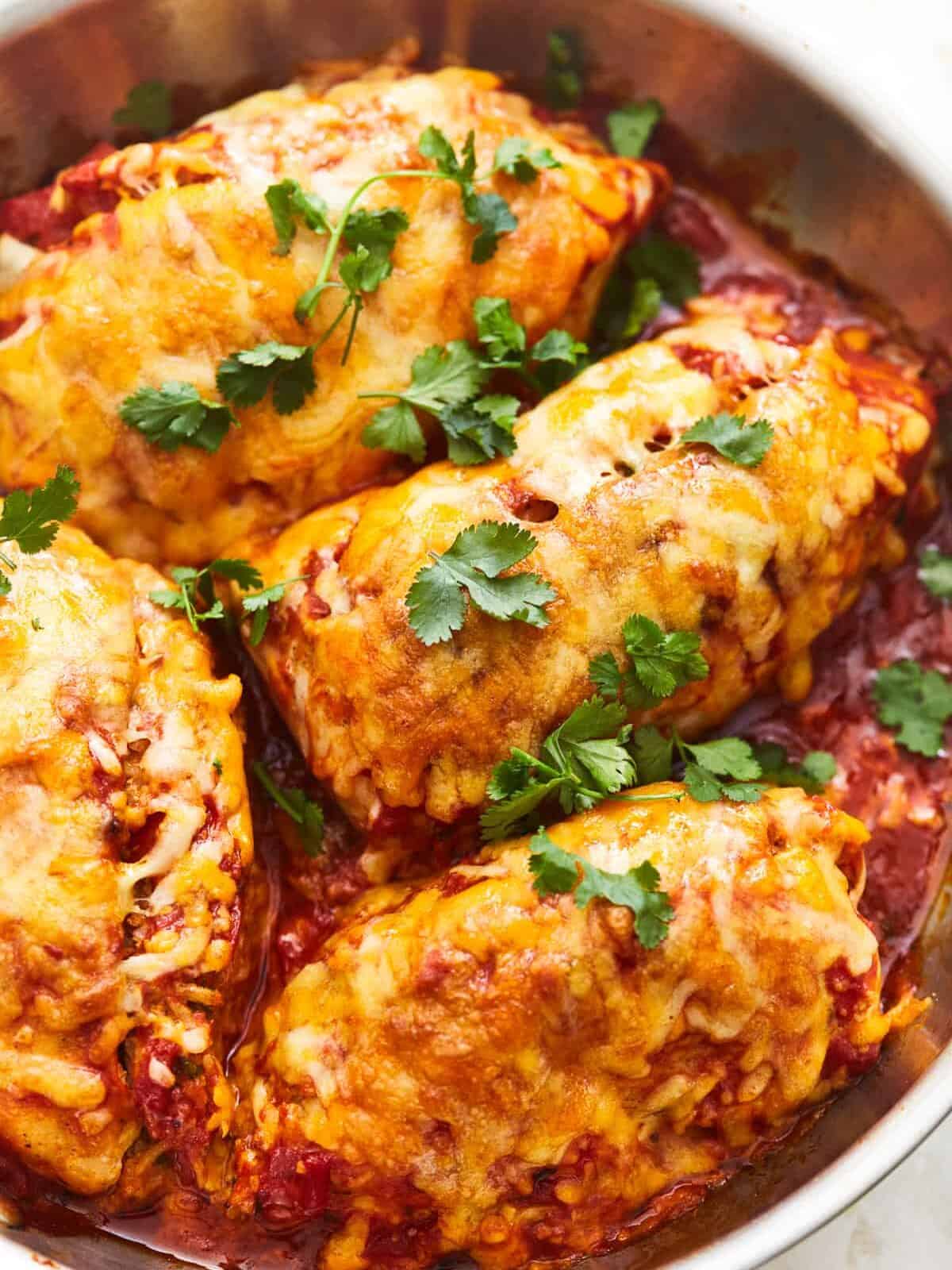 What's in this Mexican Chicken Skillet?
This Enchilada Stuffed Chicken Skillet was one of those recipes that hit me late and night. Let's be honest, I always have Mexican food on my mind, even in the middle of the night. I had never thought about stuffing a chicken breast with everything I love about enchiladas (rice, cheese, cilantro, tomatoes, enchilada sauce), so this seemed like a totally genius idea.
Chicken: You'll need large boneless, skinless chicken breasts for this recipe. Thighs will not fit as much filling.
Salt + Pepper: To season the chicken. I like to use about 1 teaspoon of salt per pound of meat.
Cooked White Rice: Make sure it's still hot!
Cilantro: Adds fresh, herbaceous flavor. You can swap for parsley if you're not a fan.
Low-Fat Cream Cheese: You can use full-fat, but low-fat keeps this recipe healthier.
Taco Seasoning: Adds classic Mexican flavor. You can use store-bought or homemade.
Mexican Blend Cheese: A classic blend of cheeses for enchiladas. You can use Monterey jack, pepper jack, or mozzarella instead.
Enchilada Sauce: I like Old El Paso red enchilada sauce, but any brand will do, or you can make your own enchilada sauce.
Cherry Tomatoes: Add freshness to the filling.
Red Onion: Gives the filling a nice bite.
Olive Oil: Helps the chicken breasts to cook without burning. You can use avocado, canola, or vegetable oil instead.
Variations on Mexican Stuffed Chicken
There are a few ways to change up this recipe. You can swap the white rice for brown rice, cilantro lime rice, or Mexican rice. For a richer flavor, you can use full-fat cream cheese, or try swapping it out for sour cream.
You can swap the taco seasoning for fajita seasoning and the cheese for your favorite mix of cheeses, like Monterey jack, pepper jack, cheddar, or mozzarella. For a different flavor, you can use green or white enchilada sauce instead of red.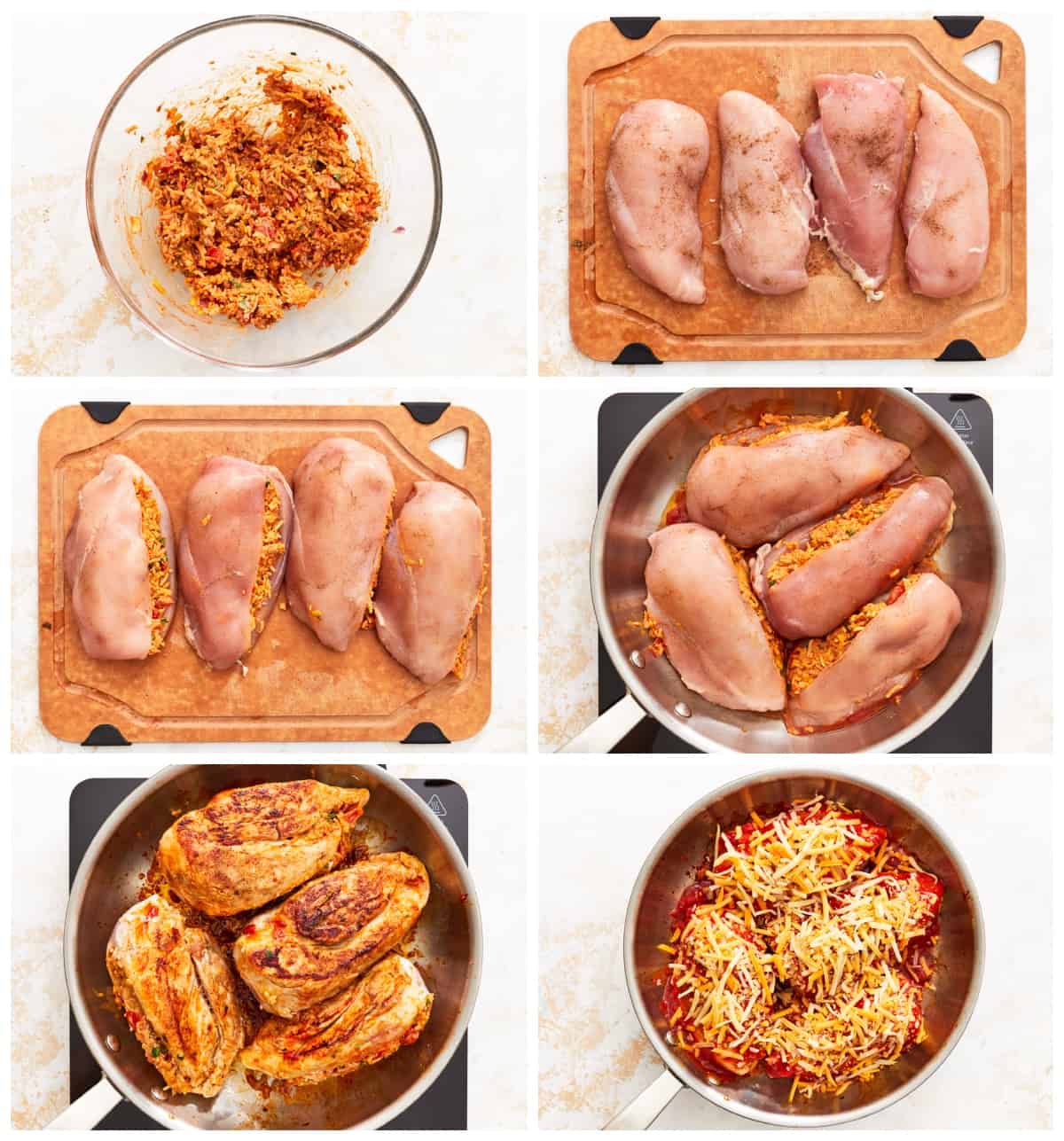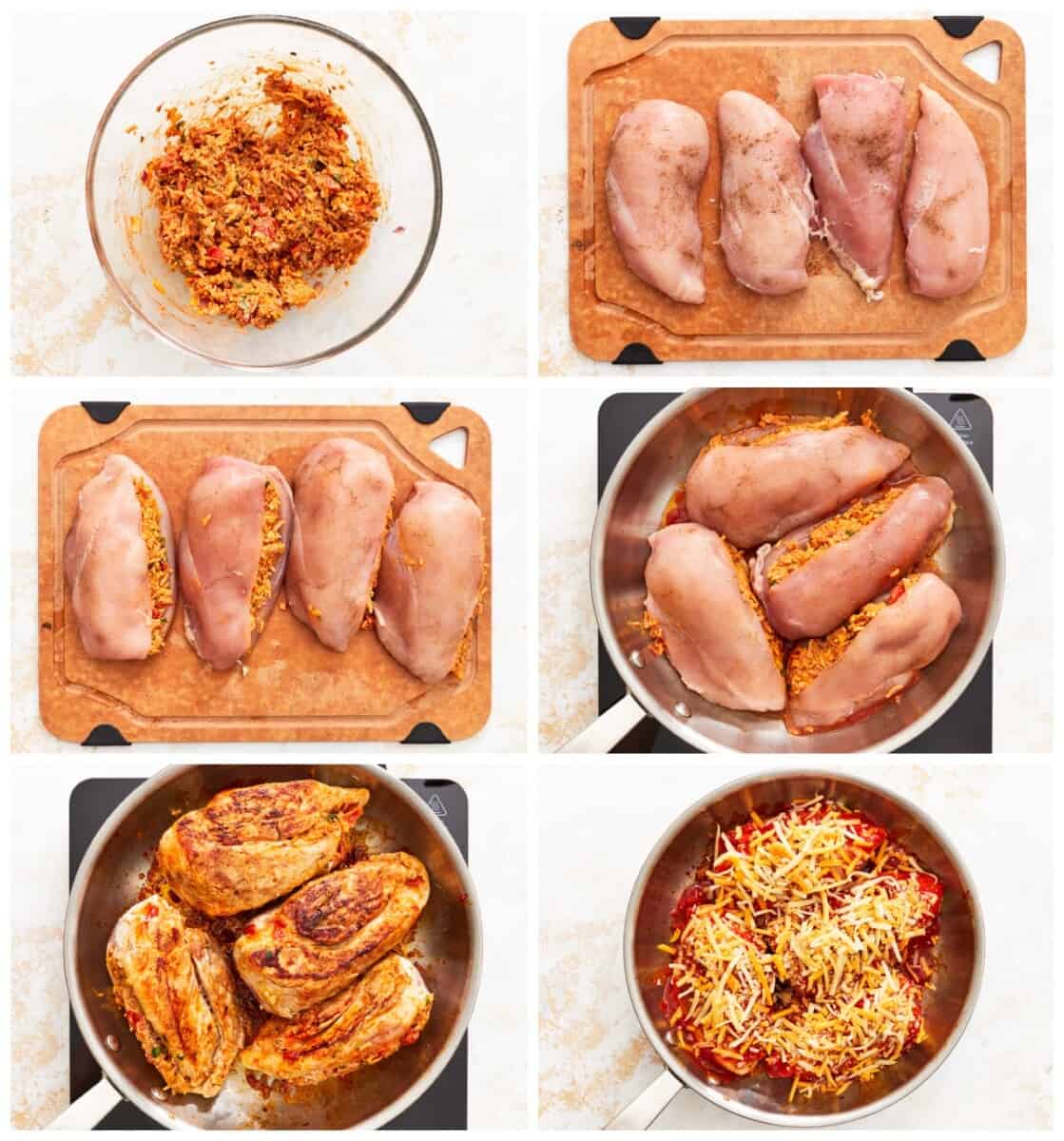 Trademark Note: In the spirit of transparency, I want to note that some of these ingredients are trademarked products. Old El Paso is a proprietary brand that I want to acknowledge and give credit to.
Why do I need hot cooked rice for these stuffed chicken breasts?
Using hot rice helps to melt the cream cheese and Mexican cheese, allowing the filling to coalesce better. If your rice is cold, either heat it in the microwave, or heat the stirred-together filling in the microwave.
Do stuffed chicken breasts cook quickly?
Since you are cutting in half and stuffing with cheese, each side of chicken is relatively thin. This means each side will cook at a shorter time than you might be used to. We found each side took about 5-6 minutes to cook all the way through (zero pink) but it's good to check your internal temperature.
What is the internal temperature for stuffed chicken breasts?
Your chicken is fully cooked when it reaches an internal temperature of 165°F. On this Stuffed Chicken Breast Recipe, be sure you are testing the temp of the actual meat, not the enchilada stuffing.
Can I make this ahead of time?
If you want to get ahead of things, you can stuff the chicken breasts up to a day ahead of time and keep them covered in the fridge.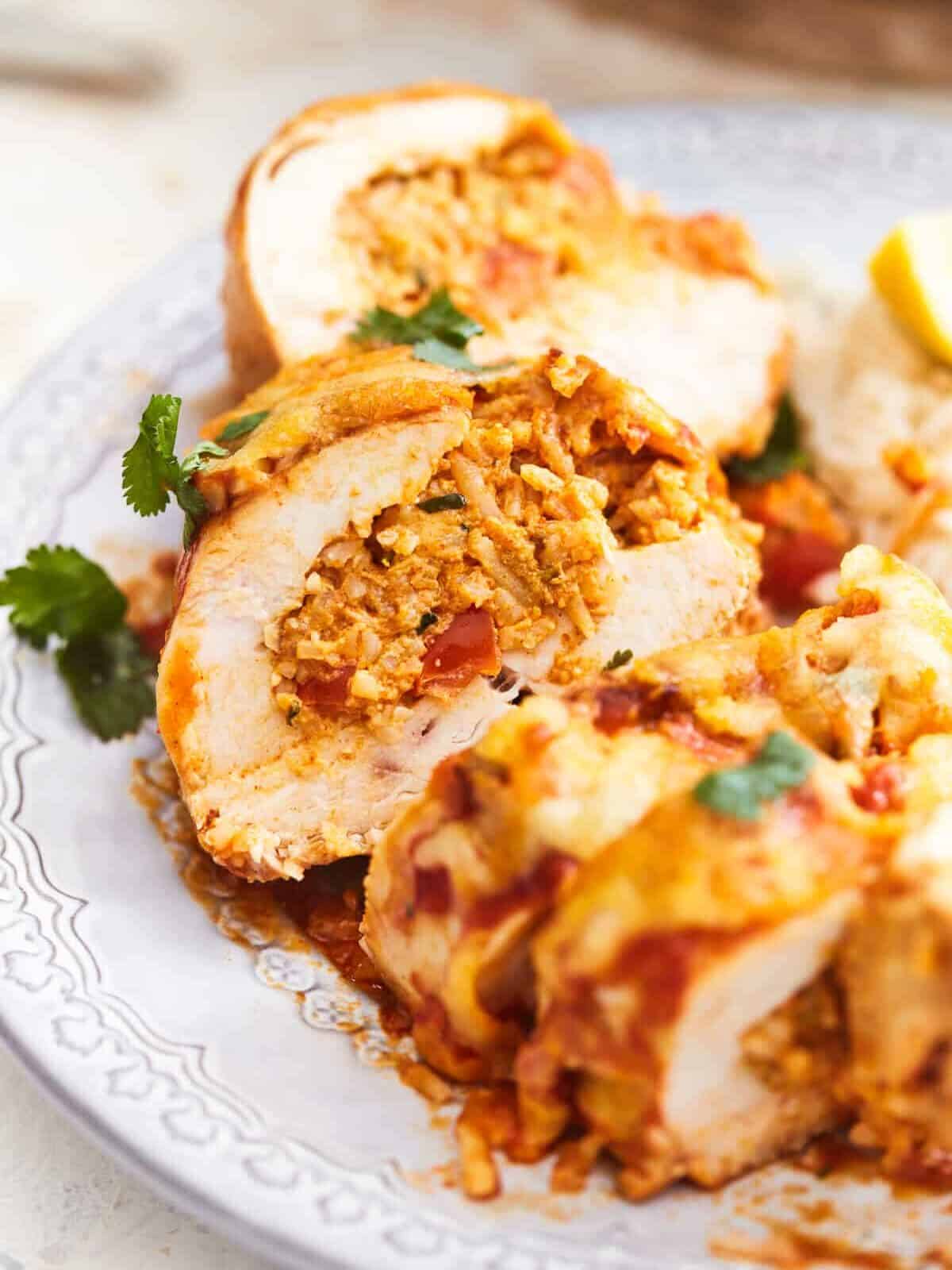 How to Store and Reheat a Mexican Stuffed Chicken Breast
Store leftover enchilada stuffed chicken breasts in an airtight container in the refrigerator for up to 3 days. Reheat in a 350°F oven for 10-15 minutes, or until warmed through.
How to Freeze Mexican Skillet Chicken
Freeze enchilada stuffed chicken breasts in an airtight container or Ziplock bag for up to 3 months. Let thaw overnight in the refrigerator before reheating.
What to Serve with a Cheesy Mexican Chicken Skillet
Serve up this enchilada stuffed chicken like they do at your favorite Mexican restaurant! Add some refried beans, this Mexican rice, and plenty of tortilla chips and salsa (I love tomatillo salsa).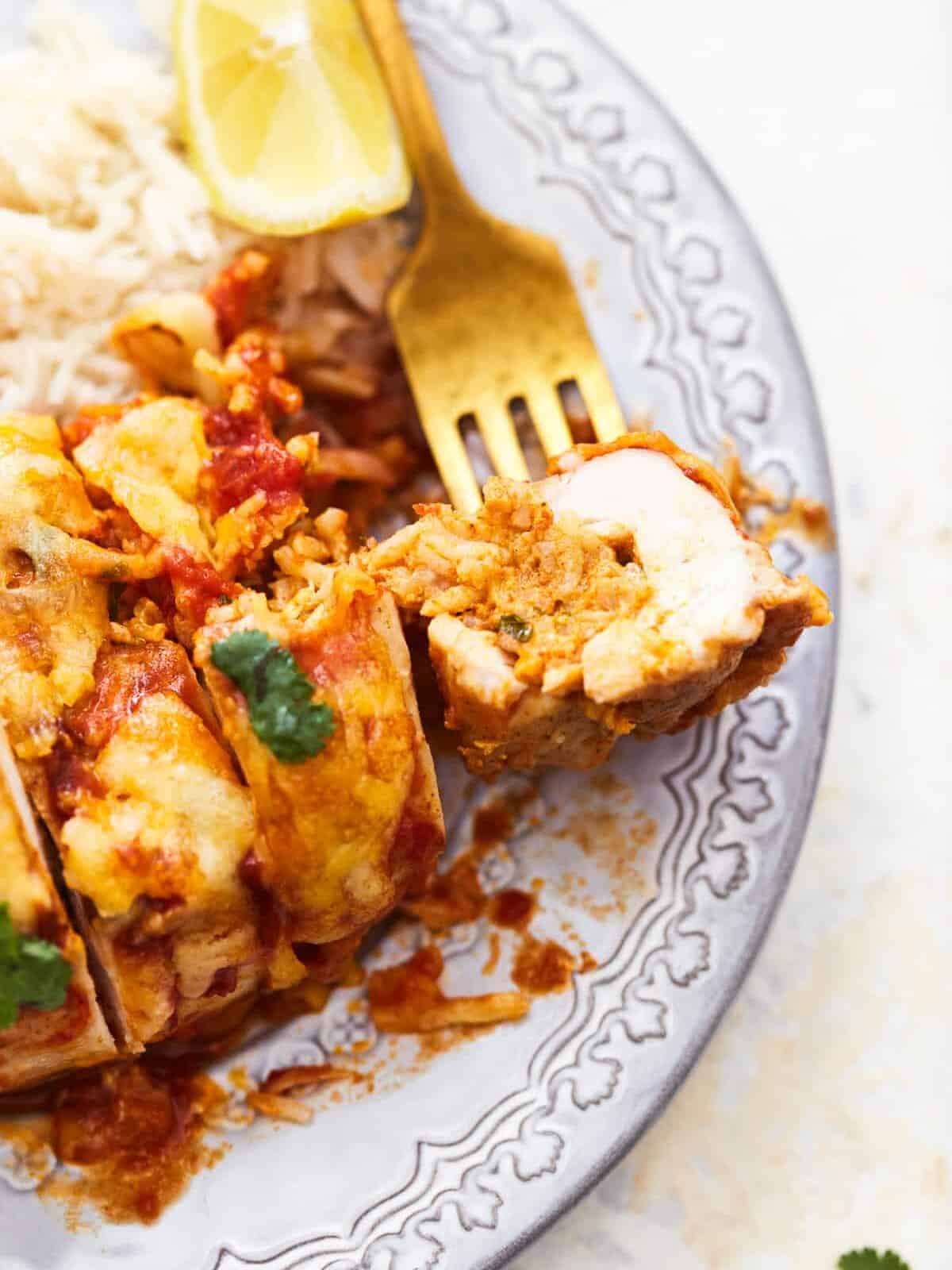 More Chicken Enchilada Recipes We Love