We just love this Mexican Chicken Skillet meal. This ONE PAN ENCHILADA STUFFED CHICKEN BREAST is a family favorite! Chicken stuffed with rice, enchilada sauce, cream cheese, tomatoes, and more cheese. You've never had a meal this good!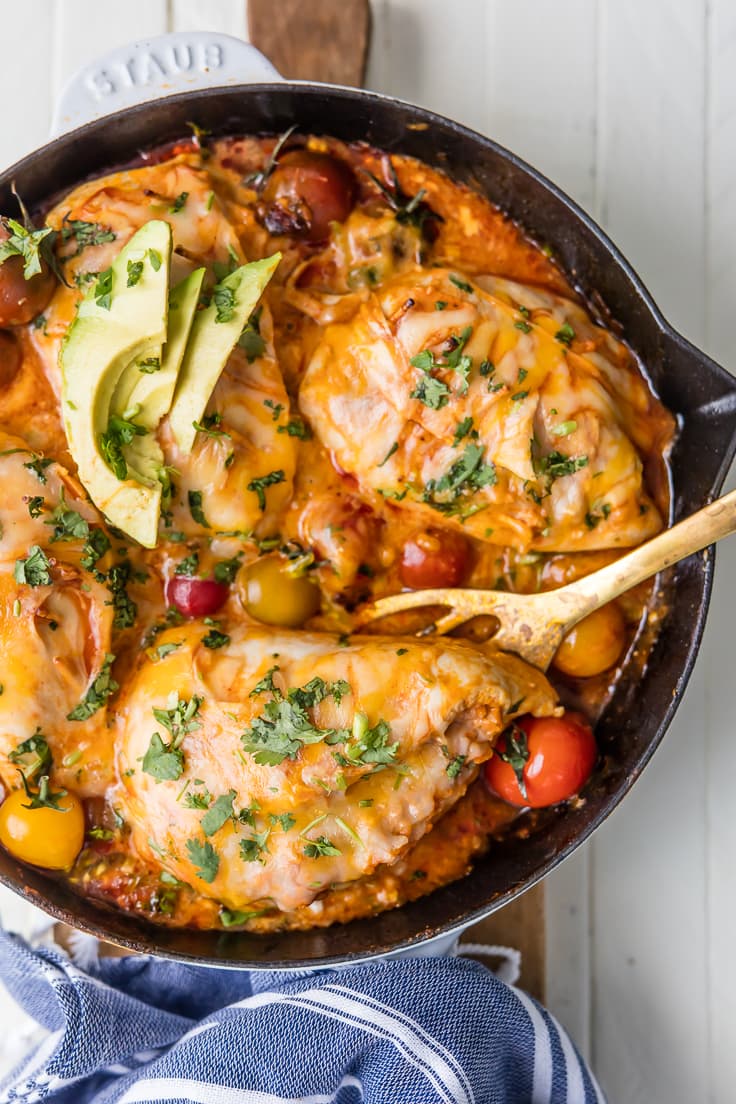 Enchilada Stuffed Chicken Breast
Stuffed Chicken Breast filled with cheese, rice, and all the best enchilada ingredients make this Mexican Chicken Skillet a family favorite!
This Enchilada Stuffed Chicken Skillet was one of those recipes that hit me late and night. Let's be honest, I always have Mexican food on the mind, even in the middle of the night. I had never thought about stuffing a chicken breast with everything I love about enchiladas (RICE, CHEESE, CILANTRO, TOMATOES, ENCHILADA SAUCE), so this seemed like a totally genius idea.
This Mexican Chicken Skillet is essentially like making Inside-Out Chicken Enchiladas. Like I said, GENIUS. A one pan meal that tastes like my favorite Mexican dish? I sat up in bed, made a note on my phone, and then researched it first thing in the morning.
I couldn't find anything quite like it on the internet, so of course I had to create it myself. I loved stuffed chicken breast recipes, so I knew I would I LOVE THIS RECIPE SO MUCH. I hope you do too! I guess I can thank my cheese-loving subconscious for coming up with it.
One skillet, all the best enchilada flavors, and a delicious weeknight meal. This recipe is an instant favorite!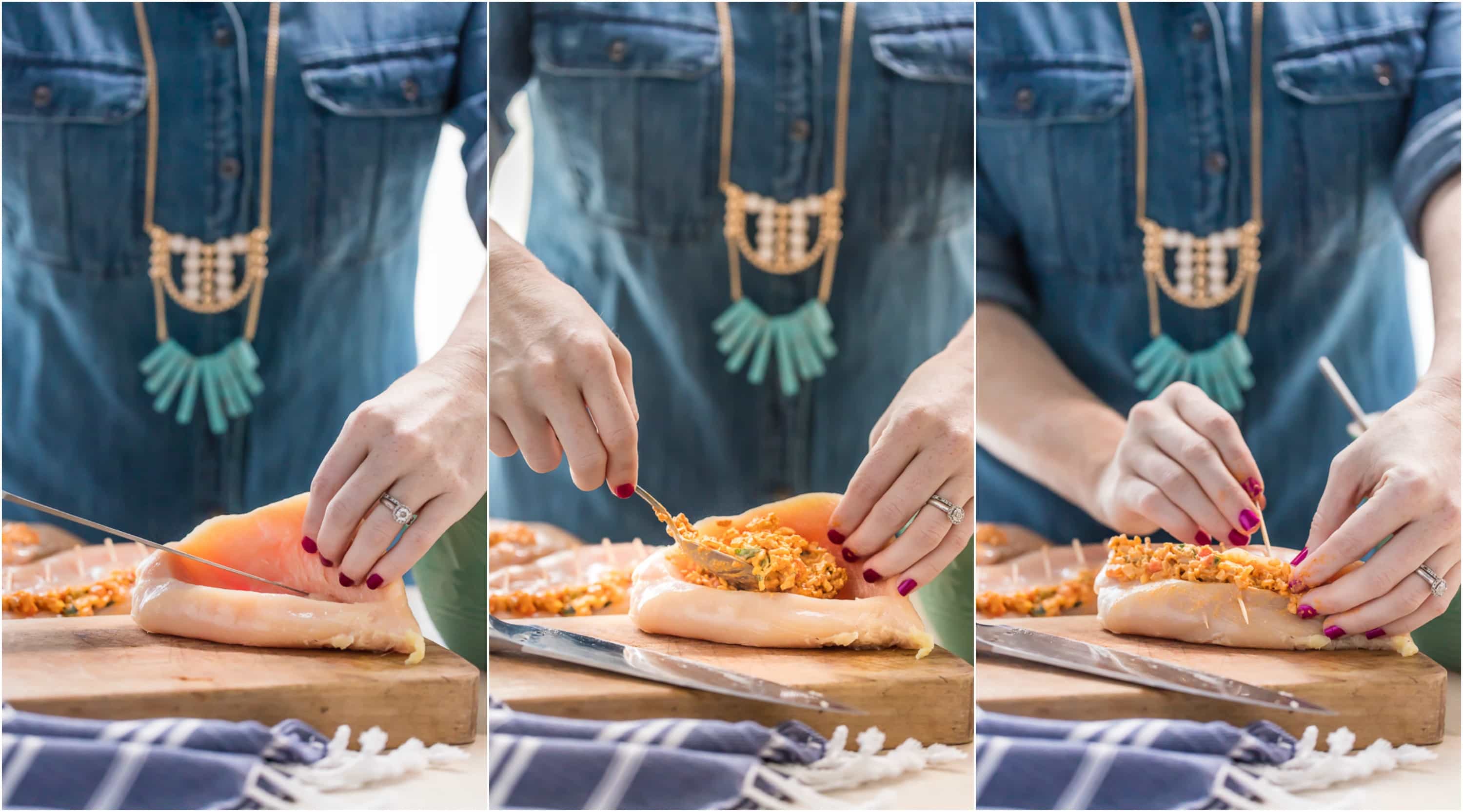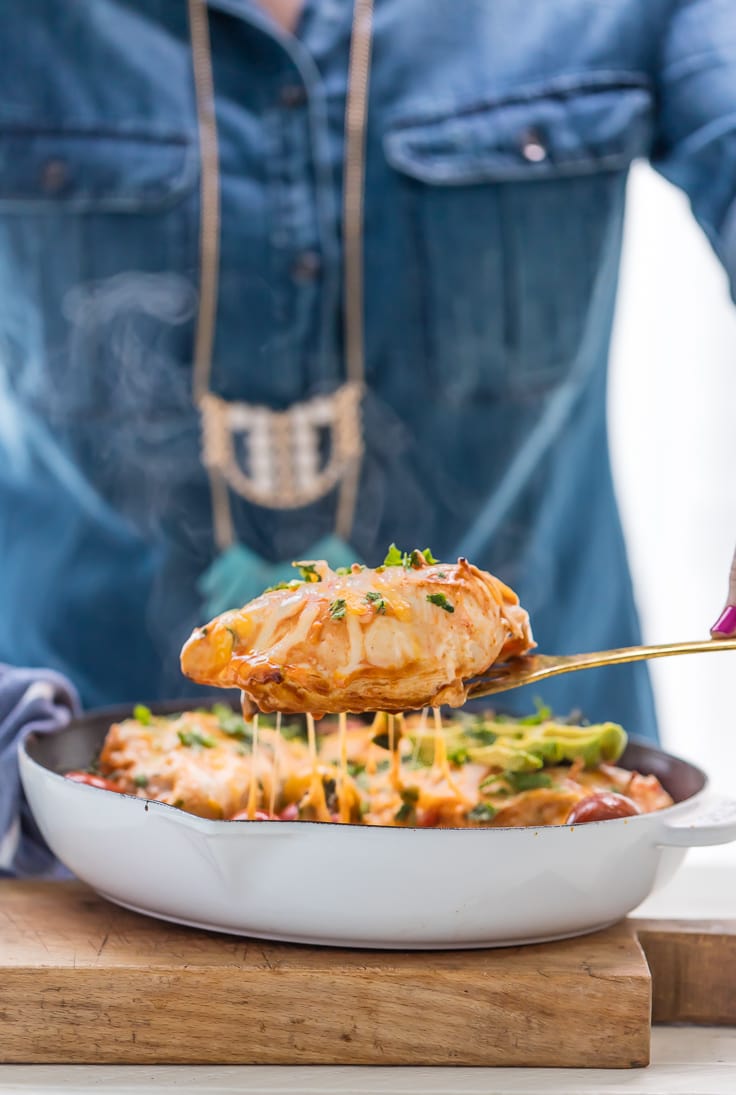 Mexican Chicken Skillet
Chicken. Cheese. Enchilada. I'm sold! I like finding every possible way to combine these things into a tasty meal, and even better when it's made in one pan. I mean, with all the chicken enchilada recipes I've made, it's not really surprising that I'd keep finding new ways to eat them.
Some favorites are:
See what I mean? It doesn't end with regular enchiladas. My brain (and taste buds) just loves this stuff! This Mexican Chicken Breast is just the latest addition.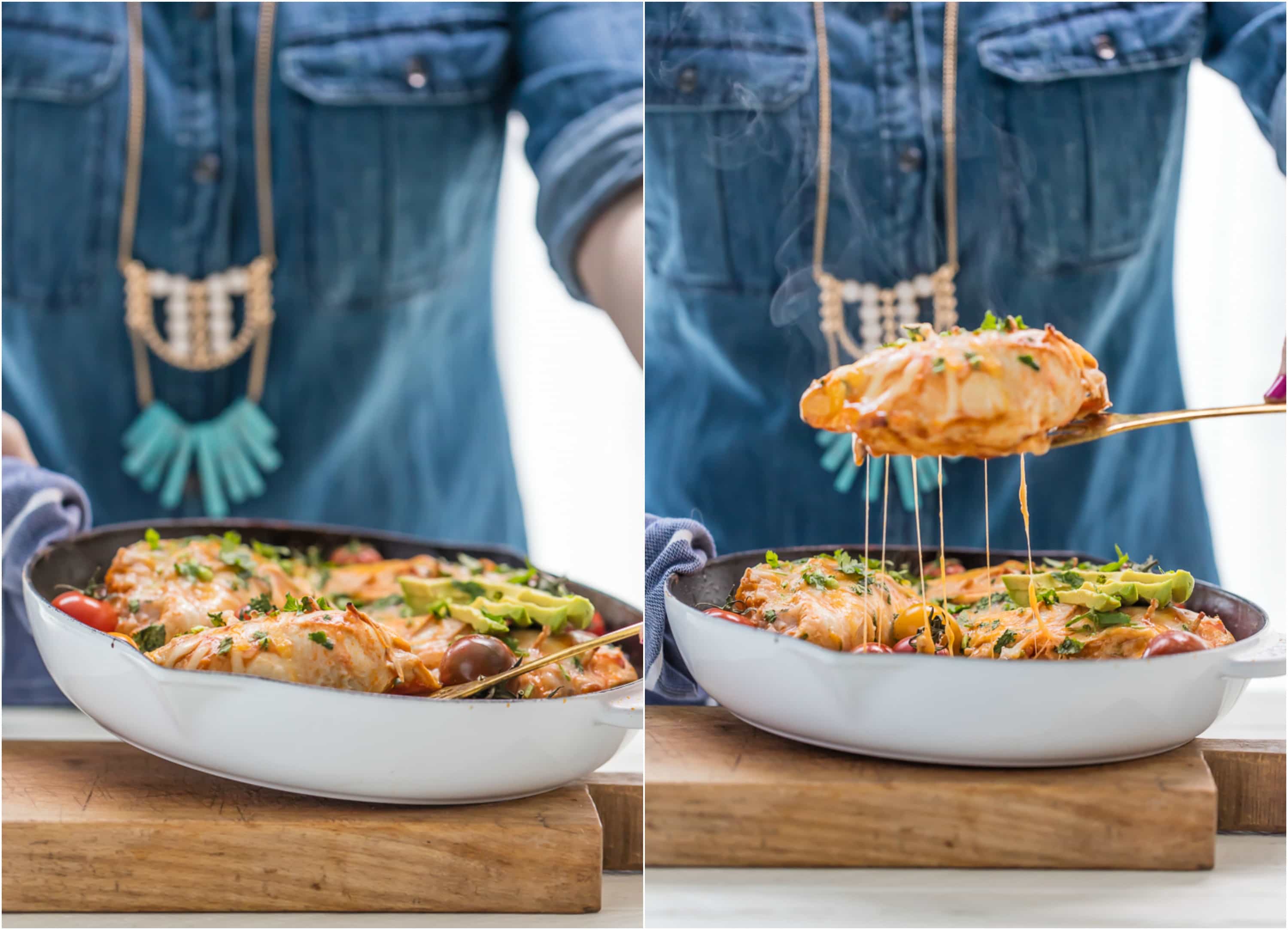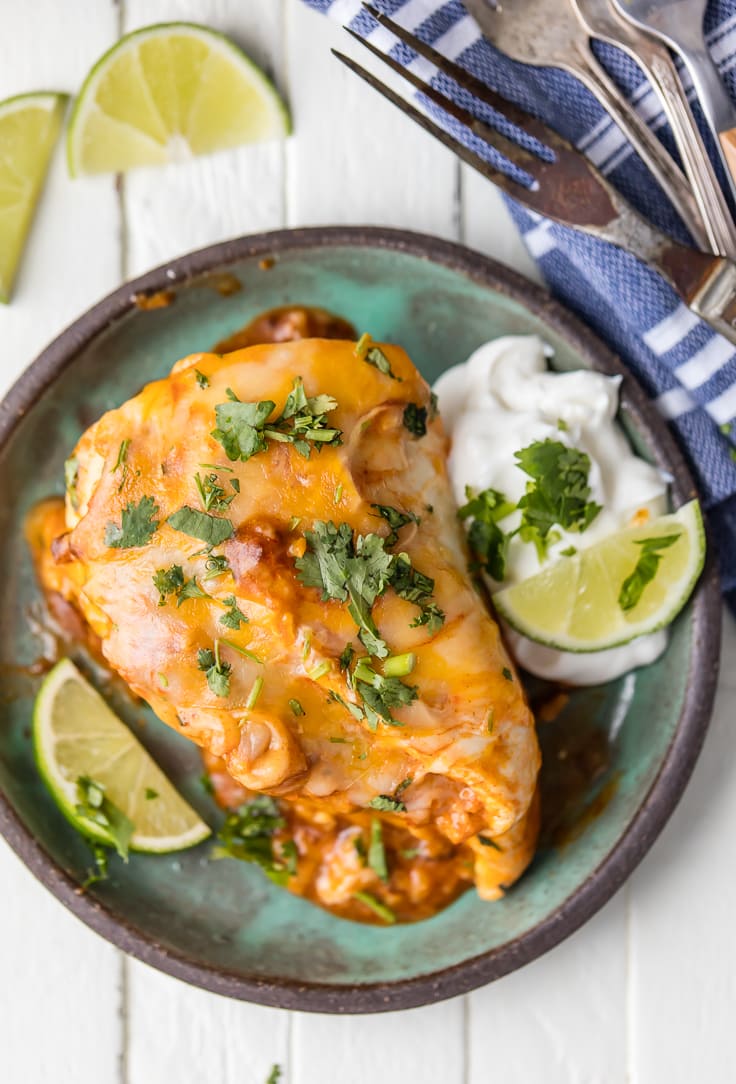 How to Make Enchilada Stuffed Chicken
This Mexican Chicken recipe is so easy to make! Here's what you do.
You stuff large boneless skinless chicken breasts with a mixture of rice, cream cheese, Mexican blend cheese, cilantro, diced tomatoes, and enchilada sauce.
You seal them with toothpicks just to keep all that good stuff inside, and then cook the chicken in a mixture of oil and more enchilada sauce in a large skillet.
Once almost done, you pour more sauce over the chicken and top with as much cheese as possible, and bake to finish the chicken.
YOU GUYS. It is SO good. The chicken is moist and tender, and when you cut into it, all that cheesy rice pours out. And it is pure heaven.
Check the recipe card for the detailed instructions. You'll have a delicious dinner ready in no time!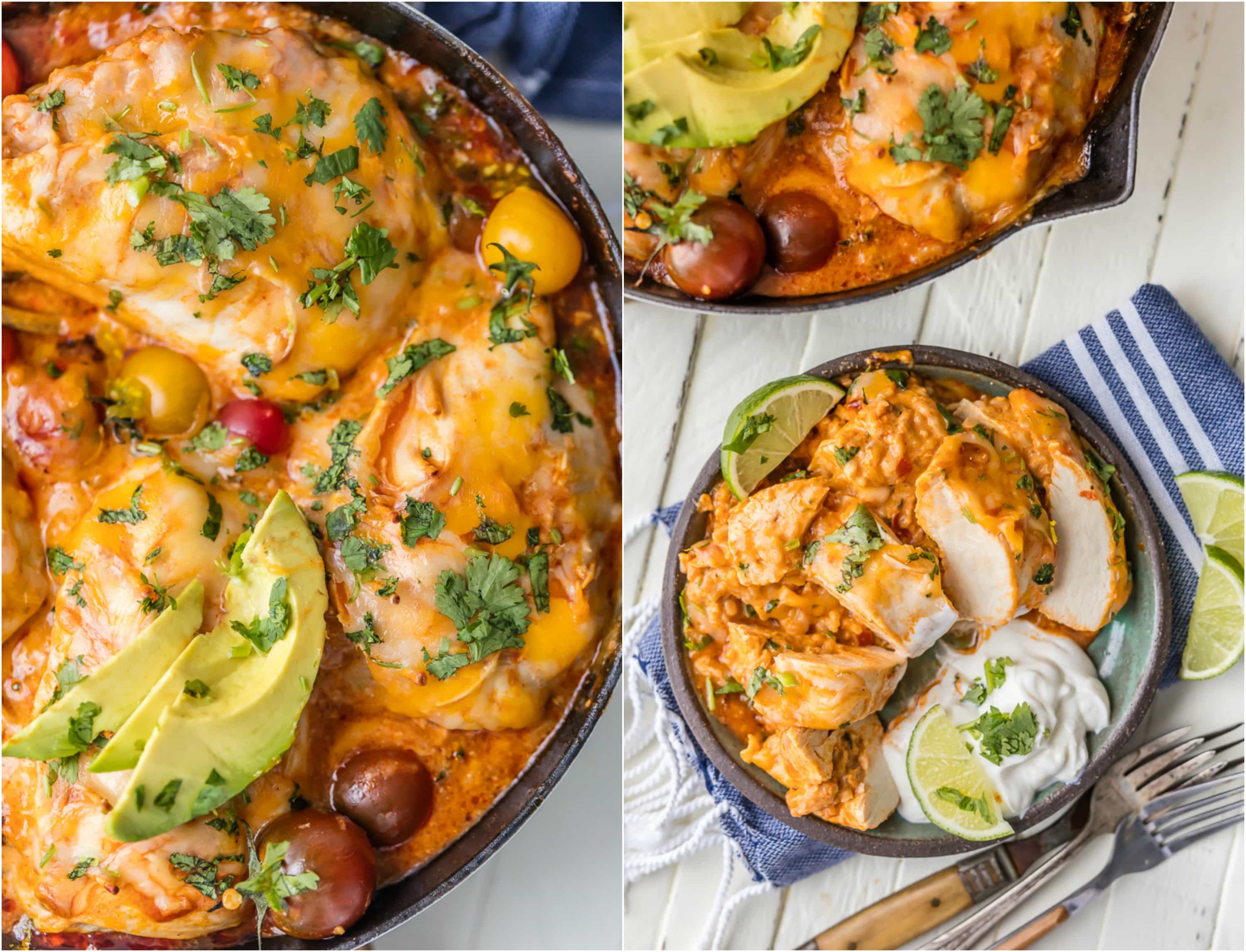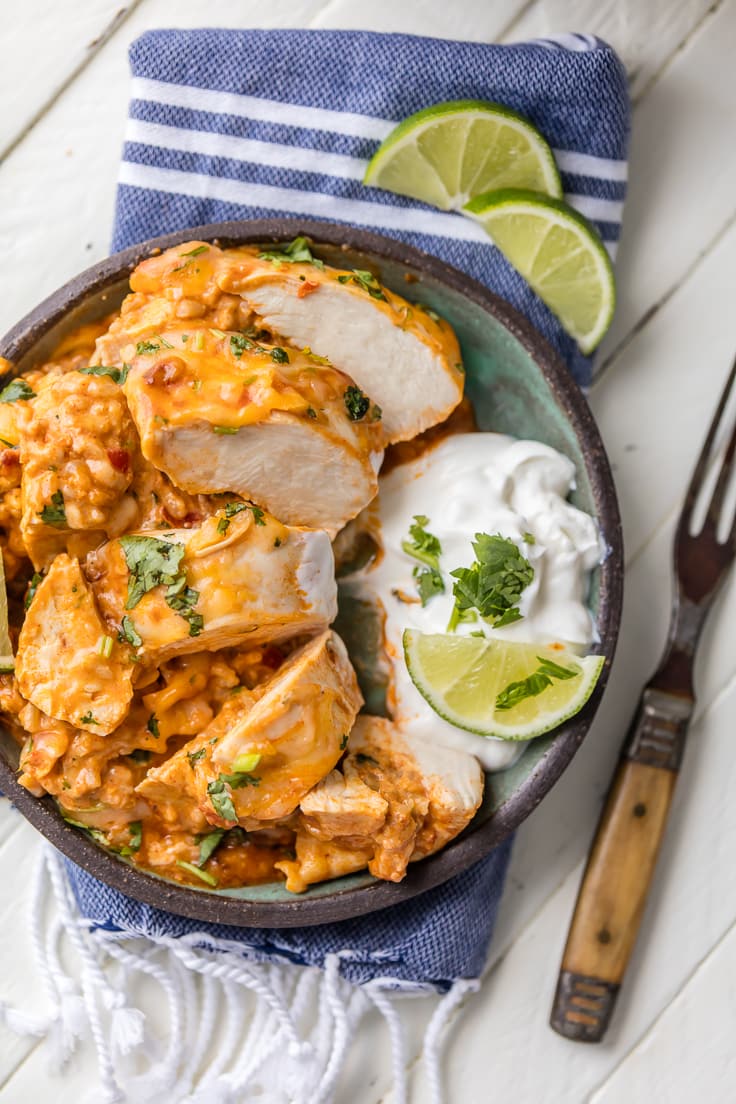 I hope you enjoy this cheesy enchilada stuffed chicken breast recipe as much as I do. (I KNOW you will!) It's so simple and so tasty, the whole family will be asking you to make it again very soon.
Check the recipe card for details on how to make Mexican Chicken. Enjoy!
Be sure to try these other cheesy chicken recipes: