Green Chicken Enchiladas are a delicious and simple meal perfect for any occasion. These salsa verde enchiladas are stuffed with chicken, salsa verde, and cheese, and topped with more sauce, cheese, onions, pico, and crema. The ultimate easy Mexican meal!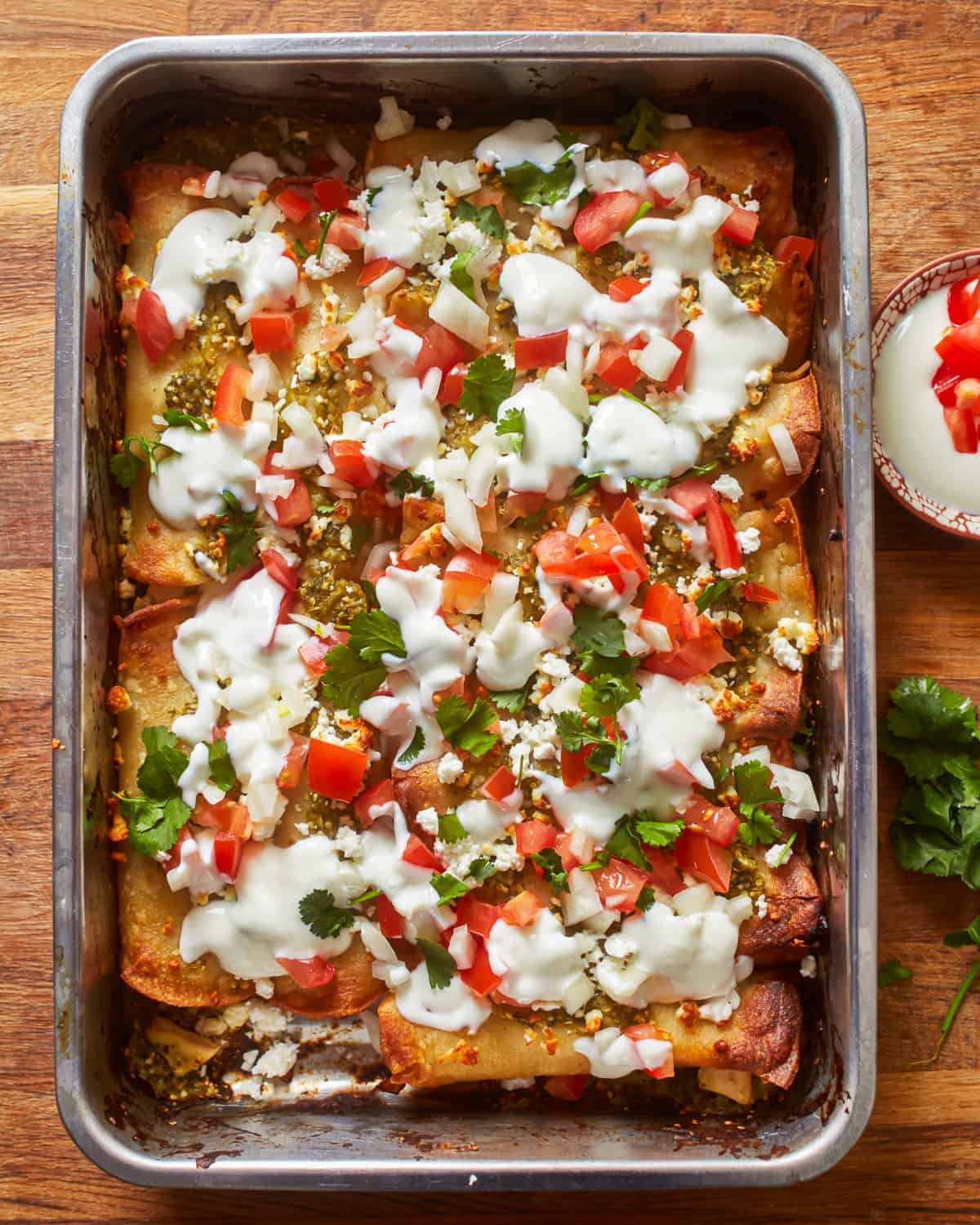 What's in Green Chili Chicken Enchiladas?
This green version of chicken enchiladas is so simple and delicious. Just chicken, sautéed onions, cheese, and salsa verde. Simple and delicious comfort food. Yum!
Chicken: I used boneless, skinless chicken breasts, but you could also use thighs. To save time, use leftover shredded chicken or rotisserie chicken.
Onion: Infuses the chicken, salsa verde, and enchiladas with a sweet, earthy flavor.
Garlic: Adds an earthy flavor and a pungent aroma to the chicken and salsa verde.
Salt + Pepper: Enhance the flavor of the chicken and salsa verde.
Tomatillos: Make up the base of the salsa verde. They are tart, bright, and citrusy!
Serrano Chiles: Add spice to the salsa.
Cilantro: Enhances the green color and fresh taste of the salsa and makes for a colorful garnish to this dish.
Canola Oil: The perfect high smoke point neutral oil for lightly frying the tortillas.
Corn Tortillas: You can use white or yellow corn tortillas– or you can also use flour tortillas if you prefer.
Mexican Cheese Blend: The perfect combination of creamy cheeses for these enchiladas.
Sour Cream: Adds creaminess and tanginess.
Queso Fresco: A soft, slightly tangy fresh Mexican cheese similar to feta.
Tomatoes: Add a pop of acidity and color.
Pro Tip: For gluten-free enchiladas, be sure to use certified gluten-free tortillas.
Variations on Green Chile Chicken Enchiladas
These enchiladas would also be delicious with turkey, beef, or shredded pork. Or to make these enchiladas vegetarian, swap the chicken for beans or veggies. If you're feeling extra adventurous, try my tomatillo avocado salsa in place of the salsa verde.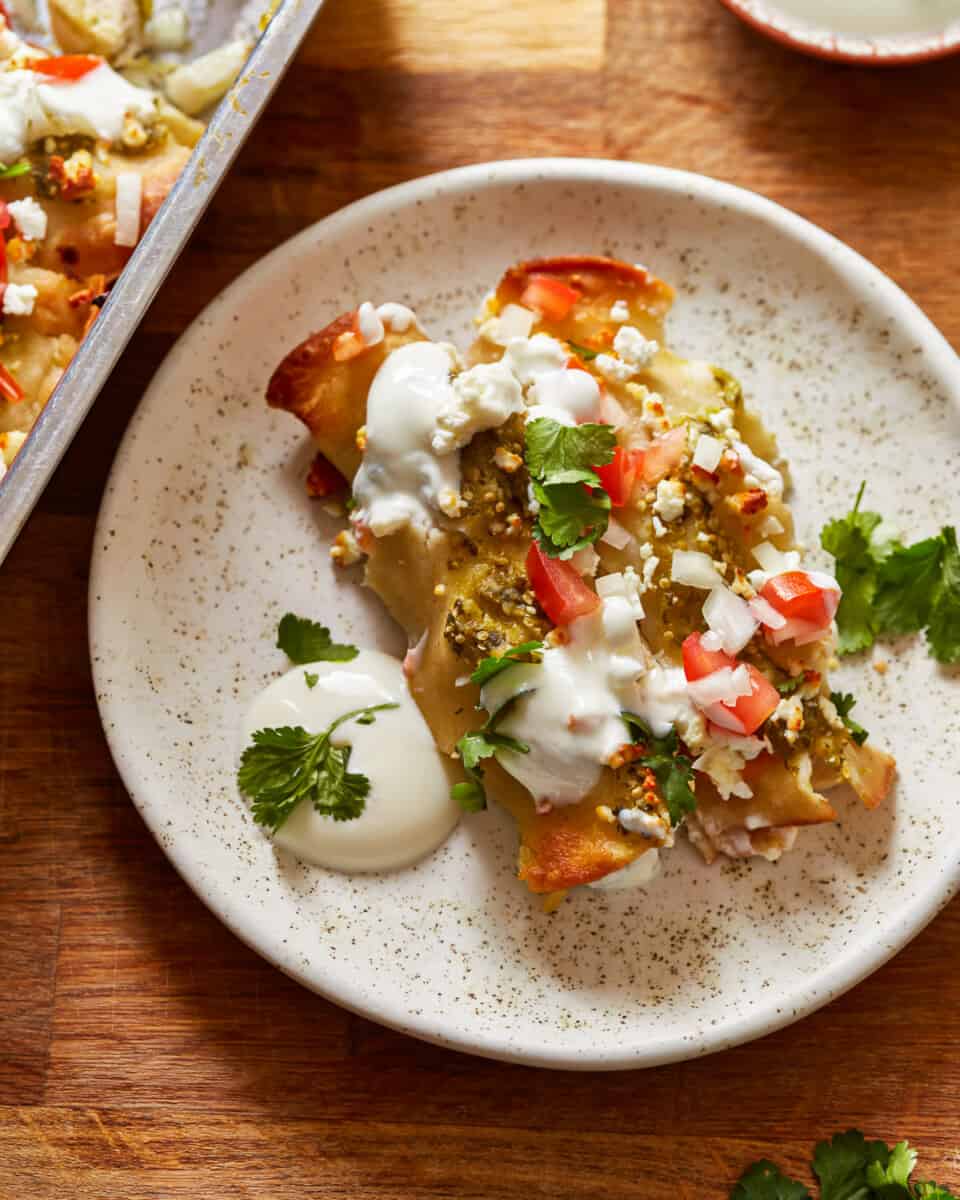 What is green enchilada sauce made from?
Green enchilada sauce, aka verde sauce, is made from tomatillos, green chilies, onions, garlic, and lime juice.
Can I use salsa verde instead of enchilada sauce?
Yes, that's exactly what we're doing in this recipe! Traditional green sauce is cooked, while salsa verde is not, but they're virtually the same thing!
Is green enchilada sauce hotter than red?
Not necessarily. The main difference between green and red enchilada sauce is the type of chilies used. I chose serranos, which are about twice as spicy as jalapeños. If you're looking for a milder sauce, opt for jalapeños, poblanos, or hatch chilies.
What is the secret to good enchiladas?
The secret is to fry the tortillas in hot oil before filling and rolling. This creates a barrier so that the tortillas don't soak up too much of the sauce and start to fall apart.
Which is better flour or corn tortillas for enchiladas?
Corn tortillas are more traditional, but flour tortillas also work well (and tend to be a bit easier to roll for beginners).
Why are my enchiladas always soggy?
Enchiladas can become soggy if they sit in the sauce for too long. Make sure not to oversauce the enchiladas, and serve them right after cooking for the best texture!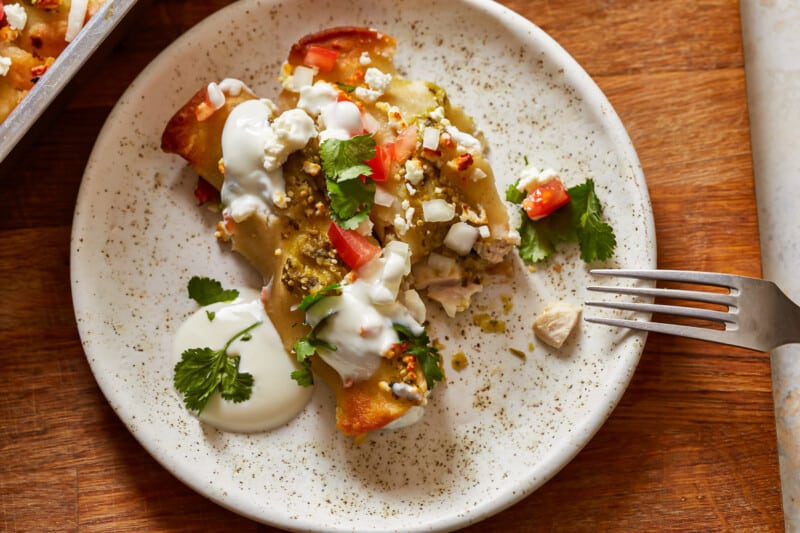 How to Store and Reheat
Store leftover green chicken enchiladas in an airtight container in the refrigerator for up to 3 days. Reheat in the microwave or in a 350°F oven for 15-20 minutes, until heated through.
How to Freeze
Freeze enchiladas in an airtight container for up to 3 months. Let thaw overnight in the refrigerator before reheating.
Serving Suggestions
I love to serve these enchiladas topped with chopped avocado and pico de gallo. A side of refried beans, Mexican corn on the cob, and Mexican rice or cilantro rice makes for a well-rounded meal. Add in my favorite spicy cucumber margarita for a green meal you won't soon forget!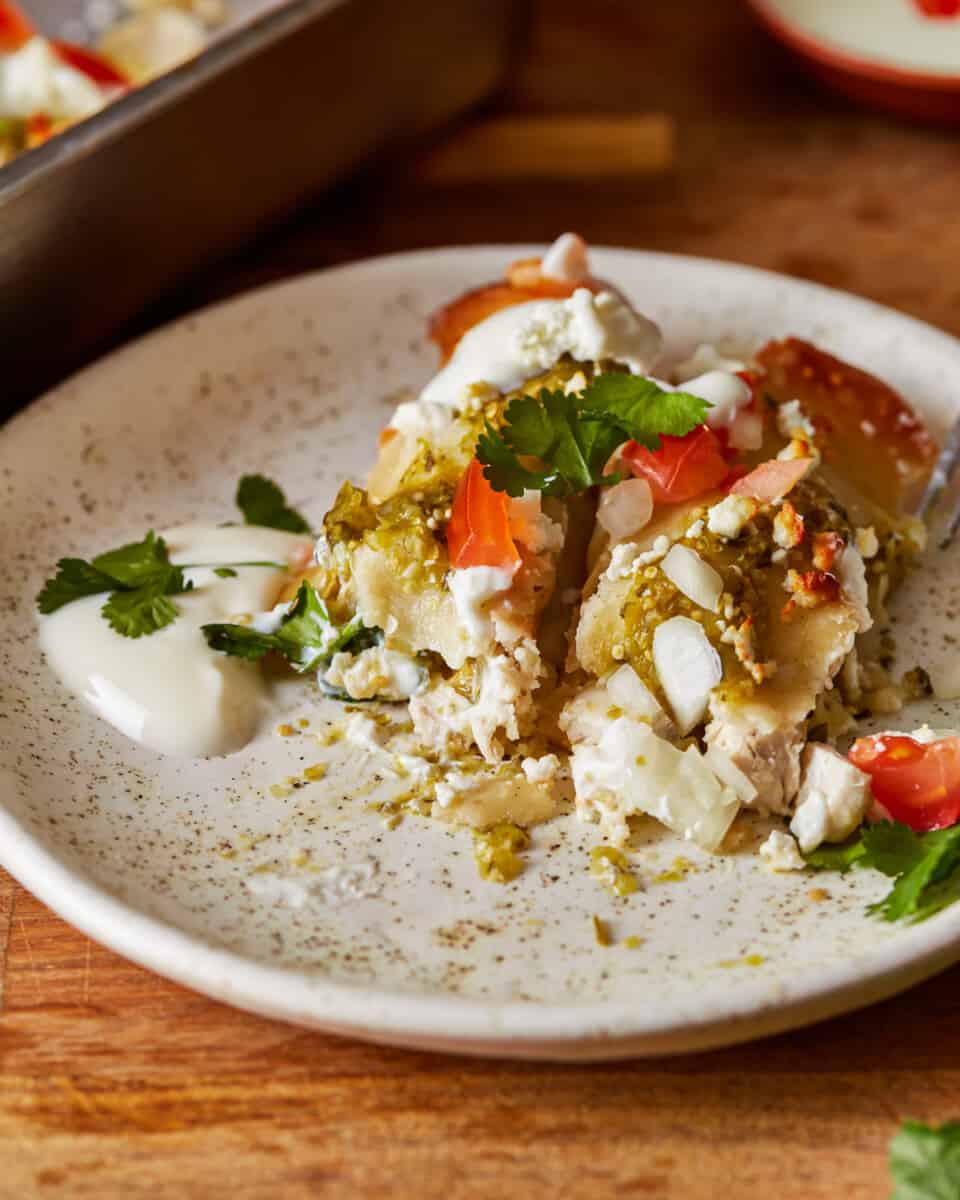 5-Star Review
"These were PHENOMENAL!! Super easy, and didn't take much time. The verde sauce is what makes this so DELICIOUS, though i added a few extra cloves of garlic in it. I've made it multiple times and just keep a container of it in the fridge. I put it on everything, eggs, chicken, pork…whatever you want! My husband loved these, he hates leftovers for the most part, but these DISAPPEARED after a few days." – Brenna Bassano
More Chicken Enchilada Recipes We Love