SALSA VERDE CHICKEN ENCHILADAS are a delicious and simple meal perfect for any occasion. They're stuffed with chicken, salsa verde, cheese, and topped with more sauce, cheese, onions, pico, and crema. The ultimate easy Mexican meal!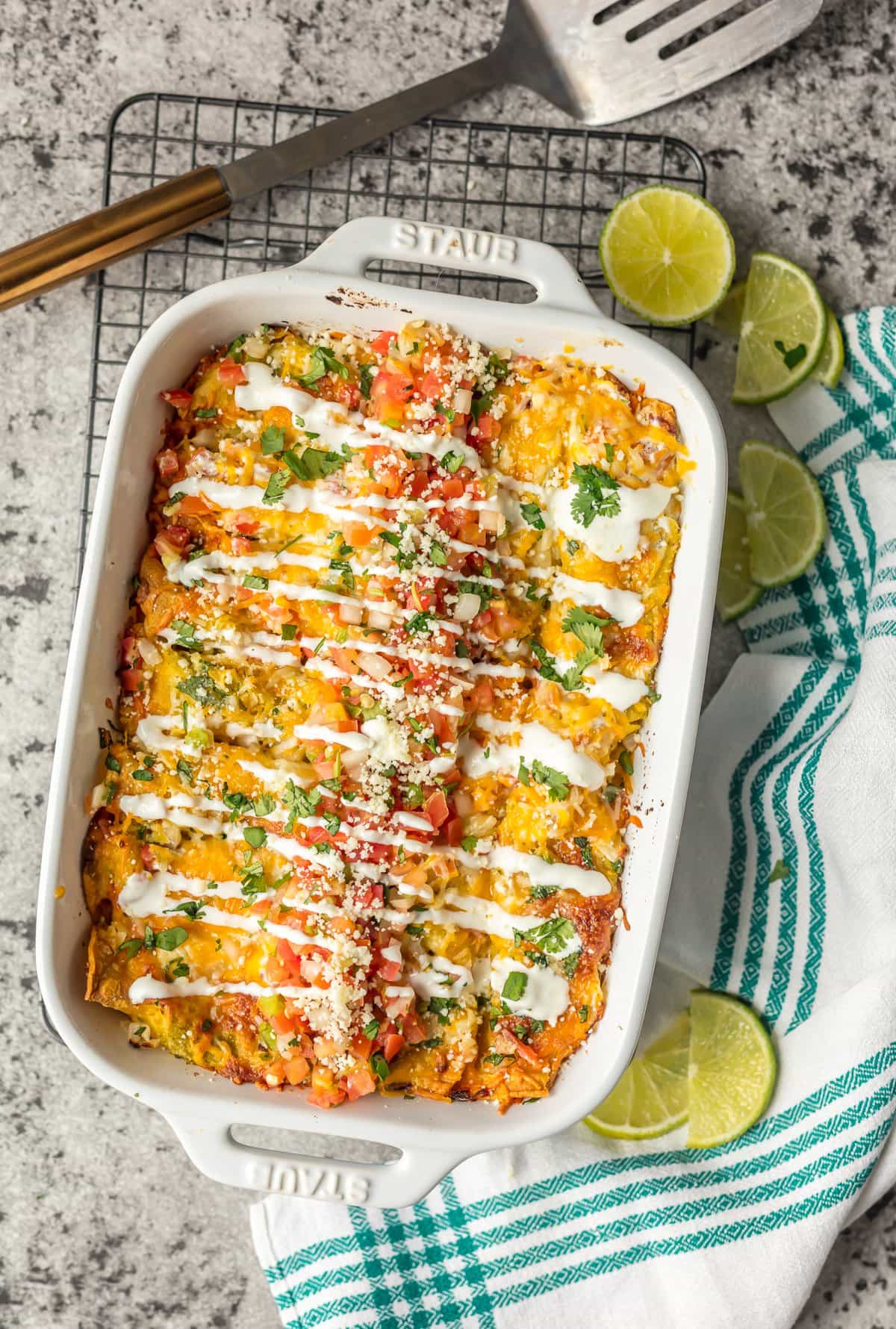 I don't care who you are, every family needs an amazing Enchilada recipe to fall back on! Mexican food has always been one of my favorite things, but I haven't made too many enchiladas. I typically stick to nachos, queso, and fajitas! Now that I have this amazing SALSA VERDE CHICKEN ENCHILADAS under my belt, I'll be making these on the regular! It's easy, SO delicious, and loaded with flavor. Something about that Salsa Verde really has me addicted…are you ready for this amazingness?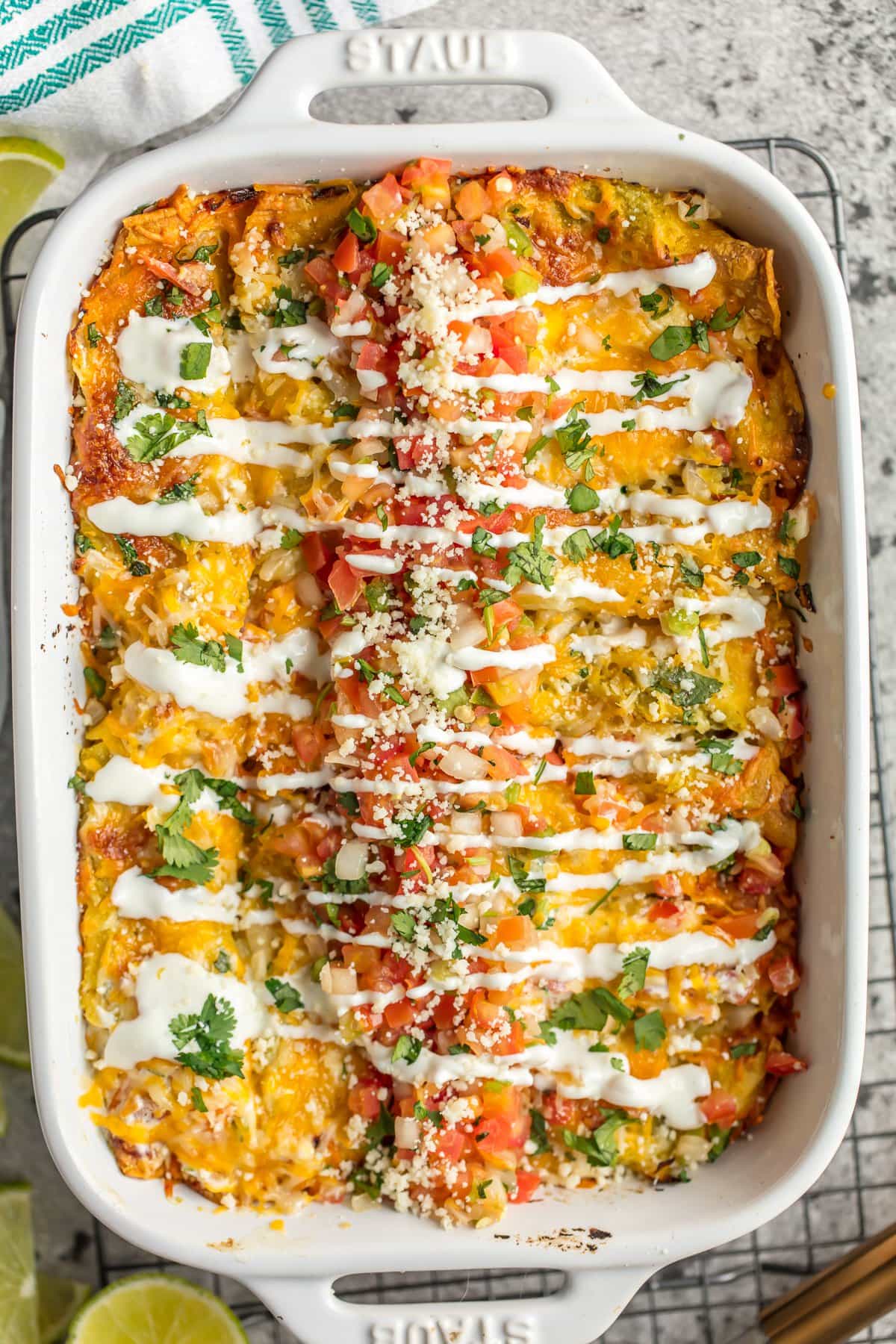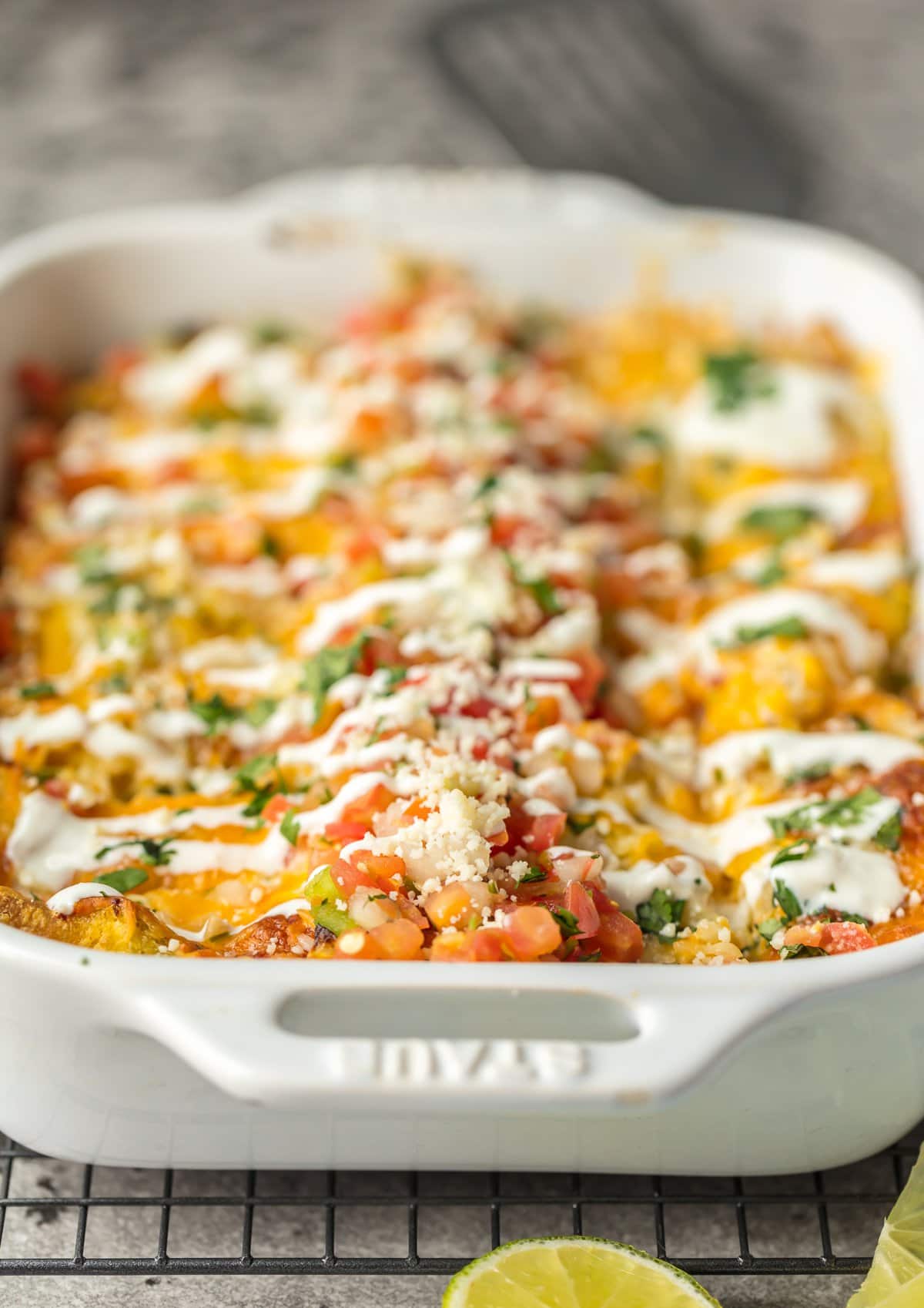 If you follow along with the blog, you know Mom and I are embarking on a journey to do as many of the New York Times Most Popular Recipes of 2016! Last week we did the AMAZING Mississippi Roast (I DIE) and this week are these drool-worthy Chicken Enchiladas. So far SO good and I am loving trying new things.
It's fun to expand our horizons and try some of the nation's fave recipes. That link above is such a good resource if you're looking for easy go-to recipes. This is in no way a paid campaign and I'm not affiliated with the NYT in any way, but I thought it would be fun to try something new! (and so far…our stomachs are loving it)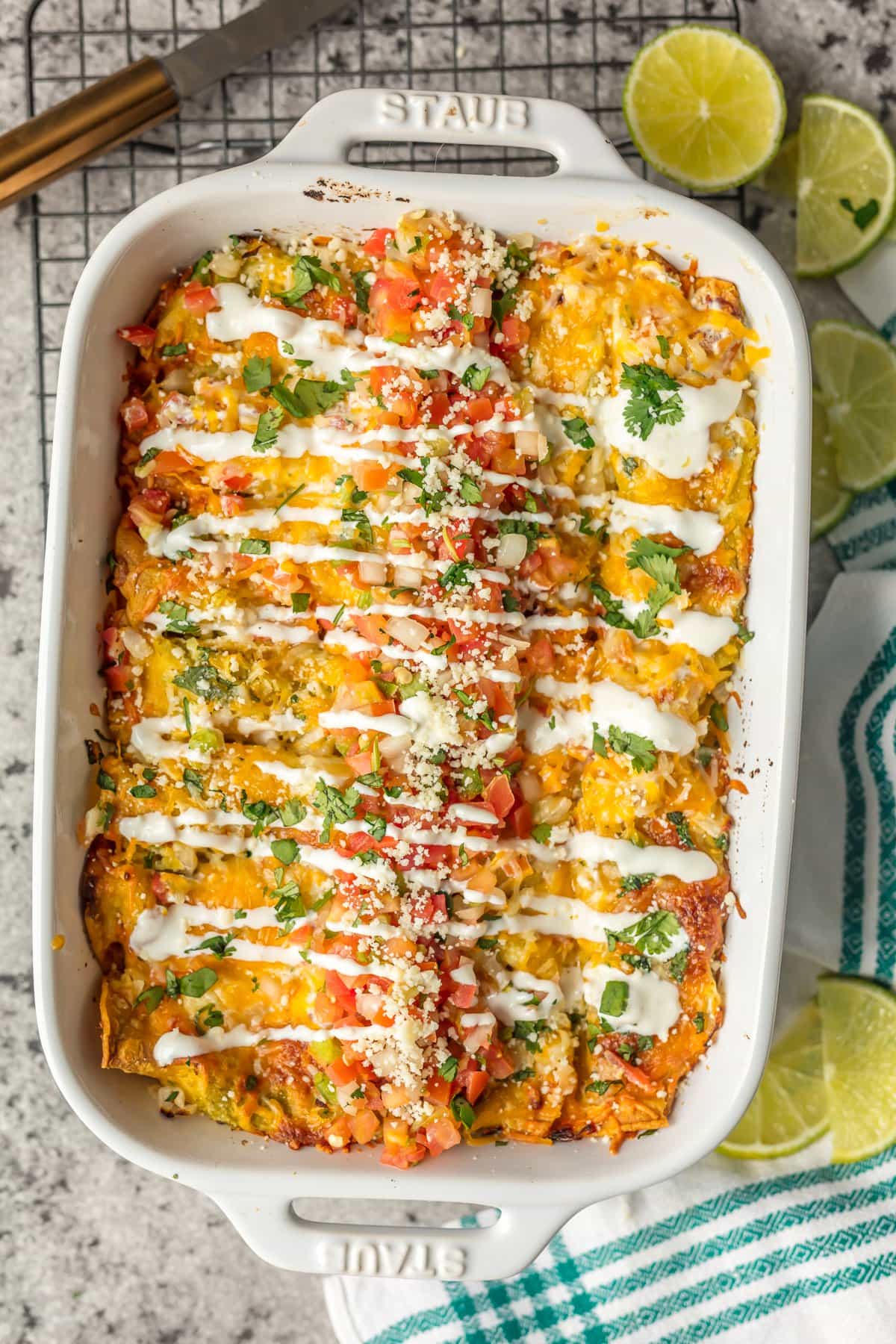 We pretty much followed the recipe to a T…but because it's me, we added more cheese. Are you surprised? I think a little cheese inside the enchilada goes a long way, and these didn't disappoint. Just chicken, sautéed onions, cheese, and salsa verde. SO YUM! Simple and delicious comfort food. YUMM.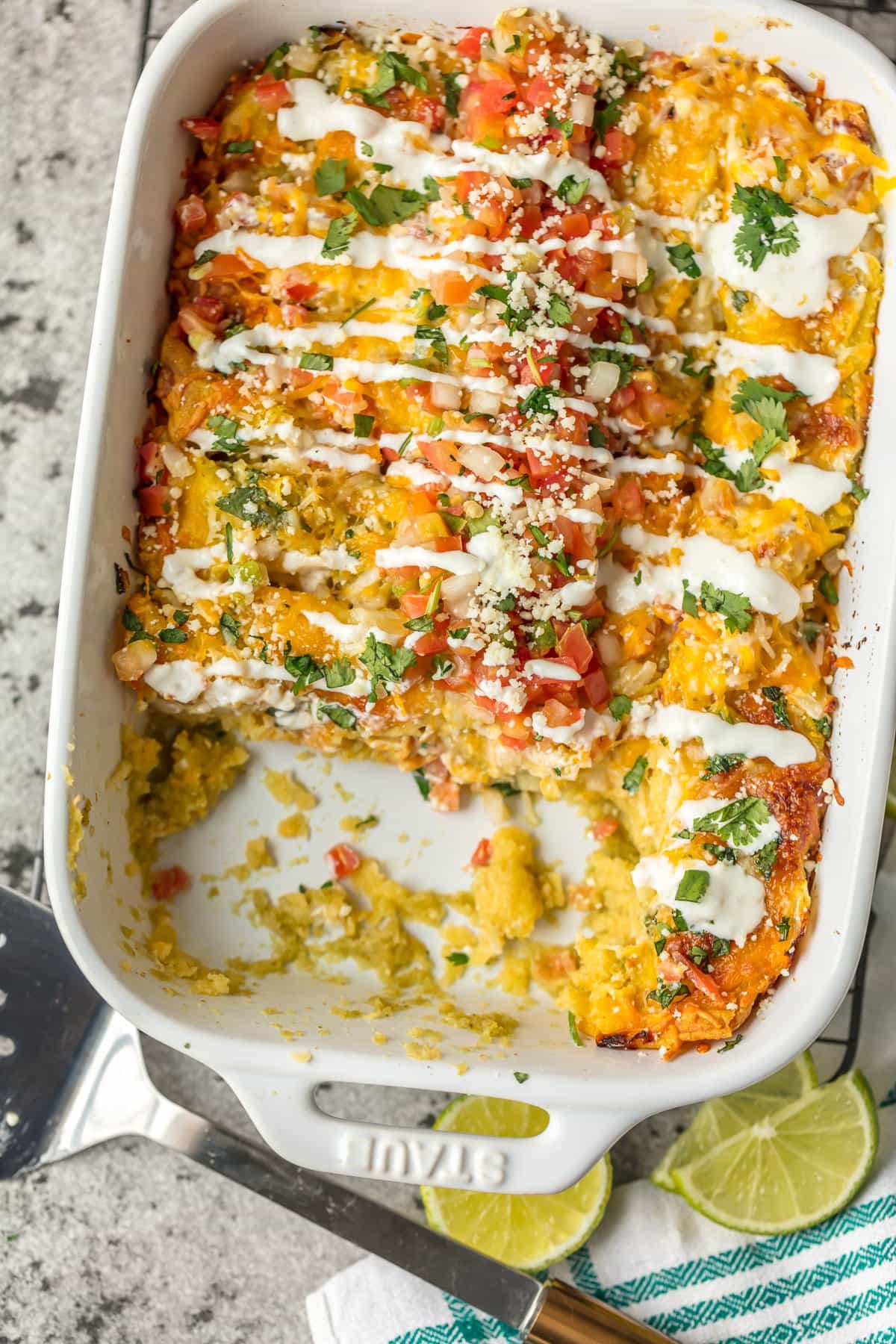 Enjoy!
Salsa Verde Chicken Enchiladas
20 minPrep Time
45 minCook Time
1 hr, 5 Total Time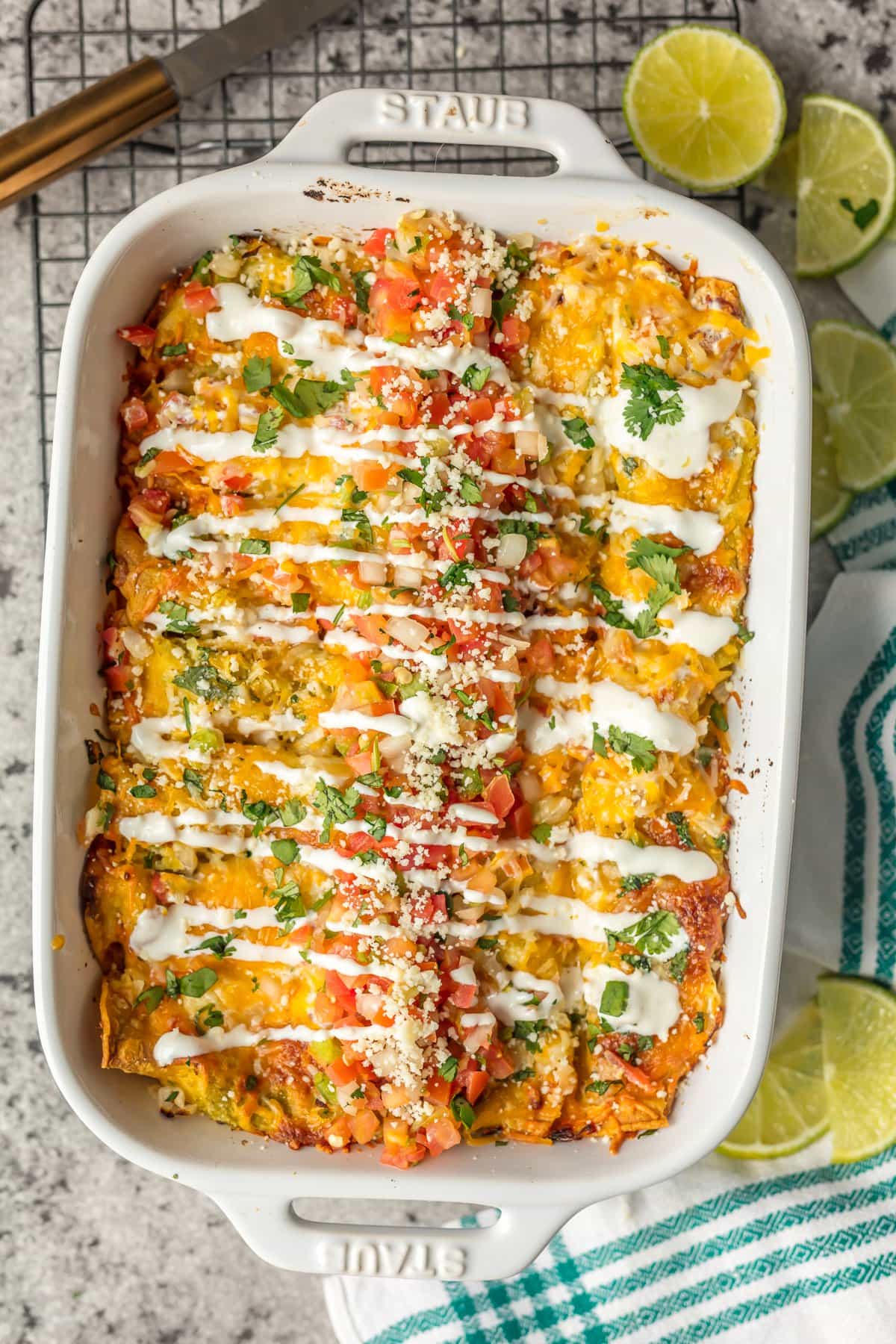 5 based on 7 review(s)
Ingredients
For the Chicken:

2 pounds skinless, boneless chicken breasts or thighs (or 3 cups rotisserie chicken)
1 small onion, cut in half
4 cloves garlic, diced
1 tablespoon kosher salt

For the Salsa Verde (Green Sauce):

1 lb fresh tomatillos, husked, rinsed and cut into quarters (canned are okay to use)
1 small onion, peeled & chopped
1 garlic clove, peeled and chopped
2 serrano chiles, seeds removed, stemmed and chopped
½ cup fresh cilantro, rough chopped
salt, to taste

For the Enchiladas:

½ cup canola oil
12 yellow or white corn tortillas
2 cups shredded Mexican blend cheese
1 cup sour cream, crème fraiche or Mexican crema
1 cup queso fresco or cotija cheese, crumbled
½ medium sweet yellow onion, peeled and diced
2 fresh tomatoes, diced
¼ cup chopped fresh cilantro
Garnishes: chopped avocado, pico de gallo,
Instructions
Preheat oven to 375 degrees F. Spray a 9x13 inch baking dish with cooking spray.

For the Chicken:

If using chicken breasts or thighs, place chicken in a large saucepan with onion, garlic and salt. Cover with water and bring to a boil over medium-high heat. Reduce heat to medium-low and simmer until chicken is cooked through, approximately 15 minutes.
Transfer chicken to a cutting board and let cool. Use two forks to shred the meat or cut the chicken into 1-inch cubes.
If using rotisserie chicken, remove the meat from the skin and bones, and shred the meat or cut it into 1-inch cubes.

For the Green Sauce (Salsa Verde):

Combine all the salsa verde ingredients in a blender or food processor and purée until smooth. Add a little water to smooth, if necessary.
Salt and pepper, to taste.

Preparing the Tortillas:

First prepare the tortillas: In a medium sauté pan set over medium-high heat, heat the oil until it shimmers. Use tongs to place a tortilla in the hot oil. The oil should be hot enough for the tortilla to bubble immediately. Heat the tortilla for 10 minutes per side or until it is lightly browned. Transfer tortilla to a cooking rack placed over a baking sheet. Repeat with remaining tortillas. Work quickly.

Assembling the Enchiladas:

Place ½ cup green sauce (salsa verde) in the bottom of the prepared pan/dish and spread it around the dish. Place 2 tablespoons chicken, 1 teaspoon of green sauce (salsa verde) and 1 tablespoon shredded cheese into a tortilla. Place it seam-side down in the dish and repeat with remaining tortillas. Place the filled tortillas right next to each other in the pan. Spoon green sauce over the top of the rolled enchiladas and sprinkle with half the crumbled cheese.
Place the enchiladas in the oven and bake 20-30 minutes or until the middle enchiladas are heated through and cheese is melted. Remove enchiladas from oven, but leave the heat on, and spoon green sauce over the enchiladas, down the length. Place them back in the oven for 5 minutes.
Remove enchiladas from the oven and drizzle with sour cream or Mexican crema. Sprinkle with the remaining crumbled queso fresco or cotija cheese, chopped tomatoes, chopped onion and fresh cilantro.
Serve immediately.
Enjoy!
7.6.7
2387
https://www.thecookierookie.com/salsa-verde-chicken-enchiladas/