Crockpot Refried Beans are delicious, easy, and so versatile. They're useful for tons of Mexican dishes, and make a great side dish or dip too!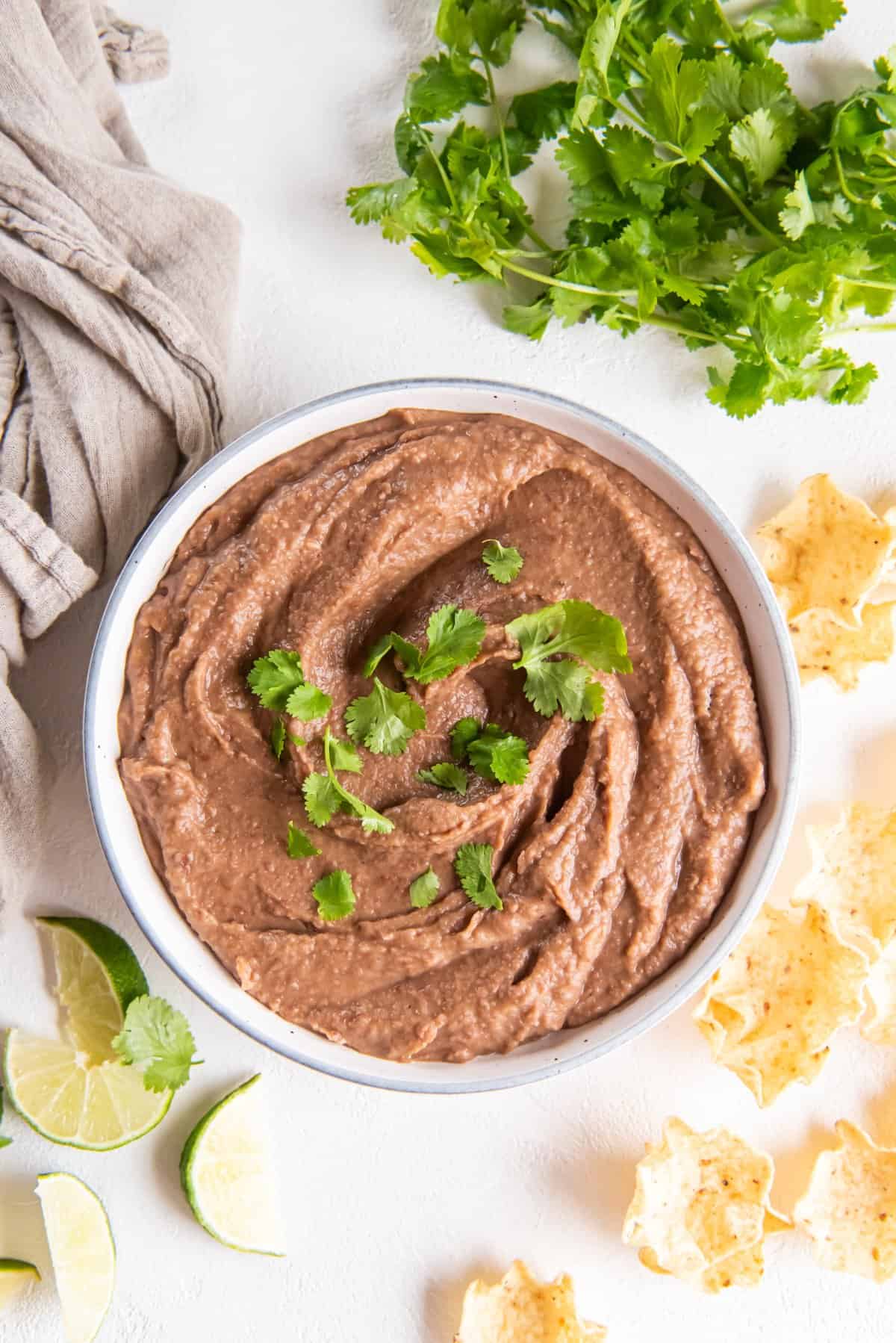 Homemade Refried Beans
Making refried beans in a Crockpot is so easy! In just a few simple steps, you can have a batch of delicious beans that are perfect for burritos, nachos, or just eating on their own.
There are many different ways that you can use these slow cooker refried beans, and you can make some simple variations to make them exactly how you like them. Make them cheesy, more (or less) spicy, or turn them into a dip.
Why You'll Love this Refried Beans Recipe:
SIMPLE: There's nothing easier than throwing ingredients into a Crockpot. Let this recipe cook itself!
HEALTHY: This might be surprising, but these creamy beans are quite good for you. They're a great source of protein, and high in fiber!
VERSATILE: You can use refried beans in a variety of dishes, in a variety of ways. Serve them on the side of your favorite Mexican dishes, or use them to make burritos, tacos, and more!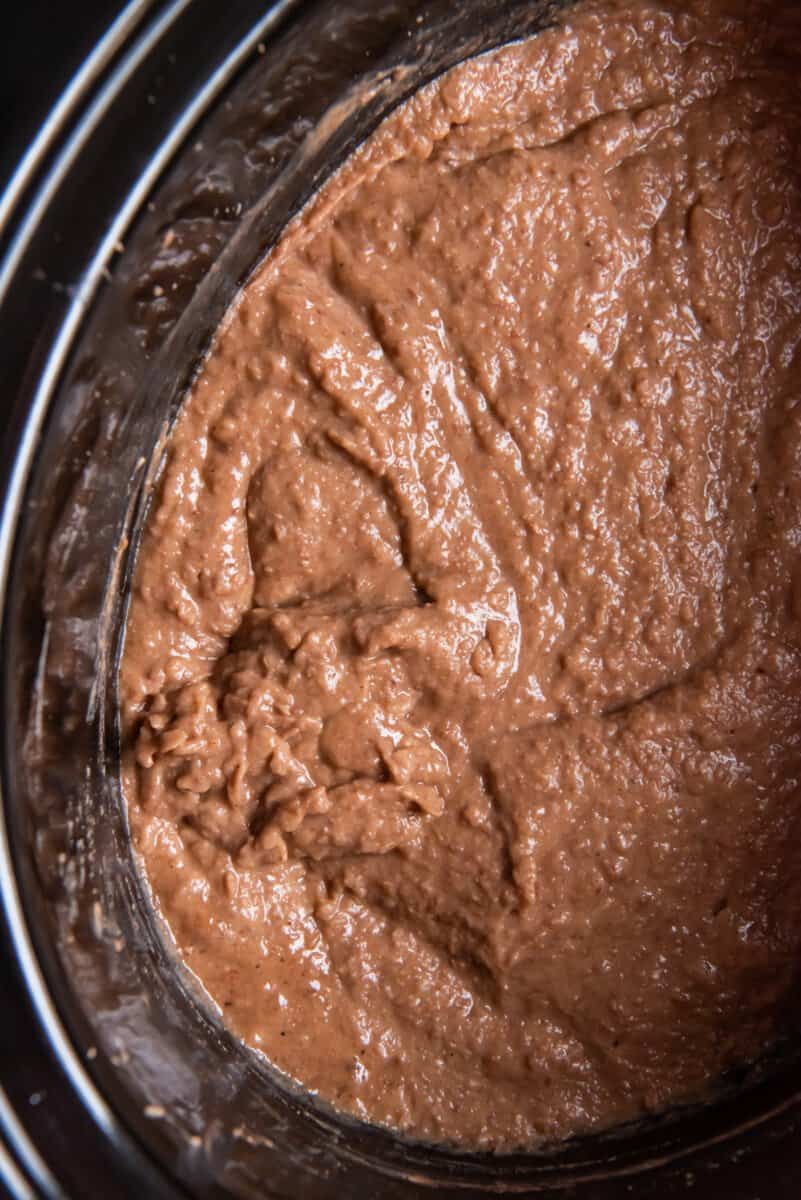 How to Make Crockpot Refried Beans
You can jump to the recipe card for full ingredients & instructions!
Place the rinsed beans, onion, jalapeño, garlic, salt, pepper, and cumin in the pot of a 6-quart slow cooker.
Cook on low for 10-12 hours.
When the cooking time is up, strain the beans, reserving at least half of the liquid.
Mash the beans with a potato or bean masher and finish with an immersion blender.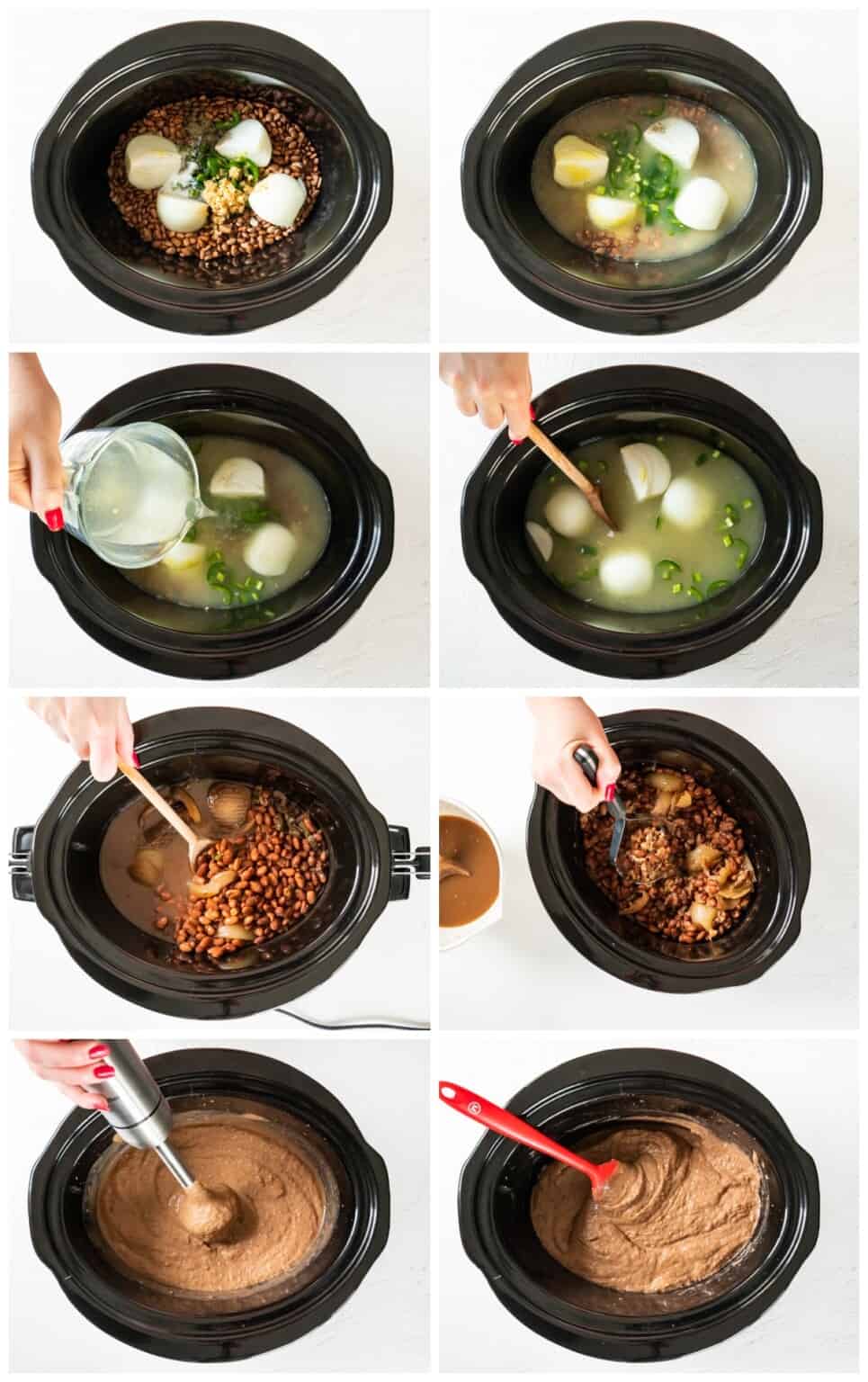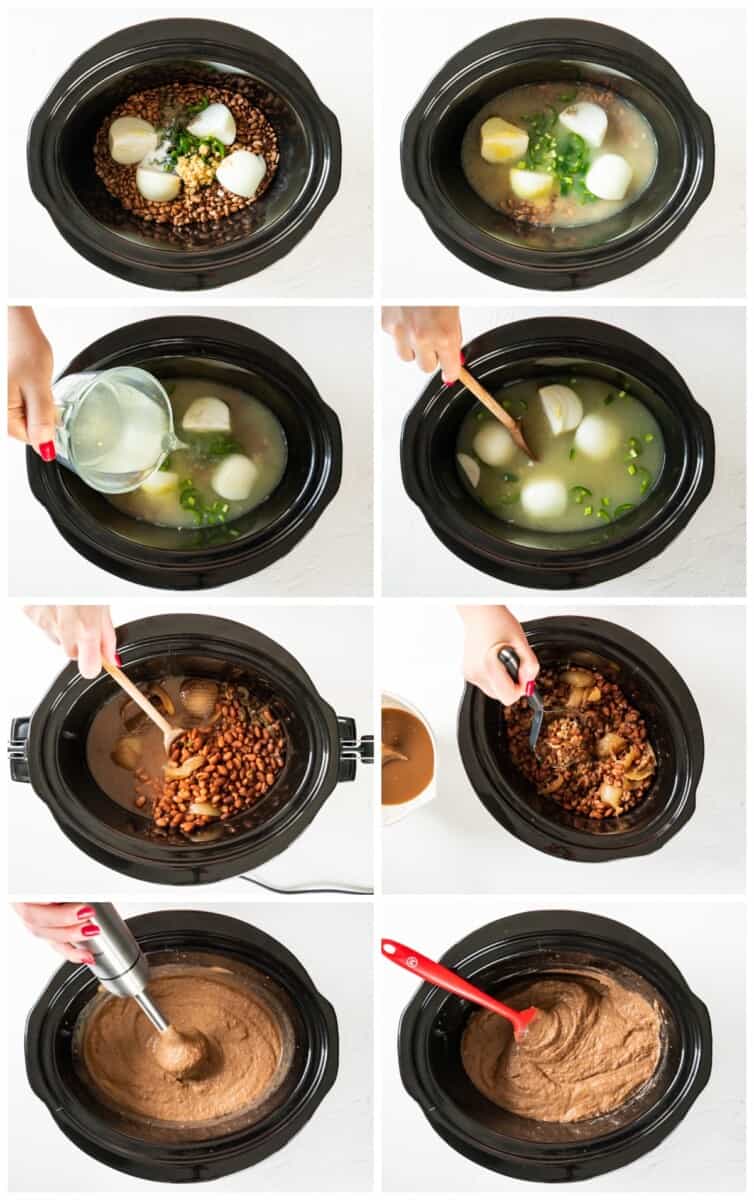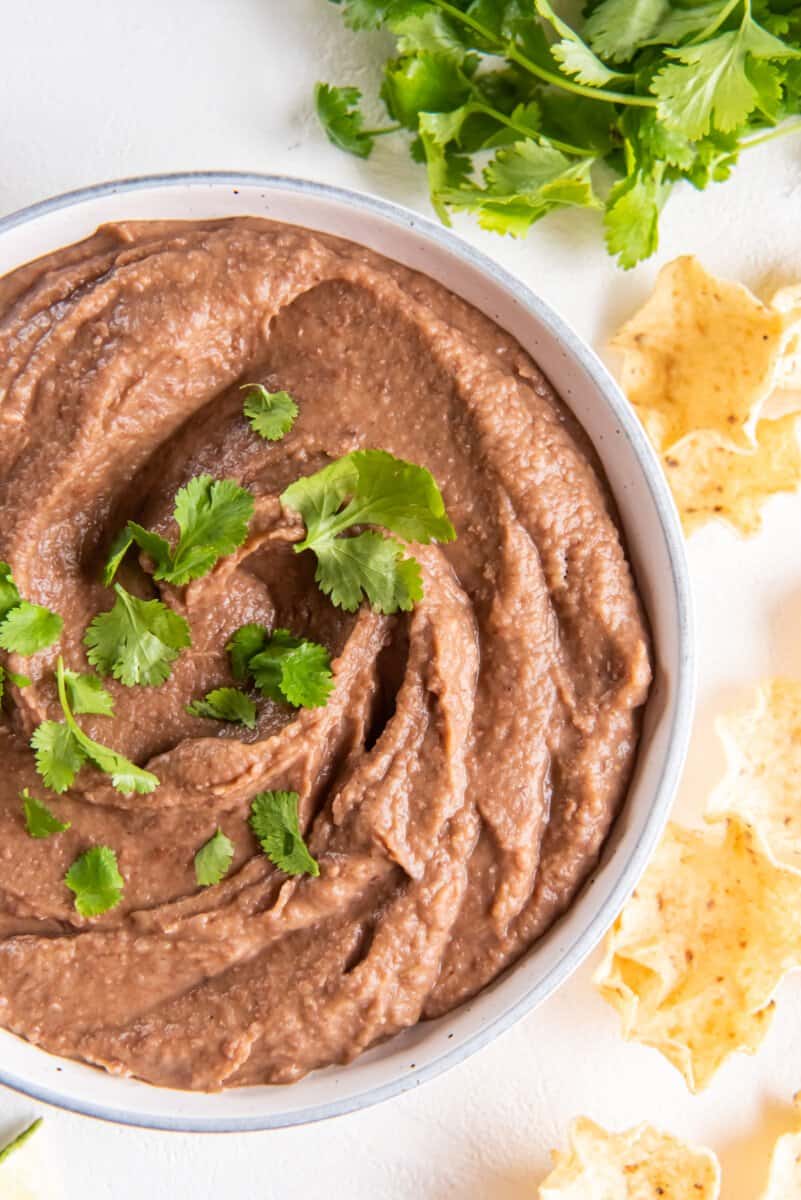 What are refried beans?
Refried beans is a Mexican/Tex-Mex dish made of cooked and mashed beans. Usually, refried beans are made with pinto beans, but they are also commonly made with black beans.
Do I need to soak my beans overnight?
Nope! All you need to do is rinse your beans and toss them in the crockpot. You can soak your beans overnight if you prefer, though.
How can I make crockpot refried beans less spicy?
If you're sensitive to spice, you can either remove the ribs and seeds of the jalapeño before adding it, or substitute with a 4-ounce can of diced green chiles, which are much milder in flavor.
Can I make crockpot refried beans vegetarian?
Absolutely! All you need to do is use vegetable broth or water in place of the chicken broth.
What will happen if I eat undercooked beans?
Unfortunately, beans are not safe to eat unless they have been fully cooked. Fully cooked beans are tender and creamy, and some of them may even split open. If you accidentally eat undercooked beans, you may experience gastrointestinal upset or vomiting. If these symptoms are severe or persistent, it's a good idea to visit the ER.
Serving Suggestions
You can use homemade refried beans in a variety of ways! Here are some ideas for how to serve them:
On the side: Refried beans make a great side dish! Serve them with some rice and vegetables on a plate of enchiladas (or any favorite dish) for a complete meal.
In burritos: Spread the beans onto a tortilla, add some rice, cheese, and your favorite fillings, and roll up that burrito!
On nachos: Use them as a topping on nachos, along with your favorite toppings.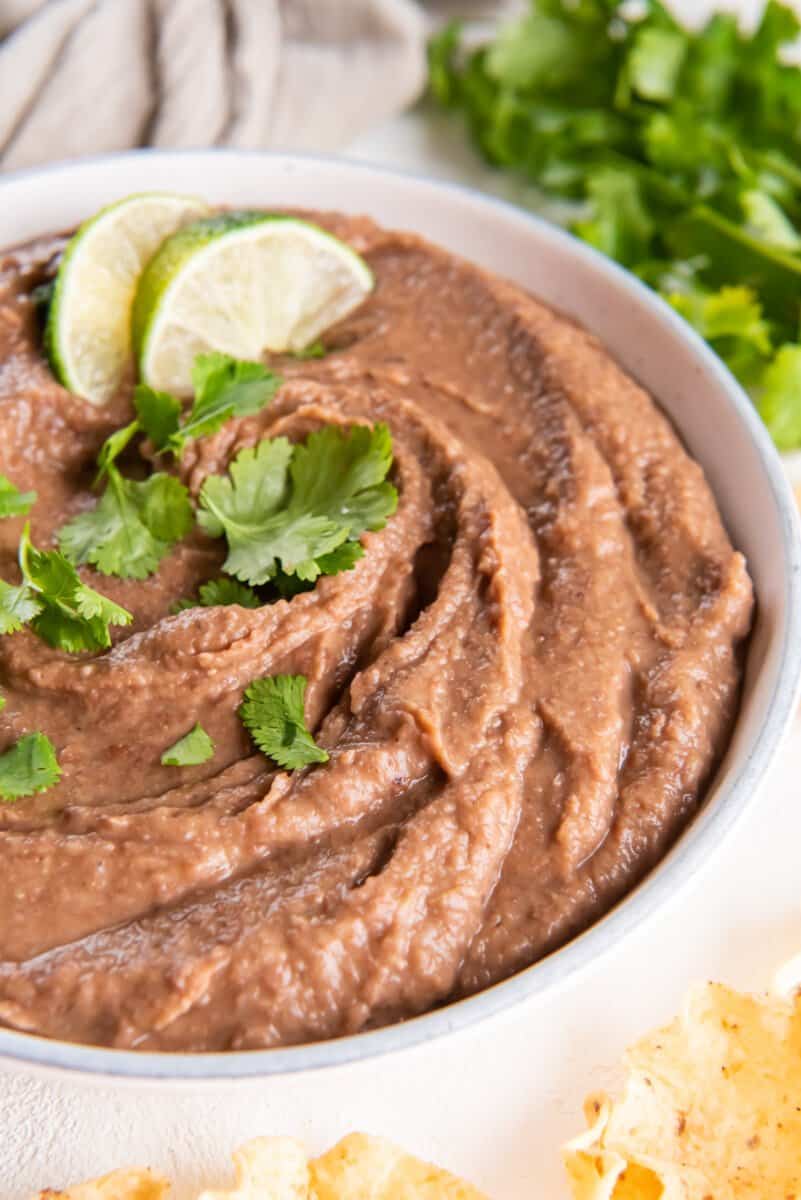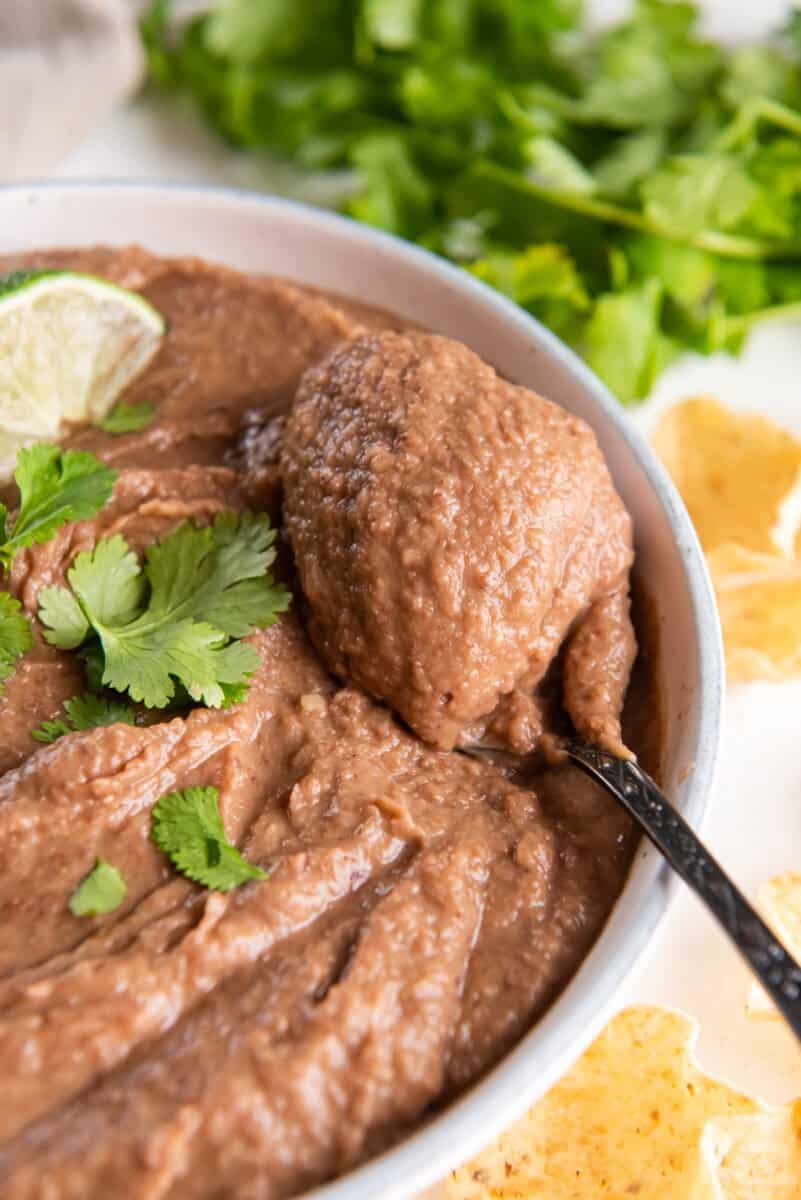 This recipe is simple, affordable, and can be tailored to fit any dietary need or preference. Whether you're vegan, gluten-free, or just looking for a quick and healthy side option, these refried beans are sure to please.
Storage Instructions
Store leftover refried beans in an airtight container in the refrigerator for up to 4 days.
Freezing Instructions
Crockpot refried beans make a great freezer meal! They're wonderful to have on hand to add to tacos, burritos, or tostadas. Simply portion and freeze the beans in Ziplock bags for up to 1 month. Allow the beans to thaw in the refrigerator overnight before reheating.
Refried Bean Variations
Vegetarian: Swap the chicken broth for vegetable broth or water.
Mild: Remove the seeds and ribs of the jalapeño or substitute with a 4-ounce can of diced green chiles.
Hot: Leave the seeds and ribs of the jalapeño or add a second jalapeño.
Cheesy: Once blended, add 8 ounces of shredded cheddar cheese.
Refried Black Beans: Use black beans instead of pinto beans.
Bean Dip: Once blended, add 1 cup of sour cream and 1 envelope of taco seasoning. Top with cheese and/or taco meat if desired.
Make It A Meal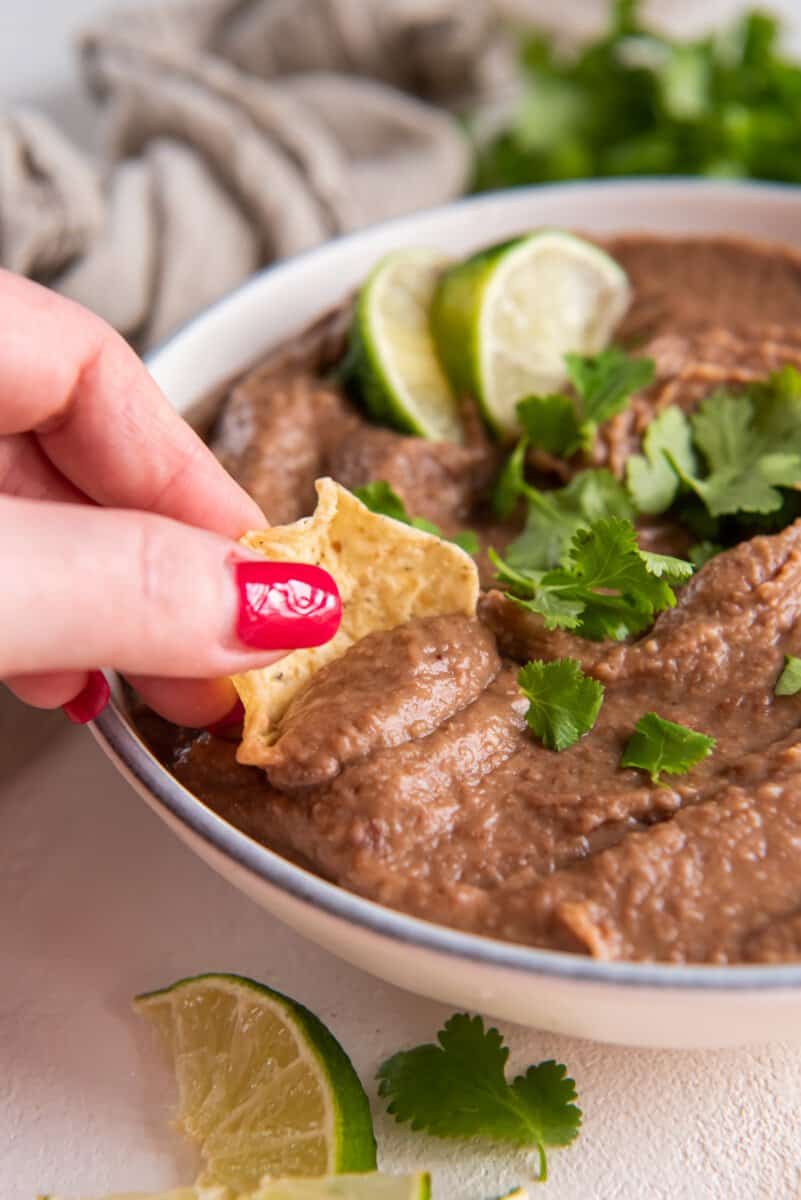 These Crockpot refried beans are so easy and so delicious. Serve them with any of your Tex-Mex favorites, and change them up to make them your own.
If you make this recipe be sure to upload a photo in the comment section below or leave a rating. Enjoy! You can also jump to recipe.