This simple Apple Stuffing recipe is filled with fresh herbs, garlic, onion, and celery to make a savory dish that perfectly complements your Thanksgiving turkey. Juicy apples combined with a mix of sage, thyme, and parsley creates a deliciously cozy flavor that everyone will love!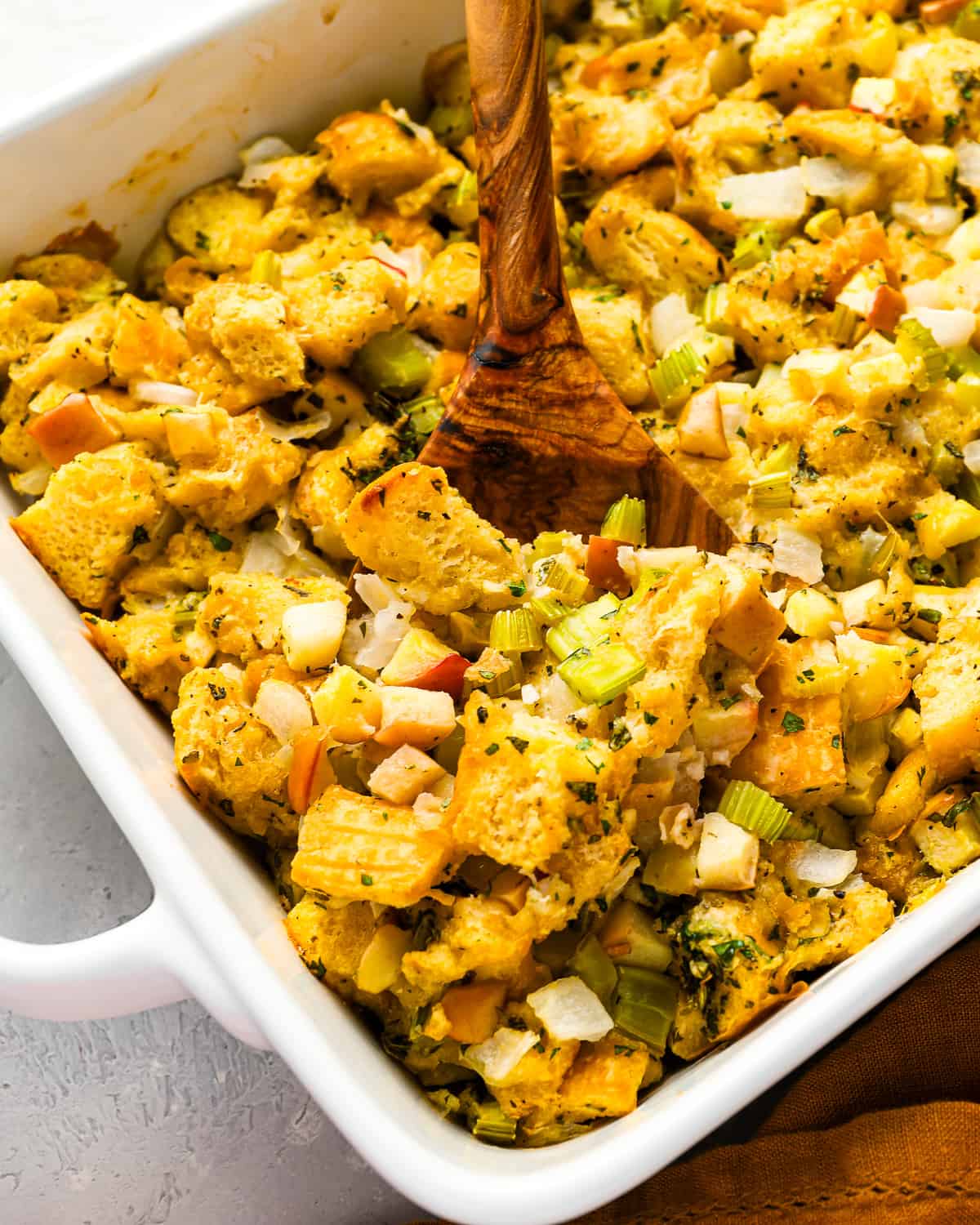 What's in this Apple Stuffing Recipe?
Tart, sweet apples and savory herbs add a pop of flavor and texture to this homemade stuffing recipe!
Crusty Bread: Any kind of crusty bread will do. I especially like to use this rosemary bread for an extra herb-y kick.
Unsalted Butter: Helps the veggies cook without burning.
Onion: Adds a sweet and earthy flavor to the dish.
Celery: Adds a fresh, vegetal, salty flavor, and a nice crunchy texture.
Apple: Adds a touch of sweetness and tartness.
Garlic: Adds an earthy flavor and a pungent aroma.
Salt + Pepper: Enhance the overall flavor of the dish.
Fresh Herbs: Parsley, sage, and thyme add a fresh and herbaceous flavor to this apple stuffing.
Chicken Broth: Adds moisture and umami flavor to the stuffing.
Eggs: Helps bind the stuffing together.
Pro Tip: For this recipe, any apple you like will do! We especially like Honeycrisp, fuji, or gala. You can also use green apples for something more tart.
Variations on Stuffing with Apples
This herb and apple stuffing recipe is easy to adapt to your personal tastes. Try making it with sourdough bread and tart Granny Smith apples for a lighter version, or swap some of the crusty bread for cornbread for a sweeter version. Fold in some dried cranberries or chopped nuts for even more textural contrast.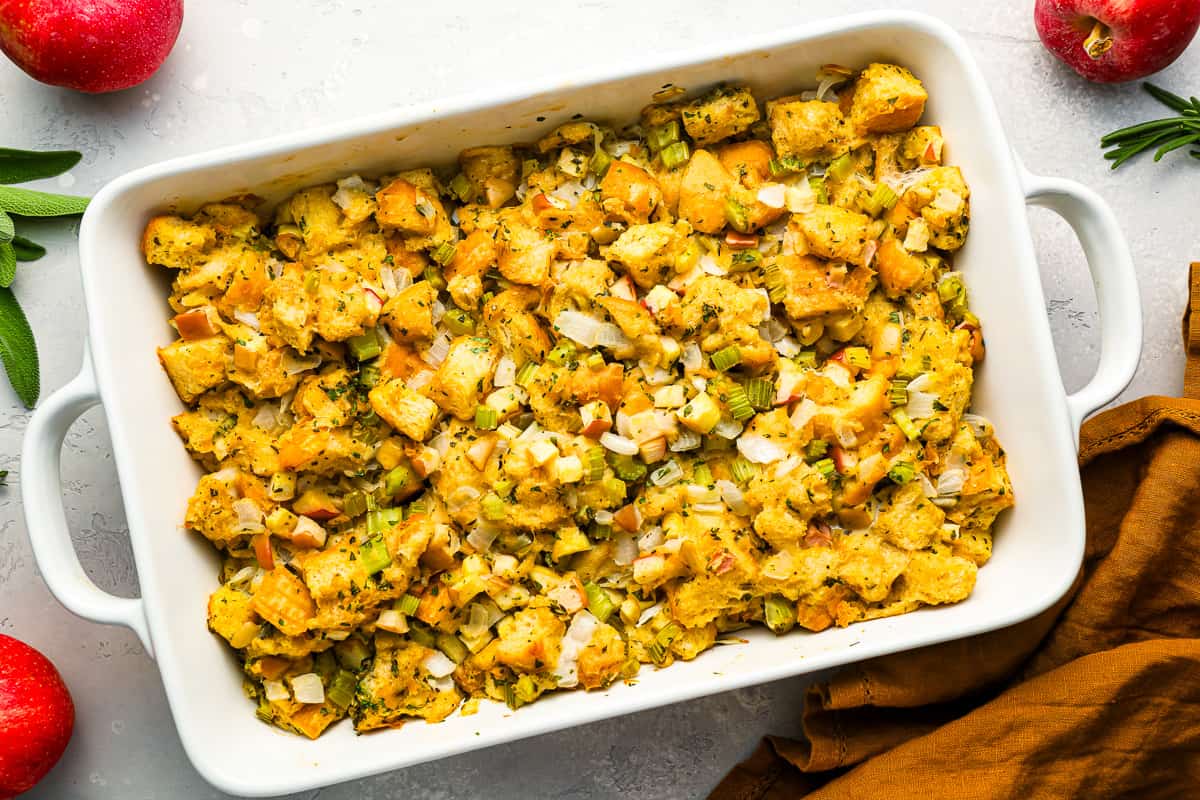 What does adding egg to stuffing do?
An egg helps bind the stuffing together so that it doesn't crumble apart once it's been baked. It also adds extra moisture.
Is stuffing better moist or dry?
You want your stuffing to be the perfect balance of moist but not soggy, and definitely not dry!
How do you keep stuffing from getting mushy?
To keep your stuffing from getting mushy, be sure to toast the bread first and only add enough broth to moisten the stuffing (not enough to pool in the bottom of the baking pan).
Should stuffing be covered when baking?
Yes! Covering the apple stuffing with foil helps to seal in all that moisture. You can uncover it later in the baking process to help crisp up the top.
How can you tell when stuffing is done?
Oven-baked stuffing is done when it is golden brown on top, and the middle does not jiggle when you gently shake the baking pan.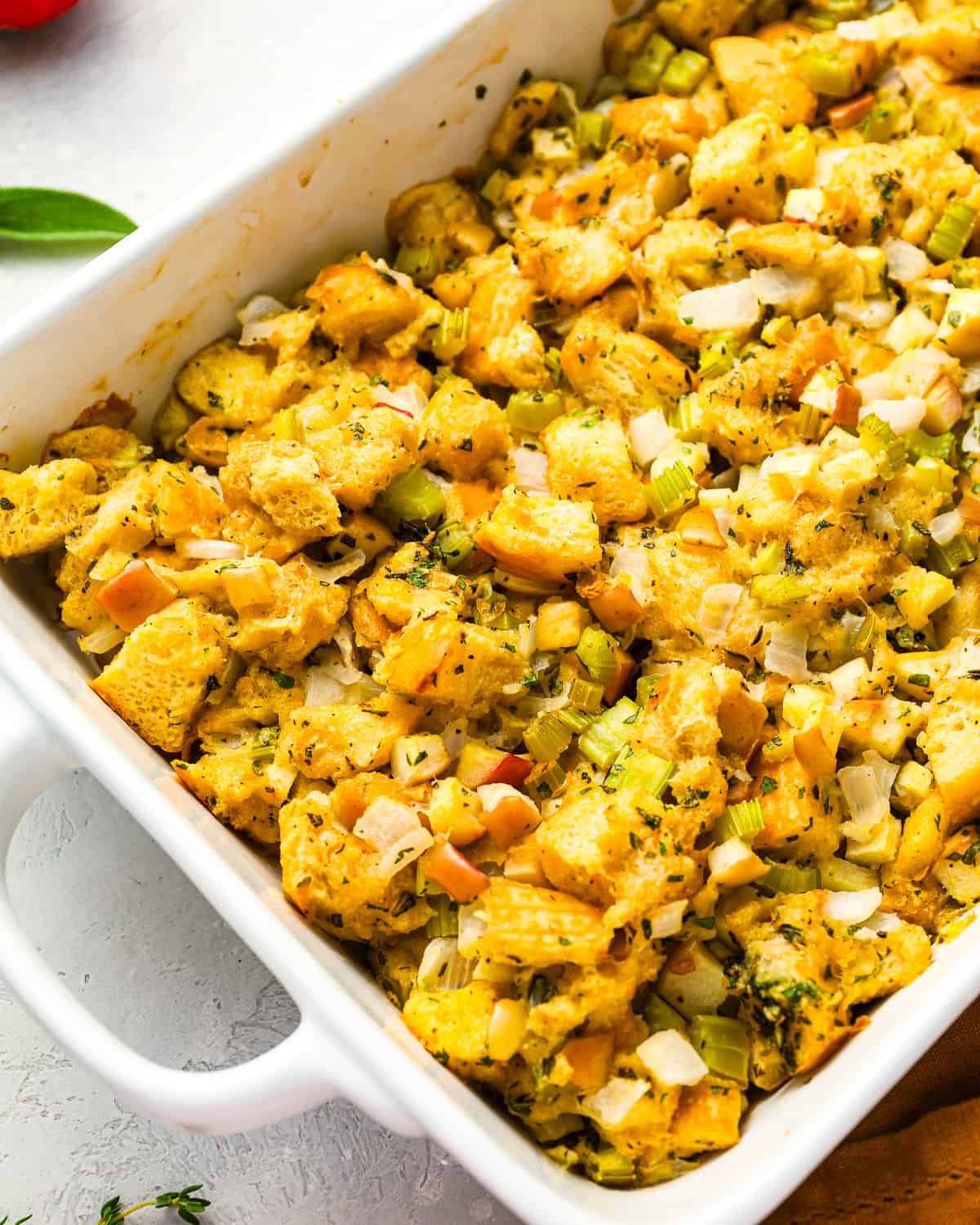 How to Store and Reheat
Store leftover apple stuffing in an airtight container in the refrigerator for up to 4 days. Reheat in a 350°F oven covered with foil for 20 minutes, then remove the foil and continue to bake for another 15-20 minutes, or until hot.
How to Freeze
Freeze apple stuffing whole or in individual portions in airtight containers for up to 3 months. Let thaw overnight in the refrigerator before reheating.
Serving Suggestions
Serve this savory herb-filled apple stuffing with Thanksgiving turkey, turkey gravy, mashed potatoes, green bean casserole, crockpot sweet potato casserole, creamed corn, cranberry sauce, soft dinner rolls, and other favorite Thanksgiving dishes.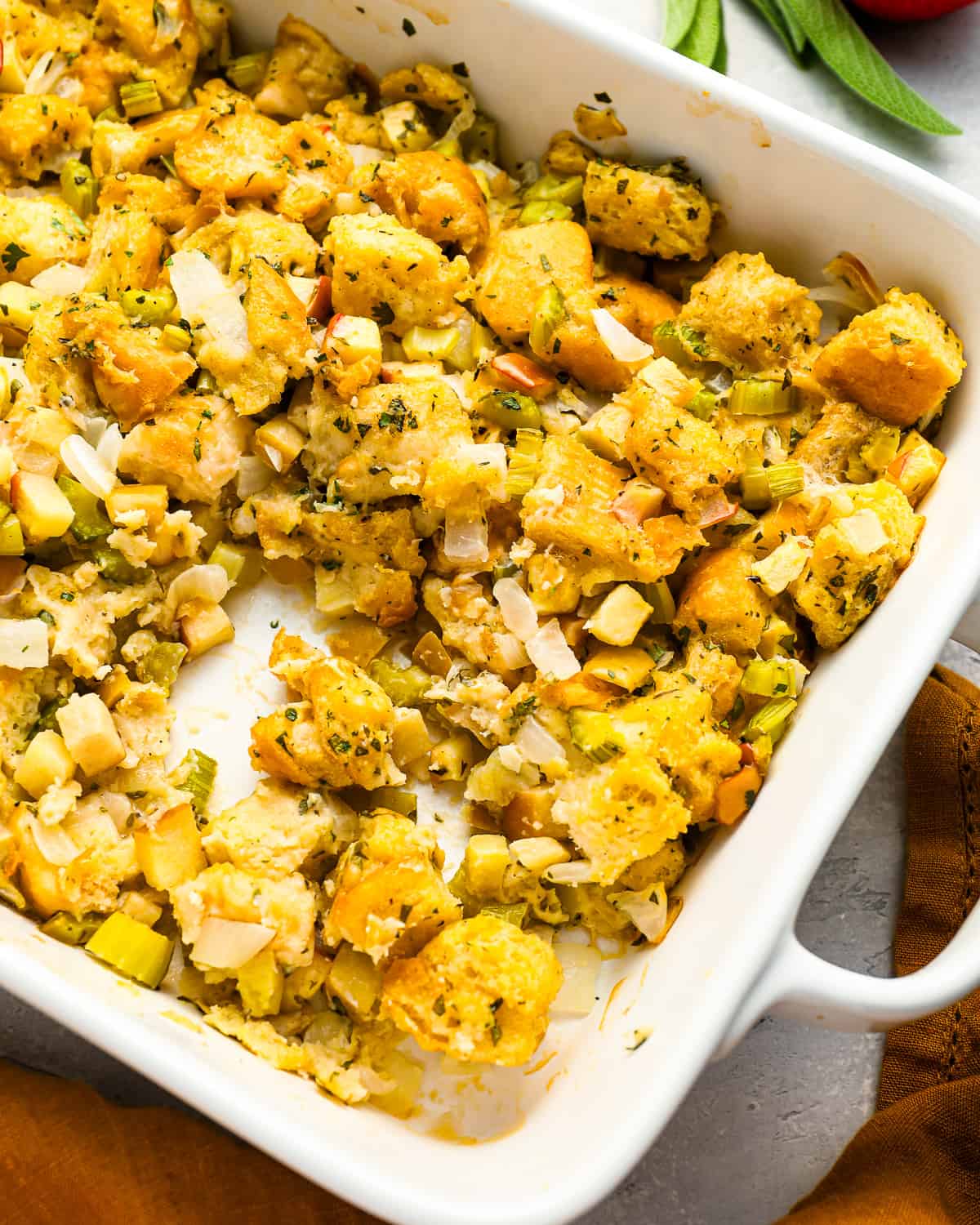 More Stuffing Recipes We Love