This old-fashioned, Southern-style Cornbread Dressing recipe is filled with fresh herbs, garlic, celery, and cubes of buttery cornbread. This savory cornbread stuffing is easy to make with quick prep, and it comes out of the oven mouthwateringly delicious. It's the perfect side dish for Thanksgiving and beyond!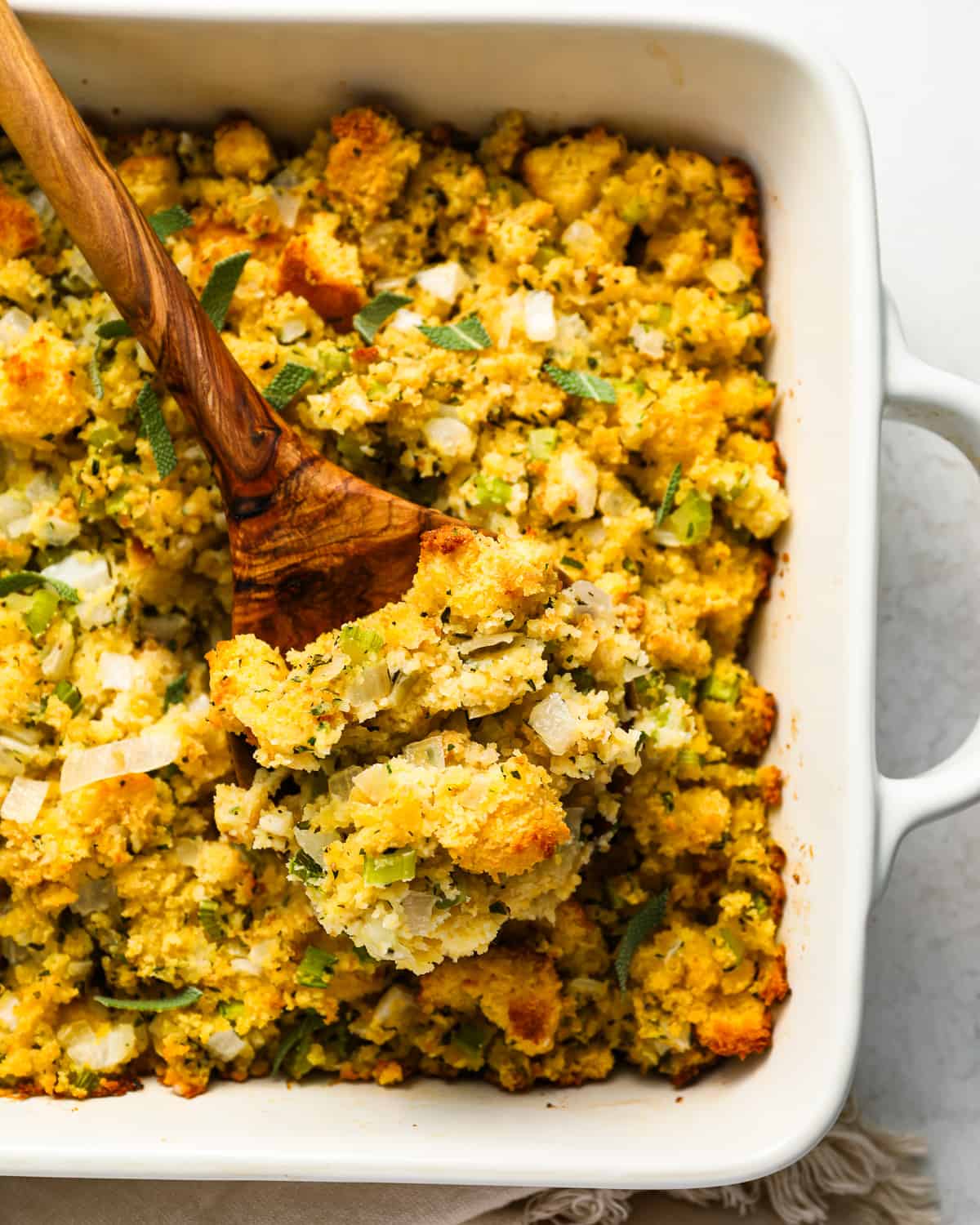 Why We Love This Cornbread Dressing Recipe
Buttery, sweet cornbread mixes with savory aromatics and a touch of sweet brown sugar to create a dressing that's the perfect complement to savory Thanksgiving favorites!
Variations on Cornbread Stuffing
This homemade cornbread dressing is so easy to modify to your liking. For a more savory take, simply omit the brown sugar. For a bit more visual and textural interest, try adding chopped nuts or dried cranberries.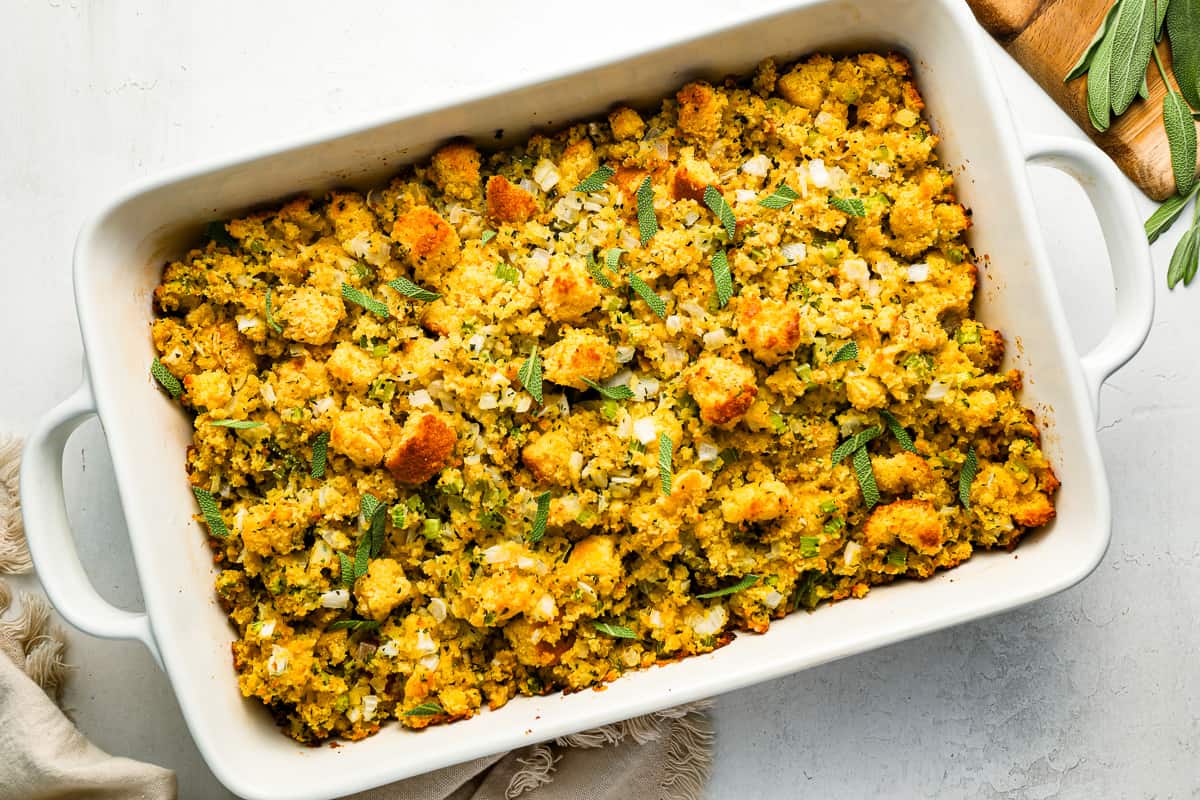 How to Store and Reheat
Store leftover cornbread dressing tightly covered in the refrigerator for up to 4 days. Reheat in a 350°F oven covered with foil for about 30 minutes.
How to Freeze
You can freeze this cornbread stuffing casserole both before and after baking. Simply wrap tightly in 2 layers of plastic wrap and 1 layer of aluminum foil and store for up to 3 months. Bake directly from frozen in a 350°F oven for 55-60 minutes, or allow the baked dressing to thaw completely in the refrigerator overnight before reheating.
Serving Suggestions
Serve this tasty easy cornbread dressing with other Thanksgiving classics, like turkey, turkey gravy, mashed potatoes, candied sweet potatoes, green bean casserole, creamed corn, cranberry sauce, dinner rolls, and other Thanksgiving side dishes.
What is the difference between cornbread stuffing and cornbread dressing?
While they're basically the same thing, there is a technical difference: stuffing is cooked inside the bird (stuffed), and dressing is cooked on its own. So this recipe is a dressing, though I might call it stuffing sometimes.
What is cornbread dressing made of?
This dressing is made from cornbread, onions, celery, garlic, fresh herbs, eggs, broth, milk, and a little bit of sugar.
Can you leave cornbread out overnight for dressing?
Yes! While this dressing can be made with fresh cornbread, letting the cubes sit out overnight will help dry them out a bit to ensure the dressing doesn't turn out gummy.
Is it better to use broth or stock for dressing?
Both work perfectly well!
How moist should dressing be before baking?
You want your stuffing mixture to be moist but not wet. If there is a puddle of broth at the bottom, you've added too much liquid. You can fix this by adding a bit more cornbread.
How do you know when dressing is done?
The top of the dressing should be lightly browned. You can tell if it's cooked through by gently shaking the casserole dish. If the center wiggles, it needs a bit more time!
Why is my cornbread dressing crumbly?
If your dressing is crumbly, it's likely that it is too dry. Try drizzling a bit more warm broth over top before serving.
Why is my cornbread dressing gummy?
If your dressing is gummy, it is likely both undercooked and too moist. Try cooking it uncovered for 10-15 minutes more to dry it out a bit.
Why is my cornbread dressing bland?
If your dressing turned out bland, try adding more herbs, salt, and pepper. Measure with your heart!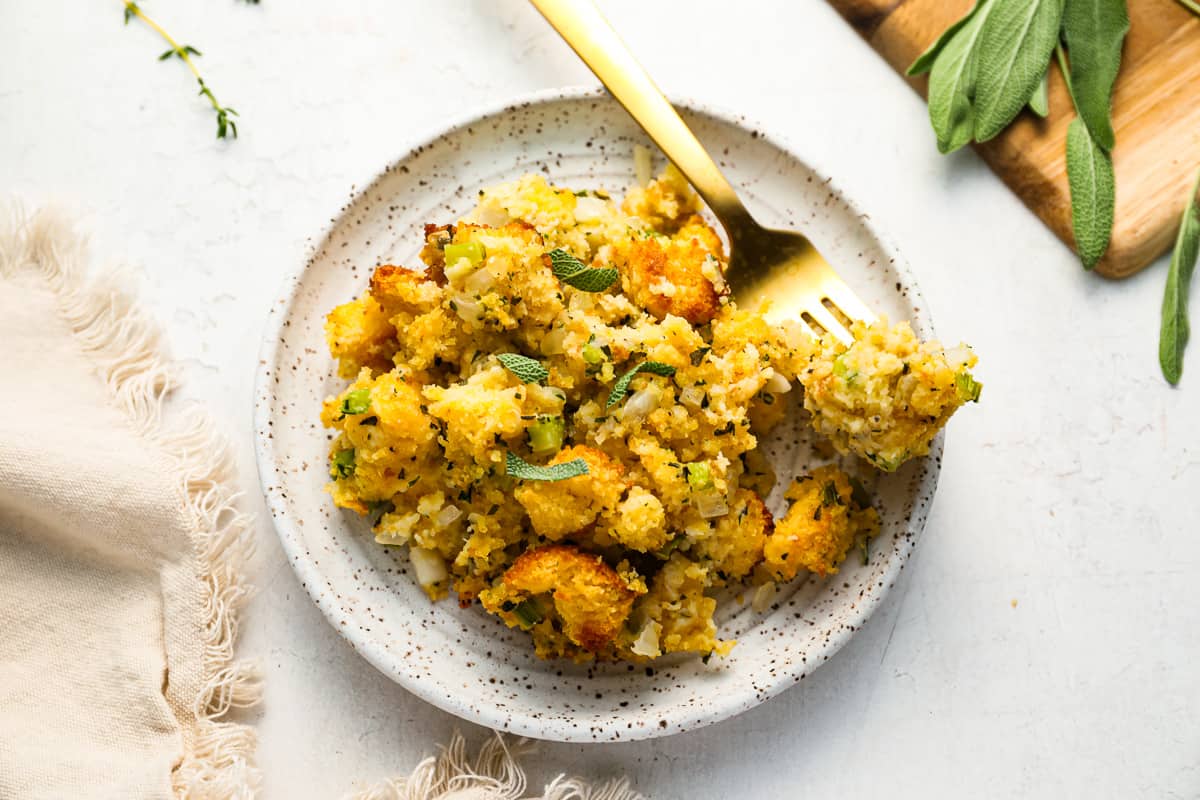 More Stuffing Recipes To Try
How to Make Cornbread Dressing Step by Step
Cook the Veggies: Preheat your oven to 375°F. Grease a 9×13-inch baking pan with butter and set aside. In a large skillet, melt 3 tablespoons of unsalted butter over medium heat. Add in 2 finely diced onions and 3 finely diced ribs of celery. Cook until softened, about 5 minutes. Add in 2 cloves of minced garlic, 2 tablespoons of minced fresh sage, 2 tablespoons of minced fresh parsley, and 1 tablespoon of minced fresh thyme. Cook until fragrant, 1-2 minutes.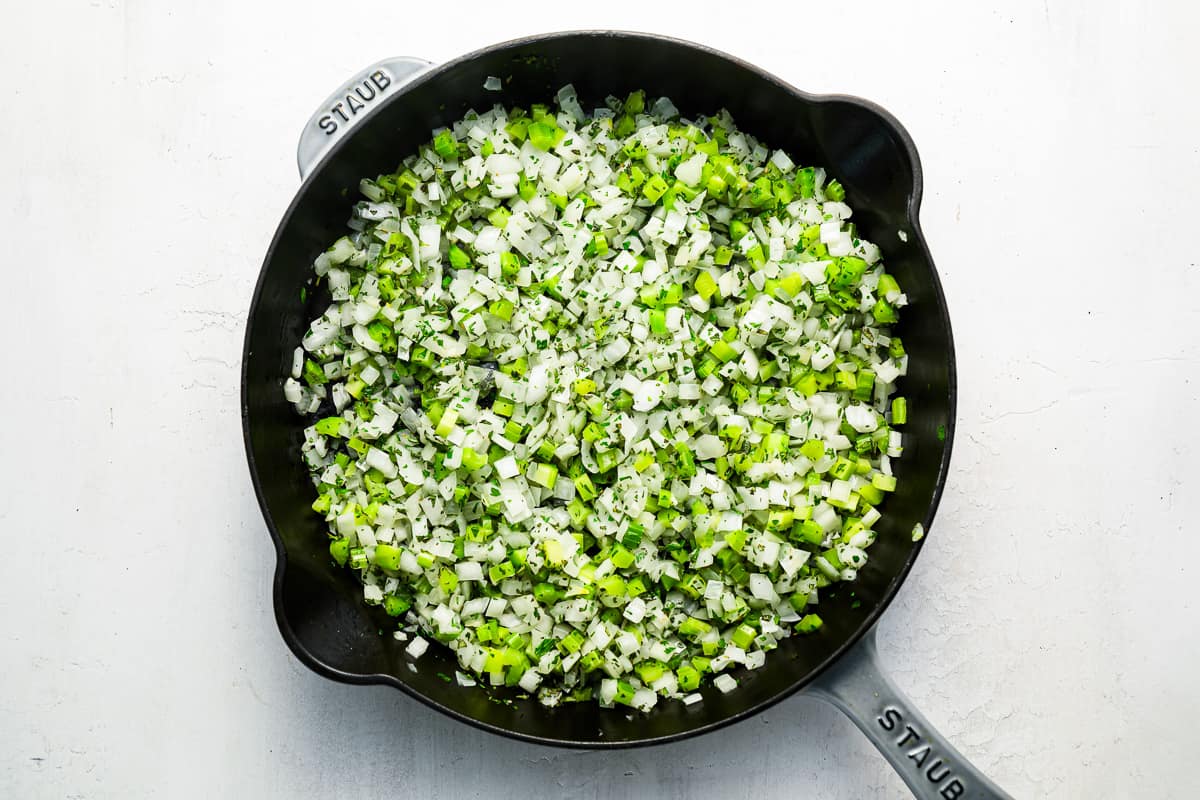 Add to a Bowl: Remove from the heat and pour into a large bowl.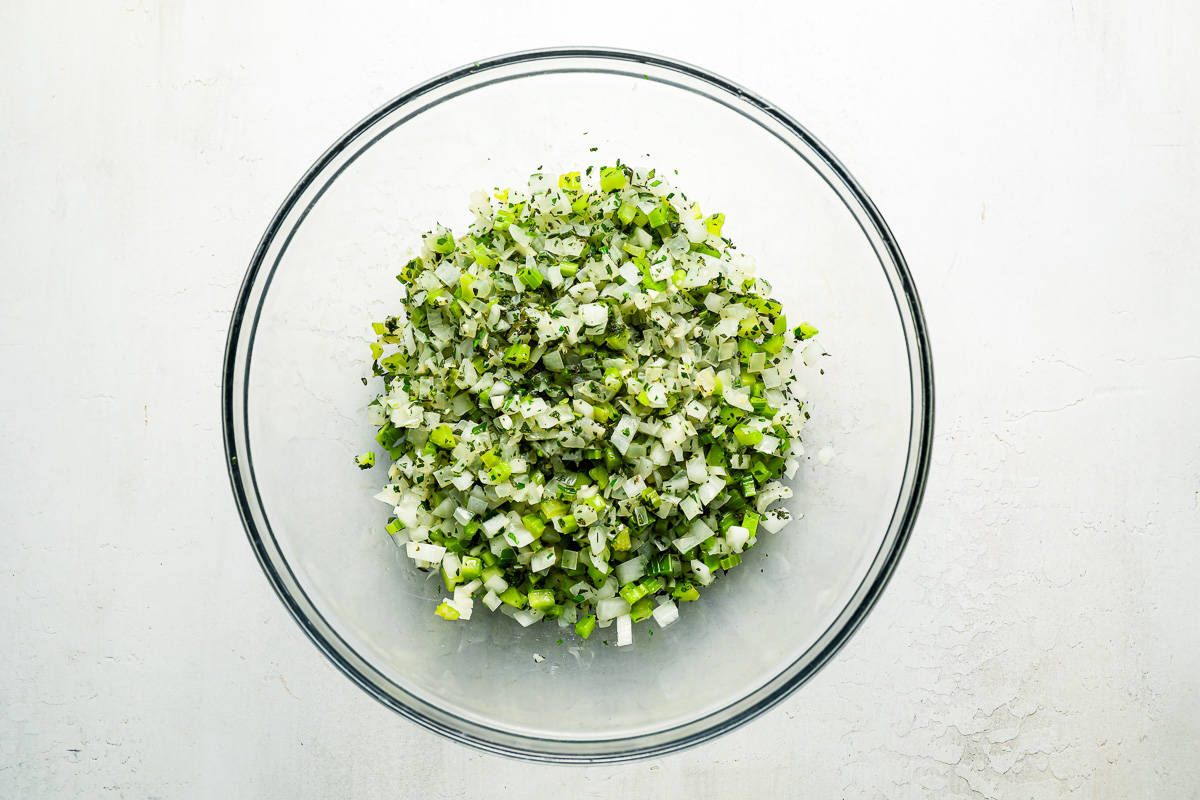 Add the Cornbread: To the vegetables, add 9 cups of cubed cornbread, 1 large egg, 1 cup of low-sodium chicken broth, ¾ cup of whole milk, ¼ cup of brown sugar, 1 teaspoon of kosher salt, and ¼ teaspoon of ground black pepper. Gently stir until combined.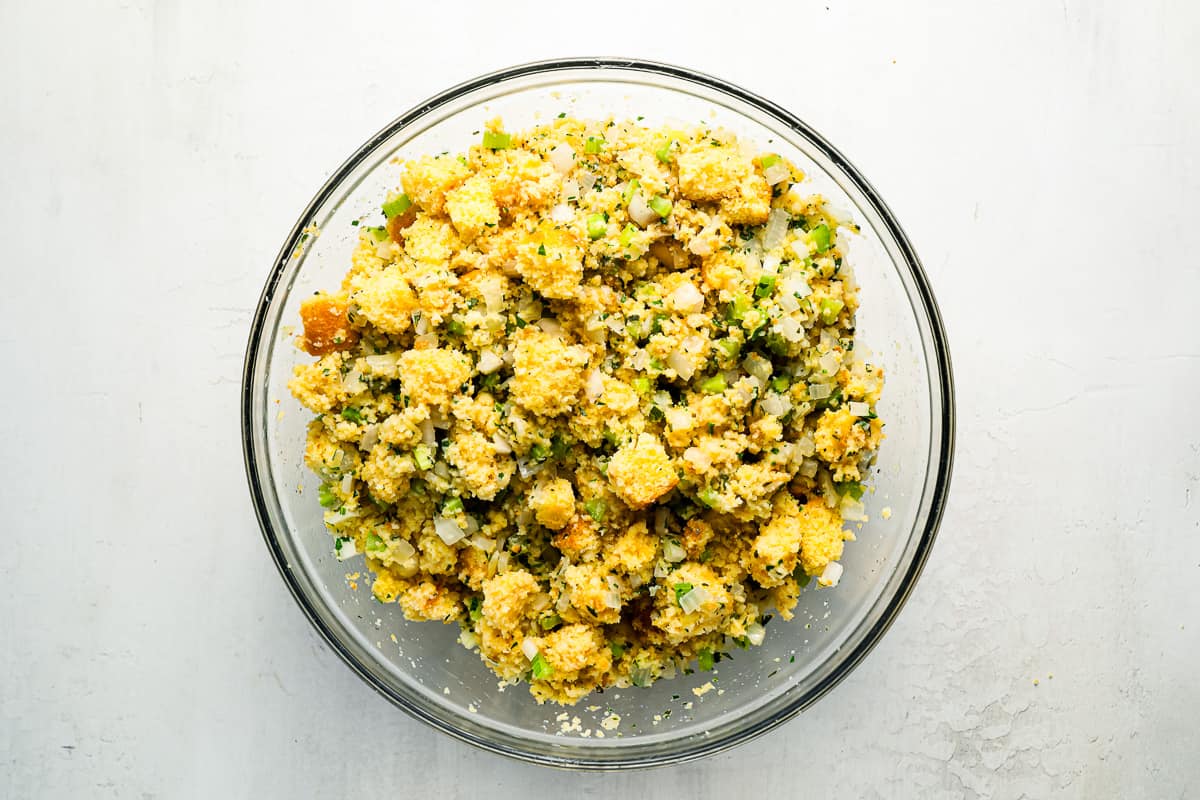 Cover and Bake: Spoon the mixture into your prepared pan. Cover with foil and bake for 30 minutes. Remove the foil and bake for another 20 minutes or until the top is golden.