Crockpot Chicken and Stuffing doubles as an easy weeknight dinner and a holiday favorite! This comfort food recipe is incredibly easy to make in a slow cooker with simple steps and inexpensive ingredients. Tender bites of chicken are cooked with a box of stuffing mix that's all dressed up with seasonings, cream of chicken soup, and more.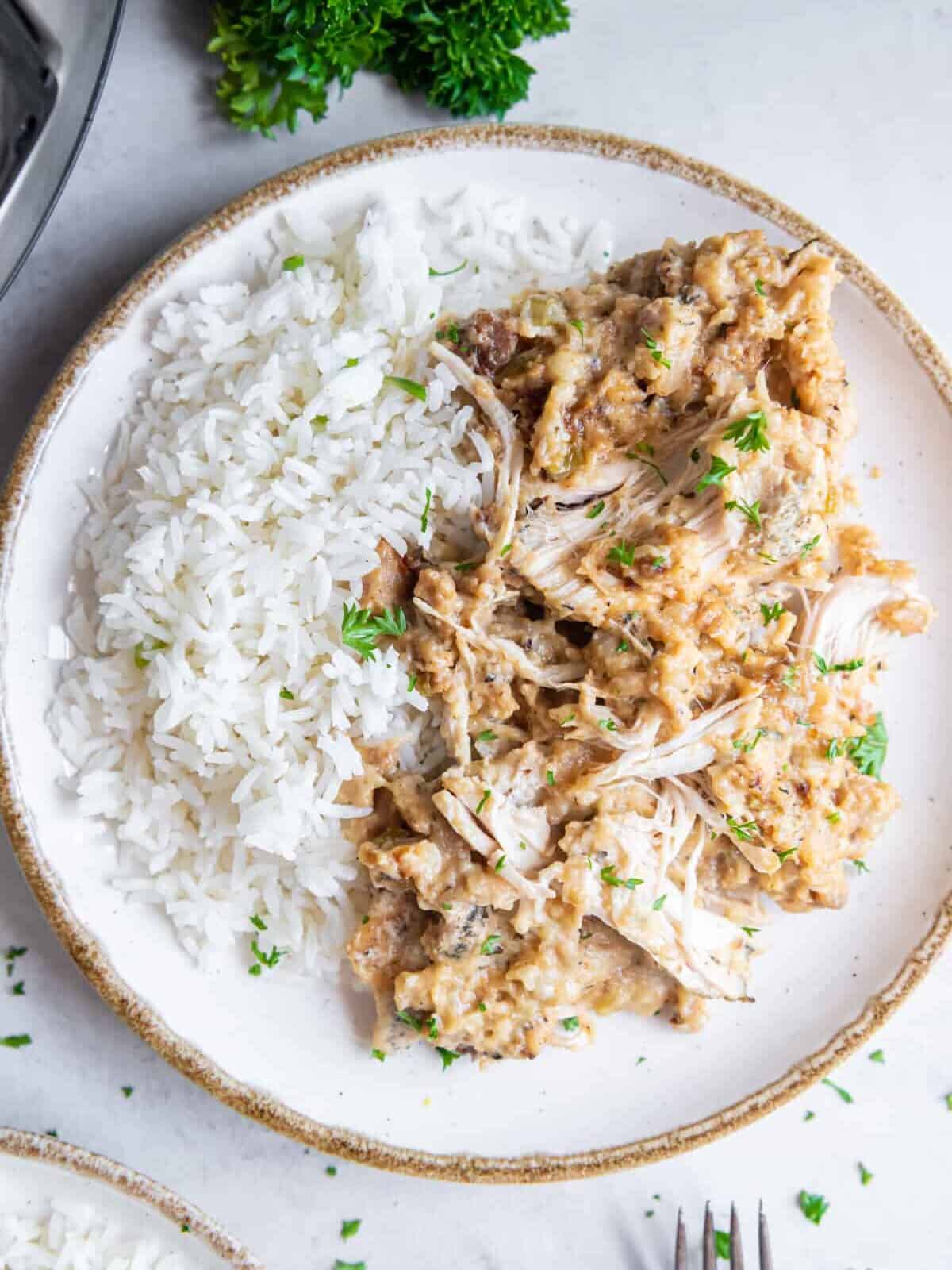 What's in this Chicken and Stuffing Crockpot Recipe?
These ingredients are frills-free, just the way we like it! You'll probably have a lot of these in the pantry already, so just throw them in the slow cooker.
Butter: You can use neutral oil, such as canola, avocado, or vegetable, in place of the butter.
Onion: White or yellow onions both work well.
Celery: Adds a nice texture.
Chicken Breasts: I cook the chicken breasts whole in the Crockpot, then shred. If you want to use cooked, diced chicken, reduce the cooking time.
Italian Seasoning: For the very best flavor, consider using homemade Italian seasoning!
Garlic Powder: Feel free to add a little extra for a more pronounced, garlicky flavor.
Salt: To taste. Feel free to omit entirely for a low-sodium dinner.
Black Pepper: Freshly cracked black pepper creates the best flavor.
Chicken Stuffing Mix: Just one box will do the trick. Any brand works!
Cream of Chicken Soup: You can swap the cream of chicken soup for cream of mushroom, onion, or celery.
Sour Cream: For the thickest consistency, use sour cream with the full fat content. Low fat sour cream may not deliver the same results.
Chicken Broth: Use my favorite homemade chicken broth for the best flavor!
Pro Tip: If you like your stuffing crispy, remove the lid for the last 30 minutes of cooking; or transfer the stuffing to an oven-safe dish and bake at 400°F for 10-15 minutes.
What else can I add?
Feel free to add up to 2 cups of vegetables, such as green beans, corn, carrots, broccoli, or baby potatoes. You can also add an extra box of stuffing for more intact, firm stuffing.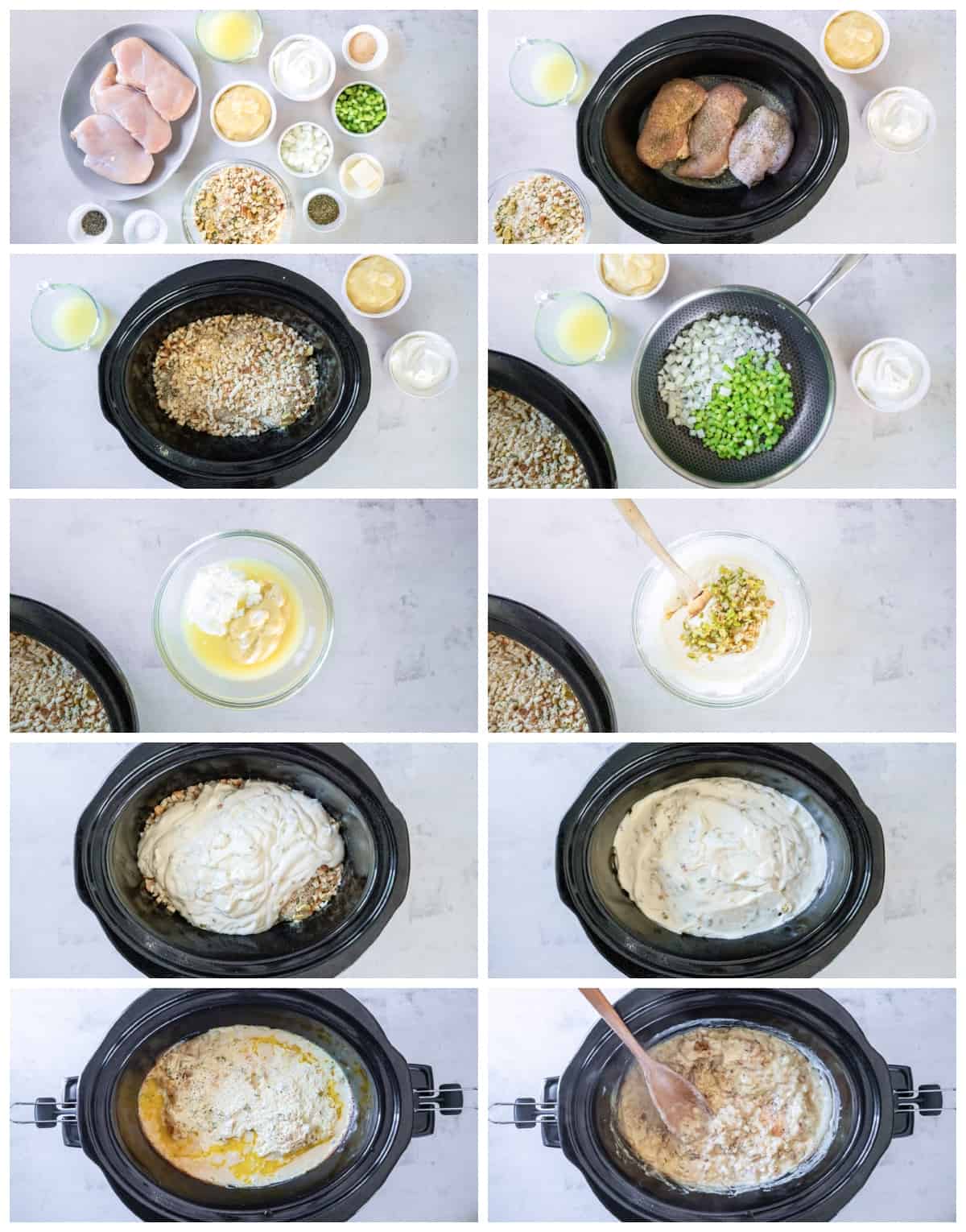 Can I put frozen chicken in the Crockpot?
I do not recommend cooking chicken from frozen in the Crockpot, as it spends too much time in the "temperature danger zone", which could cause food poisoning.
Is Crockpot chicken and stuffing gluten-free?
Unfortunately, this recipe is not naturally gluten-free. To make it gluten-free, use certified gluten-free stuffing mix and cream of chicken soup.
What can I use instead of sour cream in Crockpot chicken and stuffing?
If you don't have any sour cream (or you're not a fan), you can use an equal amount of plain Greek yogurt or mayonnaise instead!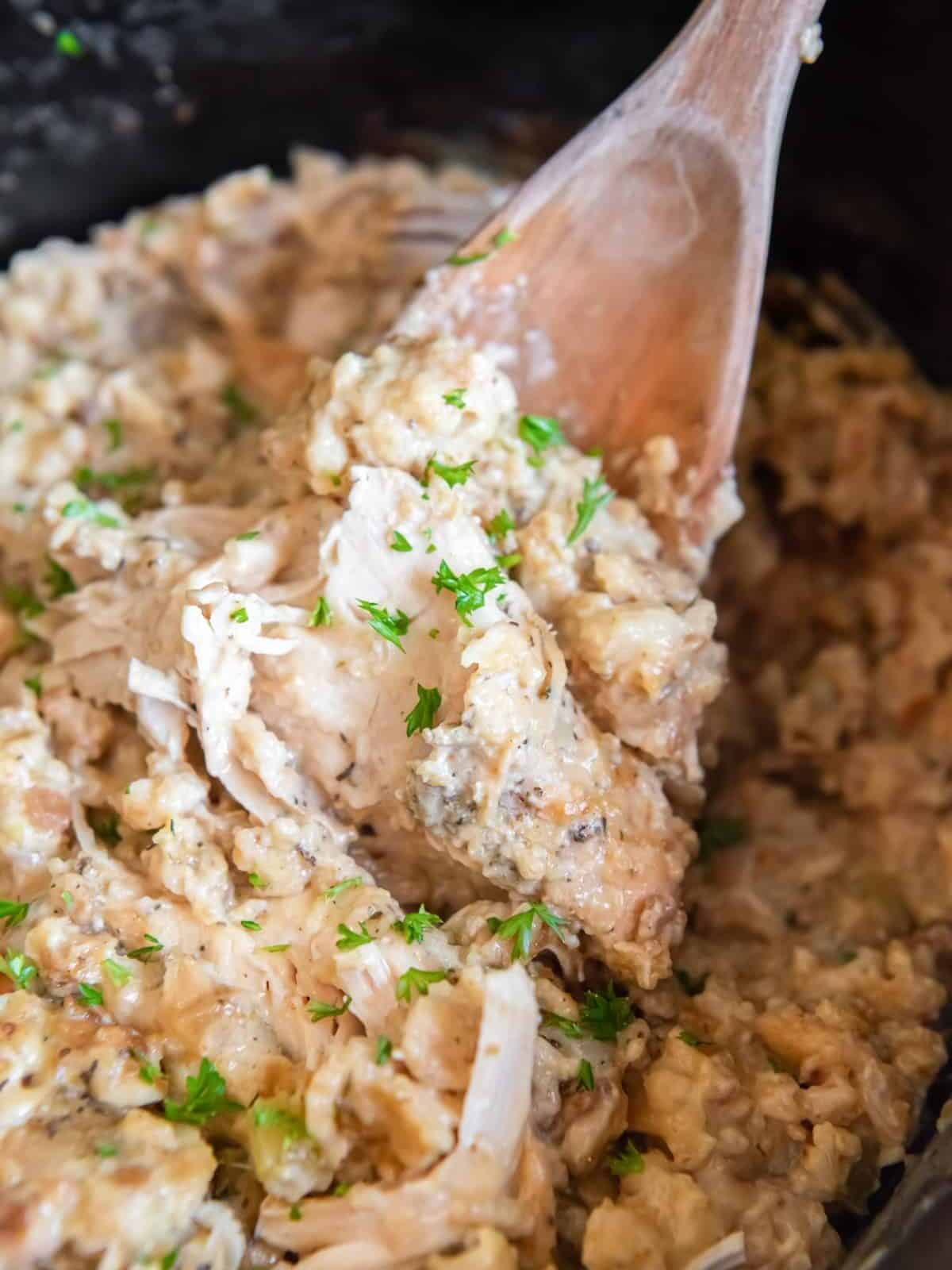 How to Store and Reheat
Store leftover Crockpot chicken and stuffing in an airtight container in the refrigerator for up to 3 days. Reheat gently in the microwave. For crispy stuffing, place in an oven-safe dish and broil for 1-2 minutes, until crisp.
How to Freeze
Freeze leftovers in an airtight container for up to 2 months. Let thaw overnight in the refrigerator before reheating.
Serving Suggestions
Make this chicken and stuffing crockpot recipe as a Thanksigivng side dish, as a simple way to switch up traditional turkey and stuffing. It pairs well with other holiday dishes such as maple sweet potatoes, cranberry sauce, or green bean corn casserole.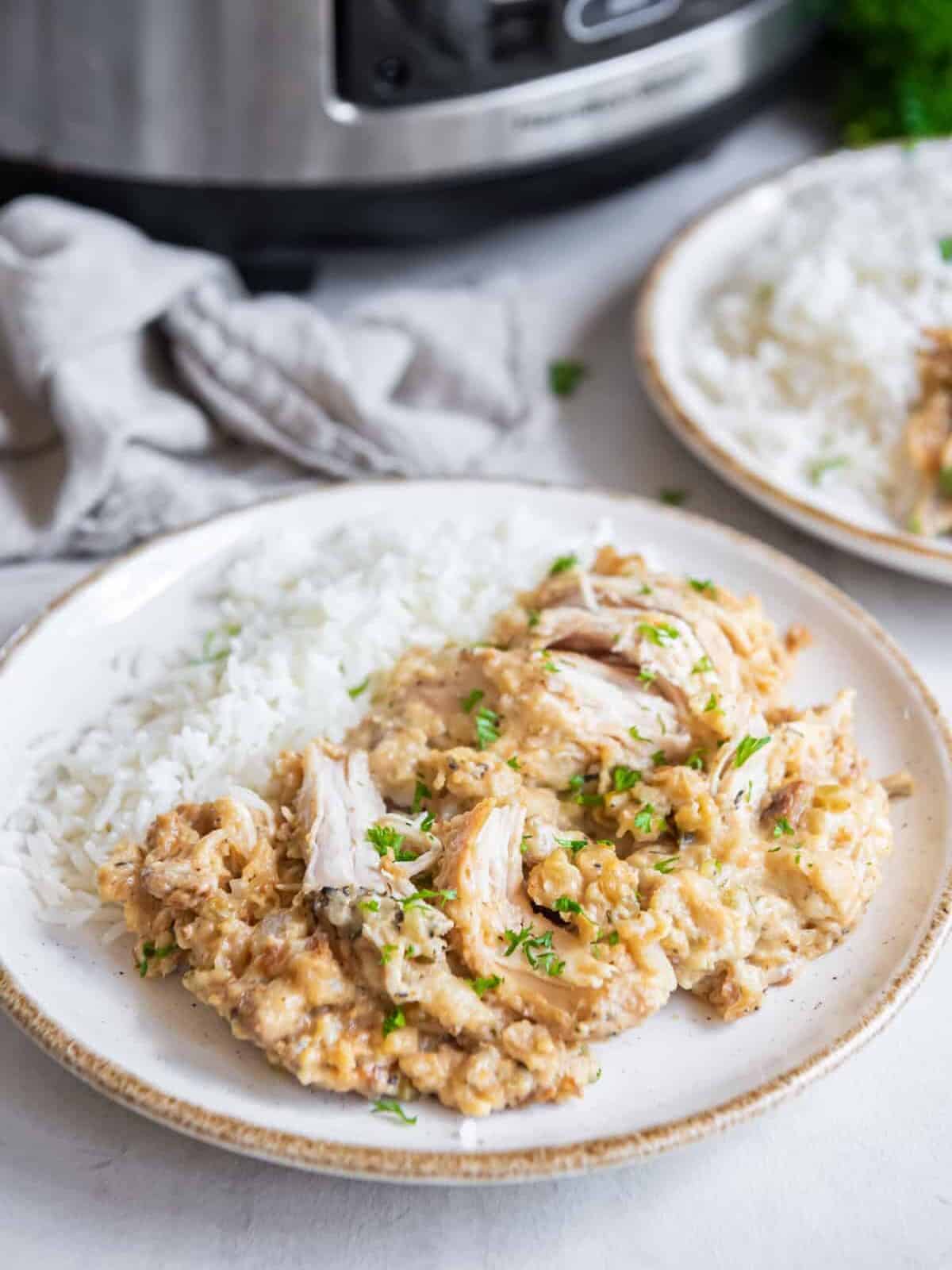 More Crockpot Chicken Recipes We Love