Baked Hamburgers are delicious and easy! Learn how to cook burgers in the oven for a juicy, delicious burger. When you broil hamburgers in the oven you get an easy and quick way to make them any time of year, without a grill. Add cheese, your favorite toppings, and enjoy!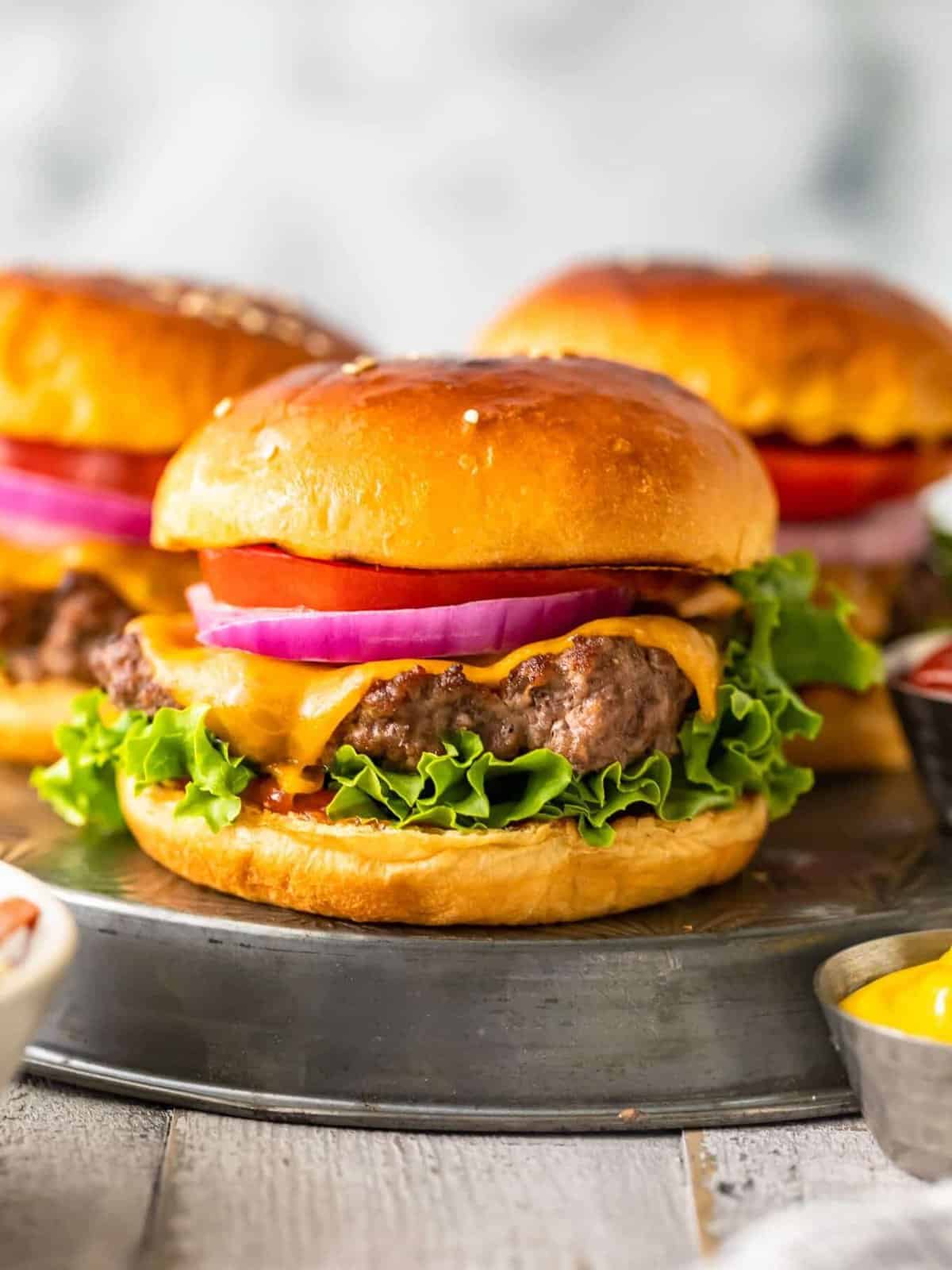 What's in Baked Burgers?
Sometimes grilling burgers just isn't an option, but you can broil them in the oven instead. It's an easy method for cooking hamburgers, it's quick, and they come out nice and juicy.
Ground Chuck: My favorite kind of meat for burgers. It's fattier and more flavorful than traditional ground beef.
Salt + Pepper: Enhances the flavor of the meat. If you want to enhance the flavor a little more, use this simple burger seasoning instead.
Cheese: For all my cheese lovers, use your favorite cheese to turn these burgers into cheeseburgers.
Burger Buns: Grab your favorite buns for serving. Brioche buns are a great way to make them feel a little more gourmet, but any type is fine.
Toppings: I went for the classics– ketchup, lettuce, onion, and tomato– but the sky's the limit!
Pro Tip: Don't overmix the ground beef; otherwise, it could make the burgers tough and chewy!
Variations on Burgers in the Oven
There are so many ways to jazz up these classic baked hamburgers. Add some spicy mayo, cheddar cheese, bacon, avocado, and onion rings to make cowboy burgers. Or, add some barbecue sauce to make BBQ burgers. Some caramelized onions and Swiss cheese will turn these into caramelized onion Swiss burgers, and a fried egg can be the perfect start to a breakfast burger. The possibilities are endless!
Can you cook burgers in the oven?
Yes! You absolutely can cook burgers in the oven, and I'm going to show you how!
How long do you cook burgers for in the oven?
When broiling burgers in the oven, you'll need to cook the patties for about 3-4 minutes on each side (so a total of 8 minutes). Be sure to check the internal temperature of your burgers so you know when they are done.
Is it better to cook burgers on a skillet or in the oven?
I wouldn't say either method is better than the other. I love to broil hamburgers, and I love to cook them on the stove too. Both are easy to do, and both allow you to make burgers indoors, any time of year. Everyone will have their preference, but I recommend trying both methods to see what works best for you.
Do you need to flip burgers in the oven?
Yes, you need to flip the burgers halfway through cooking to ensure that they are evenly browned and cooked all the way through.
How thick should a burger patty be?
I recommend making burger patties about 1-inch thick. If it's too thick, it will get dry and crispy on the outside before cooking through fully in the center.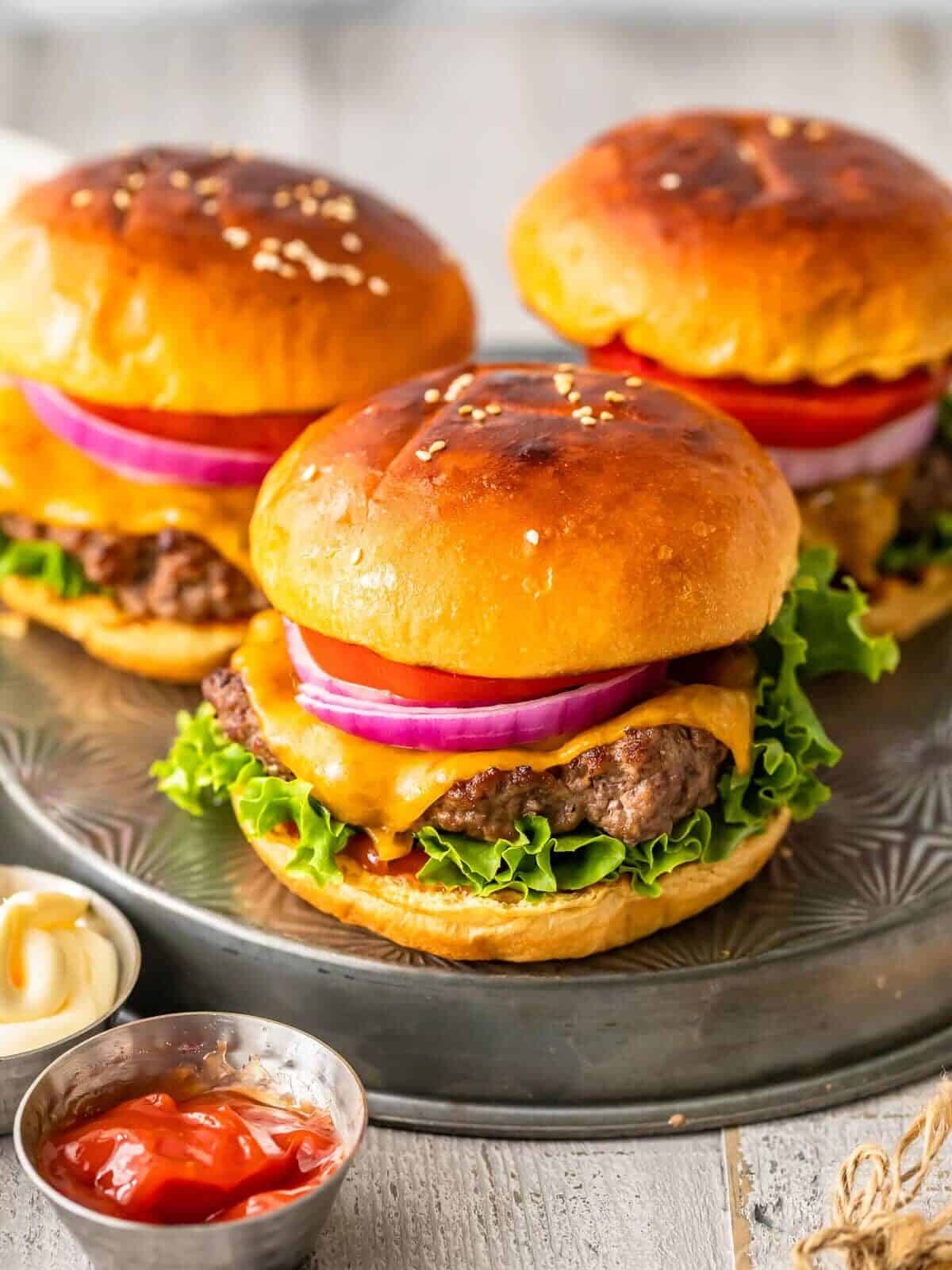 How to Store and Reheat
Once cooked, let your baked hamburgers cool to room temperature. Store them in a resealable bag, airtight container, or wrapped tightly in aluminum foil. Keep them in the refrigerator for up to 4 days. Reheat the burger patties in a 350°F oven for about 7 minutes, or until warmed through.
How to Freeze
To freeze homemade burger patties, let them cool completely. I recommend wrapping each one separately with aluminum foil, and then placing them all in a freezer-safe, resealable bag. Freeze for 3 months. Let thaw overnight in the refrigerator before reheating.
Serving Suggestions
I love topping my baked hamburgers with lettuce, tomato, onions, and ketchup. Some honey mustard or my all-time favorite burger sauce an add a bit more flavor. A few strips of sweet and spicy bacon would be so yummy, and this sweet pickle relish adds a fresh flavor.
But this meal isn't complete without the classic sides! Some French fries, sweet potato fries, or tater tots would be delish! Coleslaw, mac and cheese, or cucumber tomato salad also pair super well.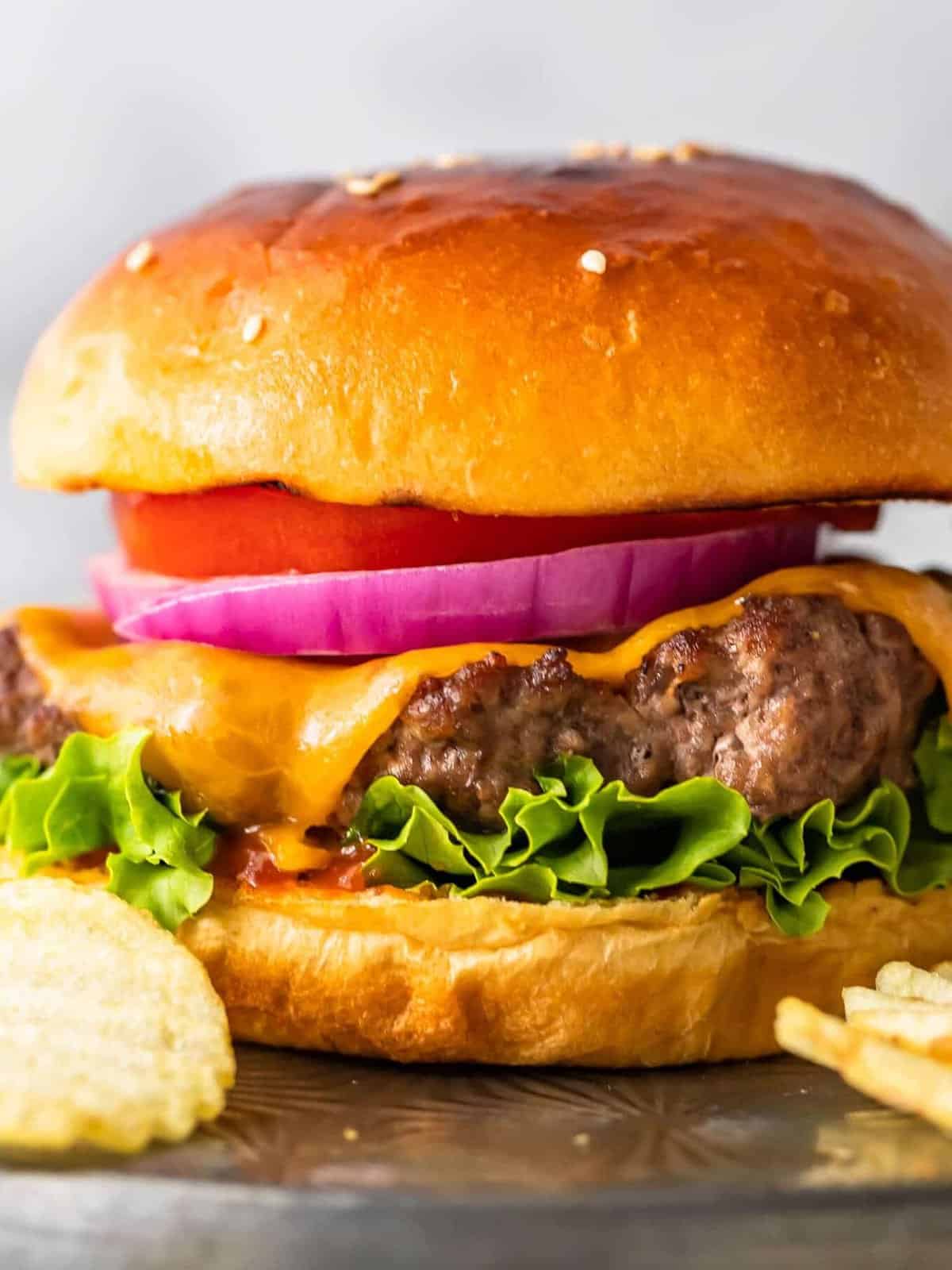 Learn more about internal temperatures for different meats plus get a FREE printable Meat Temperature Chart.
More Burger Recipes We Love