All margaritas are delicious margaritas—and this homemade blood orange margarita recipe will surely rise to the top of your cocktail recipes list. Its smooth taste, salt rim, and vibrant blood-orange color will satisfy all your senses. Are you ready to make the perfect drink?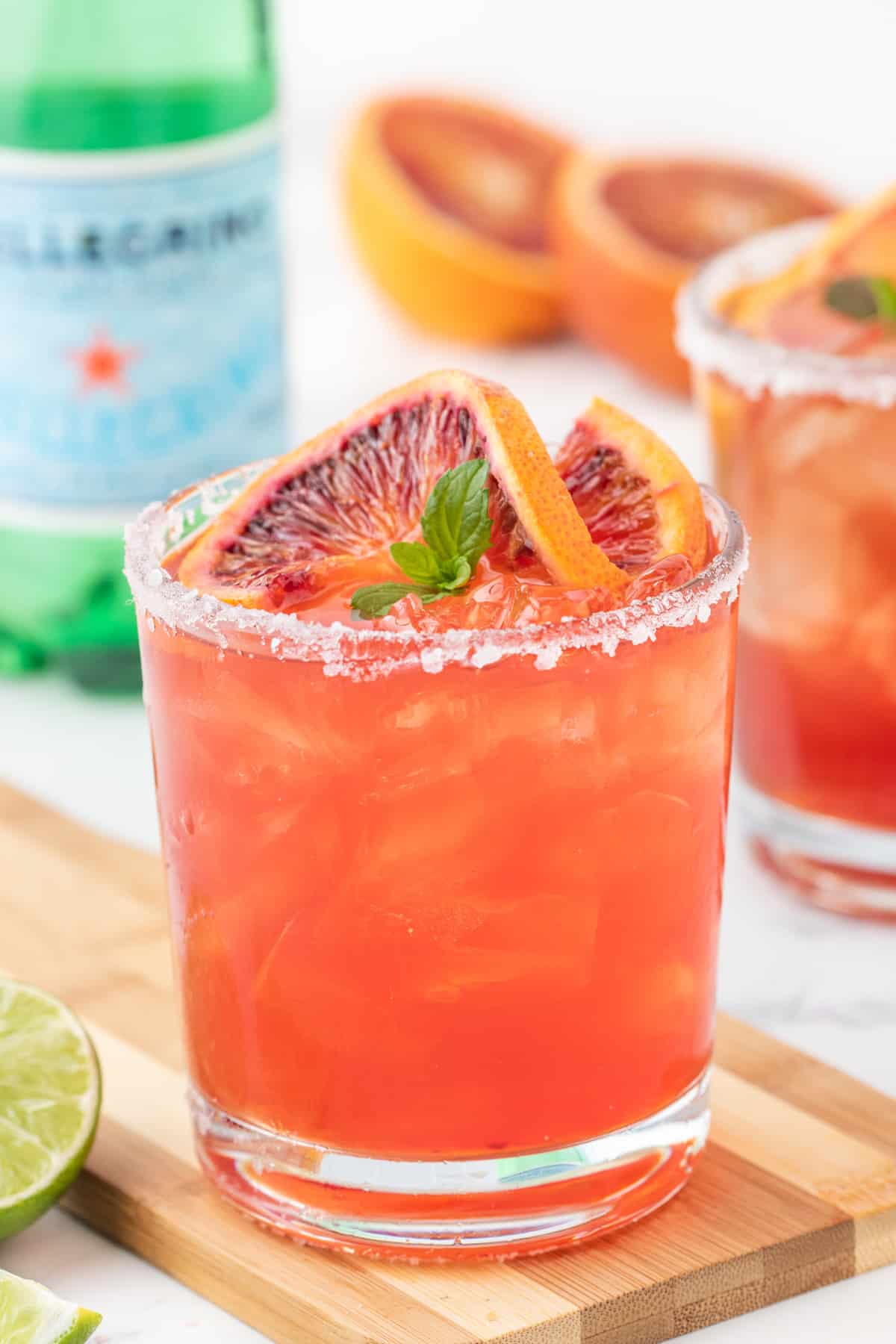 What's in this Blood Orange Cocktail?
We're raising a toast fresh blood oranges, fresh lime juice, and your best tequila this weekend (or any day that ends with Y)! These simple ingredients transform into turn into delicious margaritas worthy of an Instagram post.
Salt + Lime Wedges: The salt rim is one of the most iconic parts of a margarita. For bold flavor and texture, try coarse sea salt instead of regular table salt.
Tequila: We're using gold tequila here for its rich flavor.
Fresh Lime Juice: Get ready to squeeze!
Fresh Blood Orange Juice: Vitamin C is on the menu tonight!
Simple Syrup: Homemade or store-bought, this is your party.
Sparkling Water: All drinks should sparkle.
Pro Tip: No juicing tool? Cut the fresh limes and fresh blood oranges in half, and squeeze over your clean hands to catch seeds before they fall into your drink!
Switch up your Blood Orange Margarita
While this recipe gives the right amount of sweetness and tart citrus flavor we all know and love, there are endless ways to transform this delicious cocktail into something more.
Need a little spice? To make a blood orange margarita spicy, muddle a few jalapeño slices in the bottom of your salted rocks glass before adding the ice. You could also add a bit of chili lime seasoning to your salt rim for extra kick!
Want to pucker up a little? A dash of tart cranberry juice in your cocktail shaker will give each sip a little punch.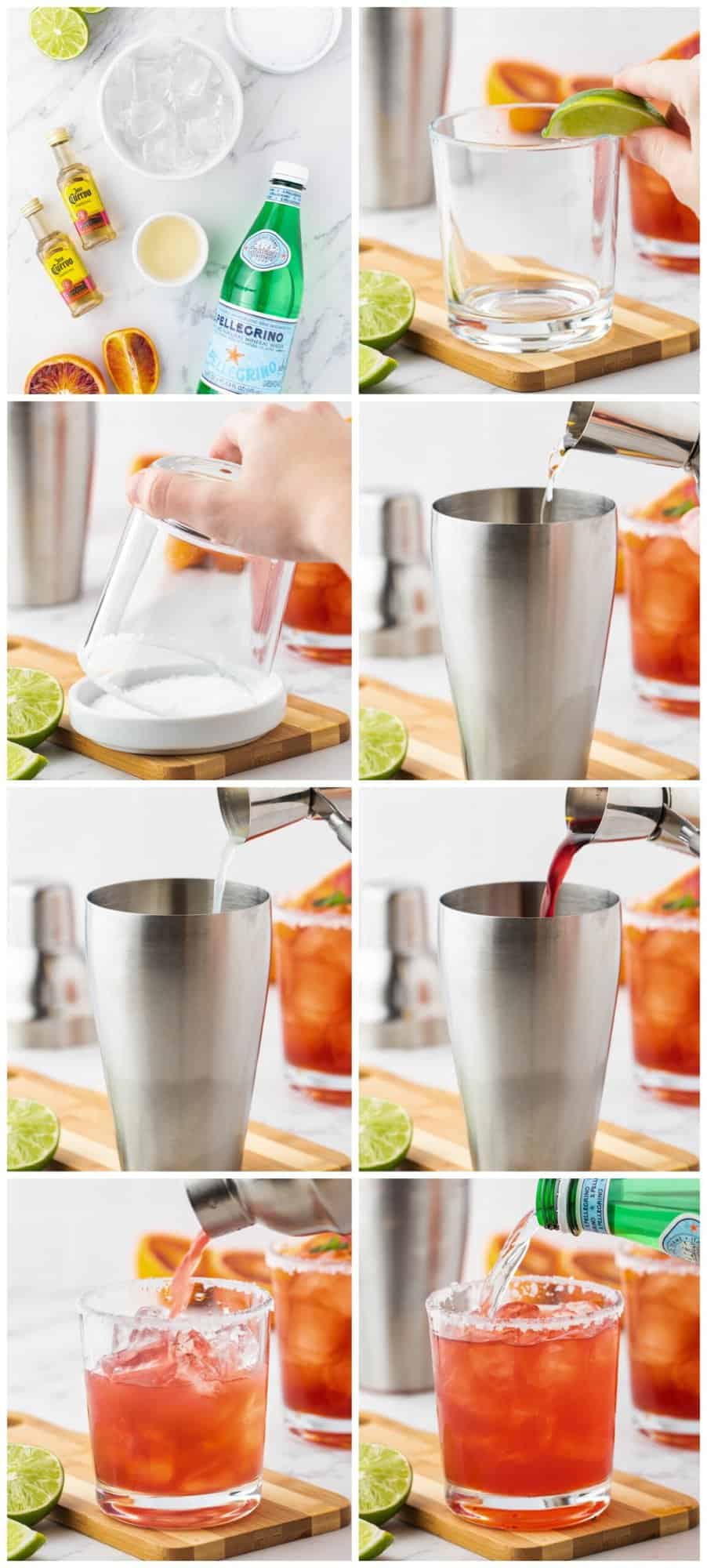 What's the best tequila for blood orange margaritas?
A gold tequila is best for these margaritas. Gold tequila has been aged for longer than blanco tequila and has a woodier flavor that pairs well with citrus. Blanco tequila has a stronger flavor that can overpower the blood orange juice, but it will give you that classic burn. Tequila reposado is a type of gold tequila that has not been aged for as long, so it will also work in these margaritas.

Do I have to use freshly-squeezed juice in margaritas?
For the lime juice, you absolutely must use freshly squeezed. Bottled lime juice just doesn't have the same flavor as fresh lime juice. You can, however, use store-bought bottled blood orange juice if you prefer. Just make sure the juice is 100% juice and unsweetened.
juice and unsweetened
Why isn't there any Cointreau or triple sec in this recipe?
Cointreau and triple sec are orange liqueurs found in most classic margarita recipes. We chose to omit them because this type of orange leans more floral and nuanced, and Cointreau and triple sec can take away from that.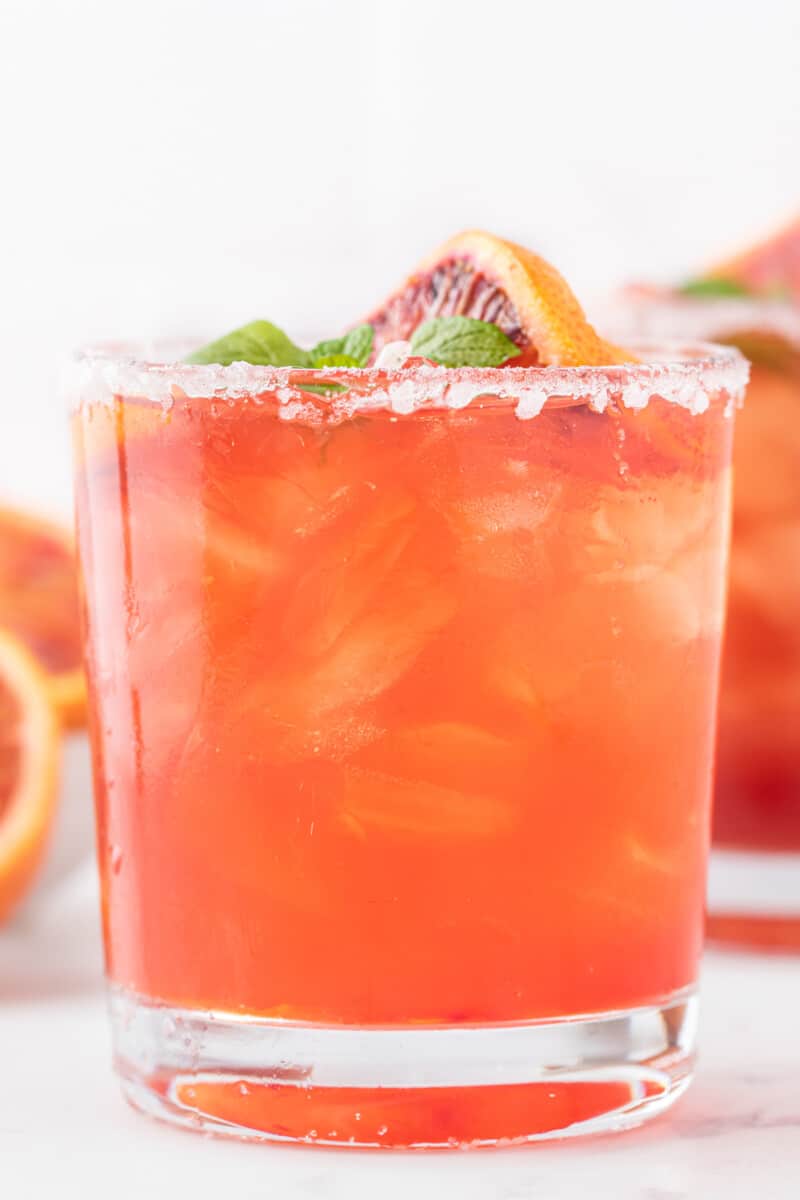 How to Store
To store a blood orange margarita for later, combine the tequila, lime juice, blood orange juice, and simple syrup in a glass and refrigerate for up to 3 days. When you're ready to enjoy your margarita, add this mixture to a cocktail shaker filled with ice, shake it up, then add the seltzer.
Serving Suggestions
This great recipe is just the starting point for your next girls' night, parents' night, or taco night! I recommend pairing it with your favorite tortilla chips and my White Queso Recipe and Birria Tacos—the smooth citrus will balance out the spicy, rich flavors of these dishes. Fill a large pitcher with this great cocktail and set it out alongside Mini Fried Taco Pizza Pockets for a game-day feast. For an afternoon pick-me-up, you can pair this with the sweet, smoky flavors of a Grilled Peach Salad.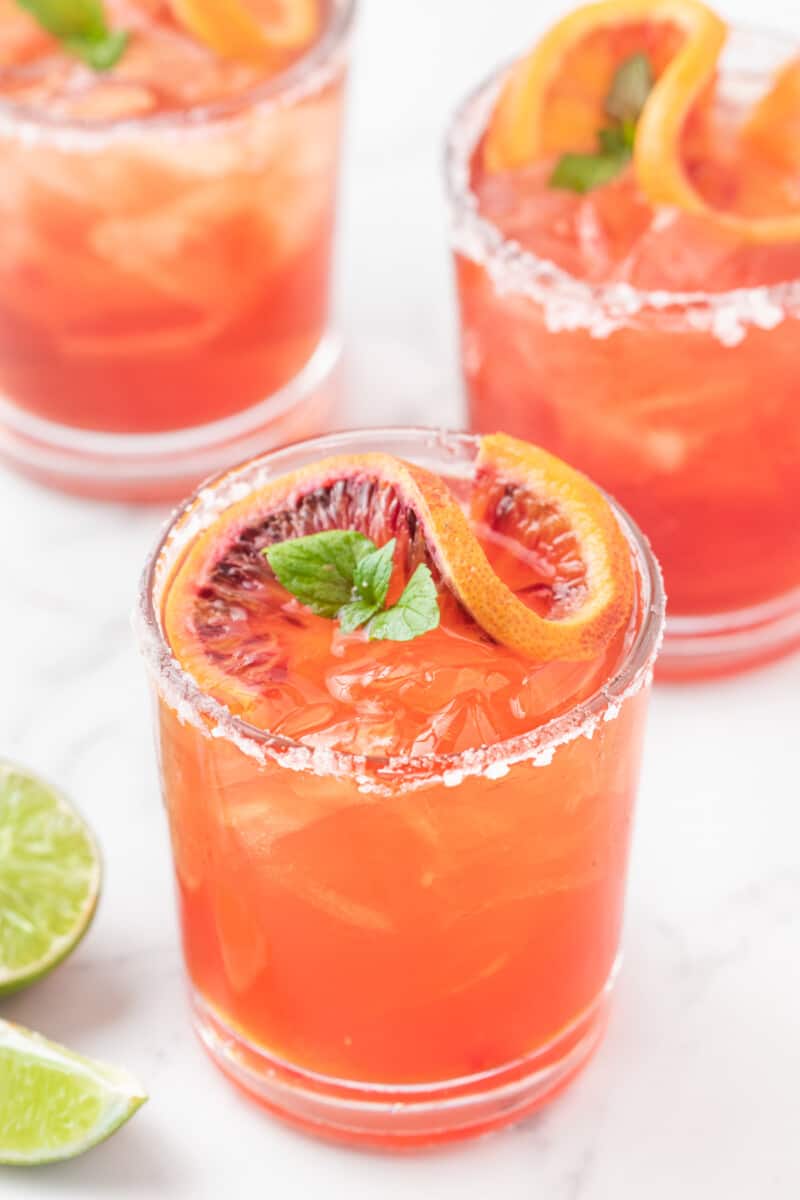 More Fruity Margarita Recipes We Love