My Mom's apple & gruyere frittata has to be one of our family favorites now! It is soooo good, I had to learn how to make it! This is my go-to recipe for any bridal or baby shower brunches. Everyone loves it!
i'll admit that I have never been a big breakfast eater.  its always the meal that i don't mind skipping (i know this isn't healthy!!)  it probably has to do with my love of sleeping in…but also because breakfast foods just aren't my favorite.  until now.  when we were home last weekend, my mom taught me how to make this delicious and easy meal…and man was it a hit! pat, mr. subdued, really loved this meal and wants me to make it again and again! i know you will love it too.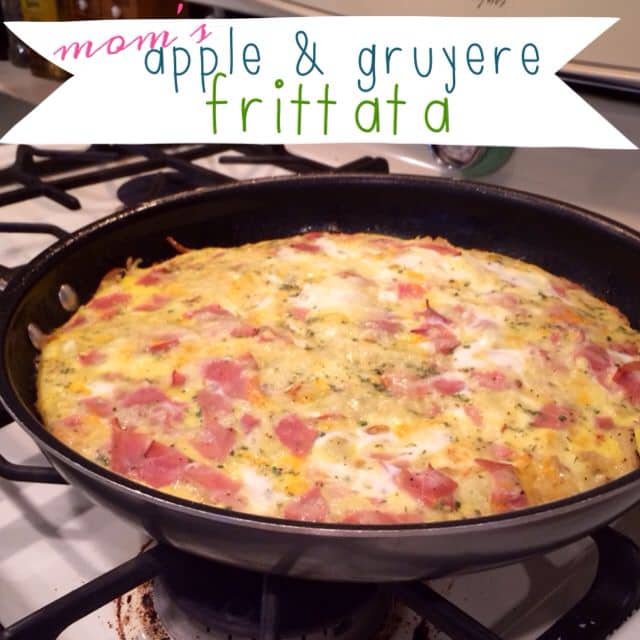 the ingredients are totally customizable, although please please PLEASE try it with the apple.  for some reason, this just really works.  it adds such dimension to the dish.  it isn't an overwhelming addition, but trust me you should try it! i also really recommend the gruyere cheese.  you should be able to find it at any grocery store, and it is delicious.  soft and creamy and perfect with the ham and apple.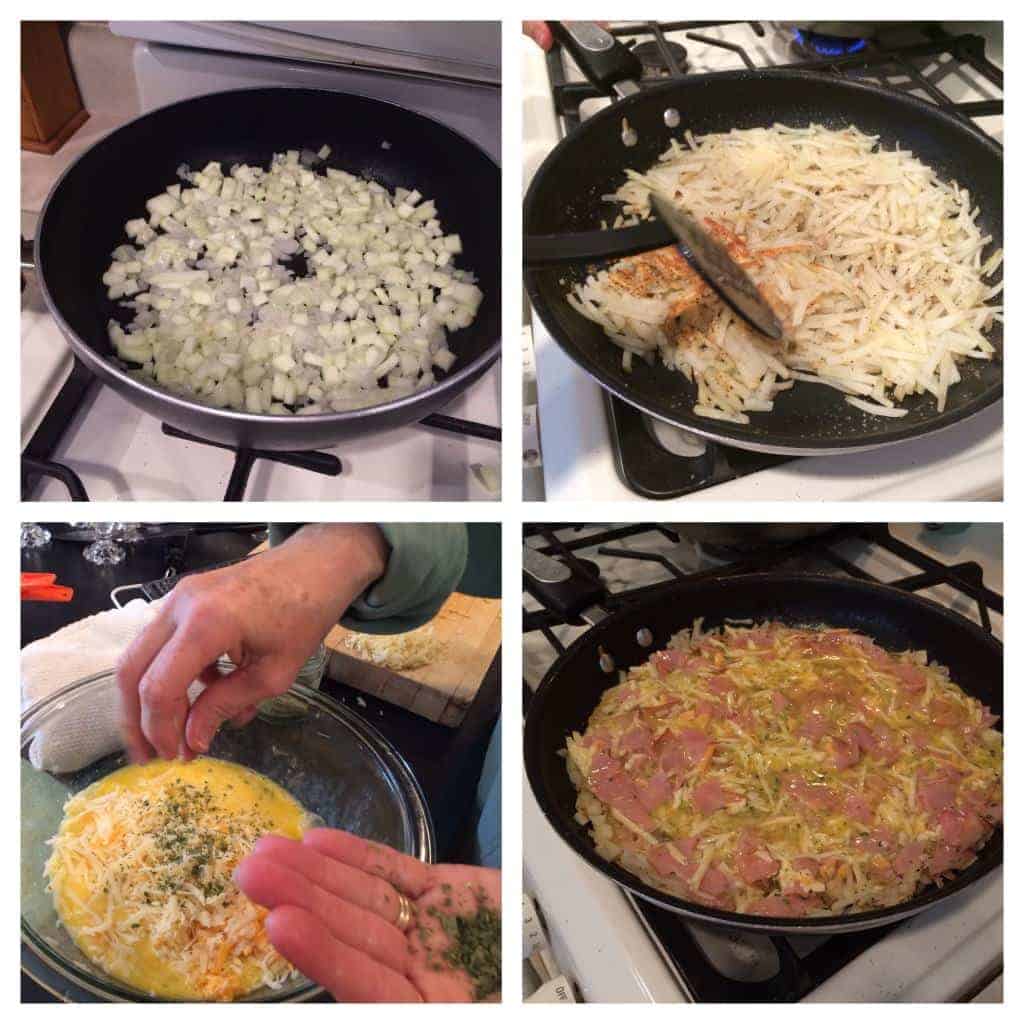 this recipe is VERY easy, but does have quite a few steps.  hang in there with it, you won't mess it up.  and you will be so proud of yourself! one important step is pre-browning the hashbrowns.  cook them until crispy and light brown on one side, and then flip and cook the other side.  only flip once. detailed instructions for everything else are below in the recipe card :)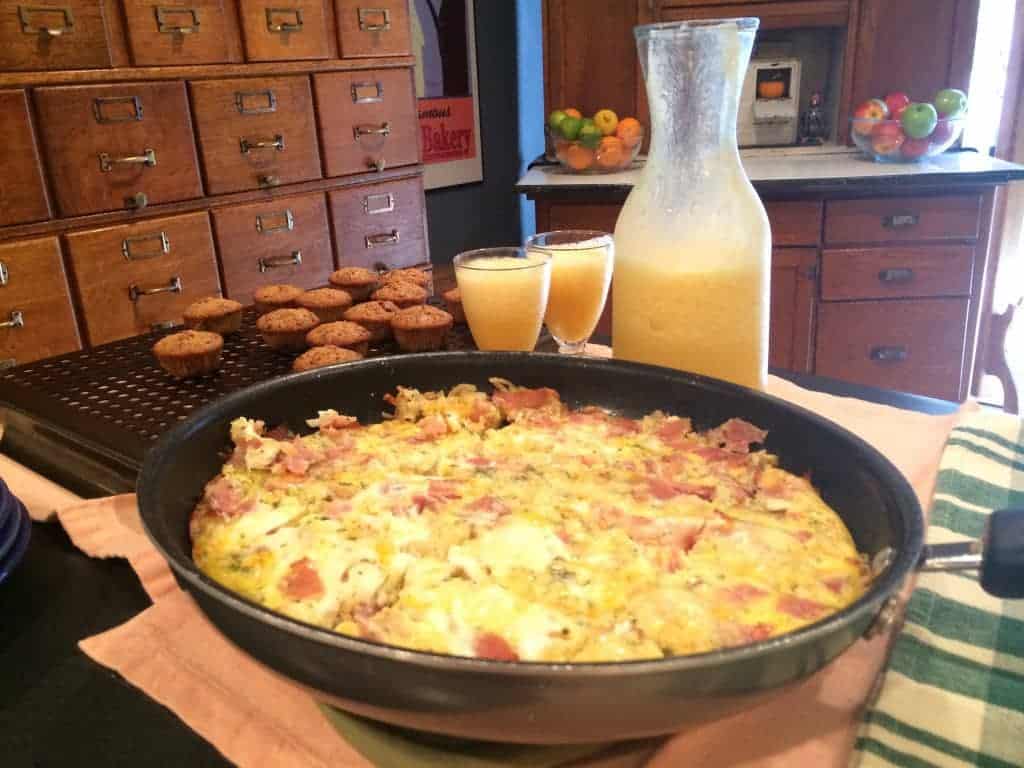 you can cut it into squares or slices while still in the pan with a spatula.  then its ready to serve! this will make anyone a morning person!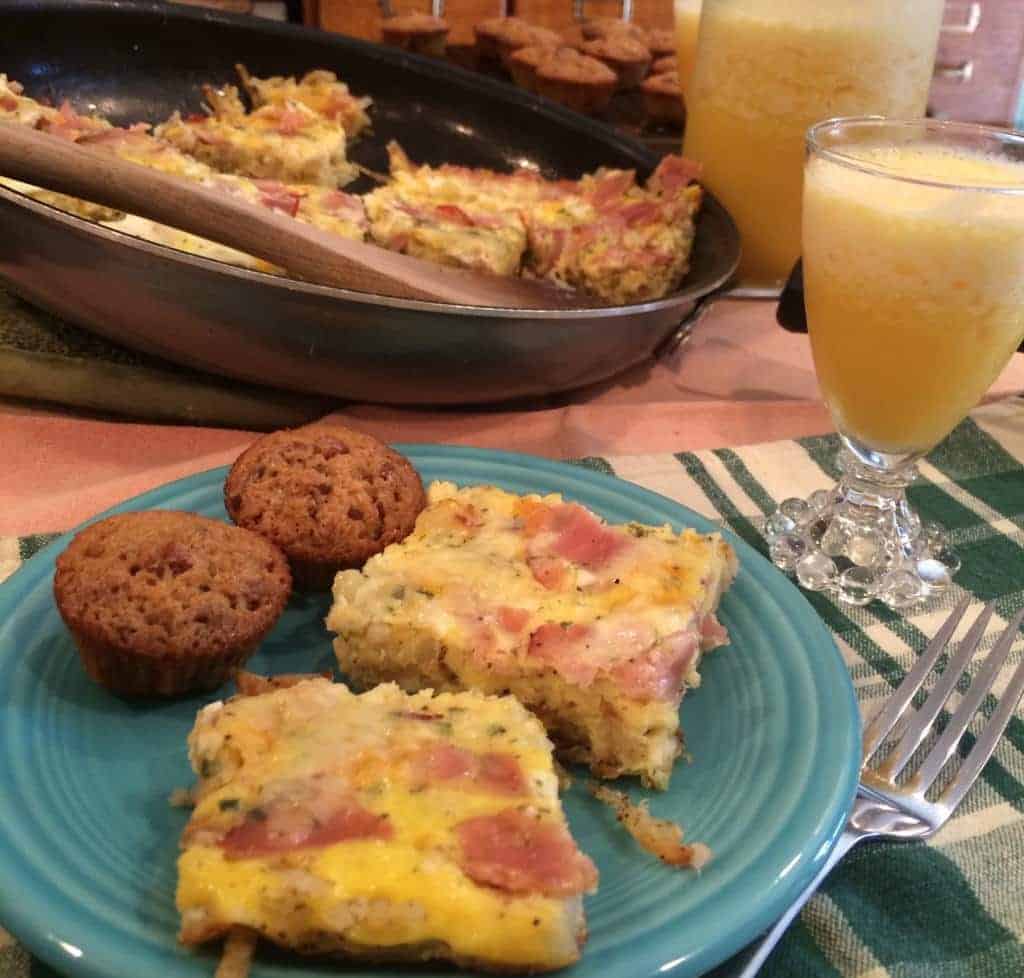 stay tuned for recipes for the pecan pie mini muffins, and aunt lily's famous orange juice.  the perfect breakfast combination! i just couldn't wait to get this one up on the blog, it is so delicious!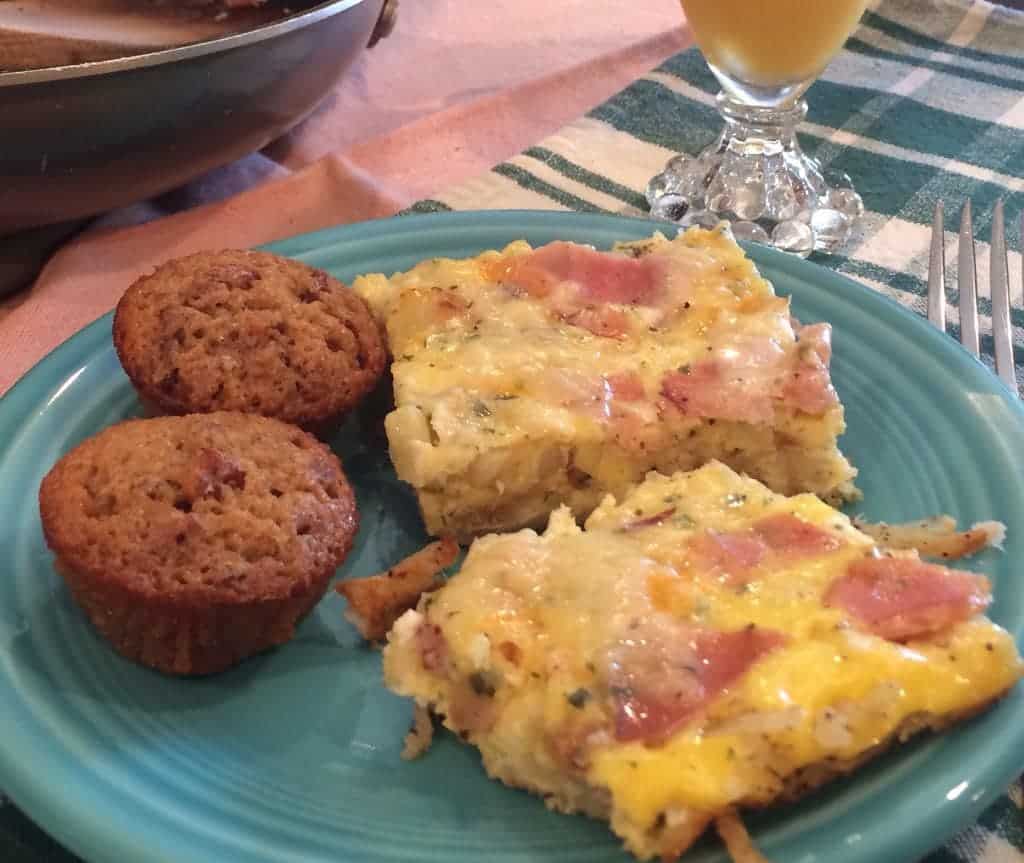 enjoy!!!!!
mom's apple & gruyere frittata
mom's famous apple and gruyere frittata! make with whatever ingredients you like. enjoy!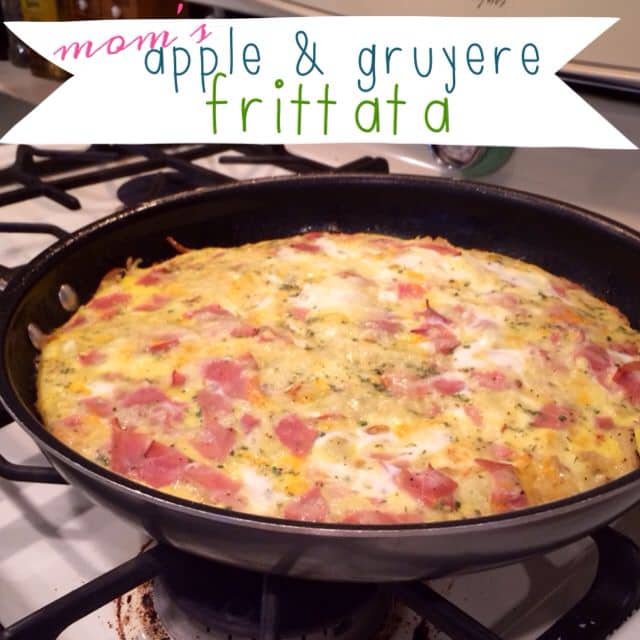 Ingredients
FOR HASH BROWNS:

2-3 cups shredded hash browns
3 T olive oil
1 T butter
1 t. cracked pepper
1/2 t. salt

ONION AND APPLE:

1 med. sweet yellow onion, diced
1 granny smith apple, diced
1 T olive oil

FOR EGG MIXTURE:

1/2 cup gruyere cheese, diced or shredded
1/2 cup Mexican blend shredded cheese
1 t. parisien herb (if you can't find this, you can use basil or tarragon, or a combo)
8 large eggs
1.5 T. water or milk
1 cup ham, diced (can substitute other meat if desired, sausage, bacon, etc)
Instructions
FOR THE HASHBROWNS:

heat oil and butter in a stovetop pan. add salt and pepper to taste.
add potatoes, only flipping once (wait for them to be crispy and brown on one side, and then flip)

FOR THE APPLE AND ONION:

heat oil and butter in stovetop pan.
add apple and onion to pan and saute until tender

FOR EGG MIXTURE:

mix together eggs, cheeses, herbs, water/milk, and ham together in a separate bowl.
sprinkle apple and onion mixture over hashbrowns once both sides of potato are browned
pour egg mixture over all, then sprinkle with a small amount of salt and pepper to taste (a little goes a long way)
bake @ 400 degrees, covered, for 12-25 minutes, until eggs are set. (this can vary with type of pan. ideally keep everything in the frying pan and cover with glass lid, to steam the eggs and bake the dish quicker. this will work best. if you don't have an oven safe frying pan, use a 9x13 dish and cook slightly longer due to the transfer and not being able to cover with a glass lid. cover with foil)
remove from oven and serve!
7.8.1.2
2102
https://www.thecookierookie.com/frittata/