My mom's Apple, Ham and Cheese Frittata with Gruyere has to be one of our family favorites! It's hard to believe that something so delicious only needs a handful of ingredients. This is my go-to recipe for breakfasts, brunches, lunches, and dinners – -everyone loves it!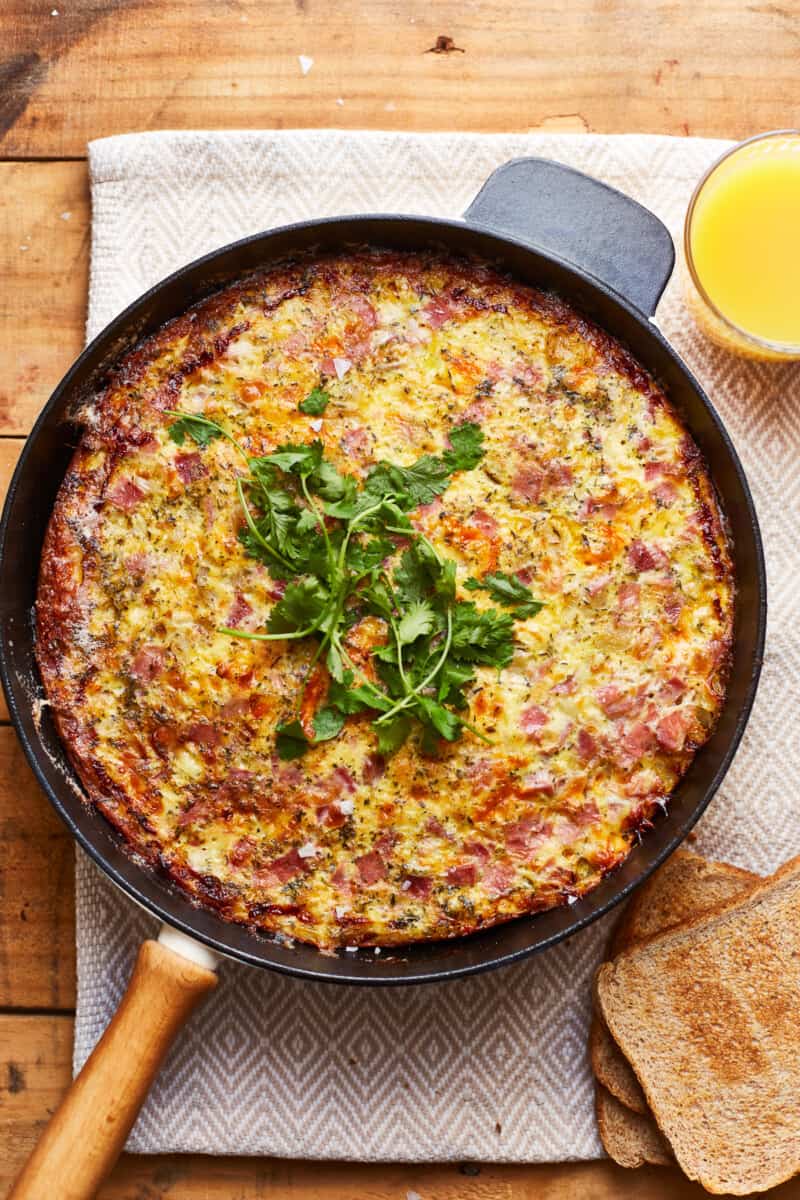 Ham and Cheese Frittata Recipe
The ingredients in Apple and Gruyere Frittata are so easy to customize, although please please PLEASE try it with the apple. For some reason, this adds such a dimension to the dish.
It's not overwhelming but trust me– you should try it! I also think the Gruyere cheese is essential and is easy to find at any grocery store.
It's soft and creamy and perfectly complements the ham and apple. This makes a hearty and delicious breakfast!
Why you'll love this Easy Frittata Recipe:
Simple: You only need a handful of ingredients.
Customizable: This recipe is customizable. (But I highly recommend trying apple and Gruyère first!)
Hearty: This frittata can be a main dish or a side. It serves 8 and is perfect for a hearty and delicious brunch.
Ingredients for this recipe
Eggs
Apples and onions.
Hash browns – Make sure they're shredded.
Cheese – shredded. A blend of Gruyère and Mexican is wonderful, but you can choose other cheeses such as Cheddar or jack.
Ham – cubed. You can swap for other protein, like bacon, if you like.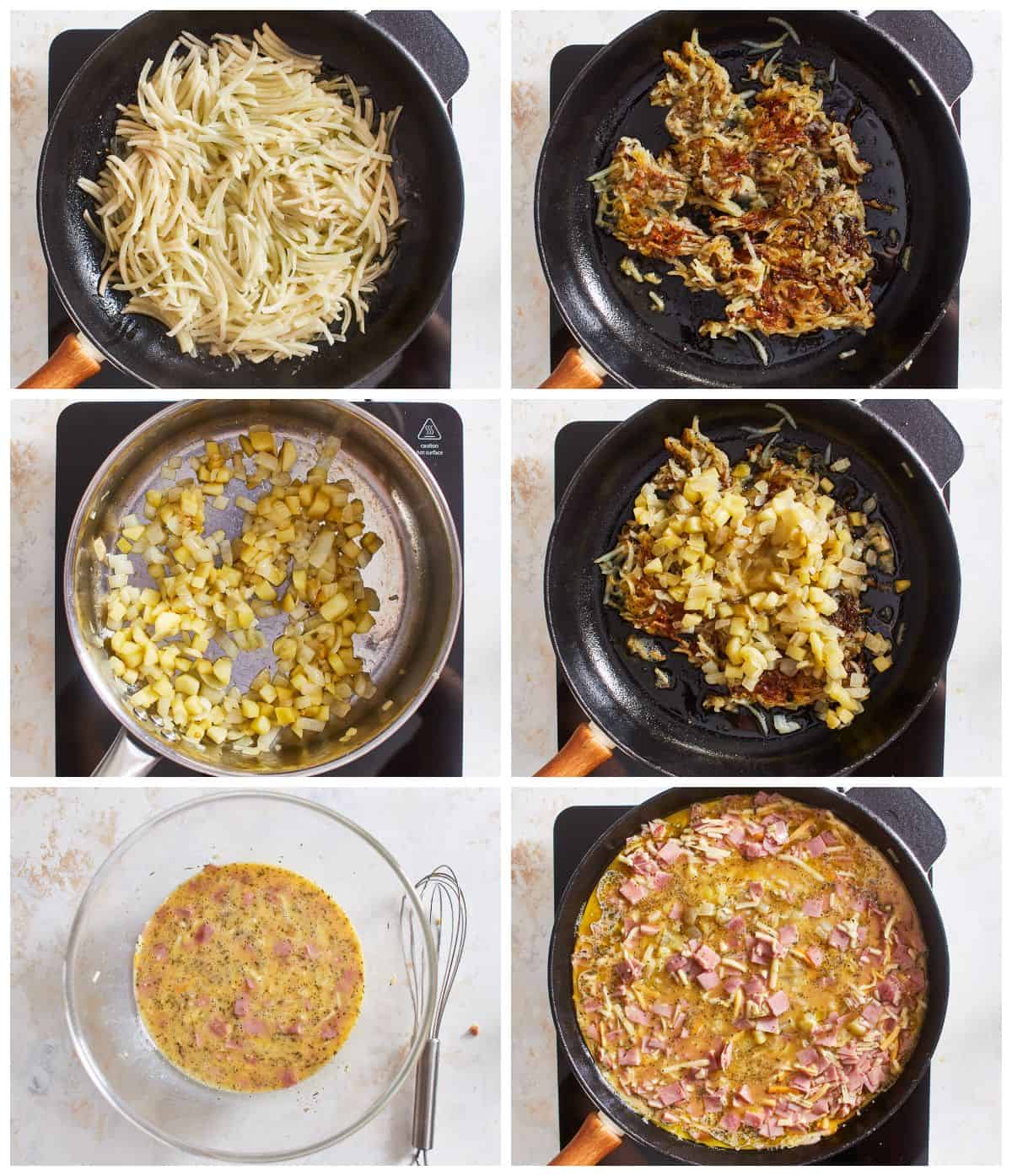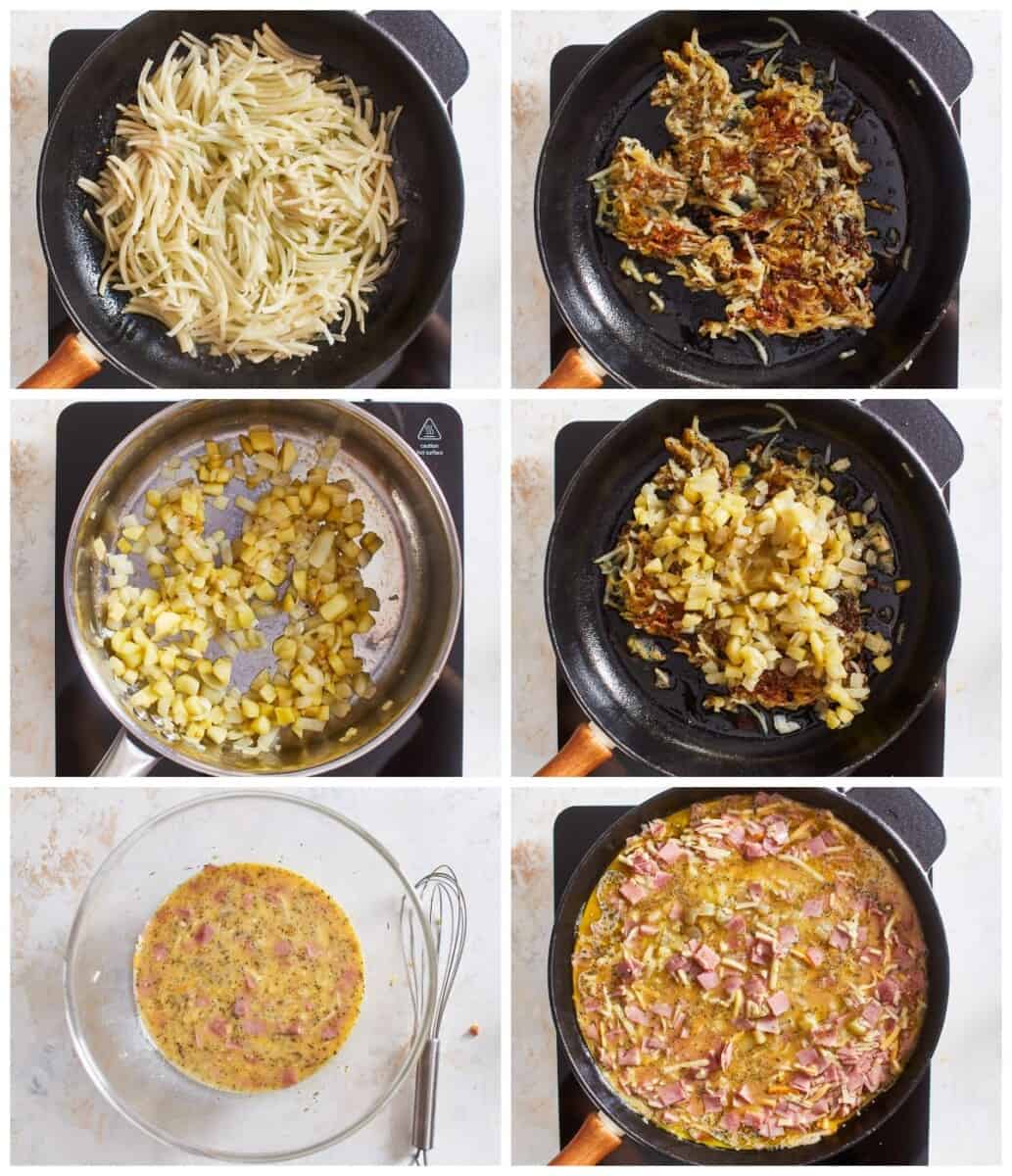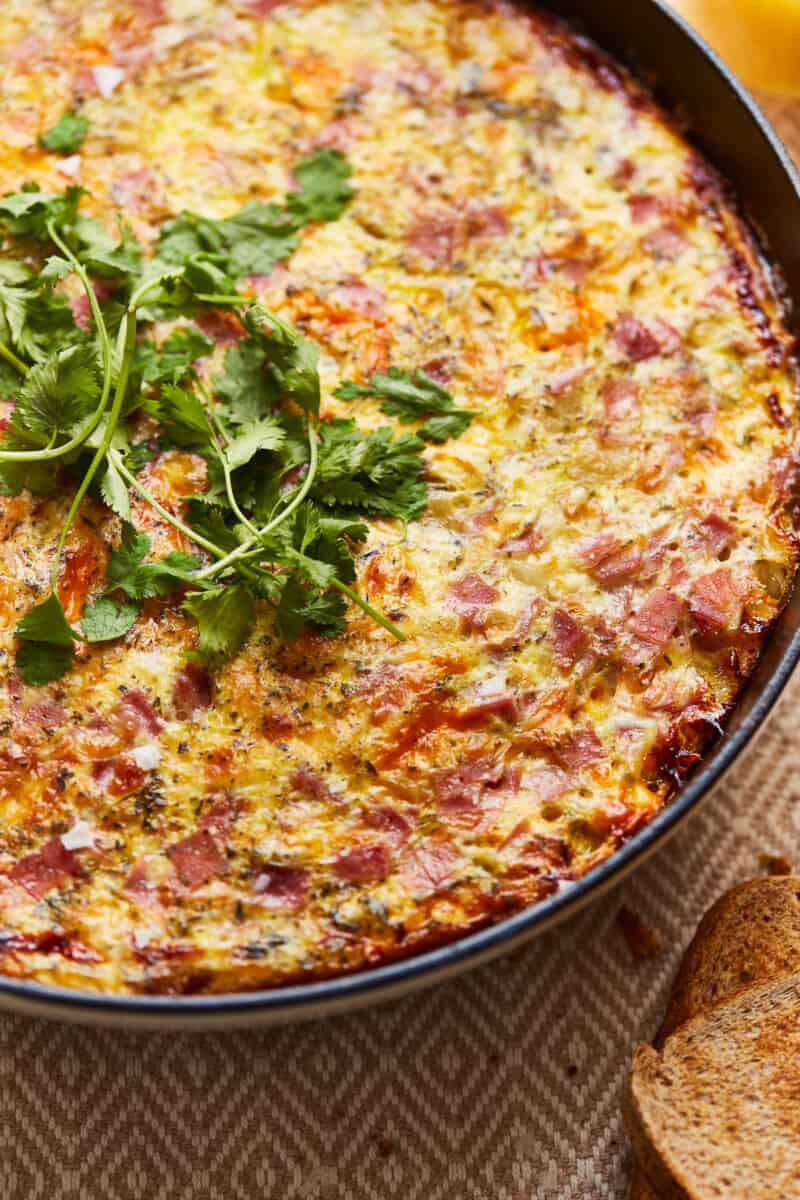 How to Make this Apple Ham and Cheese Frittata
You can jump to the recipe card for full ingredients & instructions!
Cook potatoes, add the apple and onion, and sauté until tender. In a separate bowl, whisk together the egg mixture and pour over the ingredients in the pan.
Bake for 12-25 mins until eggs are set.
Remove from oven and serve!
Isn't a frittata tricky to make?
This recipe is very easy but does have a few steps. Hang in there with it because when you serve it, you'll be so proud of yourself! The presentation is gorgeous and quite impressive!
One important step is to pre-brown the hash browns. Cook them until crispy and light brown on one side, and then flip and cook the other side. Only flip them once.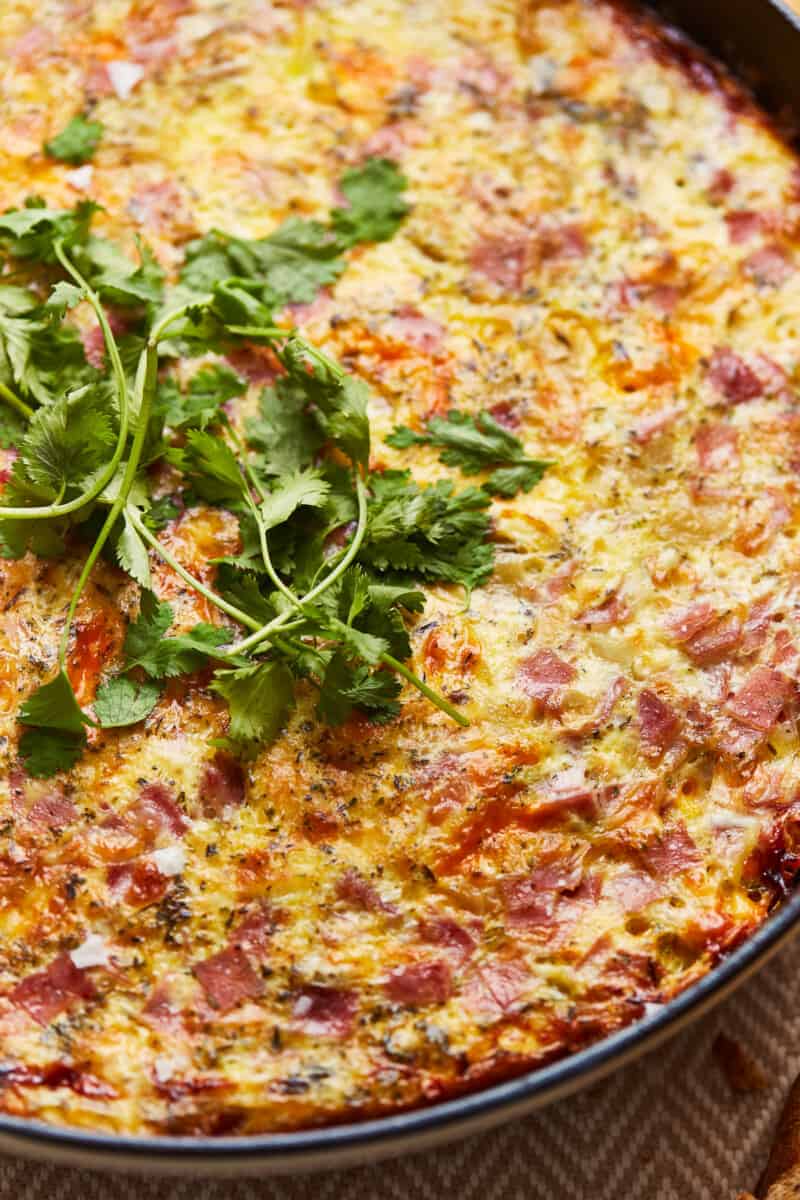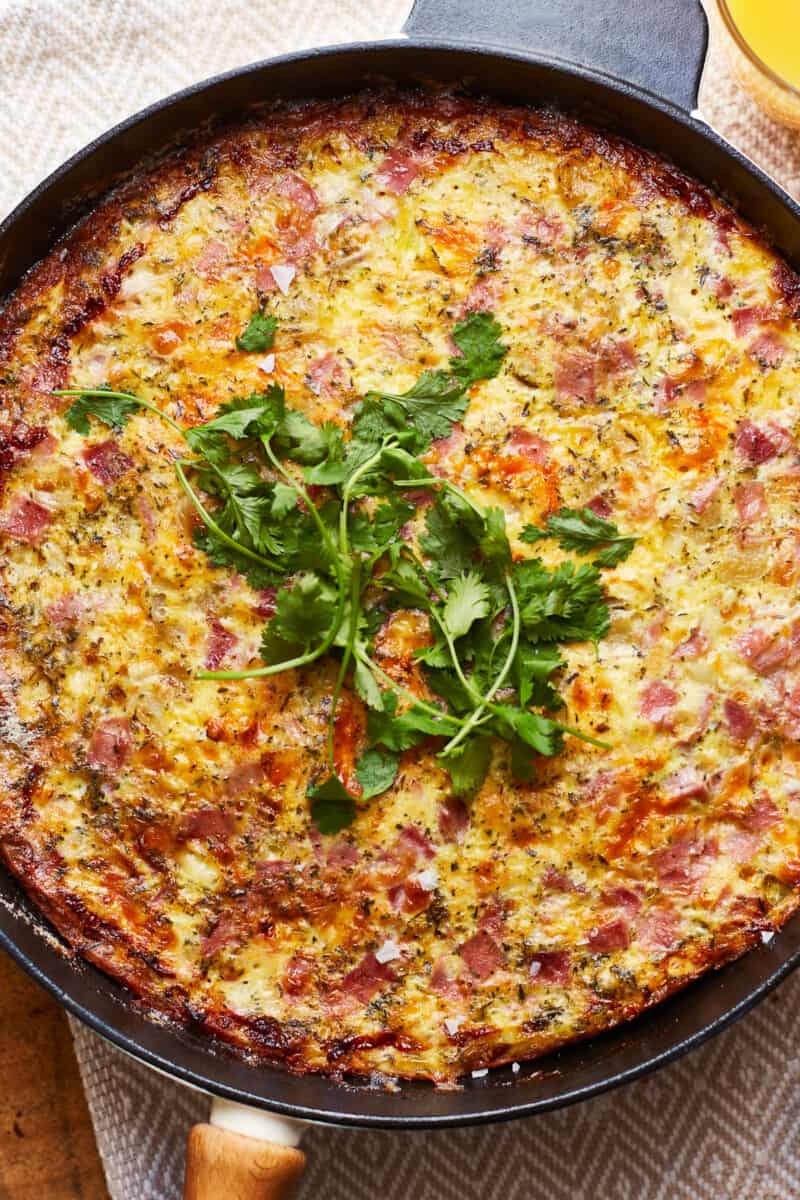 How many people does this frittata recipe serve?
This recipe makes eight servings. It's great if you have a baby shower or bridal brunch, or for a weekend treat with friends.
You can cut it into squares or slices while still in the pan–then it's ready to serve! This will make anyone a morning person!
This easy frittata is also an amazing Christmas morning or Easter brunch recipe! Check out our other favorites below.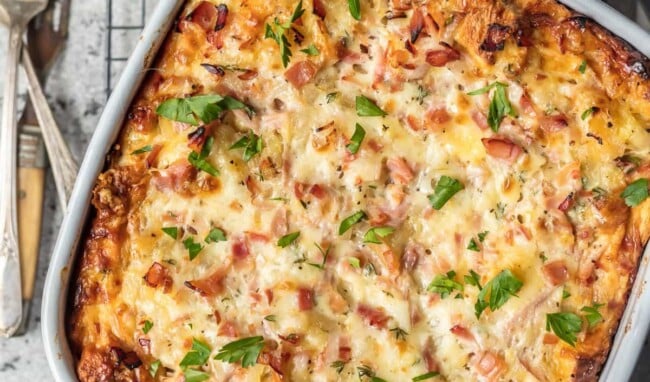 Christmas Morning Faves
34+ Christmas Morning Recipes
Nothing better than waking up to an amazing (and easy) breakfast bright and early on Christmas.
See Recipes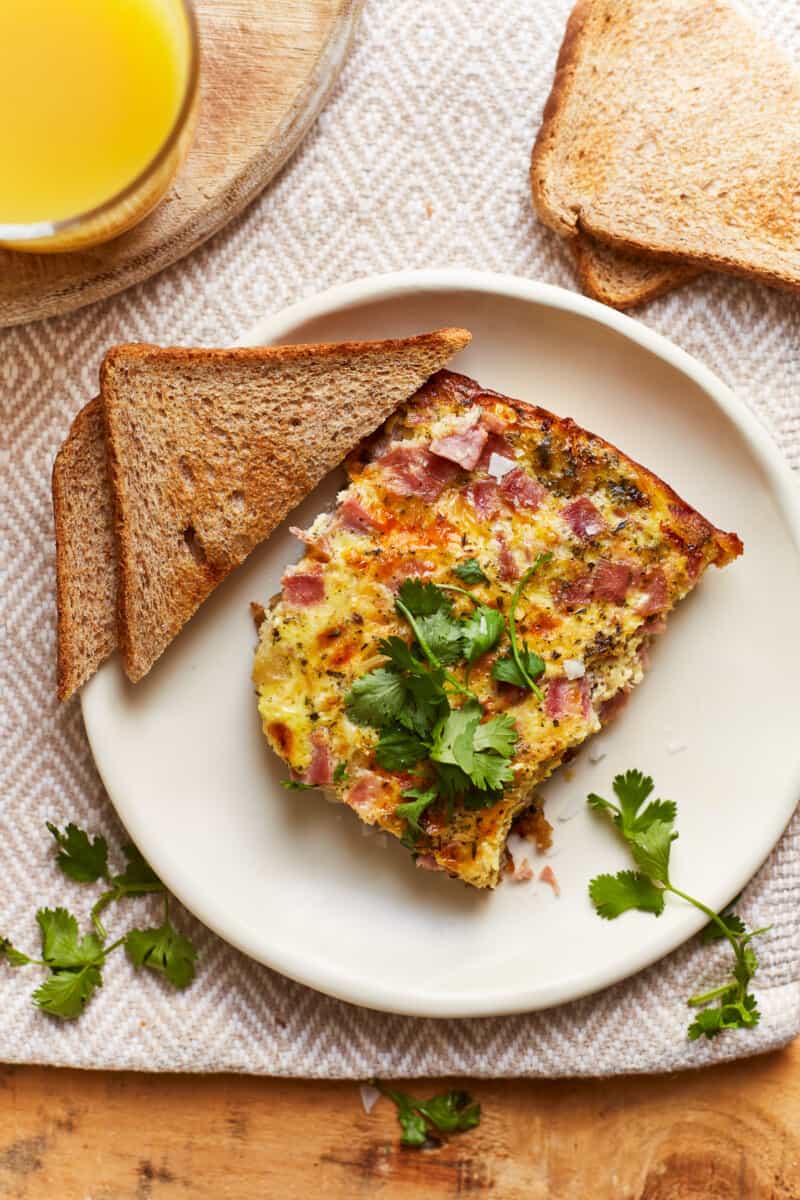 What should I serve with this frittata?
This frittata is great for a brunch or breakfast and it's also substantial enough for a hearty lunch or dinner. It's the dish that just keeps on giving!
For breakfast, you could serve this with diced avocado, bacon, and good whole-grain toast.
For lunch, a small side salad of mixed greens and maybe some roasted tomatoes would be perfect.
And for dinner, round out the meal with some roasted vegetables and potatoes, along with a side salad of mixed greens with a couple of disks of toasted goat cheese.
Tips!
Feel free to swap some of the ingredients. Apple and Gruyère Frittata works with mushrooms, kale, bacon, and even sausage.
Only flip the potatoes once! Just make sure they are crisp on each side.
Cook any vegetables before pouring the eggs into the pan. This is especially important when using veggies that have high water content, like mushrooms, zucchini, peppers, and spinach. If you skip pre-cooking them, that excess liquid will seep into the frittata and it'll end up steaming, rather than baking.
Serve with muffins or whole-grain toast. The perfect combo!
This is one of our favorite savory apple recipes, the perfect breakfast, brunch, or lunch for any season!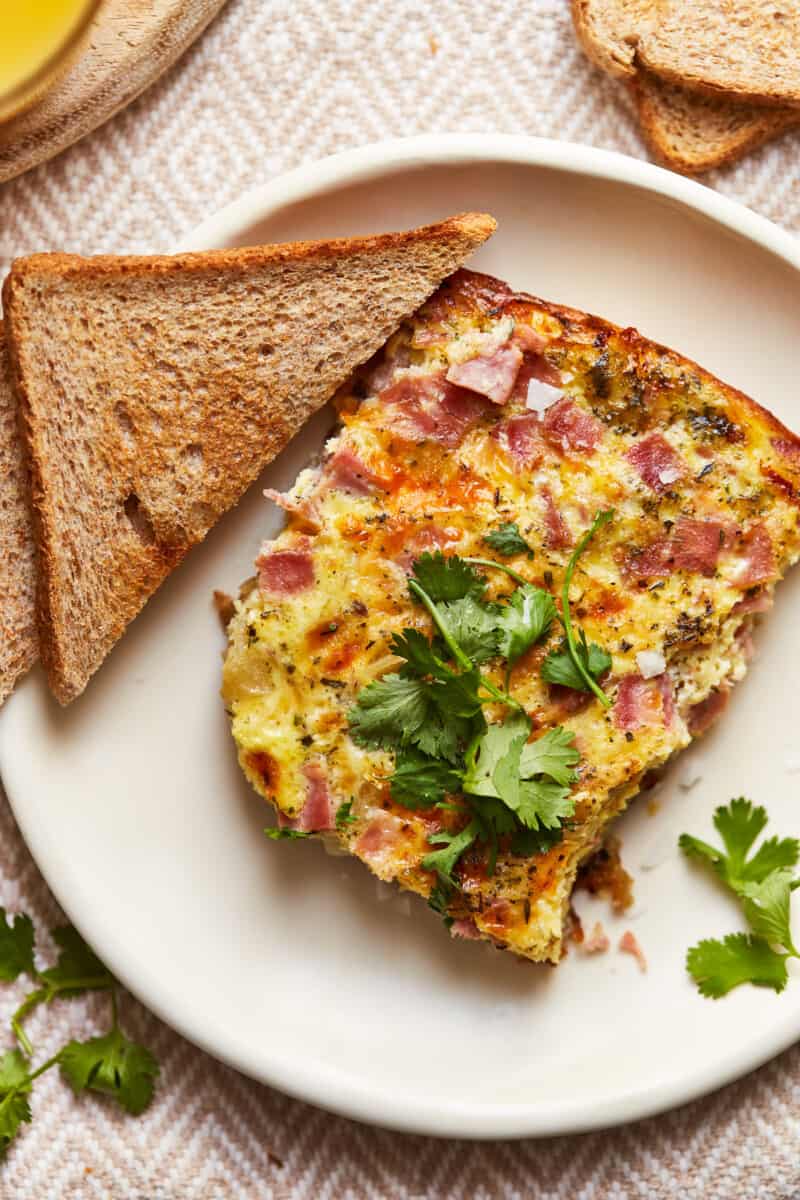 If you make this recipe be sure to upload a photo in the comment section below or leave a rating. Enjoy! You can also jump to recipe.