Pineapple Bread Pudding is the perfectly-sweet dish you need for holidays. It's really easy to make with just 6 ingredients, and it comes out of the oven warm and tasty. The bread soaks up the pineapple pudding mixture to create an amazing texture and flavor. Serve it for dessert or serve it as a side dish.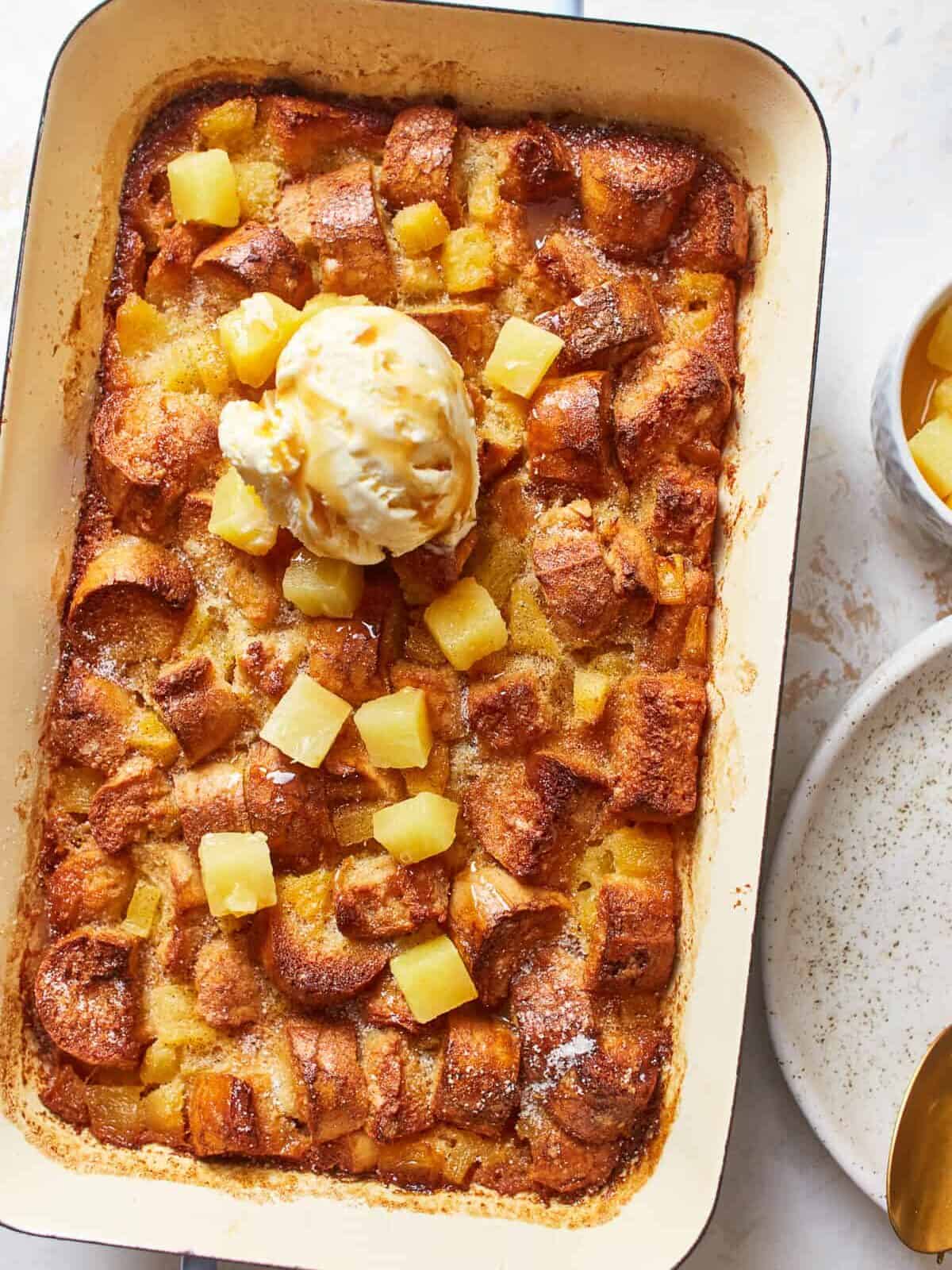 What's in this Pineapple Bread Pudding recipe?
Combine bread pudding with pineapple for a delicious dish. Preparation takes just a few minutes, and then it goes in the oven for 1 hour to bake. Plus, there are only six ingredients!
Pineapple: This recipe works best with canned pineapple tidbits in natural juice. They're larger than crushed pineapple but smaller than chunks, so they have the ideal texture and size. Keep half the juice to use.
Bread Cubes: Use stale or day-old cubes of bread for best results, because they hold up while soaking in the milk and pineapple mixture. I used French bread, but you can use another hearty bread.
Milk: Use any type of milk you like. Whole milk will add extra creamy richness.
Eggs: Eggs create the thick custard texture. Beat them before mixing to incorporate air.
Sugar: Granulated sugar sweetens things up.
Butter: Use unsalted butter. You can quickly melt it in the microwave before mixing with the other ingredients.
You can also use pineapple tidbits in light syrup, but this will make the final dish a bit sweeter. Or feel free to use crushed pineapple if that's what you have.
What else can I add to this pineapple dessert?
This pineapple bread pudding recipe is so deliciously simple so that the citrusy sweet pineapple flavor can shine. But you can add in a few other ingredients to change things up. Use brown sugar for a richer flavor. Or mix in things like shredded coconut, raisins, pecans, or walnuts.
How can you tell when pineapple bread pudding is done baking?
The center should be firmly set, not wet, droopy, or soggy. The bread and pineapple will be beautifully golden brown.
Should this be served hot or cold?
This tastes amazing either hot or cold. I love eating it fresh out of the oven (warm), but leftovers straight out of the fridge are good too.
Can I use fresh pineapple instead of canned pineapple?
Canned pineapple really works best for this recipe because it includes the juices you'll need. However, if you do use fresh, cut and dice it into very small pieces. Then add an equivalent amount of pineapple juice into the recipe.
What type of bread is best for bread pudding?
French bread, brioche, and challah are all great options. But any stale or day-old bread will work. You don't want to use particularly soft bread because it will break down quickly in the milk and juice mixture.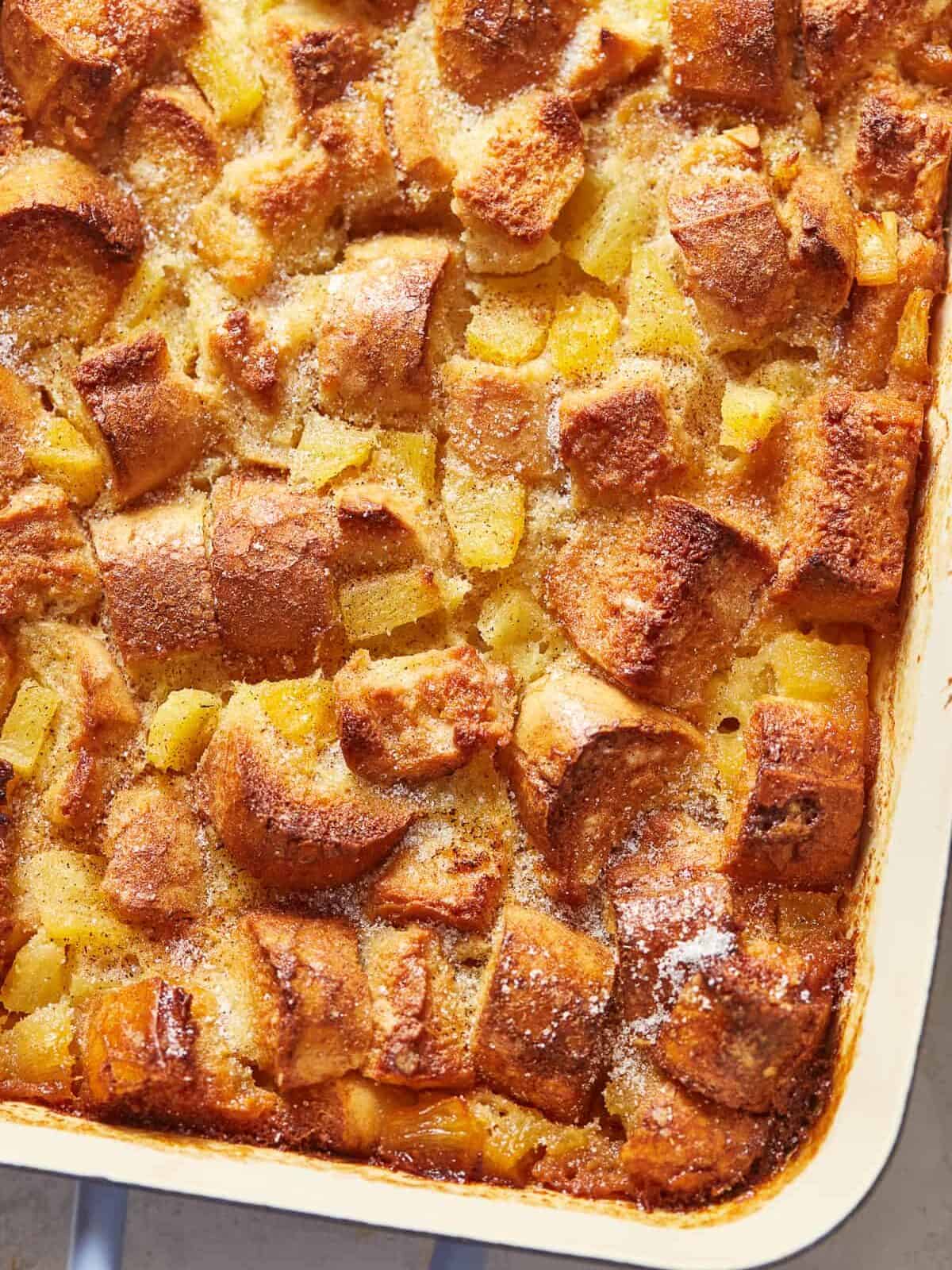 How to Store and Reheat Bread Pudding with Pineapple
Cover leftovers tightly with plastic wrap, or keep in an airtight container. It will keep in the fridge up to 3 days. Reheat in the oven or microwave to warm up and serve.
How to Freeze Pineapple Bread Casserole
This pineapple bread pudding actually freezes really nicely. Let it cool after baking, then wrap it tightly in layers of plastic wrap and aluminum foil. It will keep up to 3 months. Thaw before serving.
What to Serve with Pineapple Bread Pudding
This easy bread pudding with pineapple tastes even better served with a dusting of cinnamon sugar, brown sugar, or powdered sugar on top. You can also drizzle caramel sauce or whipped cream on top of each slice. And don't forget a scoop of ice cream!
As a holiday side dish, it pairs well with pork, so make it alongside your favorite Easter ham.
More Bread Pudding Recipes We Love