Pineapple Bread Pudding is a simple and delicious dish that is just perfect for Christmas. It works as both a side dish and a dessert, meaning you have plenty of reasons to eat it. The texture and flavor of this easy pineapple dessert is so good! It's fluffy, sweet, and the cinnamon on top is the perfect addition.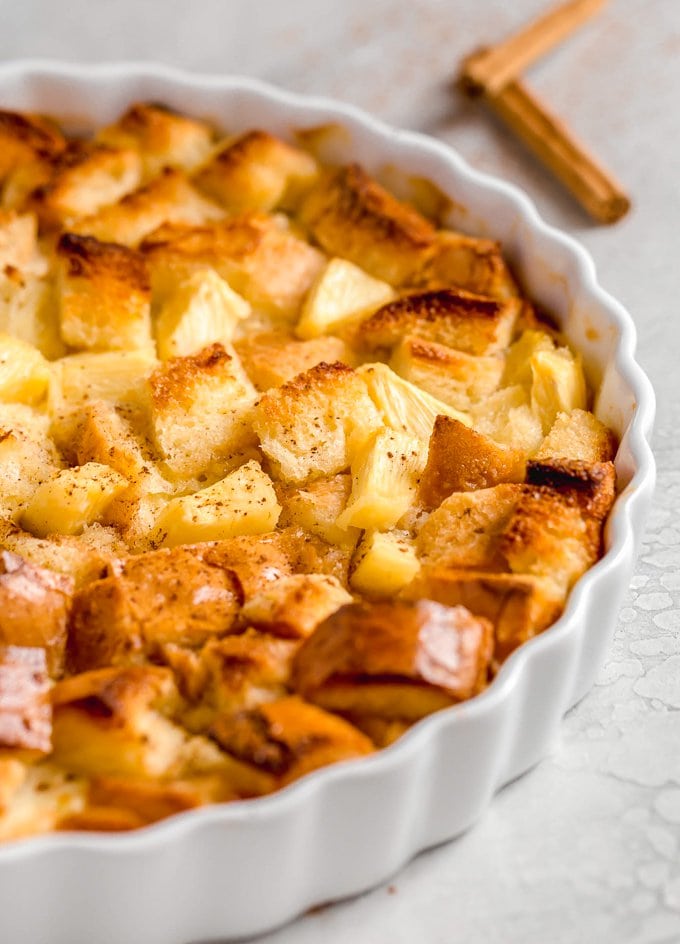 Pineapple Bread Pudding
Pineapple Bread Pudding is the perfect holiday dish! It's sweet, it's simple, and it's easy to make. You really can't go wrong!
This is the kind of recipe that is super versatile. You can eat it for dessert, you can eat it as a side dish, or you can even eat it for breakfast. There's really no wrong time to eat this Pineapple Bread Pudding!
Any time I come across a recipe that takes almost no time to prepare, I'm on board. Spend just a few minutes mixing your ingredients together, pour it into a baking dish, put in the oven and set the timer. You almost don't have to think about it at all! Which is part of what makes it so good for the holidays. With all of the holiday cooking, any dish that requires no thought is more than welcome.
The sweet but tart pineapple mixed with the bread after it soaks up the milk…yum! This pineapple bread pudding ends up so fluffy yet creamy. It's just full of flavor! Add this to your holiday table and you won't regret it.
This Pineapple Bread Pudding recipe is just perfect for Christmas!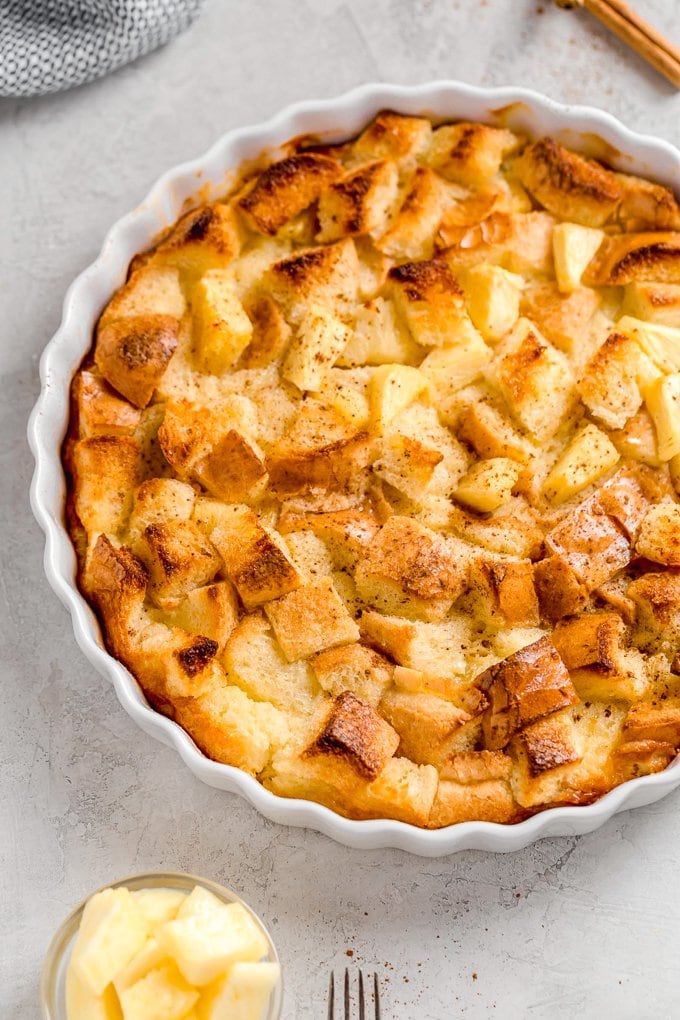 Easy Pineapple Dessert
This pineapple bread pudding recipe isn't exactly like traditional bread pudding, but I think it's even better. It only takes a few minutes to prepare before hitting the oven, and in just about an hour, it's ready! The bread soaks up just the right amount of milk and mixes beautifully with the pineapple juice. The result is a fluffy, fruity, delicious dish that also happened to be super easy to make.
I actually really love this as a side dish since the sweetness isn't overwhelming. It pairs nicely with ham on Christmas! That being said, it's still sweet enough to make the perfect pineapple dessert, something simple but delicious. And this reminds me of french toast too, with the mix of bread, egg, and sugar, so you know it would taste just as good for a sneaky little breakfast treat. Basically, you can eat this pineapple bread pudding any time. I can't imagine a scenario where I wouldn't want to be eating this!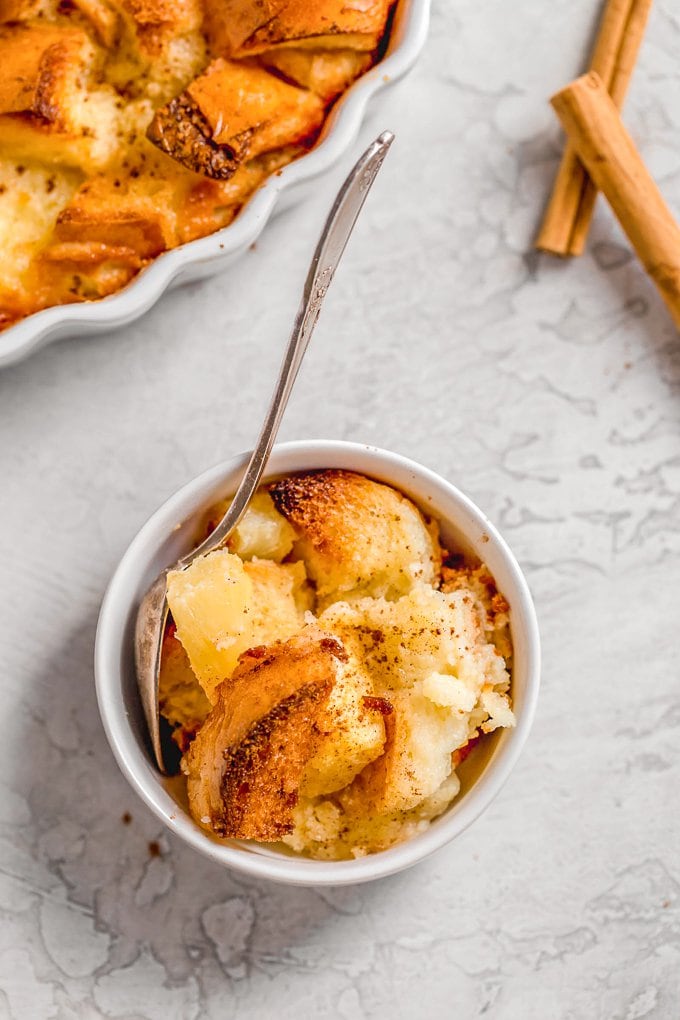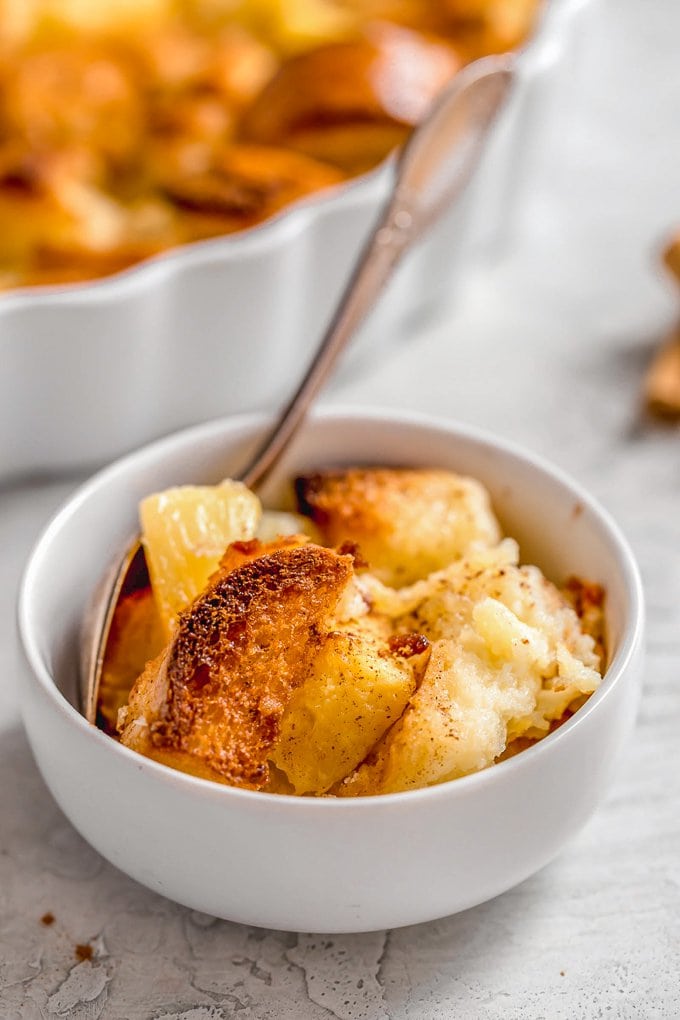 How to Make Pineapple Bread Pudding
This bread pudding is so simple! Preparation takes just a few minutes, and then it goes in the oven for 1 hour to bake up. Plus, it's only 6 ingredients: pineapple, bread, milk, sugar, eggs, and butter. Can't get an easier than that.
Chop up your bread into small cubes.
Beat eggs and set aside.
Combine melted butter and sugar in a mixing bowl, then add in the eggs and milk, and the stir in the pineapple.
Gently stir the bread cubes into the mixture.
Pour the mixture into a casserole dish and bake for 1 hour at 325°F.
When it's done, let it cool for a few minutes before serving. I like to sprinkle a bit of brown sugar and cinnamon on top to add a little extra sweetness. I think it's the perfect addition, but it's totally optional.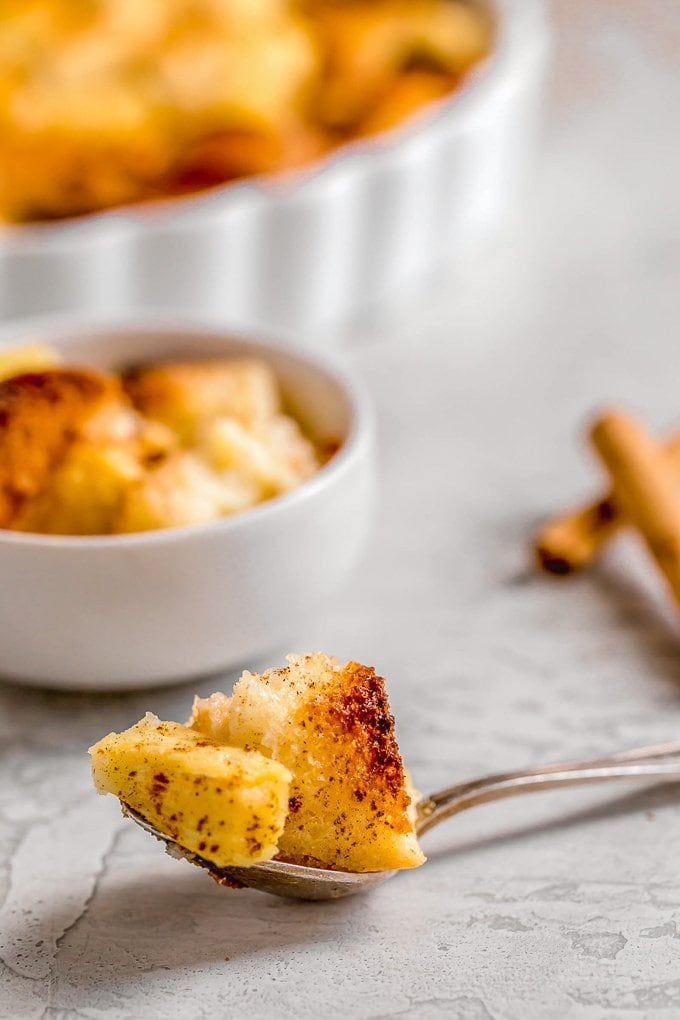 How to Store Pineapple Bread Pudding
Assuming you somehow manage to have leftovers of this stuff, you can easily save it for later. Just cover the dish and store it in the refrigerator for up to a couple of days. It reheats nicely, so just put it back in the oven when you want to go in for a second round.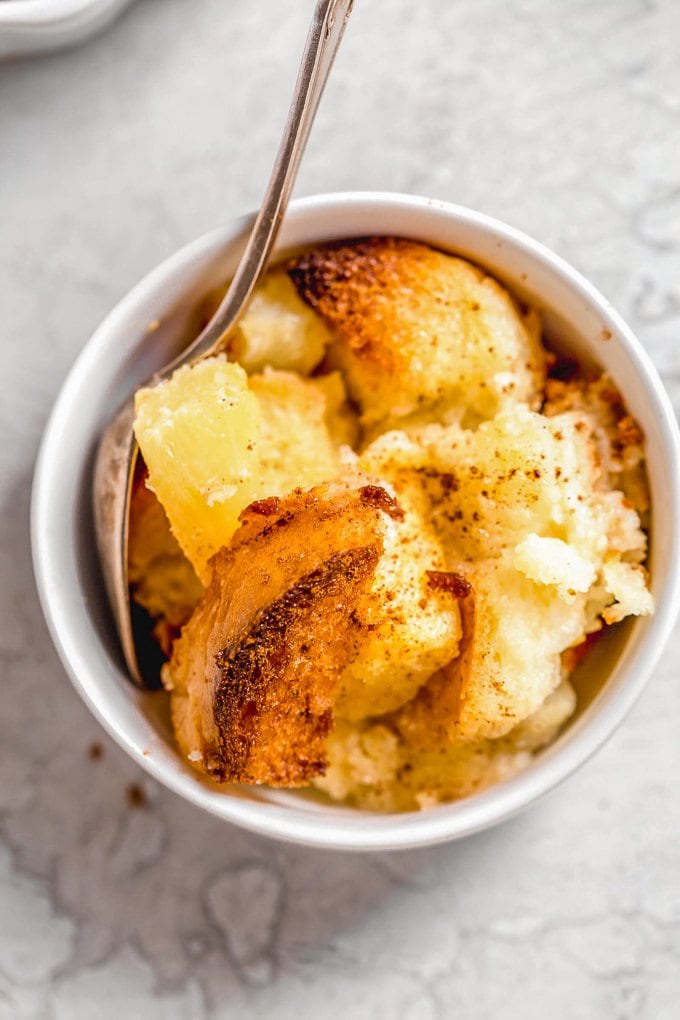 Whether you eat with your Christmas meal, for dessert afterwards, or for a fun breakfast (I won't judge), you're going to love this Pineapple Bread Pudding. It's the perfect holiday dish!
See the recipe card below for details on how to make Pineapple Bread Pudding. Enjoy!
If you like this recipe, try these other delicious recipes too: