It just wouldn't be Christmas without Pineapple Bread Pudding. It's simple, delicious, and it works as both a side dish and a dessert, meaning you have plenty of reasons to eat it. This warm and comforting pineapple dessert recipe is fluffy, sweet, and the cinnamon on top is the perfect addition.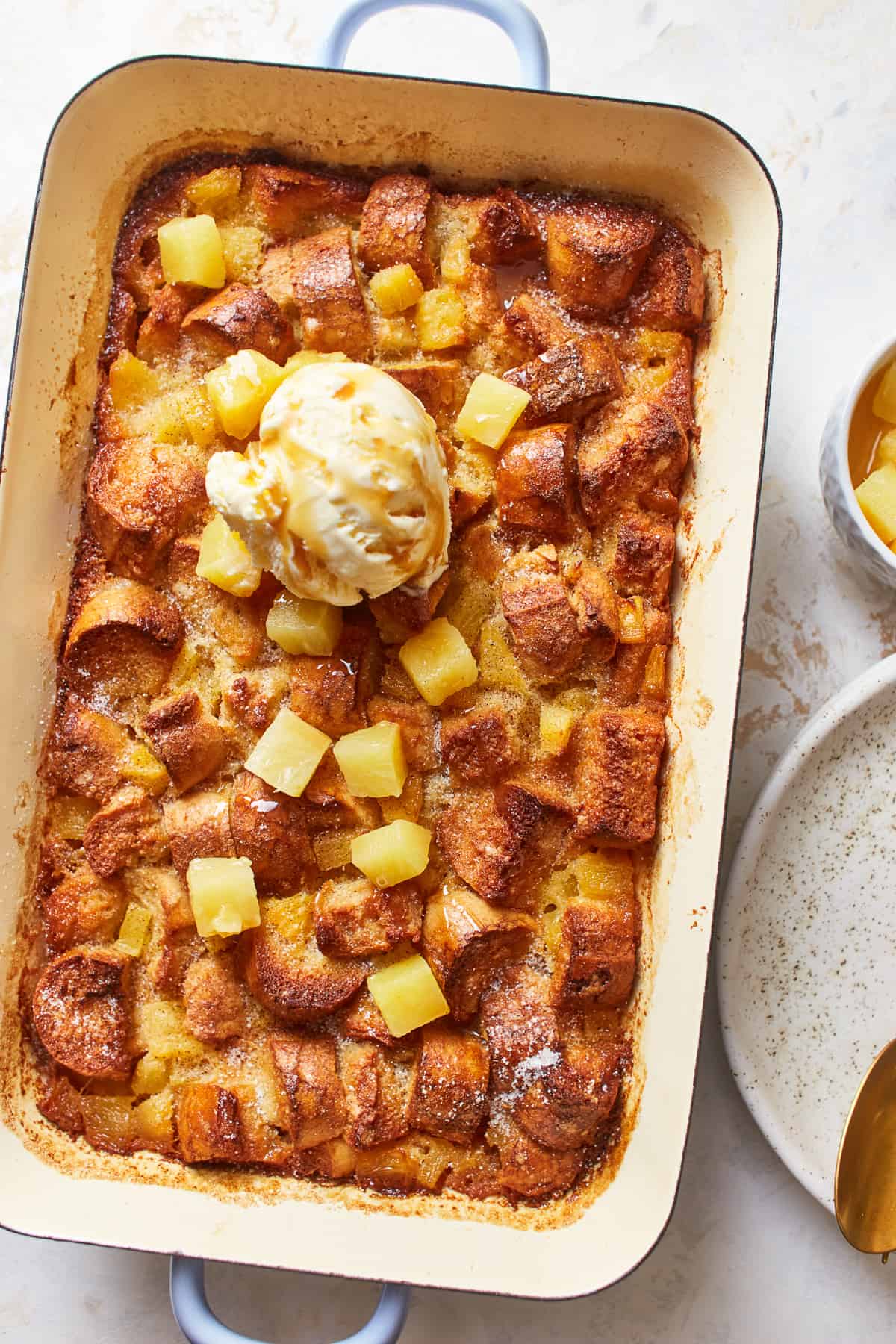 Pineapple Bread Pudding
This is the kind of recipe that checks off just about every box. You can eat it for dessert, you can eat it as a side dish, and you can even eat it for breakfast or brunch. There's really no wrong time for Pineapple Bread Pudding!
Any time I come across a recipe that takes almost no time to prepare, I'm on board. Spend just a few minutes mixing the ingredients together, pour it into a baking dish, put it in the oven, and set the timer.
You almost don't have to think about it at all–which is part of what makes it so good for the holidays. With all of the holiday madness, any dish that requires no thought is more than welcome.
This pineapple bread pudding recipe is just perfect for Christmas or Easter!
Why You'll Love this Pineapple Dessert Recipe:
Quick and Easy: It only takes a few minutes to prepare before hitting the oven, and in just about an hour, it's ready!
Feast for the senses: The bread soaks up just the right amount of milk and mixes beautifully with the pineapple juice. The result is a fluffy, fruity, delicious dish that also happens to be super easy to make.
Not too sweet: This makes a great side dish since the sweetness isn't overwhelming. It pairs nicely with ham on Christmas! That being said, it's still sweet enough to make the perfect pineapple dessert, especially with some cinnamon sugar sprinkled on top.
This pineapple dish isn't a traditional bread pudding, but I think it's even better!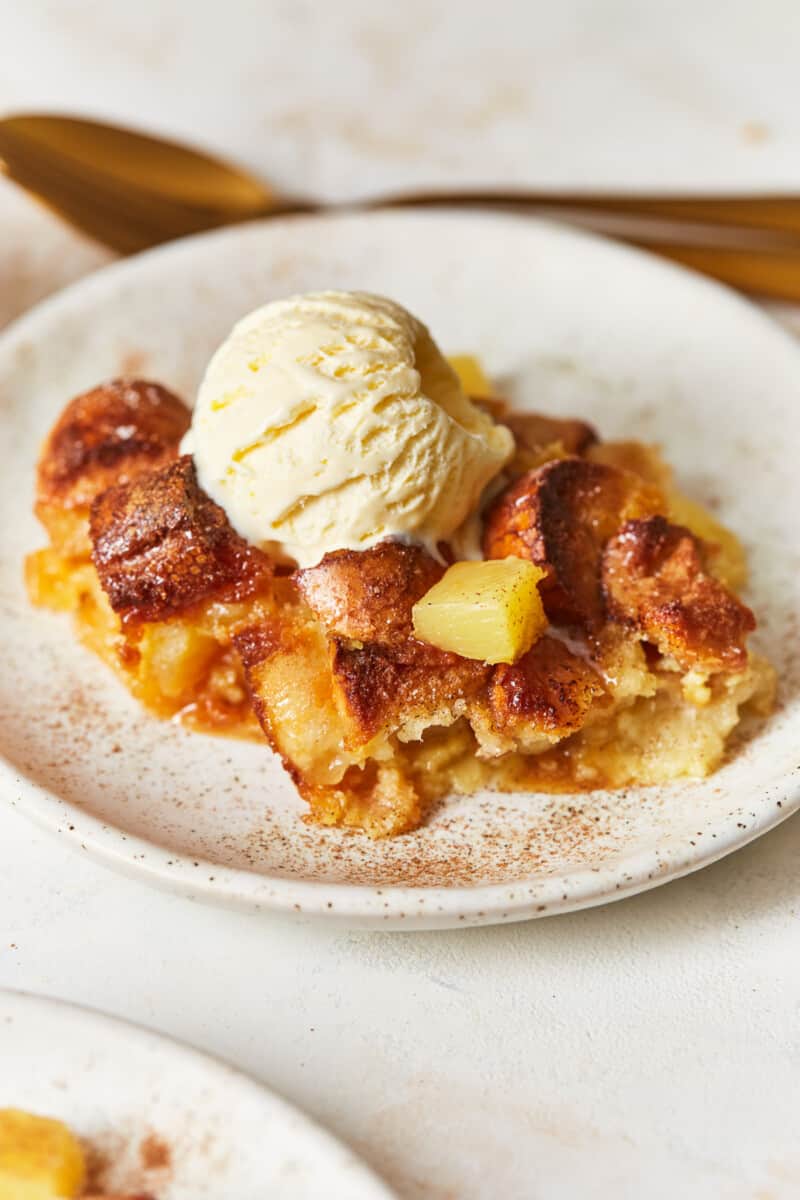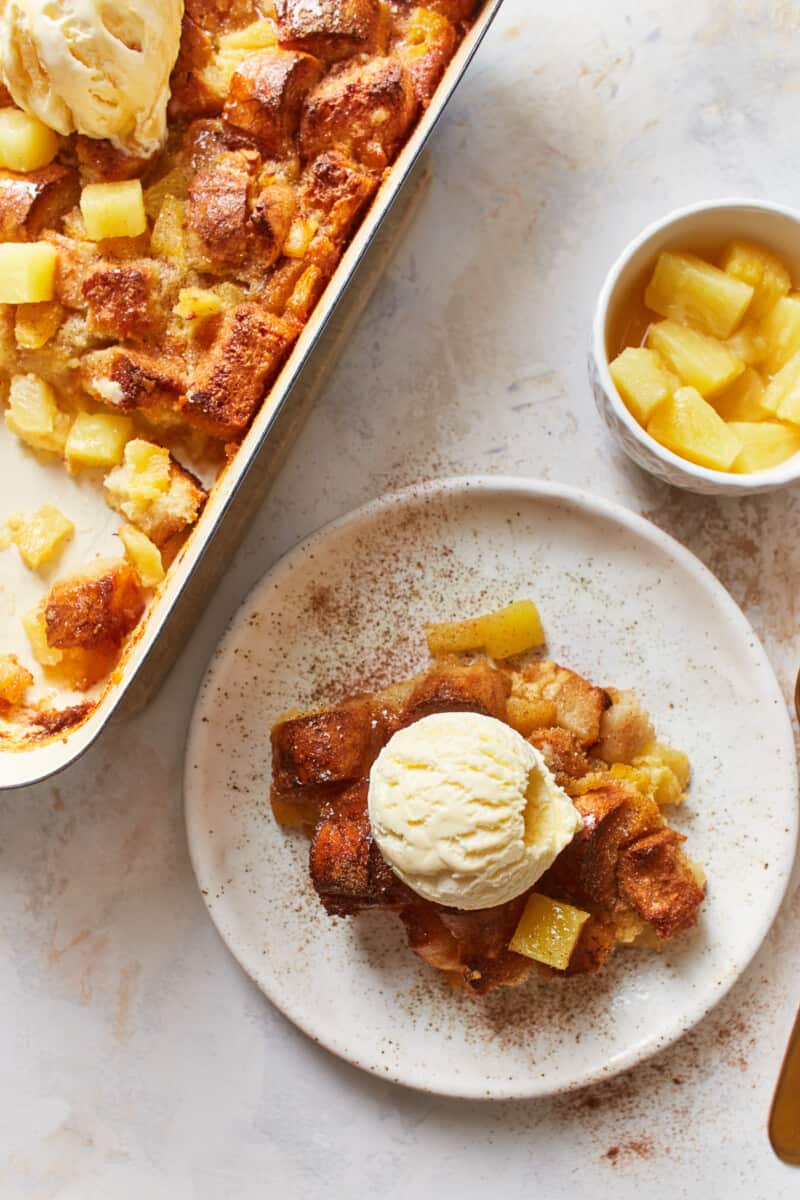 This bread pudding casserole is easy-breezy to make. Preparation takes just a few minutes, and then it goes in the oven for 1 hour to bake.
Plus, there are only six ingredients: pineapple, bread, milk, sugar, eggs, and butter. You can't get any easier than that!
How to Make Pineapple Jubilee
You can jump to the recipe card for full ingredients & instructions!
Cut bread into small cubes. Beat eggs in a separate bowl; set both aside.
Combine melted butter and sugar in a mixing bowl, add in the eggs and milk, and then stir in the pineapple.
Gently fold the bread cubes into the mixture.
Pour everything into a casserole dish and bake for 1 hour at 325°F.
When it's done, let it cool for a few minutes before serving. I like to sprinkle a bit of brown sugar and cinnamon on top, but it's totally optional.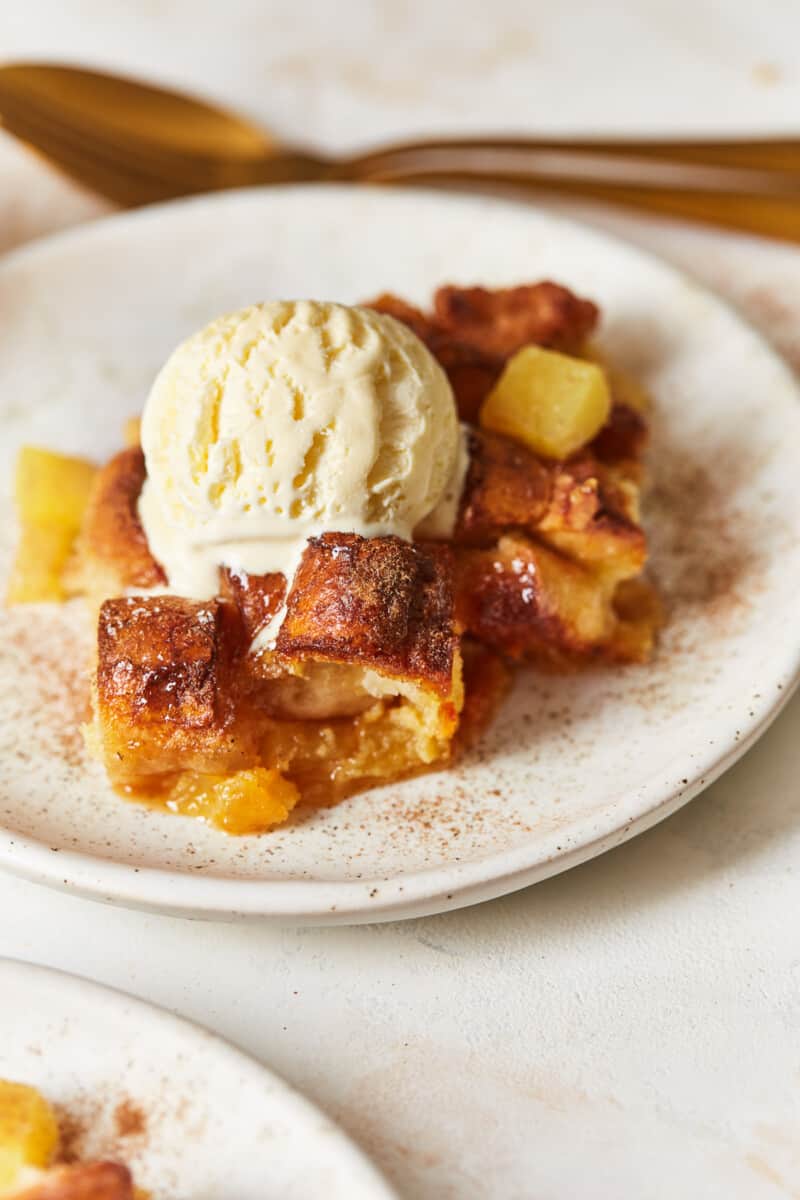 How do you store leftovers?
Cover any leftovers tightly with plastic wrap, or keep in an airtight container. It will keep in the fridge up to 3 days. Reheat in the oven or microwave to warm up and serve.
How can you tell when it's done baking?
The center should be firmly set, not wet, droopy, or soggy. The bread and pineapple will be beautifully golden brown.
Should this be served hot or cold?
This tastes amazing either hot or cold. I love eating it fresh out of the oven (slightly cooled), but leftovers straight out of the fridge are good too.
Can you freeze pineapple bread pudding?
Yes, this actually freezes nicely. Let it cool after baking, then wrap it tightly in layers plastic wrap and aluminum foil. It will keep up to 3 months.
Serving Suggestions
This pineapple bread pudding casserole is surprisingly versatile, and it can be served either as a dessert or as a side dish! It's not too sweet, so it makes sense for both options.
As a delicious pineapple dessert, serve it after dinner with a scoop of ice cream, or caramel syrup drizzled on top.
As a side dish, it pairs well with ham and pork dishes, and always makes a great addition to the holiday table!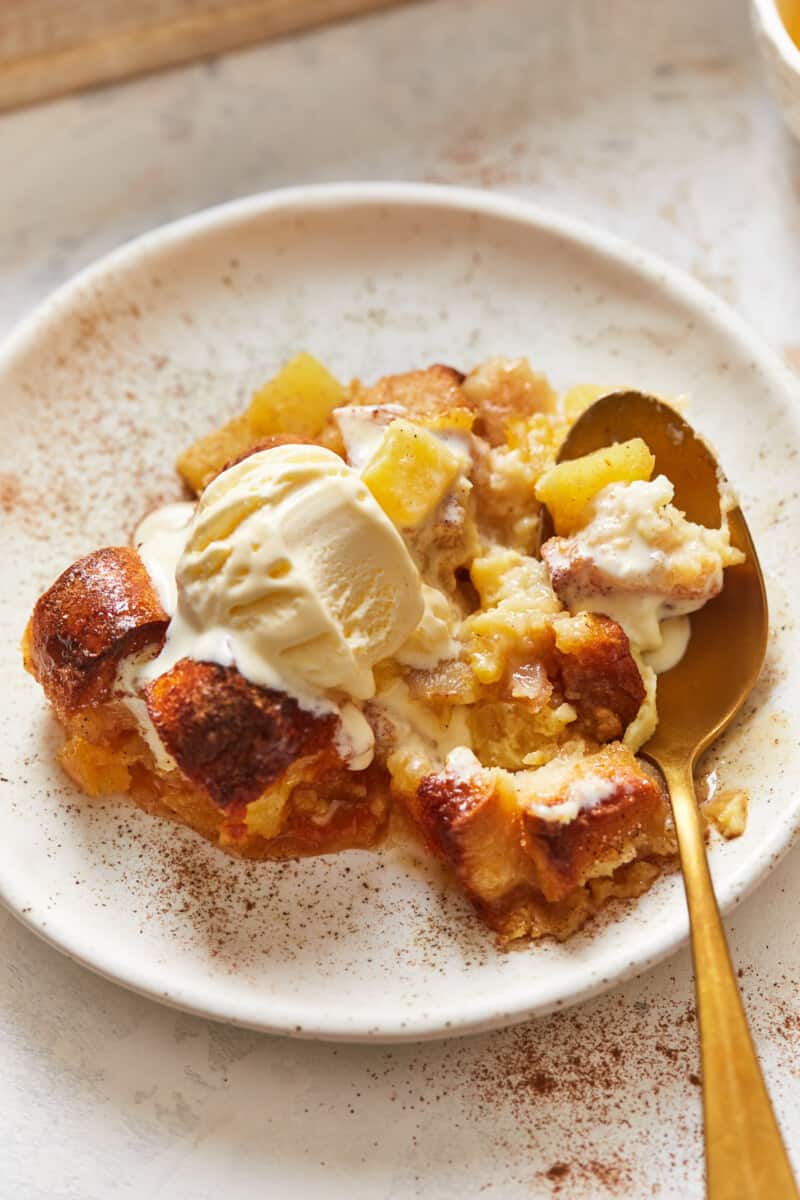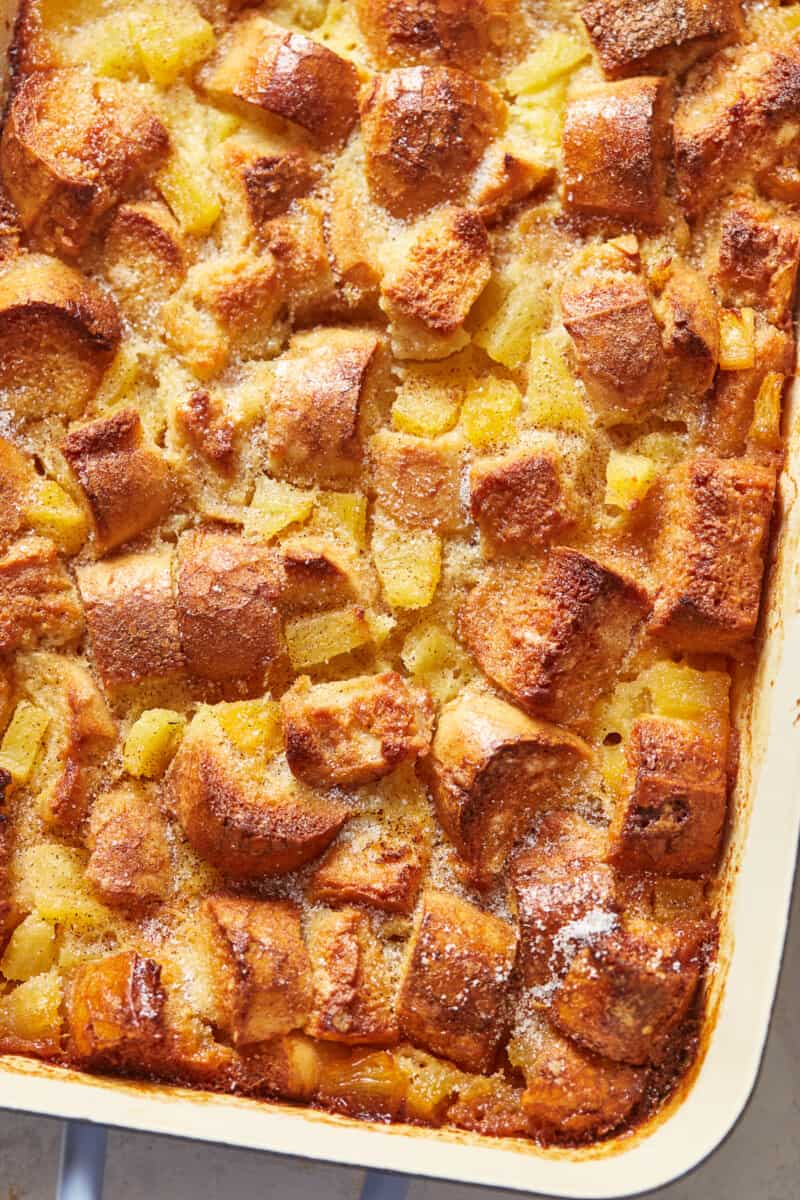 Tips!
Use day-old bread for best results. The slightly-stale bread will hold up better as it soaks up the milk and pineapple juice.
If it seems to be browning too quickly in the oven, you can lightly cover it with aluminum foil towards the end of the cook time.
Be sure to keep about half of the juice from the can of pineapple to mix into the casserole.
What kind of pineapple do I use?
I tested this recipe using canned pineapple tidbits in natural juice, and I think this works best. Tidbits are larger than crushed pineapple but smaller than chunks, so they have the ideal texture and size.
Drain half of the juice and save the rest to use in the recipe. You could also use pineapple tidbits in light syrup, but this will make the final dish a bit sweeter.
If you want to use fresh pineapple to make this bread pudding, you'll need to cut and dice it into very small pieces. You'll also need to add an equivalent amount of pineapple juice into the recipe. But overall, it is much easier to use canned pineapple.
What type of bread works best for bread pudding?
I used French bread for this pineapple bread pudding recipe, because it's soft and the crust isn't overly tough or chewy. Brioche or challah would be great choices too, because they're sturdy and won't fall apart when combined with the milk and eggs.
Generally, day-old or stale bread is recommended for making bread pudding.
What else can I add to this pineapple bread pudding?
This is such a simple recipe, with just 6 ingredients. The focus is on that delicious pineapple flavor, although I like to top it off with cinnamon sugar or brown sugar for additional sweetness.
You can mix in other things, or top it off with some add-ons for serving. You can add in shredded coconut, raisins, pecans, or walnuts. Try mixing the brown sugar in before baking, or drizzle caramel sauce on top.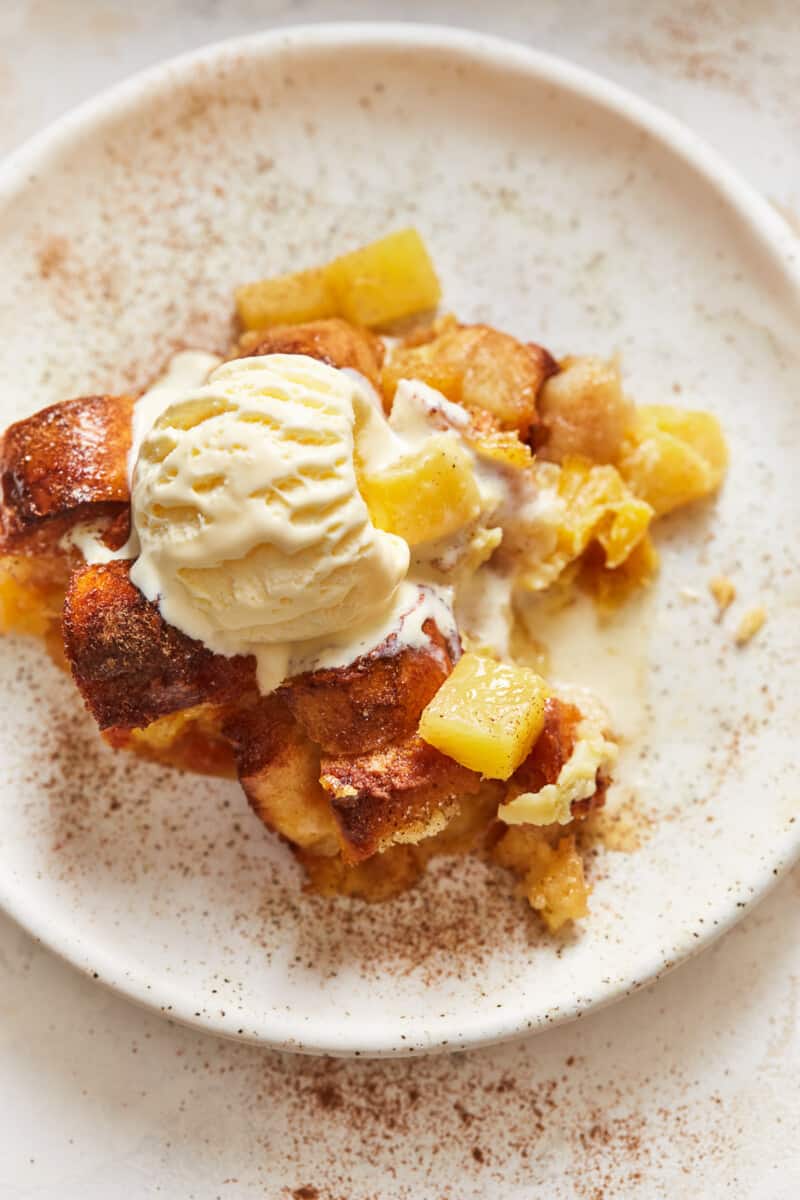 Whether you eat this dish with your Christmas dinner, Easter brunch, or for dessert any time, you're going to love this Pineapple Bread Pudding. It's a holiday tradition in the making!
If you make this recipe be sure to upload a photo in the comment section below or leave a rating. Enjoy!