This Crockpot Ham recipe is the easiest way to cook a spiral ham for any holiday or occasion! Just throw your ham in the slow cooker with Dijon mustard, brown sugar, maple syrup, and apple cider to create a tasty glaze, and let it cook. It comes out nice and juicy, with delicious flavor!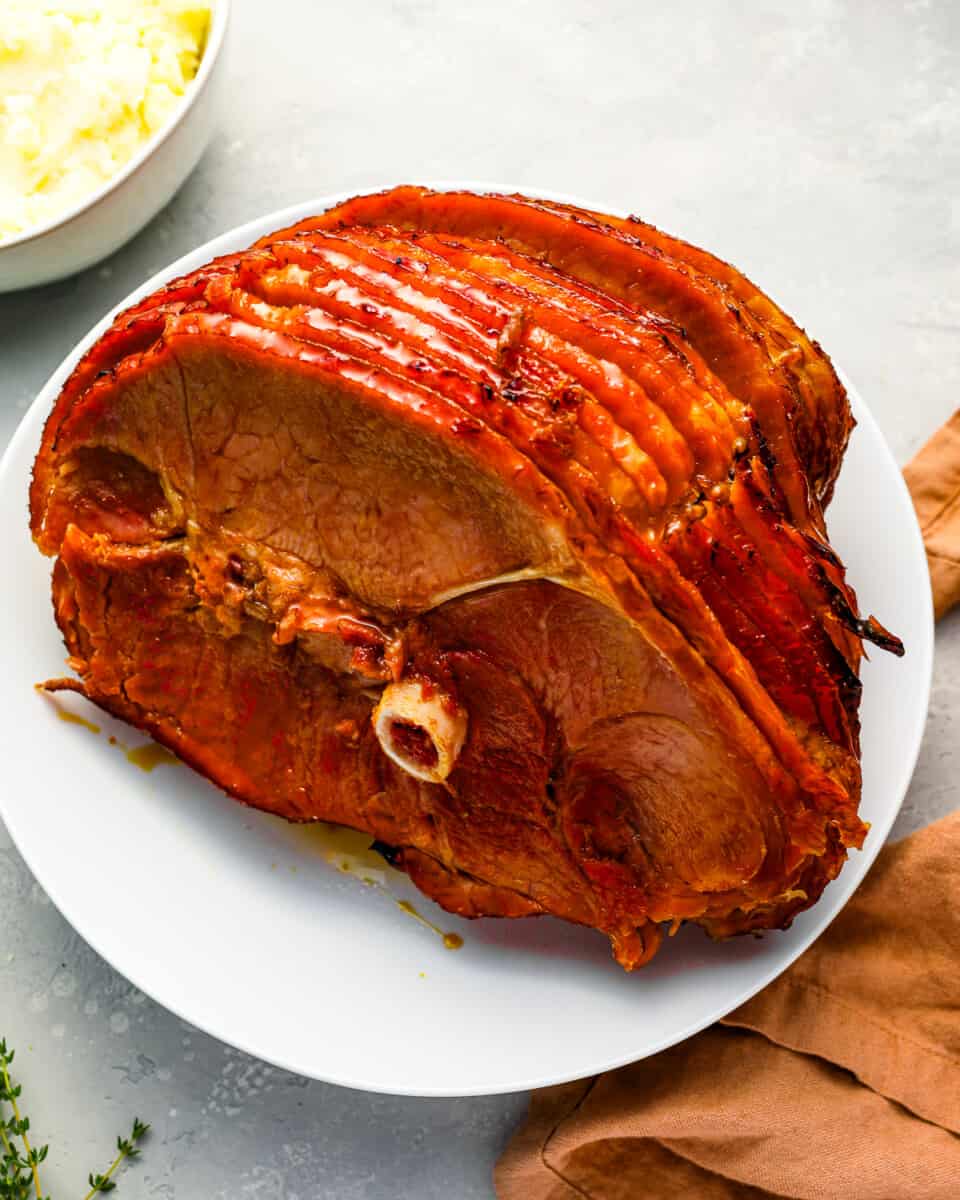 Why We Love this Crockpot Ham Recipe
We have become experts in easy ham recipes, especially with our Pineapple Ham and Brown Sugar Ham. I wanted to add a simple crockpot recipe that could be easy for busy families. This recipe is perfect!
Easy. Spiral-cut ham comes pre-cooked, so all you have to do is heat, glaze, and enjoy!
Hands-Off: Cooking ham in the crockpot gives you more time to make delicious sides!
Flavorful. The combination of Dijon mustard, brown sugar, maple syrup, and apple cider creates a mouthwatering glaze.
Boneless Slow Cooker Ham
You can easily swap out the bone-in ham for a boneless one. Simply cook the ham for 2-3 hours in the Crockpot, or until it reaches 140°F internally. Plan for ½ pound of meat per person. For example, an 8-pound boneless ham will feed 16 people!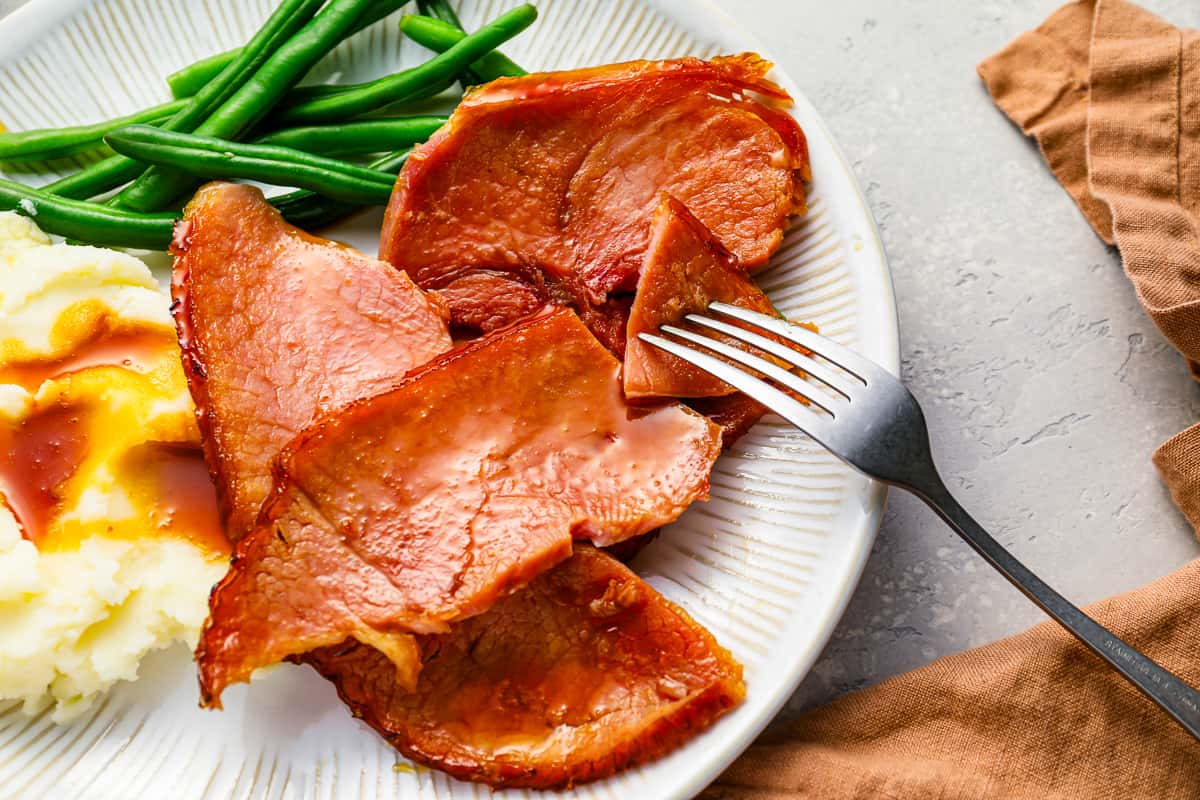 How to Store and Reheat
The easiest way to store leftover crockpot ham is to fully carve the spiral ham into slices. Place the slices in a resealable bag, or stack them and wrap them tightly in aluminum foil to store for up to 4 days. Reheat in a 325°F oven until warmed through.
How to Freeze
To freeze, carve ham into slices. Wrap stacks of slices in plastic wrap or aluminum foil, then place them in a Ziplock bag to store for up to 2 months. Let thaw overnight in the refrigerator before reheating.
Serving Suggestions
This slow cooker ham recipe is the perfect ham for Easter or Christmas dinner, served along with some potatoes and veggies. I love instant pot mashed sweet potatoes or au gratin potatoes and crockpot glazed carrots, creamed green beans, maple butternut squash, or creamed corn. Yum!
Wondering what to do with leftovers? If there are any (doubtful!), be sure to try our Ham and Potato Casserole or Ham and Potato Soup!
Can you heat a fully cooked ham in the slow cooker?
Yes, you absolutely can! I love this hands-off method because it gives me time to focus on the sides!
Do you cook ham on low or high in a slow cooker?
I prefer to cook this spiral ham on low so that it doesn't dry out.
How long does it take to heat already-cooked ham in a crockpot?
It takes just about 3 hours for a bone-in spiral ham to heat through in a slow cooker, or less time if it is boneless. You're looking for an internal temperature of 140°F.
Does ham need to be submerged in the slow cooker?
Nope! You just want to have some liquid around it to help keep it moist and flavorful.
What if my ham is too big for the slow cooker?
If your ham is too big, don't panic! Simply place a few pieces of aluminum foil over the top, crimping around the edges to seal in the moisture. Place a dish towel on top to weigh down the foil and prevent heat from escaping.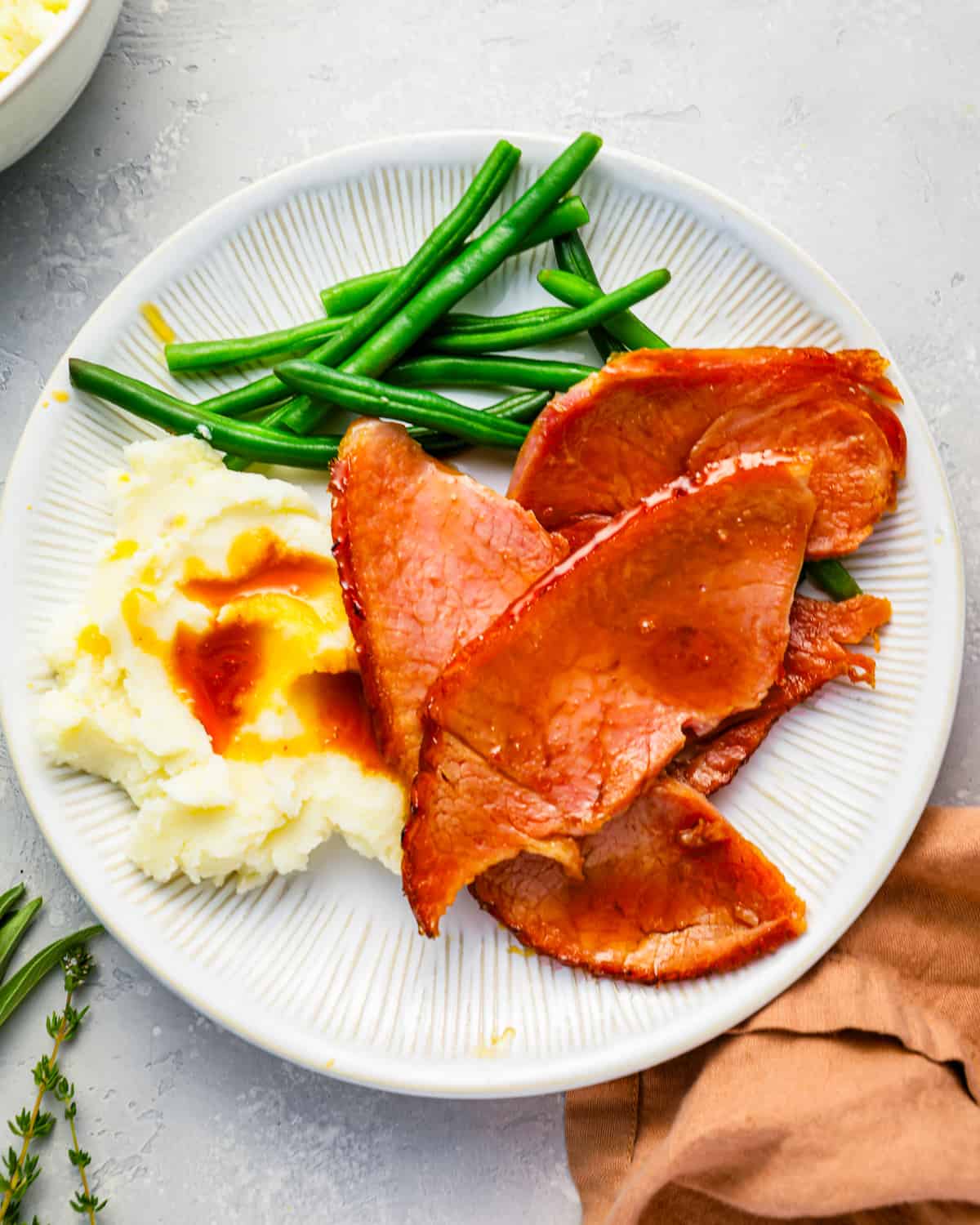 More Ham Recipes We Love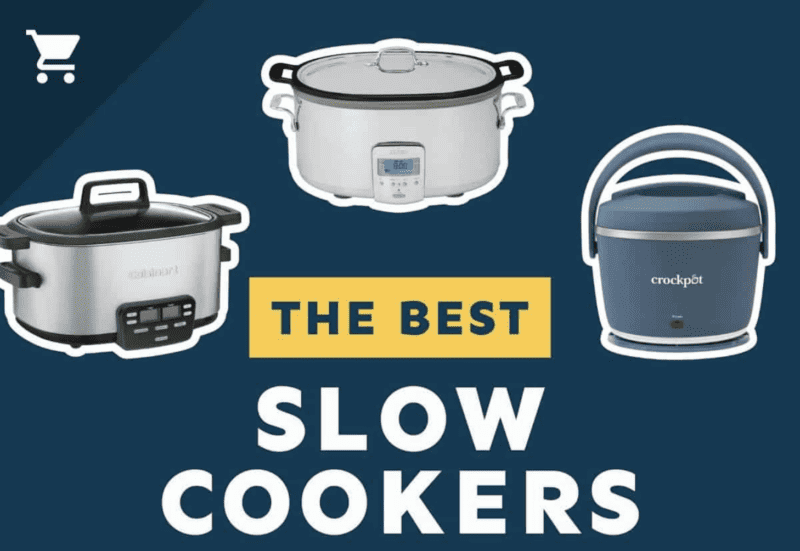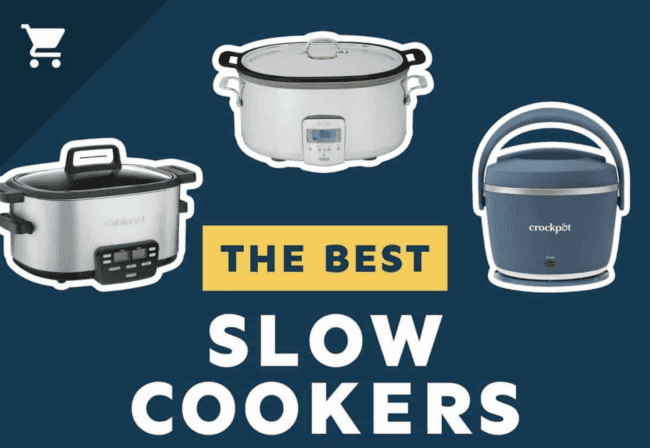 Best Slow Cookers
We have reviewed our top 8 Slow Cookers! Get reviews, pros, cons, and prices!
Best Slow Cookers
How to Make Crockpot Ham Step by Step
Prepare the Crockpot: Spray your crockpot with nonstick cooking spray. Place a 7-8 pound cooked bone-in spiral-cut ham in the center.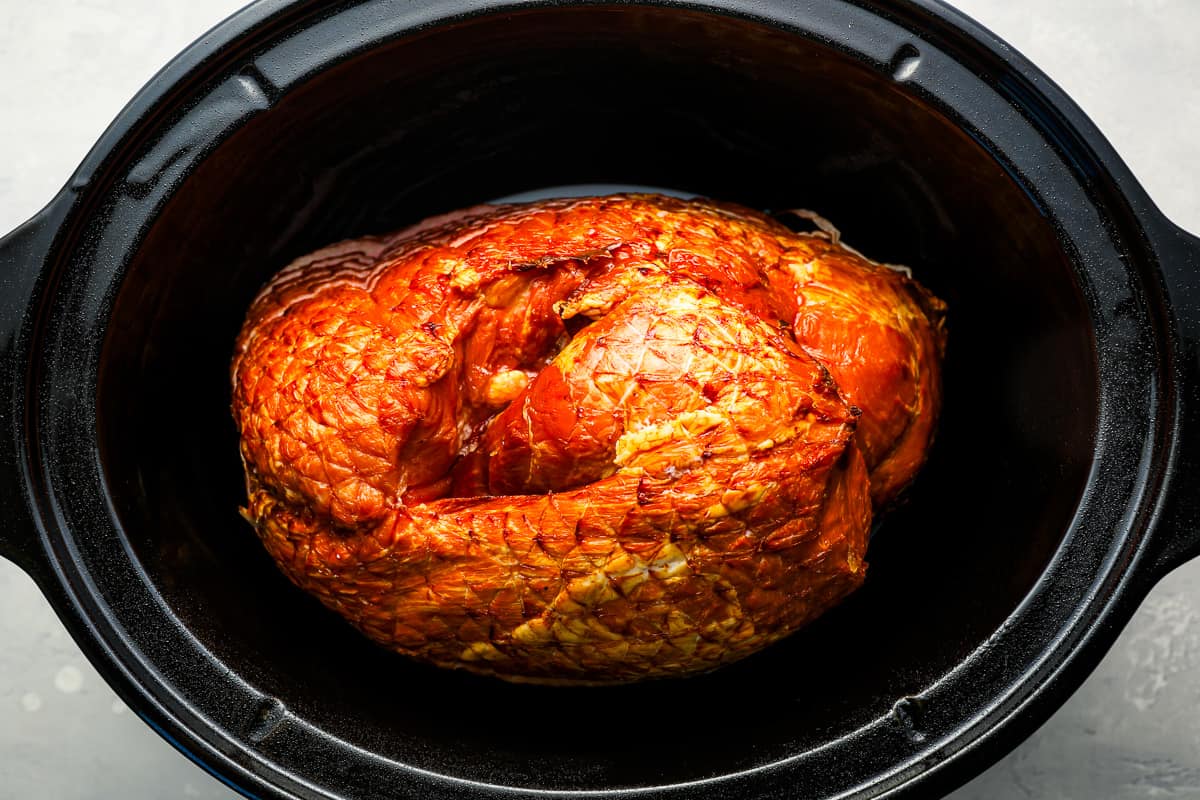 Coat the Ham: Brush the ham with 2 tablespoons of Dijon mustard, then rub 1 cup of brown sugar all over the surface. Pour ⅔ cup of pure maple syrup and 1 cup of apple cider or apple juice over the ham.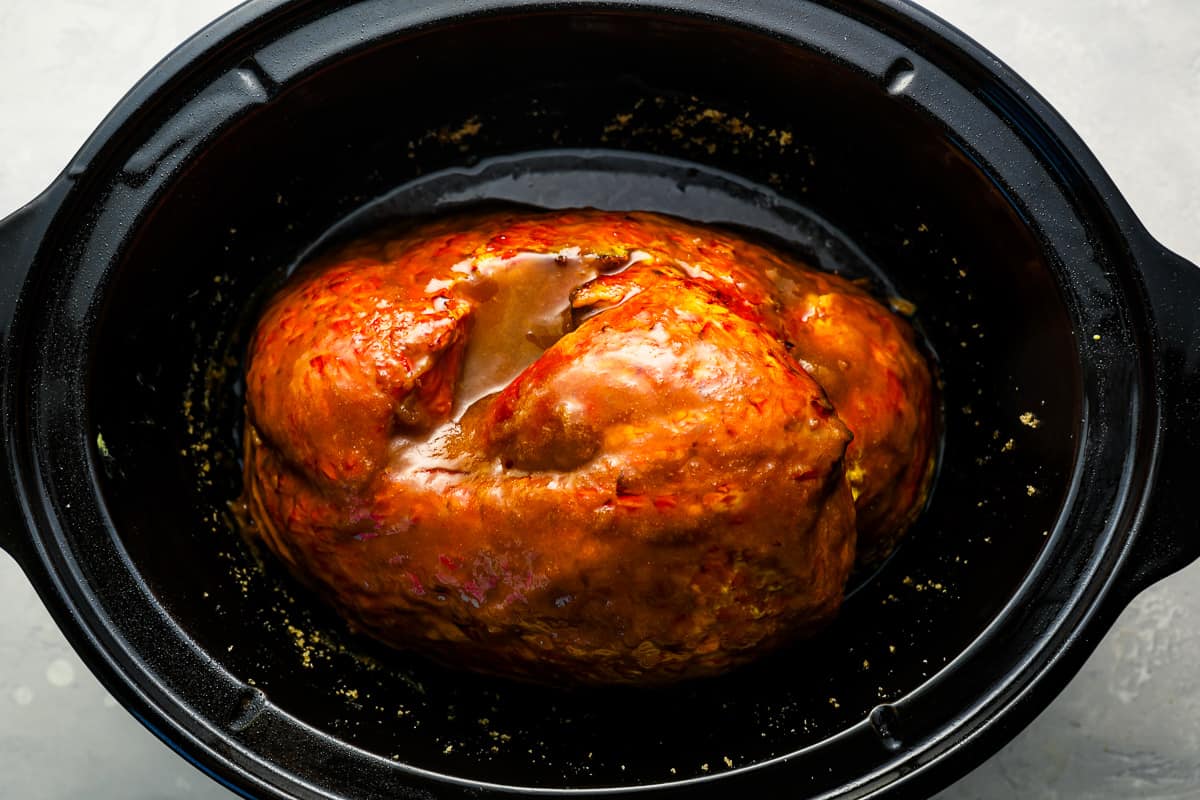 Cook the Ham: Place the lid on the crockpot and cook the ham on low for 3 hours. Once the ham is warmed through, set it on a serving platter and tent with foil to keep warm.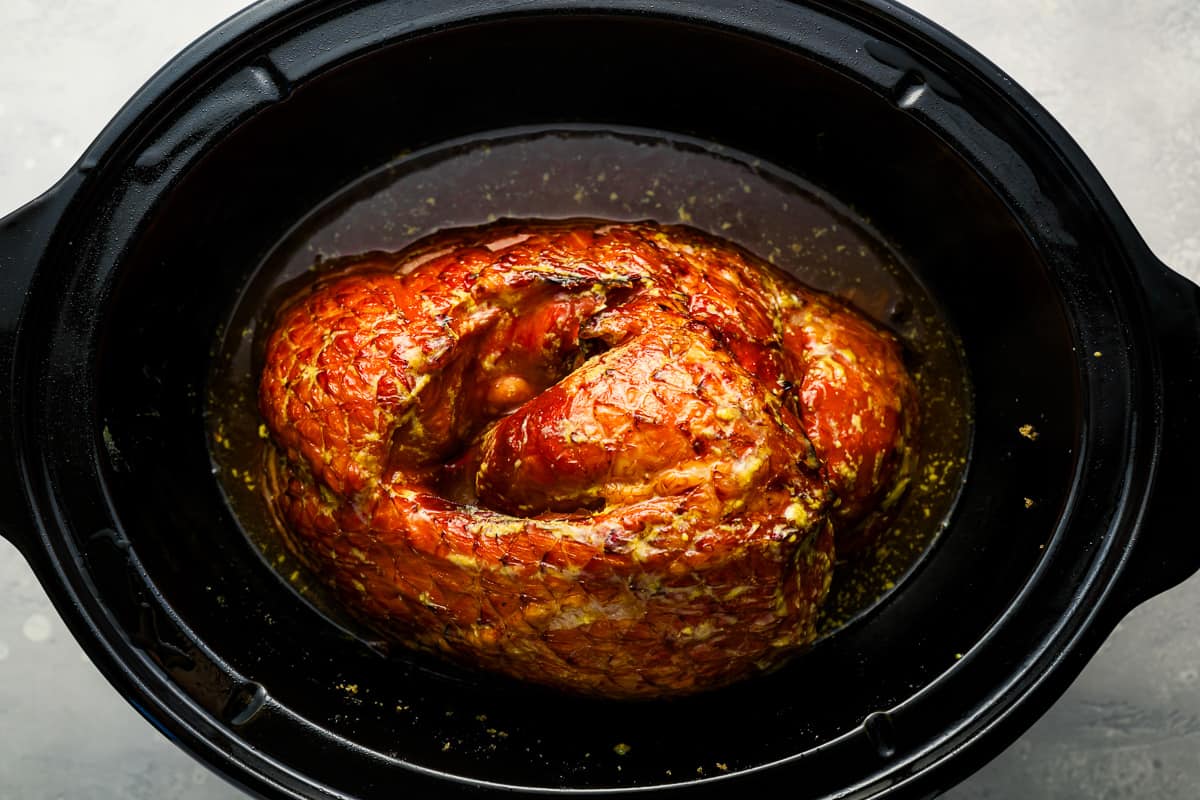 Make the Glaze: Pour the juices from the crockpot into a medium pot and boil until the sauce reduces enough to coat the back of a spoon. Brush or pour the glaze all over the cooked ham and serve.