This cashew chicken recipe is even better than takeout! Crispy bites of chicken are stir-fried in a savory garlic, hoisin, and soy sauce with toasted cashews and green onions. It's easy to make, and ready in just 30 minutes. Serve it with rice, noodles, veggies, or any of your Chinese takeout favorites.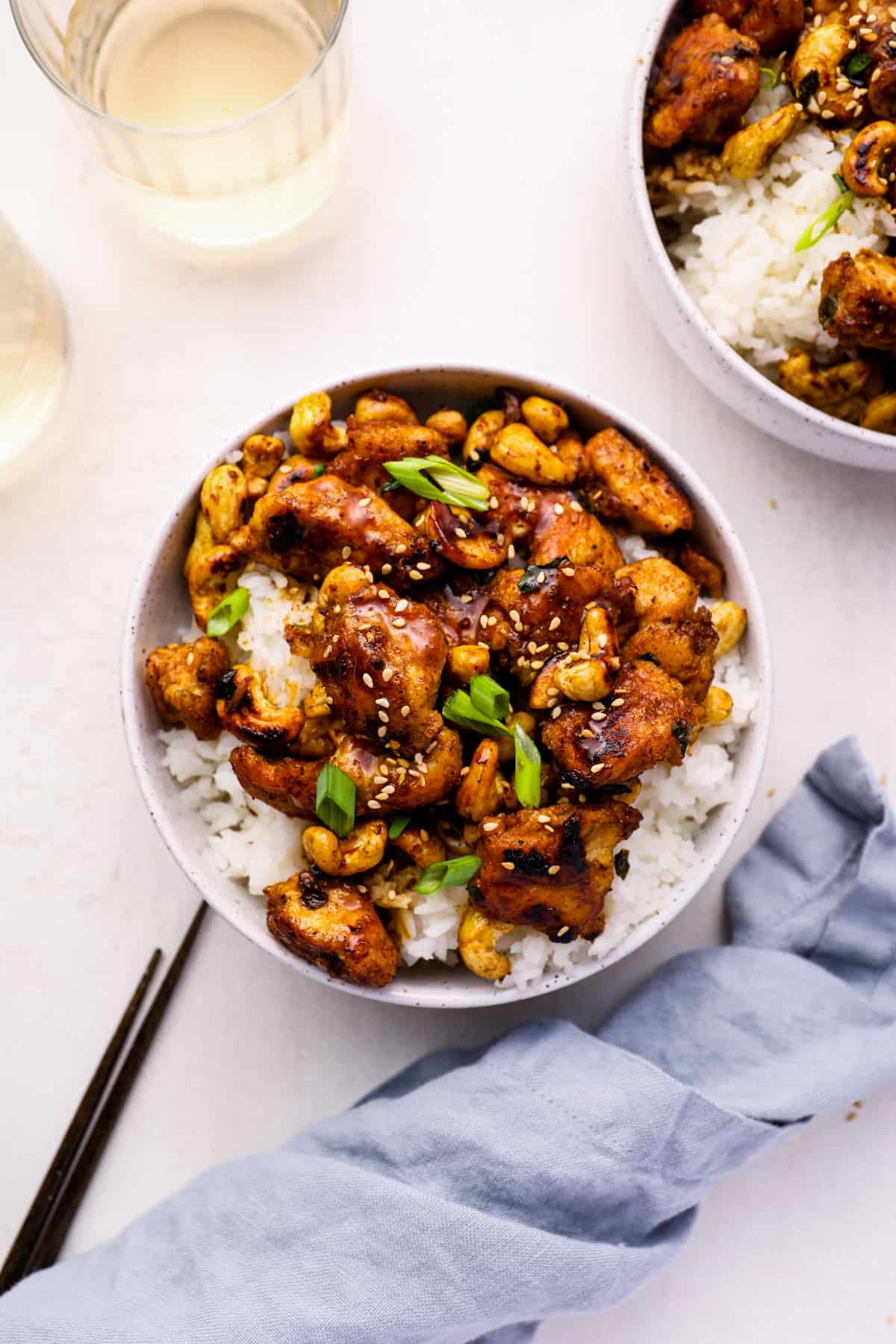 What's in this Easy Cashew Chicken Recipe?
Skip the takeout and make this homemade chicken with cashews on the stovetop. You don't need very many ingredients, and it comes together quick!
Chicken: Use boneless, skinless chicken breast, cut into bite-sized pieces. They should all be the same size to make sure they cook evenly.
Cashews: Raw, unsalted cashews are best for this recipe. If you don't have time to toast them, you can buy pre-toasted cashews, or just toast them ahead of time.
Green Onions: These add a nice bit of texture, crunch, and flavor into the mix.
Cornstarch: This coats the chicken to help crisp it up, and helps to thicken the sauce and glaze the chicken.
Sesame Seeds: These are optional, but they add a nice bit of crunch at the end.
Oil: Vegetable oil is ideal, but feel free to use any neutral oil you like, such as canola or avocado oil.
Soy Sauce: For a gluten-free alternative, use tamari or coconut aminos instead.
Rice vinegar: Make sure you are using rice wine vinegar, not rice wine (also called mirin). They are different ingredients with very different flavors! In a pinch, you can use white wine vinegar or apple cider vinegar in place of the rice vinegar.
Sauce: The cashew chicken sauce is a mix of hoisin sauce, rice vinegar, soy sauce, sesame oil, and garlic.
If you want to prep this dish ahead of time, you can toast the cashews and make the sauce. Then just grab them when you're ready to cook the chicken.
Recipe Variations
Make it Spicy: To make your sauce a little spicier, stir 1-3 tablespoons of sriracha or sambal oelek into the sauce.
Add more Veggies: Feel free to add diced veggies to this stir fry after you cook the chicken. I like bell peppers, mushrooms, broccoli, or zucchini.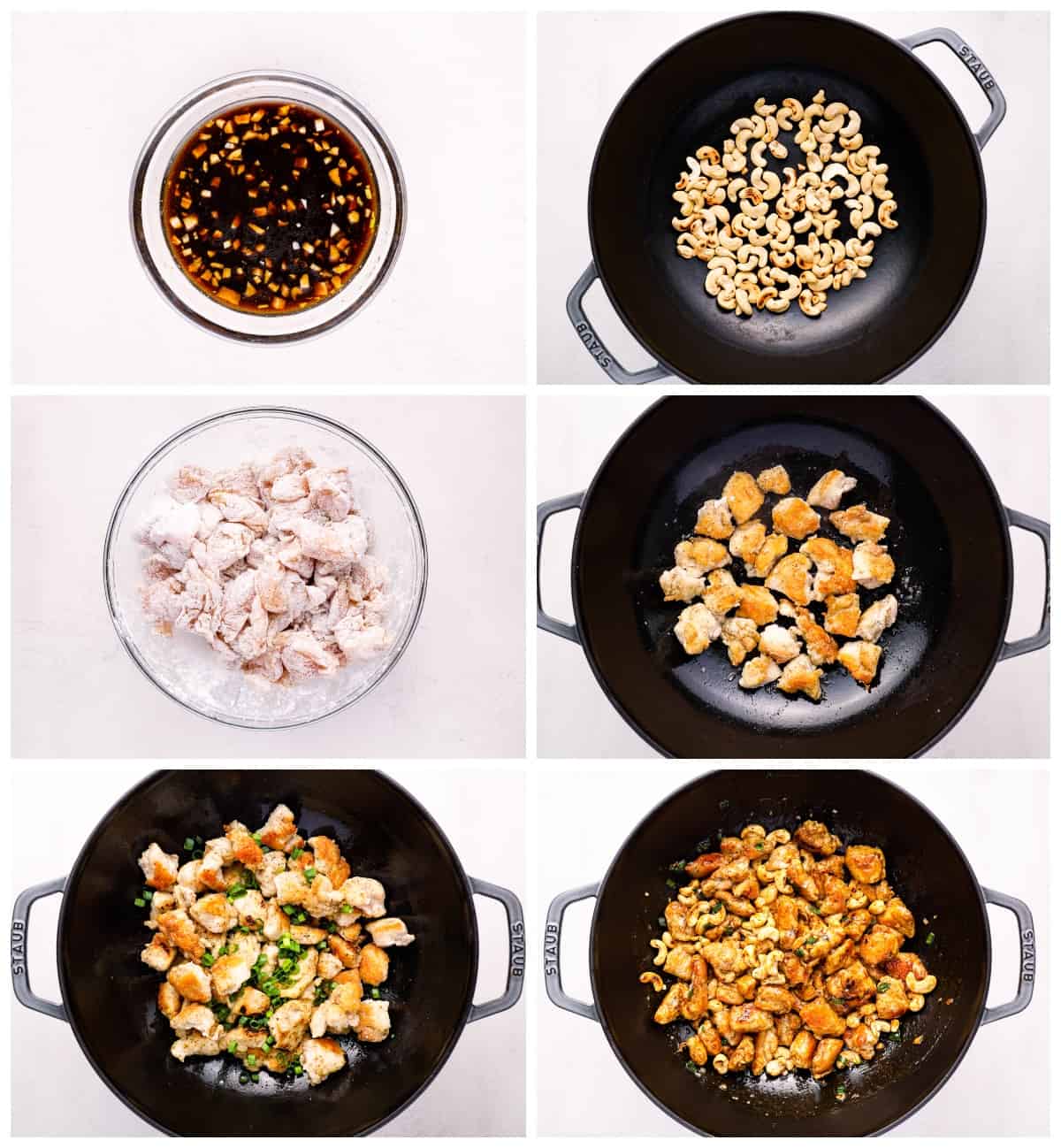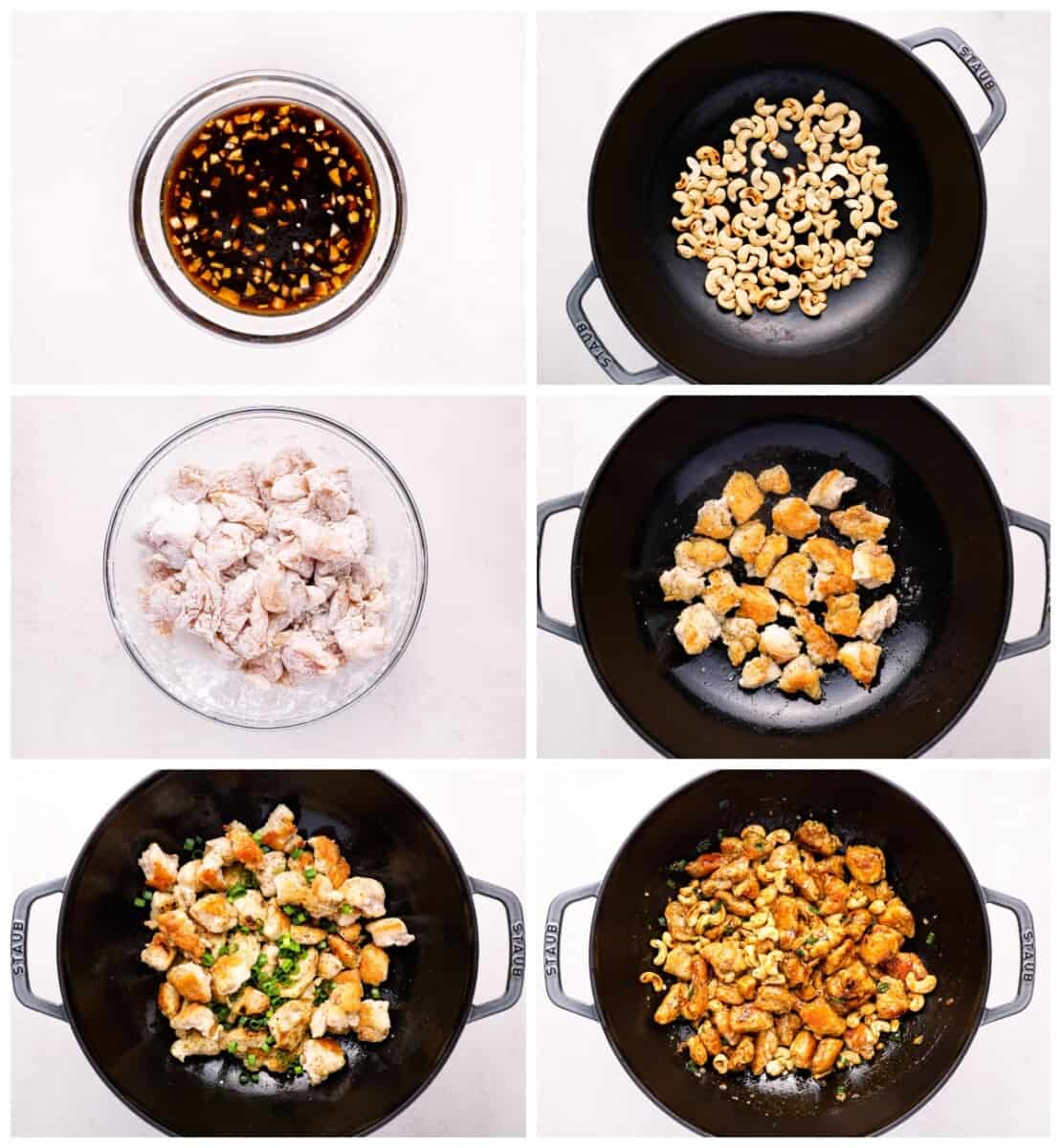 What is cashew chicken?
Cashew chicken is a Chinese-American dish consisting of bite-sized pieces of chicken and whole cashews stir-fried in a sweet and savory sauce.
Can I make cashew chicken with chicken thighs instead of chicken breasts?
Absolutely! I like to use breasts because they're lower in fat, but boneless, skinless chicken thighs are a great alternative!
What is hoisin sauce?
Hoisin sauce is a sweet and salty sauce made from soybeans, fennel, red chili peppers, and garlic. It is thick and adds a distinctive flavor and texture to this dish. You can find hoisin sauce in the International aisle of most grocery stores.
Can I use something other than cashews in cashew chicken?
Cashews give this dish its distinctive flavor, so I don't recommend replacing them unless there is a food allergy. Some common replacements are pumpkin or sunflower seeds. Keep in mind that this will change the overall flavor of the dish, though.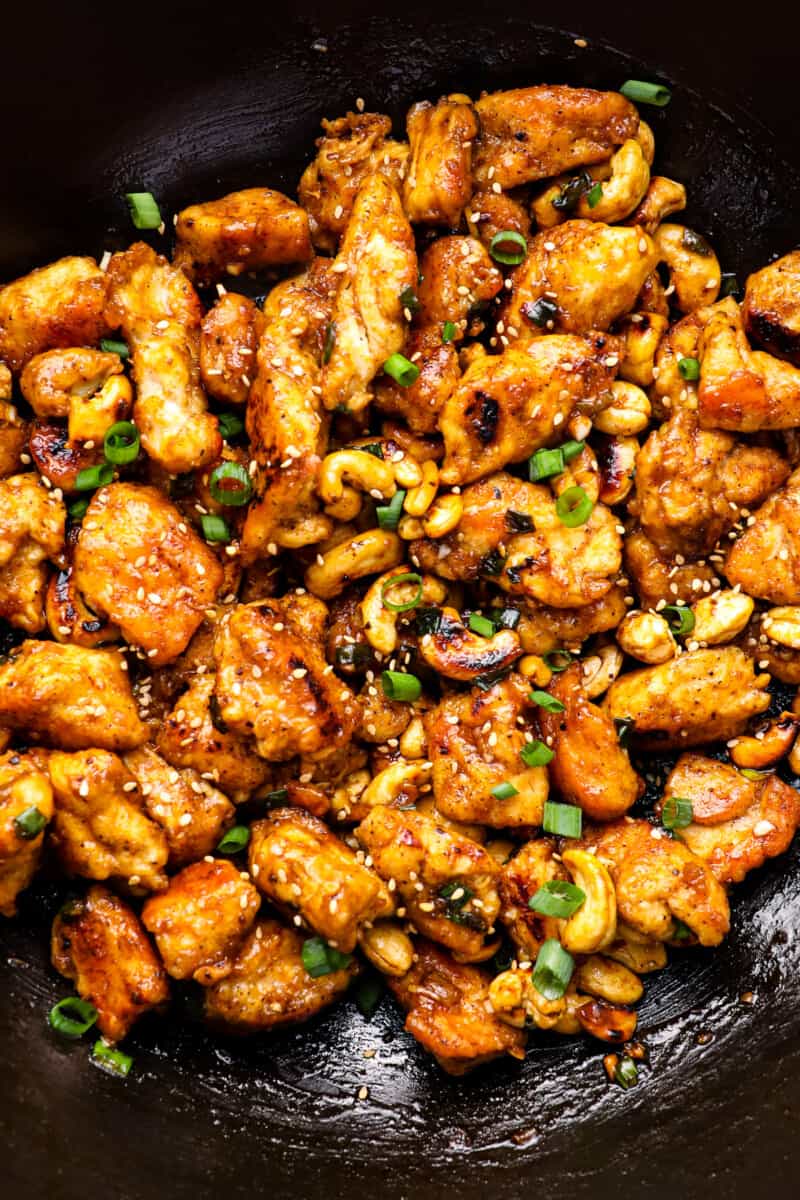 How to Store and Reheat Leftovers
Store leftover cashew chicken in an airtight container in the refrigerator for up to 3 days. Reheat gently in the microwave or on the stovetop.
How to Freeze Homemade Cashew Chicken
Freeze cashew chicken in freeze-safe, airtight containers or resealable bags for up to 3 months. Let thaw overnight in the refrigerator before reheating.
I recommend freezing it in individual-sized portions so you can easily grab and reheat for each meal, because you shouldn't reheat and refreeze chicken multiple times.
What to Serve with Cashew Chicken
This crispy stir-fried chicken is best served with rice or noodles, and you can add veggies too, like this spicy broccoli. I love to serve it with more takeout favorites, like egg rolls, chicken fried rice, vegetable lo mein, and crab rangoon.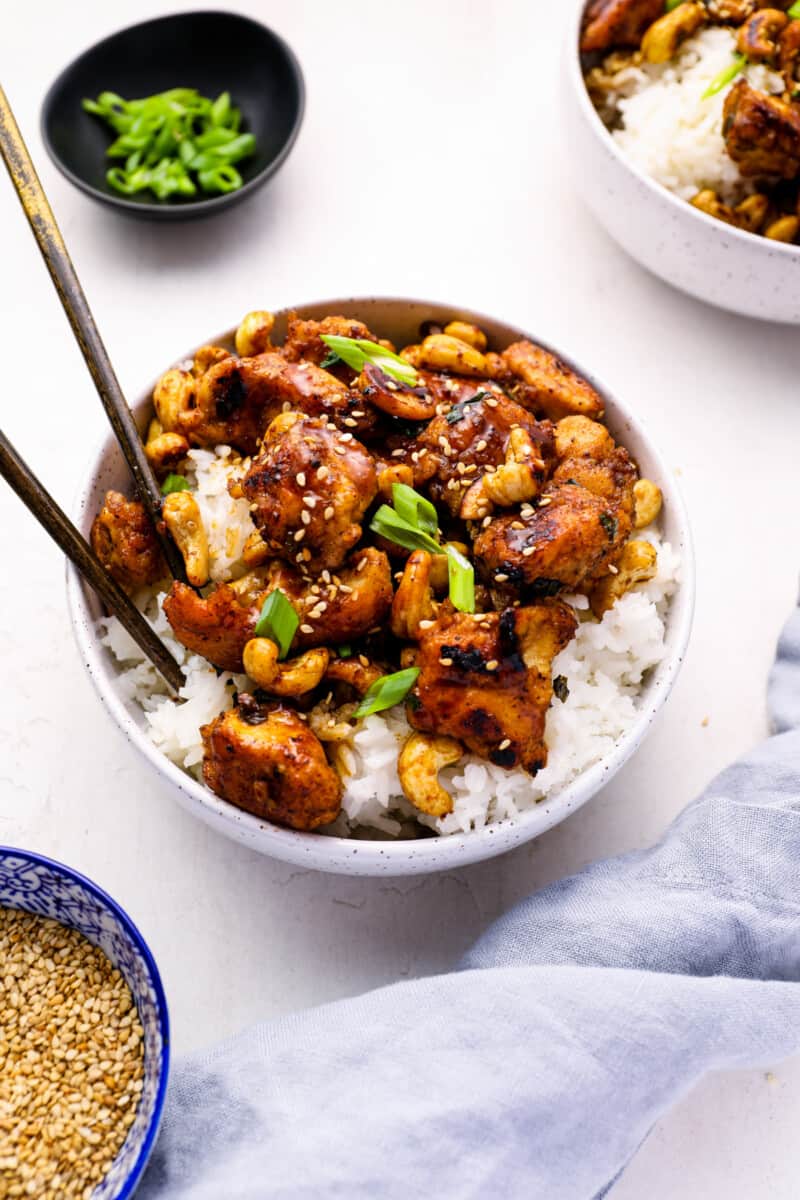 If you make this recipe be sure to upload a photo in the comment section below or leave a rating. Enjoy! You can also jump to recipe.
More Homemade Takeout Recipes We Love