There's something special about a good Chicken Stir Fry. The combination of juicy chicken, crispy vegetables, and savory sauce is always a winner in my book. Plus, it's the perfect dish for a busy weeknight meal. This stir fry recipe is easy to follow and sure to become a family favorite.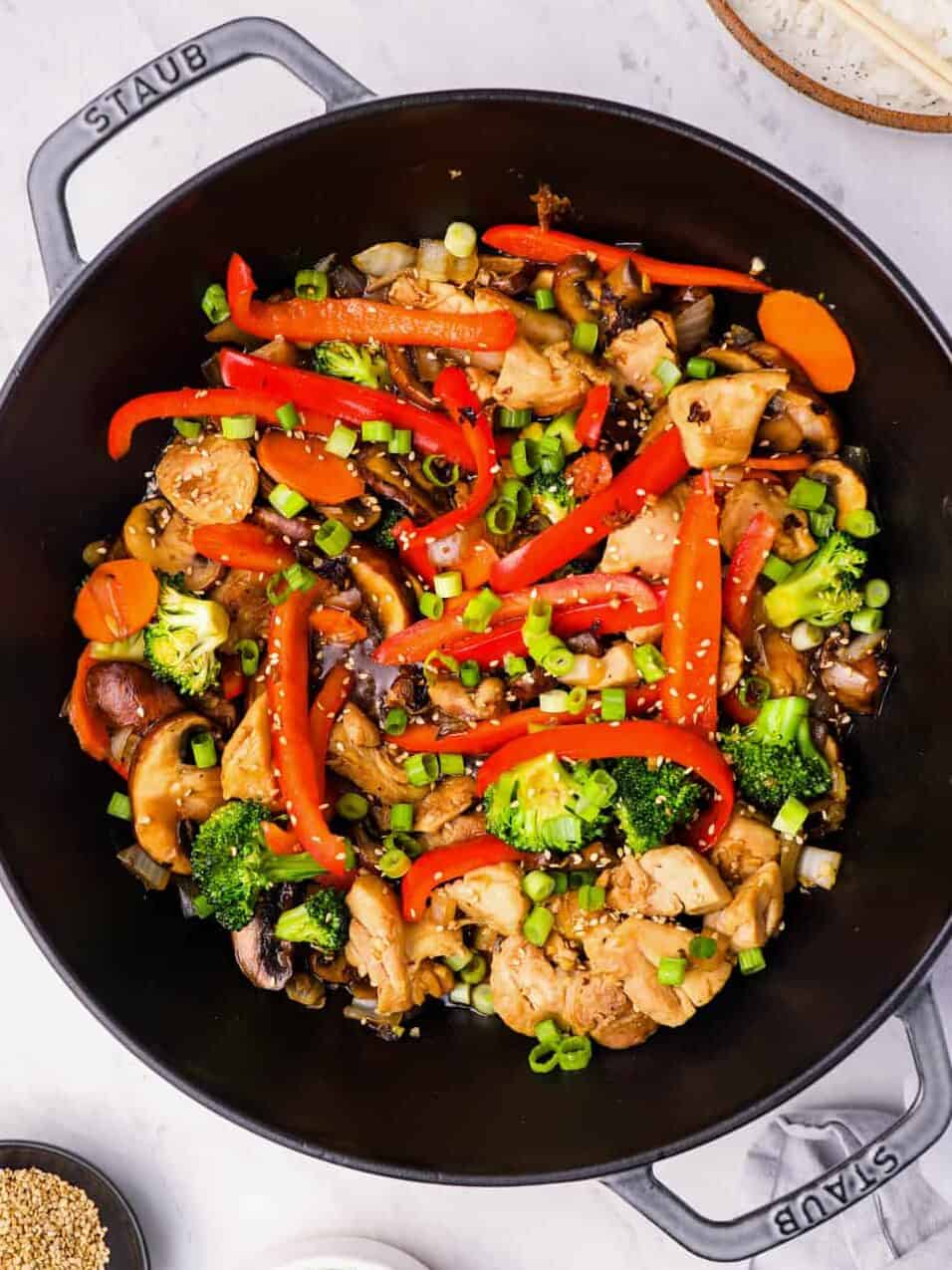 What's in this Chicken Stir Fry Recipe?
Chicken and Vegetable Stir Fry is a quick, healthy, and delicious meal that can be made with just a few simple ingredients. The combination of fresh vegetables, succulent chicken, and savory sauce is simply irresistible.
Chicken Broth: Adds a savory, umami flavor to the sauce.
Water: Helps thin the sauce to the right consistency.
Soy Sauce: Adds saltiness and umami flavor.
Honey: Adds a touch of sweetness to the sauce.
Cornstarch: Helps thicken the sauce.
Toasted Sesame Oil: Adds a toasty, nutty flavor to the sauce.
Olive Oil: Helps the chicken cook without burning it.
Chicken Thighs: Have a rich, juicy flavor. You can also use chicken breasts if you prefer.
Vegetables: Carrot, broccoli, red bell pepper, mushrooms, and onion. Cut the vegetables into similarly-sized pieces so that they cook evenly.
Garlic: Adds an earthy flavor.
Ginger: Adds a bright, spicy flavor.
Jasmine Rice: The perfect base to soak up all of that delicious sauce.
Pro Tip: You can cook this stir fry in any neutral oil, such as canola or vegetable.
Variations on Stir Fry Chicken
To make the sauce gluten-free, swap the soy sauce for tamari or coconut aminos.
Instead of chicken thighs, try chicken breasts, shrimp, sliced steak, or tofu!
Feel free to swap in your favorite vegetables, such as snow peas, bok choy, green beans, snap peas, edamame, asparagus, zucchini, or cauliflower.
For a spicy stir fry, add in some crushed red pepper flakes!
You can serve this stir fry over brown rice or noodles instead of Jasmine rice.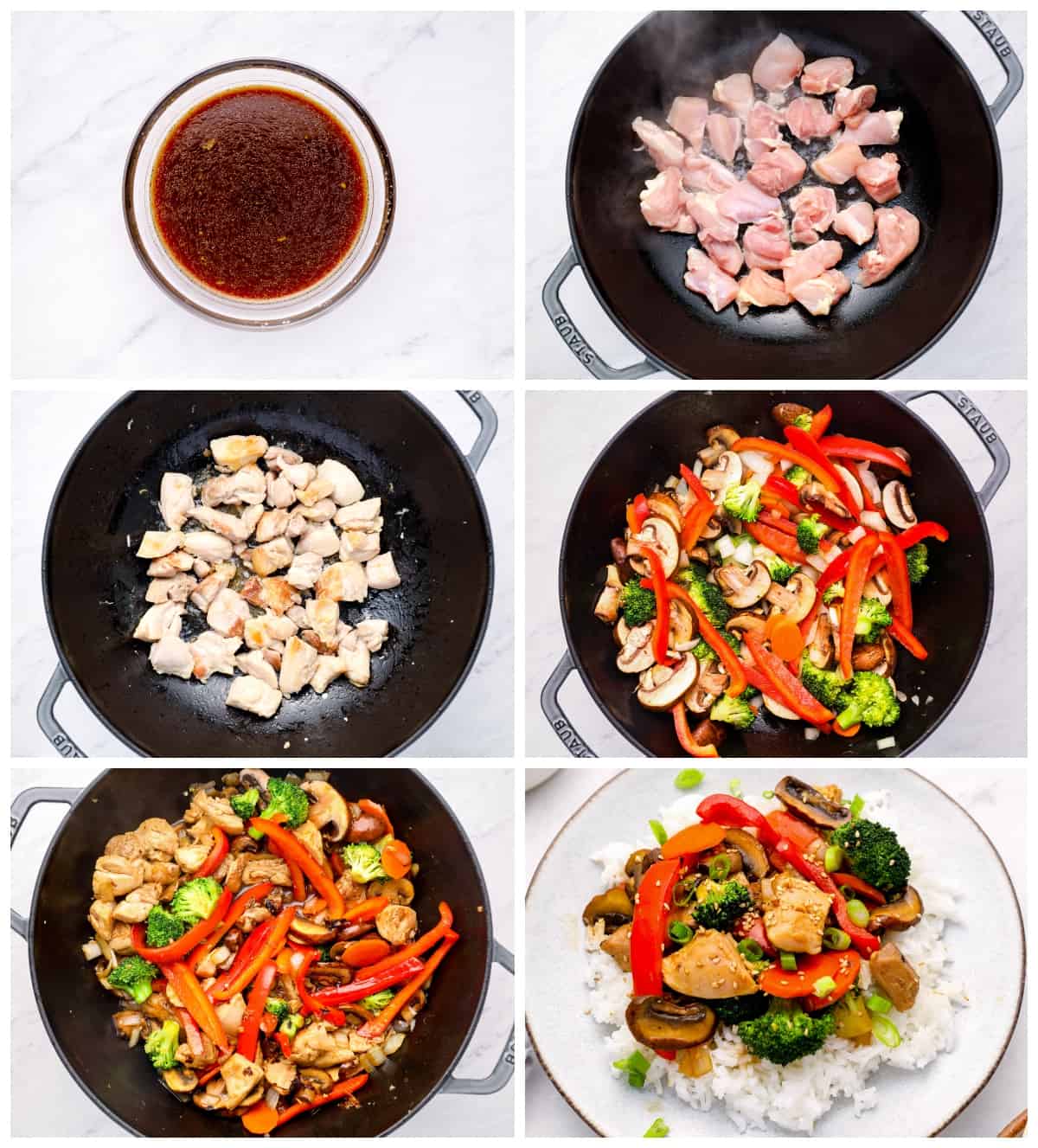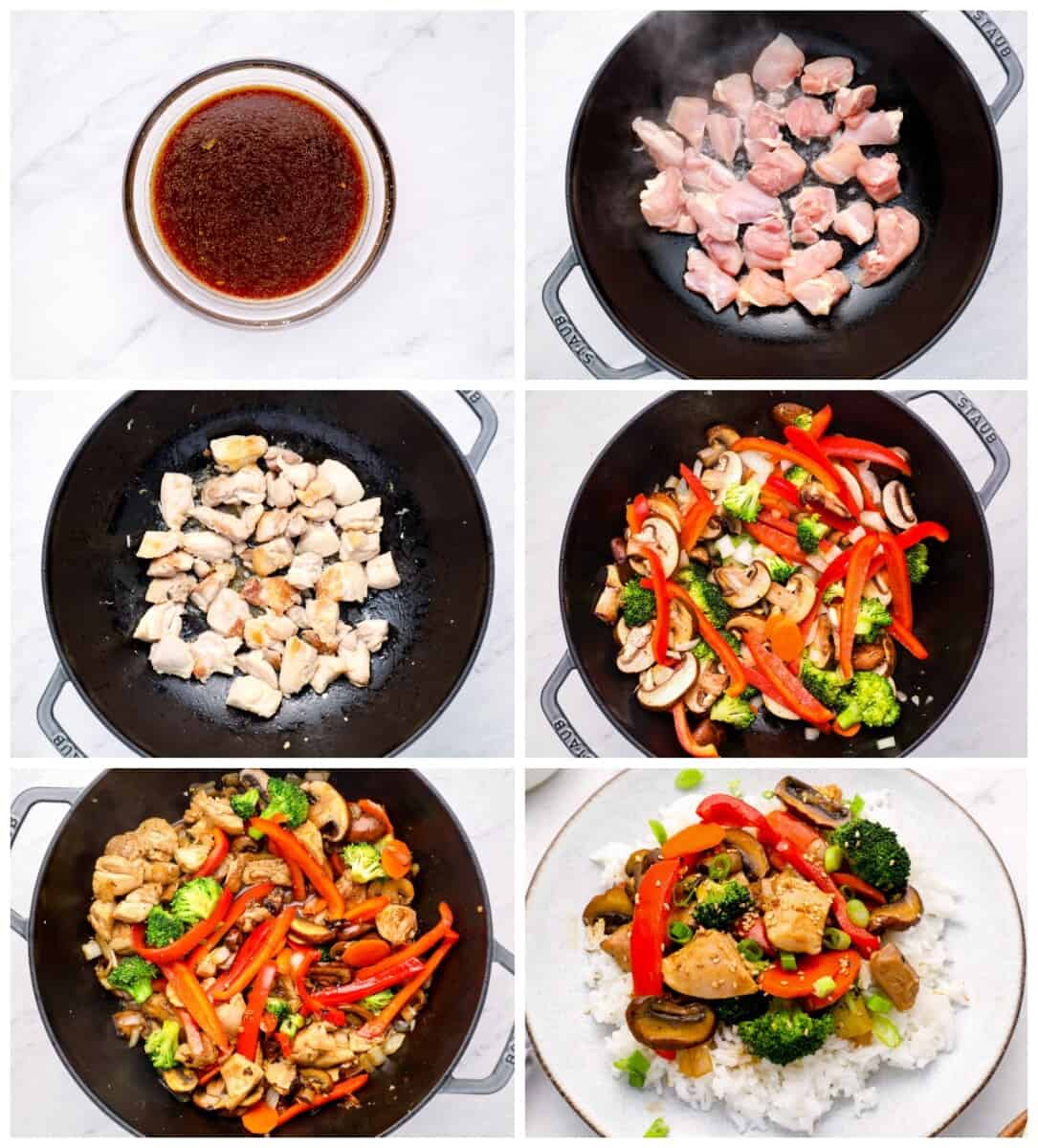 What is the best chicken for chicken stir fry?
I like to use chicken thighs because they are flavorful and less likely to overcook, but you can absolutely use chicken breasts instead.
Should I cook the chicken before adding it to the stir fry?
The chicken will get cooked first and set aside until the end to ensure that it doesn't dry out!
What kind of vegetables should I add?
I love to use carrots, broccoli, bell pepper, mushrooms, and onions, but you can use almost any vegetable in this stir fry. Try snow peas, bok choy, green beans, snap peas, edamame, asparagus, zucchini, or cauliflower.
Is chicken stir fry spicy?
Nope! If you like spice, you can add crushed red pepper flakes to increase the spice level. Start with ⅛ teaspoon and increase until you reach the desired level of spice.
Why is my stir fry lumpy?
If your chicken stir fry seems lumpy, you may not have whisked the sauce together enough. The sauce contains cornstarch, a thickening agent that works best when dissolved in a cool or room-temperature liquid and added to a hot pan of food. If the cornstarch is not fully dissolved in the sauce first, it can clump up when exposed to heat, leading to a lumpy stir fry.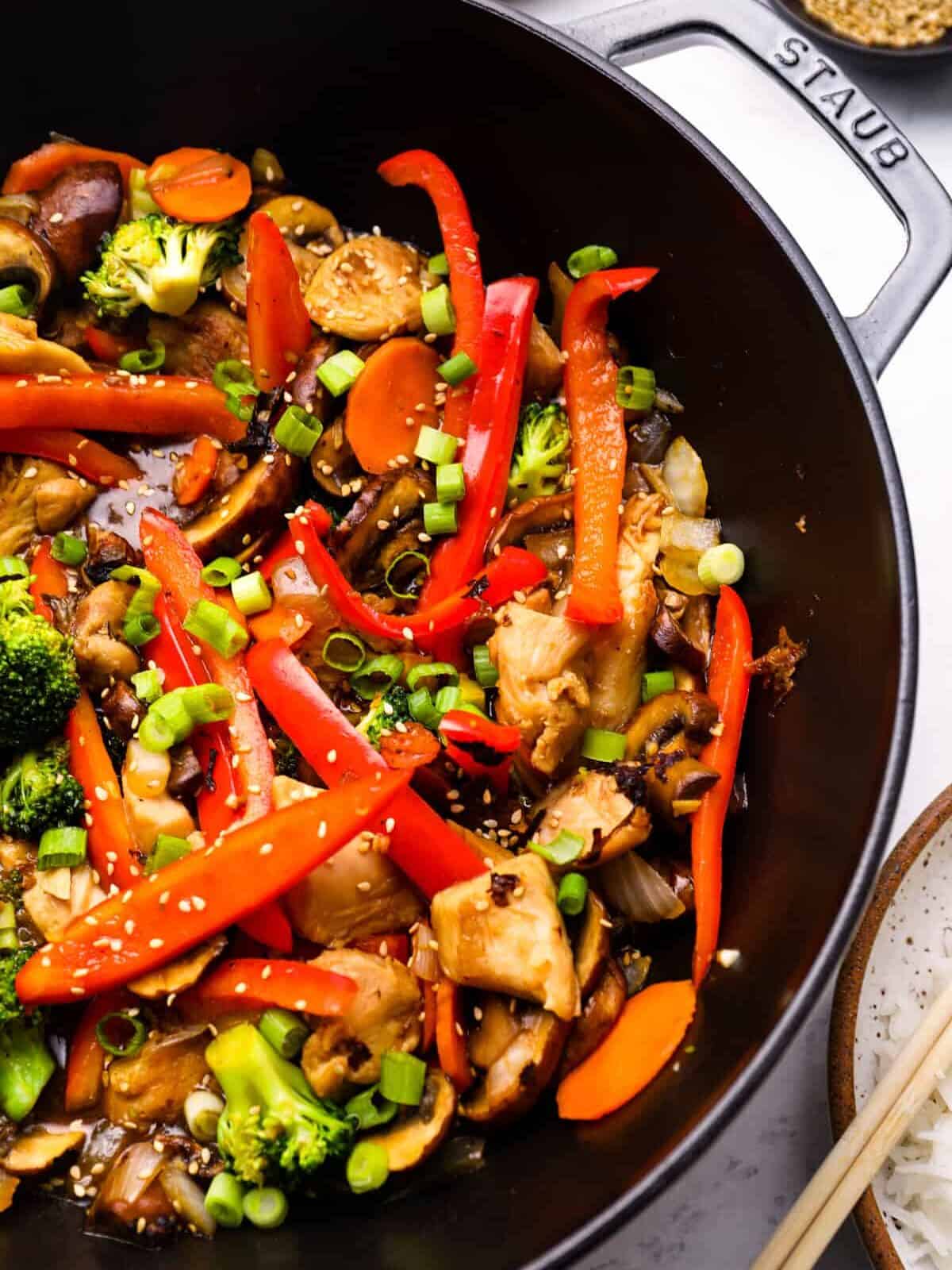 How to Make Ahead and Store
You can chop and prepare all of the vegetables up to 1 day in advance of when you plan to cook this stir fry. Store the cut vegetables in airtight containers in the refrigerator until ready to use.
Store leftover chicken stir fry in an airtight container in the refrigerator for up to 3 days.
How to Freeze and Reheat
Freeze chicken stir fry whole or in individual portions in airtight containers or Ziplock bags for up to 3 months. Let thaw overnight in the refrigerator before reheating in the microwave in 30-second intervals until hot.
Serving Suggestions
Chicken stir fry can be served over rice or combined with other Chinese dishes like fried rice, lo mein, egg rolls, egg drop soup, cucumber salad, or crab rangoon.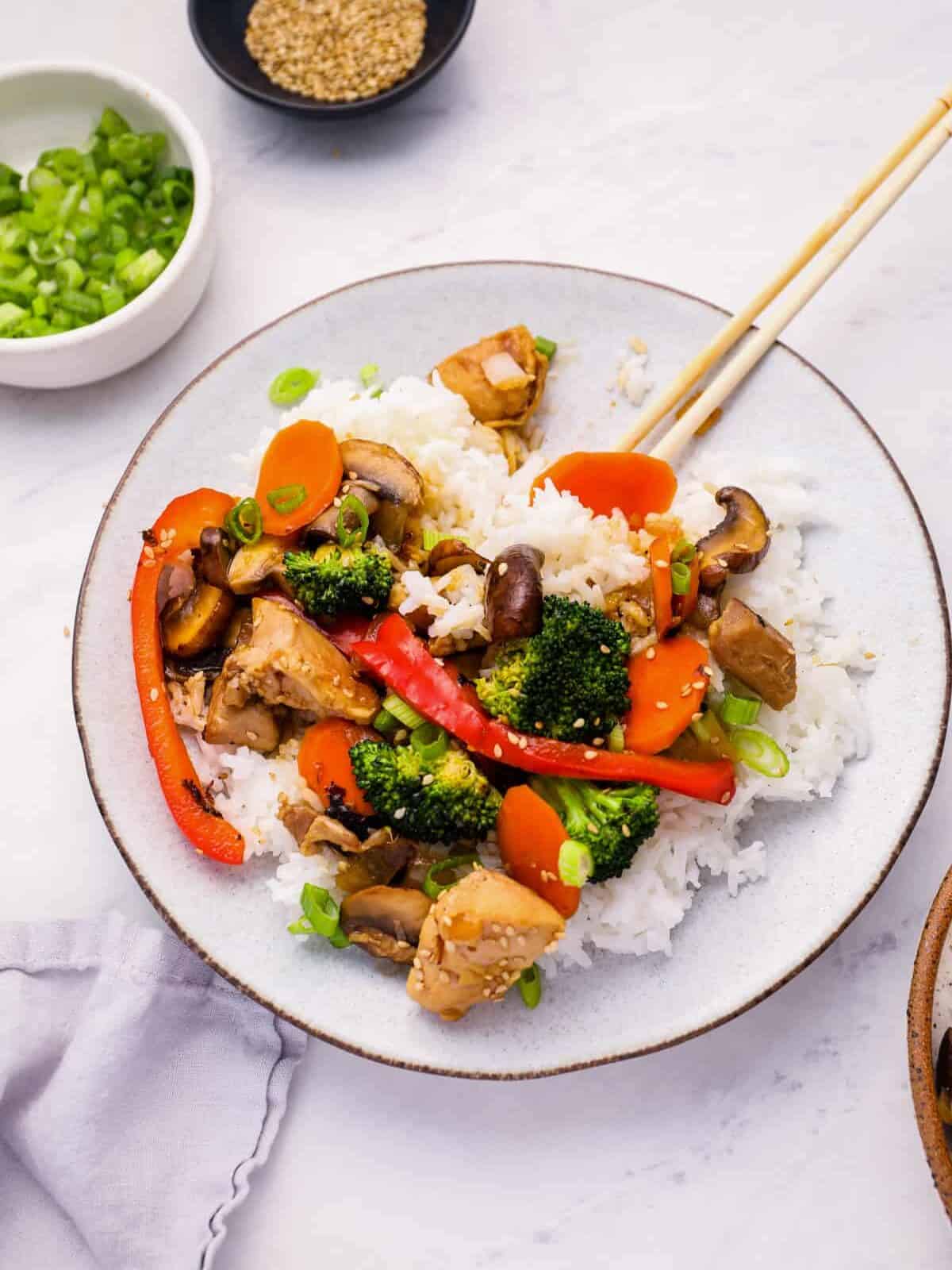 More Stir Fry Recipes We Love