Russian Chicken is a deliciously sweet and sour chicken dish that our whole family loves. This apricot chicken recipe is one of my mom's special recipes. Chicken covered in a Russian dressing and apricot jam glaze and then baked to perfection. Yum!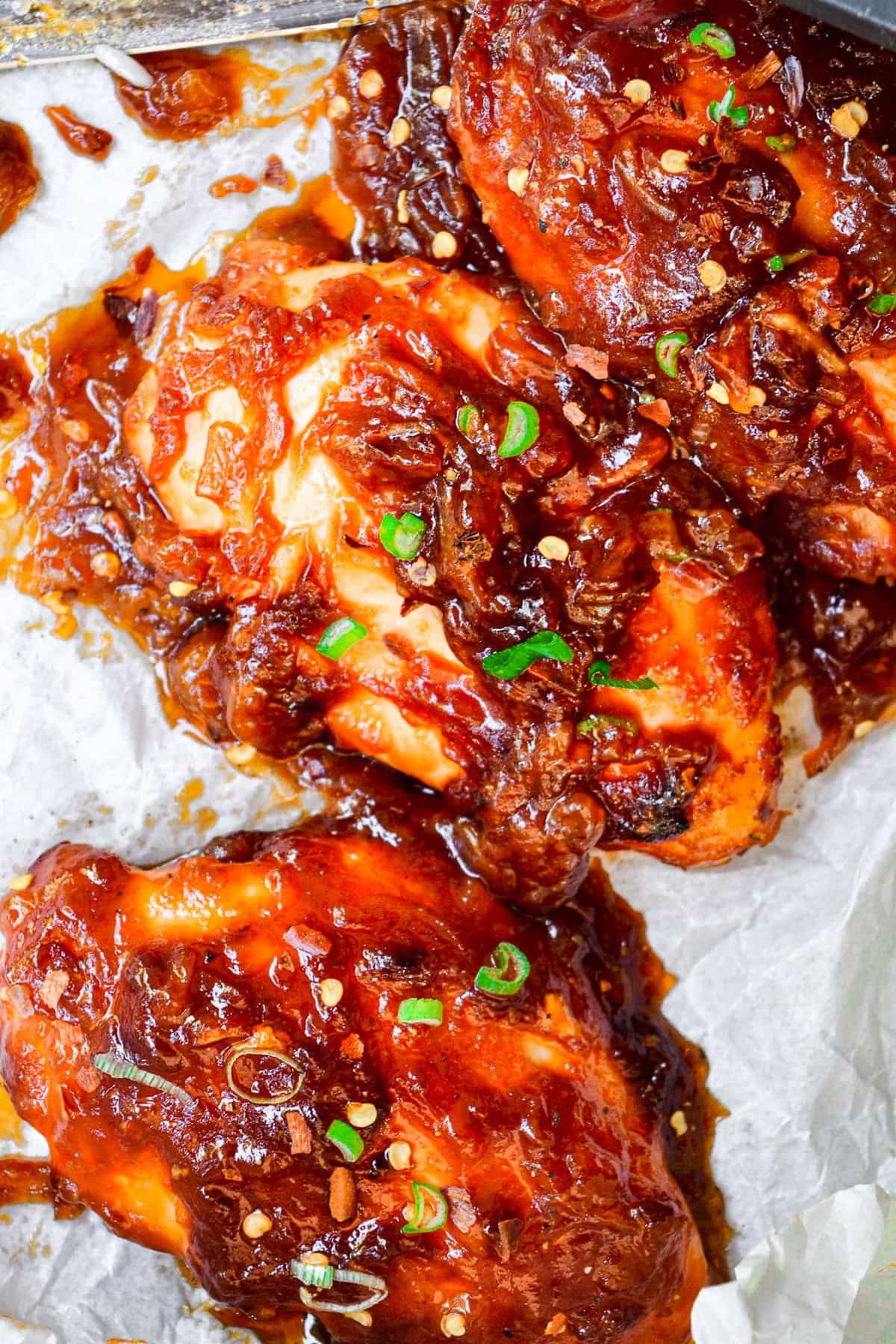 Russian Chicken Recipe (Apricot Glazed Chicken)
Russian Chicken has been in my family for years. This is my mom's classic sweet-and-sour chicken recipe that the whole family loves, and good news: It's also the ultimate easy recipe! This was my brother's favorite family recipe growing up, and I know you'll all love it too.
The chicken breasts are covered in a sweet and tangy glaze made with Russian salad dressing, apricot jam, onion soup mix, and a few other ingredients for the most amazing flavor. It's a simple baked chicken recipe that can be made any night of the week.
Serve this tasty apricot chicken recipe over rice (white or jasmine is best) and dig in!
This tangy Apricot Russian Chicken is one our family's all-time FAVORITE chicken recipes. Give it a try and you'll see why we can't get enough of it!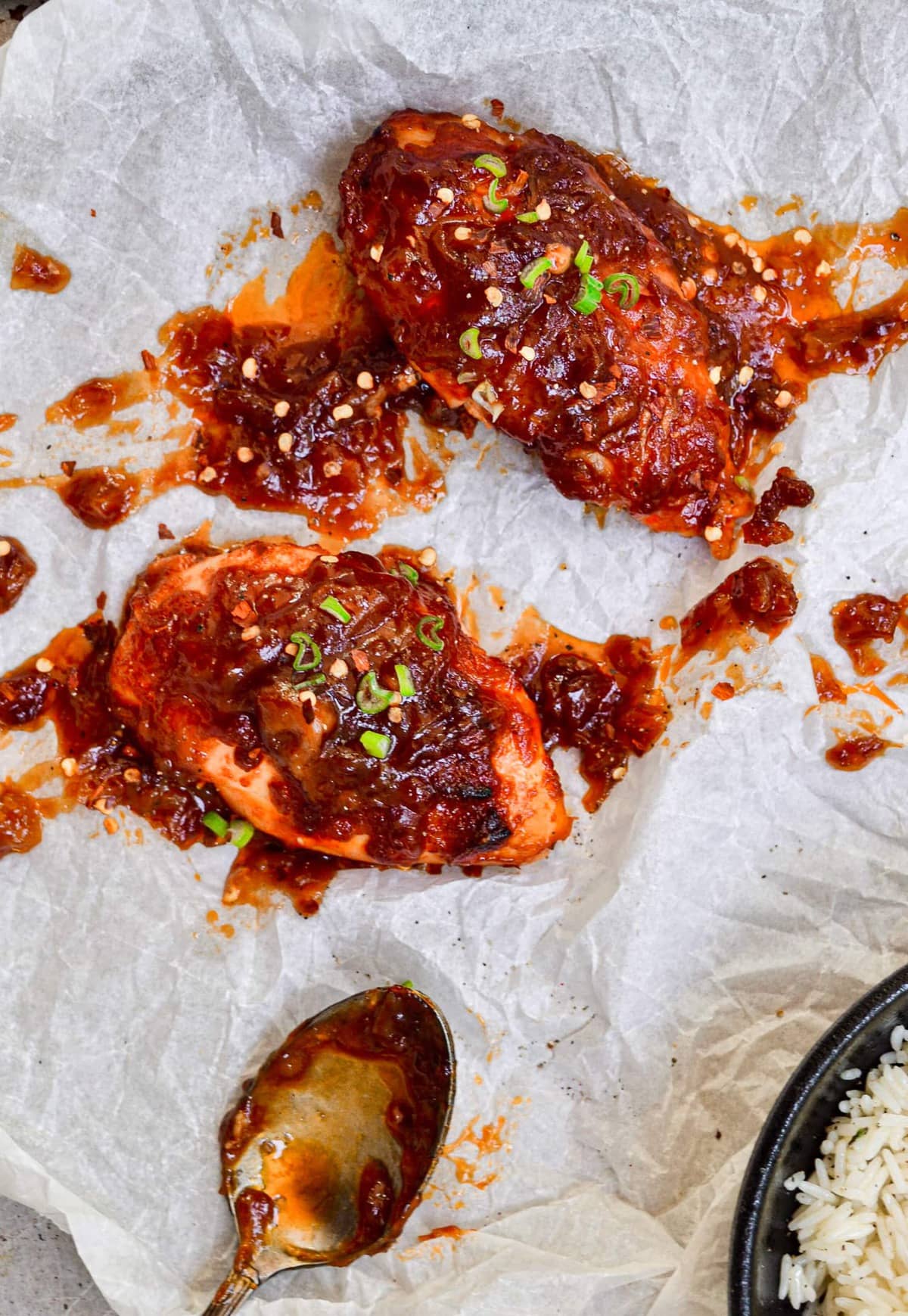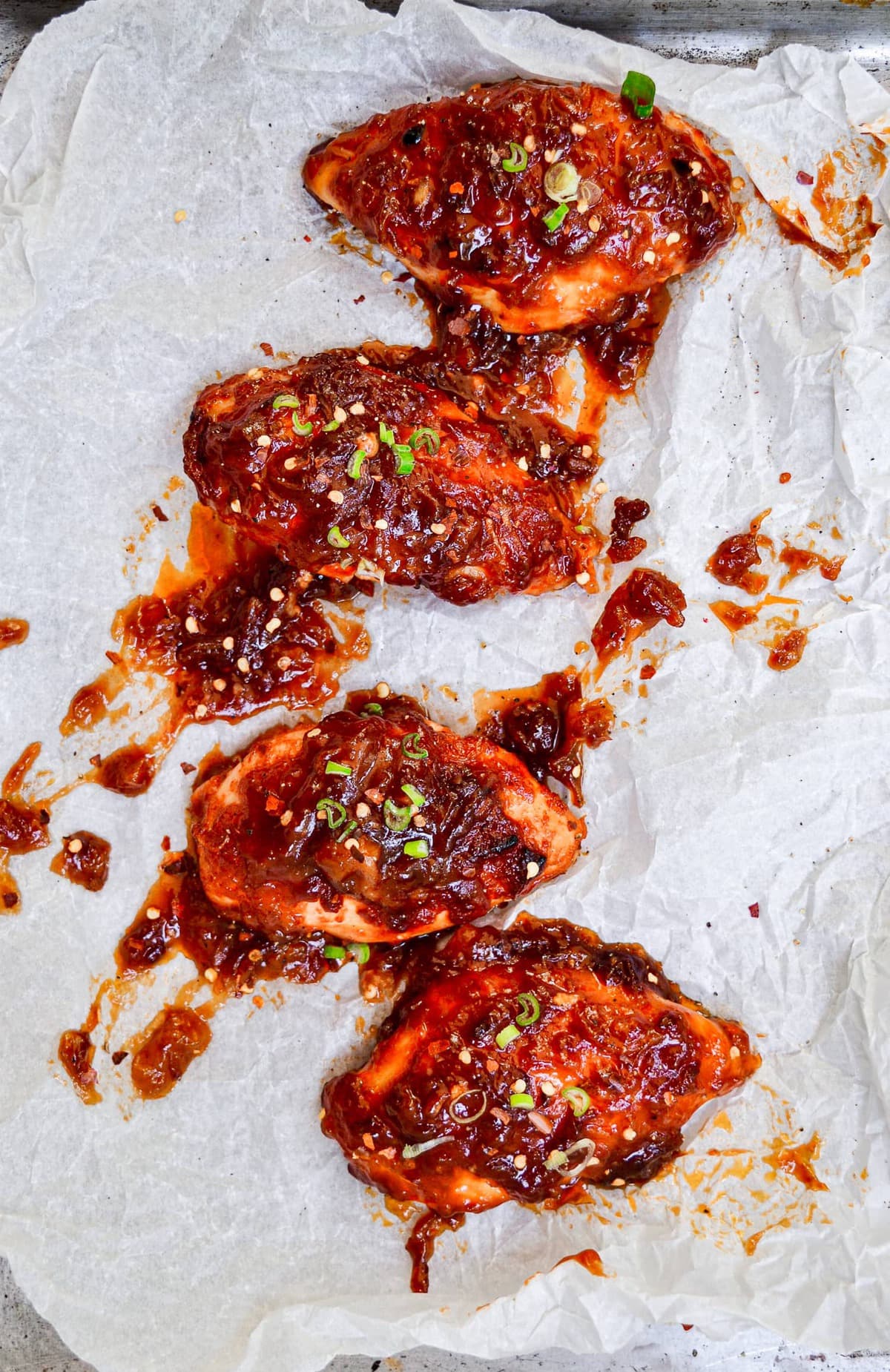 Baked Apricot Chicken Recipe
This baked Apricot Chicken recipe is one of my mom's specialties, and I'm so glad she shared the recipe with us here. It's more commonly called Russian Chicken, but we've always just called it sweet and sour chicken. It has the most amazingly sweet, sour, tangy flavor!
Here's what my mom had to say about it:
"Sweet & Sour Chicken has been a family favorite recipe since the late 1970s or early 1980s, when my mother-in-law first served it. Lipton Dry Onion Soup Mix was all the rage at the time and this recipe was sweeping the nation.

It had been eons since I fixed this dish. My mother-in-law gave me the recipe in 1979ish, and I used to make it often. After my son was born it became his most-loved dish when chicken was on the menu.

So, thank you Bec for asking me to do a guest post for The Cookie Rookie and for requesting this recipe. I feel like I've found a long-lost friend."
Thanks mom for sharing this apricot glazed chicken recipe. If you like this recipe and want to see more, please check out her blog, Simply Sated!
Apricot Glazed Chicken
Sweet and Sour Russian Chicken needs a little bit of sweet to balance out the sour. So in addition to the Russian dressing, we added apricot jam into the glaze mixture. You could also use pineapple or peach jam for a twist of your own. The point is to have a nice sweet and tangy flavor combo!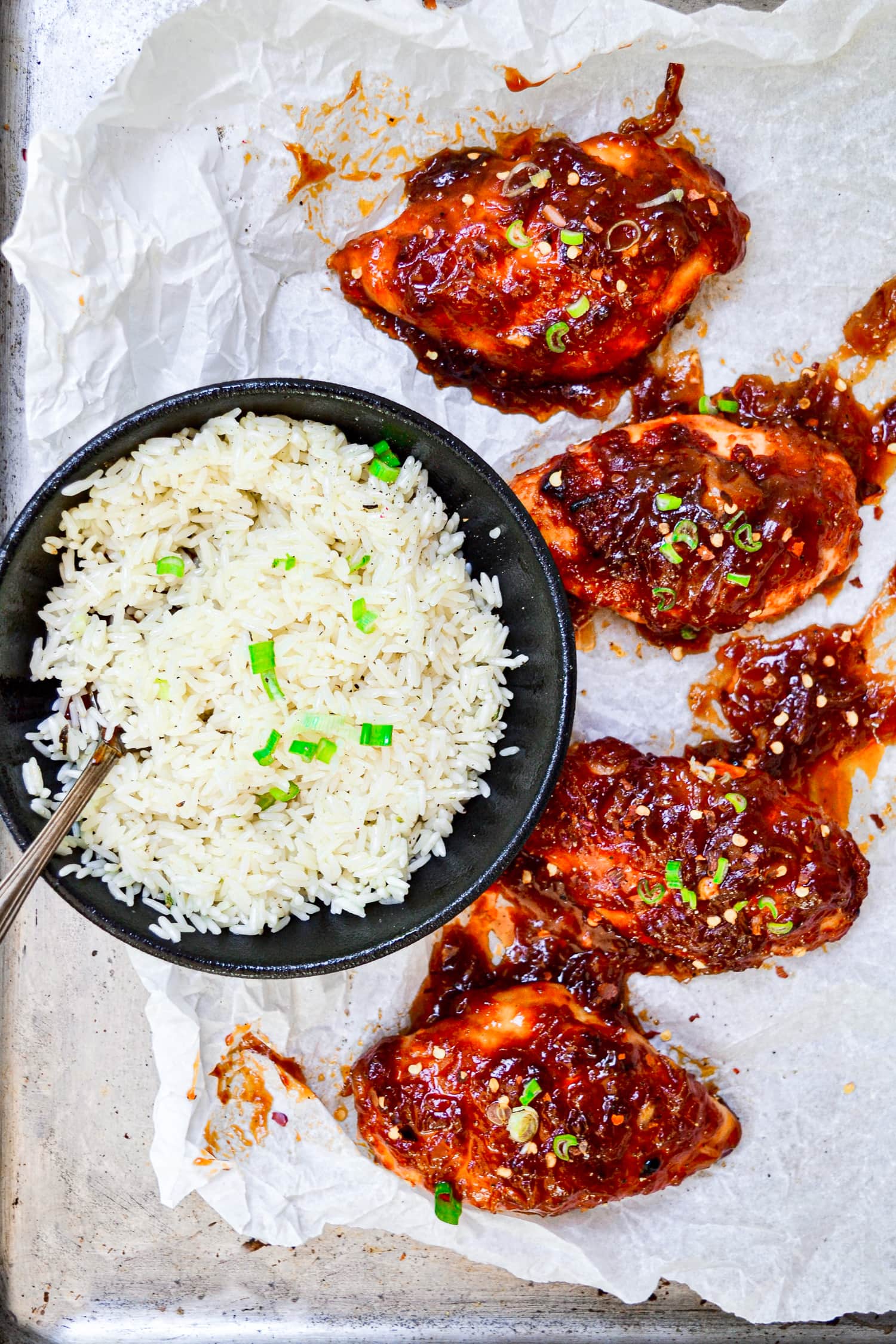 Ingredients
Boneless, skinless chicken breasts
Red Russian salad dressing (Western dressing works as well)
Apricot jam (or pineapple or peach)
Dry onion soup packet
Soy sauce
Red pepper flakes
Dry mustard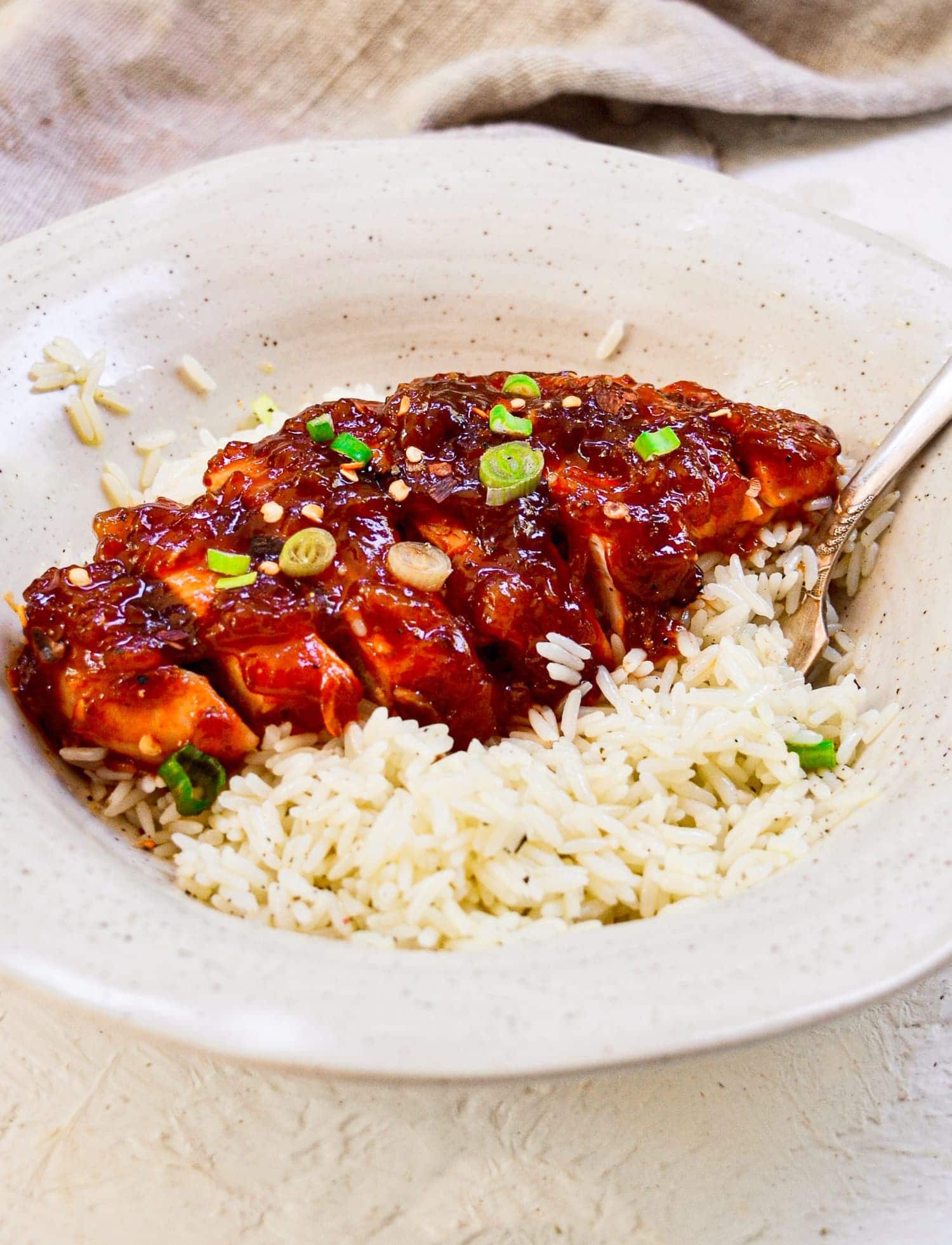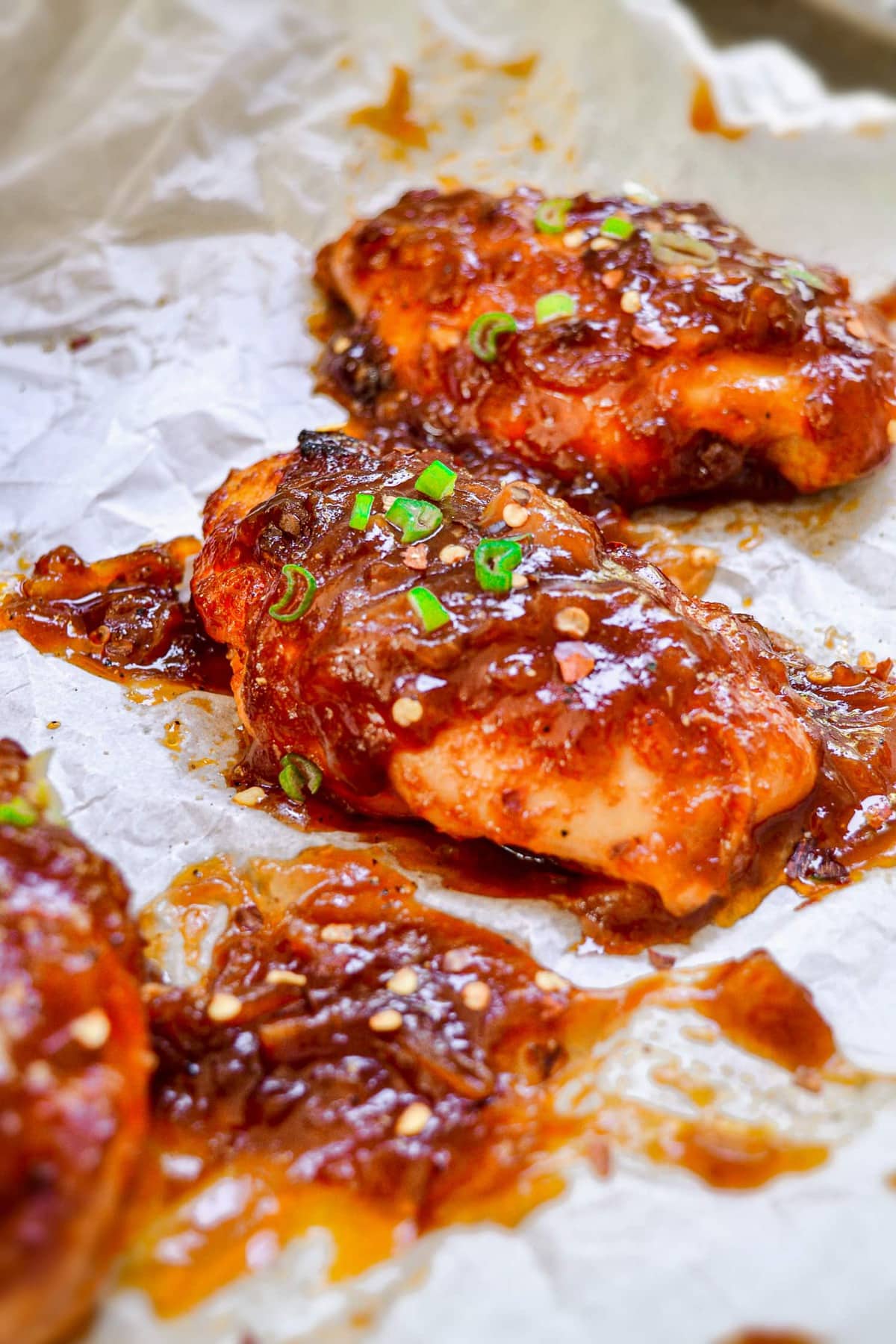 Russian Chicken is a surprisingly easy baked chicken recipe. With such a complex flavor profile, you'd expect the recipe to be similarly complicated. But here it is, with just six ingredients (in addition to the chicken breasts), a couple of quick steps, and less than an hour from start to finish! I love recipes like this for family dinners because it's delicious and simple.
How to make Apricot Chicken:
Place chicken breasts in a baking dish and preheat oven to 350°F.
Combine all ingredients (Russian dressing, apricot jam, onion soup mix, soy sauce, red pepper flakes, dry mustard) in a bowl to make the glaze.
Pour glaze directly over the chicken, cover the dish, and then bake for 20 minutes.
Remove the cover and bake another 15-20 minutes.
Call the family to the table, because it's time to eat!
This glazed chicken is best served with rice, which you can easily make while the chicken is baking. It's simple and so tasty!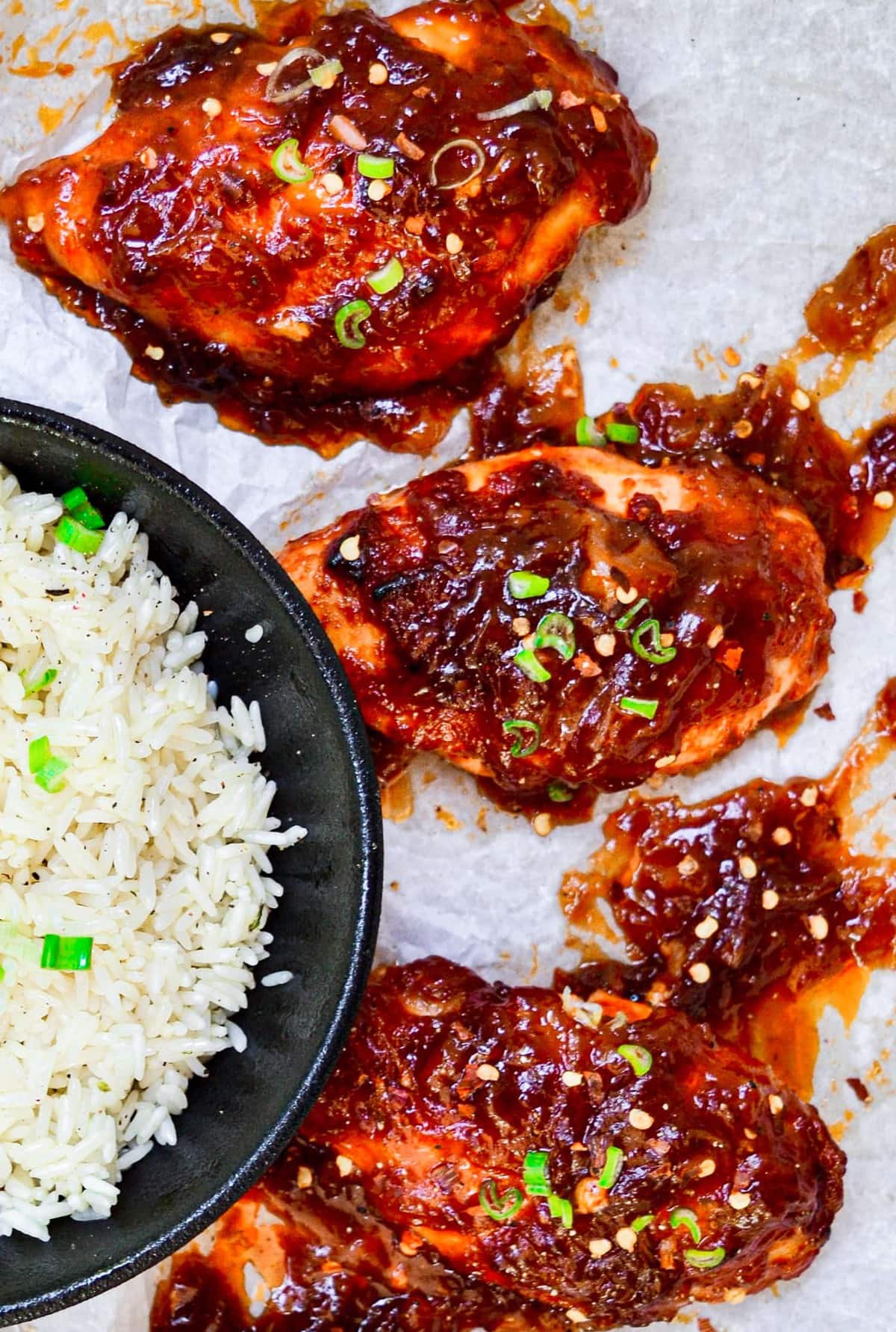 What is Russian Dressing?
Russian dressing is a sweet, tangy salad dressing made with tomatoes, vinegar, and spices. It's the perfect base for the apricot glaze we used on this baked chicken. There's also a creamy version of this dressing that contains mayo; either option works depending on what textures you prefer. If you can't locate Russian dressing, look for Western or Catalina dressing.
Can You Use Other Cuts of Chicken?
Absolutely! Boneless breasts are quick-cooking cuts, but you can also use bone-in breast, bone-in thighs, and drumsticks. You'll need to increase the cooking time, depending on the pieces you use, so I recommend using a thermometer to know when the meat reaches that all-important 165-degree reading. I don't suggest using this glaze on a whole roast chicken, though, due to the time it takes to bake–you could end up with burnt glaze over everything. To get around that issue, you could brush the glaze over a whole chicken when it's about halfway done.
So Is This Sweet or Sour?
It's really a blend of both flavors–which explains the name! The sweet comes from the fruity elements, and the sour comes from the tomato and vinegar in the dressing as well as the onion soup mix, mustard, and the soy sauce.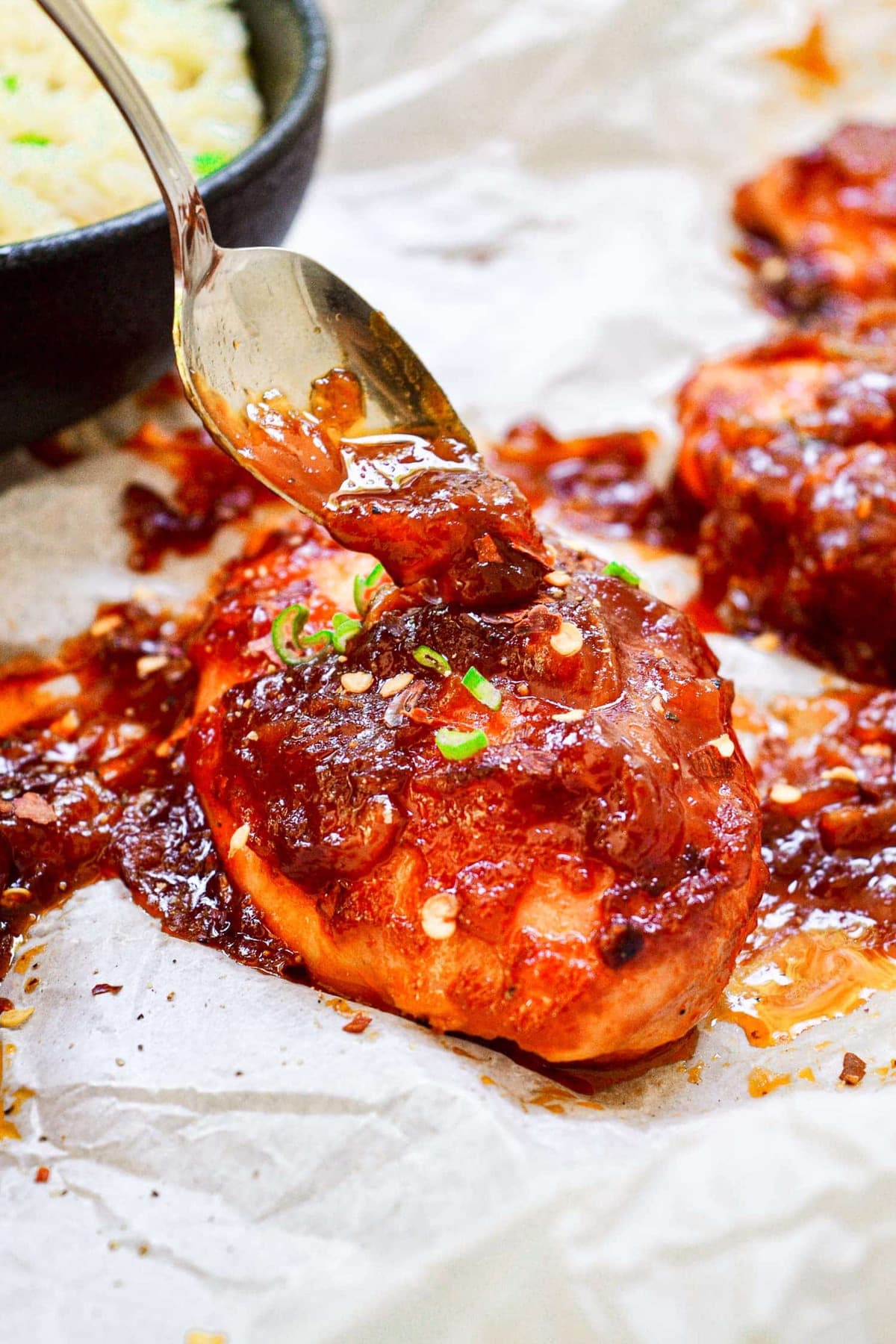 More Easy Baked Chicken Recipes
Sweet and Sour Russian Chicken is one of our favorite baked chicken recipes. Sweet, sour, tangy, savory…it's filled with flavor!
We have so many other chicken recipes around here, I don't even know where to begin. You can check our Baked Chicken Guide for all of the recipes, or find some of our absolute favorites below.