This post is sponsored by Danish Creamery. All opinions are my own.
Salted Chocolate Cheesecake Bars are the most delicious sweet and salty dessert! These rich, creamy, sweet, chocolatey bars are easy to make, and easy to eat too. Cookies, chocolate, and cheesecake are perfectly layered together in this recipe. Make these ahead of time for guests, a party, or for the holidays!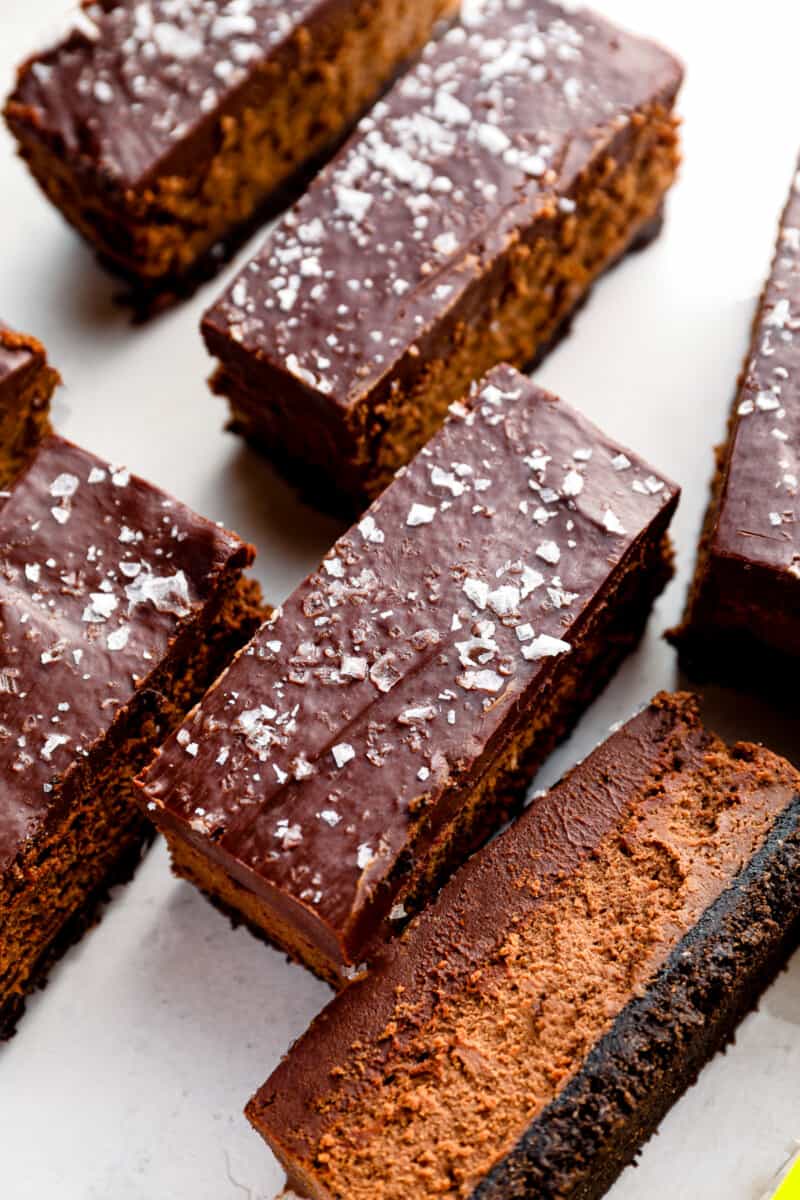 Easy Chocolate Cheesecake Bars
These chocolate cheesecake bars are so easy to make, and they're so delicious. It's a triple chocolate dessert that everyone will devour!
Start with a layer of crushed chocolate cookie crust. Add in the rich and creamy chocolate cheesecake filling. Then top it off with chocolate ganache and a bit of salt. Yum!
This salted chocolate cheesecake bar recipe is great for holidays and parties, kids and adults. Plus they freeze well, so you'll always have some extra dessert on hand.
Why You'll Love this Cheesecake Bars Recipe:
SWEET AND SALTY: The combination of chocolate, topped off with sea salt, makes for the most amazing sweet and salty flavor!
MAKE AHEAD: These chocolate cheesecake bars are easy to make ahead of time, so you won't have to worry about a last-minute dessert. Keep it in the fridge, or freeze it for a little longer.
DESSERT FOR A CROWD: Dessert bars are always great for a crowd, and they're easy to serve at parties. You can slice these up however you please, so make them a little bigger or smaller as needed.
These are the perfect dessert for Easter, Christmas, and other holidays!
Looking for more dessert bar recipes? You'll love these raspberry chocolate coconut bars or these scotcheroos.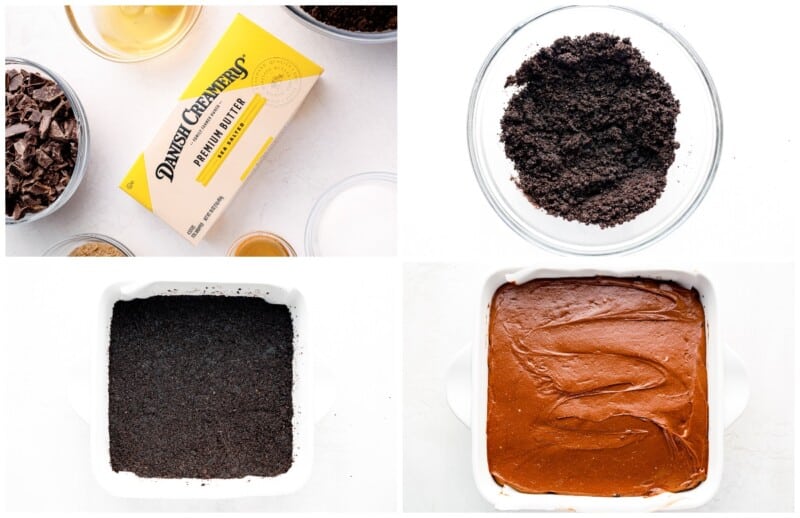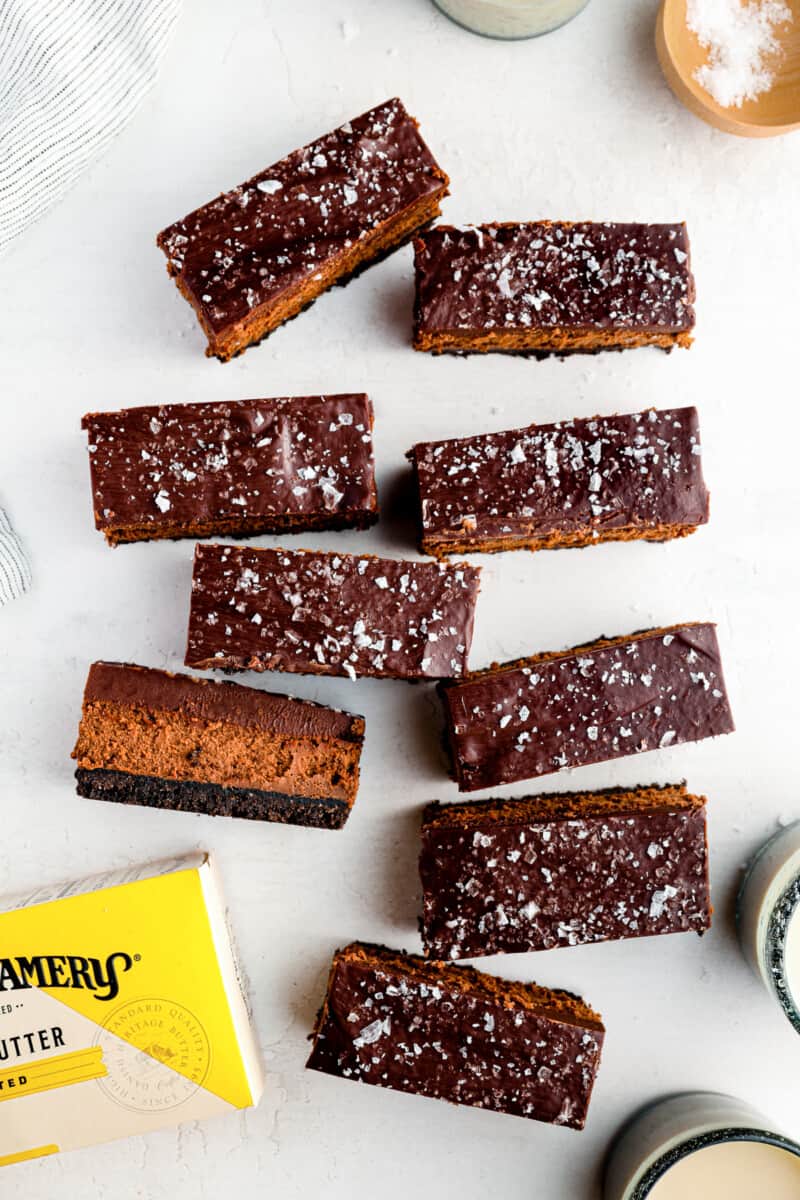 The importance of using the best butter available
Butter is one of the most important ingredients in quality baking recipes. I never use anything but Danish Creamery when baking for Christmas.
Danish Creamery has a new Premium Butter line and it's absolutely delicious, high quality, creamy, and perfect for holiday baking. I used their Premium Salted Butter for these Chocolate Cheesecake Bars and you will definitely be able to taste the difference.
You might remember me using Danish Creamery previously and I hope you also give these recipes a try!
I have been SO impressed with Danish Creamery that it's now my go-to butter brand.
How to Make Salted Chocolate Cheesecake Bars
You can jump to the recipe card for full ingredients & instructions!
Preheat oven and prepare baking pan.
Make the crushed cookie cheesecake crust, and press it into the bottom of the pan. Then bake briefly and let it cool.
Make the chocolate cheesecake filling and pour it on top of the crust.
Bake for 45 minutes, then let it rest in the oven with the door cracked open.
Let it finish cooling to room temperature, and then refrigerate (at least 8 hours, or overnight).
Make the chocolate ganache, and pour it on top of the cheesecake filling.
Refrigerate until ready to serve. Sprinkle with sea salt, slice into bars, and serve!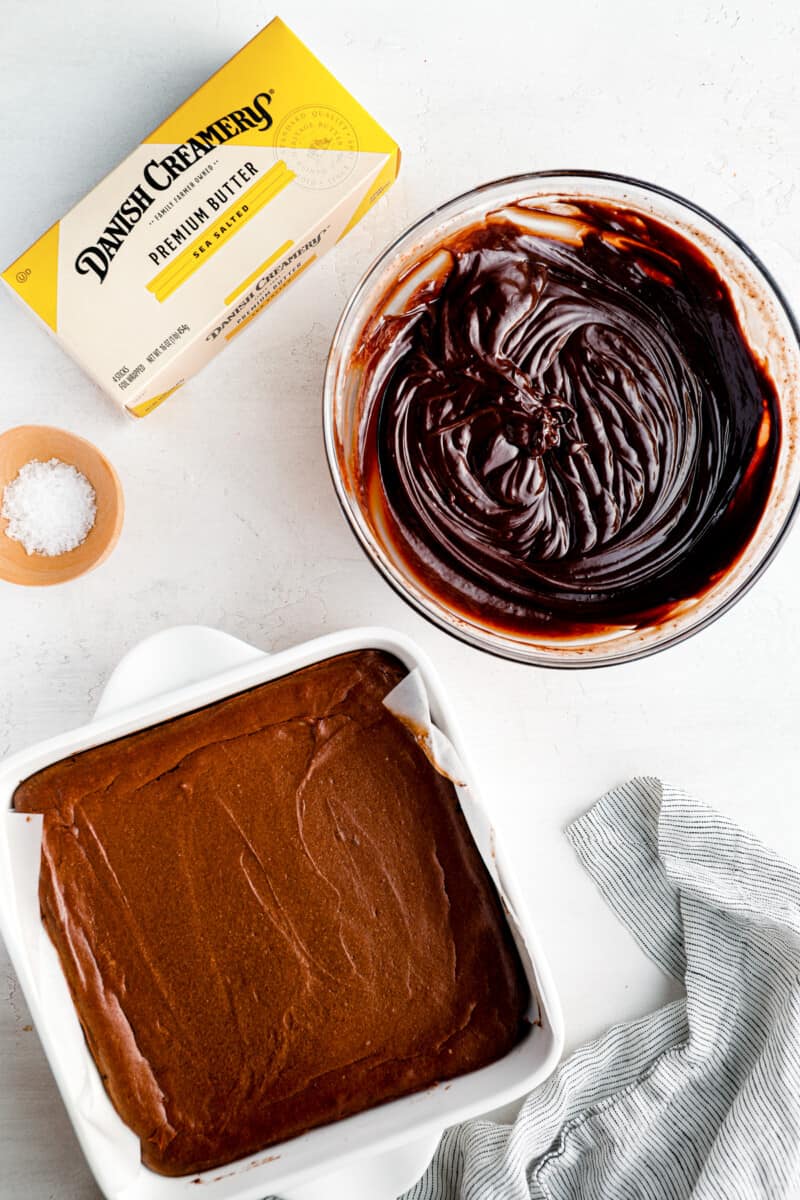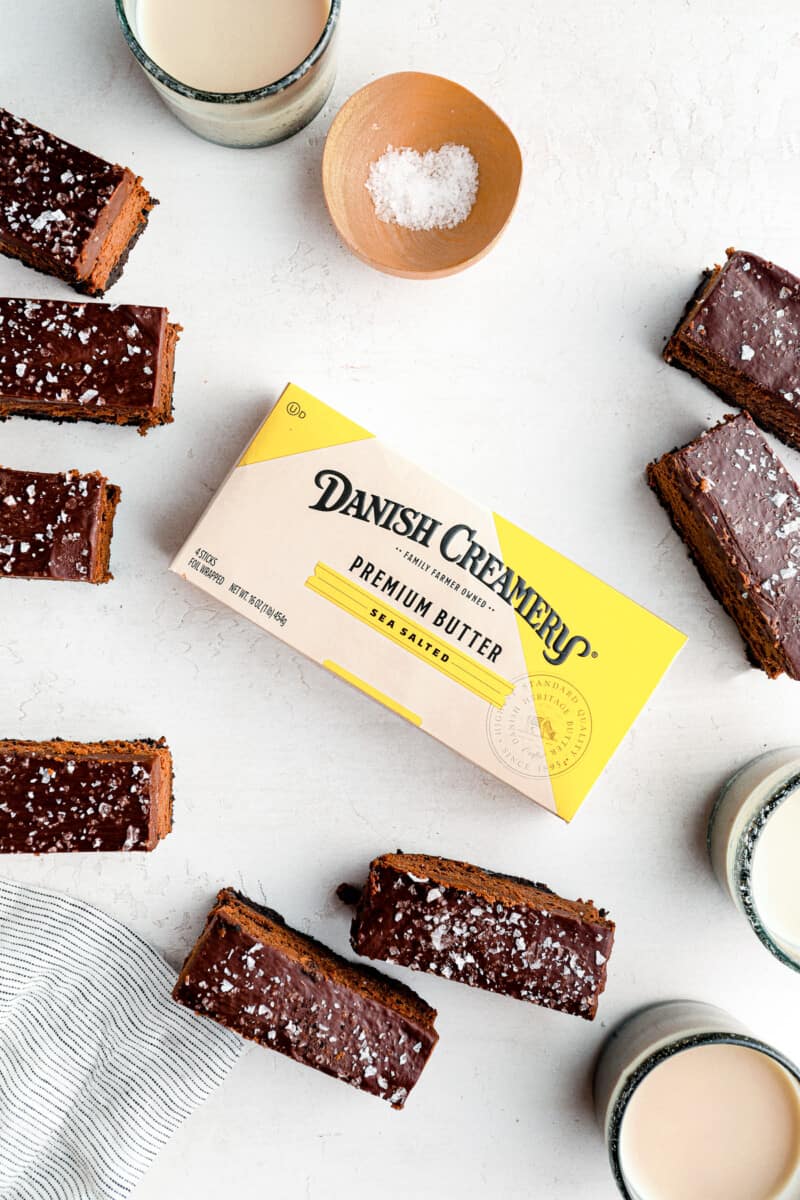 What kind of chocolate is best for these bars?
I recommend using a semisweet chocolate for this recipe. It's less intense than unsweetened chocolate and balances out nicely in the cheesecake filling.
Can I use chocolate chips?
I like using baking chocolate, but you can use semi-sweet chocolate chips instead.
What other cheesecake crust can I use?
You can make a graham cracker crust for these cheesecake bars if you prefer. It will lighten out the chocolate flavor if you want something a little less rich.
Can I use any Oreo cookie flavor for the crust?
Classic Oreos are perfect for these triple chocolate cheesecake bars, but you can use a different kind if you prefer.
Can I make these bars without the ganache?
Yes, you can skip the final ganache layer if you prefer. It adds a nice extra texture to the bars, but it would still taste great with the crust and cheesecake filling.
Salted chocolate cheesecake bars are so rich and decadent. That sea salt on top adds the perfect final addition!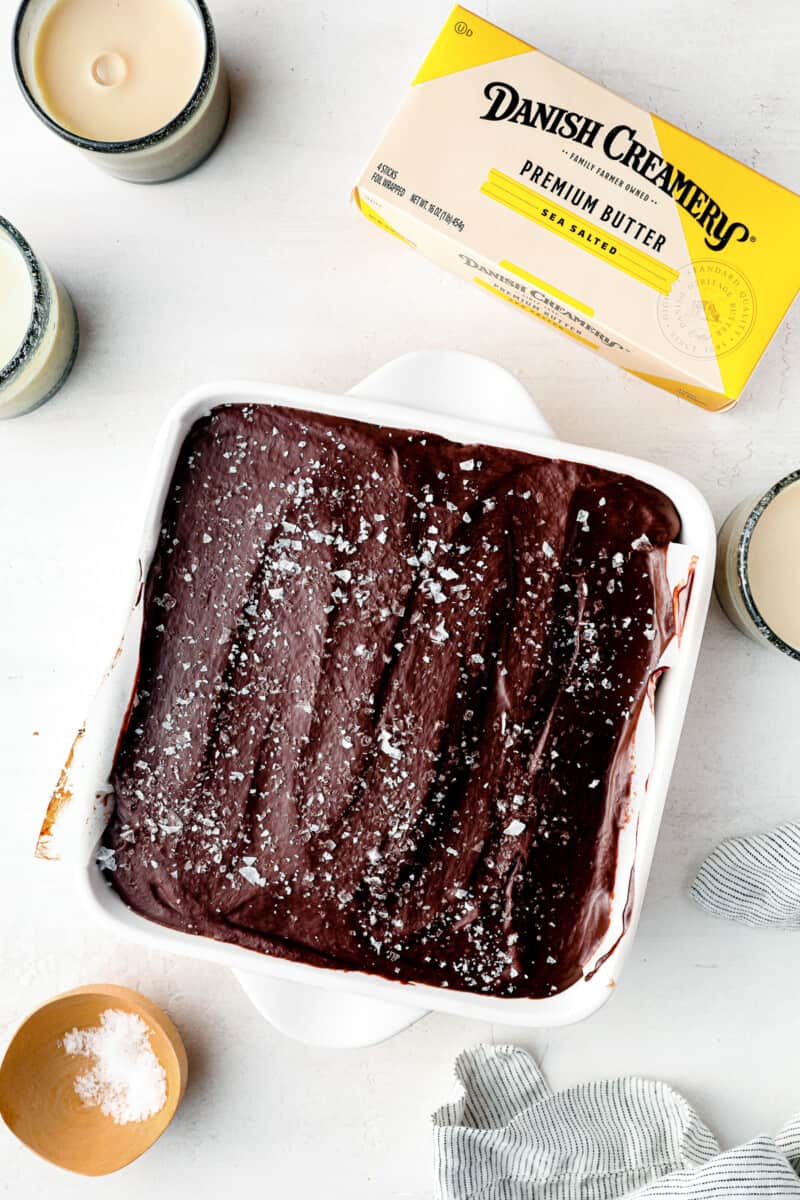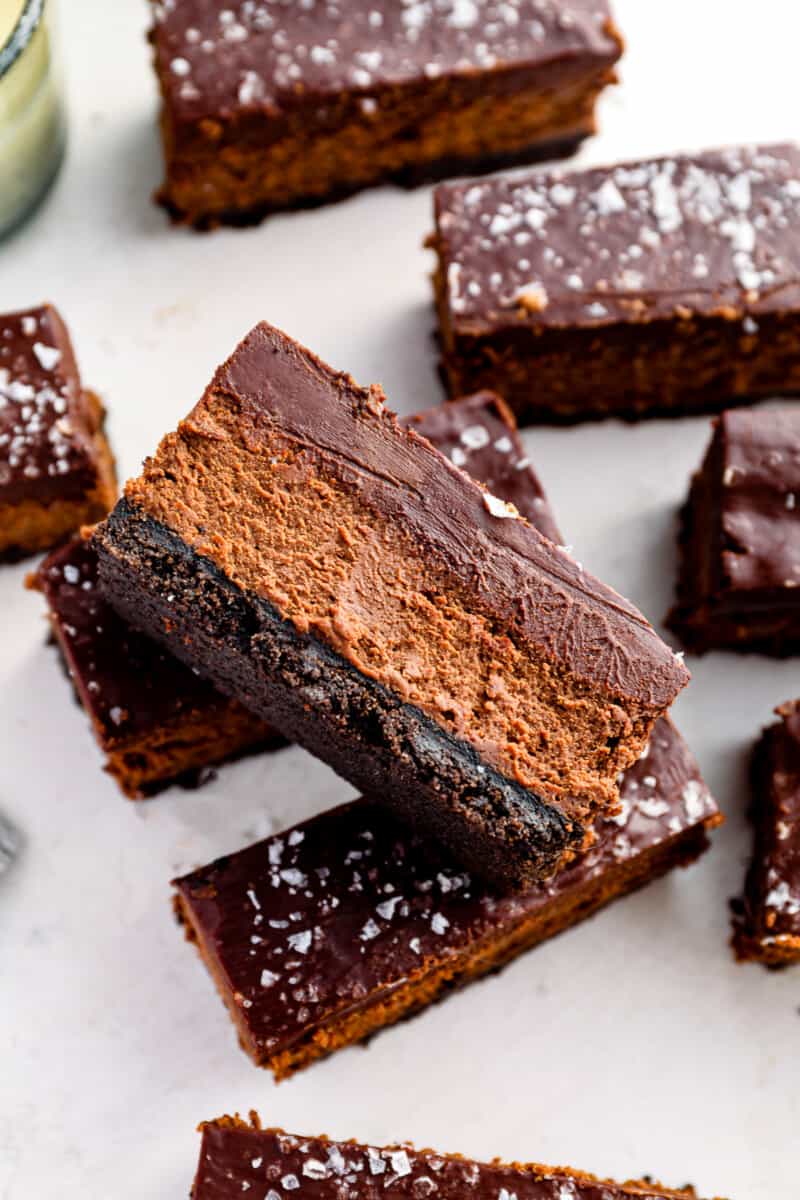 Tips!
Use quality ingredients such as Danish Creamery Butter. In baking, butter makes all the difference.
Use an 8×8 baking pan for these cheesecake bars. Line it with parchment paper for easy removal.
A food processor is the easiest way to crush up the cookies. But if you don't have one, just put them in a resealable bag and crush them up with a rolling pin (or another heavy utensil).
You will briefly par-bake the cookie crust before adding the cheesecake filling to help it set.
Cheesecake should have time to cool between each layer, and after assembling. You don't want it getting too warm or sitting out too long at any step in the recipe.
The cheesecake is done baking when the filling is mostly firm, with just a slight wiggle in the middle.
Store bars in an airtight container in the refrigerator, up to 4 days. Or in the freezer up to 3 months.
Can I make these bars ahead of time?
These chocolate cheesecake bars are a great dessert to make ahead of time! Since the cheesecake will need to be refrigerated anyways, you'll want to make most of this recipe the day before.
Just refrigerate overnight (as instructed in step 11 in the recipe card). You'll need to refrigerate it again after layering on the ganache.
You can make these 1-3 days before serving, and keep them in the fridge until ready to serve. If you want to make them further ahead of time, you can freeze them.
What is the best way to freeze cheesecake bars?
You can freeze these cheesecake bars for 2-3 months.
Follow the recipe as instructed, and let the cheesecake cool completely in the fridge after adding the ganache. Slice them into bars, then wrap them tightly in wax paper or plastic wrap, and store them in freezer-safe containers/resealable bags.
If you wrap them individually or in batches, you can thaw them out as you serve them, and keep the rest for later.
More Chocolate Dessert Recipes We Love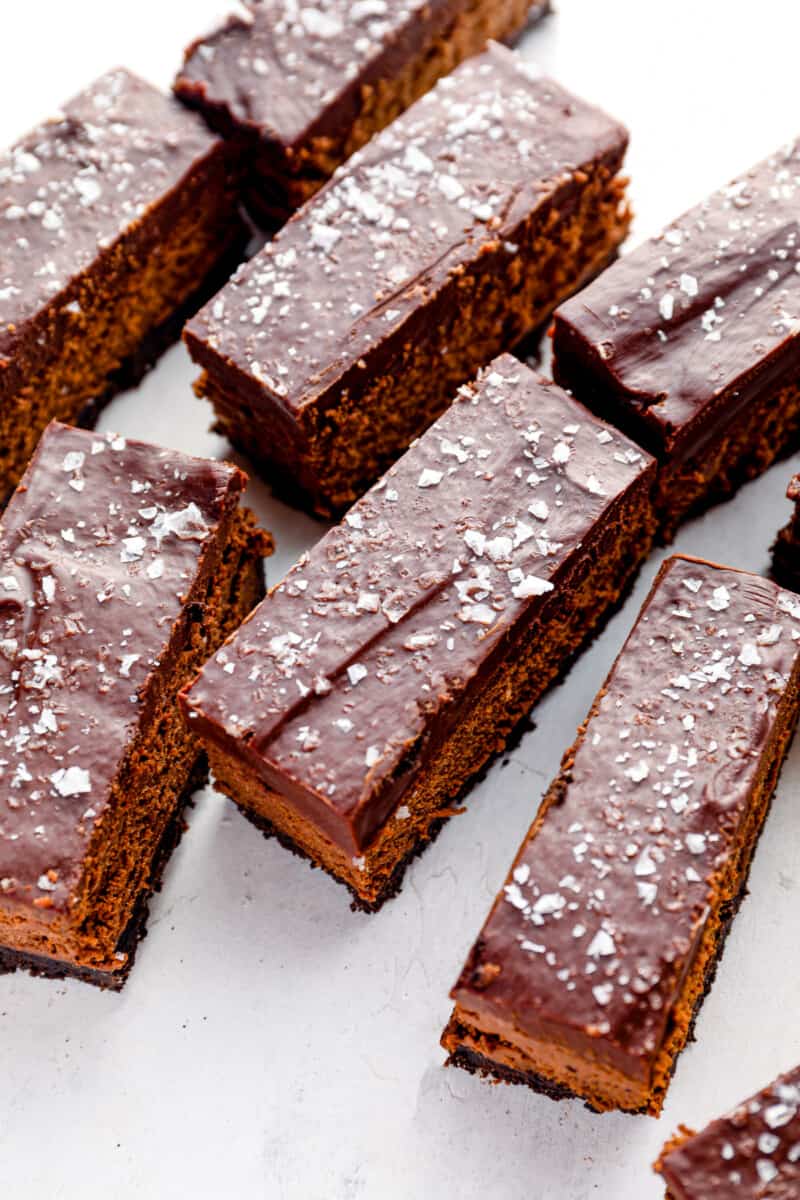 These sweet and creamy bars are a chocolate lover's dream. Make this salted chocolate cheesecake bar recipe and you'll be able to enjoy triple the chocolate, any time!
More Creamy Cheesecake Recipes to Try:
If you make this recipe be sure to upload a photo in the comment section below or leave a rating. Enjoy! You can also jump to recipe.