These skinny cranberry bliss bars are the perfect low fat, low calorie holiday treat! They take just 30 minutes to make and you will never know that they are under 125 calories each! If Starbuck's cranberry bliss bars are your thing, you need to try these!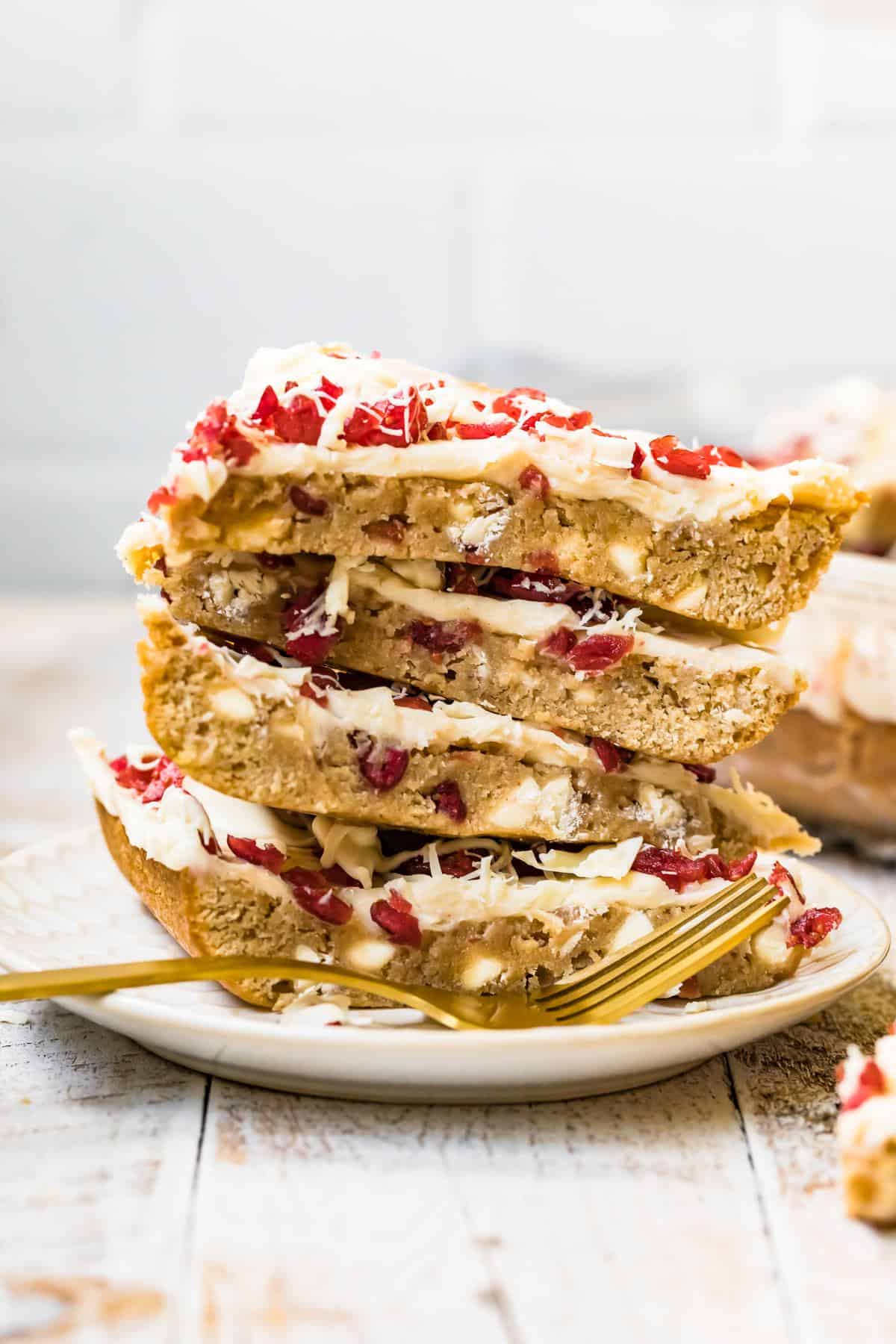 The holiday season is just around the corner and all the shops have their festive food on sale! If you're like me and addicted to Starbucks' cranberry bliss bars, but no so much loving their calories, you need to give my skinny version a try!
How to Make Skinny Cranberry Bliss Bars
FOR THE BARS:
Preheat oven to 350Spray a baking pan with nonstick spray.

In a large bowl, stir together the flour, cinnamon, and baking soda. Set aside.

In a large mixing bowl, whisk together the butter with both types of sugar. Add in the egg whites, applesauce, and vanilla. Whisk until fluffy.

Add in the dry ingredients previously mixed and beat until fully incorporated.

Fold in the dried cranberries and white chocolate chips.

Place the batter into the baking dish and press down to make sure it's smooth.

Bake for 10-12 minutes or until a toothpick comes out clean. I like these slightly under baked.
FOR THE FROSTING:
In an electric stand mixer, beat together the cream cheese, powdered sugar, and vanilla. Add in half the melted white chocolate and beat until smooth. Fold in the cranberries, leaving some out to sprinkle.

Once the bars are cool, frost liberally with the frosting and sprinkle with more cranberries. Drizzle with the remaining melted white chocolate.

Store in the fridge to allow the drizzled chocolate to set.

Once set, cut into 20 bars and then cut diagonally to make triangles (like at Starbucks!). Serve cold.

Enjoy!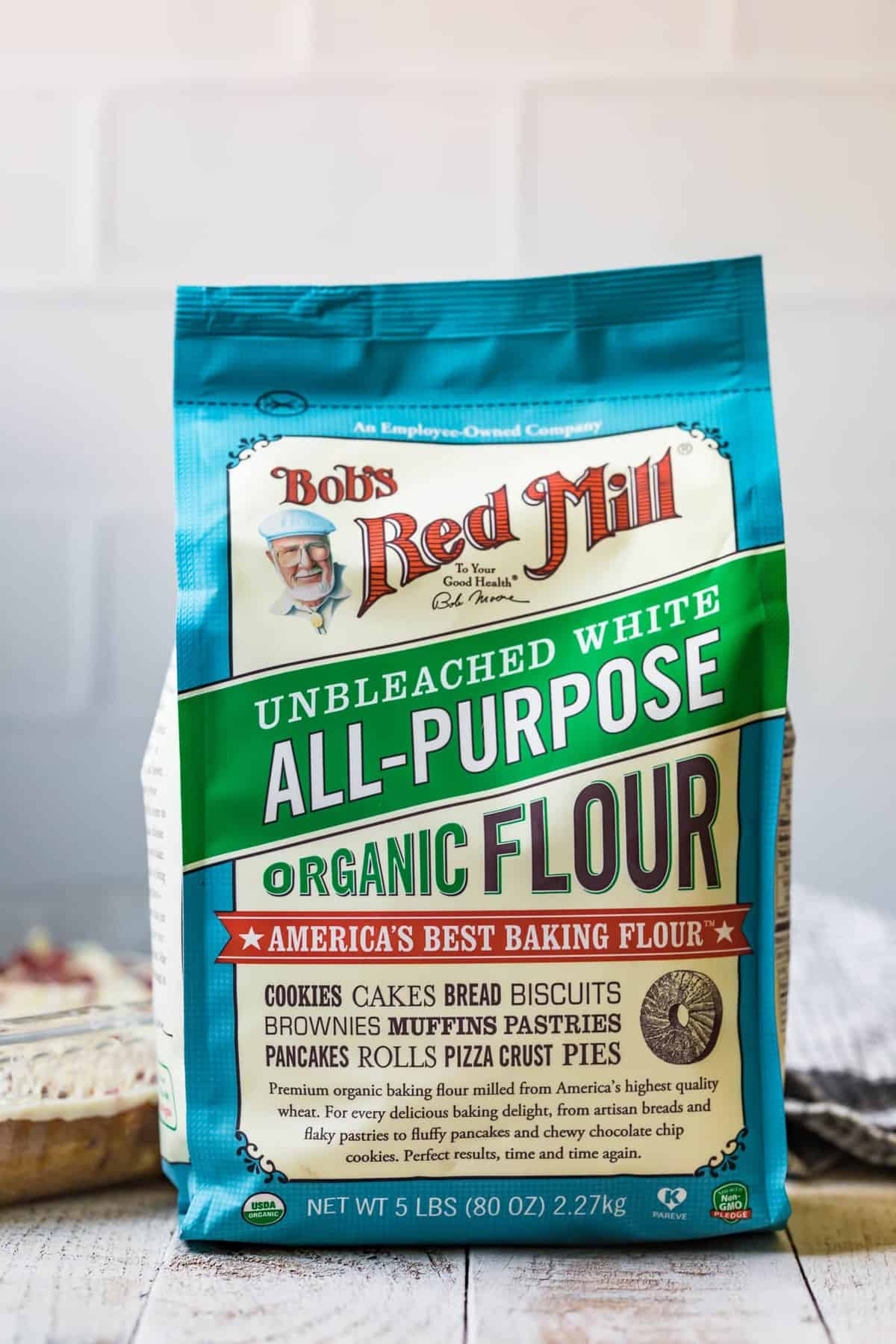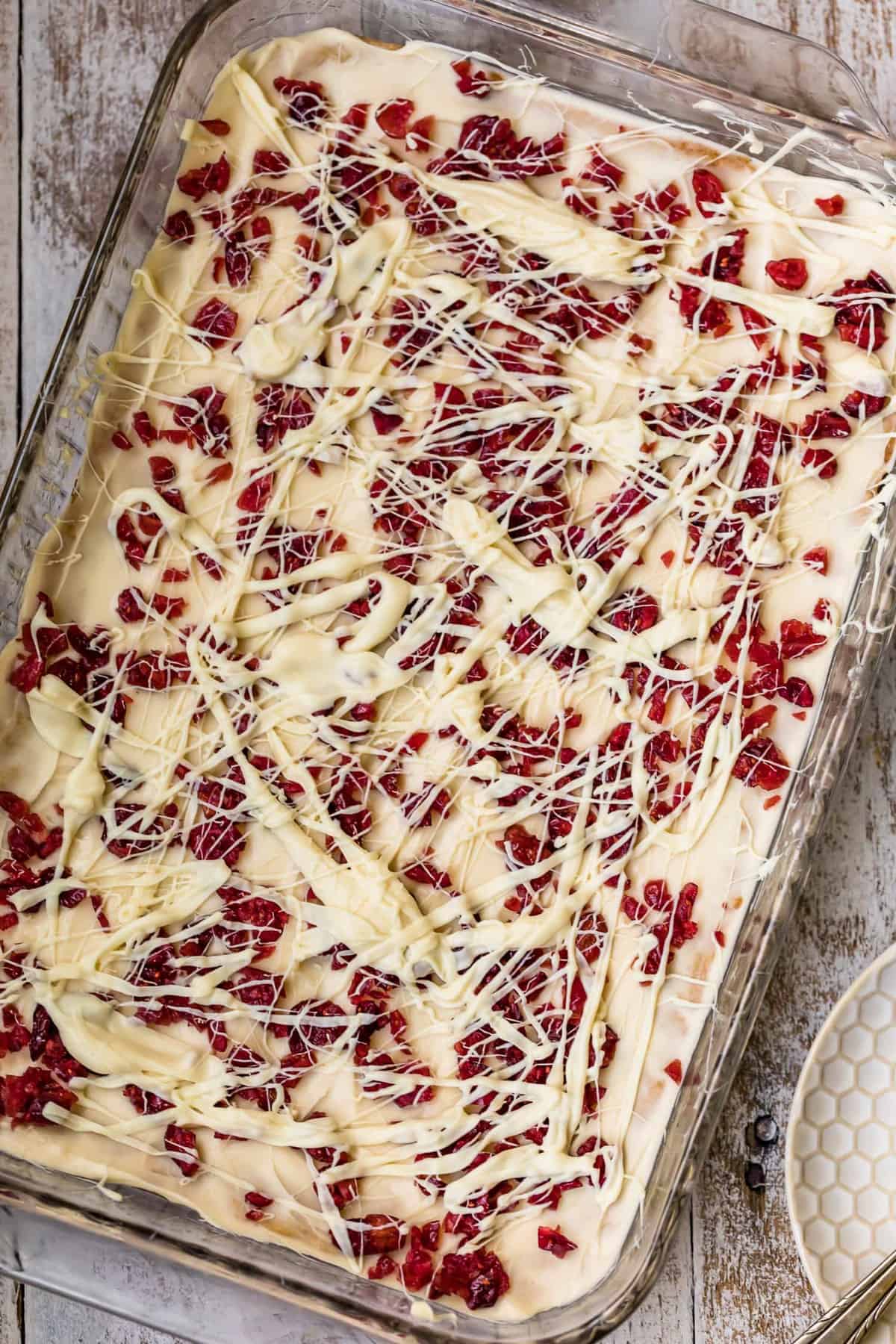 For these Skinny Cranberry Bliss Bars I used Bob's Red Mill's Unbleached White All Purpose Organic Flour. This product is a STAPLE in our kitchen and the only flour I use if we are using all-purpose flour. Bob's is also my go-to if we want to use Wheat Flour of Gluten Free Flour.
Their products are SECOND TO NONE and I trust them completely. If you haven't seen their line of foods you need to immediately. There's just no one on the market that's quite like the quality of Bob's Red Mill.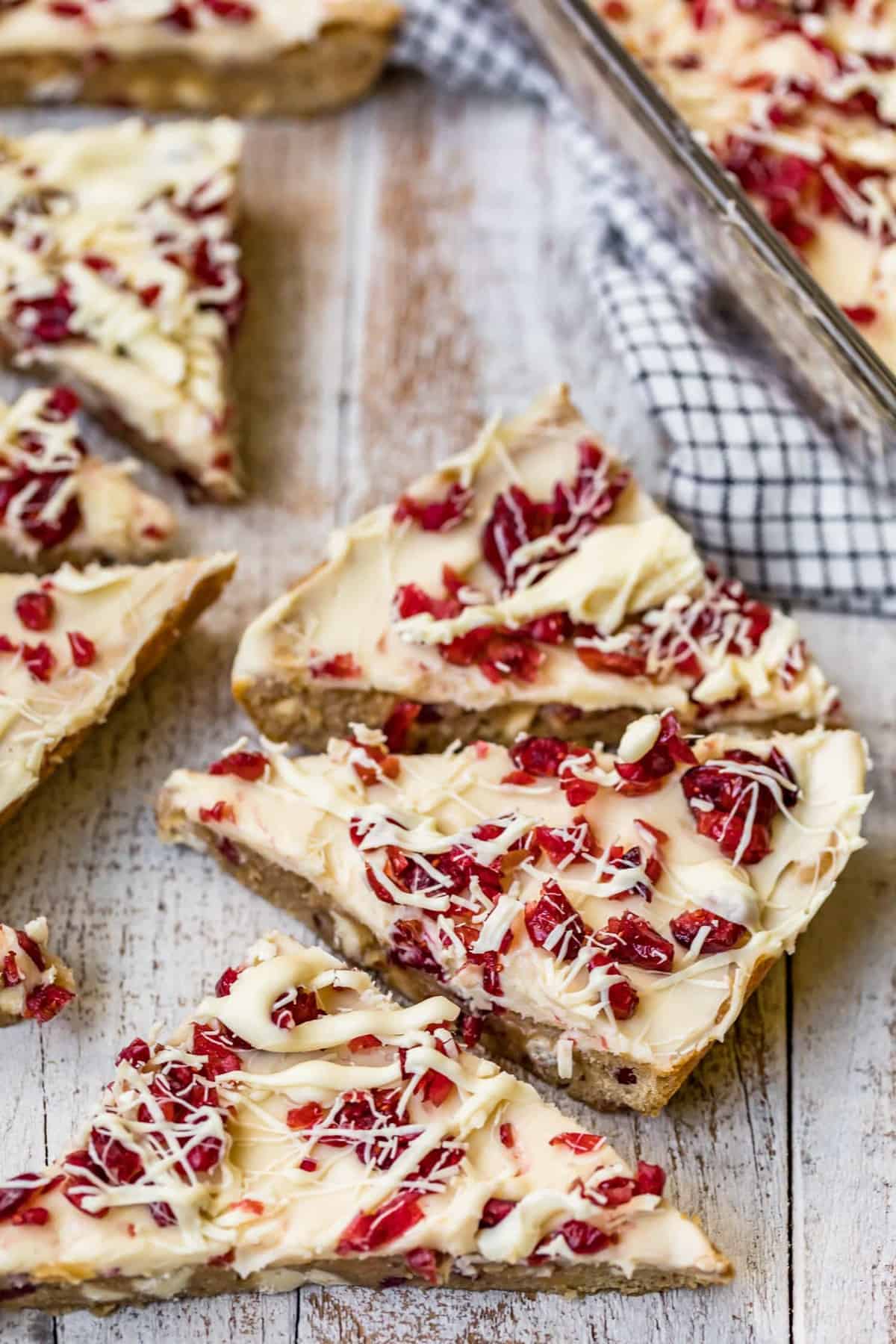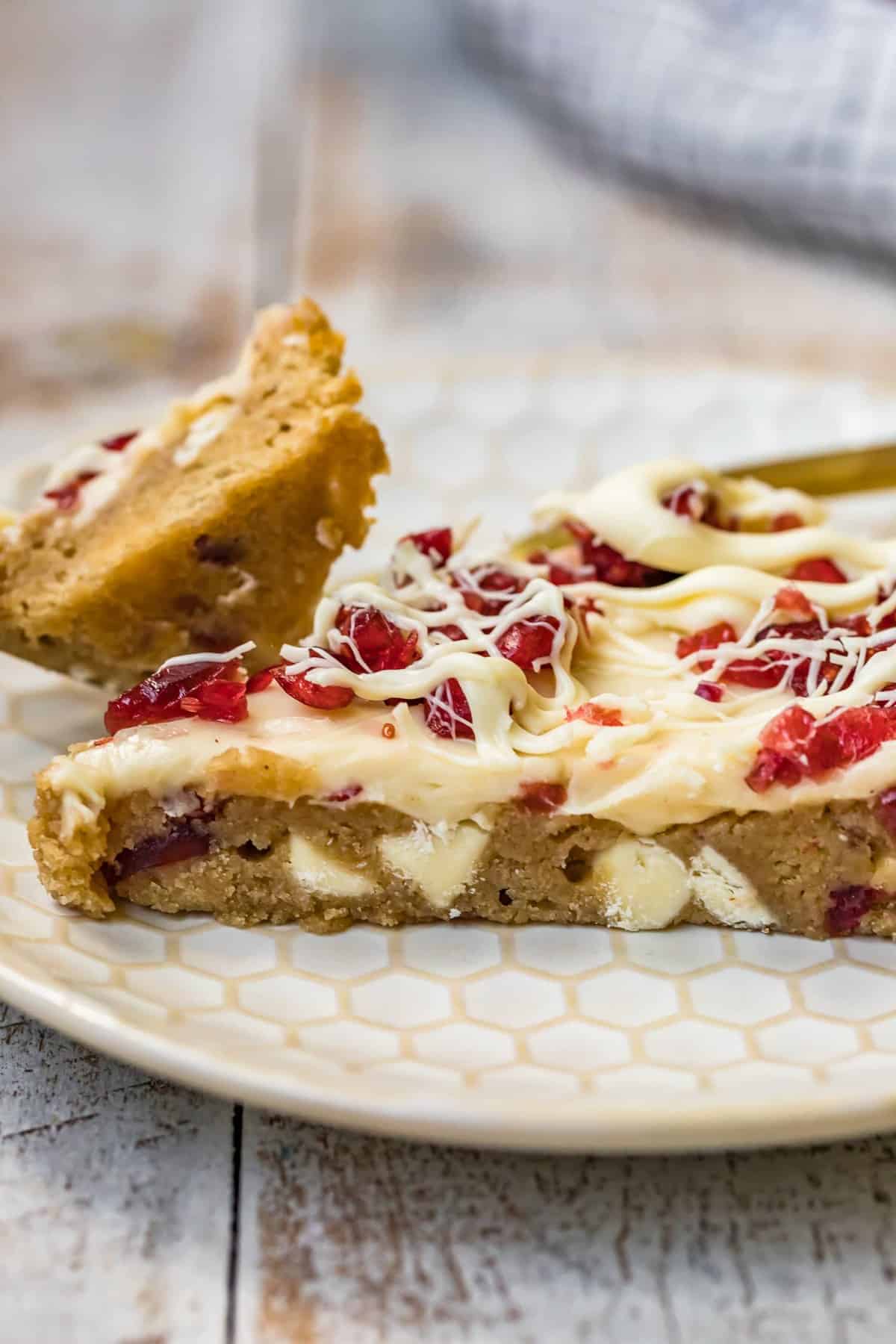 What is a cranberry bliss bar?
If you haven't had a cranberry bliss bar before, you need to make this stat! They are basically white chocolate and cranberry blondies that are covered in a cream cheese frosting. They are the perfect treat to indulge in other the holidays and they are so easy to make at home.
A skinnier version of a Starbuck's classic treat
Oh I do love a Starbuck's treat with my coffee, but did you know in one of their cranberry bliss bars, there's 340 calories with 19g of fat? I wanted to still enjoy this tasty treat, so decided to make my own version which was kinder on the waist!
My version comes in at 114 calories a serving and has just 3g of fat in it!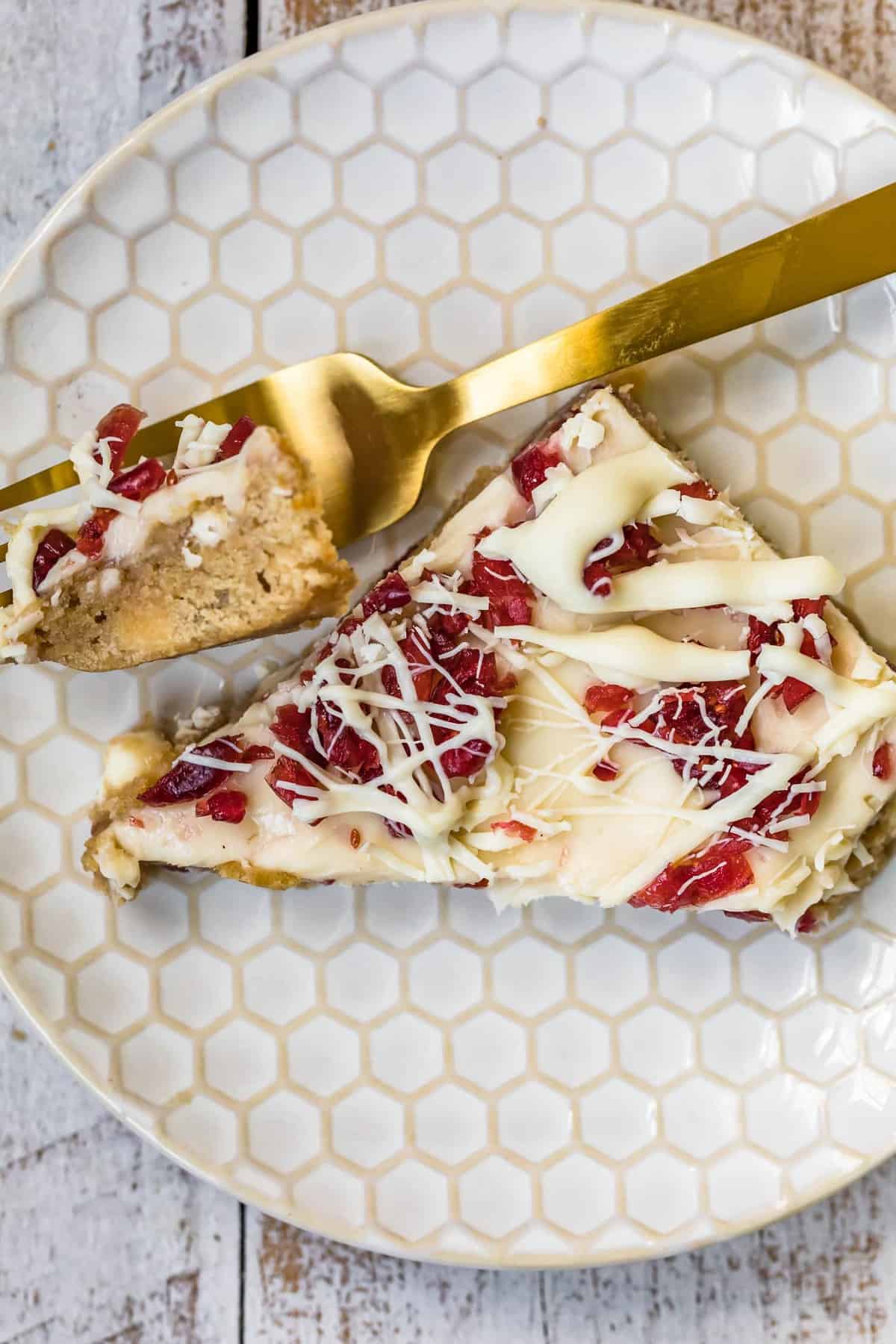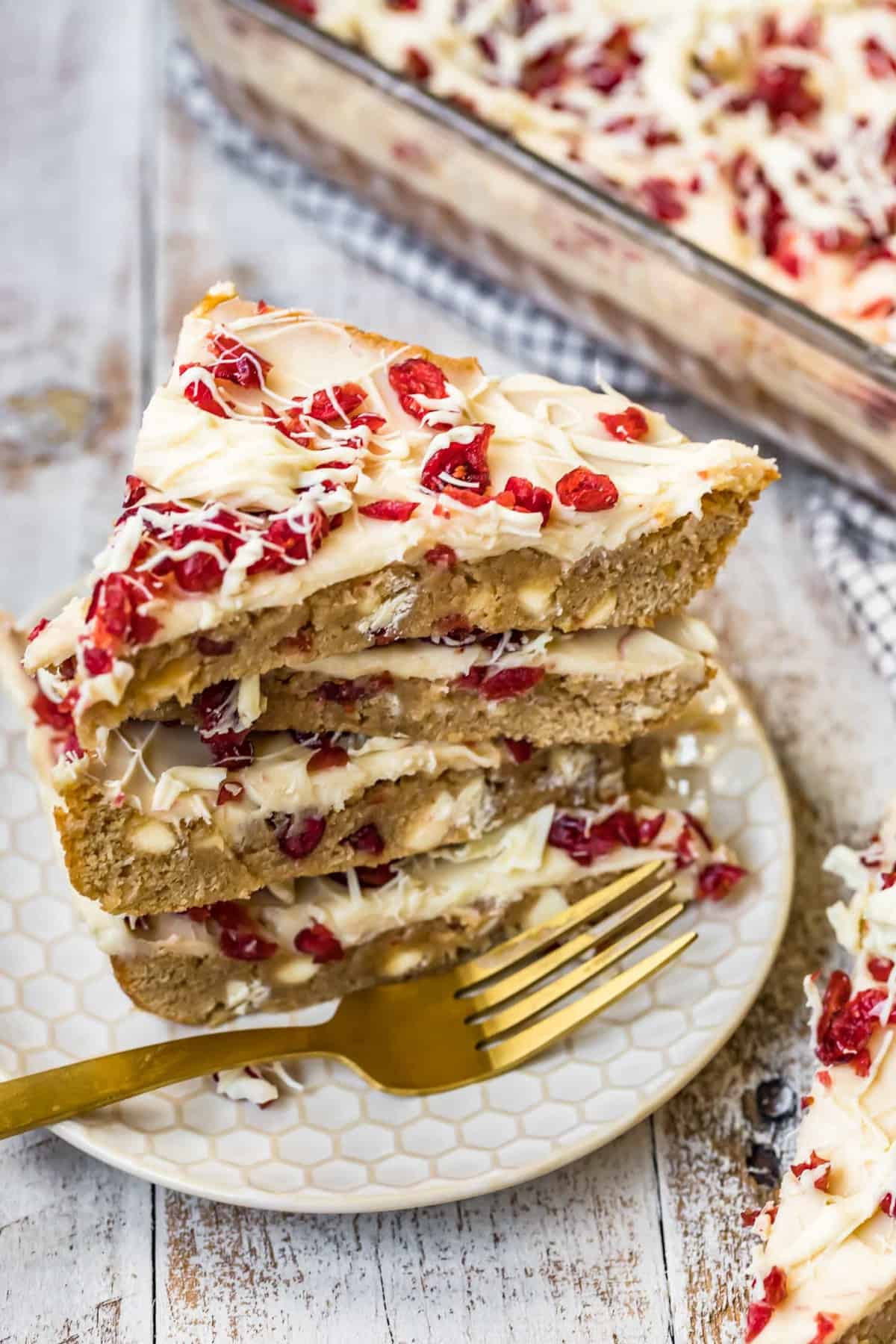 How long do these skinny cranberry bliss bars keep?
You can keep these tasty bars in an airtight container in the fridge and they will be good for 3 to 4 days.
Top Tips to Make This Skinny Cranberry Bliss Bar Recipe
Bake the bars in a pre-heated oven for the best results.
Let the bars cool completely before frosting them.
Don't cut the bars until they have set in the fridge.
Serve the bars cold.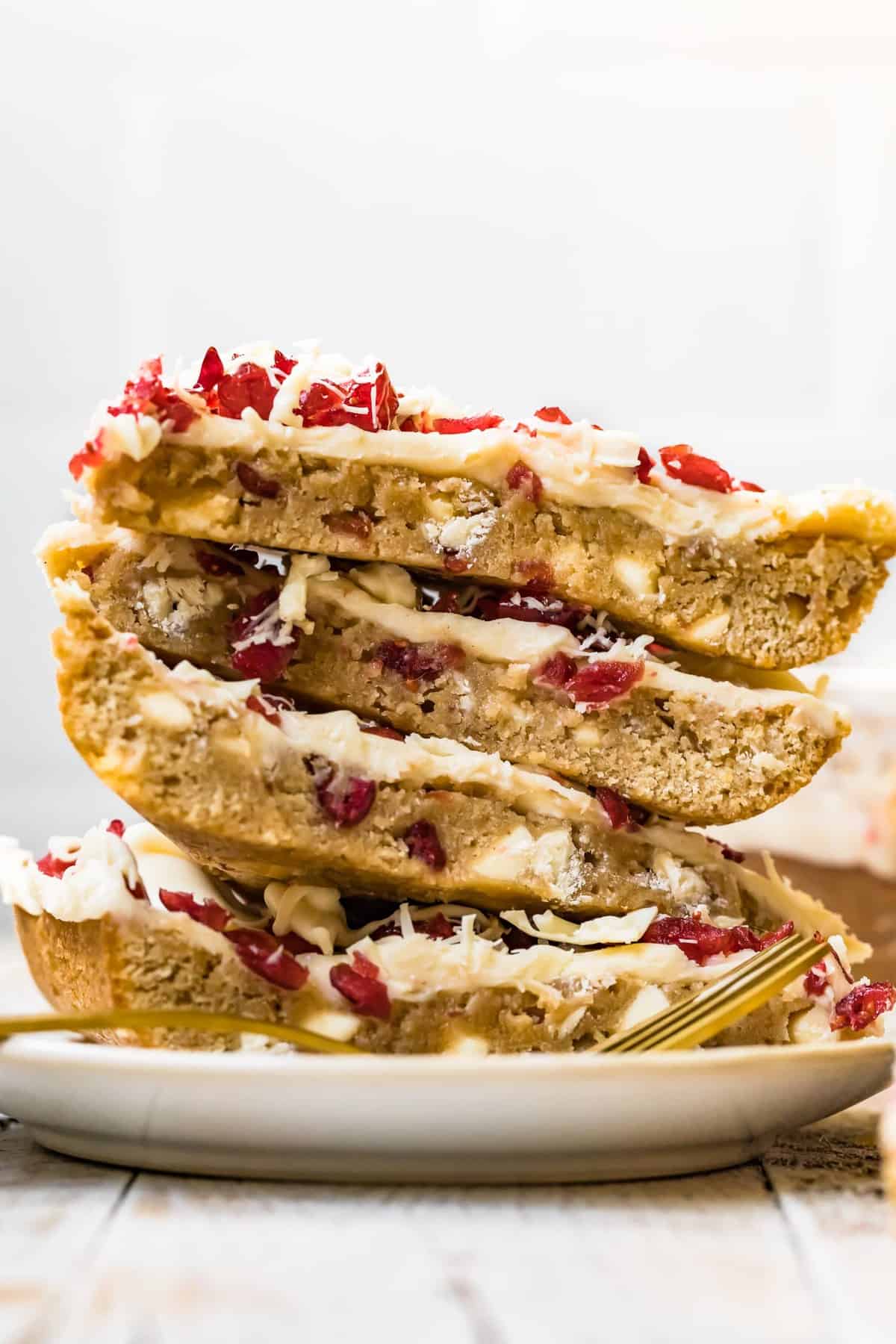 For more holiday sweet treats, be sure to check out these recipes!