Easy Chicken Cordon Bleu with the BEST Chicken Cordon Bleu Sauce EVER is my favorite recipe for entertaining a crowd. Instead of spending time rolling and stuffing, this Chicken Cordon Bleu Recipe has layers of chicken, ham, cheese, bread crumbs, and is delicious white wine dijon sauce. Get ready to learn how to make Chicken Cordon Bleu as well as what to SERVE with Chicken Cordon Bleu. Best easy chicken recipe ever.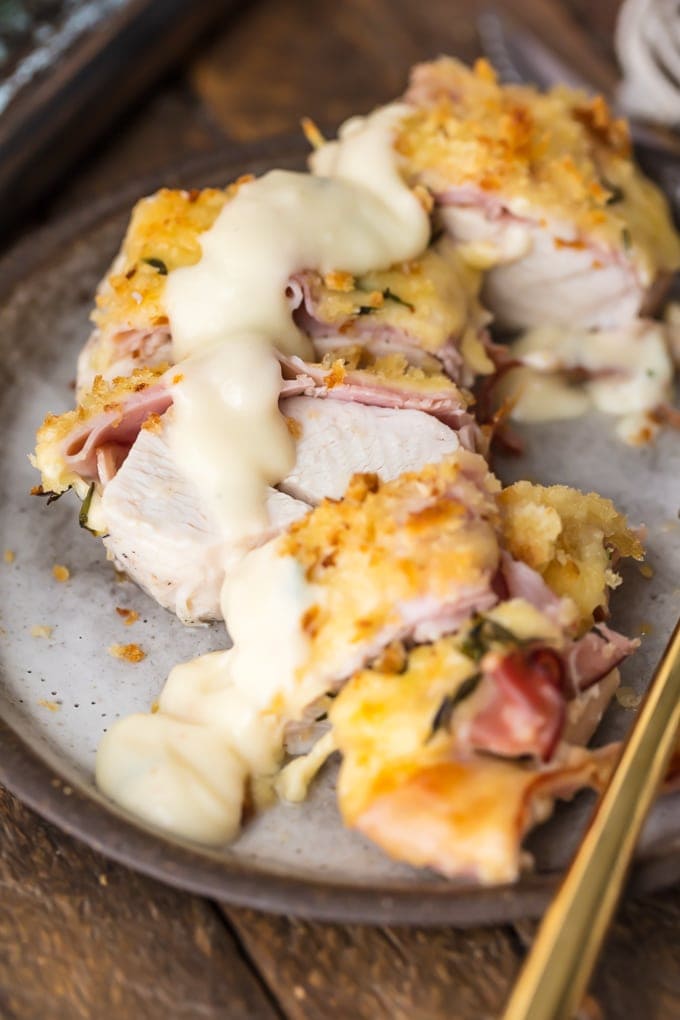 Favorite Chicken Cordon Bleu Recipe (Baked Not Fried!)
Easy Chicken Cordon Bleu is such an amazing recipe. I'm such a sucker for easy recipes. It's the entire reason I started The Cookie Rookie. I love figuring out easier ways to make classic recipes. Less time, but just as much flavor. It's not worth the hack if it doesn't taste as good (or better) than the original!
We have worked our easy magic with classic recipes such as Easy French Silk Pie, our Easy White Queso, and Easy Banana Bread. Some of my favorite recipes with none of the fuss! This Easy Chicken Cordon Bleu is no exception.
This EASY CHICKEN CORDON BLEU is such a great recipe because to be honest, it's juicier and tastier than some tradition cordon bleu recipes. I prefer this version to the pounded and rolled version for that reason. Plus it's so much simpler. It has all the flavors you love about the original, but in an easy and quick version. I'm in love!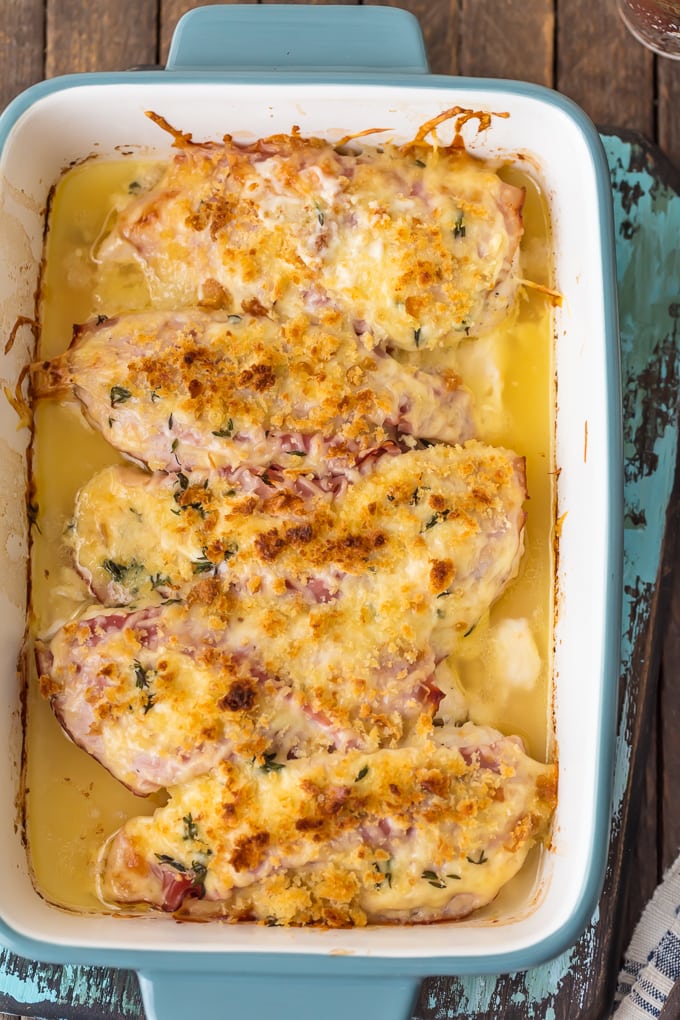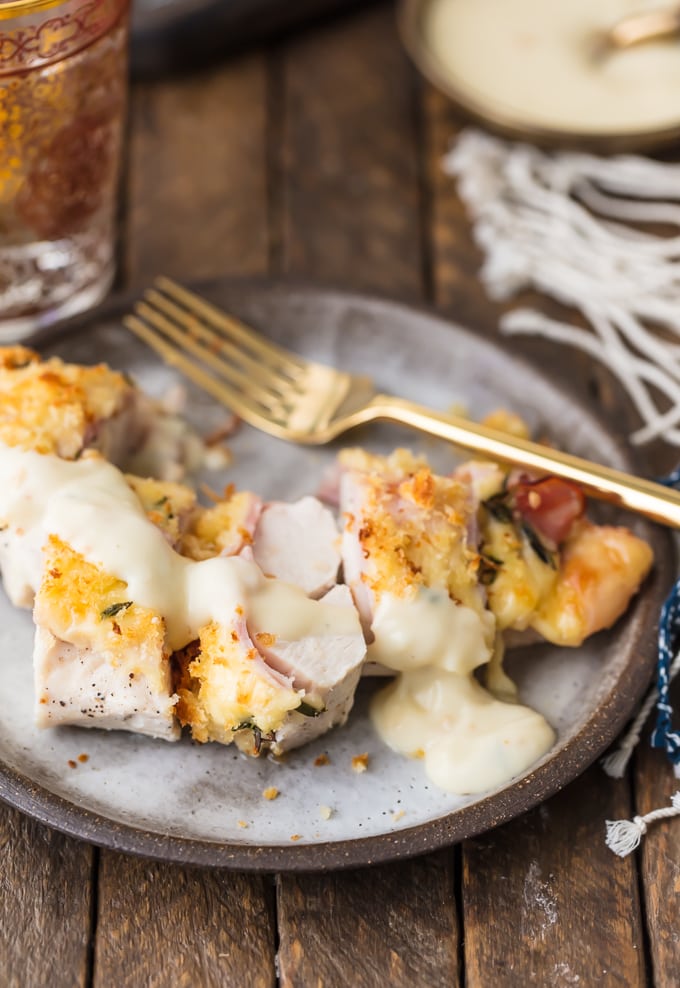 Easy Dijon Sauce for Easy Chicken Cordon Bleu
Two words…dijon and WINE. This Chicken Cordon Bleu Sauce is everything I want it to be and more. I'm lucky if I can make this recipe without diving into the sauce head first. It's nothing short of divine.
This may be a super simple recipe, but it's still pretty and dressy if you want it to be. It's the ultimate recipe to make for company and it's sure to please even the pickiest eaters. The sauce is EVVVVERYTHING and I cannot get enough. It's a similar sauce to what we used on our Chicken Cordon Bleu Meatballs (!!!) and I loved it then just as much as I do now. I think it's the white wine. Yep…it's the white wine.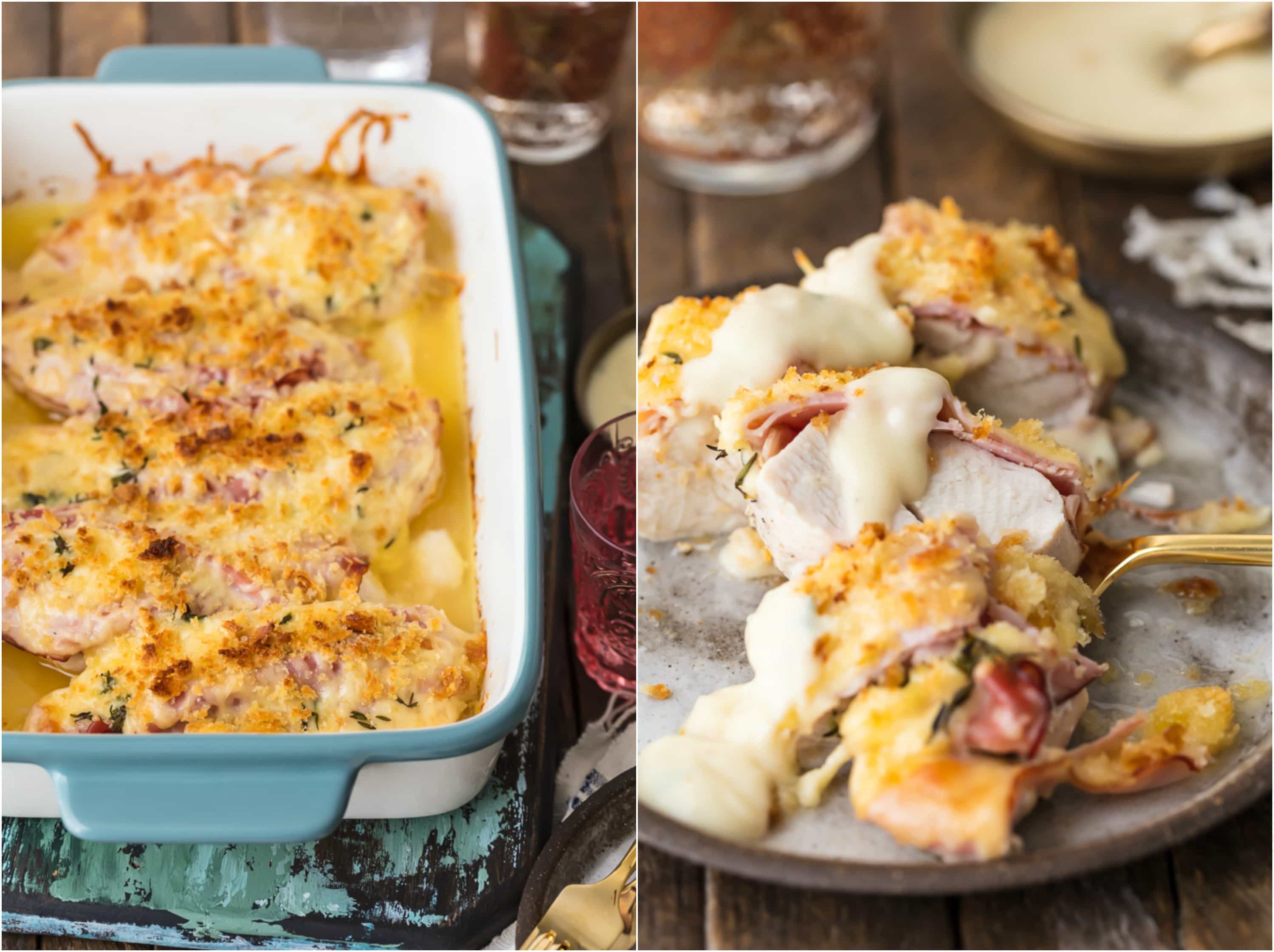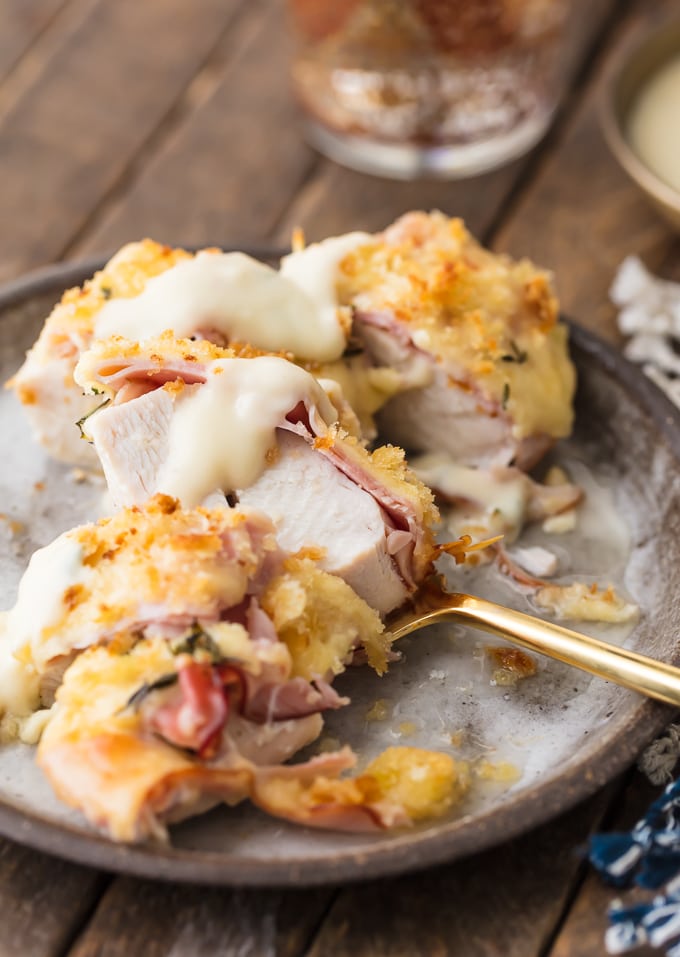 What do you serve with Easy Chicken Cordon Bleu for a side dish?
I hope (and have a feeling that it will) this will become one of those easy go-to recipes that your family requests time and time again. It has gone straight into the weekly dinner rotation for us. I love it served with Herb Roasted Potatoes, Roasted Parmesan Broccoli, Brussels Sprouts with Pear and Blue Cheese, or even pasta or rice. You can't go wrong. This Easy Chicken Cordon Bleu is an instant favorite recipe.
FREE CHICKEN EBOOK
The Cookie Rookie is practically famous for amazing Chicken Recipes, mostly due to this Easy Chicken Cordon Bleu. We have so many other chicken favorites that I hope you check out, and even have a FREE EBOOK for subscribers (click to find out more). I'm here for all your easy chicken recipes needs!
Click here to check out our full Baked Chicken Guide for more EASY baked chicken recipes!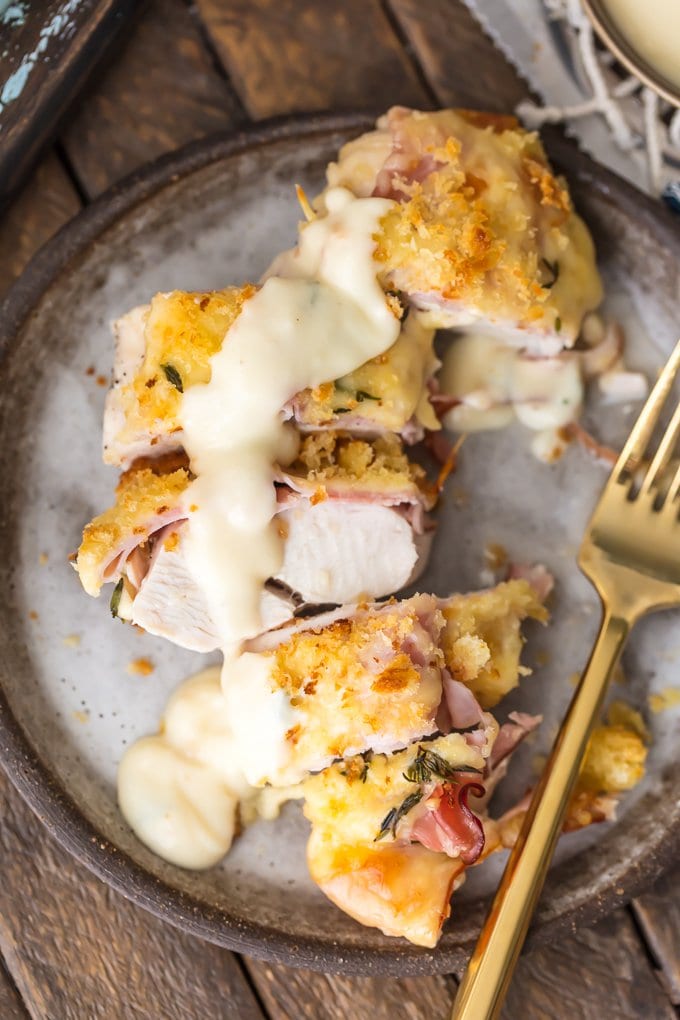 Where did Chicken Cordon Bleu get it's name?
The French term "Cordon Bleu" translates roughly to "Blue Ribbon". So basically this BLUE RIBBON CHICKEN is the best recipe ever. I know you'll agree.
How to make Chicken Cordon Bleu traditionally?
The more complicated version of this recipe calls for pounding the chicken thin, rolling it with ham and cheese, and then breading and frying. This Easy Chicken Cordon Bleu is not only simpler, it's also HEALTHIER! (no frying)
What kind of cheese do you use in Chicken Cordon Bleu?
Traditionally you'll find Swiss Cheese on this recipe. We love it with Swiss or even better, with Gruyere.
We hope you enjoy this recipe as much as we do! It's been a family favorite since we first tasted it…especially that Chicken Cordon Bleu Sauce! Be still my HEART!
Watch the video or see the recipe card below for details on How to Make Easy Chicken Cordon Bleu. Enjoy!
If it's CHICKEN RECIPES you crave, we have so many amazing options right up your alley. Be sure to try our Baked Fried Chicken, Chicken Tacos, Chicken Nachos, Caesar Chicken, Chicken Pot Pie Casserole, Sheet Pan Caprese Chicken, and Easy Chicken Tortilla Soup. Those are just to name a few. Can you tell I love Chicken?! Predictable? Maybe. Delicious, HECK YES!