Chicken Cordon Bleu is my favorite recipe for entertaining dinner guests. Instead of spending time rolling and stuffing, this EASY chicken cordon bleu recipe has layers of chicken, ham, cheese, and breadcrumbs, and then it's covered with this delicious white wine dijon sauce. Get ready to learn how to make the easy version of this classic dish (with the BEST chicken cordon bleu sauce ever).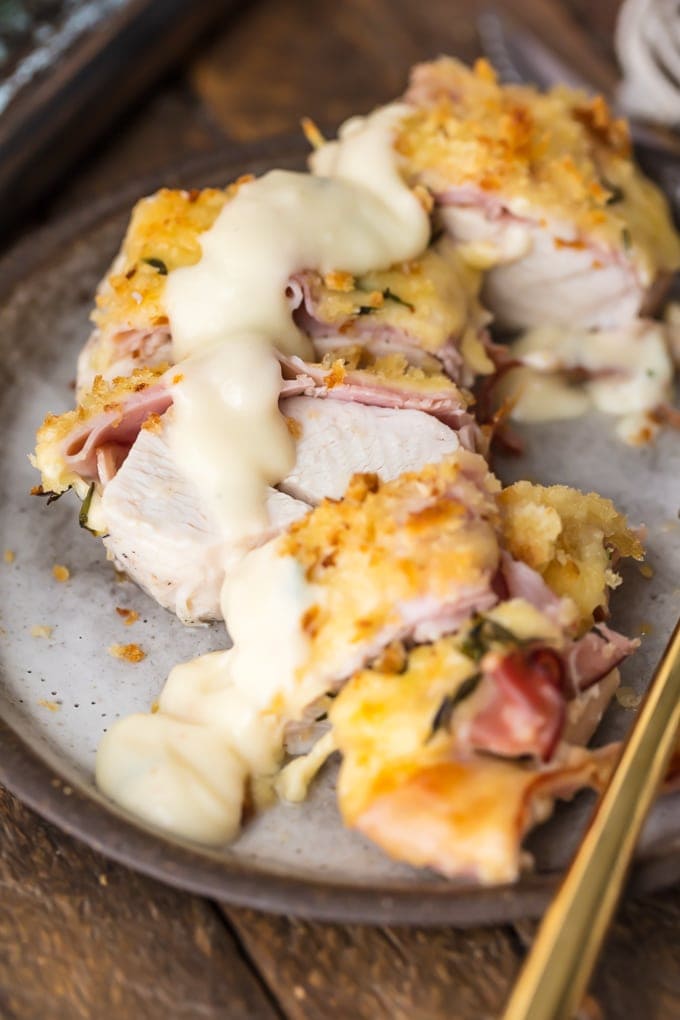 Chicken Cordon Bleu
This easy chicken cordon bleu recipe is my absolute favorite. It's simple, it's delicious, and it's the perfect dinner for any occasion!
Making a simple version of this traditional dish means you can prepare a nice dinner any night of the week. Skip the more time-consuming steps and stick to the basics: cover chicken with ham and cheese, bake, and you're done!
And my favorite part of this recipe has to be the chicken cordon bleu sauce! I made a creamy white wine dijon sauce, which is just out of this world. It helps bake so much flavor right into this dish.
Why You'll Love this Chicken Cordon Bleu Recipe:
EASY: This is the easiest version of this classic dish you'll ever make. Skip the tedious steps and get straight to eating!
DELICIOUS SAUCE: This is the BEST sauce. It's so creamy, rich, and delicious. It's hard to resist!
EVERYDAY DINNER: This recipe looks classy, but it's simple enough to make any night of the week! Serve it for a romantic dinner at home, or for a weekly family dinner.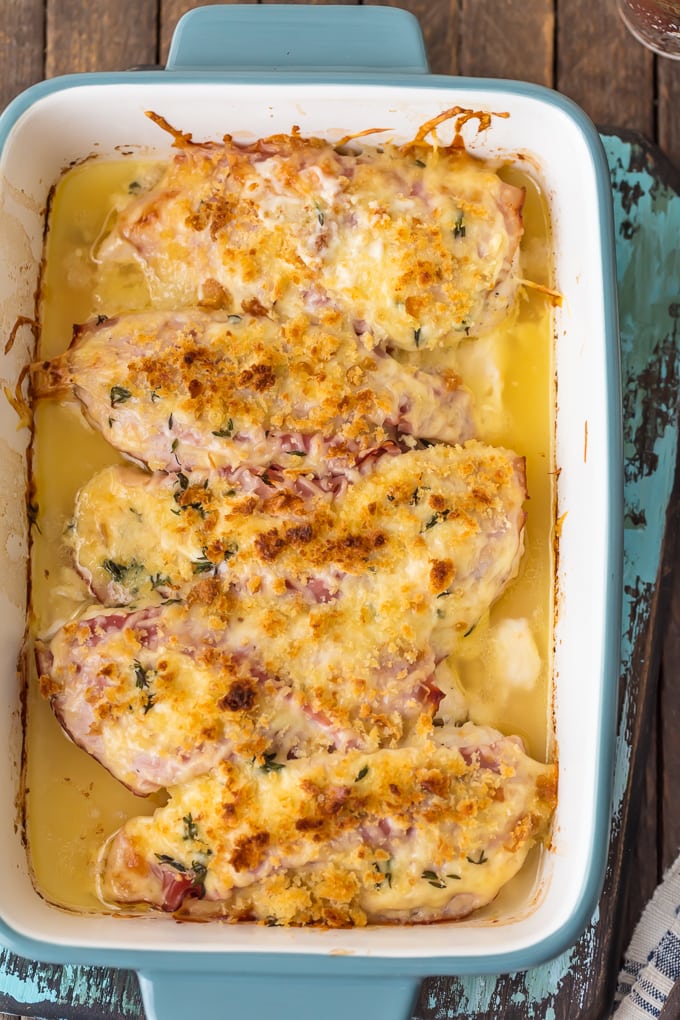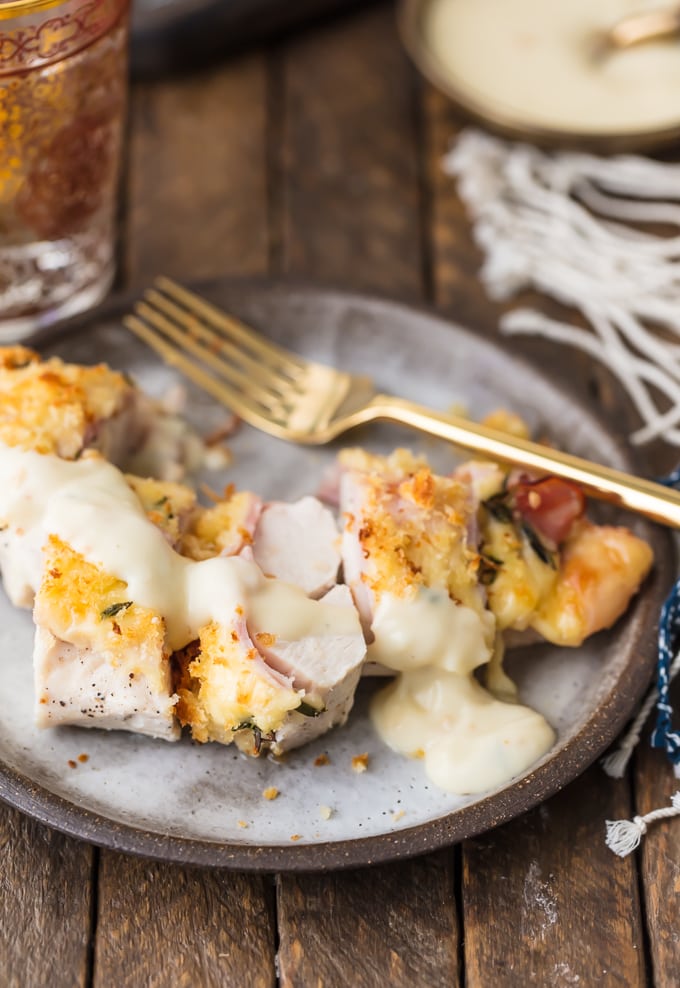 Easy Chicken Cordon Bleu Sauce
This Chicken Cordon Bleu Sauce is everything I want it to be and more. I'm lucky if I can make this recipe without diving into the sauce head first. It's nothing short of divine!
So what's in the sauce?
Dijon Mustard
White Wine (use a dry wine)
Butter
Heavy Cream
All-Purpose Flour
Thyme
Salt & Pepper
You can almost taste it just by reading the ingredients list. Creamy, rich, and unbelievably delicious! It's a similar sauce to what we used on our Chicken Cordon Bleu Meatballs and I loved it then just as much as I do now.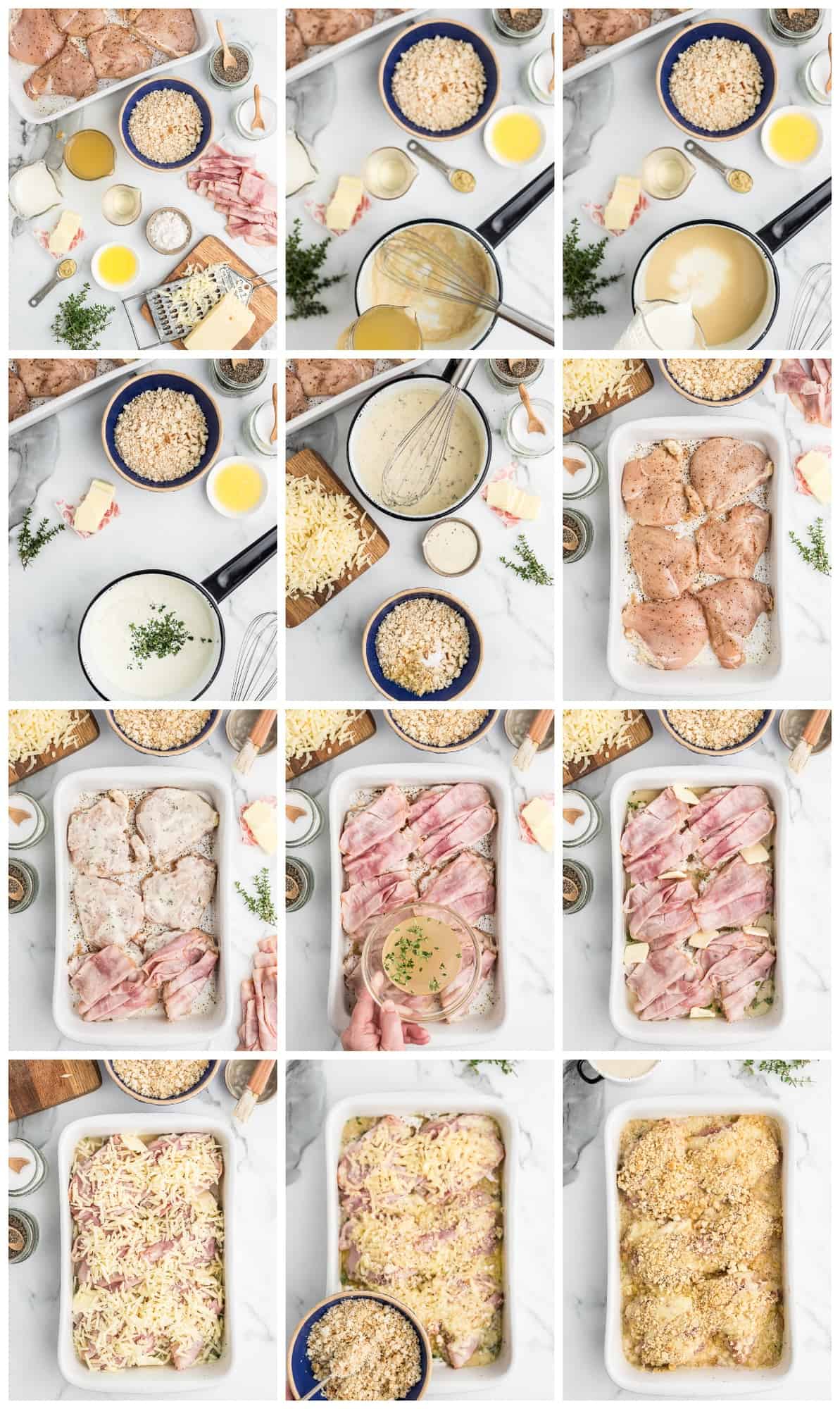 This may be the easier version of this dish, but it's still pretty and dressy if you want it to be. It's the ultimate recipe to make for dinner guests. I love that it still has all the class of the traditional recipe, but secretly it's so much simpler to make!
How to Make Chicken Cordon Bleu (the easy way!)
Be sure to see the recipe card below for full ingredients & instructions!
Preheat oven, prepare a baking dish, and make the breadcrumb topping.
Combine ingredients to make the chicken cordon bleu sauce on the stove. Cook until it reaches a gravy-like consistency, then remove from heat and set aside.
Prepare chicken breast and place them in the baking dish.
Brush them with the sauce, cover with ham, and sprinkle with cheese. Then pour the broth/wine mixture around it.
Cover baking dish with foil and bake for 15 minutes.
Sprinkle with breadcrumbs, then continue baking (uncovered) until fully cooked.
Serve with plenty more of that sauce, and enjoy!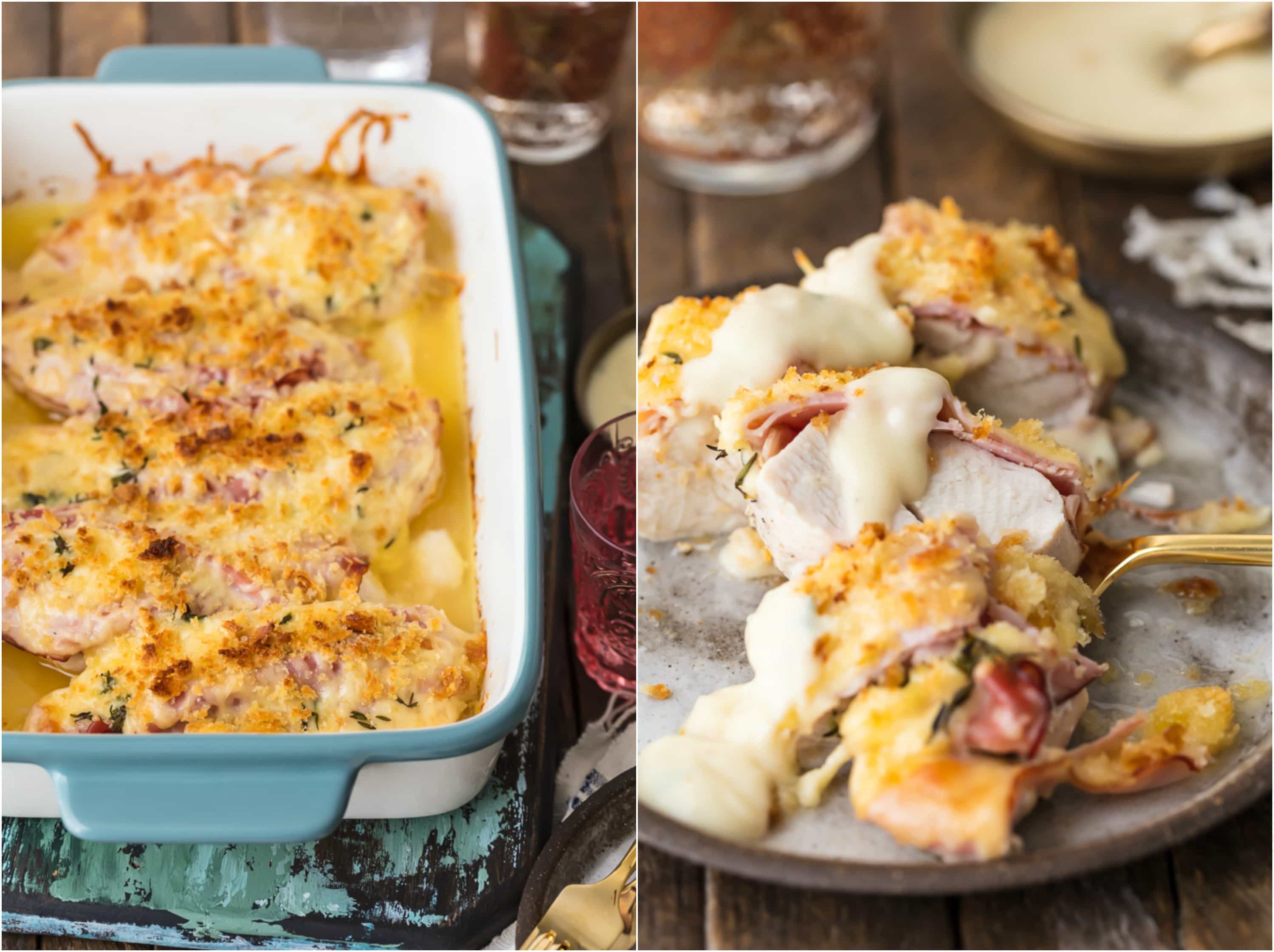 What kind of cheese do you use for chicken cordon bleu?
Traditionally, this dish uses Swiss cheese. For this recipe, you can use Swiss or Gruyere.
How do I know when the chicken is done cooking?
Use an instant read thermometer to check the internal temp of the chicken after baking. Insert it into the middle/thickest part of the breast. It should reach 160F before removing it from the oven.
Do I need to pound the chicken for this recipe?
While it's not necessary to make the chicken thin enough for rolling, I do recommend pounding it down to about 1 inch (if they are thicker).
Can you freeze chicken cordon bleu?
If you'd like to make this dish to freeze, I recommend freezing it unbaked. So follow the instructions right up until baking, then wrap and freeze for 2 months. Thaw before baking.
Serving Suggestions
You can serve so many sides with this easy chicken cordon bleu recipe, you almost can't go wrong! But I love to serve it with Herb Roasted Potatoes, Roasted Parmesan Broccoli, Brussels Sprouts with Pear and Blue Cheese, or even with some pasta or rice to add in some grains.
Make sure you drizzle that dijon sauce over everything on your plate! It will make any veggies or rice extra tasty.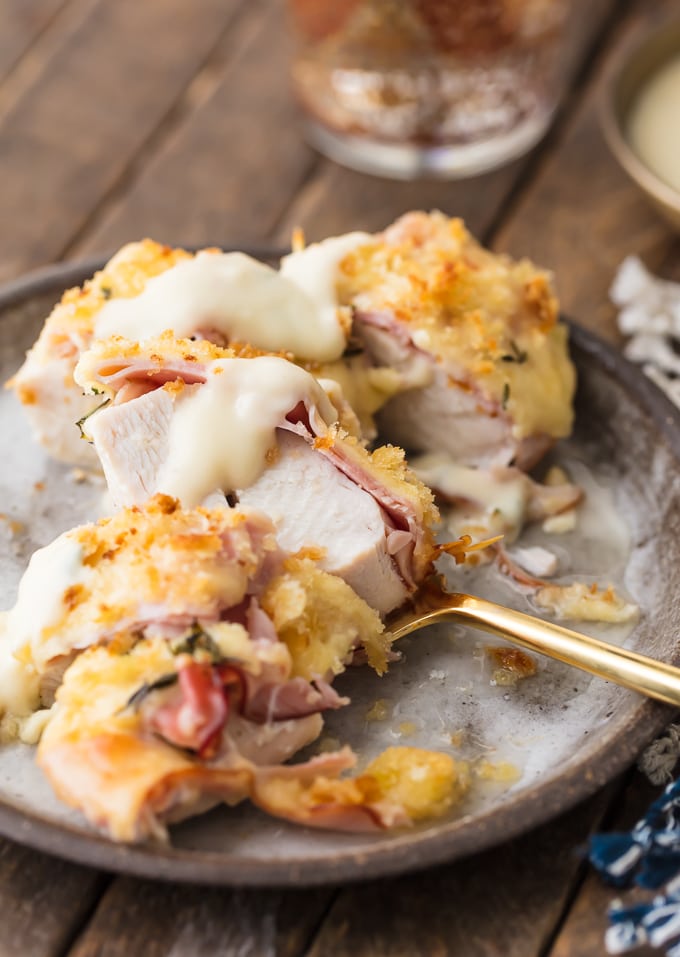 Tips!
Tuck butter pieces between the chicken breasts and around the edge of the dish. They'll melt as it bakes, and help to as moisture and richness to the chicken.
Loosely cover the baking dish for the first 15 minutes of cooking, then finish it off uncovered. If the chicken is browning fast, you can cover it for the last half too.
The sauce and breadcrumbs can be made ahead of time, and stored until ready to use.
Store leftovers in an airtight container in the refrigerator for up to 3 days.
Where did Chicken Cordon Bleu get it's name?
The French term "Cordon Bleu" translates roughly to "Blue Ribbon". The term was applied to dishes cooked to a high standard. So basically this BLUE RIBBON CHICKEN is the best recipe ever. I know you'll agree.
What makes this chicken cordon bleu easier?
This easy chicken cordon bleu recipe is a much simpler version of the traditional recipe. Typically, you'd need to pound the chicken to thin it out, roll it with ham and cheese, and then bread and fry it. There's no pounding, rolling, or stuffing here! It's much easier AND it's also healthier (since we're baking it in the oven instead of frying).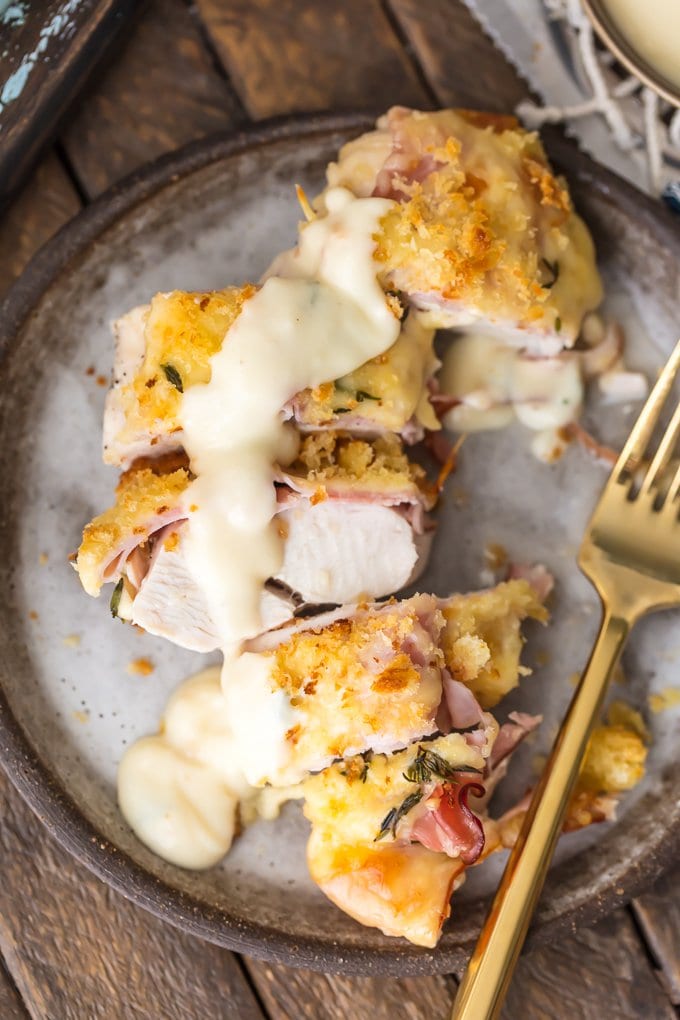 This chicken cordon bleu is just so easy, so tasty, and so perfect for weeknight dinners. And that delicious chicken cordon bleu sauce is so creamy, you're going to love it!
If you make this recipe be sure to upload a photo in the comment section below or leave a rating. Enjoy! You can also jump to recipe.