Chicken Alfredo Gnocchi Bake is the perfect comfort food and comes together easily with homemade gnocchi. Creamy and full of flavor this is a great made from scratch family dish that everyone will love!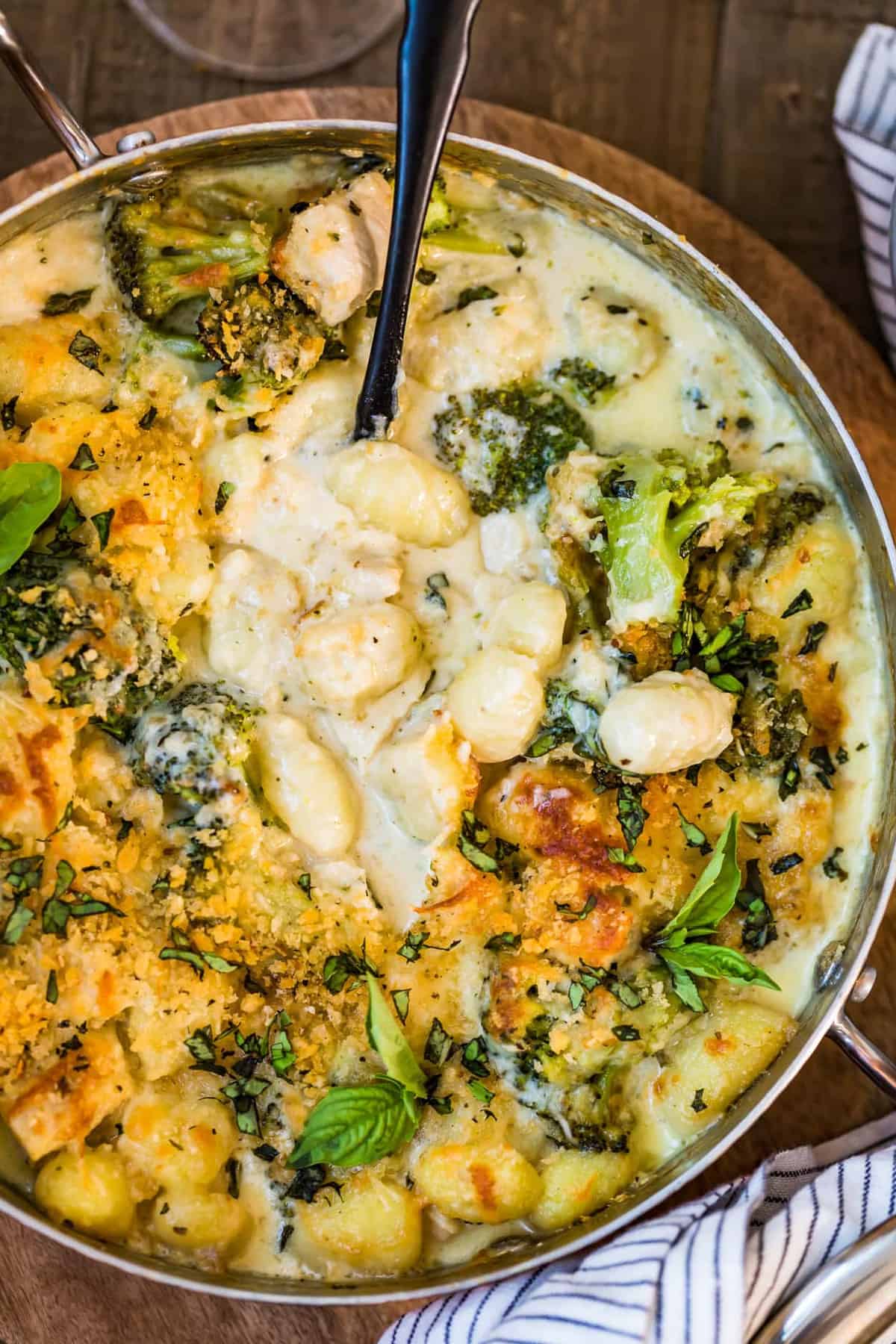 I don't know about you, but I have been craving comfort food lately and this really hit the spot! It's everything that a soul warming dish should be: creamy, cheesy and made with ease!
How To Make This Gnocchi Bake Recipe
First up you need to prepare the gnocchi from the kit – it's really easy and is so worth that extra bit of effort! Here is a good link with all the tips to make your gnocchi from scratch.
In a skillet, cook the oil in the garlic until it's soft and then add the chicken and season it. Cook until the chicken is browned through and then set to one side. In the same skillet, deglaze the pan with butter and then heat the cream and add the cheeses.
Stir the gnocchi, chicken and broccoli into the sauce, top with cheese and breadcrumbs and bake until bubbly and melty.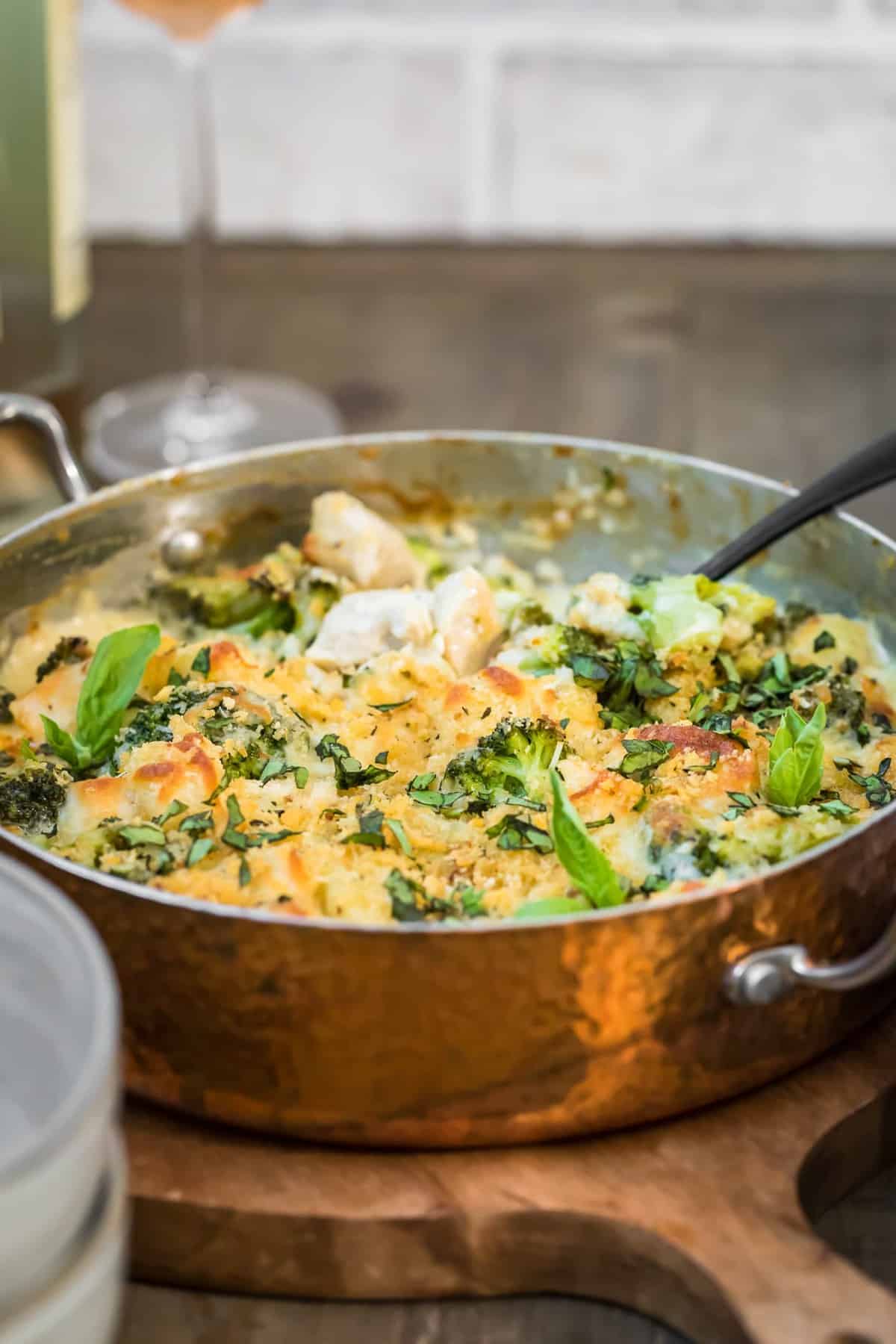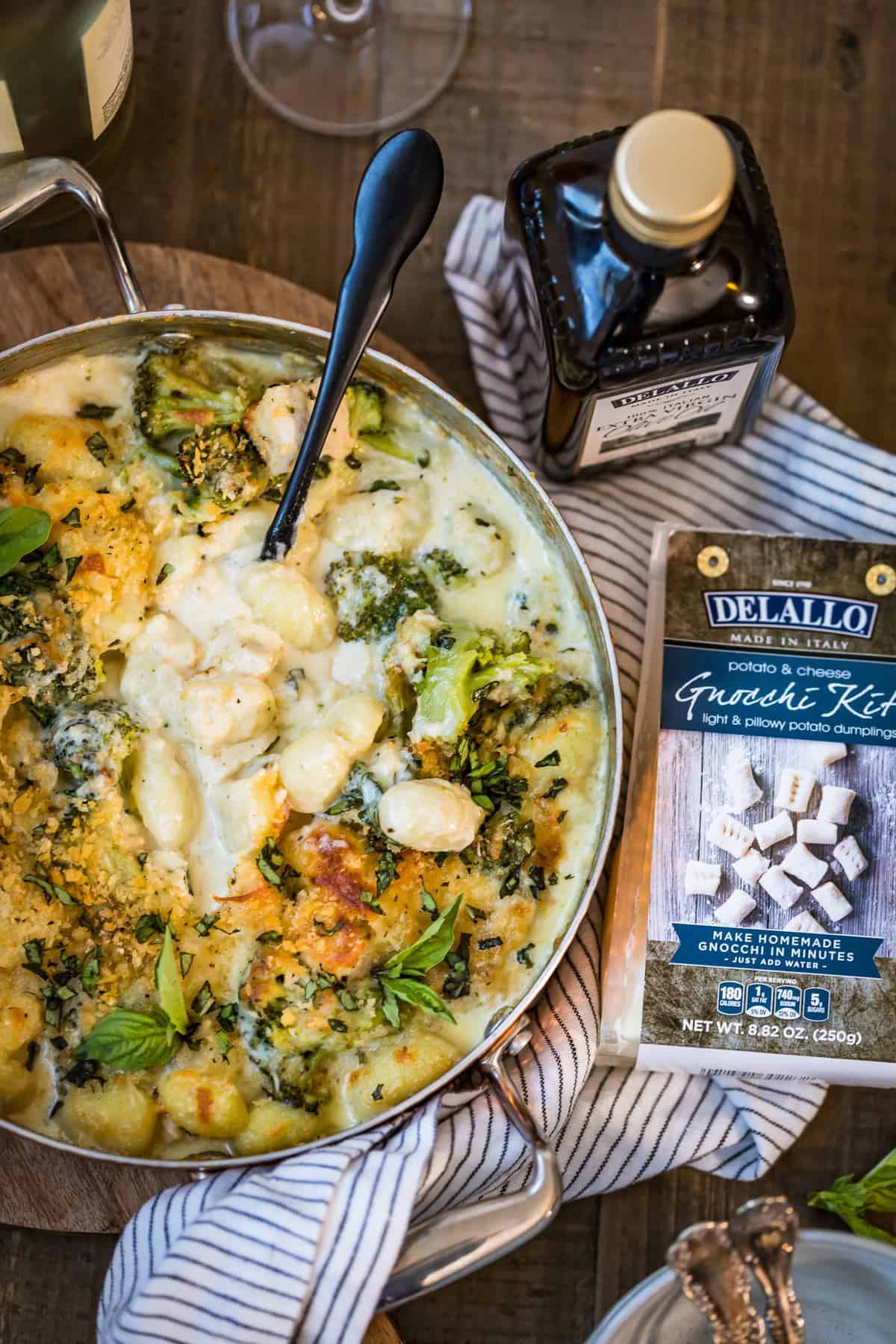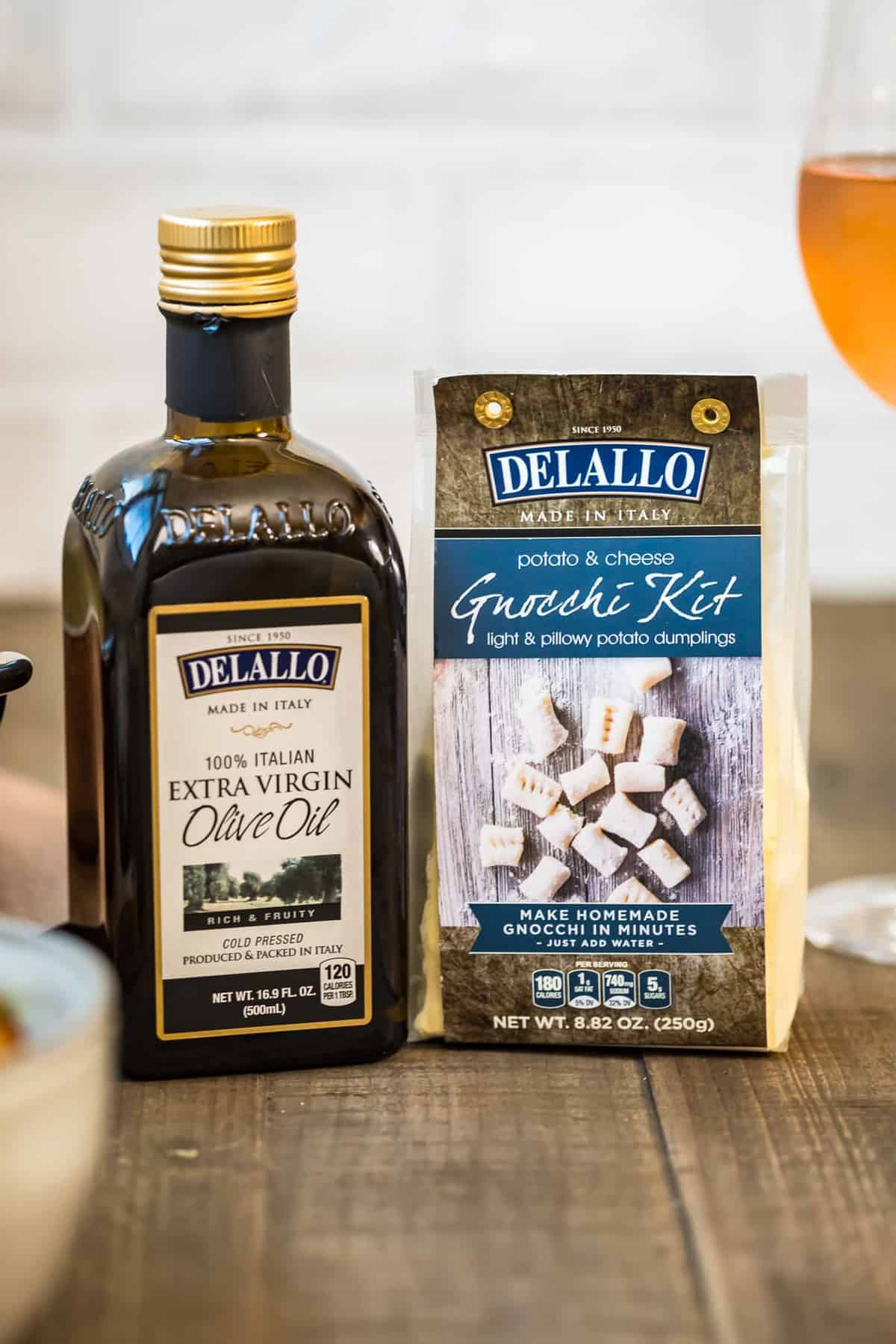 Which Gnocchi should I use?
I've fallen SO in love with Delallo this year. Their Italian food products are simply second to none, and really make cooking fantastic meals at home for your family so much easier and more delicious. So far this year we have used their new pastas to make our Pesto Baked Rigatoni and also our Chicken Florentine Pasta. Two of my favorite EASY comfort food recipes on the site!
For this amazing and creamy recipe, I used Delallo's Potato and Cheese Gnocchi Kit as well as their Extra Virgin Olive Oil. Their Olive Oil is an absolute staple in my kitchen and I always have at least two bottles on hand. High quality and affordable, the best combination!
Now let's talk about this Gnocchi Kit. If you're intimidated to make gnocchi, you're not alone. It looks and sounds involved, but Delallo has made it super simple and fool proof. You simply add water to their gnocchi kit, follow instructions on forming the shape, and boil!
The great thing about gnocchi is its super smart and lets you know when its done cooking. You literally cannot mess it up. If you are on the hunt for something easy and amazing to eat for dinner, this is the ticket.
If you prefer premade gnocchi, Delallo also offers regular and gluten free! You can check them out HERE and click HERE to see where to buy near you.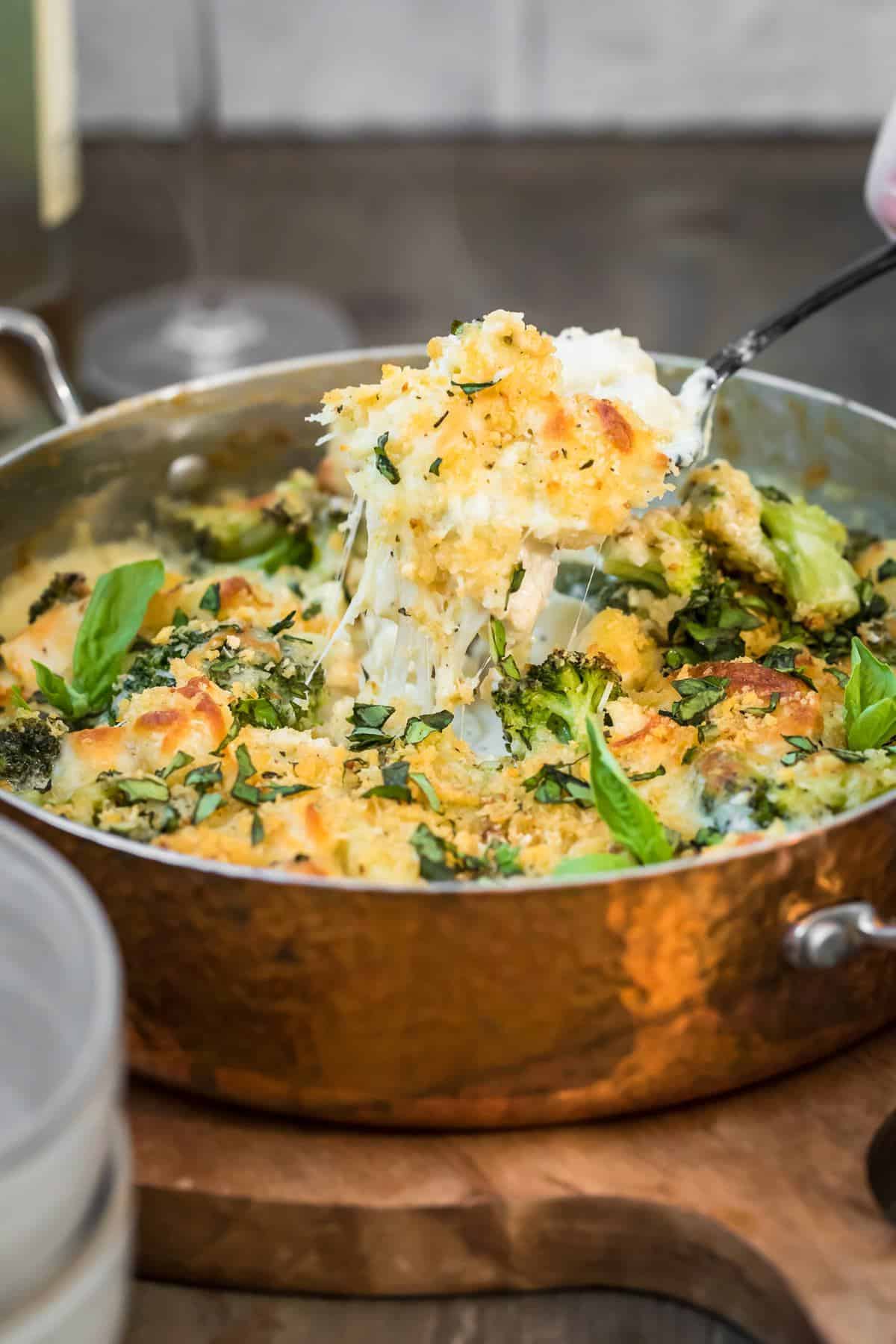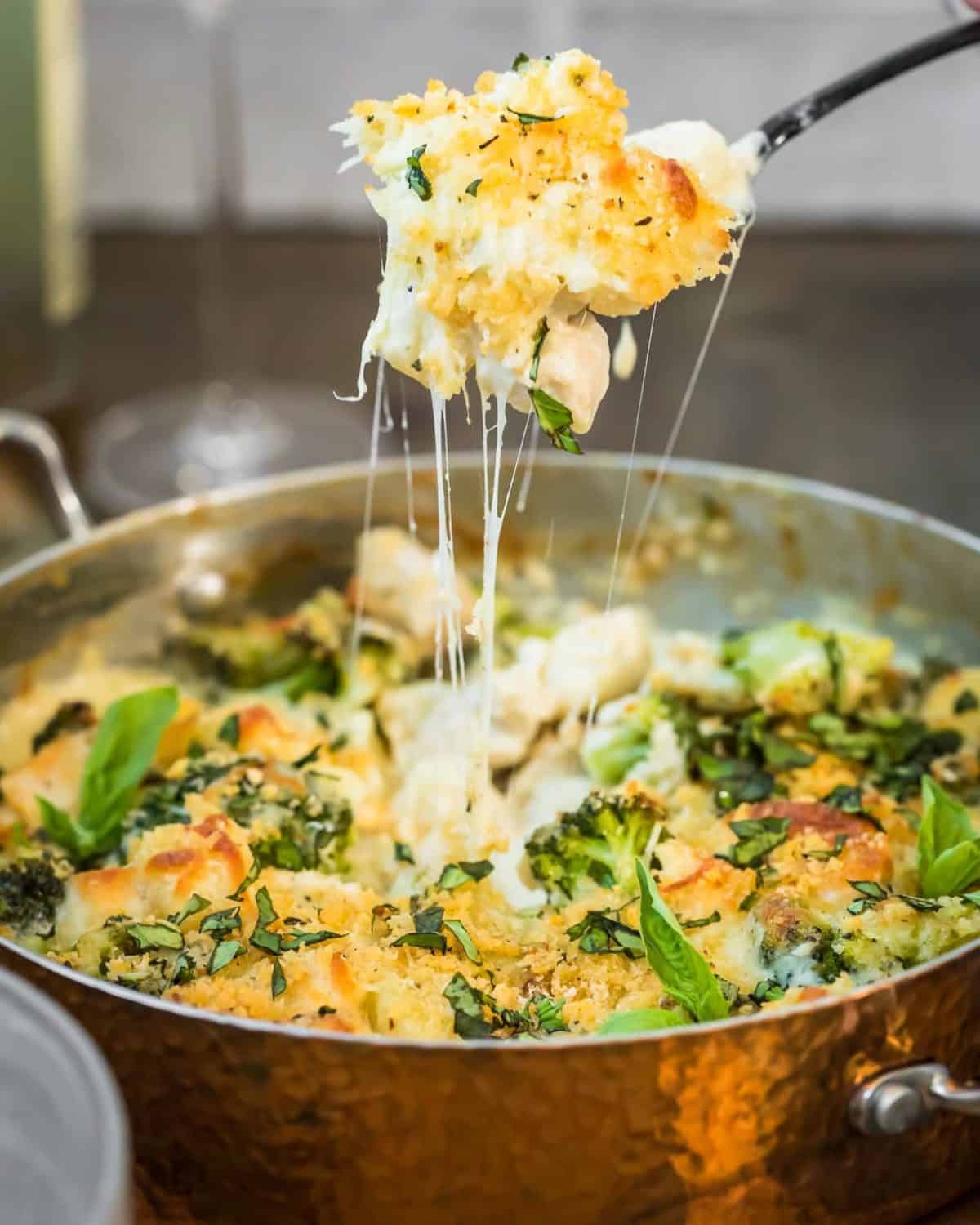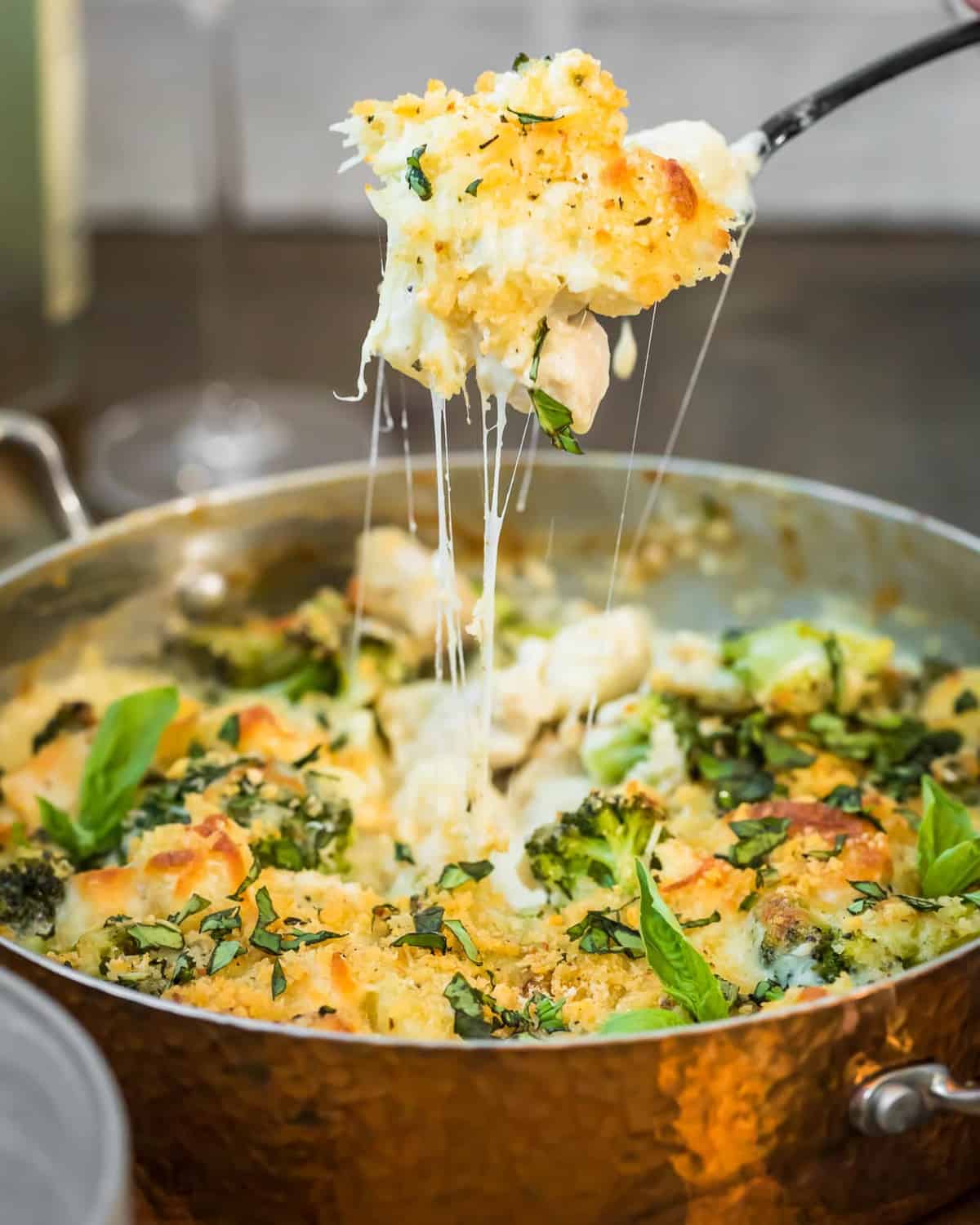 Baked gnocchi recipe with chicken and broccoli
This gnocchi bake is just so good because it's made entirely from scratch with simple and fresh ingredients. Use good quality chicken that hasn't been raised on antibiotics and you will have a great family fest on your hands in no time. This dish is everything comfort food should be!
Serving Suggestions
This bake really is perfect by itself, but you can add some more goodness to your plate in the for of a vegetable side dish or a salad, or go all out and serve it up with some garlic bread! Try it with:
Can you make this dish ahead of time?
You can make the whole dish ahead of time, right up til you bake it. Mix everything together and top with breadcrumbs, and then cover it and place in the fridge, then you can cook it when you want to serve it. Leftovers ca be kept in an airtight container in the fridge and reheated in the oven.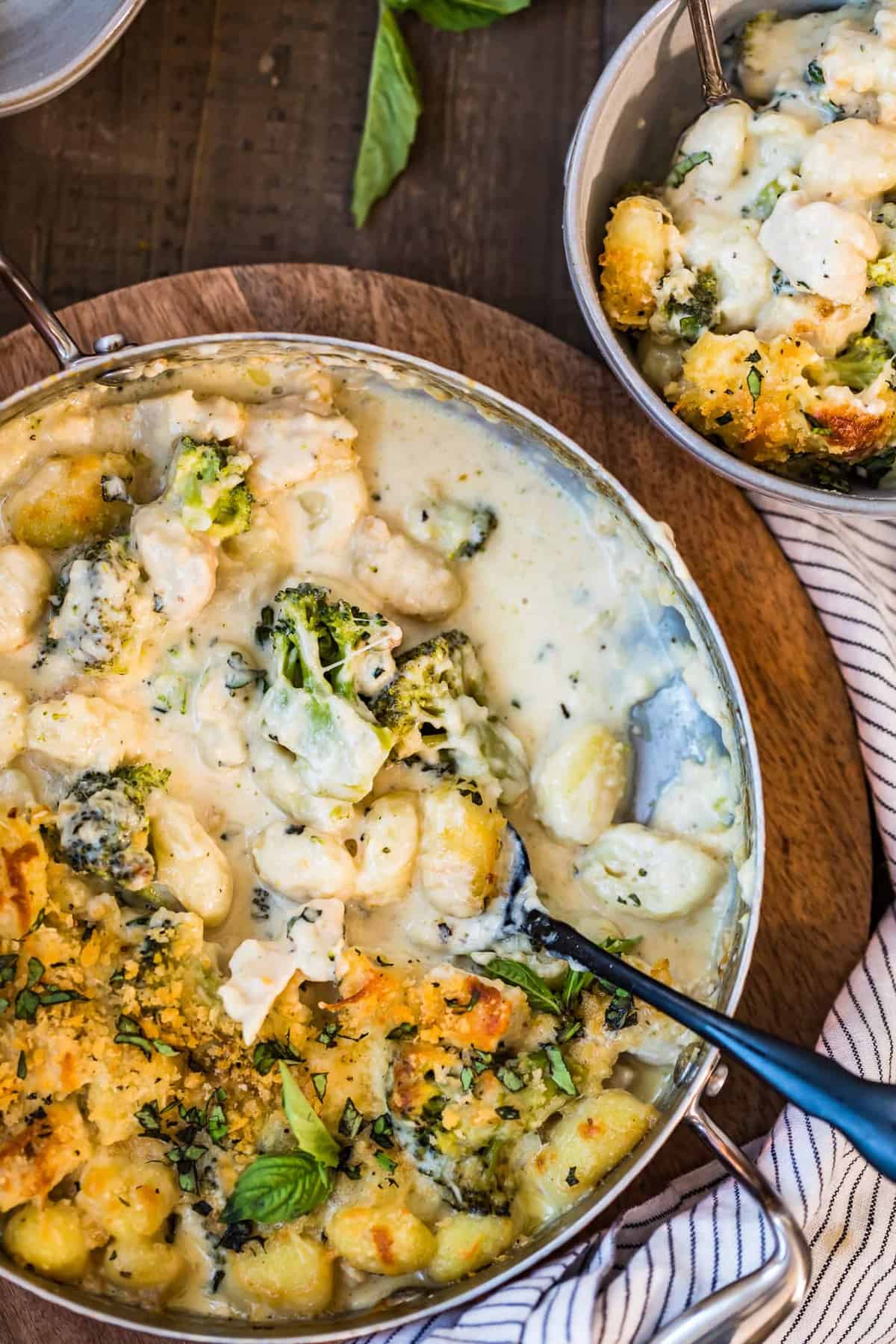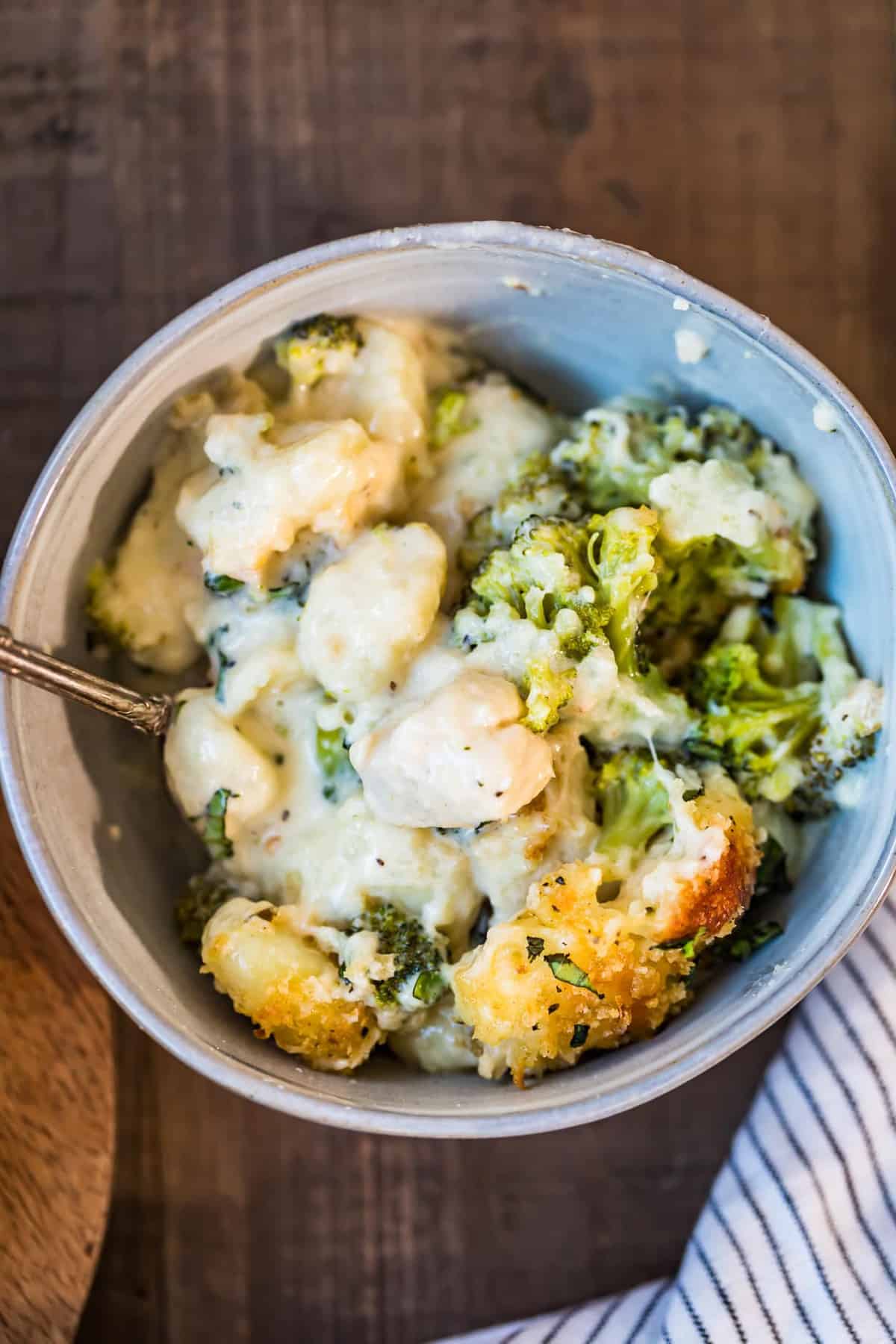 Top Tips for making this recipe
Use a good quality chicken breast for this recipe, preferably free run / organic if you can.
Ensure the chicken is cooked through when you cook it in the skillet, not just browned.
You can use frozen or fresh broccoli in this recipe.
Cook the bake in a pre heated oven for the best results.
Serve hot and bubbling to the table.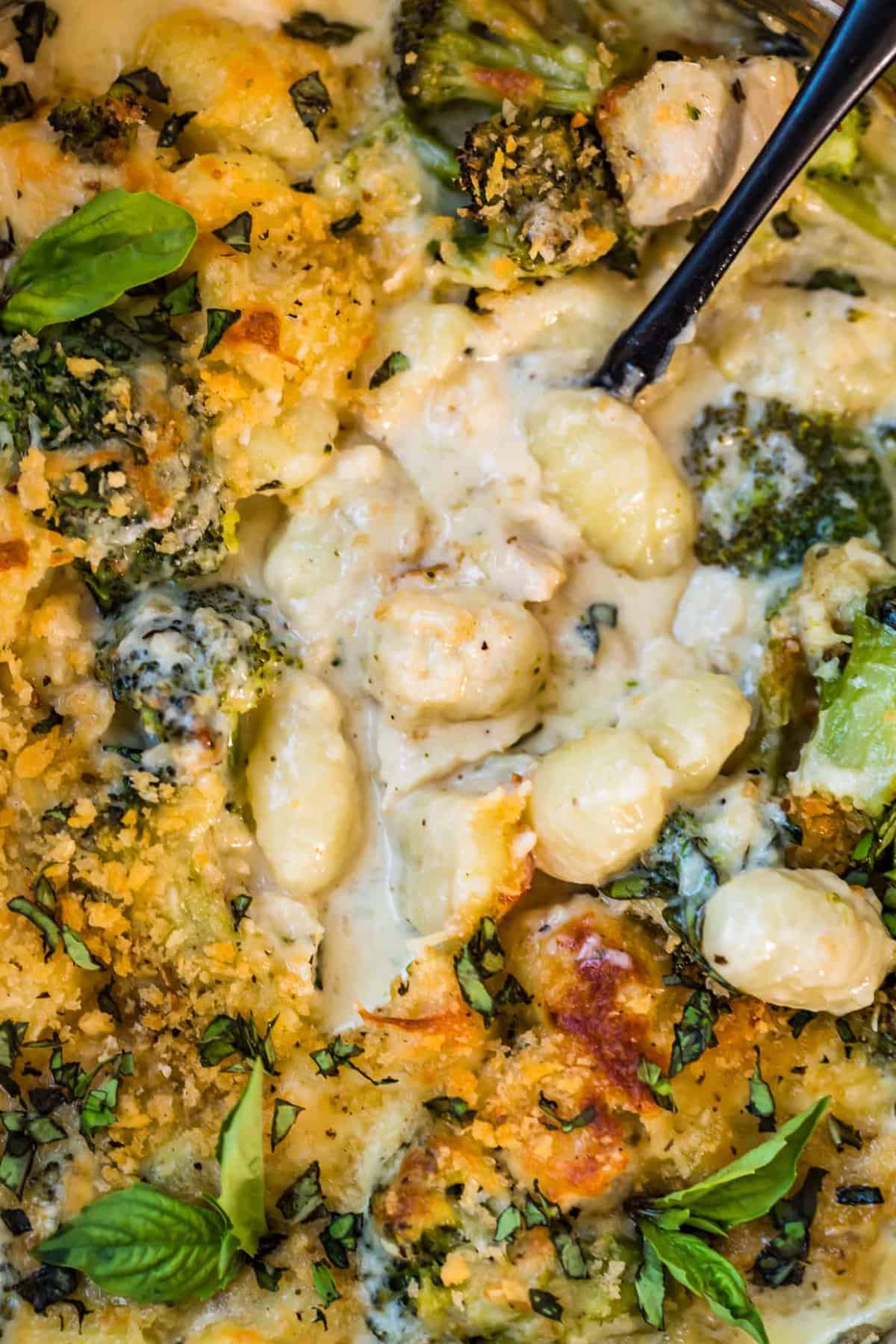 If you want to try another flavor, try out this Pepperoni Pizza Gnocchi Bake or this Cheesy Bacon Gnocchi Bake too. Yum!
For more tasty comfort food dinners