This oven baked risotto recipe is perfect when you want to enjoy the creamy Italian rice dish, but don't have the time (or energy!) to stand at the stove stirring a pot. This basic risotto recipe makes a perfect rice side dish that is loaded with flavor.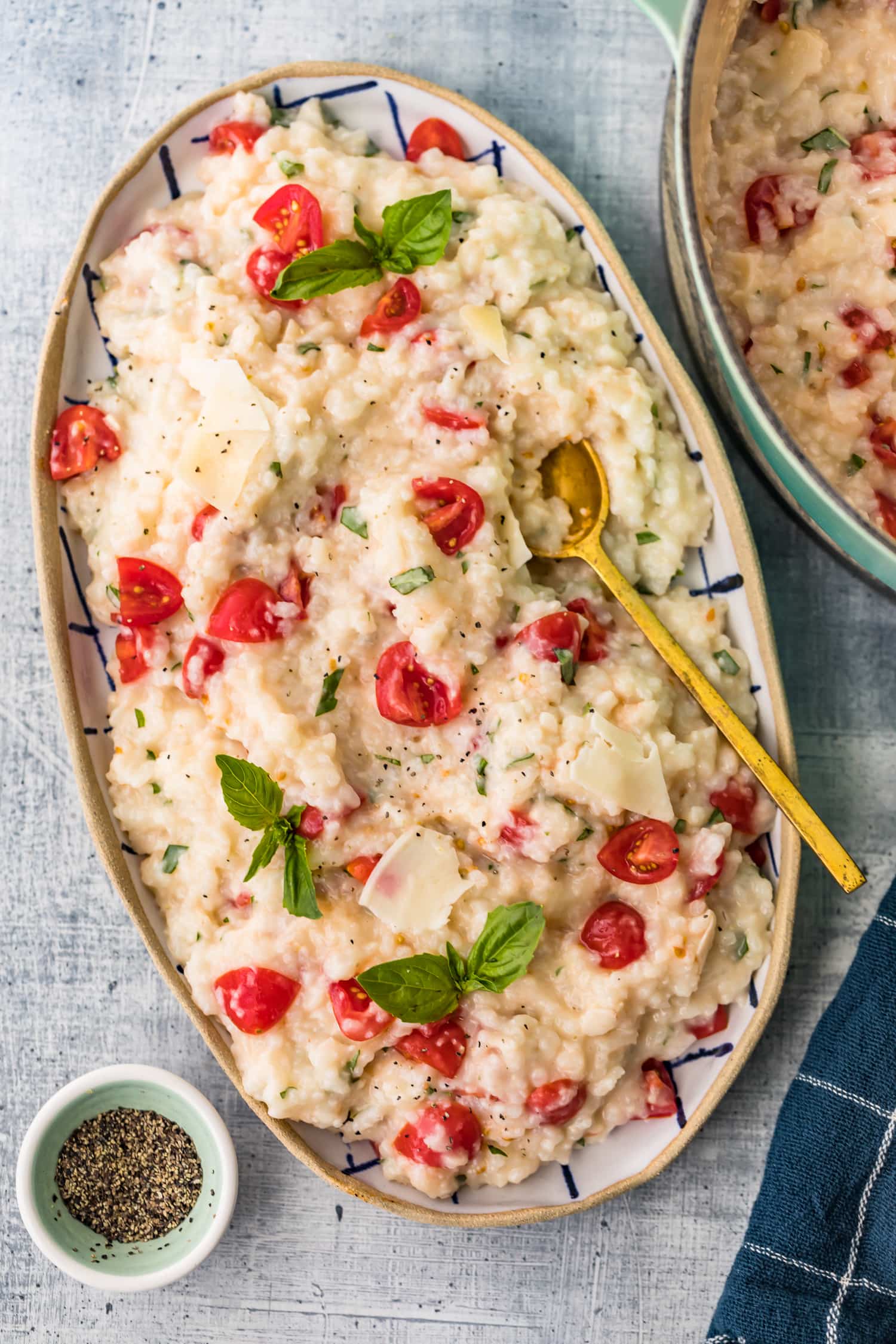 I love eating risotto, it's so creamy and loaded full of flavor, but I don't always love making it – the endless stirring isn't always ideal on a busy weeknight! This oven baked version is loaded with all of the flavors you love but without the hassle!
How to make this Oven Baked Risotto Recipe
Heat oven to 350°F and spray a Dutch oven with nonstick cooking spray.

Pour the rice and 4 cups chicken stock in the Dutch oven and stir. Cover and bake at 350°F for 45 minutes or until most of the liquid is absorbed. At this point, the rice should be cooked to al dente.

Remove the rice from the oven and add Parmesan cheese, wine, butter, salt, black pepper, tomatoes and the remaining 1-cup chicken stock. Gently mix.

Sprinkle with chopped basil and shaved Parmesan and serve while hot.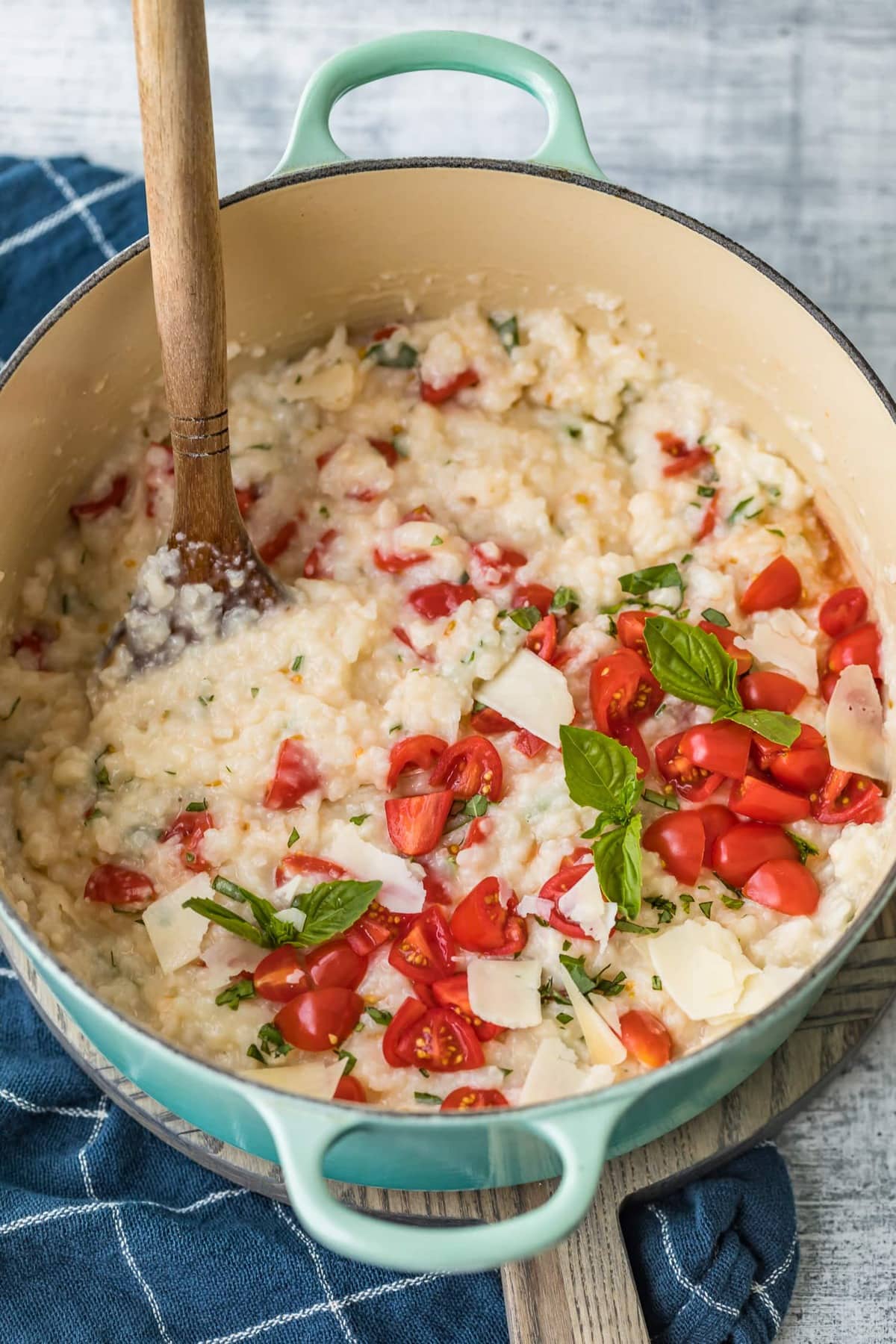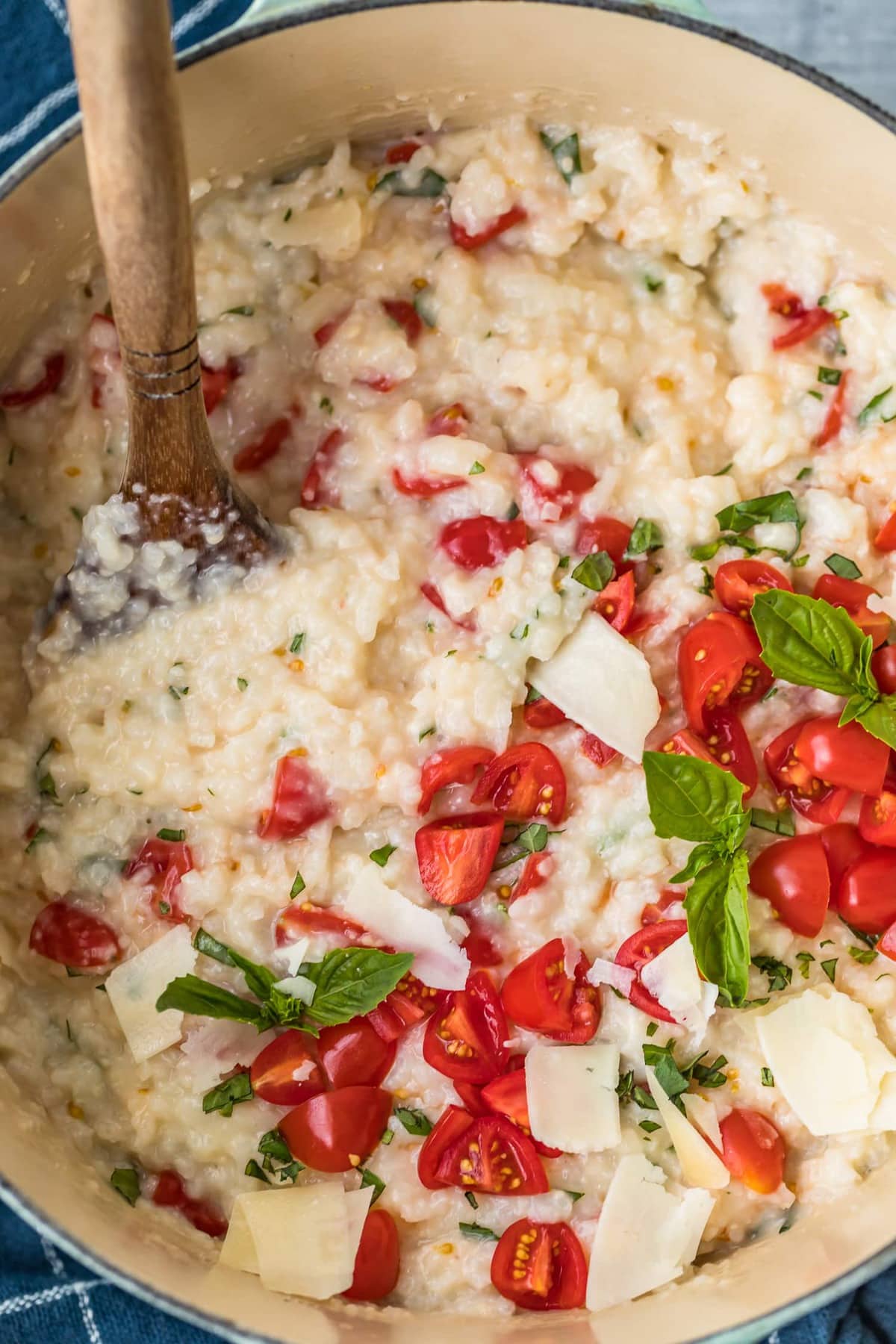 No Stir Risotto Recipe
I really can't wait for you to give this oven baked risotto a go, I promise you, no one will ever guess that you haven't spent hours slaving at the stove! It's so creamy, and by finishing it off with parmesan, tomatoes and fresh basil leaves, it becomes a really fresh and delicious dish! All you need is your trusty dutch oven and fifteen minutes prep time!
What to serve with Oven Baked Risotto
You can serve this risotto as a main dish if you wish, but I much more prefer serving it as a side. I love serving it alongside some Crispy Garlic Roasted Asparagus or Roasted Green Beans and with some protein. This dish is at its best when served straight away, so do plan accordingly.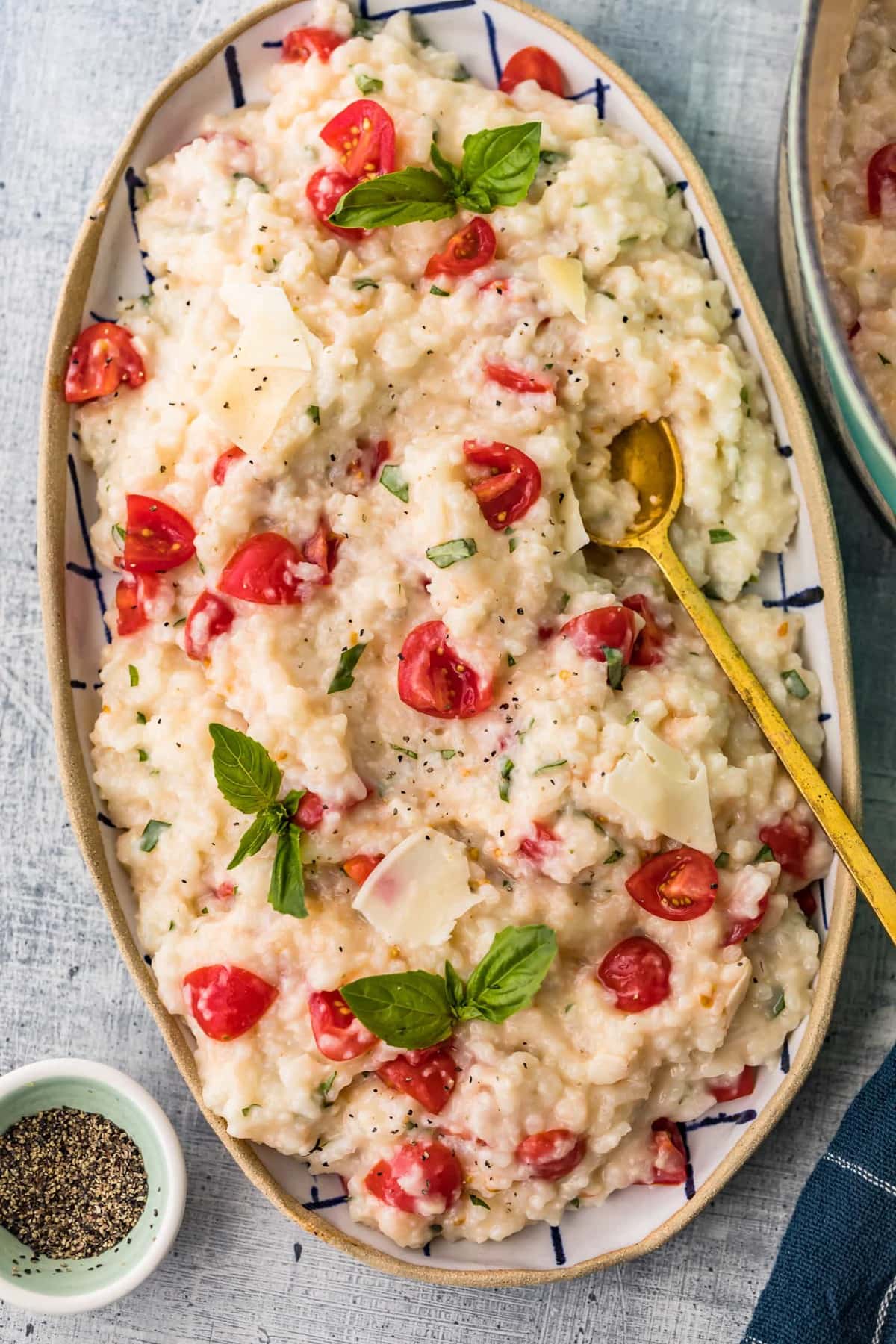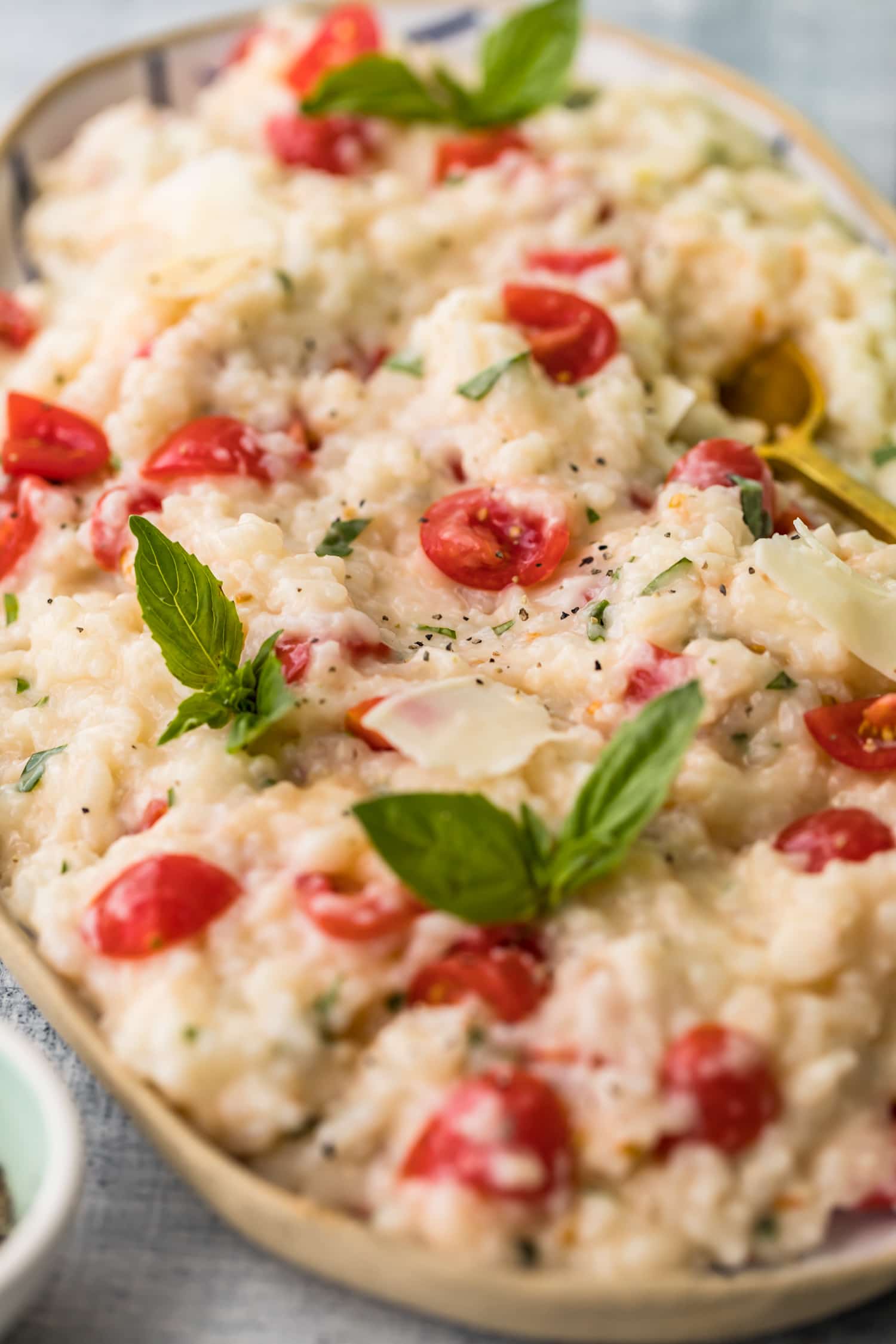 Oven Baked Rice
I love how simple and easy this oven baked risotto recipe is, and it was so popular with my family that it's already been requested again! It really is a one pot, dump and leave it dish and it goes so well with so many things – I can't wait to hear what you thought of it!
Top tips to make Oven Baked Risotto
Be sure to spray the dutch oven with non stick cooking spray before adding the ingredients.
Use a low sodium stock, or even better make your own. Use a veg stock to make this vegetarian.
Arborio rice is the only rice you should be using in this recipe, it's widely available and I insist you don't substitute it!
The fresh tomatoes and basil leaves added at the end really lift the flavor and color of this dish – use the freshest you can find.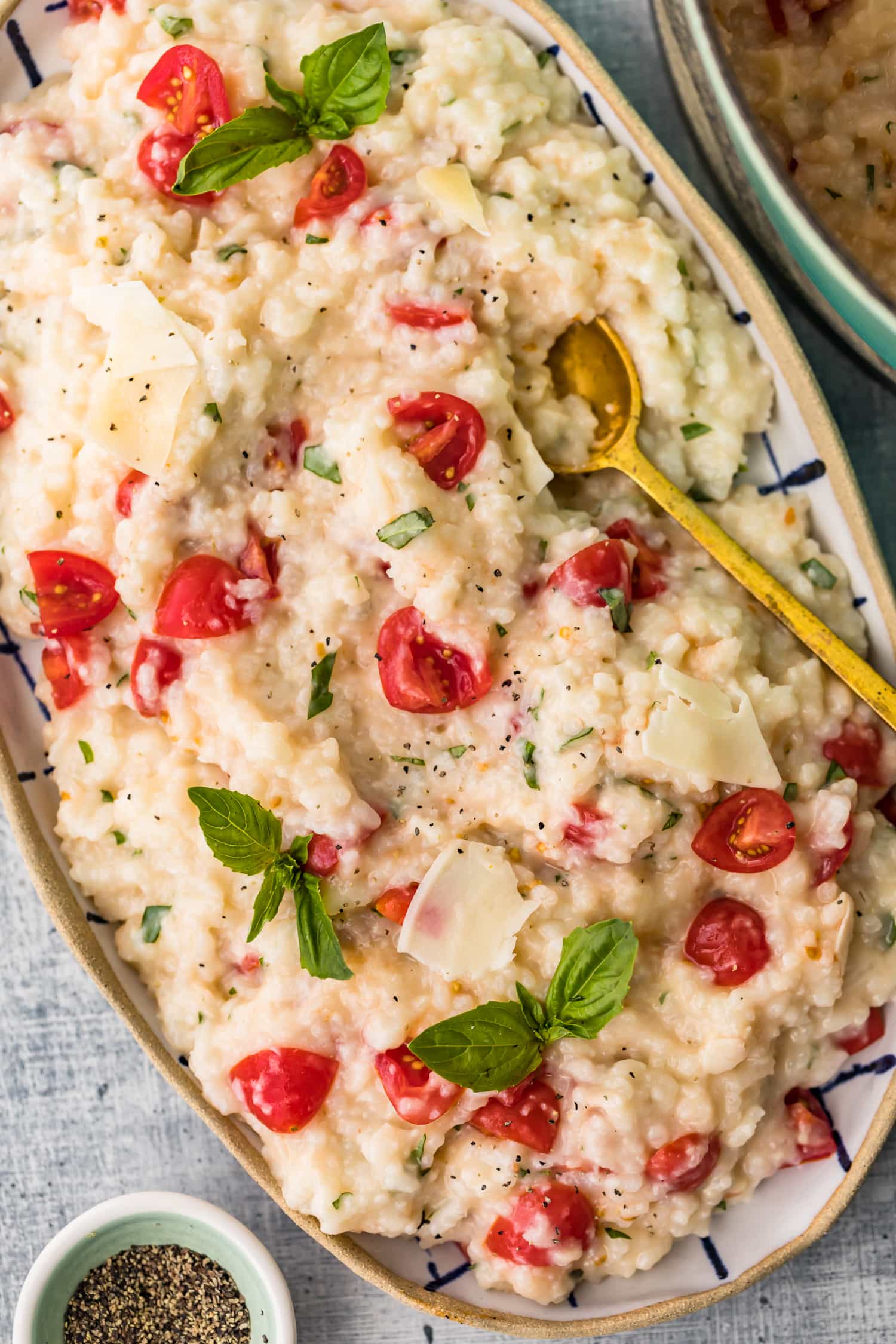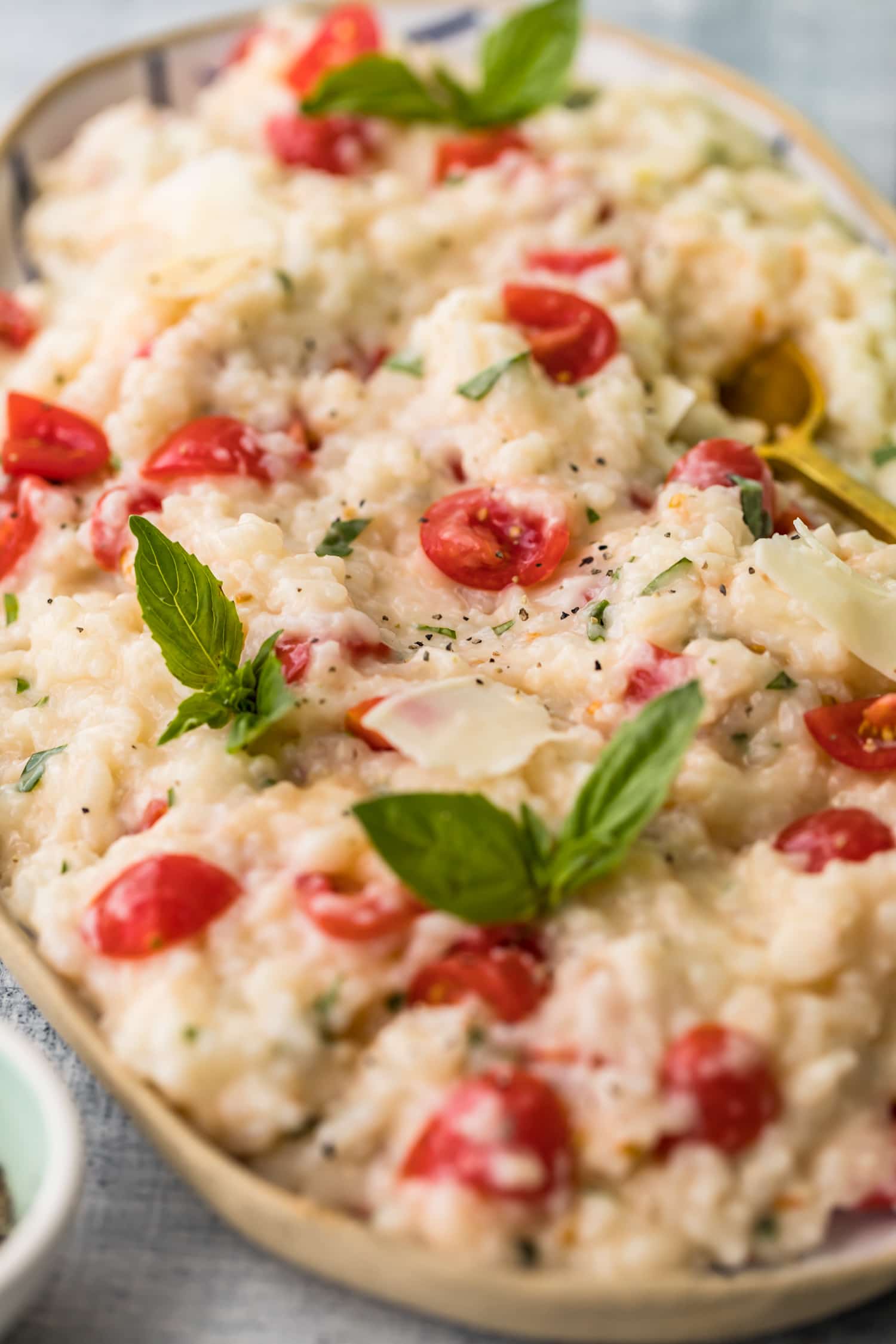 Be sure to check out these other tasty rice dishes!
Broccoli Cheese Rice Casserole (Classic Green Rice Casserole)
Mexican Rice Recipe (Cheesy & Easy Mexican Rice)
One Pan Mongolian Beef with Veggies and Rice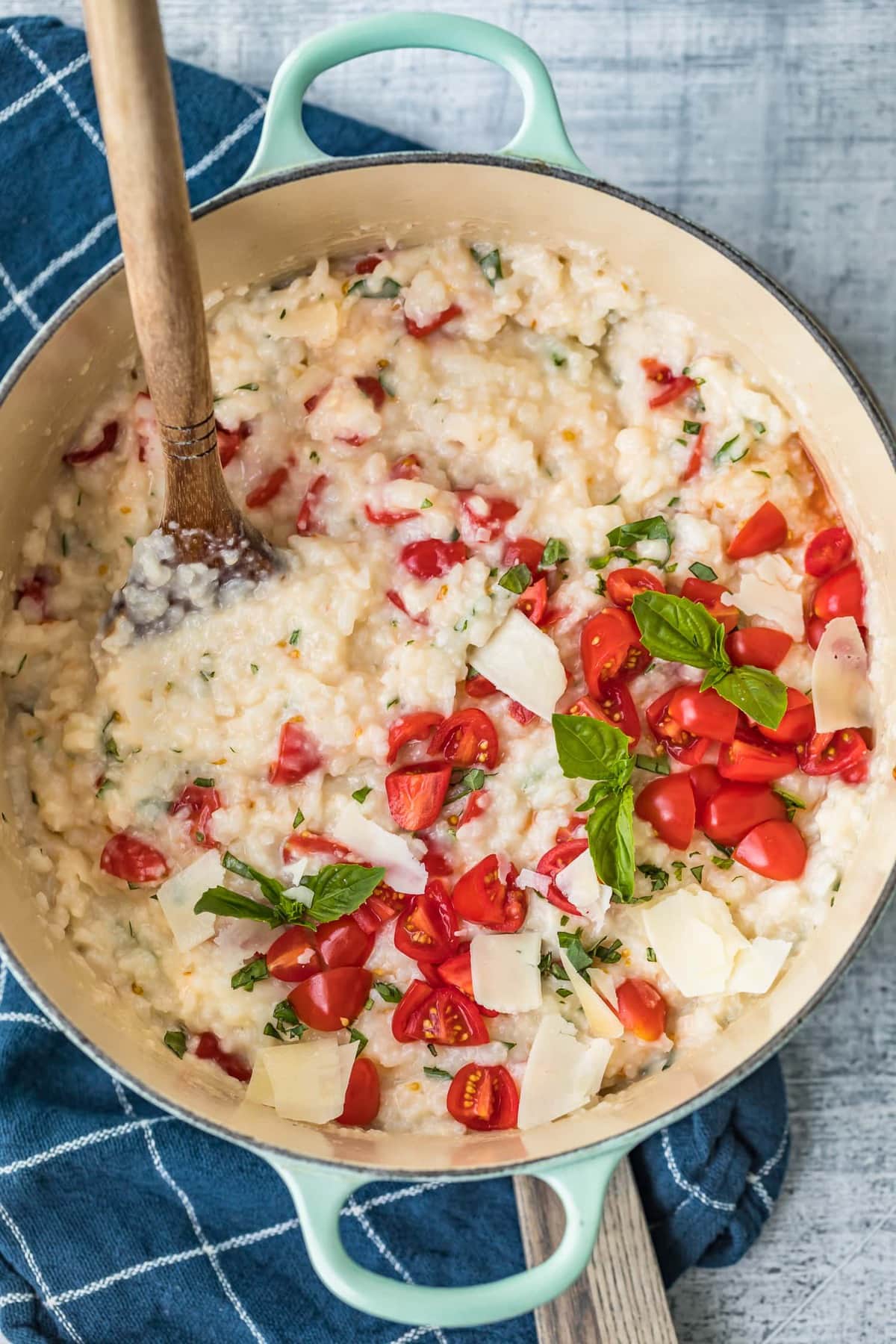 If you have tried this oven baked risotto, or any other recipe on my blog, then please rate it and let me know how it turned out in the comments below