Ham and Cheese Sliders are such a simple recipe, but they're perfect for a quick lunch or snack. I am constantly on the hunt for EASY and delicious meals, and I found a new favorite! These Hawaiian Roll Sliders are a great family meal!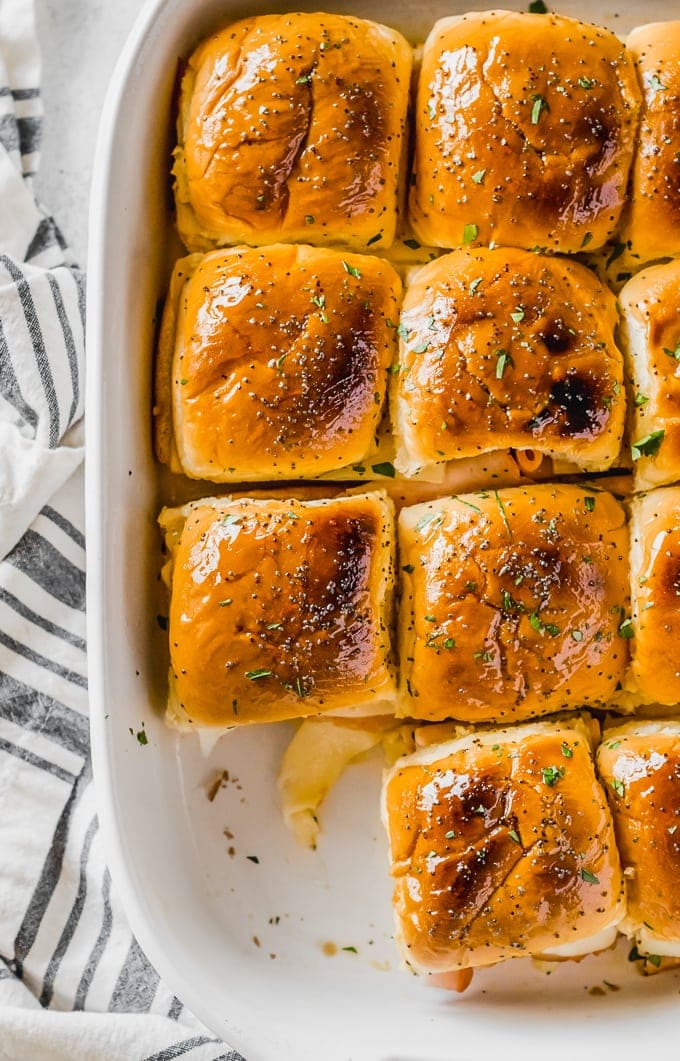 Ham and Cheese Sliders
Hawaiian Roll Sliders are an easy and quick meal to make for the whole family. I love these Ham and Swiss Sliders, and kids do too!
Ham and Cheese Sliders on Hawaiian Rolls are something I've seen all over Pinterest. Since I'm always on the hunt for quick meals likes this, I've wanted to try them for a while.
My friend Kathryn made similar Ham and Swiss Sliders for a Trivia Night and I was hooked. They are so simple and so delicious. So this is my version of the Hawaiian Ham and Cheese Sliders.
This Ham Sliders recipe checks all the big boxes: they are quick, easy, super delicious, and they re-heat well. They make an easy lunch when you just want something that's simple but tastes GOOD.
These are cheesy, savory, and a little bit sweet, and I think that's the perfect combination.
These hot Ham Sliders are another Kid-Friendly recipe too. They're the perfect size for your small eaters. But the flavor is good enough for all of us hungry adults!
This Hawaiian Roll Sliders Recipe is the perfect simple meal to make for your family. Kids and adults alike will love these little Ham and Swiss Sliders!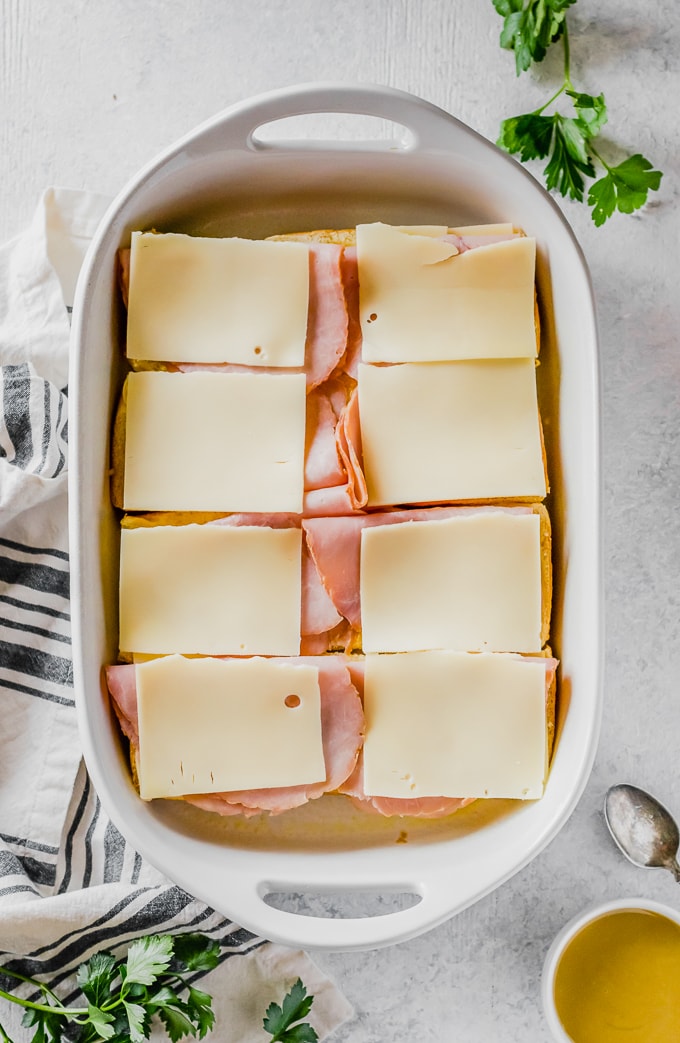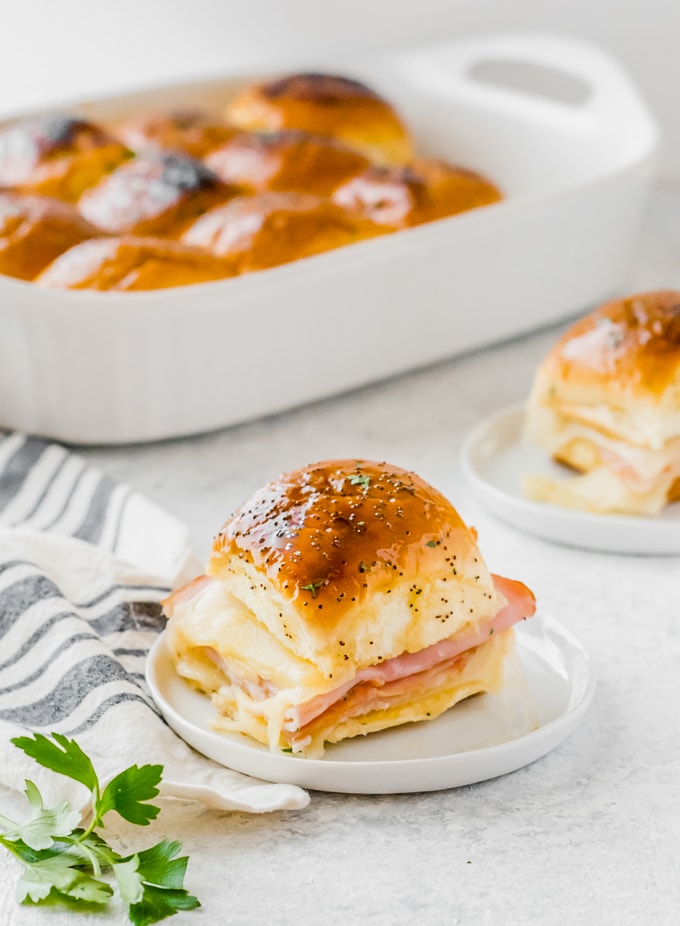 Hawaiian Roll Sliders
These Hawaiian Ham and Cheese Sliders are so little yet so tasty! Using Hawaiian Rolls for these sliders was a no-brainer. They're the perfect size for a mini sandwich, and the rolls add just the right amount of sweetness into the mix.
I like to pick up a package of these little rolls because you never know when you're going to need a quick meal like these Ham and Swiss Sliders.
Yes, Ham and Cheese Sliders on Hawaiian Rolls was a match made in heaven!
These little beauties have (semi) homemade Honey Dijon on the inside and are topped with creamy Poppyseed dressing on top. They're like little flavor bombs.
These ham sliders are just SO good I tell you. I'm not sure why, but they're way more amazing than you might think considering how simple they are.
One of the 'food blogger curses' is I can never make things twice. That seems like such a waste of time and energy when I've got to put out new recipes. But these Hawaiian Ham and Cheese Sliders?
These are something I'll be making again and again. If you invite me to a party in the near future, don't be surprised if I show up with a big batch of these sliders.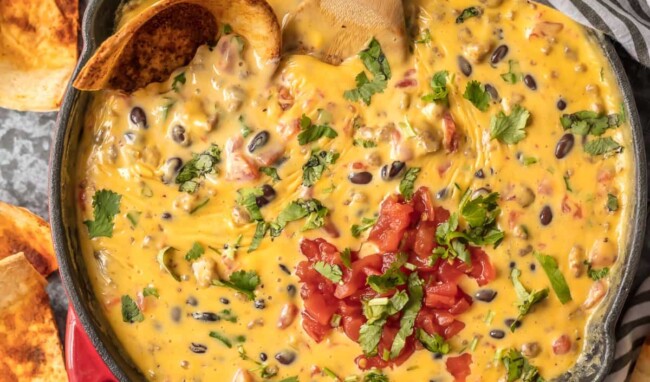 Super Bowl Must Makes
101+ Best Super Bowl Recipes
Make these Ham and Cheese Sliders PLUS SO MANY MORE for game day this year.
See Guide
Ham and Cheese Sliders for Gameday
We love a great Super Bowl Recipe, and these Hawaiian Roll Sliders are one of our favorite grab and go recipes to bring to a party. They're always gone in minutes, so be sure to make a double batch! Here are more Slider Recipes we love!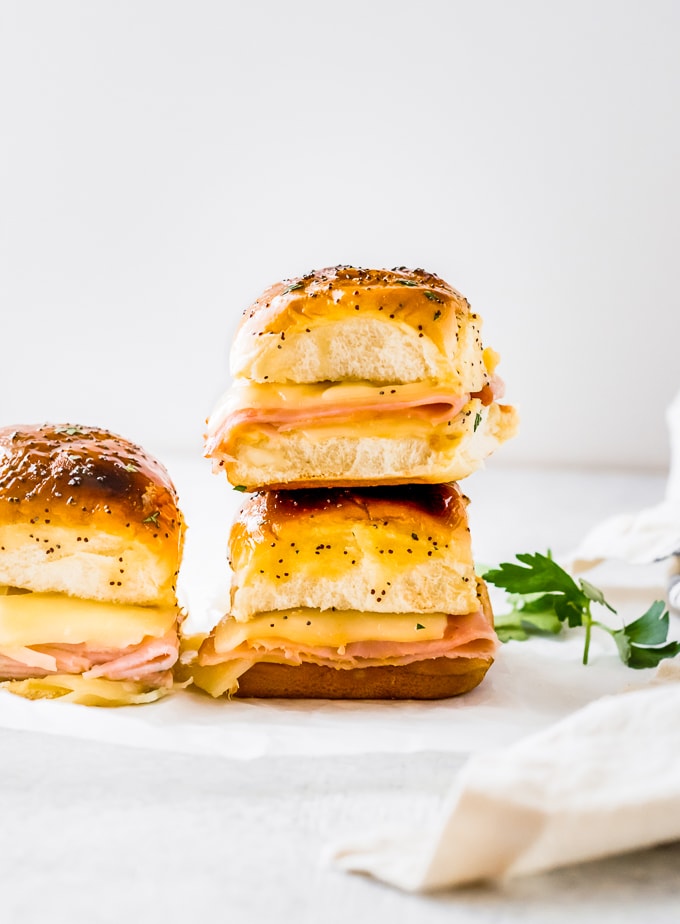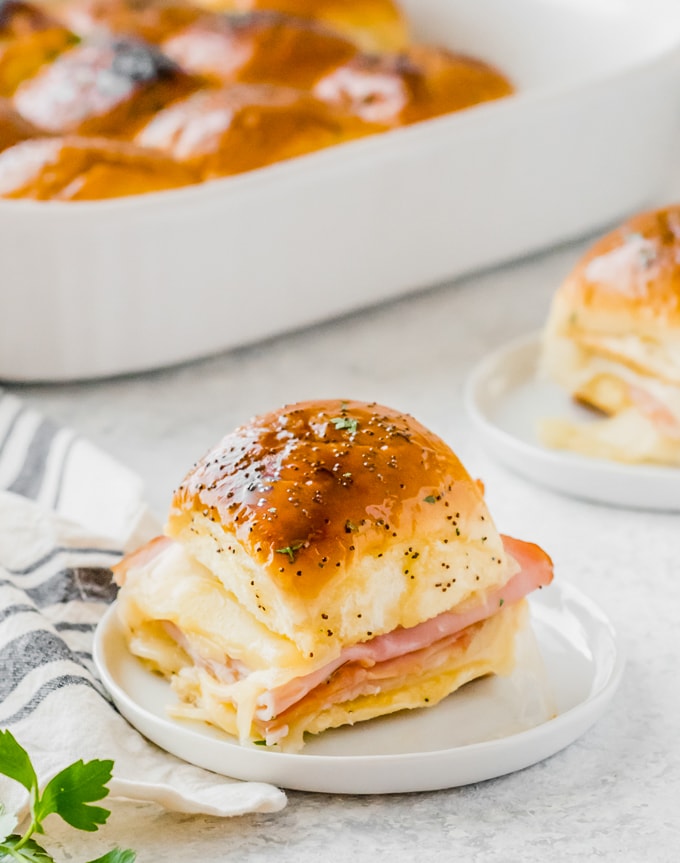 Ham Sliders – Kid Friendly Recipe
As you all know, creating kid-friendly recipes is important to me. I am a mom, after all! I need recipes that are really easy to make. I need simple meals that won't scare away children with weird ingredients.
I need recipes that I will love to eat just as much, because I don't want to sacrifice flavor. I've still got some time before Henry starts eating the same meals as us, but when he does, I'll be ready with these little ham and swiss sliders.
I mean, what kid doesn't love ham and cheese? These are definitely an elevated version, perfect for adults. But kids will still love these ham and cheese sliders just as much.
Tip!
If your kids are bit picky, you can always leave off the honey dijon mustard and Poppy seed dressing on a couple of the sandwiches. They'll get a tasty hot ham and cheese slider, and you'll get your Hawaiian Ham and Cheese Sliders. It's a win-win!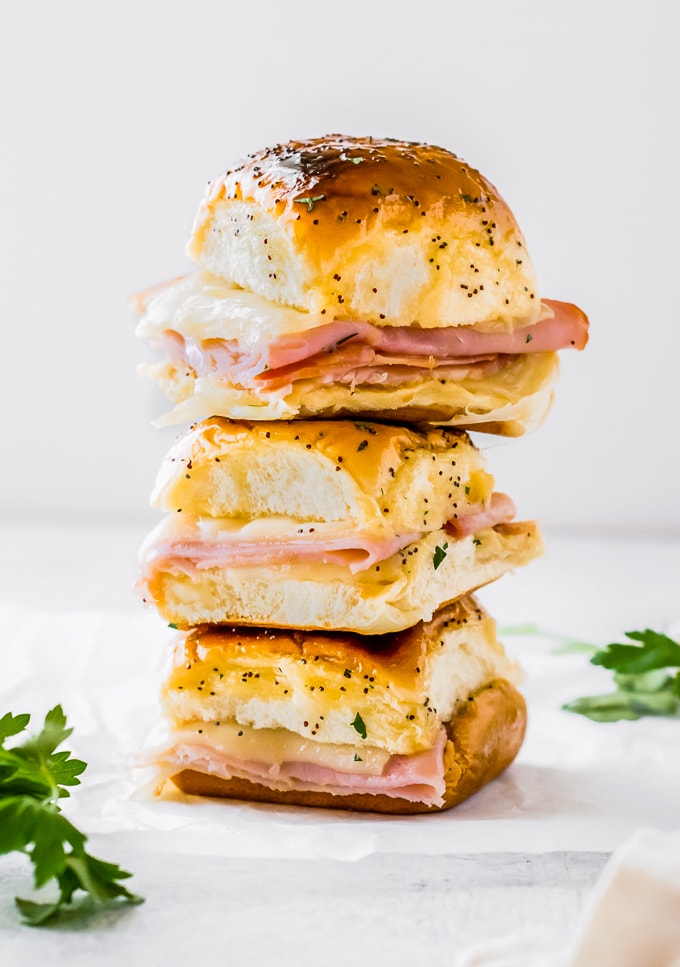 Step by Step
These Ham and Swiss Sliders are so easy to make. You just need a package of Hawaiian Rolls, ham, Swiss cheese, a little bit of honey and some dijon mustard, and poppyseed dressing.
Be sure to see the recipe card below for full ingredients & instructions!
Combine the honey and dijon mustard to create your own Honey Dijon
Put the bottom of the Hawaiian Rolls into the baking pan and brush with the Honey Dijon
Add a slice of ham and a slice of Swiss cheese to each roll
Add bit more Honey Dijon to the tops of the rolls before placing them on top
Brush as much Poppyseed dressing on top as you please
Cover the dish with foil and bake 15-18 minutes
Uncover and broil for just a few minutes to make the rolls nice and brown
Now serve your delicious Hawaiian Ham and Cheese Sliders with a side of baked sweet potato chips, Parmesan potato wedges, or homemade Doritos.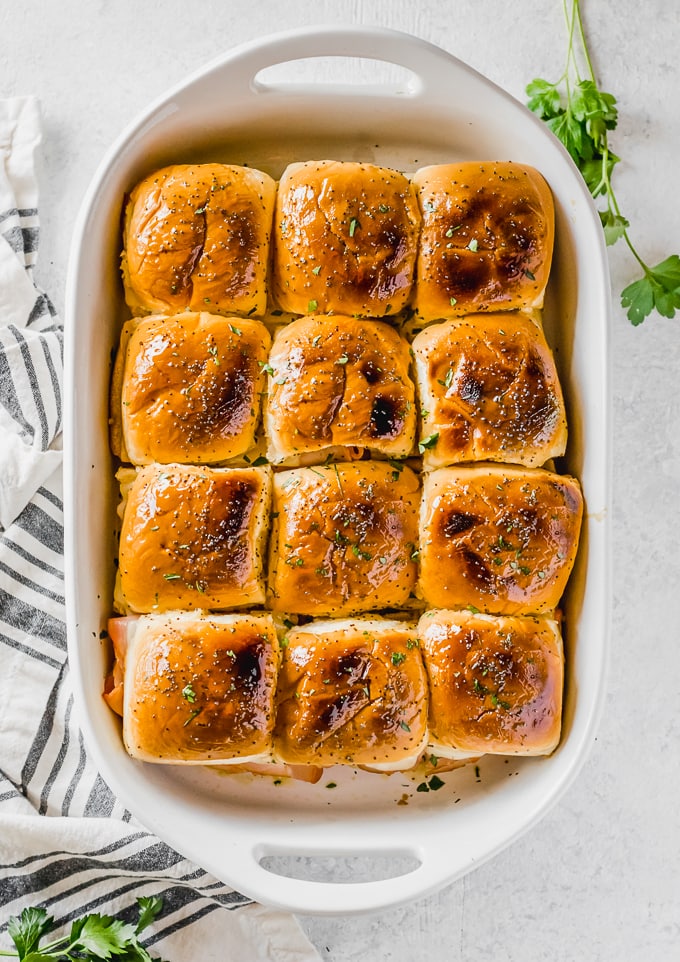 You and your family will loves these Ham and Cheese Sliders on Hawaiian Rolls. They're simple and absolutely delicious. I love how making Baked Sliders makes everything hot, juicy, and extra delicious.
This is such a great recipe for feeding a crowd! Make it in other flavor combinations and get creative! The sky is the limit.
If you like these ham sliders, then try some of these other kid-friendly recipes: