These ham and cheese sliders are made with Swiss cheese, honey Dijon Mustard, and poppy seed dressing, and baked on Hawaiian rolls. With just 6 ingredients, you can make these hot ham sliders in the oven with ease. They make a great lunch, snack, or party appetizer!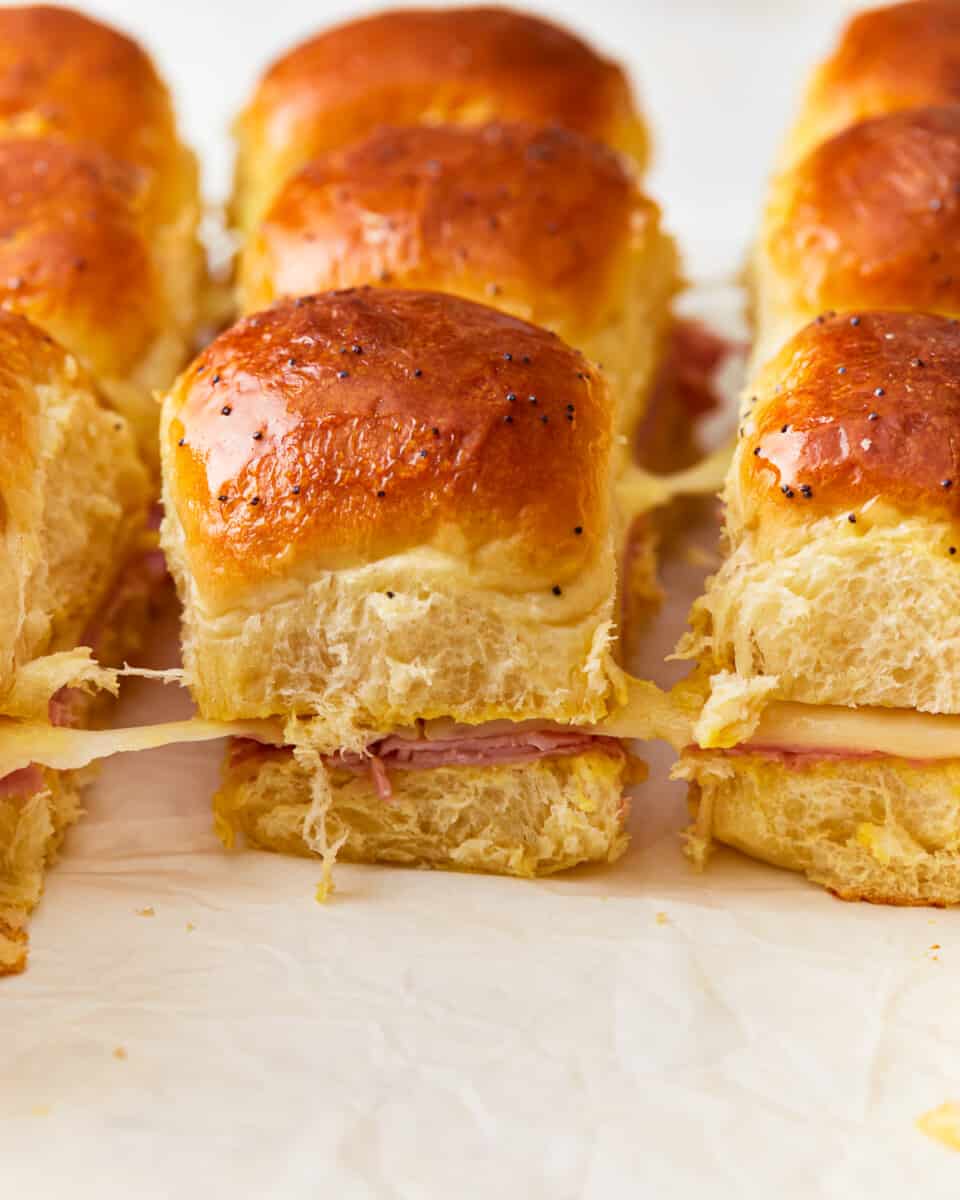 What's in this Ham and Cheese Sliders recipe?
You only need 6 ingredients to make the most delicious, sweet and savory, ham and Swiss cheese sliders in the oven!
Hawaiian Rolls: These little sweetbread rolls are the star of the show. You can buy a pack of 12 at the store, or try making your own with this homemade Hawaiian rolls recipe for these ham sliders.
Ham: The easiest option is to pick up some deli ham at the store, since this will already be cooked and thinly-sliced. Any flavor variety will work. I recommend a honey ham or something a little sweet. You can also use any leftover ham you might have.
Cheese: I recommend using Swiss cheese for this recipe, however you could use a different type of cheese if you prefer.
Dijon Mustard and Honey: I like making my own honey dijon for this ham sliders recipe because it allows me to get the perfect level of sweetness.
Poppyseed Dressing: Buy a bottle from the store or make your own. You can skip the dressing if you or anyone else doesn't like it.
Pro Tip: If you have any pick eaters to feed, you can skip the honey mustard and dressing completely, or leave it off a couple of the sliders just for them.
Hawaiian Roll Ham Slider Ideas
These hot ham and cheese sliders are so simple to make, and it's easy to add different ingredients to change up the flavor. Here are some ideas!
Hawaiian: Add grilled pineapple slices, and a delicious marinade made with ginger, soy sauce, and brown sugar instead of the honey Dijon.
Italian: Use provolone or mozzarella instead of swiss (or in addition to), and use Italian dressing instead of poppy seed.
Meat Lovers: Layer up the meats and add slices of turkey, bacon, pepperoni, salami, or another favorite.
Spicy: Use pepper jack cheese and add sliced jalapenos, or another pepper.
Veggie: Add in some veggies, like bell peppers, zucchini, pickled beets, or sun-dried tomatoes.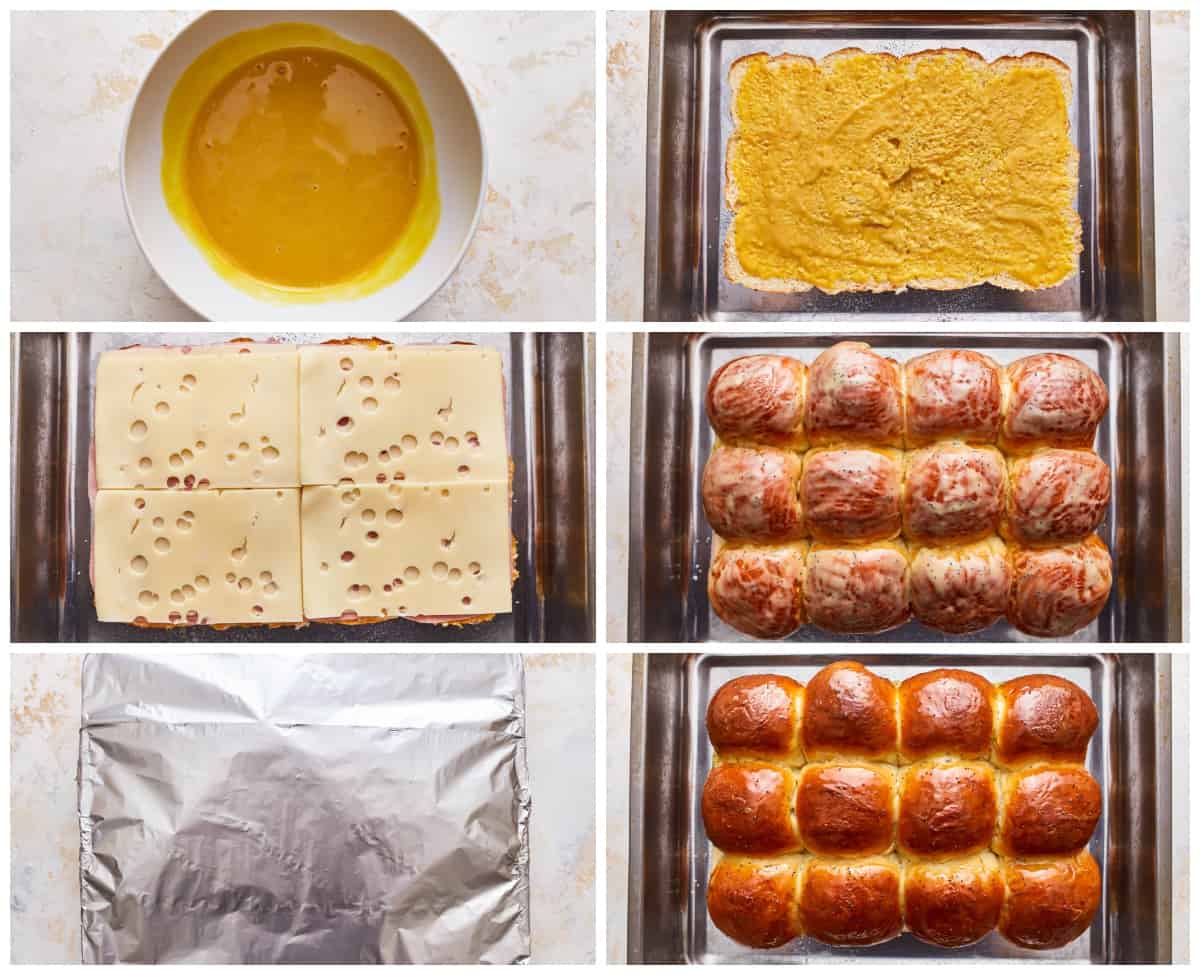 Can I make ham and cheese sliders ahead of time?
To prep them ahead of time, assemble the sliders, place them in a baking dish, cover with plastic wrap/foil, and refrigerate. Then just brush with dressing and bake when you're ready to serve.
Should I serve these hot or cold?
These Hawaiian roll ham sliders are made to serve hot, but they taste great cold too. So if you're storing leftovers in the fridge, they're easy to grab for a quick lunch or snack.
How long do you bake ham and swiss sliders?
Bake these for about 15-18 minutes in the oven. The ham should be pre-cooked, so you just need to bake long enough to warm everything through.
Can I make these sliders with turkey instead of ham?
Absolutely. It's an easy substitution! Just grab some deli turkey instead of ham, and you're good to go.
How can I keep ham sliders warm for a party?
After you've baked them, set the oven to about 175F. Then cover the sliders with foil and place them in the oven to keep them warm between servings. If you are making a few batches for a party, keep the extras in the oven until you need more.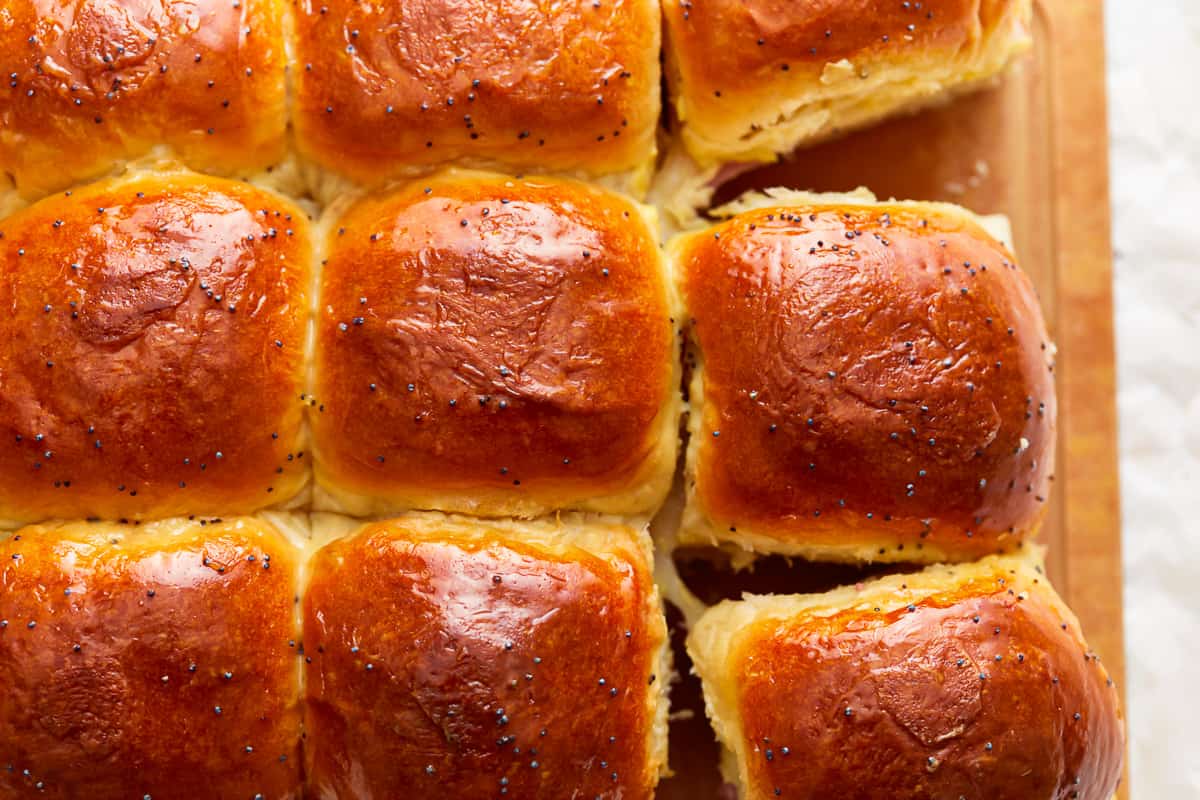 How to Store & Reheat Sliders on Hawaiian Rolls
Store leftover ham and cheese sliders in an airtight container, or wrapped tightly in aluminum foil. They will keep in the fridge 2-3 days.
To reheat, place them in the oven at 350F until warmed through. They also taste great cold!
How to Freeze
You can freeze Hawaiian roll sliders if desired. I recommend wrapping them with foil and then placing them in a freezer-safe bag. They'll keep up to 3 months. Let them thaw before reheating.
What to Serve with Ham and Swiss Sliders
Whether you're serving these ham and Swiss cheese sliders as an appetizer for a crowd, or for an easy lunch with the family, there are plenty of other dishes that go well with them.
Make your favorite fries on the side. Try these garlic Parmesan sweet potato fries or these crispy zucchini fries to add some veggies to the meal.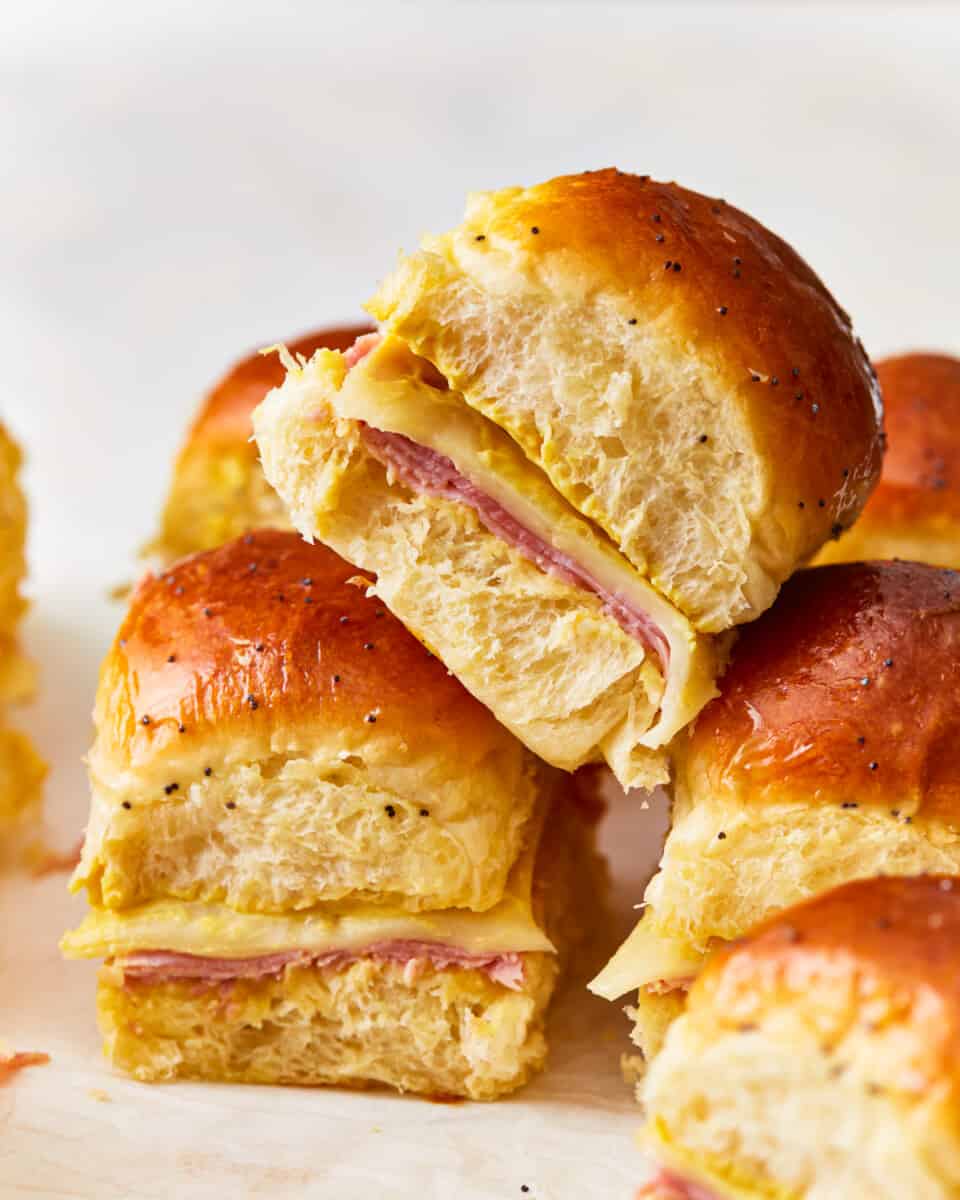 These baked ham sliders are a great food to bring to potlucks, and it's a kid-friendly dinner too!
More Easy Slider Recipes We Love