Learn how to make an easy and delicious appetizer with these tasty Hawaiian Ham and Cheese Sliders. They're simple to prepare and will leave everyone coming back for seconds.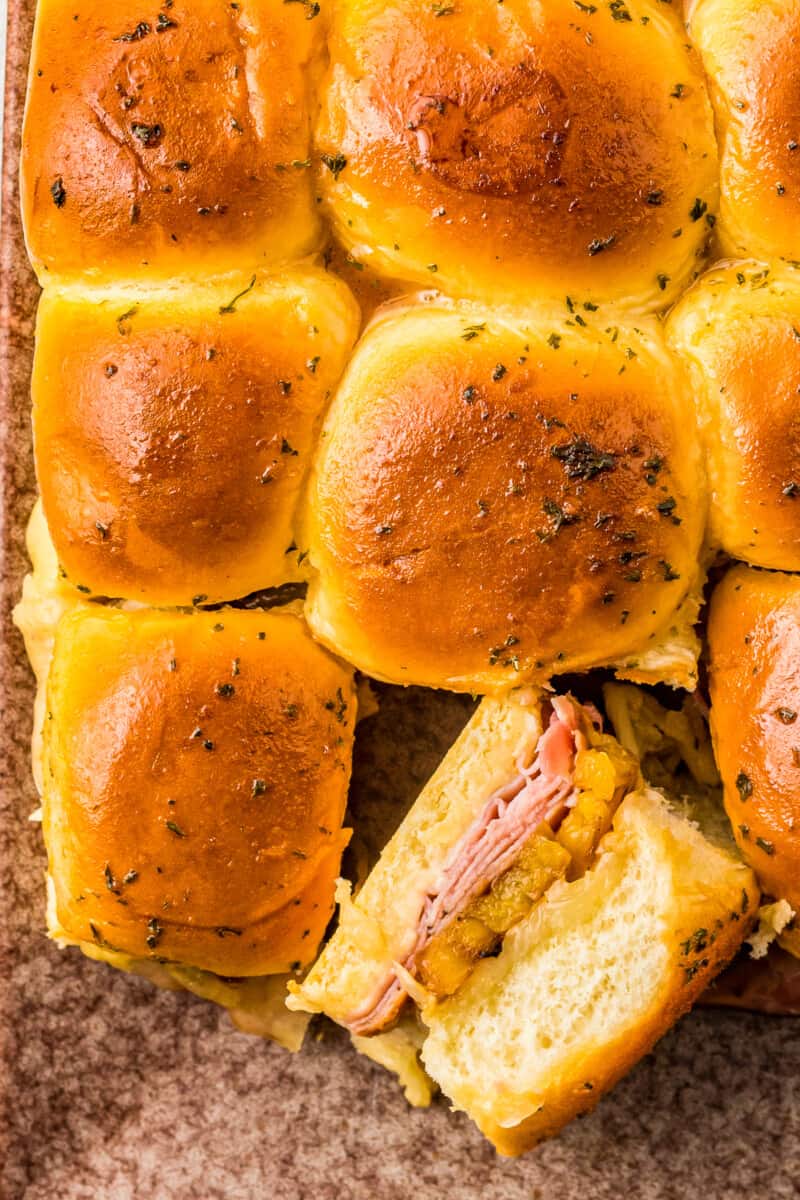 Hawaiian Roll Ham Sliders
When you're having people over your house and want to provide them with the perfect appetizer or snack, these Hawaiian Ham and Cheese Sliders are a must. Not only can you assemble them with ease, but you can also make sure to have more than enough of these sliders to go around. They're a kid-friendly, adult-approved appetizer that you need to try.
These sliders come together quick and are a great way to provide a quick meal or snack for family or friends. You use Hawaiian rolls and layer on the ingredients and then bake them to perfection.
Why You'll Love this Ham and Cheese Sliders Recipe:
LEVELED UP HAM AND CHEESE: These Hawaiian Ham and Cheese Sliders are so addicting. They take a traditional ham and cheese sandwich to the next level.
SIMPLE INGREDIENTS: You won't need tons of ingredients to put these sliders together for yourself and loved ones.
LEFTOVER FRIENDLY: You can easily use leftover ham from the holidays in place of the black forest ham in this recipe.
This recipe is such a simple one to follow. Even if you're not a big fan of cooking or baking, you can master this recipe in no time.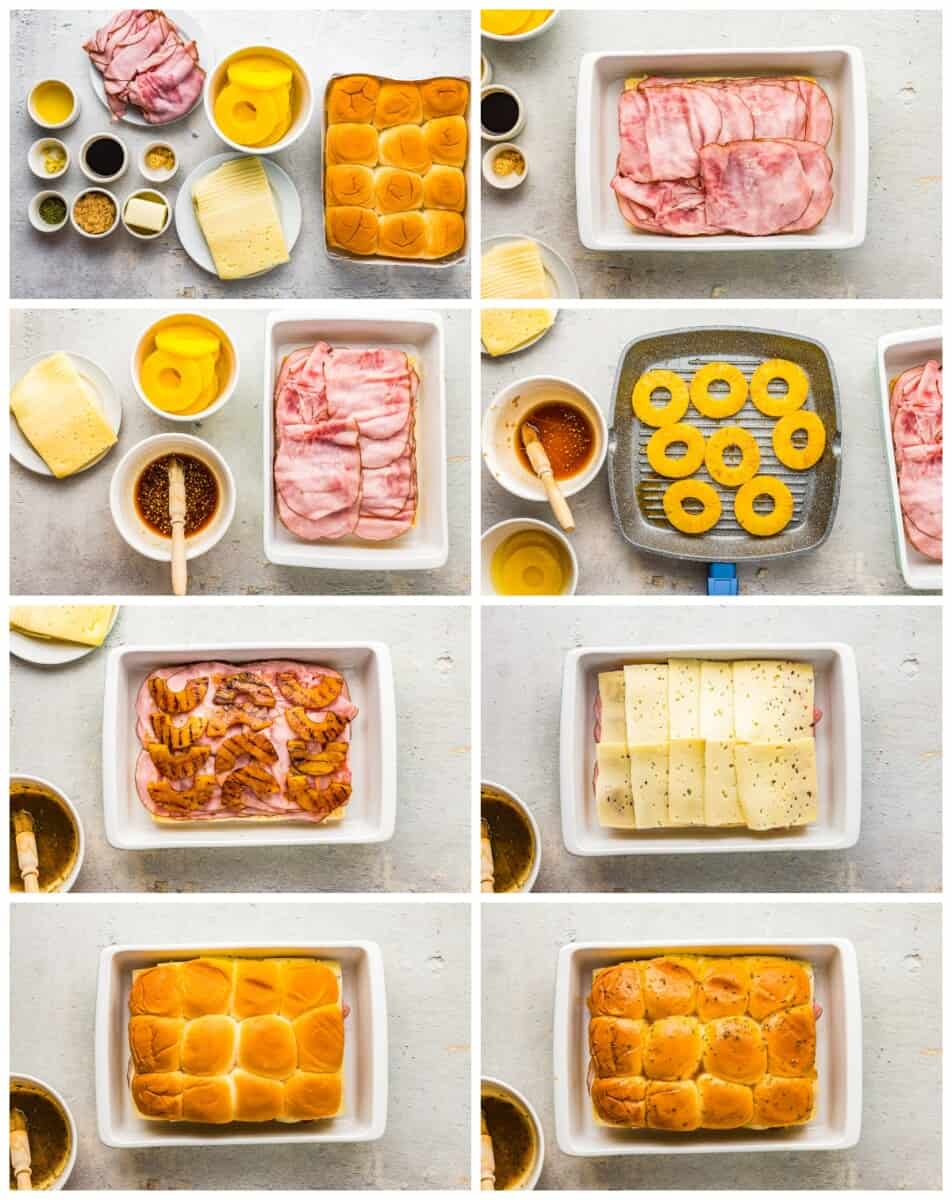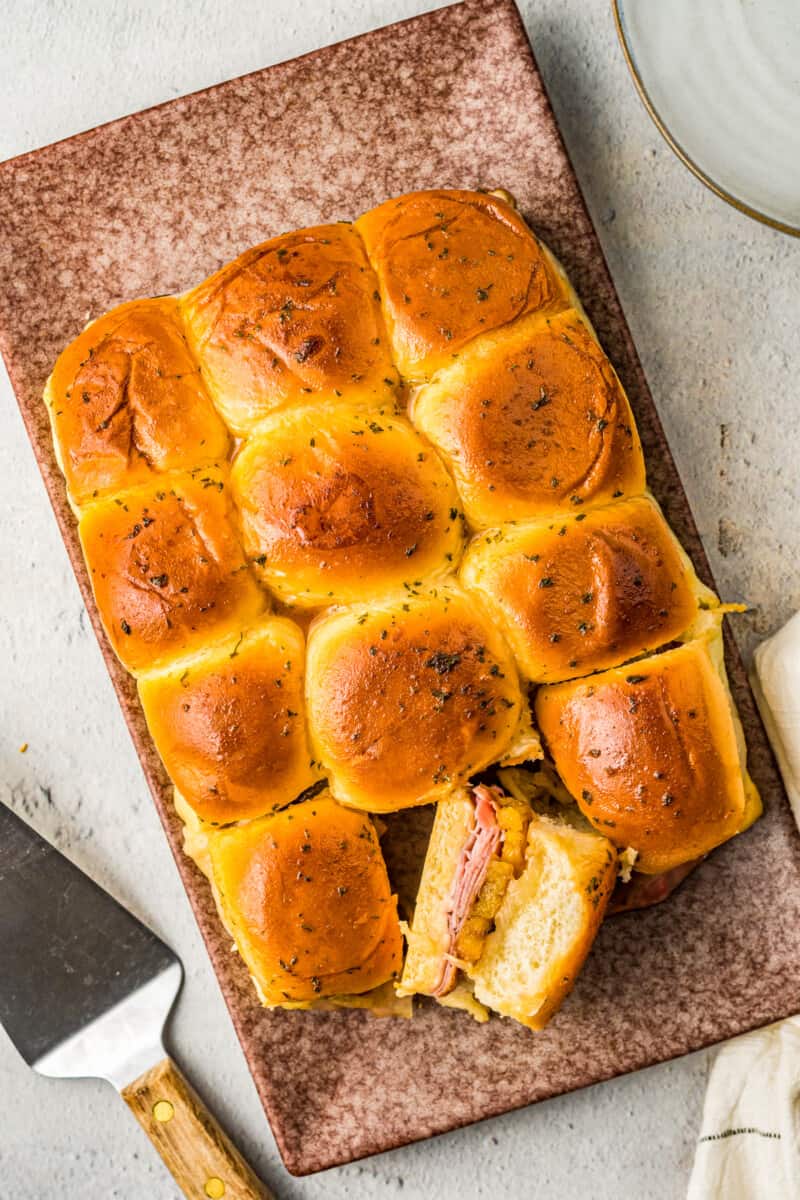 How to Make Hawaiian Ham and Cheese Sliders
You can jump to the recipe card for full ingredients & instructions!
Set your oven to 350 degrees and spray your 9×13 cooking pan with cooking spray.
Cut your Hawaiian rolls in half, placing the bottom section in the pan.
Set your ham on top of the rolls.
Prepare the marinade by combining brown sugar with soy sauce, ginger, pineapple juice, and garlic.
Brush the mixture on top of the pineapple slices and save the rest for the top of the buns.
Heat a grill pan and cook your pineapple slices, grilling them on each side for a minute.
Cut the pineapple slices in half, place them over the ham, and then add your cheese slices on top.
Put your buns on the pineapple, add melted butter and parsley to your marinade, and then brush it on top of the buns.
Tent your foil over your rolls, place in the oven, and bake for 15 to 20 minutes.
Hawaiian Sliders Ingredient Notes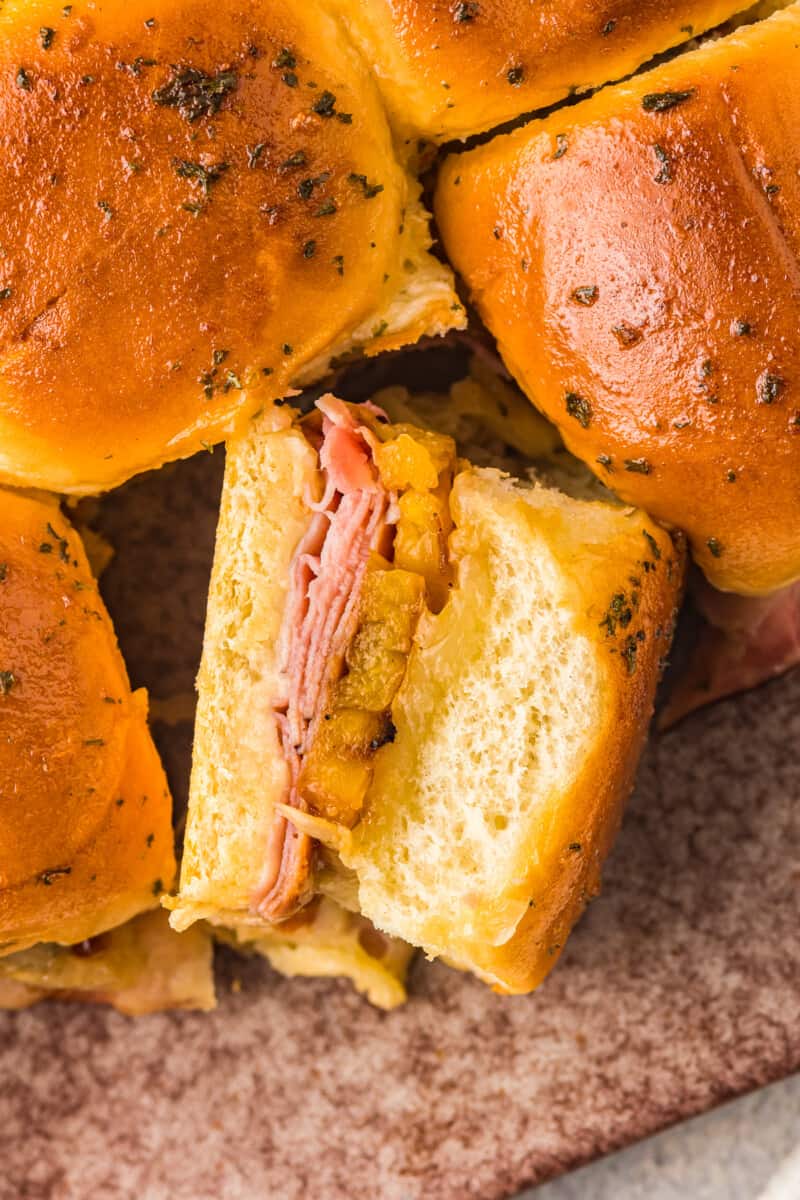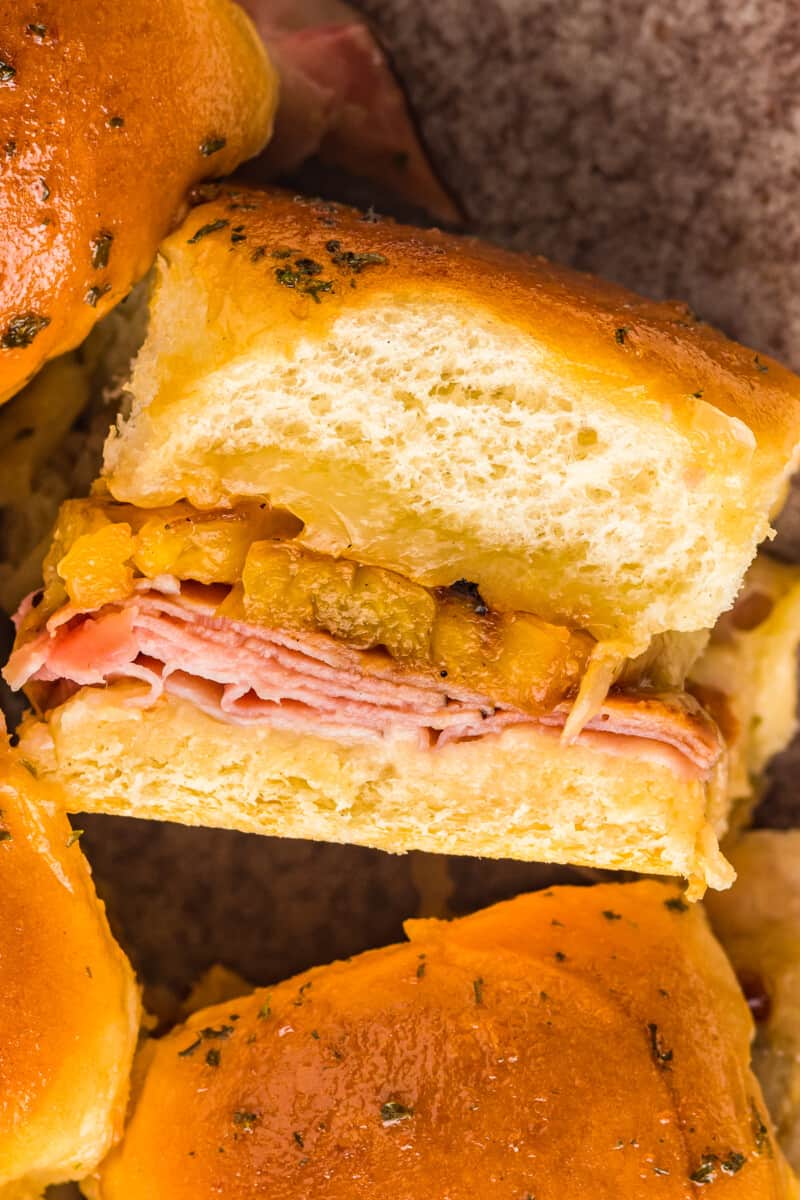 What rolls are best for Hawaiian sliders?
The best rolls to use for these slides are the King Hawaiian Rolls. My homemade Hawaiian Rolls are the best but store bought work as well. You can use any type of slider rolls that you prefer, but Kings has the best flavor and texture.
Can I make these sliders ahead of time?
You can make the sliders ahead of time, store in the fridge, and reheat when ready to eat. This is a great way to save time on busy days.
How are these sliders different than classic ham and cheese sliders?
Classic sliders don't consist of pineapple or the brown sugar marinade that you'll add to these sliders for a Hawaiian-themed taste.
Can I use leftover ham for these sliders?
Yes, you can. If you don't want to use lunch meat or deli ham, you can use any leftover ham that you have, slicing it into thin pieces before using it.
Serving Suggestions
These sham and cheese sliders make a great appetizer or main dish. Some sides you can serve along with these sliders are:
Hawaiian sliders are the perfect combination of savory and sweet. The marinade is the sweet portion of the sliders that make them irresistible.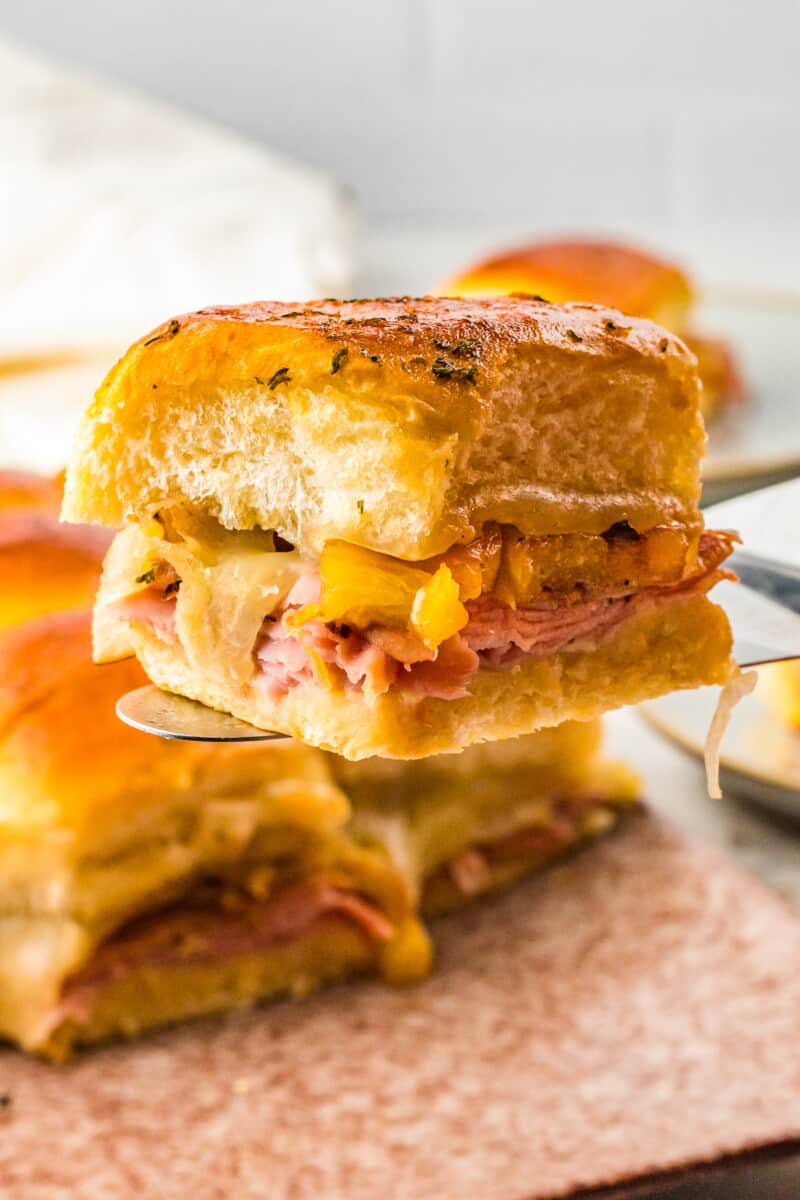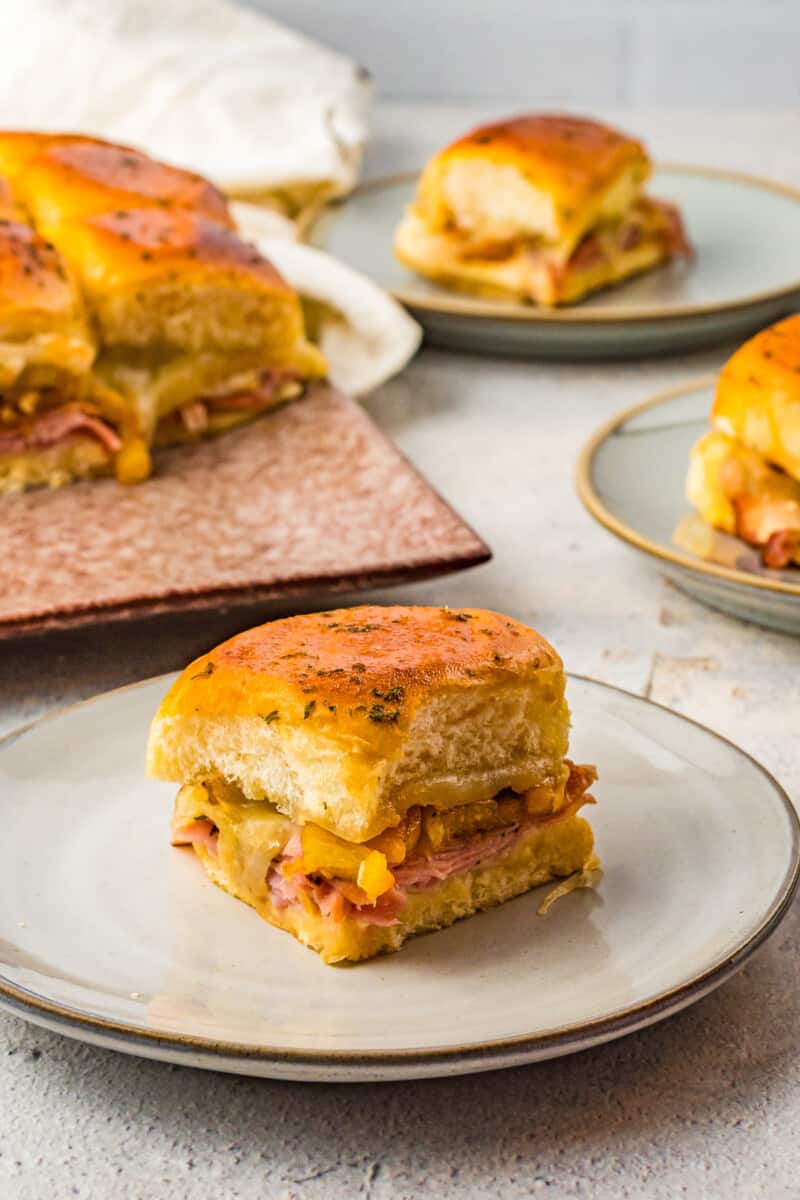 Tips!
After brushing the pineapple slices, save the remaining marinade. Mix it with the melted butter to brush over the tops of the rolls.
Reserve some of the marinade for dipping the finished rolls.
This recipe can easily be doubled or tripled for serving to larger crowds.
The marinade for these sliders is what makes them unique. It is Hawaiian inspired thanks to the pineapple, soy sauce and fresh ginger.
Can I make these sliders without ham?
You can make these sliders without the ham if you're not a fan of ham. They'll still taste great because of the cheese and pineapple.
What cheese is best for Hawaiian sliders?
Swiss cheese is an excellent option for the Hawaiian Ham and Cheese Sliders. However, if you don't like it, feel free to use American cheese, cheddar, or provolone cheese.
Can I use fresh pineapple slices?
You can use fresh pineapple slices or canned, whichever you prefer and have readily available.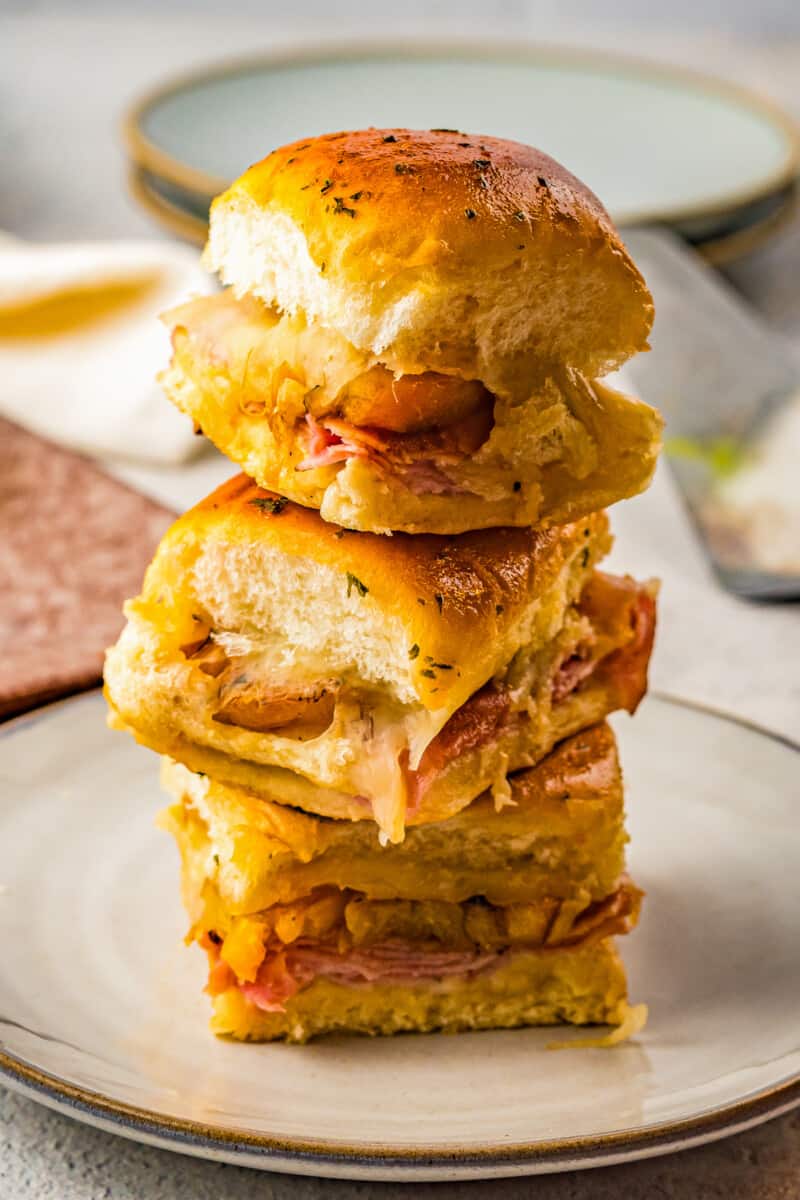 These sliders are perfect for game days, as a main dish or a quick snack! You can make them for your family or when you plan on having a bunch of people over. They are easy to make and full of sweet and savory goodness.
If you make this recipe be sure to upload a photo in the comment section below or leave a rating. Enjoy! You can also jump to recipe.