Croissant French Toast Casserole with Berries and Cream is our favorite easy brunch recipe fit for your closest friends and family. This indulgent breakfast French Toast Bake is made with layers of buttery croissants, sweetened cream cheese, and fresh berries. You can make it ahead or right before you're ready to eat. Baked French Toast Casserole with Strawberries and Blueberries is the ultimate way to wake up!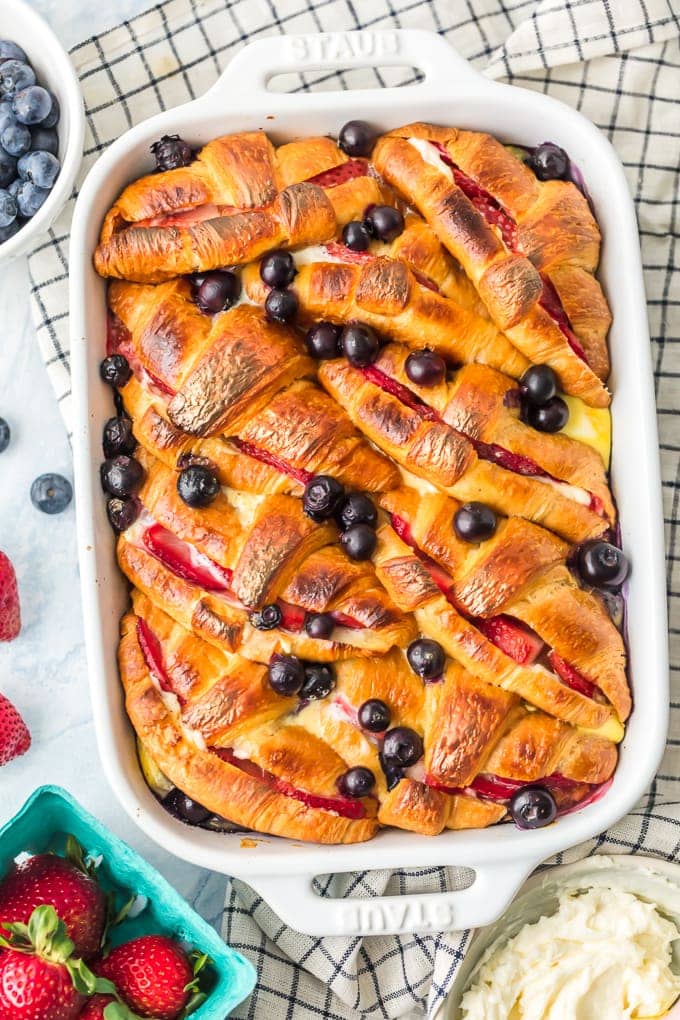 Croissant French Toast Casserole with Berries and Cream
This Croissant French Toast Casserole with Berries and Cream is the stuff breakfast dreams are made of. Layers of buttery croissants are complimented by fresh fruit and sweetened cream. This is our favorite easy breakfast recipe!
If you're on the hunt for the ultimate brunch recipe sure to please, you've come to the right place. This Berries and Cream French Toast Bake is super simple, completely fool proof, and loved by anyone and everyone. I simply cannot get enough of this make ahead brunch recipe that is perfect for a summer day, Easter Sunday Brunch, Mother's Day breakfast in bed, or even Christmas morning for your most honored guests.
We have tried a lot of simple breakfast casseroles around here, and this Croissant French Toast Casserole is hands down our favorite. So fresh and delicious!
Cooking breakfast for your loved ones has never been easier than with this Berries and Cream French Toast Casserole. I'm not a morning person, unless someone is serving this recipe!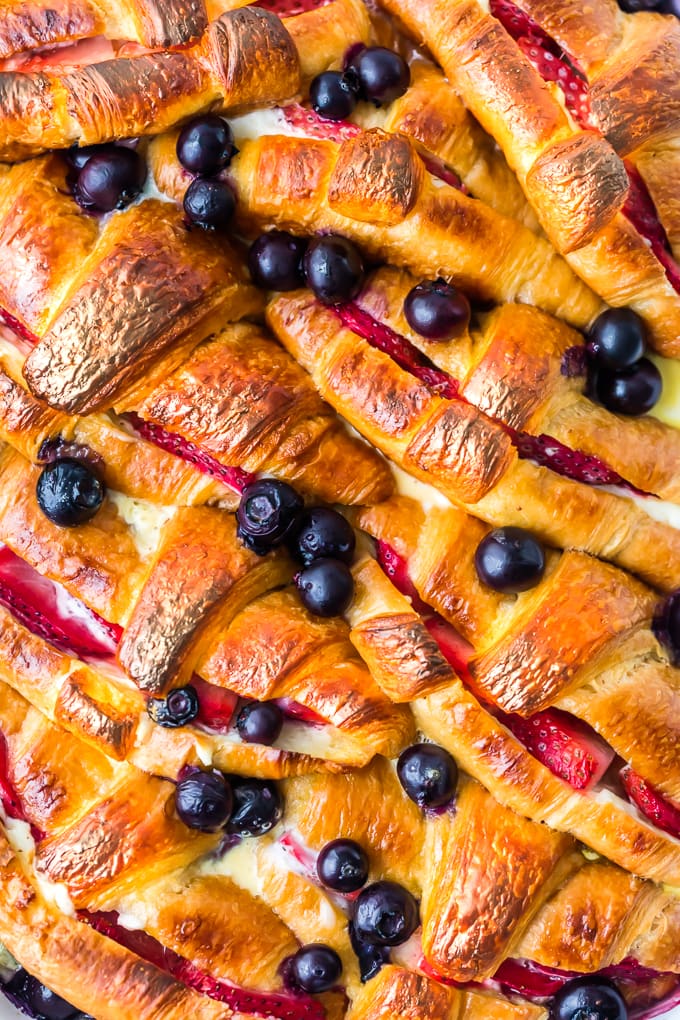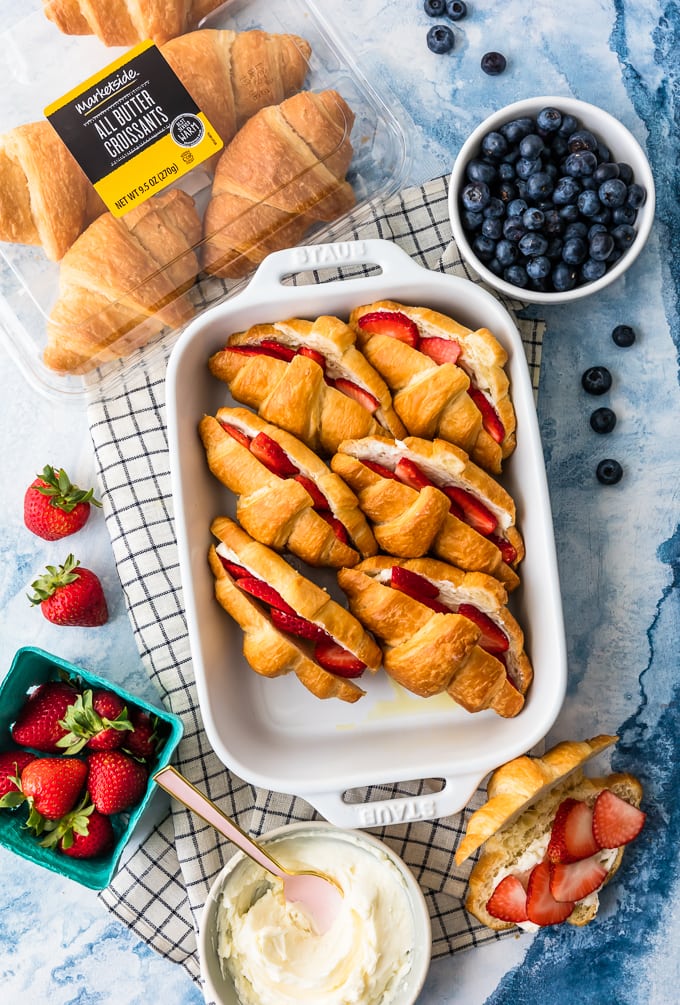 What are your favorite croissants to serve for breakfast
The key to an amazing Croissant French Toast Bake is…you guessed it…amazing croissants! I have recently fallen head over heels in LOVE with Marketside All Butter Croissants found at Walmart. I love that they're inspired by French baking, set at an affordable price point, available all over the country, and made with all butter. They're great paired with any meal (I personally love croissants as our rolls at every holiday meal), but especially tasty at breakfast.
When you pair a French Toast Casserole Recipe with these flakey and buttery croissants, it's a match made in heaven. All you have to do is head to your local Walmart to pick up a package (in the bakery section). Is your mouth watering yet? While you're there pick up these other key ingredients for making this Berries and Cream French Toast Bake:
Strawberries
Blueberries
Cream Cheese
Sugar
Eggs
Vanilla
Cream
Cinnamon
Vanilla
Maple Syrup
Im willing to bet you have a lot of those ingredients in your fridge and pantry already. You're so close to tasting the BEST breakfast recipe ever…can you taste it?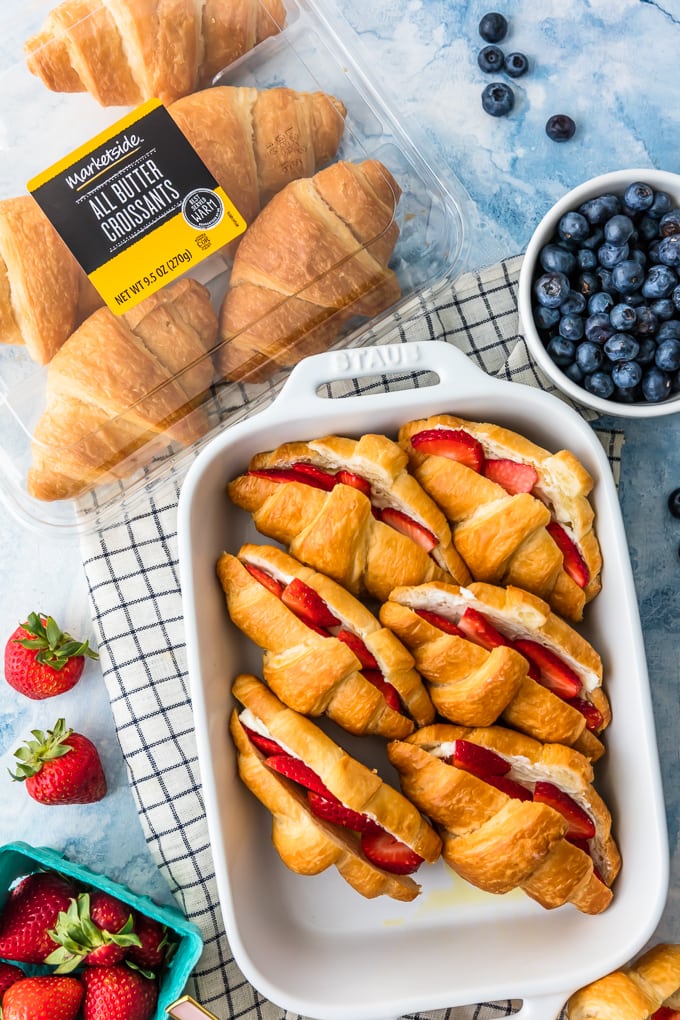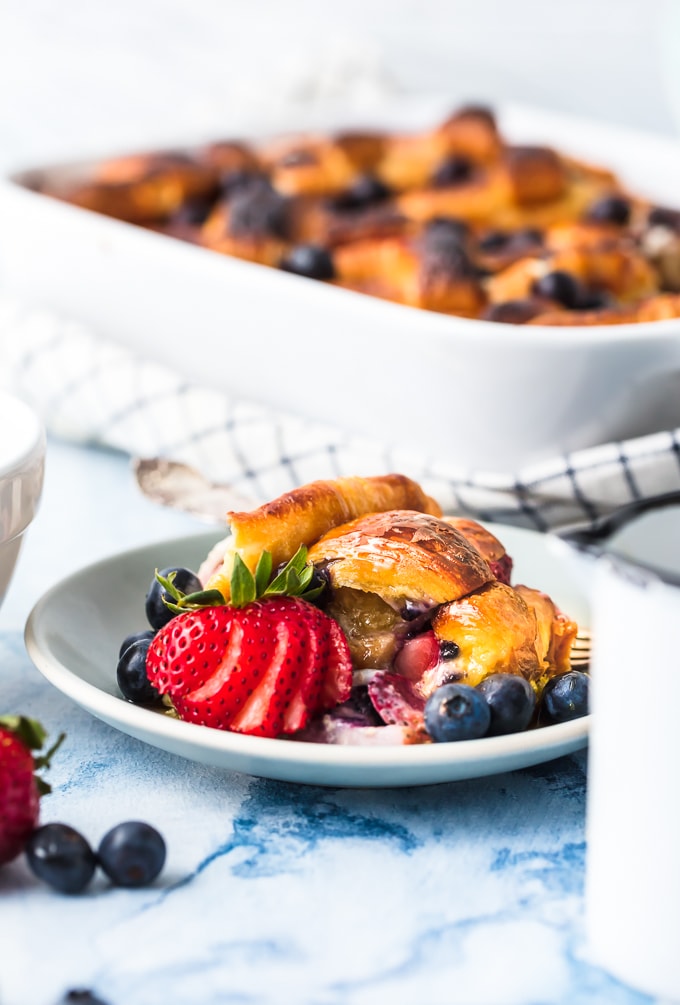 Can this Croissant French Toast Casserole be made in advance?
Yes! It can be prepared the night before and then baked in the morning. You can also make it right before baking if that's easier for you. Letting it sit overnight will result in a softer texture once baked, but it's all what you prefer. Totally up to you!
Can French Toast Casserole be frozen?
Yes! I love that this easy Berries and Cream French Toast Bake can be made ahead, frozen, and then thawed and served when you're ready. Talk about convenient! Here are our tips if you'd like to freeze this recipe:
To freeze:
Bake according to the recipe
Allow to cool completely
Once cooled, wrap fully (in dish) in two layers of plastic wrap and then one layer of foil.
Freeze up to three months
To reheat:
Allow to thaw overnight in the fridge
Remove plastic wrap and cover once more in foil
Heat in the oven for approximately 20 minutes (covered) at 350F or until heated through to your liking
To cook from frozen, remove plastic wrap and cover with foil, and then bake at 350F for one hour
NOTE: Of the two options, I prefer it reheated AFTER thawing best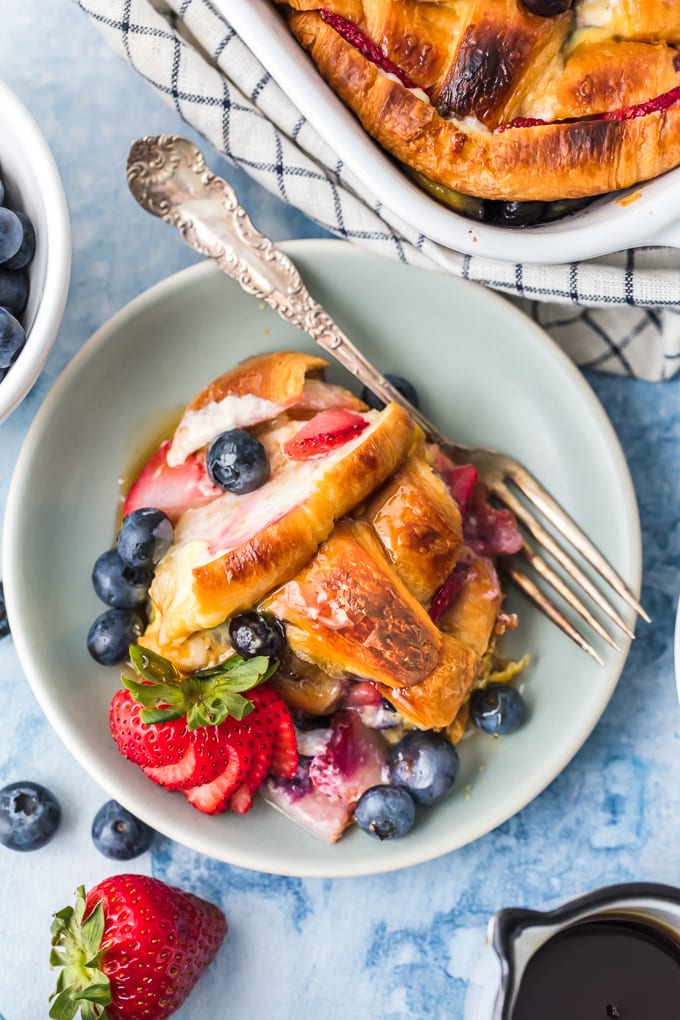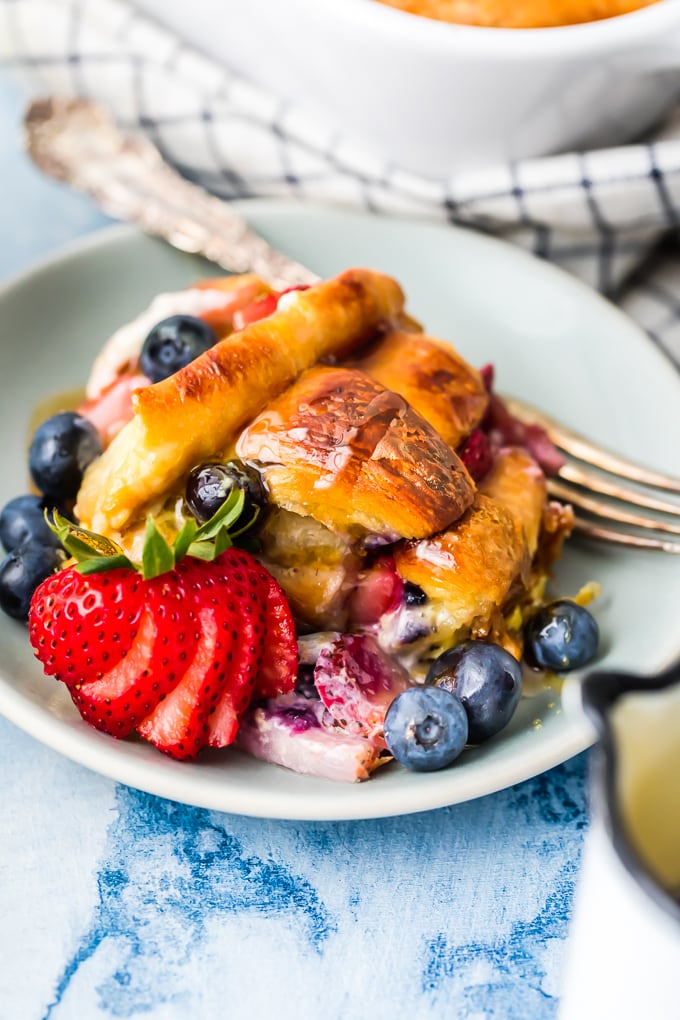 What are some good pairings for this Berry French Toast Bake?
We have so many ideas of what to serve with this Croissant French Toast. If you're looking to create the ultimate breakfast or brunch spread, here are some favorites:
Can I make this Croissant French Toast Bake in other flavors?
You can! You can make this Croissant French Toast with virtually any fruit you'd like! You really can't go wrong by picking any fruit that is in season. We love it with raspberries, peaches, apples, and more! Get creative and let me know what you try.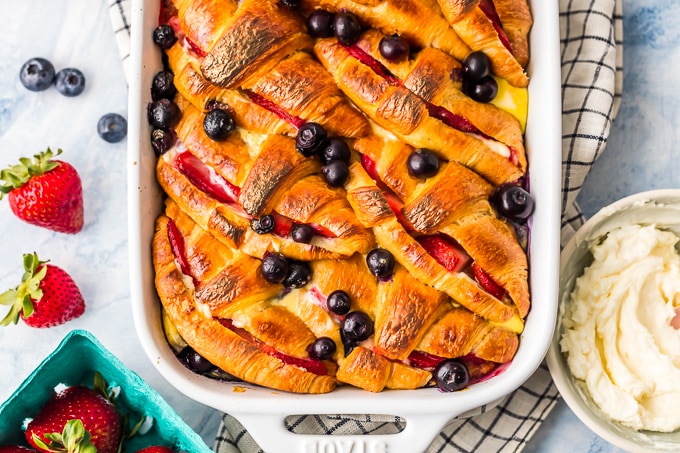 I hope this Berries and Cream Croissant French Toast Casserole brightens your morning and brings your family together around the table. It's favorite of ours, even Henry's! Be sure to let me know if you try it, and rate the recipe below in the recipe card. I'm so glad you stopped by.
See the recipe card below for full details on how to make Croissant French Toast Casserole with Berries and Cream.
Want to pair this French Toast Bake with some fun brunch cocktails and mocktails? Here are a couple we recommend. Cheers!