Chicken Enchilada Pasta Salad is bursting with flavor, super easy, and sure to please! Make it as indulgent or healthy as you'd like, you can't go wrong!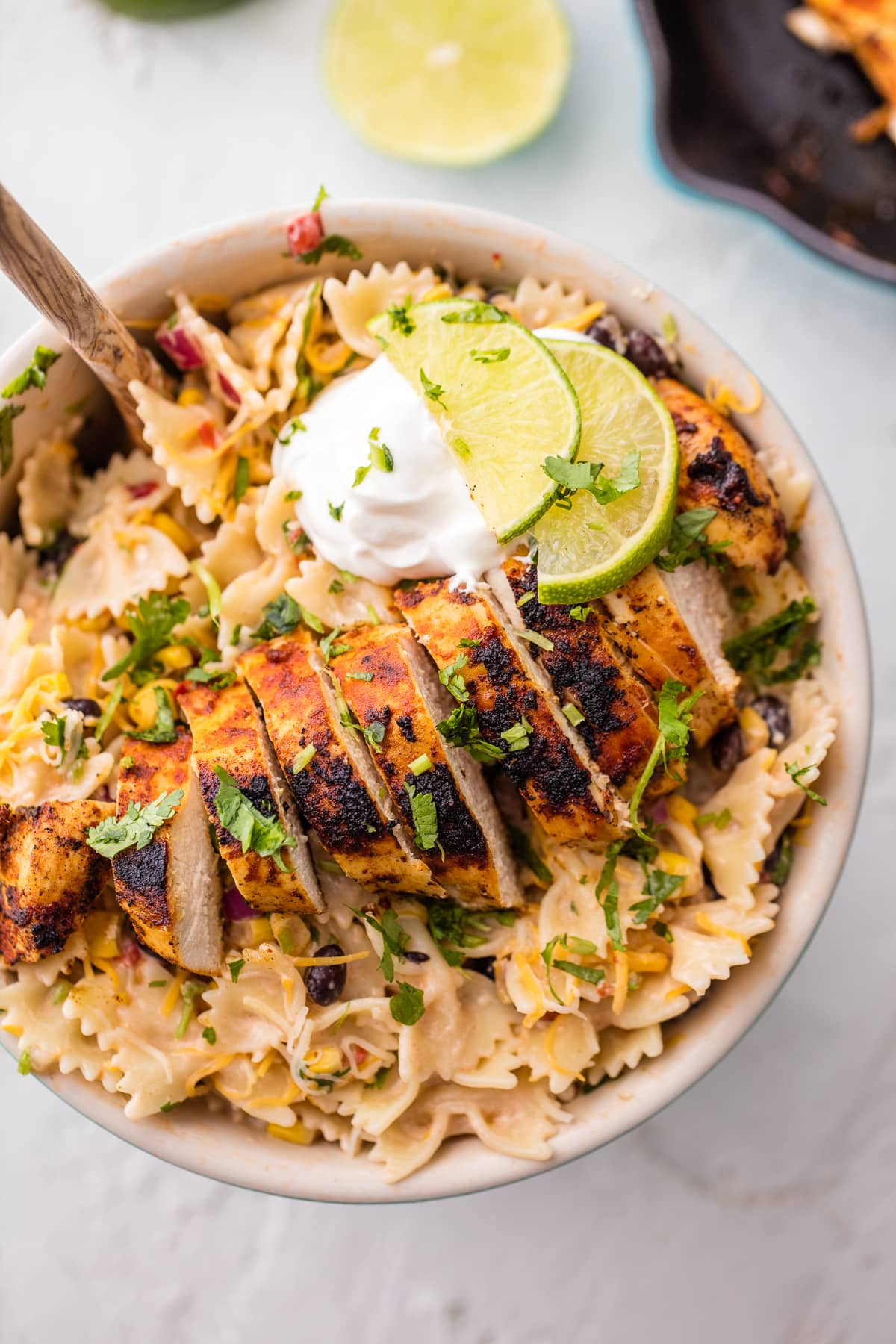 I feel strongly that every person should have one killer pasta salad recipe in their repertoire. One they can bring to every bbq and be KNOWN FOR! My friend Allyson has one that I've tried to get the recipe out of her for years…and she just won't budge. I don't blame her, it's that good! So since I'm fending for myself and trying to make a name for myself in the BBQ side dish world, this Chicken Enchilada Pasta Salad is just the thing. Quick and easy to throw together, just BURSTING with flavor, and sure to please. You will be the king or queen of any party with this awesome pasta salad, trust me!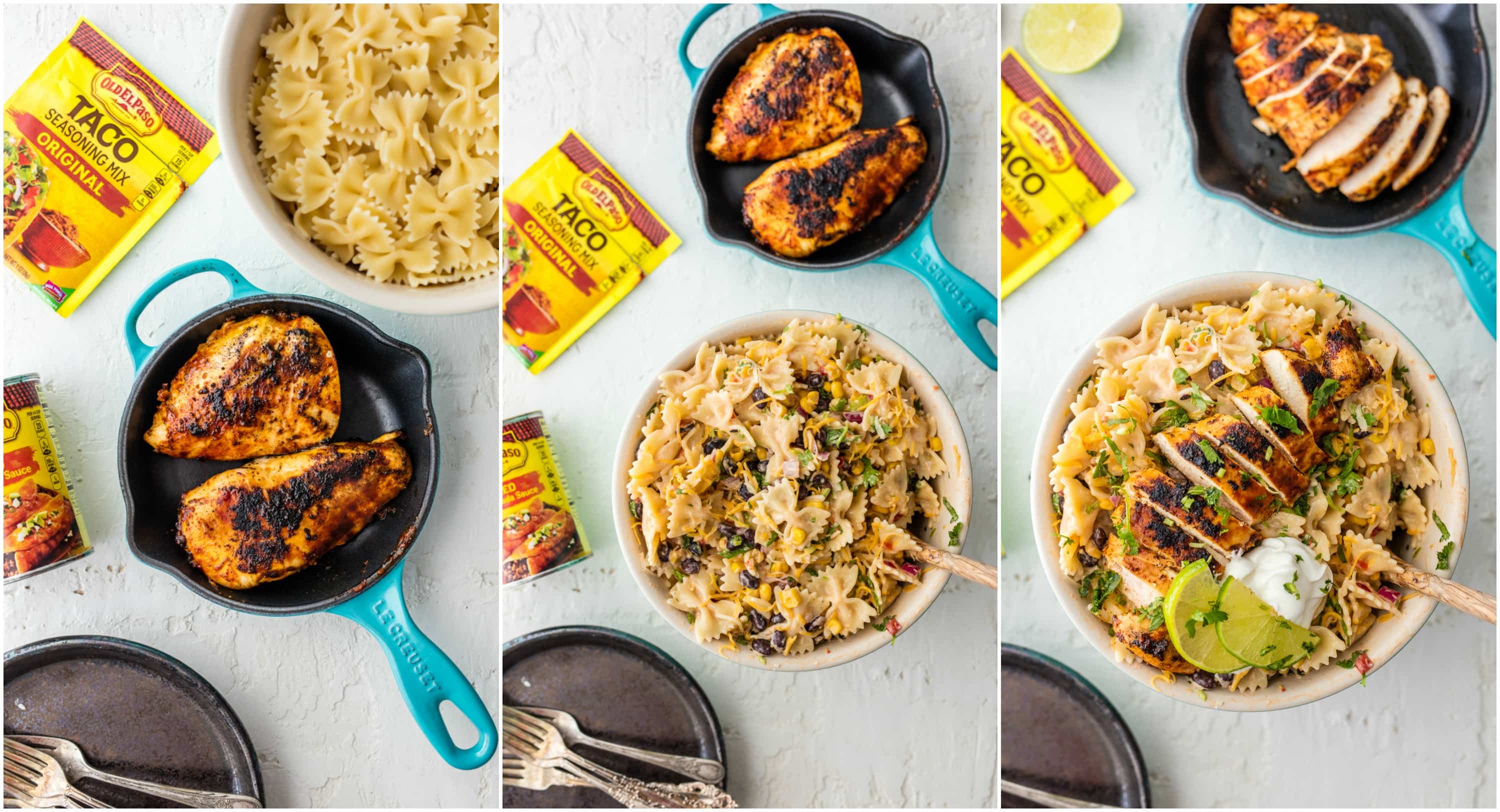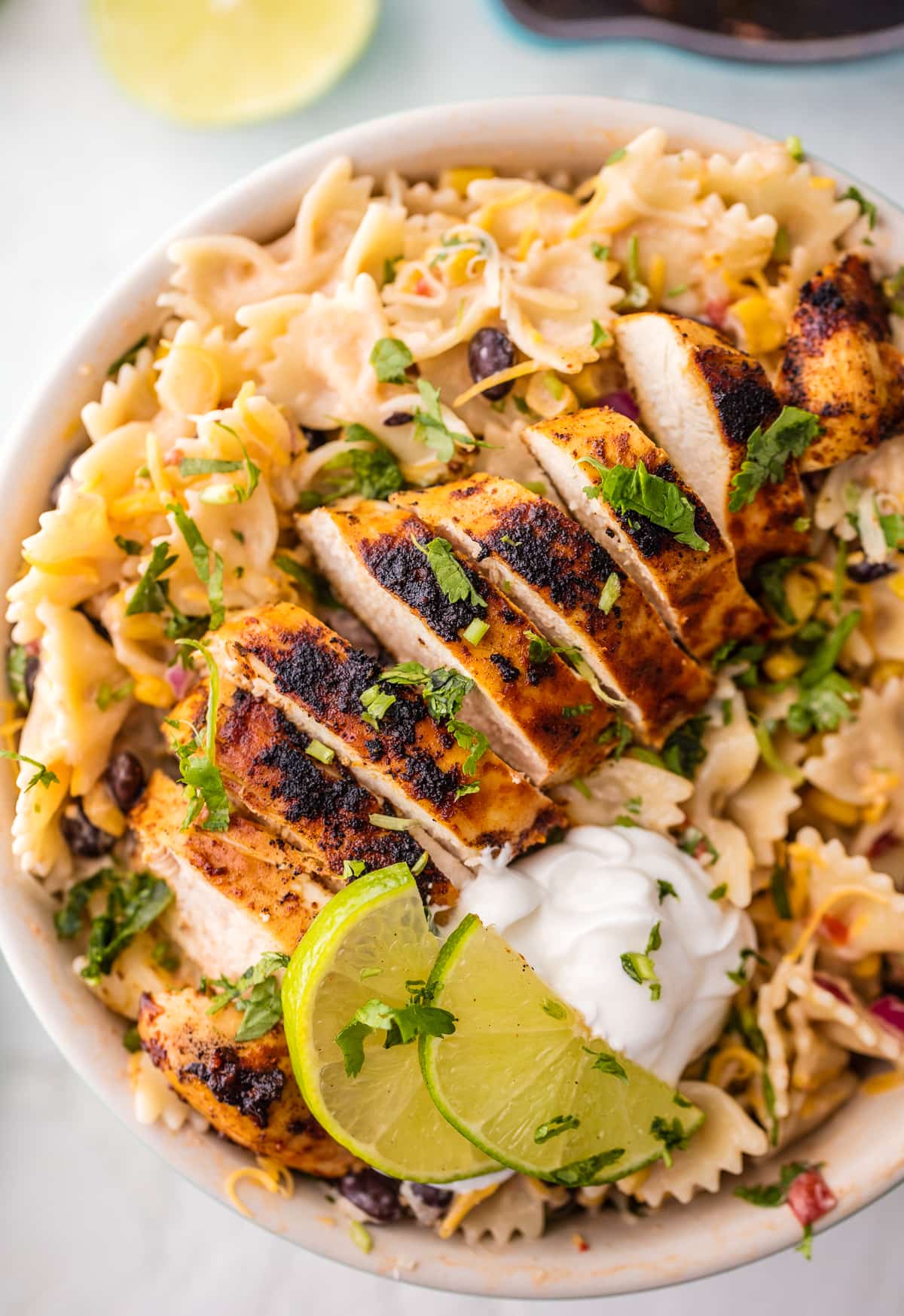 This Chicken Enchilada Pasta Salad wouldn't be complete without my fave ingredients from Old El Paso. OF COURSE! Their Taco Seasoning is my jam in so many recipes, and their Red Enchilada Sauce is my favorite way to add some subtle and creamy spice to any recipe. Not too spicy, but a little flavor goes a long way. Perfection. Tex Mex at its finest! (And easiest)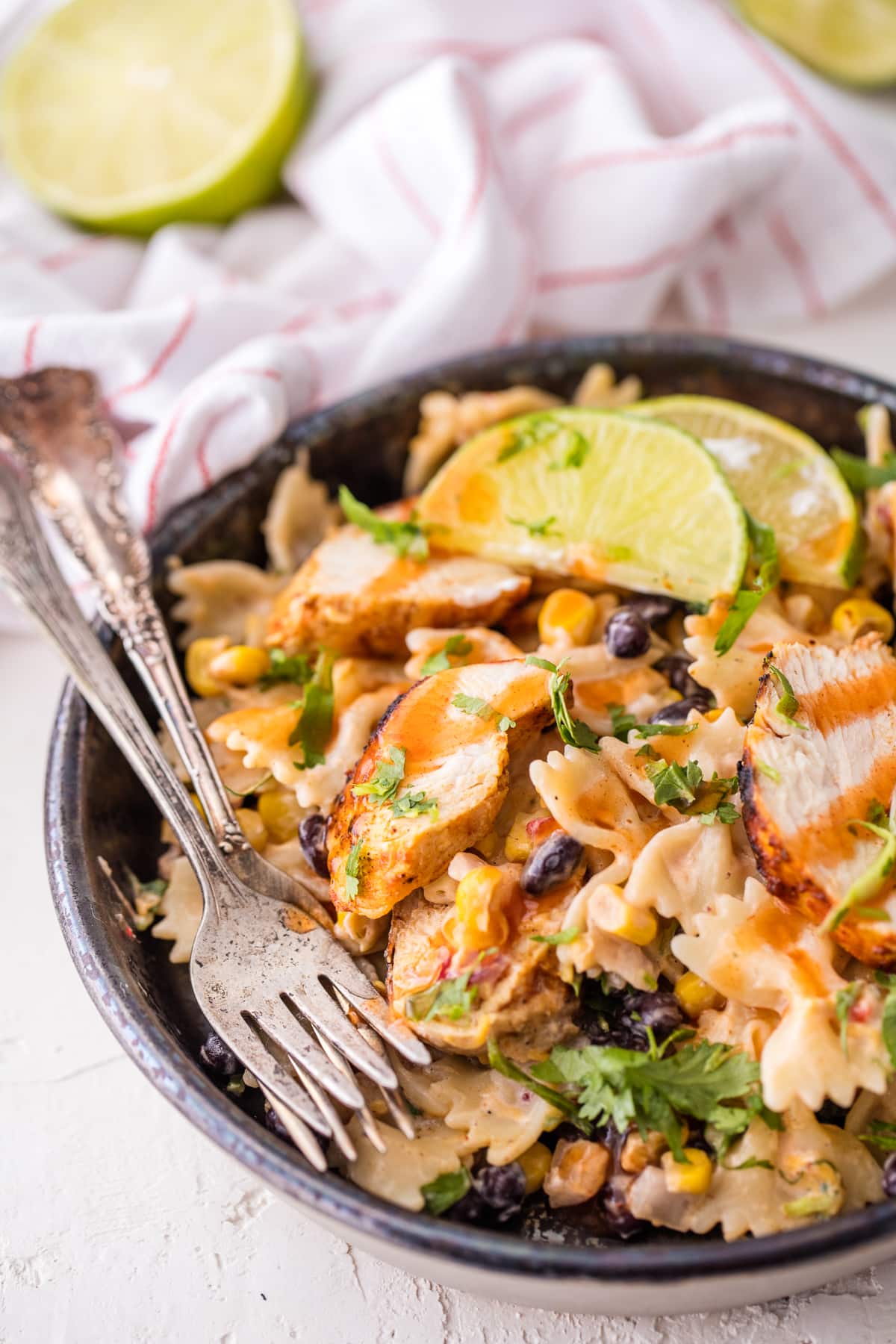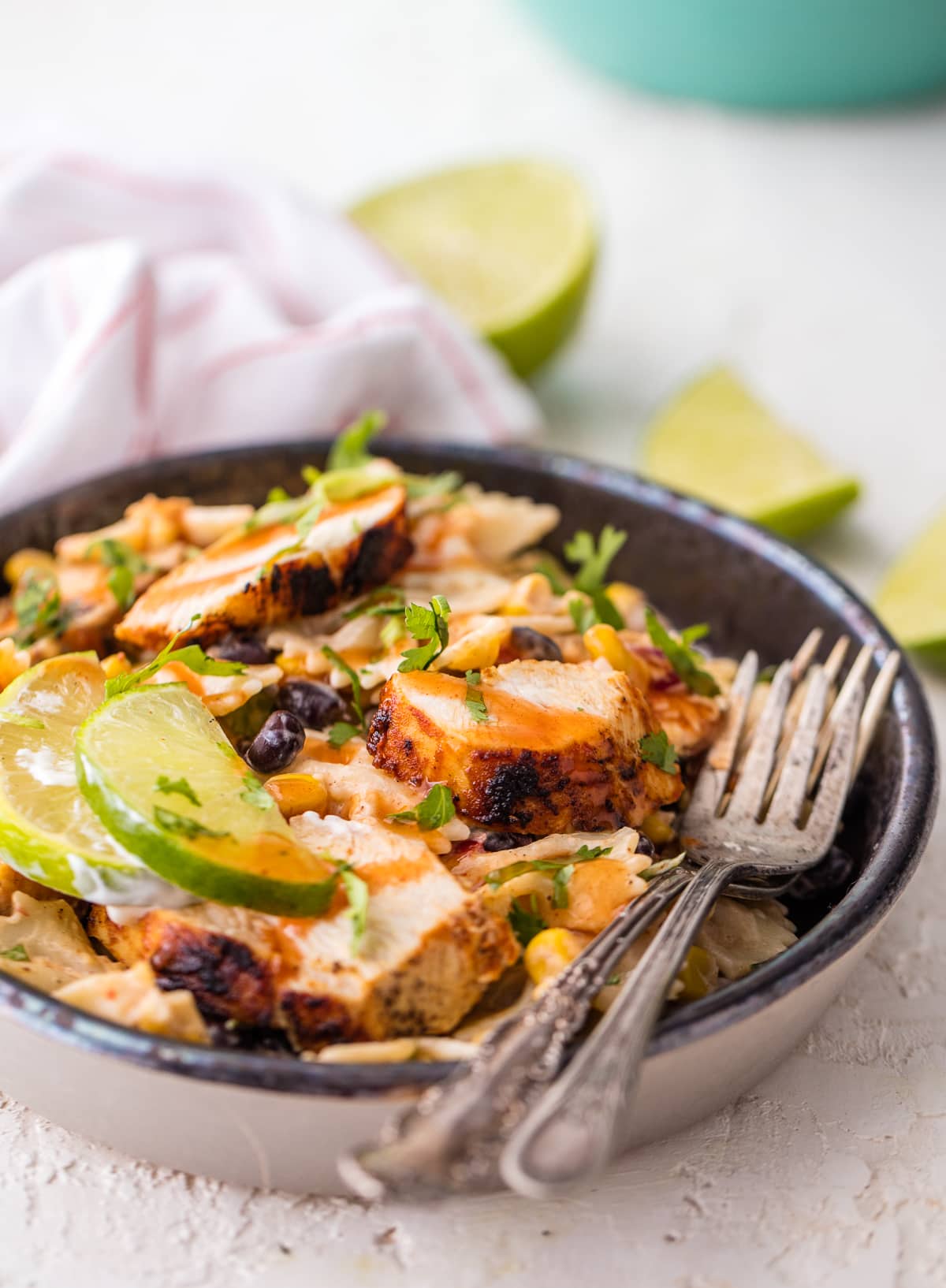 This Chicken Enchilada Pasta Salad is loaded with everything that makes enchiladas a favorite; chicken, corn, beans, cilantro, CHEESE, sour cream, and just the right amount of spice. You can make it healthier by subbing Greek Yogurt for the sour cream and either using less cheese or omitting it completely. You can make it spicier (YES PLEASE!) by adding chopped jalapeños and just a dash of hot sauce. Fun! Make it how you like it, make it your own! You're going to be remembered for this pasta salad after all!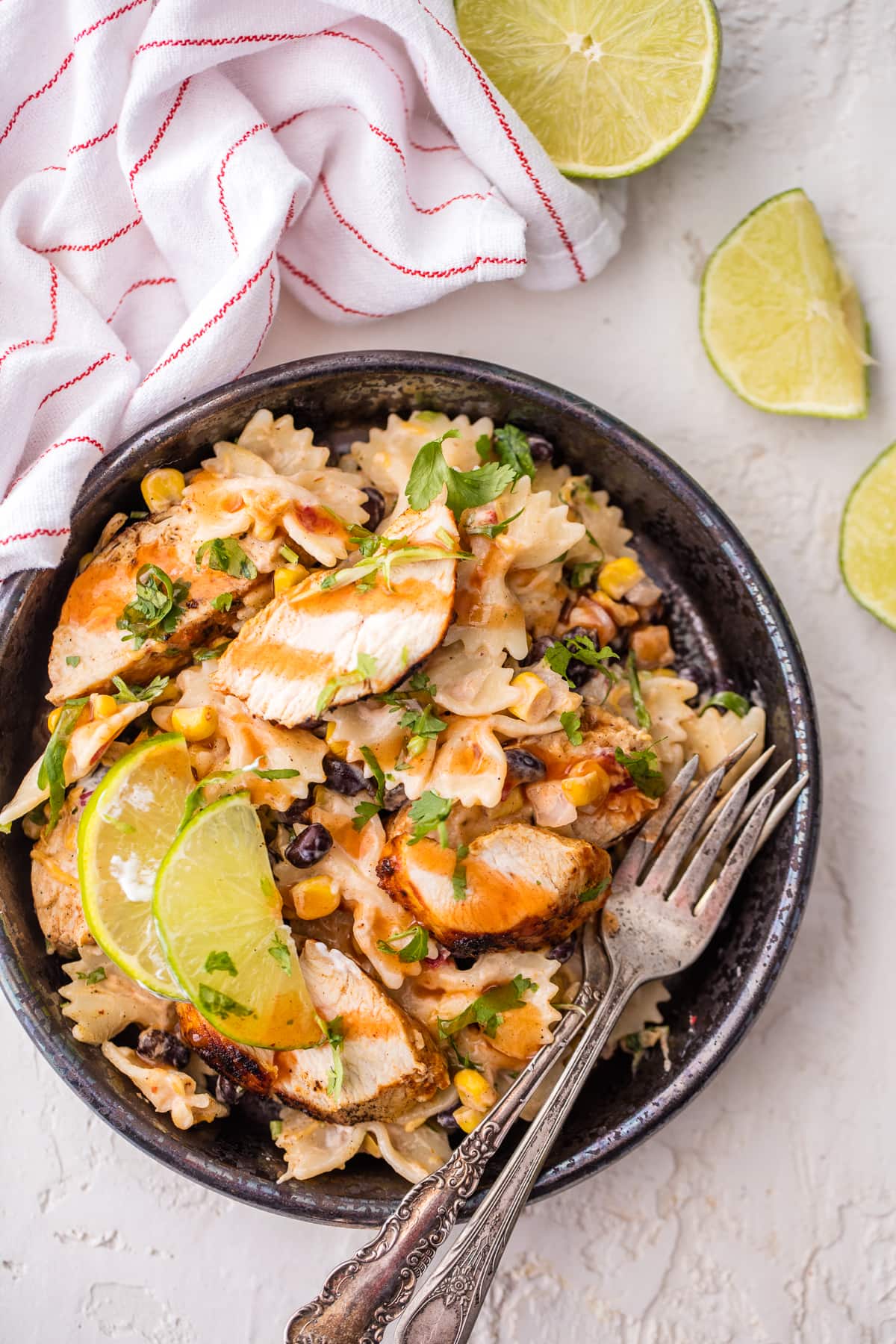 Enjoy!!!
Chicken Enchilada Pasta Salad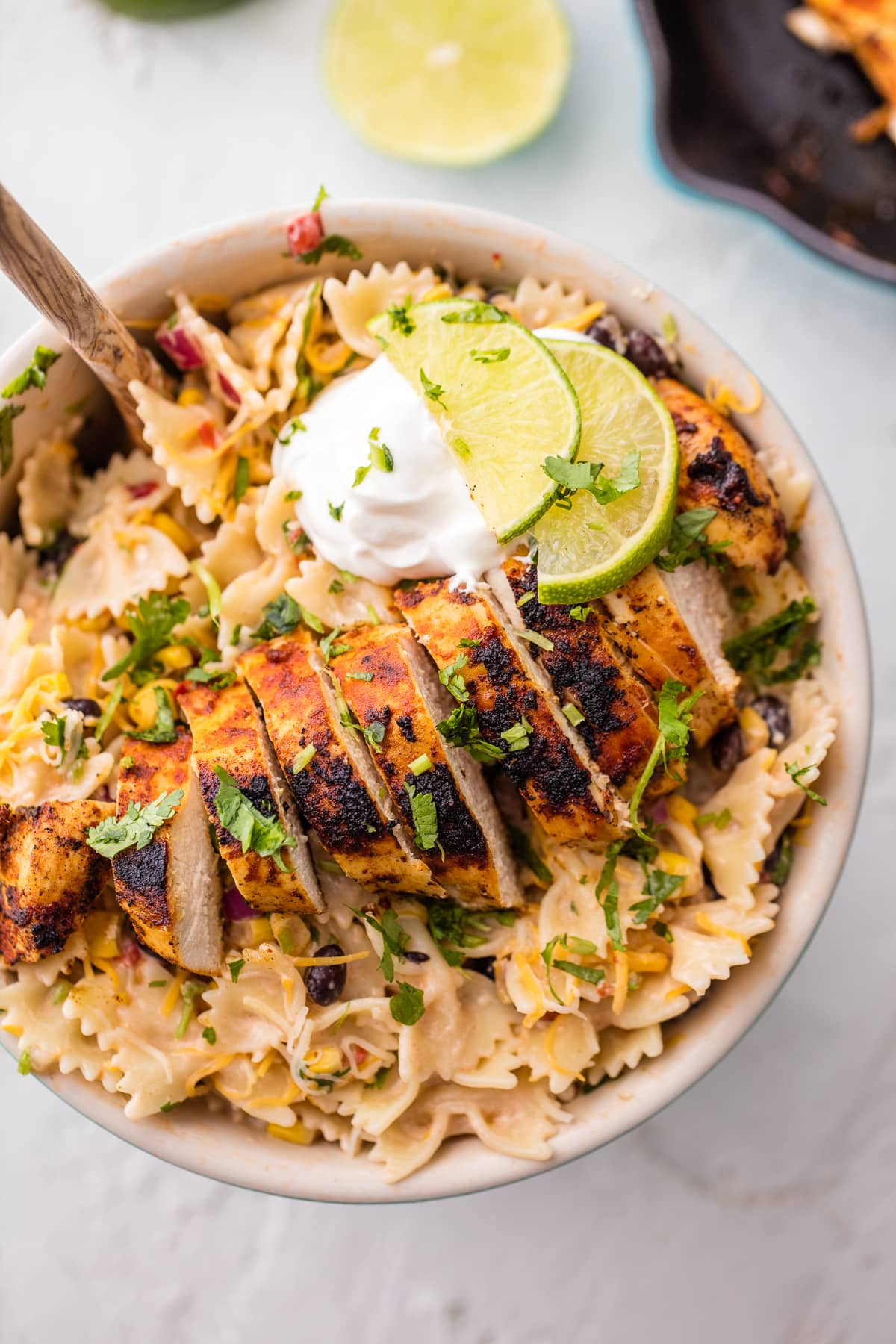 Ingredients
16 ounces bowtie pasta
1 tablespoon olive oil
2 boneless skinless chicken breasts
½ ounce Old El Paso Taco Seasoning
¾ cup Old El Paso Red Enchilada Sauce
½ cup sour cream***
1 tablespoon freshly squeezed lime juice
1 (11 ounce) can Mexican Corn, fully drained and rinsed
1 (15 ounce) can black beans, fully drained and rinsed
¼ cup freshly chopped cilantro
½ cup chopped red onion
1 cup Mexican blend cheese
salt and pepper to taste
optional add-ins: 1/4 cup chopped jalapeños, 1 tablespoon hot sauce
More sour cream and cilantro for garnish
***to make this healthier, sub Greek yogurt for the sour cream and leave out the cheese!
Instructions
Bring a pot of 5-6 quarts salted water to a boil.
Add in the pasta and cook for 15 minutes, or until pasta is al dente.
Meanwhile, coat each chicken breast with the taco seasoning, liberally on each side.
Add the olive oil to a nonstick skillet and heat over medium/high heat. Add in the chicken and cook for 7-10 minutes on each side, depending on thickness, until chicken is cooked through. Cut with a knife to make sure the chicken is fully cooked. When cooked, cut into strips and set aside.
When pasta is cooked, drain in a colander and place in a large bowl.
Mix in the remaining ingredients: enchilada sauce, sour cream, lime juice, corns, bean, cilantro, onion, cheese, and salt and pepper to taste. Lastly stir in the chicken.
Top with more sour cream and cilantro.
Serve cold or hot, enjoy!
***to make spicier, add in the optional jalapeños and hot sauce. To make it healthier, sub Greek yogurt for the sour cream and leave out the cheese!
7.6.7
2296
https://www.thecookierookie.com/chicken-enchilada-pasta-salad/
This post has been sponsored by Old El Paso. All opinions are 100% mine. Thank you SO much for supporting the brands that help support The Cookie Rookie!