Mexican Pasta Salad is filled with all the best Tex-Mex flavors. This Chicken Enchilada Pasta Salad is made with chicken, black beans, corn, cilantro, cheese, enchilada sauce, and so much more! It's such an easy chicken pasta salad recipe, and it's sure to please. Make it as indulgent or healthy as you'd like, you can't go wrong!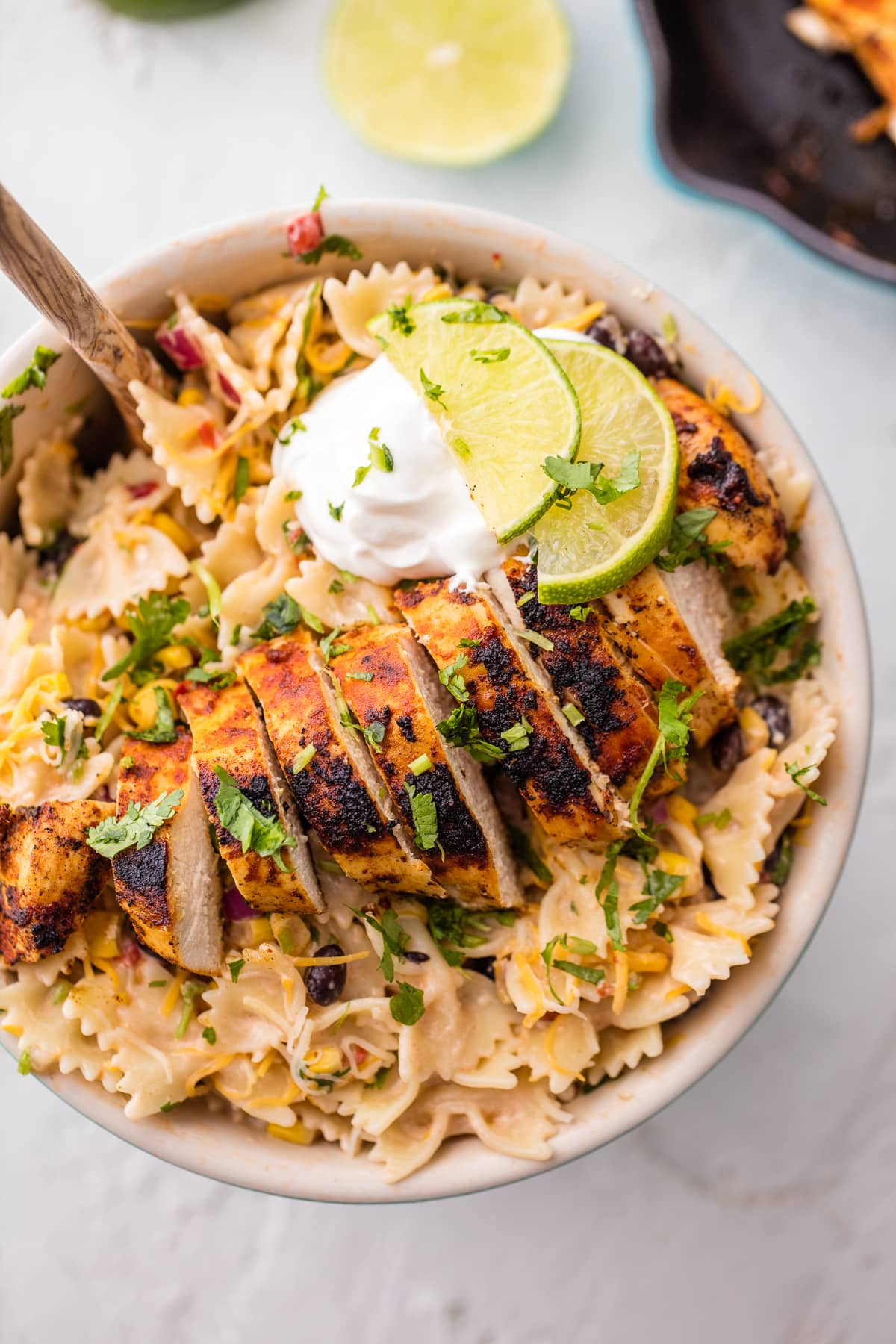 Mexican Pasta Salad
This chicken enchilada pasta salad is one of my new go-to recipes when I need to bring a dish to a party. Such an easy chicken pasta salad recipe you can make stress free!
I feel strongly that every person should have (at least) one killer pasta salad recipe in their repertoire. That one dish they can bring to every backyard party and be KNOWN FOR!
I'm trying to make a name for myself in the BBQ side dish world, and I think this Mexican Pasta Salad is just the thing. It's quick and easy to throw together, just BURSTING with flavor, and sure to please. You will be the king or queen of any party with this awesome chicken pasta salad recipe, trust me!
This chicken enchilada pasta salad is loaded with everything that makes chicken enchiladas a favorite: chicken, corn, beans, cilantro, CHEESE, sour cream, and just the right amount of spice.
Now you can be the one with the awesome side dish everyone asks about. You're going to be remembered for this pasta salad everywhere you go!
Creamy, spicy, delicious Mexican Pasta Salad is exactly what your backyard BBQ needs!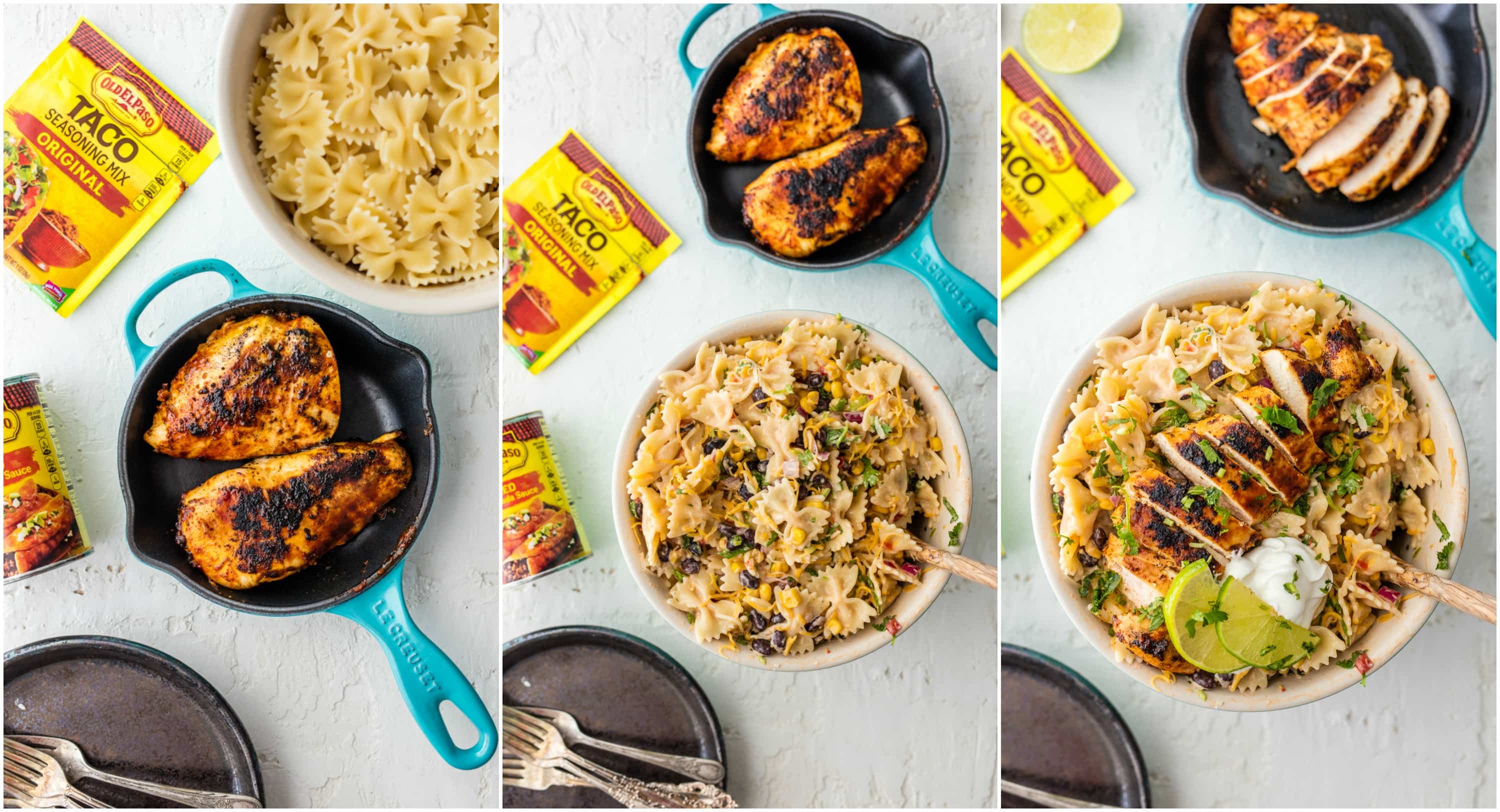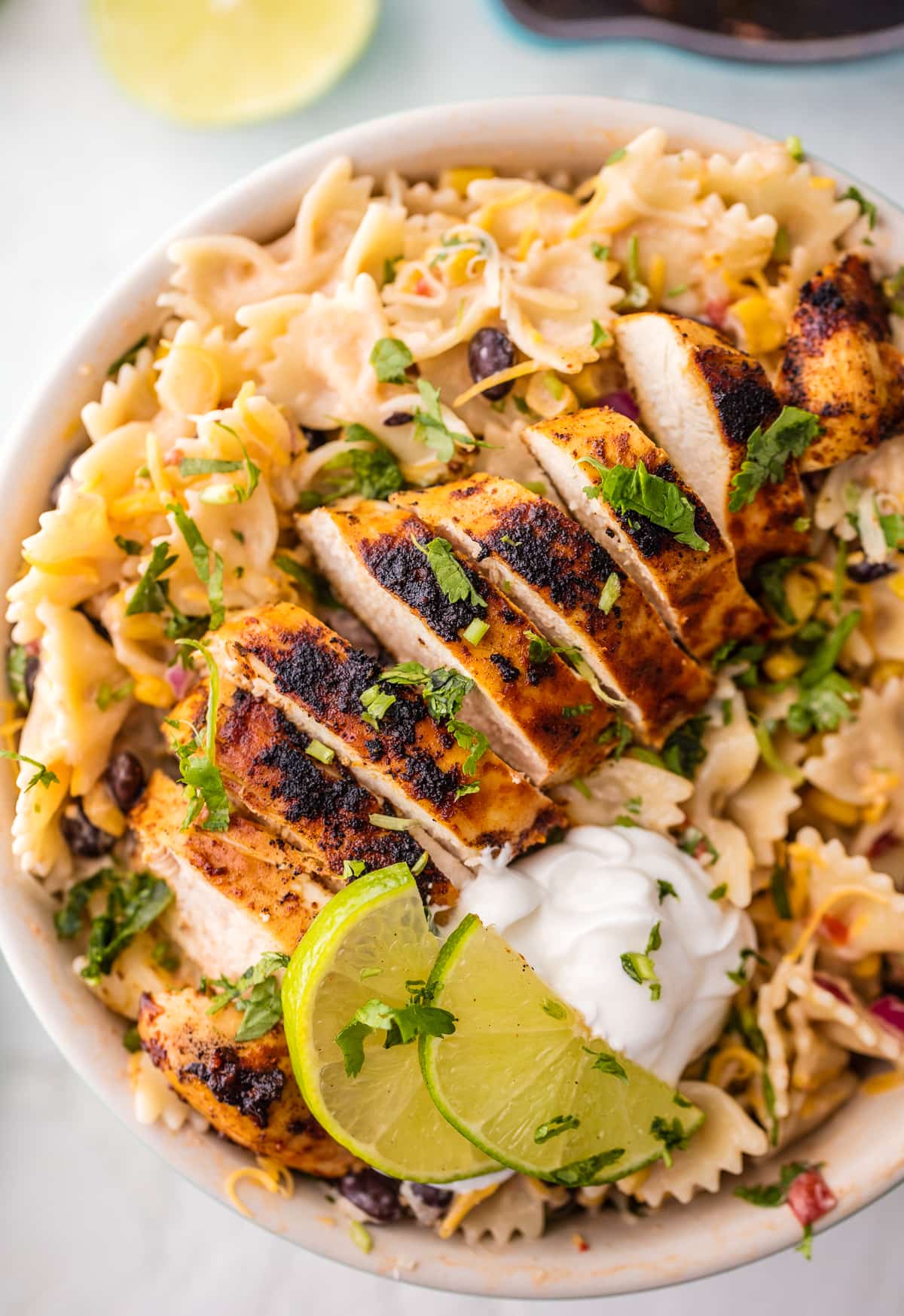 Chicken Enchilada Pasta Salad Recipe
This flavorful chicken pasta salad recipe wouldn't be complete without my fave ingredients. OF COURSE! Taco seasoning is my jam in so many recipes, and Red Enchilada Sauce is my favorite way to add some subtle and creamy spice to any recipe. It's not too spicy, but a little flavor goes a long way. Absolute perfection, Tex Mex at its finest!
That enchilada sauce is what really brings this Mexican pasta salad to the next level. It really makes it taste just like you're eating chicken enchiladas! Such a great party dish for summer BBQs or Sunday get togethers.
Some quick tips to change things up:
Use Greek Yogurt instead of sour cream to make it a little bit healthier.
You can also use less cheese or omit it completely if you prefer.
If you want to make it spicier (YES PLEASE!), add chopped jalapeños and just a dash of hot sauce.
There's so much room to make this dish your own, but it will be so good no matter what!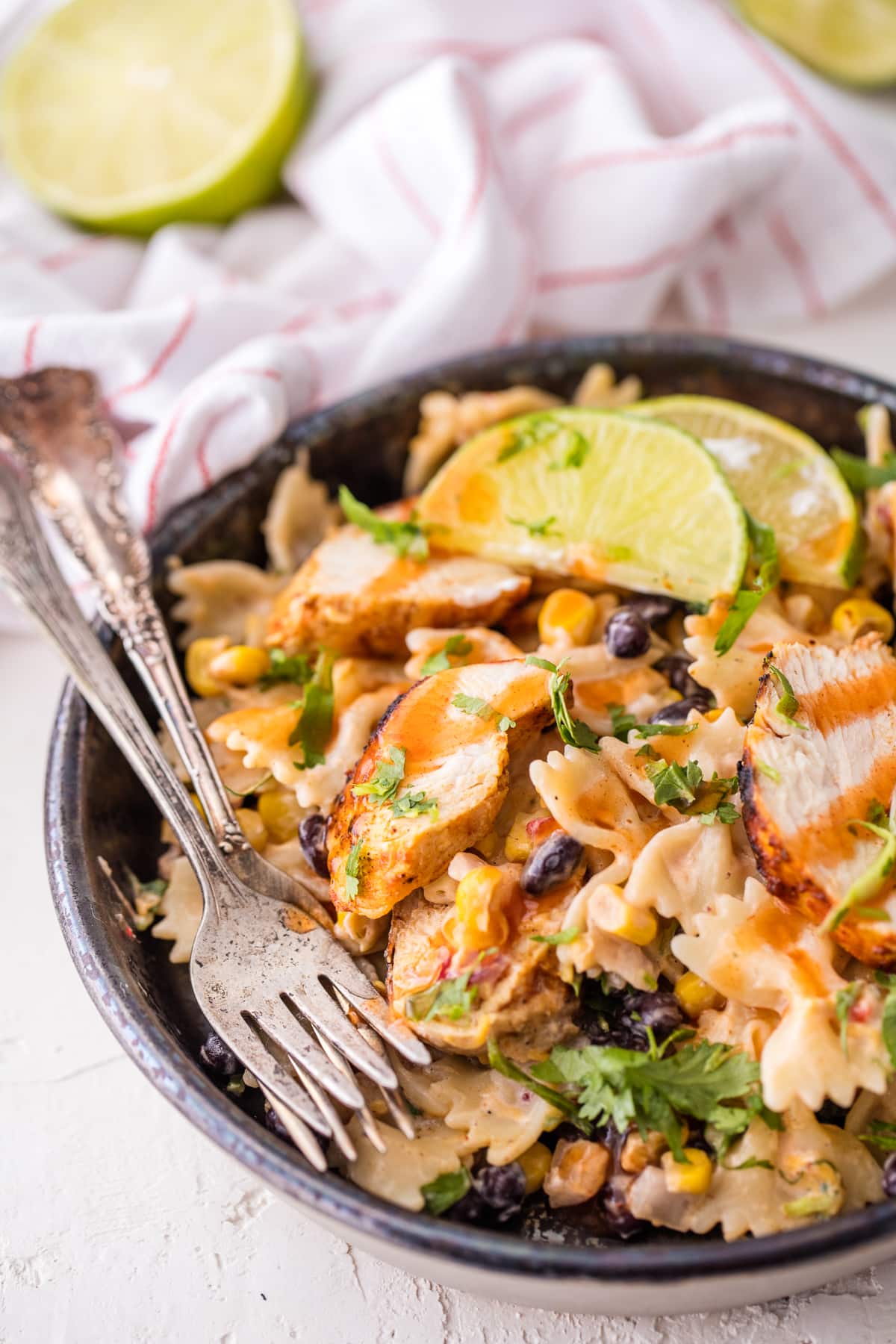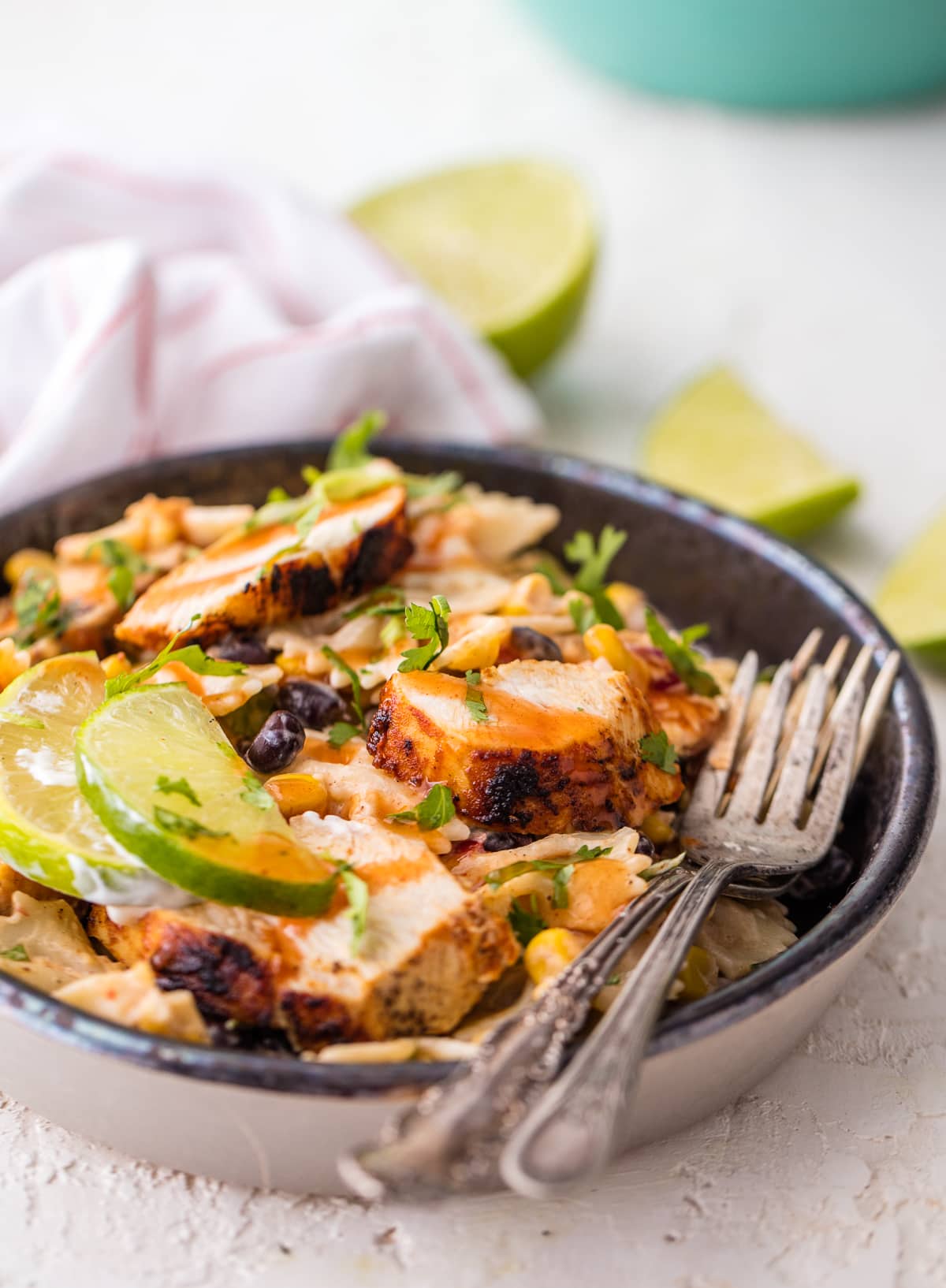 How to Make Mexican Pasta Salad
Pasta salads are easy, easy, easy. They're a must for summer parties, BBQ, Sunday afternoon lunches, you name it. This creamy Mexican Pasta Salad is my absolute favorite, because it tastes just like chicken enchiladas. Yum! Make it in about 30 minutes, and it's ready to go when you are.
Start by cooking the pasta (I like bowtie pasta for this recipe) according to package instructions.
Season the chicken breast with taco seasoning and cook it in a skillet, then cut it into strips. You can do this while the pasta cooks.
Drain the pasta and place it in a large bowl, then add in the rest of the ingredients and toss together, then add in the chicken.
Top it off with sour cream and cilantro for an extra kick.
You can serve this hot or cold, whichever you prefer. If not eating it right away, just keep it in the refrigerator until you're ready to eat.
This dish is like a taco salad, but with pasta–what's not to love?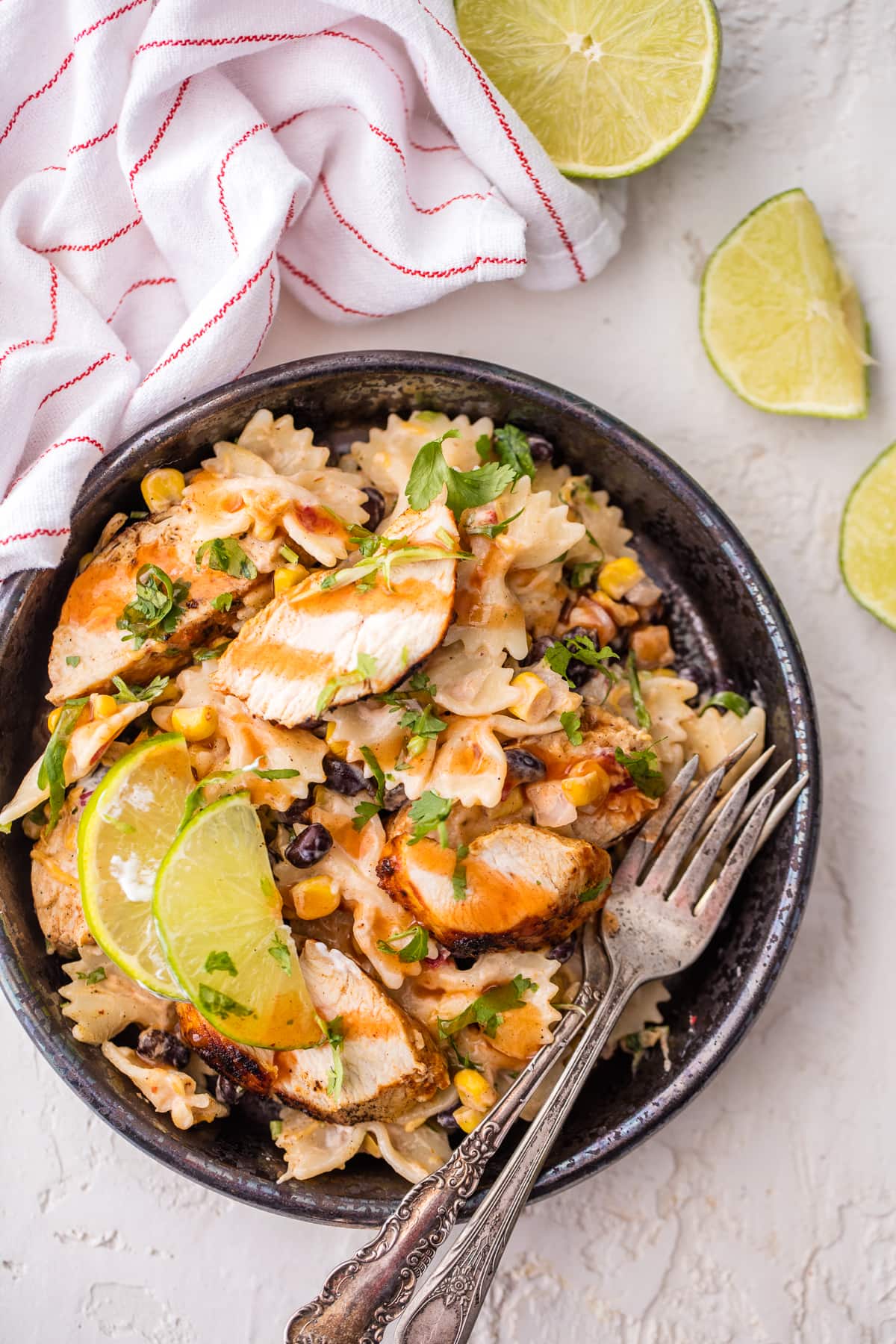 I just can't get enough of this Chicken Enchilada Mexican Pasta Salad. The flavor is perfect, and I love eating leftovers for lunch. So good! I can't for you to try this, I know you'll love it.
See the recipe card for details on how to make Chicken Enchilada Pasta Salad. Enjoy!
Be sure to try these other easy pasta salad recipes: