Buffalo Chicken Pasta Salad is the perfect BBQ side dish! I love the classic Buffalo Chicken flavors, so adding that into a pasta salad recipe is such a great combo. It's just the right amount of spice and heat to add to any summertime spread. This Easy Pasta Salad Recipe is so unique and delicious!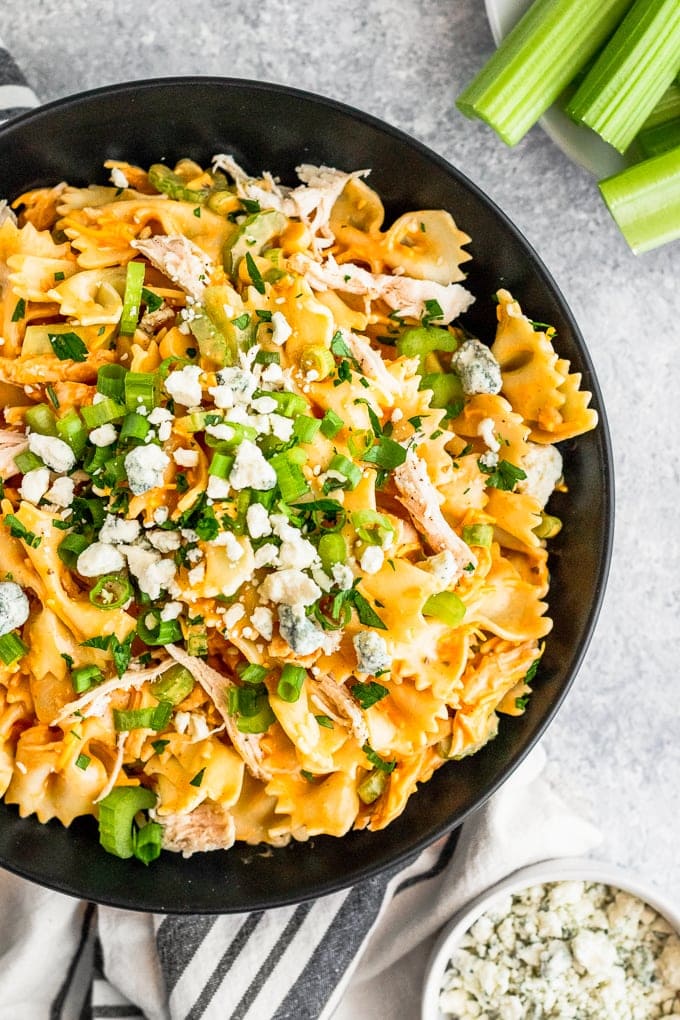 Buffalo Chicken Pasta Salad
Buffalo Chicken Pasta Salad is the perfect thing to bring to BBQs this summer! There's just the right amount of heat in this tasty cold pasta dish.
Buffalo Chicken Pasta Salad has become a favorite pasta salad recipe for me because it features one of my favorite flavors: Buffalo Sauce. I remember the first time I tried it. I'm not a big lover of chicken wings, so I had never tasted the sauce before. I went to a New Years Eve party and someone brought Buffalo Chicken Dip. I tried some and I became a changed woman. To say I was addicted to that dip is an understatement. I'm pretty sure my New Years Eve kiss that year was skipped because I just couldn't stand to leave the dips side. I pretty much ate the entire thing!
Since I started learning to cook, I have been obsessed with recreating that delicious flavor combo in any way I can! Buffalo Chicken Soup, Blue Cheese Stuffed Buffalo Chicken Meatballs, Beer Cheese Buffalo Chicken Dip. It's just a match made in culinary heaven!
It was only a matter of time before I added another Buffalo Chicken something or other to my life. I had a hunch that it would mix perfectly with an easy pasta salad recipe, and I was right! This Buffalo Chicken Pasta Salad is so refreshing on a hot day, but that little kick of heat is the perfect balance.
Make this tasty Buffalo Chicken Pasta Salad for your next summer BBQ. This easy pasta salad recipe is just too good!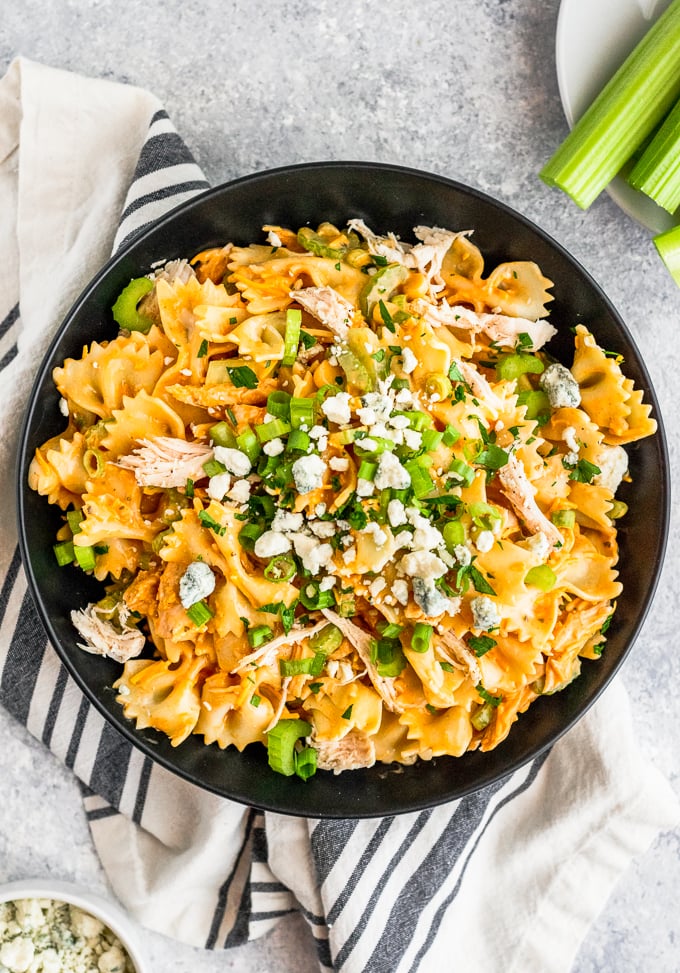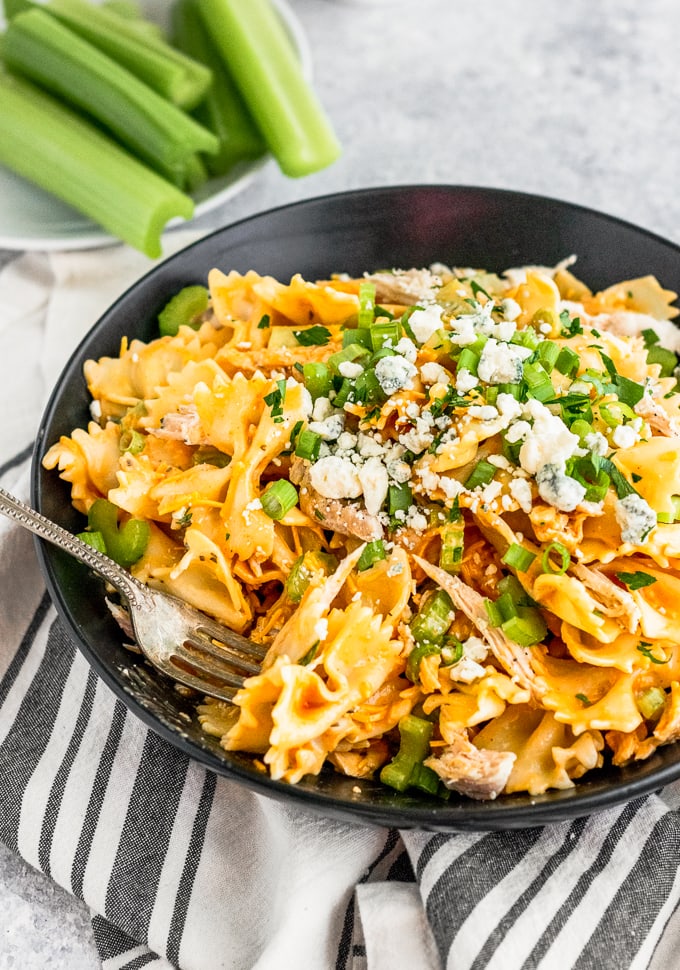 Easy Pasta Salad Recipe
This Easy Pasta Salad recipe is the perfect way to enjoy the spirit of summer!
I love pasta salad in the summer. As good as a hot and fresh pasta dish can be for a nice dinner, when it's hot outside, you gotta cool things down a bit. I love making easy pasta salad recipes for a simple lunch, or adding it to the mix during an afternoon get together.
The awesome thing about pasta salad is that you can make it ahead of time, let it sit in the refrigerator to cool down, and then it's ready to go in a flash. And the flavors of everything you put in there really blend together perfectly after it sits for a while. Like a marinade, the longer it's in the fridge, the more flavorful it gets! So of course this Buffalo Chicken Pasta Salad is so great to keep around as leftovers too.
The Perfect BBQ Side Dish
Pasta salad is the perfect side dish to bring to BBQs, or any summertime party. Not only is it quick and easy to make, but cold pasta salad is just so refreshing on a hot day!
This Buffalo Chicken Pasta Salad could be eaten as a main dish since it's filled with protein-rich chicken. But it's such a tasty side dish and goes so well with all the classic BBQ recipes you can think of. This easy pasta salad recipe should be eaten alongside burgers, coleslaw, potato salad, baked beans, and all the summertime dishes.
Here are a few more delicious BBQ dishes to add to the menu: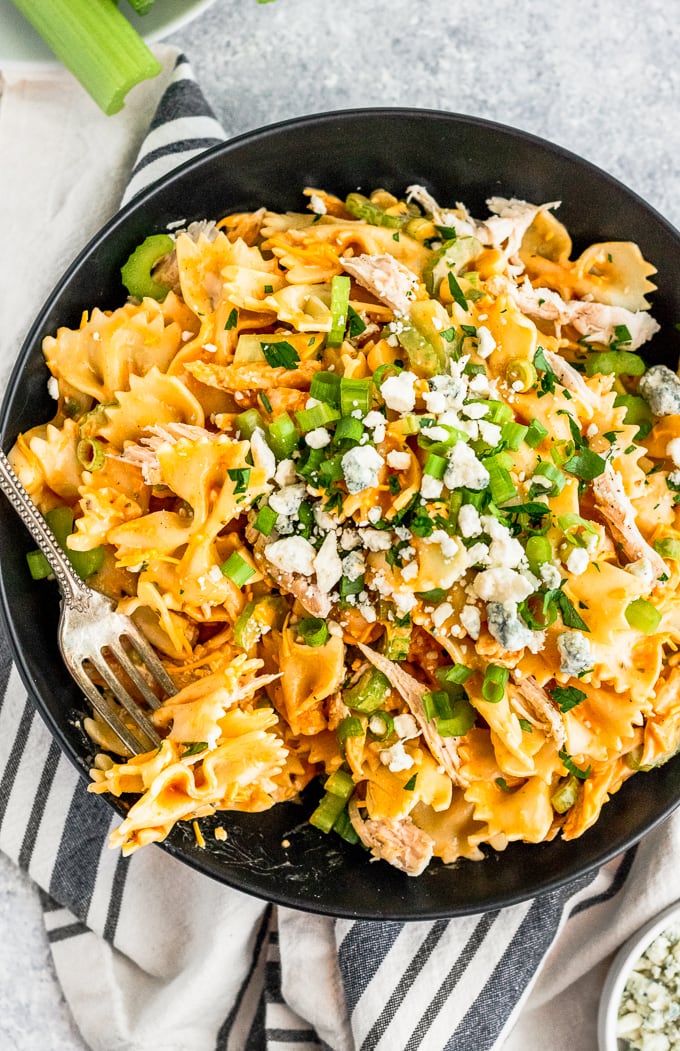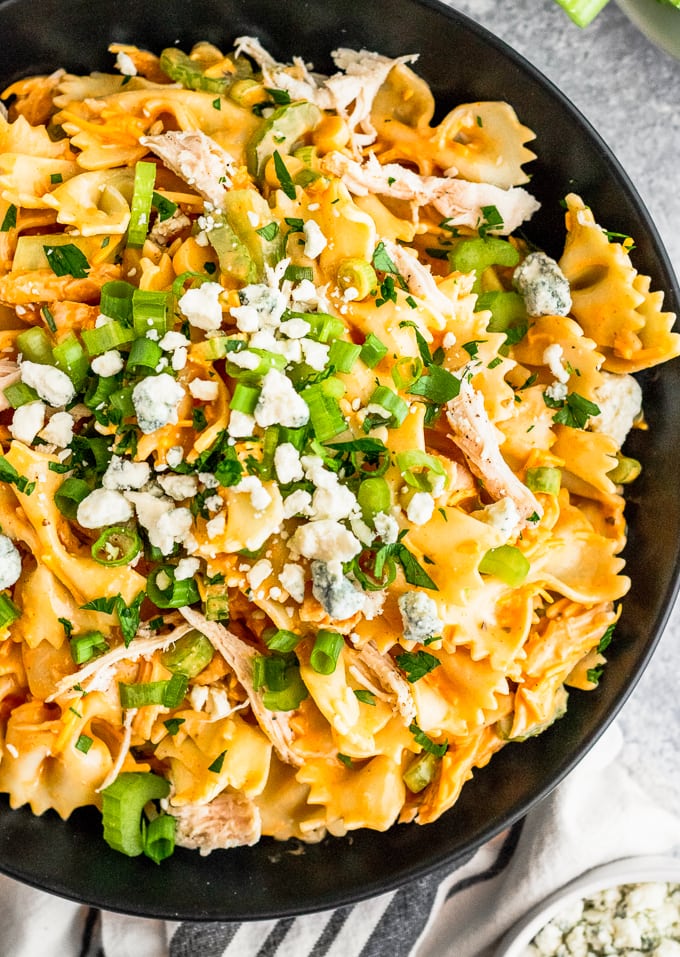 Tips for making Buffalo Chicken Pasta Salad
This easy pasta salad recipe doesn't take much work. As long as you cook the pasta and add in the right ingredients, you'll be good to go! However, I do want to share a few simple tips to help you make the best pasta salad you can.
Tips for How to Make Buffalo Chicken Pasta Salad:
Prepare this pasta salad recipe well ahead of time, so that it's ready to go as soon as you are.
The pasta salad really only needs about 20 minutes to properly cool before serving, However, letting it sit in the fridge a little longer makes it even more flavorful. I like to let pasta salad sit for a good couple of hours sometimes so everything can really blend together and "marinate".
I chose to pile on the blue cheese, but that's because I'm a lover of all things cheese. Feel free to leave that part off if you're like Pat and not a big fan. It will be just as delicious!
You could cook your own chicken, but for the sake of ease and speed, pick up a pre-made rotisserie chicken at the supermarket. This will be especially helpful if you're in a time crunch.
Don't be afraid to make a large batch. Store leftovers in the refrigerator in an airtight container and you can snack on it for the rest of the week!
If you like it hot, add a little extra hot sauce. Something about the heat of the sauce mixed with the cool pasta is the perfect combination.
How to make Homemade Buffalo Sauce
You better believe we've got you covered! You can always buy Buffalo Sauce at the store for this recipe, or you can make your own! Here is our favorite Homemade Buffalo Sauce Recipe.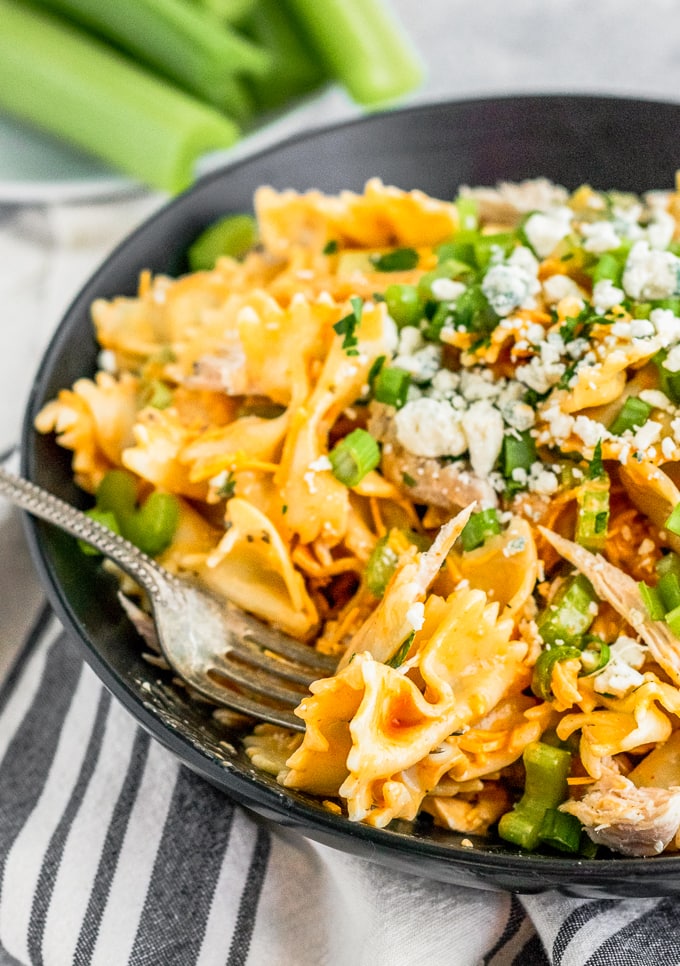 If you love the flavor of Buffalo Sauce as much as I do, then you're really going to love this Buffalo Chicken Pasta Salad! Make it for lunch or make it for your next summer party and guests will eat it all up. This easy pasta salad recipe is definitely a go-to around here, and I think it will be for you too.
See the recipe card below for details on how to make this easy Buffalo Chicken Pasta Salad recipe. Enjoy!
If you liked this Buffalo Chicken Pasta Salad, try these other recipes too: