Strawberry Avocado Pasta Salad is an easy and tasty summer pasta salad recipe that everyone will love! This penne pasta salad with feta, strawberries, avocado, poppy seed dressing and more is so light and fresh. Serve it warm or serve it cold, either way, it's sure to be a hit! We've tested out the FRIDGEFRESH in keeping produce extra fresh for this recipe, and we are completely hooked!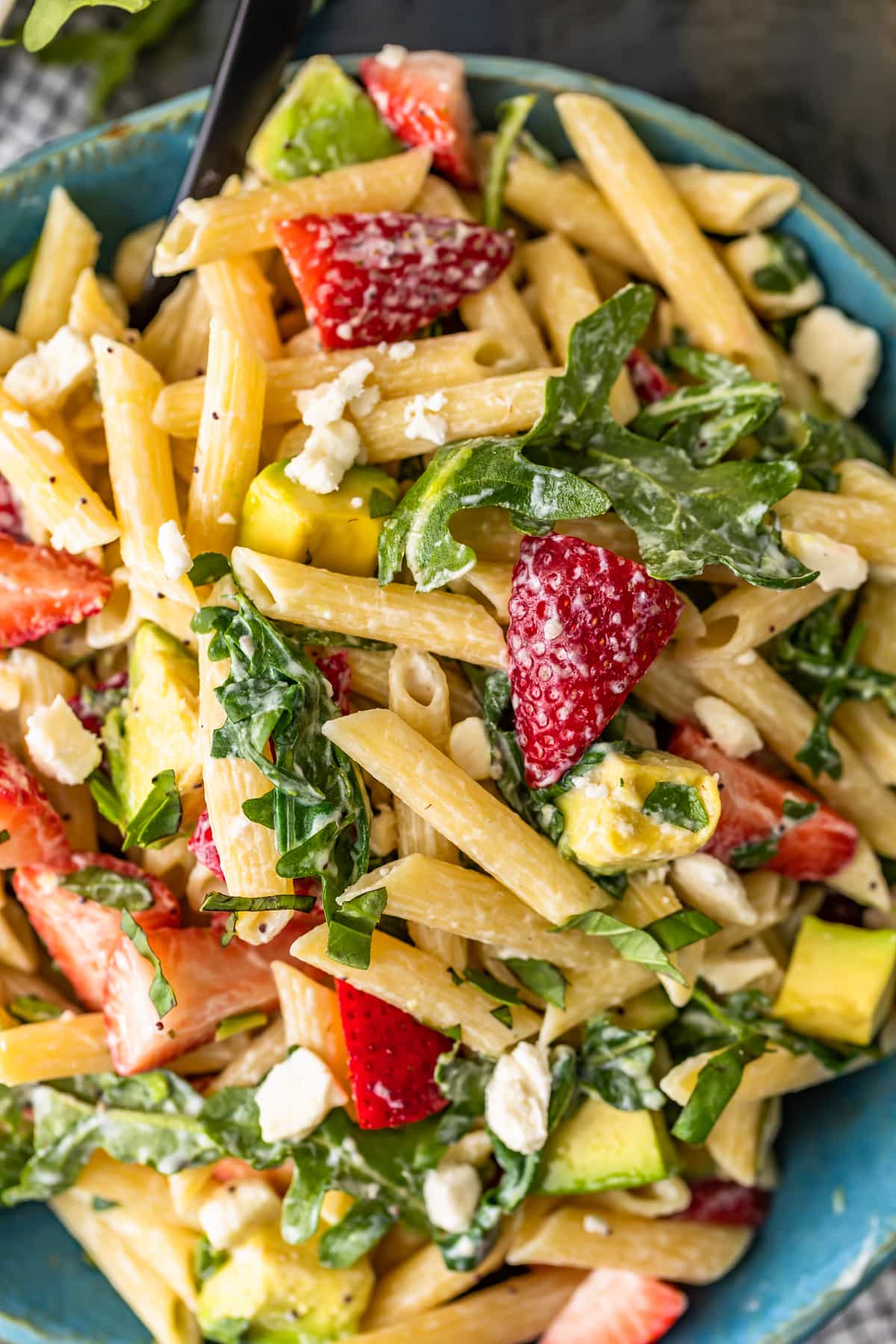 Strawberry Avocado Pasta Salad
This creamy strawberry avocado pasta salad is a lighter, healthier summer pasta salad recipe that can't be beat. So delicious and so easy to make!
Spring and summer are the seasons for pasta salad! Whether you need something simple for a weekend lunch on the patio or something easy to bring to all those summer parties, summer pasta salad recipes are a must. I always keep a few good ones up my sleeve.
Recipes using fresh strawberries are especially important this time of year, and I rely on my FRIDGEFRESH to keep the food in my refrigerator fresh up to 3 WEEKS LONGER! It truly changed this recipe, for the better! See more below.
This Strawberry Avocado Pasta Salad is my new go-to this year. It's sooo delicious, and it's super light and fresh. Penne pasta salad with feta, avocado, strawberries, and arugula, plus it's lightened up with Greek Yogurt instead of mayo. So I think this dish counts as healthy!
You can serve this side dish warm or keep it in the refrigerator for a bit and serve it cold. It tastes amazing either way! Plus it makes great leftovers, so save any extra for an easy lunch the next day.
Penne Pasta Salad with Feta, Strawberries, Avocado, Arugula, Basil, and Poppy Seed Dressing. This is a dish everyone is going to love!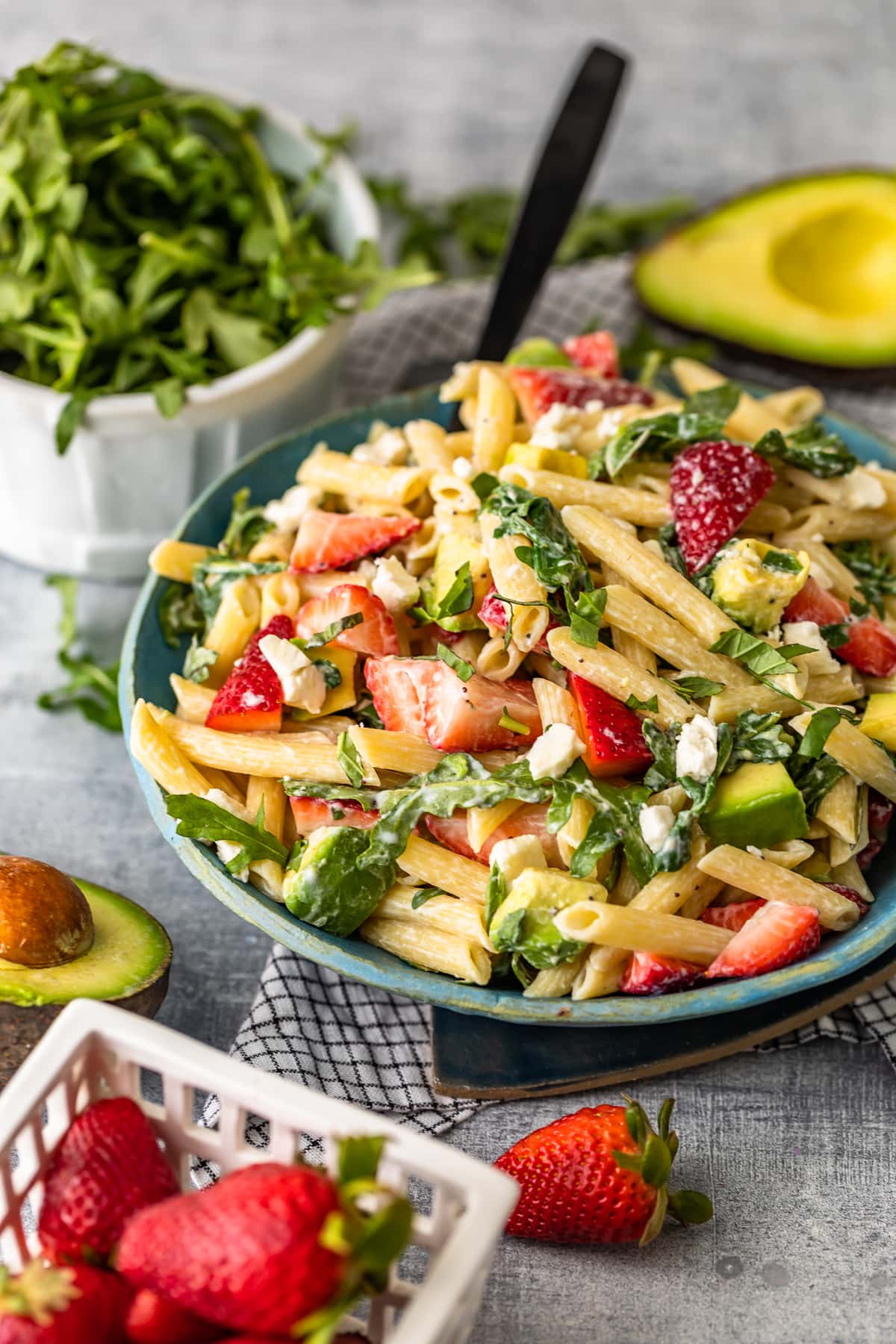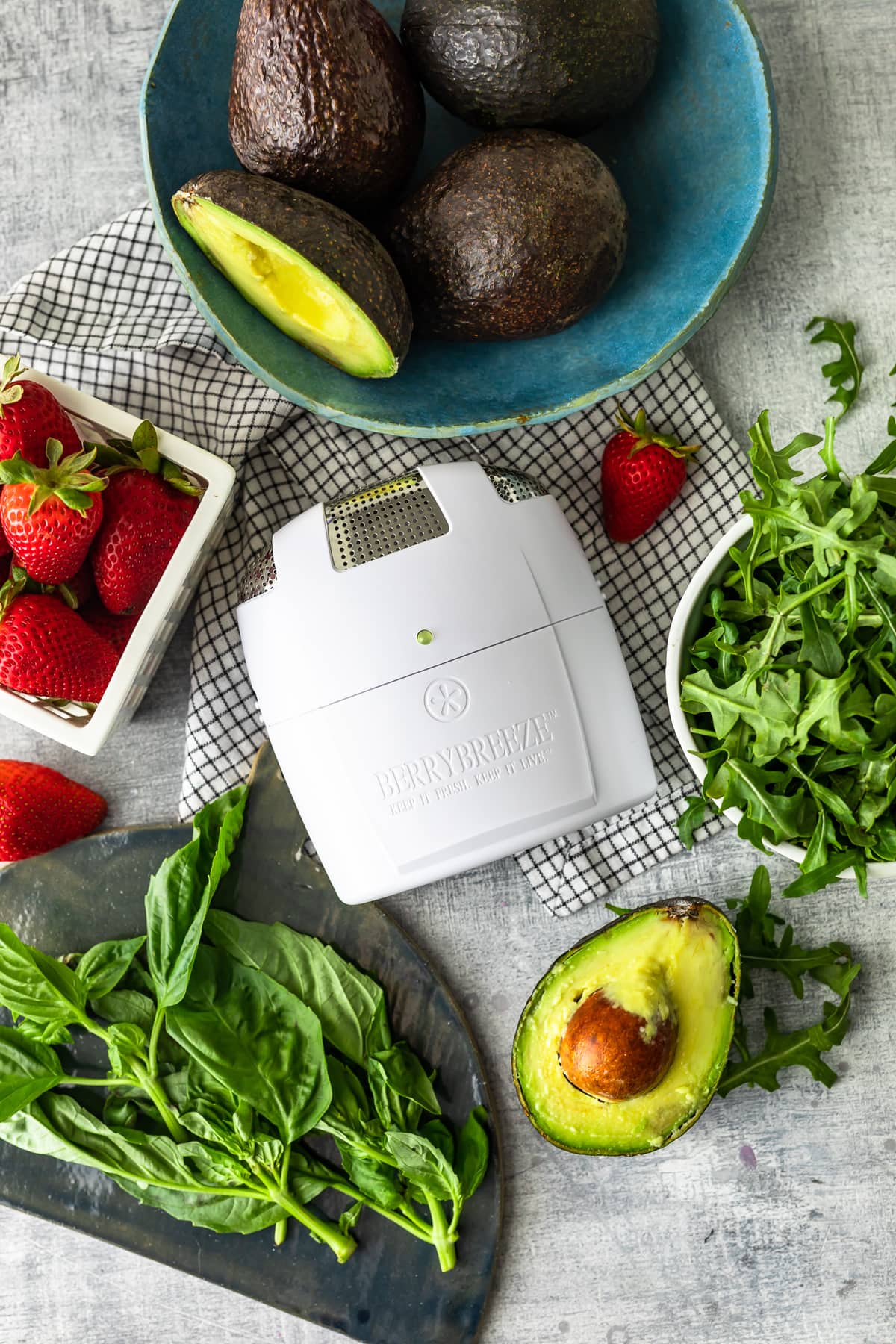 Keep your produce fresh
As a busy Mom, I know all too well how quickly fruits and veggies can sour before we eat them. It PAINS me when I have to throw away food that's gone bad on my watch. Cooking with fresh ingredients, especially produce, is SO IMPORTANT when cooking for your family, and I have the perfect device for helping those of us that struggle to keep the house stocked with all things fresh.
I recently discovered FRIDGEFRESH, a small device that sits on the top shelf of your refrigerator and keeps produce fresh up to THREE WEEKS LONGER than fridges without it. ARE YOU KIDDING ME?! It actually pumps an extra molecule of oxygen into your refrigerator's air, potentially saving families up to $2300 a year in spoiled produce.
FRIDGEFRESH makes shopping in bulk for fresh ingredients so much easier, because I know the produce will stay fresh long enough for our small family of three. It also makes your fridge smell like the day it was brand new…so refreshing! (Nothing is worse than fridge odor!)
I love to find products that my readers will genuinely love and can use in their homes, and I couldn't be more excited about FRIDGEFRESH.
Keeping your strawberries, avocados, basil, and arugula fresh for this Creamy Pasta Salad is SO important, I'm so glad I had a little help tucked into the fridge!
Click HERE to find out more about FRIDGEFRESH (It's MUCH cheaper than you think! Be sure to buy from this link to get the best warranty) or see the recipe card for where to buy!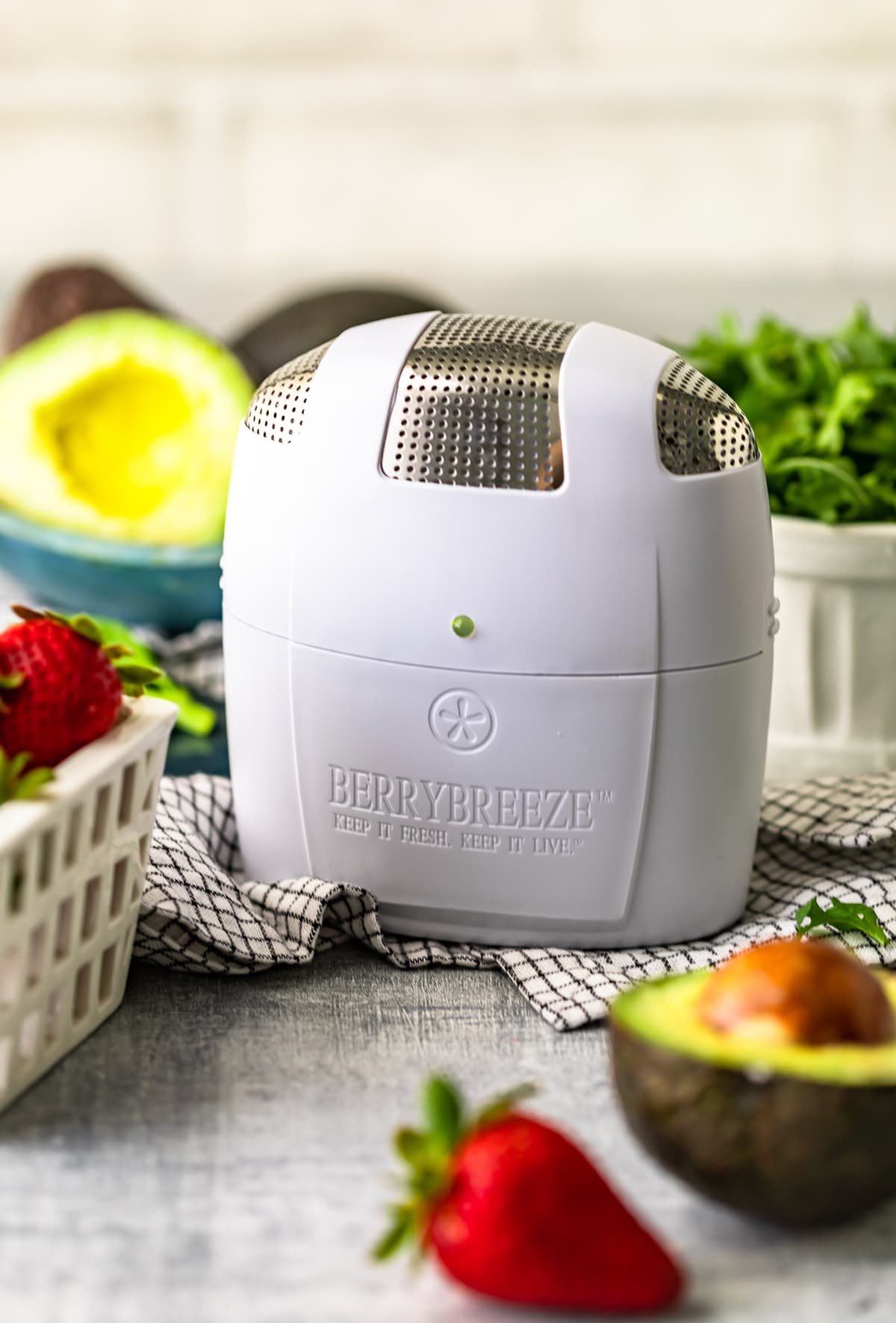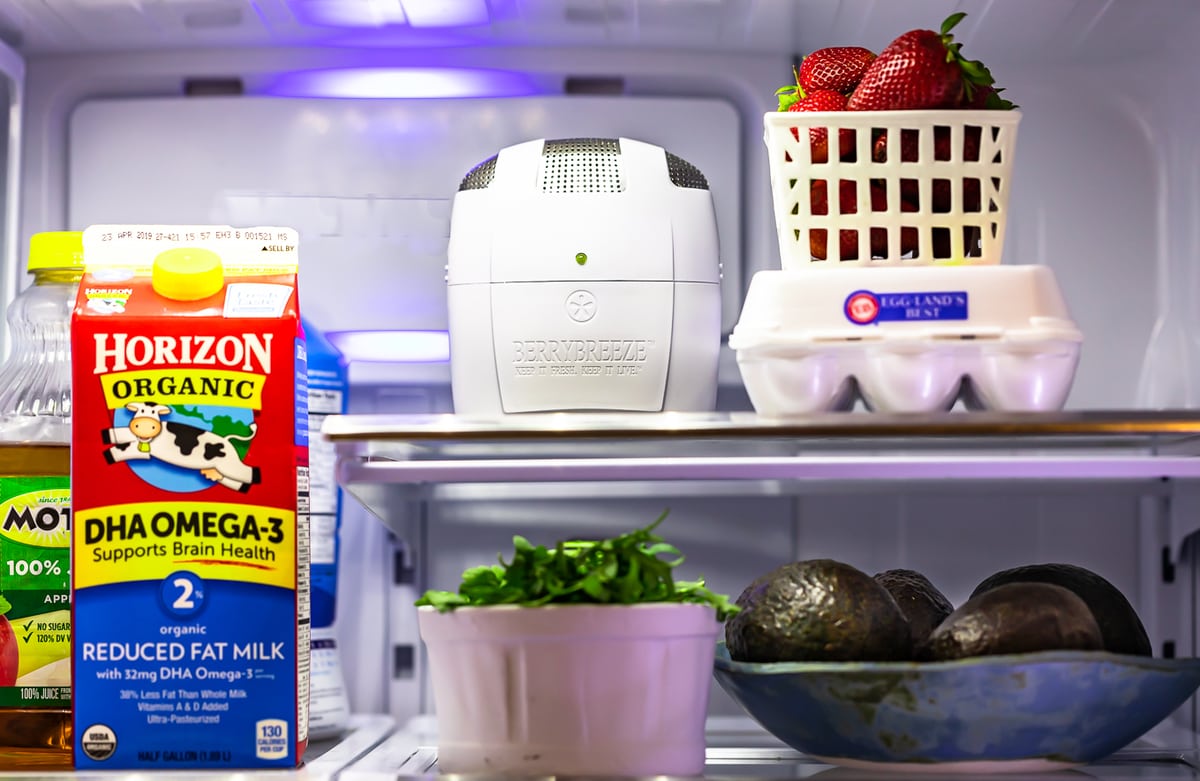 Summer Pasta Salad
This penne pasta salad with feta, strawberries, avocado, and more is just so creamy and dreamy! It's the perfect summer pasta salad recipe for al fresco dining, and it's the perfect dish to bring to summer potlucks and BBQs. This recipe is going to come in handy!
Pasta Salad Ingredients:
Penne Pasta
Fresh Strawberries
Avocado
Baby Arugula
Crumbled Feta Cheese
Fresh Basil
Poppy Seed Dressing
Lemon Juice
Greek Yogurt
Salt & Pepper to taste
These penne pasta salad ingredients create such a fresh and summery flavor. So creamy and delicious! If you want to add even more to this dish, you could include bacon crumbles, sweet corn, apples, peach slices, and more. The extra fruit would add even more sweetness, and the bacon would add just a little bit of savoriness to balance things out.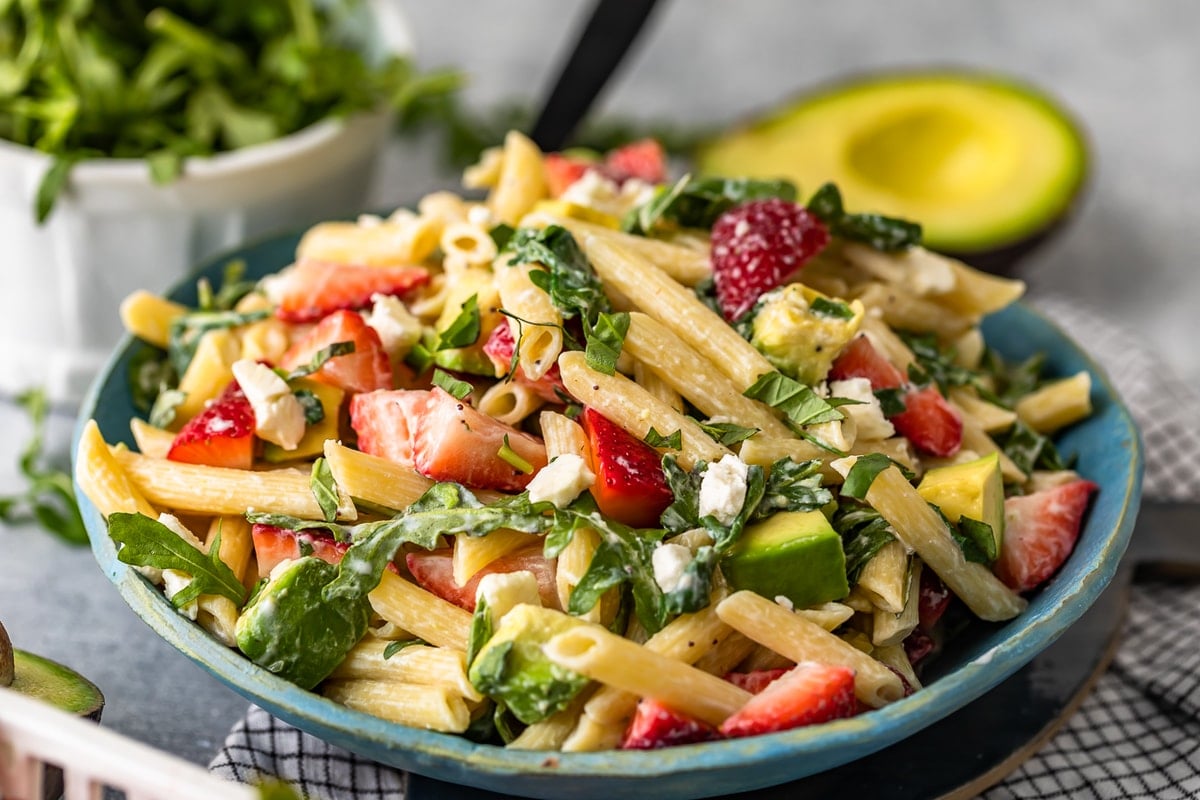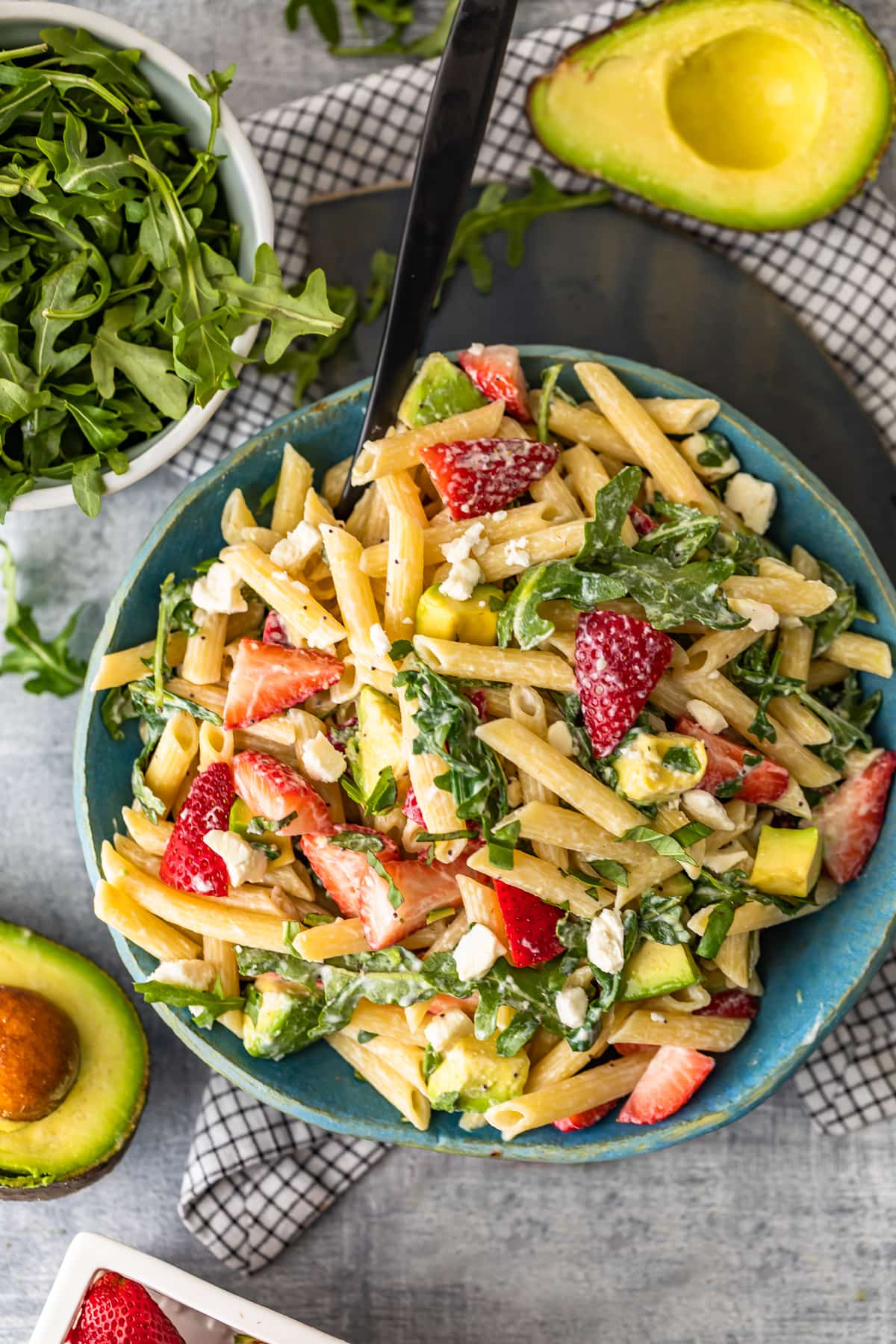 How to Make Strawberry Avocado Pasta Salad
Fresh strawberries, creamy avocado, crumbled feta cheese, baby arugula, sweet poppy seed dressing…this combo would make a great salad with or without the pasta, but we're here for PASTA SALAD, so the penne stays. I love how easy this recipe is! You can make it in under 30 minutes and have it ready for any occasion.
How to Make Strawberry Avocado Pasta Salad:
Cook the penne according to package instructions. When it's done, drain it and then place it in a large bowl.
Stir in the arugula while the pasta is still warm so that it wilts. Then season with salt and pepper.
Add in the strawberries, avocado, and feta cheese.
To make the pasta salad dressing, whisk together the greek yogurt, lemon juice, and poppy seed dressing, and then pour it over the pasta salad and stir it all together.
Serve it warm or refrigerate it until you're ready to serve and have it cold. It tastes so good either way!
Can you make pasta salad ahead of time?
Pasta salad is a great dish to make ahead of time. Since it's often served cold (and sometimes tastes even better that way), you can easily prepare this recipe and set it in the refrigerator until you're ready to eat it.
You can make it anywhere from a couple of hours to a couple of days ahead of time. But since it's a quick dish to make, I'd recommend only letting it sit in the fridge for a few hours or maybe overnight, that way it can still keep its fresh qualities.
If you really need to make this well in advance (more than a day), I recommend making the pasta, mixing in the dressing, and then waiting until you're ready to serve to add the strawberries and avocado. Also note that the avocado cubes might start to brown if it sits in the refrigerator too long.
Whether making it ahead of time or storing leftovers, this strawberry avocado pasta salad recipe will keep in the refrigerator for 3-4 days. (or a bit longer if you use Fridge Fresh!)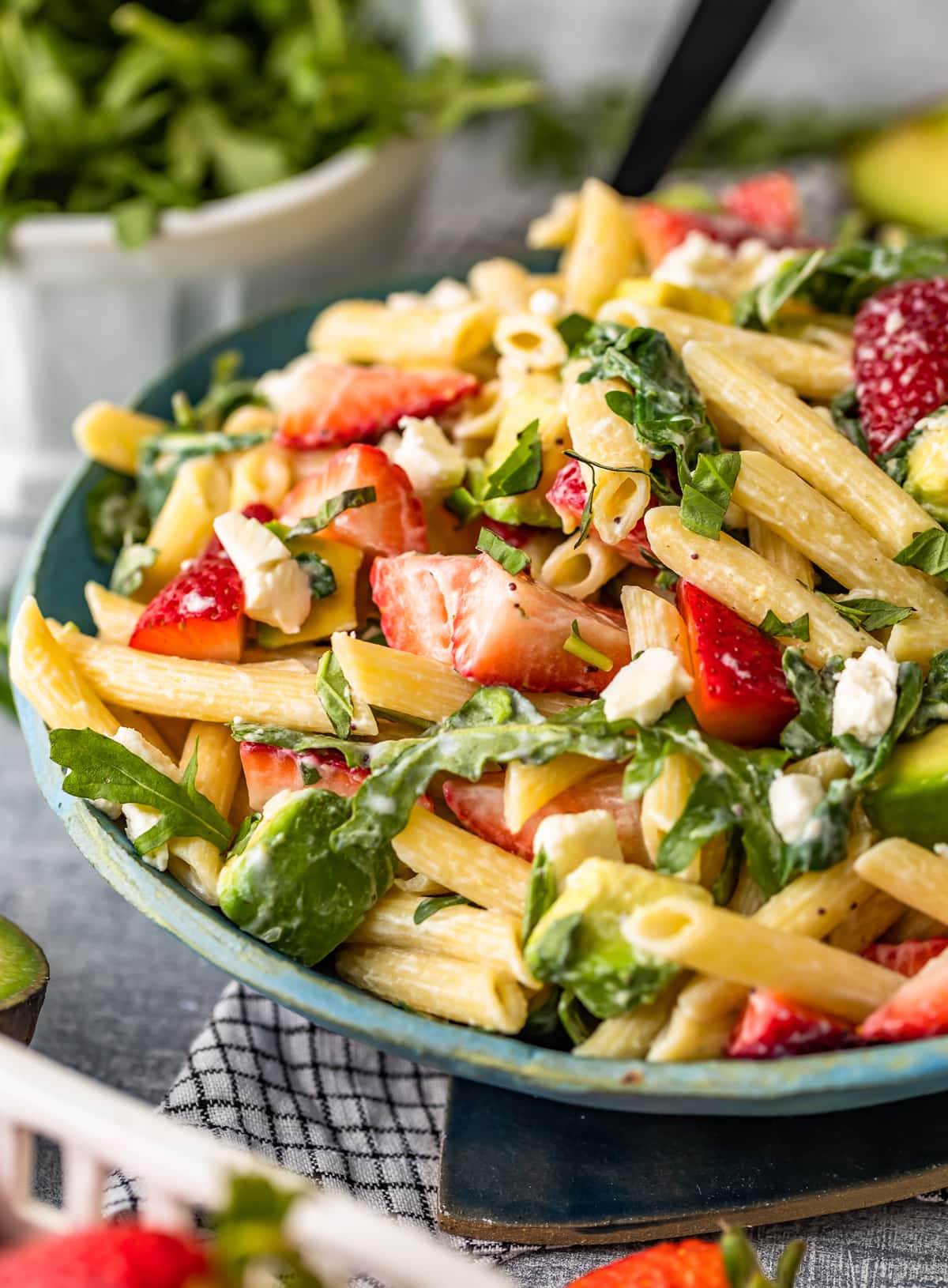 Start preparing for all those summer BBQs and parties with this summer pasta salad recipe! So much flavor and so easy to make. What's not to love?!
See the recipe card for details on how to make Strawberry Avocado Pasta Salad with Feta. Enjoy!
If you like this summer pasta salad recipe, you'll love these other dishes too:
Click HERE to find out more about FRIDGEFRESH and how to get yours today!