Green Goddess Pasta Salad is the stuff Summer Recipe dreams are made of! This healthy Pasta Salad Recipe is full of flavor and oh so easy to throw together. Loaded with asparagus, peas, chickpeas, pine nuts, and the ultimate green goddess dressing (made with the BEST PESTO), this Green Goddess Pasta Salad Recipe is perfect as a side dish, main course, or even guilt-free late night snack.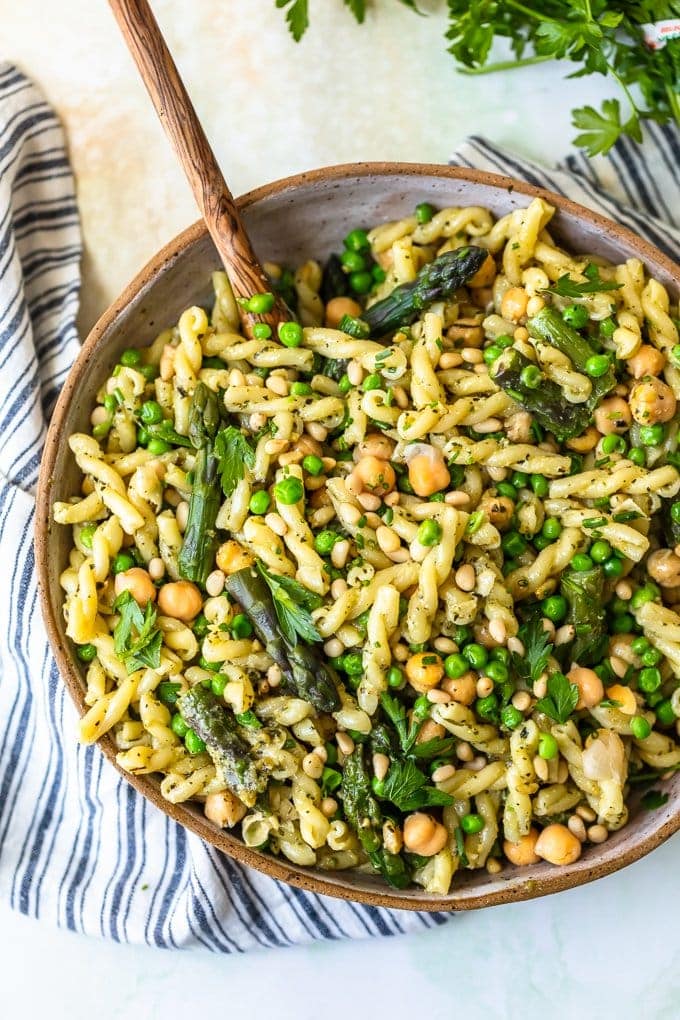 Green Goddess Pasta Salad Recipe – Healthy Pasta Salad!
Green Goddess Pasta Salad is my GO-TO recipe when attending a Summer BBQ these days. As a food blogger, I can't just bring any run of the mill recipe to events with friends or family. Everyone knows what I do for a living, and with that comes some pressure to bring something fun to the party. Luckily, I have some quick and EASY show stopping recipes up my sleeve, and this Green Goddess Pasta Salad Recipe is one of them!
Everyone loves pasta salad, but coming up with something unique can be difficult. Now that you have this SUPER SIMPLE Green Goddess Pasta Salad Recipe at your fingertips, I know you'll be the chef of the cul-de-sac this Summer. It's great as a side dish, or even main course in a snap. Everyone loves it from my toddler to my husband, and that's saying something! I can't wait for you to give it a try and let me know what you think.
Green Goddess Pasta Salad is loaded with fresh and healthy ingredients like green peas, chickpeas, asparagus, and pine nuts. The dressing is only 2 Ingredients with a pesto base. DIVINE! This is the best pasta salad recipe we have ever tasted.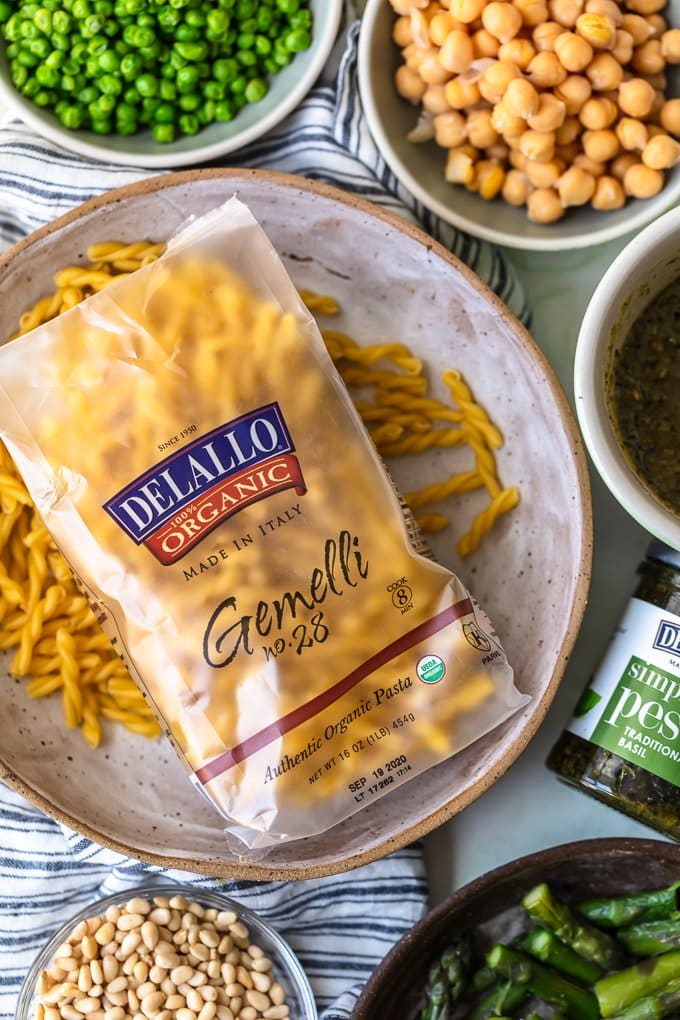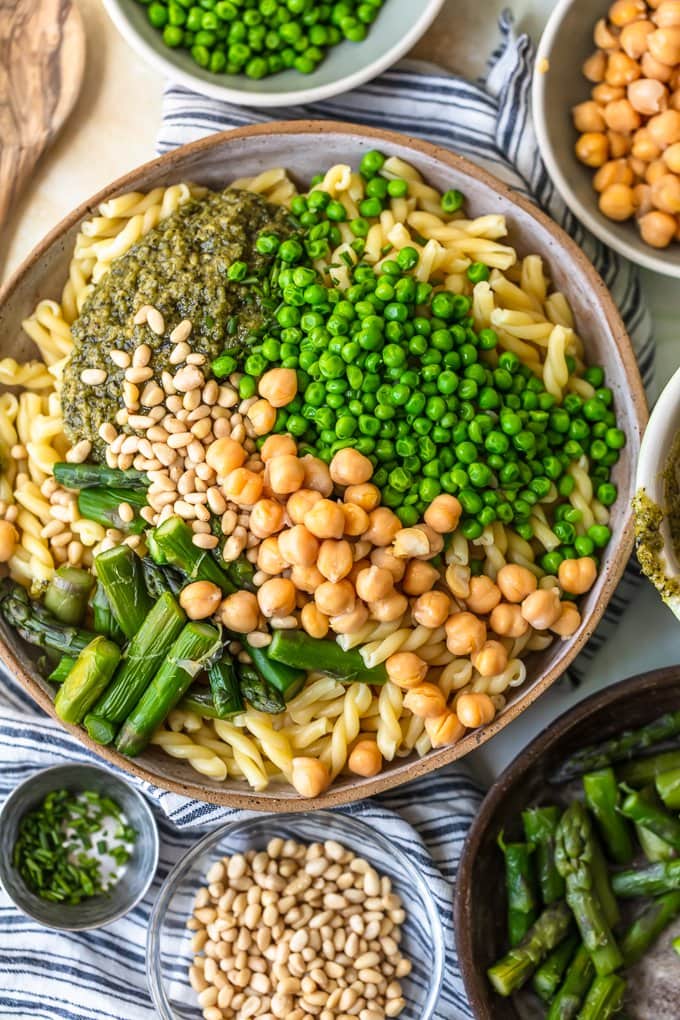 Using quality pre-made ingredients is the key to this EASY Pasta Salad Recipe
You guys know I love a semi-homemade recipe. There is absolutely ZERO shame in my game. Cooking for your family should be with love, but should also be quick and easy so you can get to the good part, the conversations around the table! The #1 thing I love about learning to cook is the memories we create while eating. The memories made around a (semi) home cooked meal are just not something you can replicate at a drive-thru.
I've SO honored to be working with DeLallo this year because they're a brand I truly trust whole-heartedly. DeLallo Pastas have always been my favorite (duh!), but they also make so many unique and delicious ingredients from Instant Espresso Baking Powder to Sour Cherry Spread! I believe that DeLallo is helping Moms, Dads, Sons, and Daughters across the country to create delicious recipes for their family, while taking out some of the stress from the equation.
I've used two of my very favorite DeLallo ingredients in this Green Goddess Pasta Salad Recipe: Gemelli Pasta and Simply Pesto (Basil). Gemelli Pasta is that delicious small s shaped pasta, sometimes called "unicorn horns" that is twisted into a loose spiral. I LOVE how it soaks up all the Green Goddess Sauce in this recipe!
SPEAKING OF THE GREEN GODDESS SAUCE, I've made it with only two ingredients, DeLallo Basil Pesto and real mayo. Their pesto is second to none and utterly delicious. It is bright and full of flavor, just like homemade pesto. Obsession is an understatement.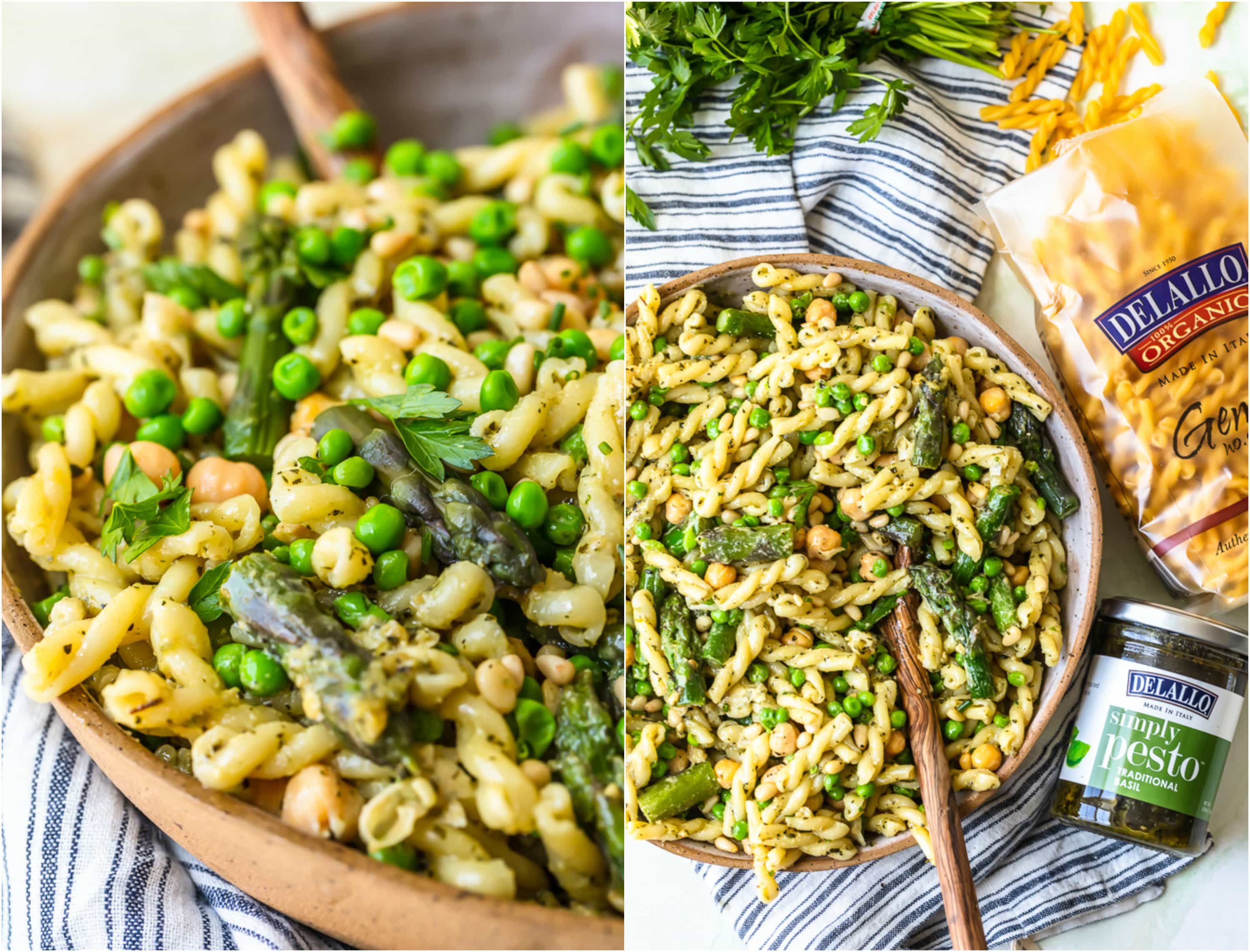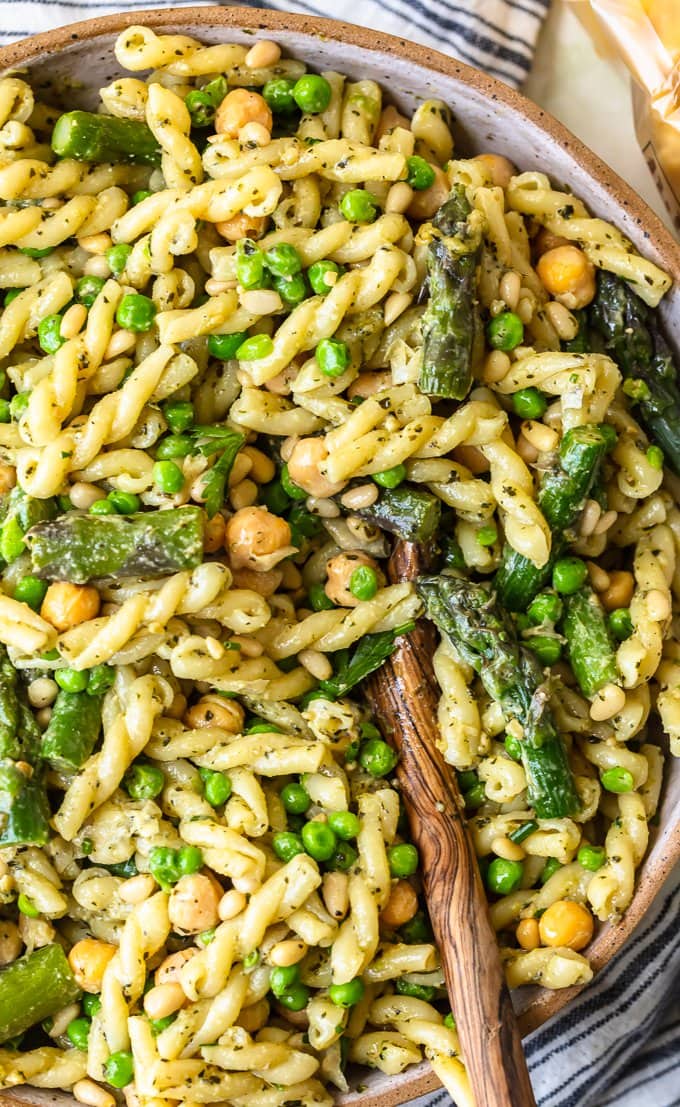 What is Green Goddess Dressing?
There are lots of variations of Green Goddess Dressing, but typically it's a dressing made from herbs (we are using a basil pesto), oil, and a creamy component (we are using mayo).
The original Green Goddess Dressing is said to have been invented by Chef Philip Roemer in 1923 to honor actor George Arliss, who stayed at the hotel while performing in William Archer's hit play, "The Green Goddess." I love all that history! This modern day version is pretty delicious, if I do say so myself!
How to Make Easy Green Goddess Dressing
I'm here to make life as easy as possible, so I've come up with the most simple Green Goddess Dressing possible! In my book, easy is best, and I just LOVE this Green Goddess Dressing recipe.
Ingredients:
6.35 ounces (1 container) DeLallo Simply Pesto Basil
1/2 cup Mayonnaise (REAL Mayo)
Instructions:
Mix together Pesto and Mayo until smooth
If using dressing on pasta, this combo is perfect. If using as a salad dressing, add 1/2 cup olive oil or grapeseed oil and stir/shake until fully combined.
What are some recipes that would pair well with this Green Goddess Pasta Salad
This delicious pasta salad is great served as a main dish, or also as a side dish to so many quick and easy recipes. Here are some of our favorite meals to pair with this Green Gold!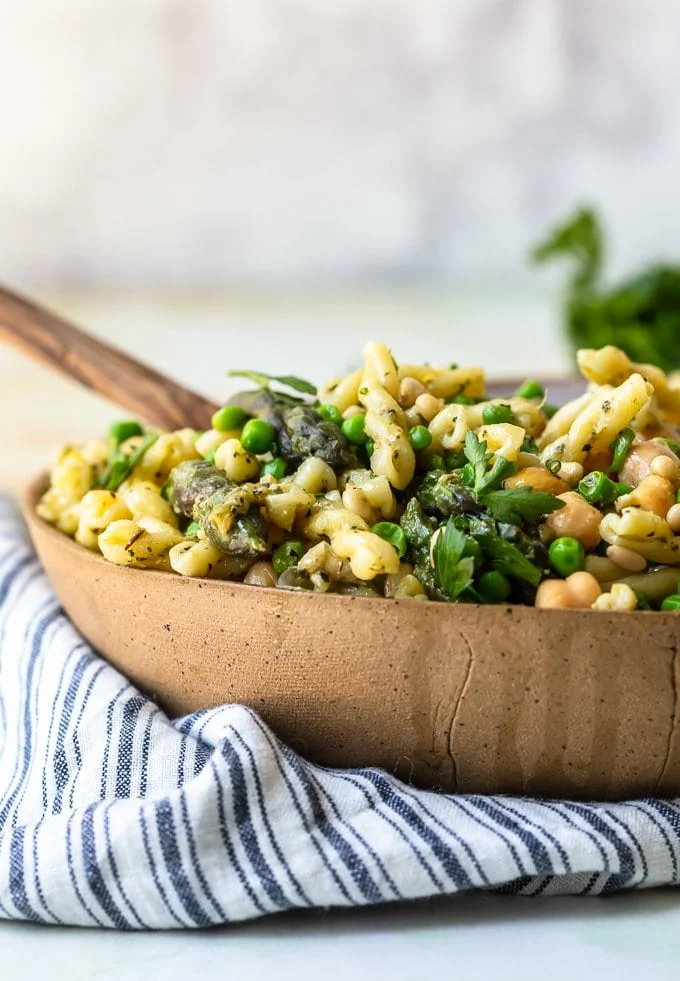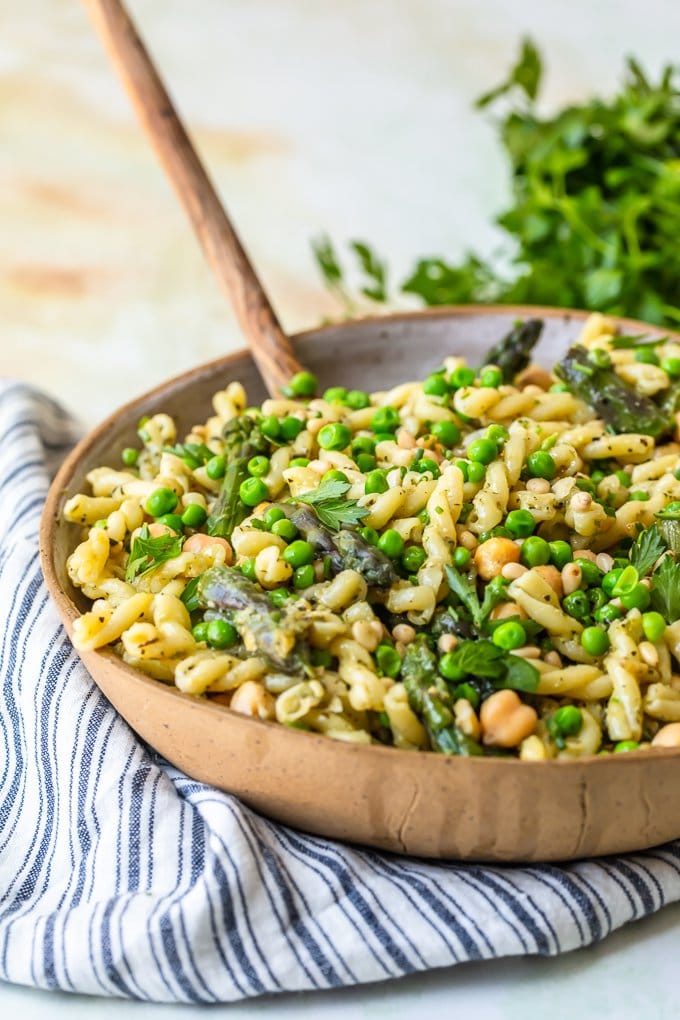 Can you make this Green Goddess Pasta Salad ahead?
Yes! You can make this pasta salad and store in an air tight container in the fridge up to 2 days in advance. I recommend making and adding the asparagus right before serving. You can also keep the Green Goddess Dressing up to 1 week in the fridge.
Optional add-ins for this Pasta Salad Recipe
I love this pasta salad recipe as is, but I always am in the mood for tweaking recipes the next time I make them! Some add-ins I can't wait to try include broccoli, red onion, cherry tomatoes, and avocado!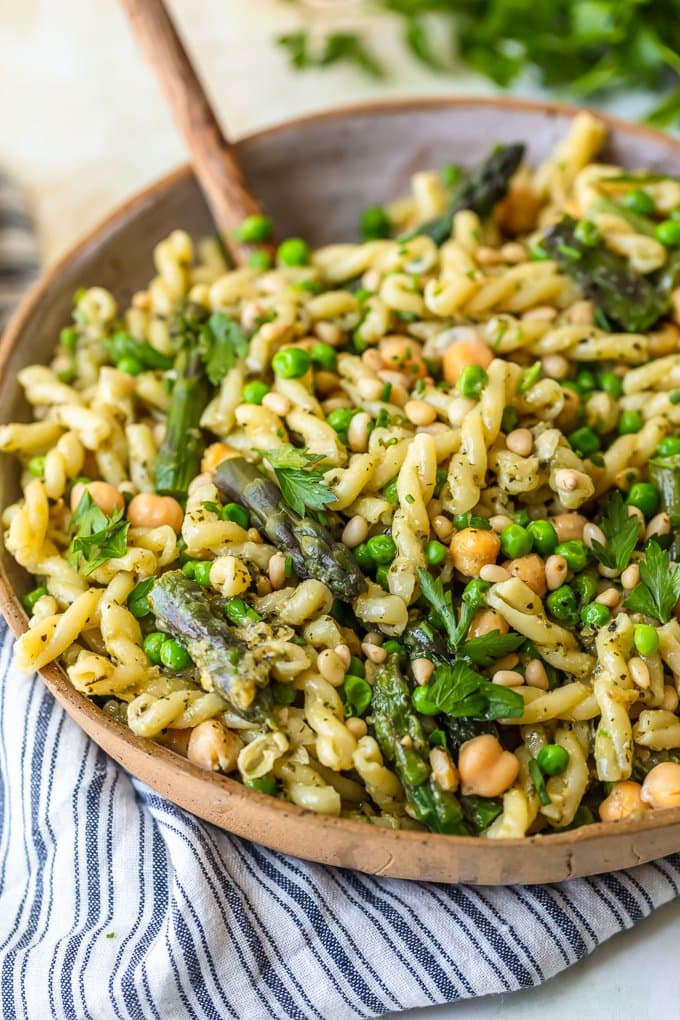 If you're heading to a fun Summer BBQ this weekend, or just want an easy healthy dinner at home for your family, this Green Goddess Pasta Salad is just the thing, trust and believe! Let me know how you like it! Click HERE to see where DeLallo products are sold near you. WHOOP!
See the recipe card below for details on How to make Green Goddess Pasta Salad!
Looking for more pasta salad recipes we love? Here are some faves: